Fun Christmas Gift Baskets to DIY
Whether they're in boxes or baskets, in bins or in jars, we Divas simply can't get enough Christmas gift baskets! They're sweet, creative, and one-of-a-kind, making them the PERFECT holiday gift for all of your loved ones! That's why we've compiled a fabulous and oh-so-festive list of 60 of the BEST Christmas gift basket ideas–just for you! Full of personality and pizzazz and catered specifically to each giftee's needs, these yuletide Christmas baskets will make everyone feel jollier than St. Nick himself!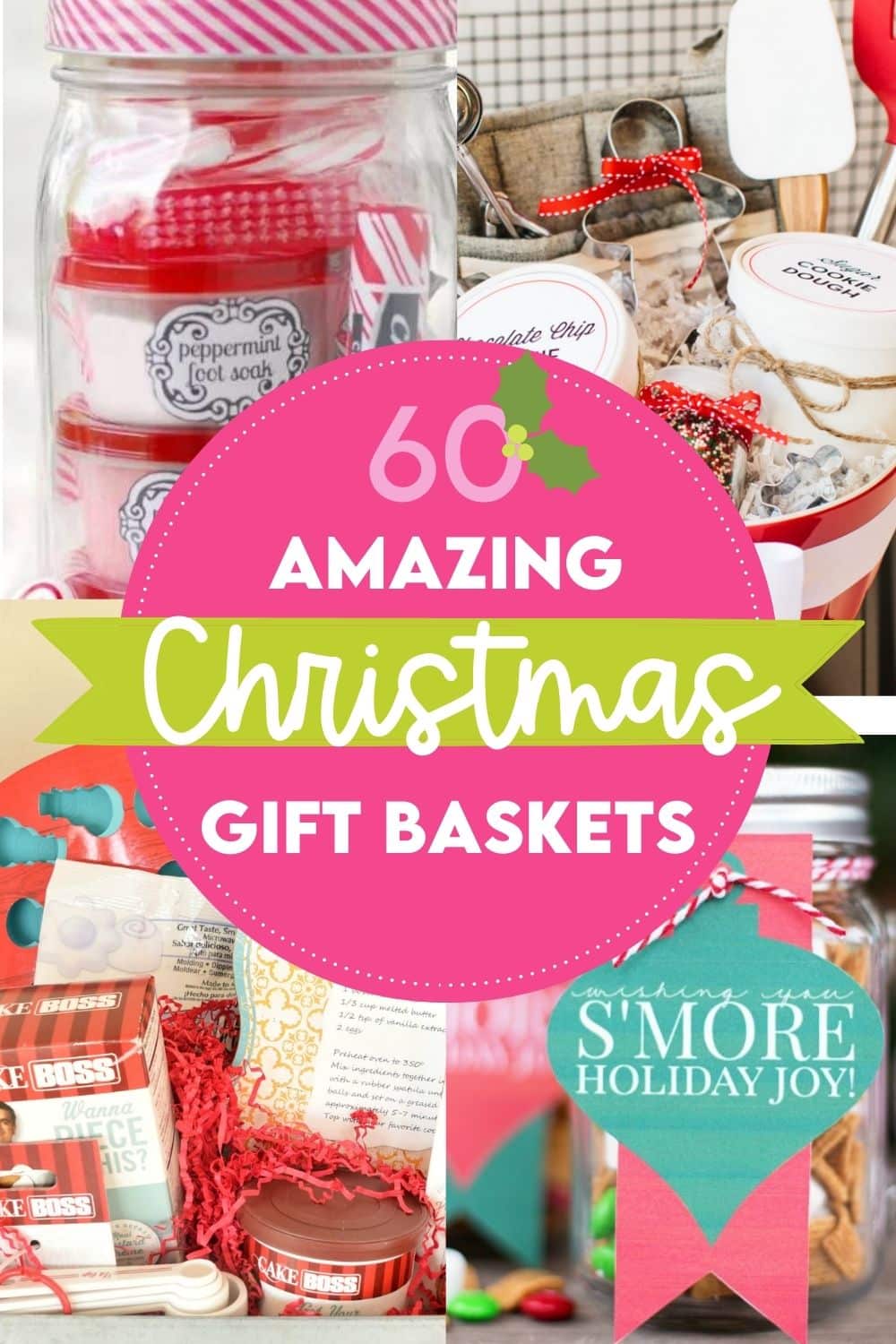 Disclaimer: This post contains affiliate links. To learn more about 'em, click here.
To make things even sweeter than Christmas candy, we've split our list into four fabulous sections so you can find the best Christmas gift basket ideas for anyone on your list. Check out these gift basket themes below!
Table of Contents
On Dasher, on Dancer, and on to the gifting!
Christmas Baskets for Kids & Teens
They're sometimes naughty, sometimes nice, a little bit picky, and a lotta bit awesome. That's why we've chosen some of the best kid and teen-approved Christmas gift baskets that are sure to put smiles on those sweet faces!
There are so many fun gift basket ideas for kids you'll never run out of inspiration here!
Crafty Gift Basket Ideas For Kids
1 . Tackle Box Craft Kit (Mama. Papa. Bubba.) – Gone fishin'? We simply can't get over the cuteness and creativity behind this Tackle Box Craft Kit! This tackle box is perfect to use with this idea! It's one of many cute holiday gift baskets you can give your crafty kids.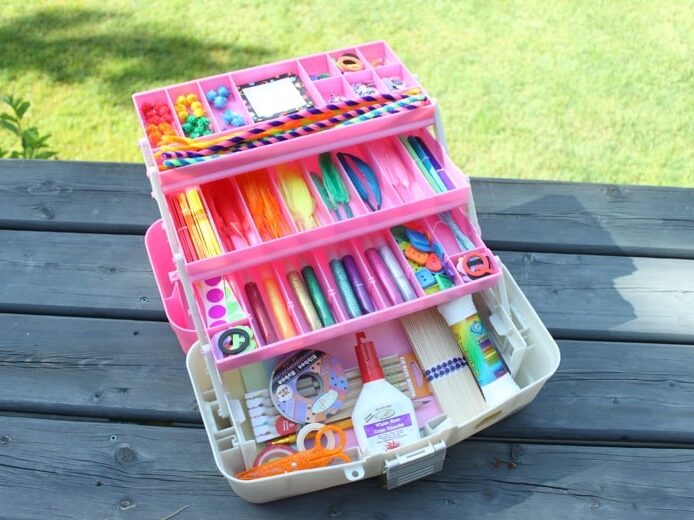 2 . DIY Art Caddy (I Heart Organizing) – Little artists will absolutely adore their very own art caddy! Use these lables to add the chalkboard look on the front!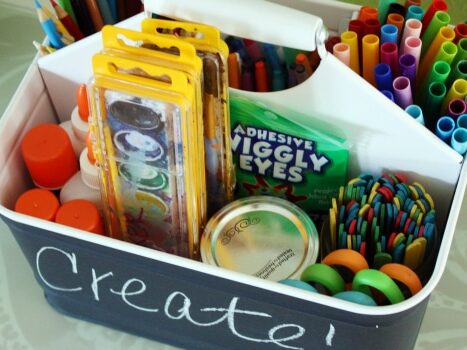 3 . Creativity in a Box (The Dating Divas) – Keep the kidlets entertained for hours with their very own Creativity in a Box, and say goodbye to boring! This is one of those perfect gift baskets for Christmas because it will help give YOU time to relax while the kids are busy!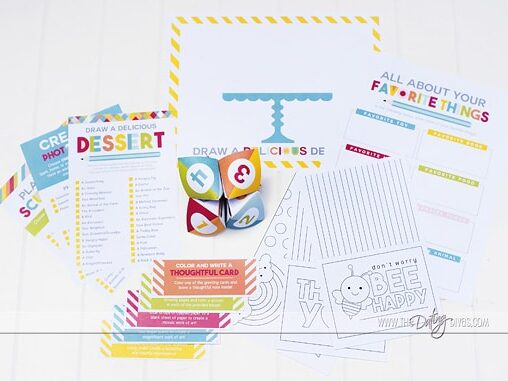 4 . Beginner Sewing Kit (Childhood 101) – Set newbie sewers a stitchin' with their very own mini-sewing kit! These pins are a sewing MUST!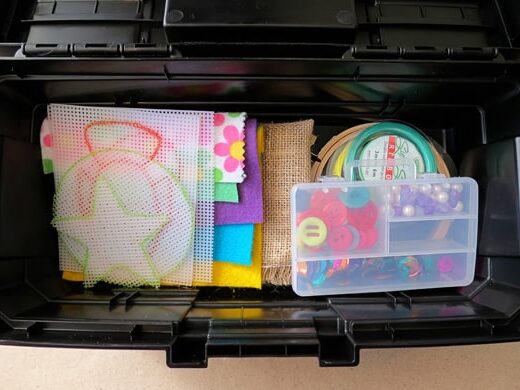 5 . Loves to Draw Gift in a Jar (The Gunny Sack) – Young artists will be all over this jarred gift containing pens, pencils, and plenty of supplies!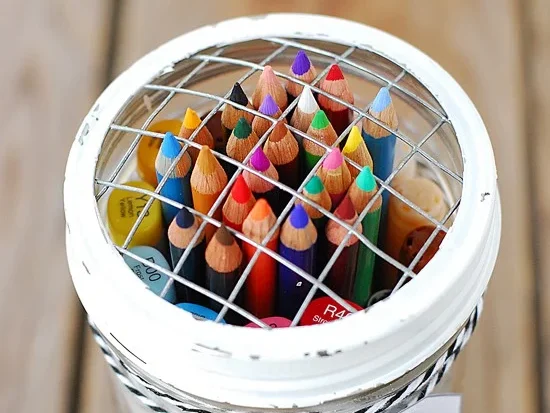 6 . Art Gift Baskets (Meri Cherry) – Meri Cherry has some amazing ideas for what to stuff into an Christmas art gift basket for your kiddos.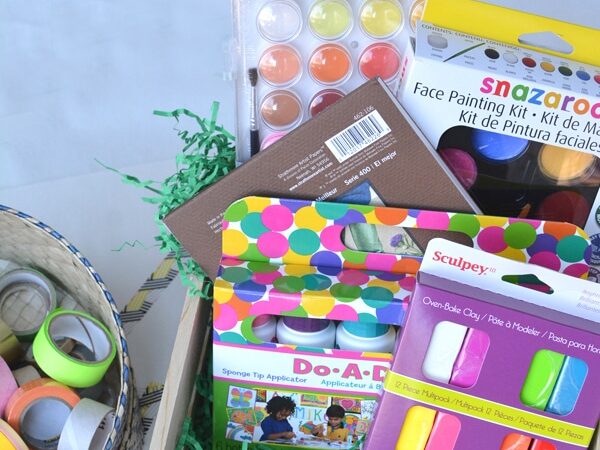 Christmas Gift Baskets For The Kitchen
7 . Baker Gift Basket (Hello Life) – Why not inspire the budding baker in your life with their very own baking basket?! Don't forget the kid's cookbook!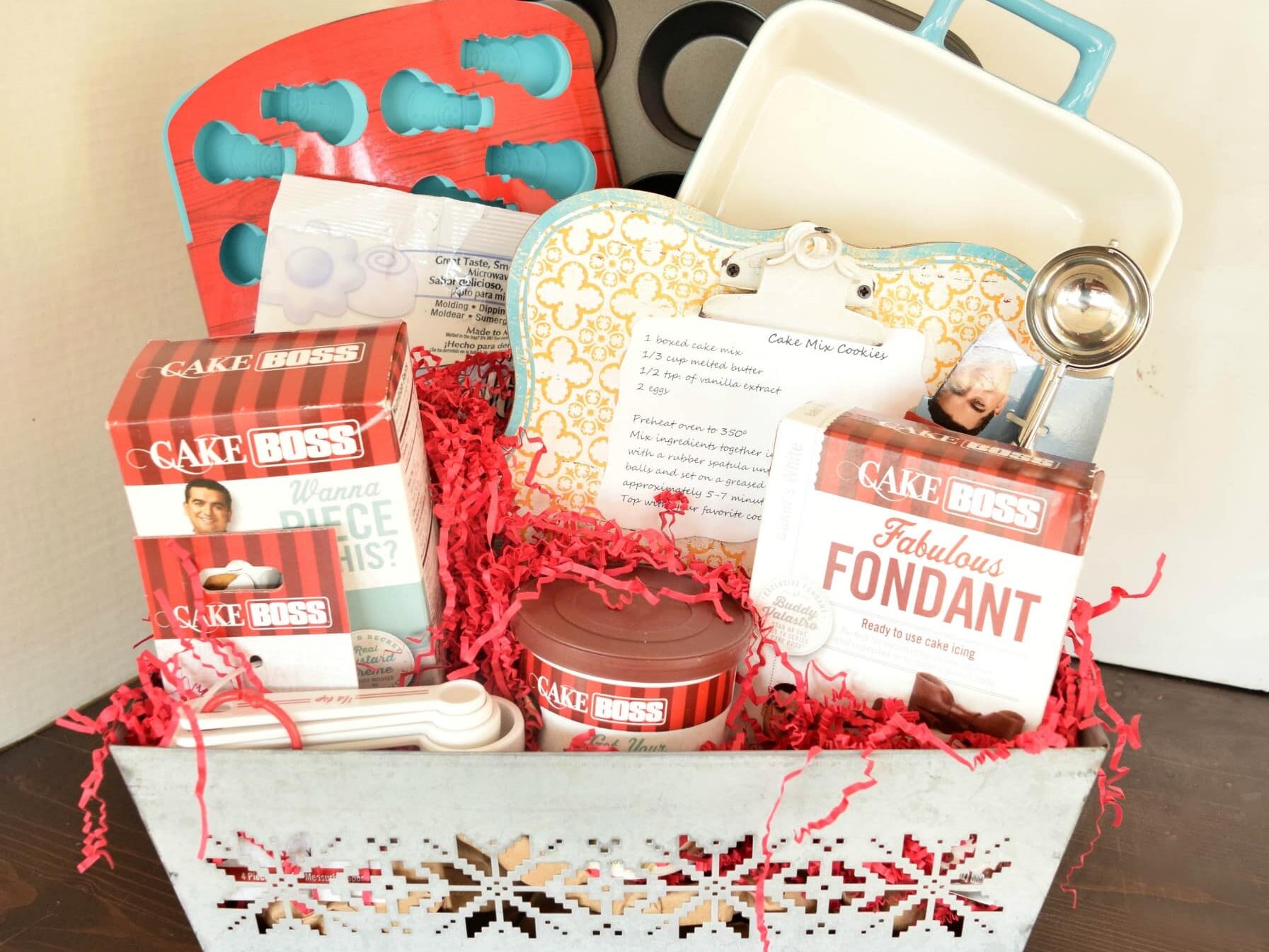 8 . Coca-Cola and Hot Cocoa Gift Box (Anders Ruff) – Give those soda slurpers something they'll really love with this combination cola–cocoa gift kit!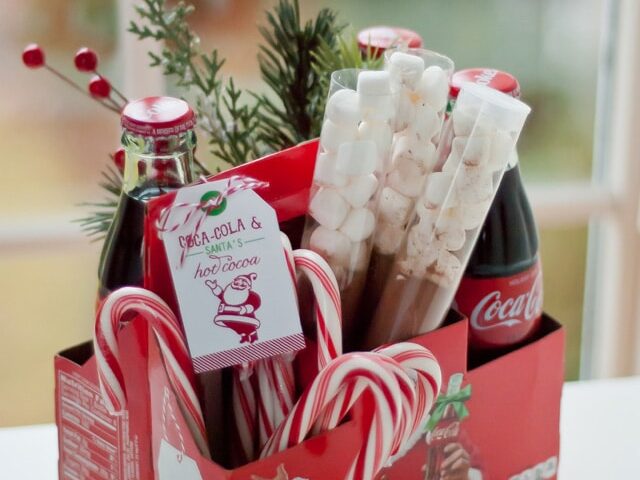 9 . S'mores Jar Gift (A Night Owl Blog) – S'more treats mean s'more fun for everyone! Printable gift tag included! Have you seen these indoor S'mores makers? They would be perfect to include with this basket.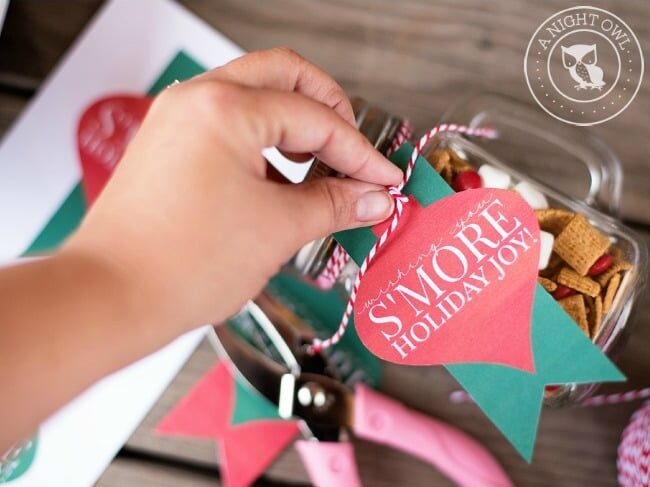 10 . DIY Cupcake Kit (Non-Toy Gifts) – You say cupcake, we say "yes!" Younger tykes will love the colorful assembly and super-sweet taste factor of this unique gift! Or snatch up this cake decorating set! It would be the ultimate gift for the baker in your life!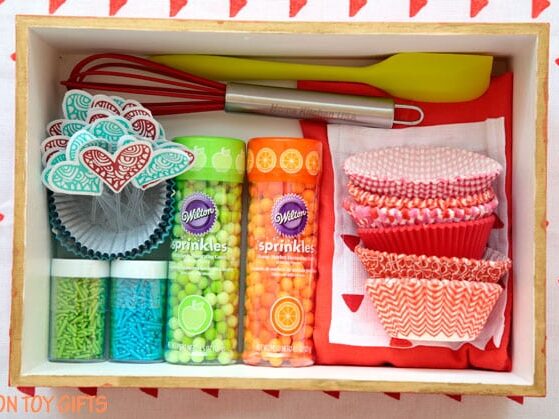 Activity Christmas Gift Baskets
11 . Winter Survival Kit (Happy Go Lucky) – A little bit warm and a lotta bit wonderful, this gift in a jar will have young ones begging for snow days! And who doesn't love fun fuzzy socks?!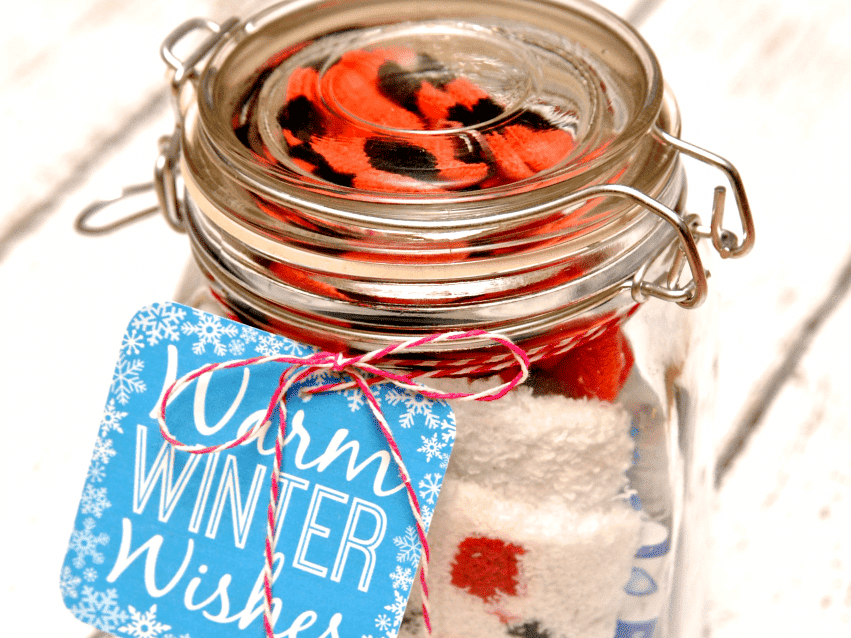 12 . Pen Pal Kit (Making Mondays) – This DIY pen pal kit is a fantastic way to help young ones connect! If you are running low on time, you can pick up a pre-made one!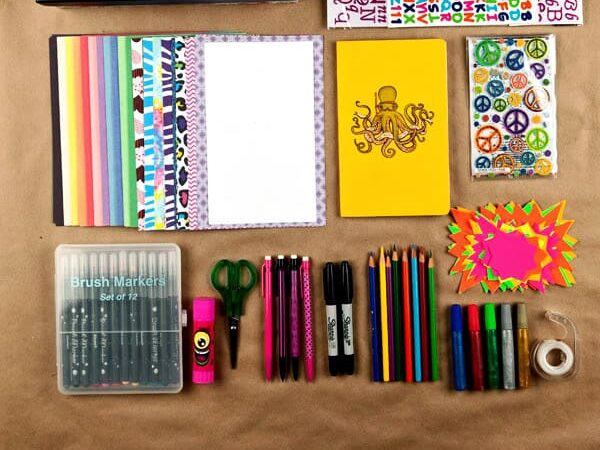 13 . Book Lovers Gift Basket (Hub Pages) – Use a fun gift basket to inspire your children's love of reading! Add a stuffed animal, a reading light, and any other themed reading items. A few of these gift baskets for Christmas will keep your family reading all winter break long.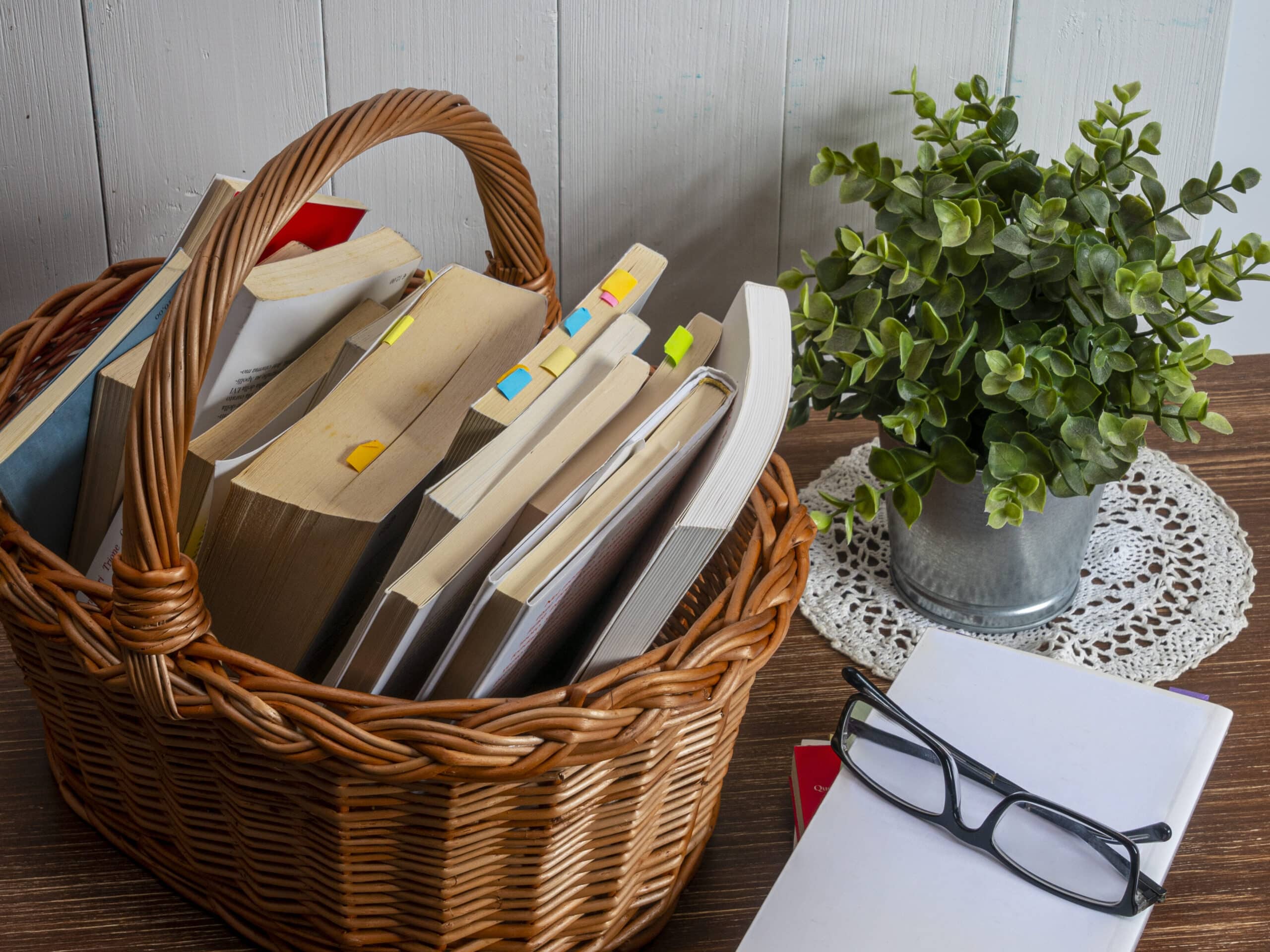 14 . Fort Kit (Wit and Wander) – Kids would love to put together a fort! This is another one of those perfect gift baskets for Christmas day because it equals hours of fun!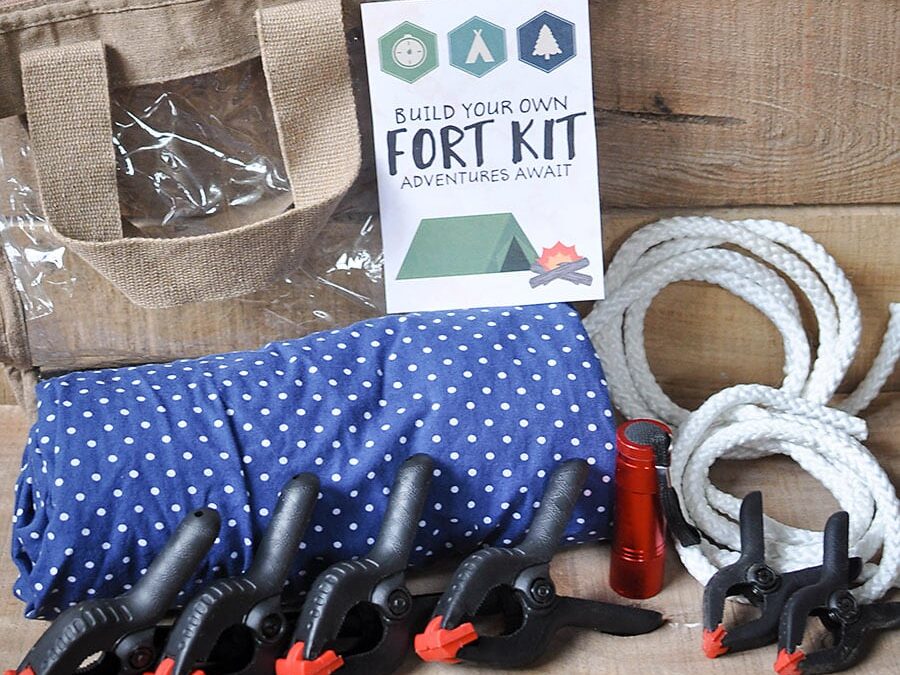 Christmas Gift Basket Ideas For Girls
15 . Girls Gift Basket (Serenity Now) – Perfect for pre-teens and young ladies alike, this girly gift basket has everything your girl will need to be looking glam!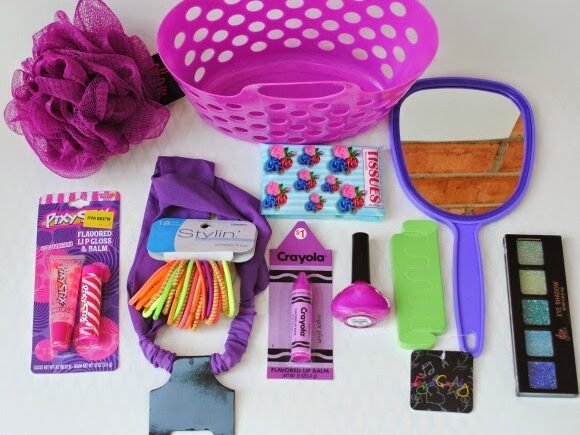 16 . Unicorn Gift Basket (Way 2 Good Life) – Find something your girls love, like unicorns, and put together a fun little gift basket. You can fill it with little treats and toys that fit the theme.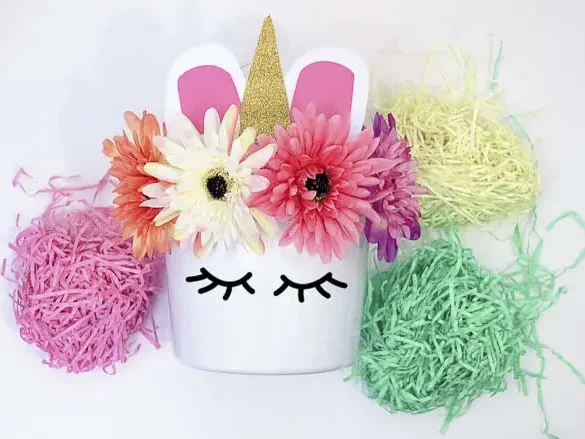 17 . Disney Princess Gift Basket (A Gift Basket Case) – What girl wouldn't love a fun princess-themed gift basket?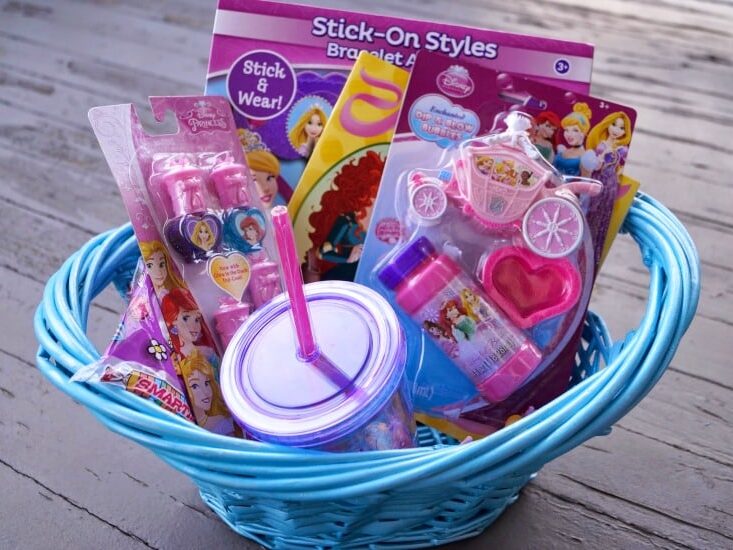 Christmas Gift Basket Ideas for Teens
18 . Sports-Themed Gift Bucket (Hoosier Homemade) – Teenage boys will consider this gift basket a home run! You can add some of these fun balls for them to throw around.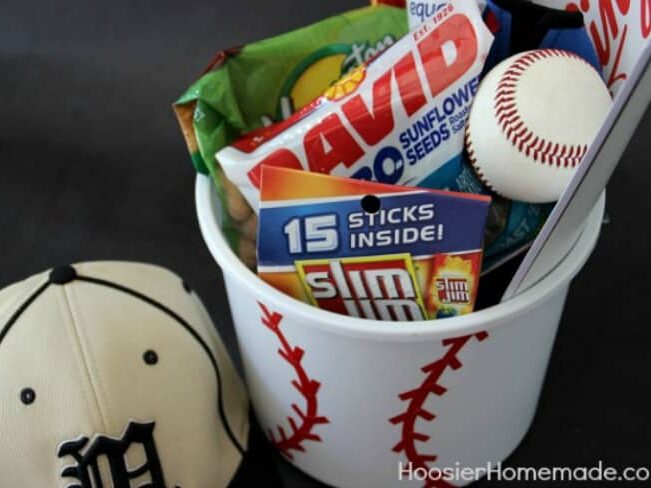 19 . Colorful Gift Basket Ideas (A Girl and A Glue Gun) – Find some fun items in your boy's or girl's favorite colors to make a fun gift basket that is all one color! Imagine a row of holiday gift baskets the colors of the rainbow–so cute!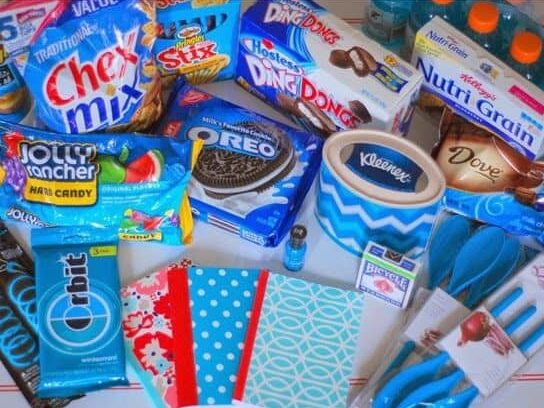 20 . Games and Snacks Gift Basket (Sprinkle Some Fun) – Find something your kiddo loves, like video games, then add their favorite snacks. Maybe you can even enjoy a little of the basket together.
Themed Christmas Baskets for Women
Whether they're moms, girlfriends, sisters, or aunties–these ladies can be hard to shop for! So what do you give to the woman who has everything? One of these flashy and sassy Christmas gift baskets, of course!
Cozy Christmas Gift Basket Ideas
21 . Cozy Slippers Gift (Pretty Providence) – Oh-so-cozy and oh-so-soft, this slipper gift has us craving a cup of cocoa! These slippers would be perfect for this gift idea!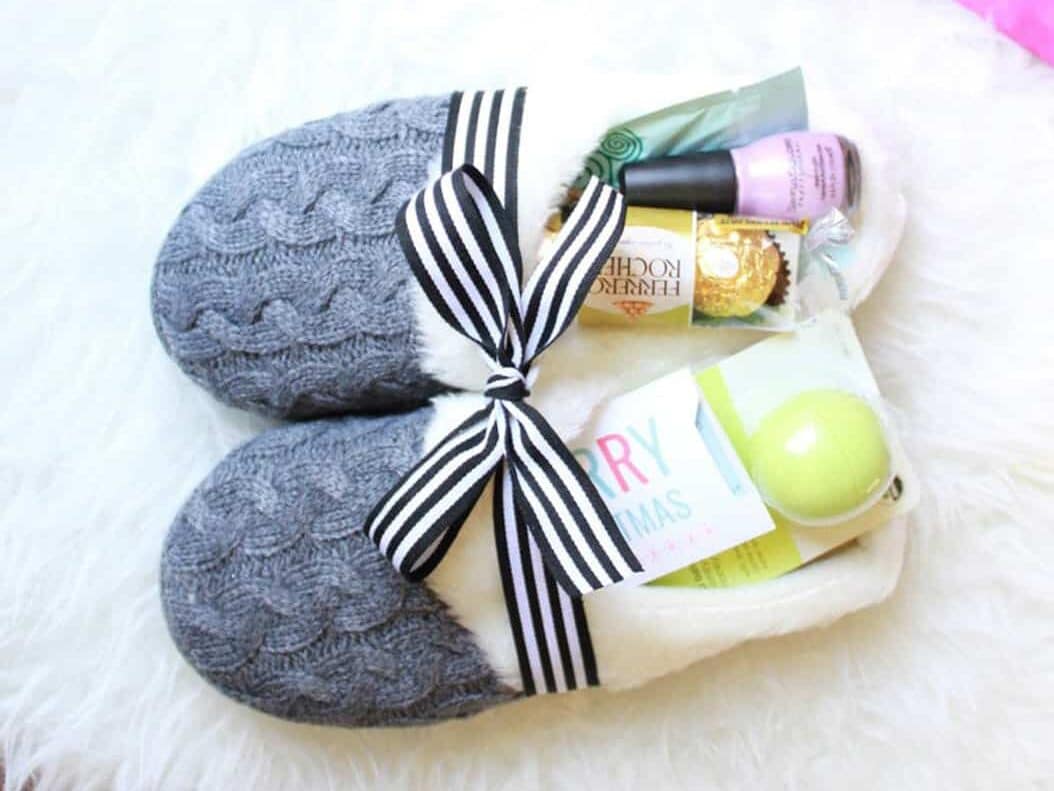 22 . Non-Dairy Hot Chocolate Gift Basket (Frog Prince Paperie) – Dairy-free eaters will be stunned when you present them with their very own non-dairy hot chocolate gift basket! Mmmm… And how cute is this basket?!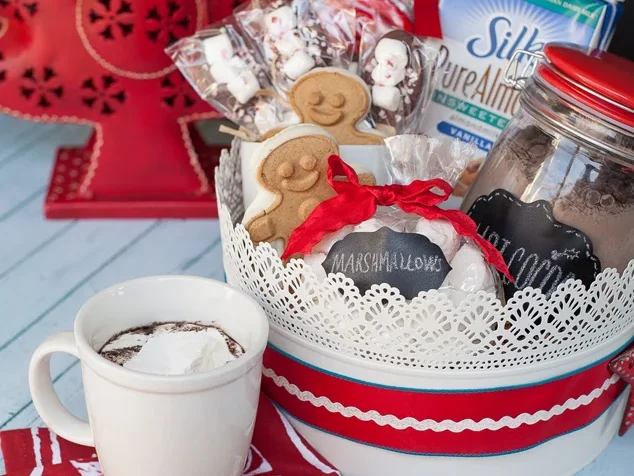 23 . Peppermint Pampering in a Jar (The Gunny Sack) – Looking for an excuse to delve into all things peppermint? You've found it! Don't forget the chapstick!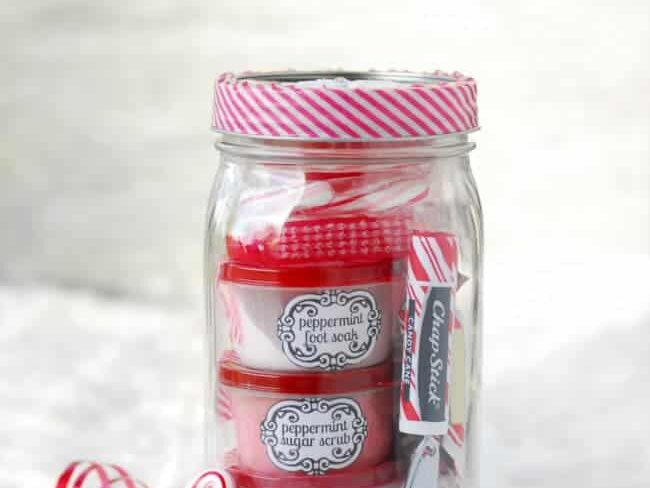 24 . Box of Sunshine (Fantabulosity) – Help your gal pal beat those winter blues with her very own Box of Sunshine in this Christmas basket! This darling notebook would fit in perfectly!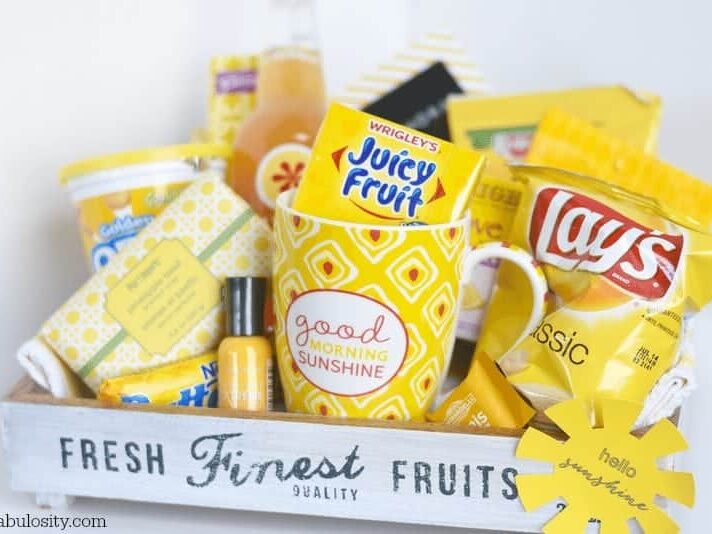 25 . Holiday Cookie Basket (Tomkat Studio) – Making a batch of cookies and snuggling up by the fire? Sounds pretty cozy to me. This is the perfect Christmas gift basket!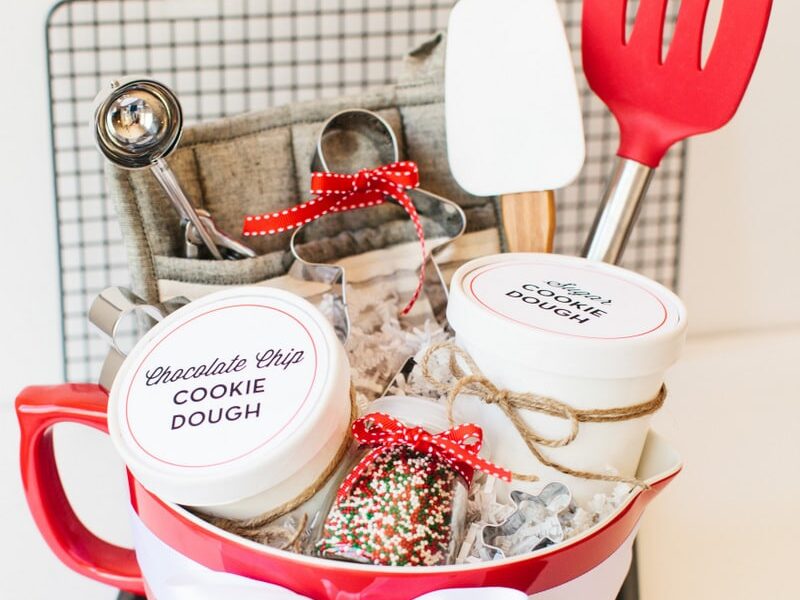 Easy Gift Baskets for Women
26 . Christmas Jar Gift (Lil' Luna) – This Christmas-themed jar is as creative as it is cute! Happy Holidays!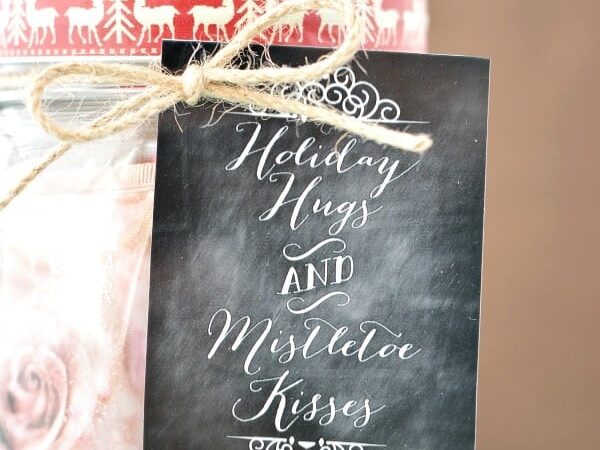 27 . Mani-Pedi in a Jar (One Good Thing By Jillee) – Give that lady a well deserved pamper day with her very own mani-pedi kit just packed with goodness! We LOVE these jars for so many gift ideas!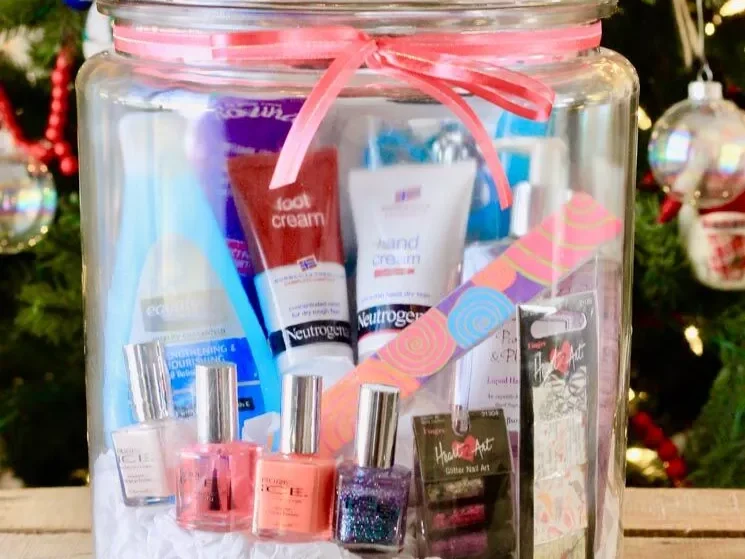 28 . Christmas Breakfast Gift Basket (Craftberry Bush) – Toss together some breakfast essentials to gift to someone who needs a little something delicious in her Christmas gift basket.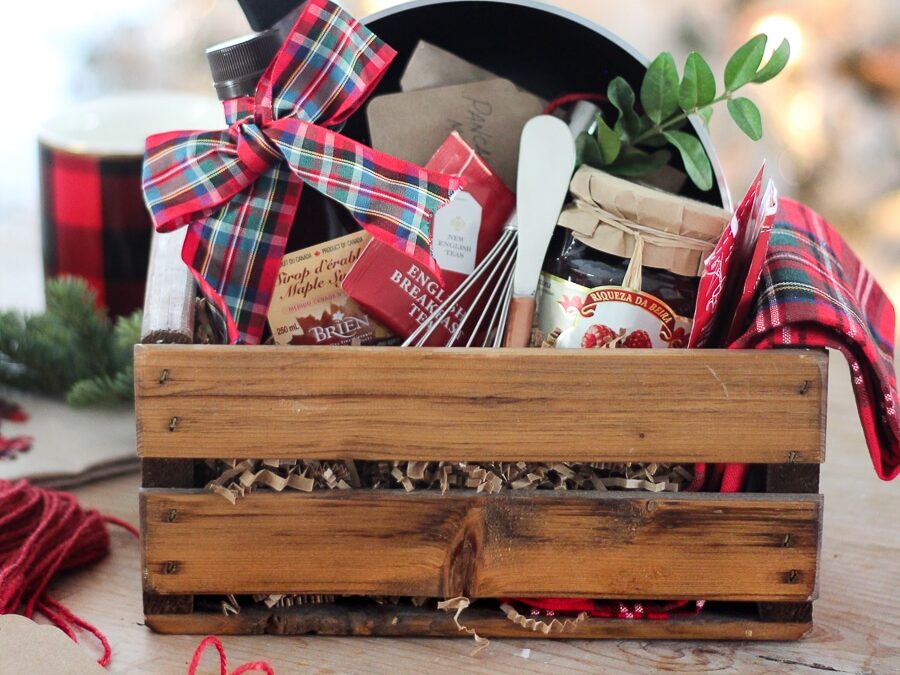 29 . Scrapbookers Gift in a Jar (The Scrap Shoppe Blog) – Pack this gift in a jar with all things scrap-booky, and give it to the scrapper in your life!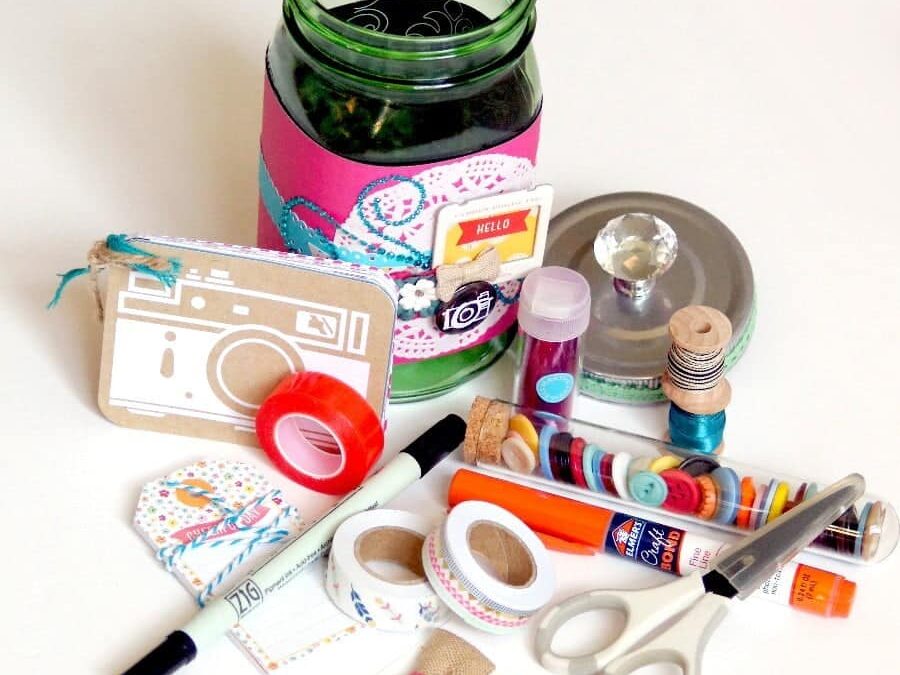 30 . Snack Gift Basket (A Helicopter Mom) – What woman wouldn't enjoy a basket full of snacks!? YUM!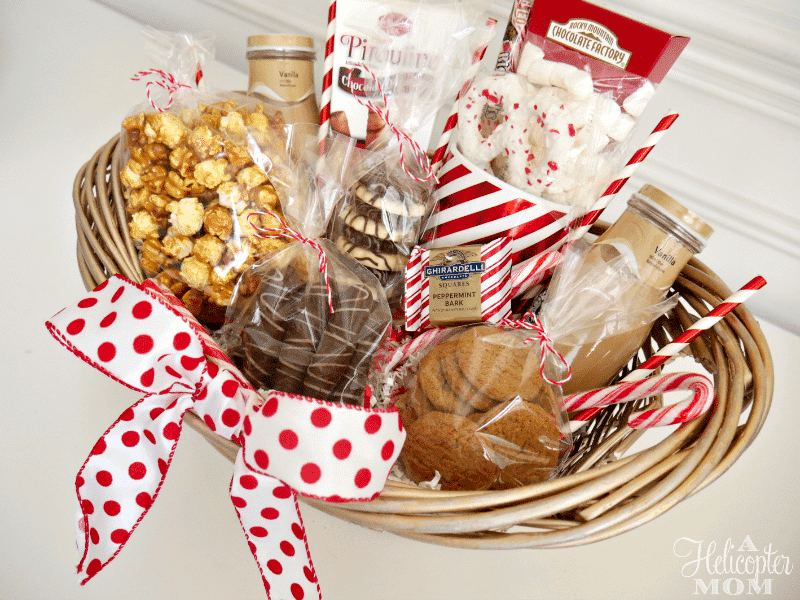 Practical Christmas Gift Basket Ideas
31 . All-Natural Cleaners Gift (Hostess with the Mostess) – Do a double-duty DIY with this all-natural cleaning basket. It includes recipes and printables!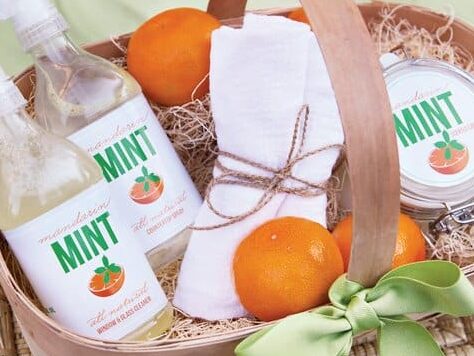 32 . Oven Mitt Stocking (Yellow Bliss Road) – For a clever twist on stocking stuffing, pack an oven mitt with all sorts of treats!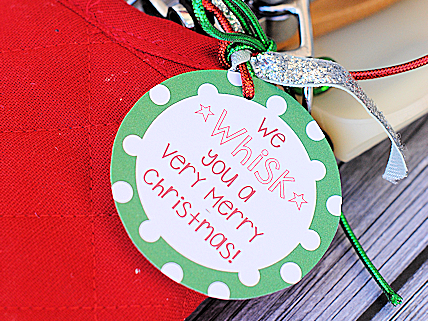 33 . Baking Gift Basket (Food Lovin' Family) – A few new washcloths and baking tools are always nice to add to the kitchen. These supplies make for fun and practical Christmas gift baskets.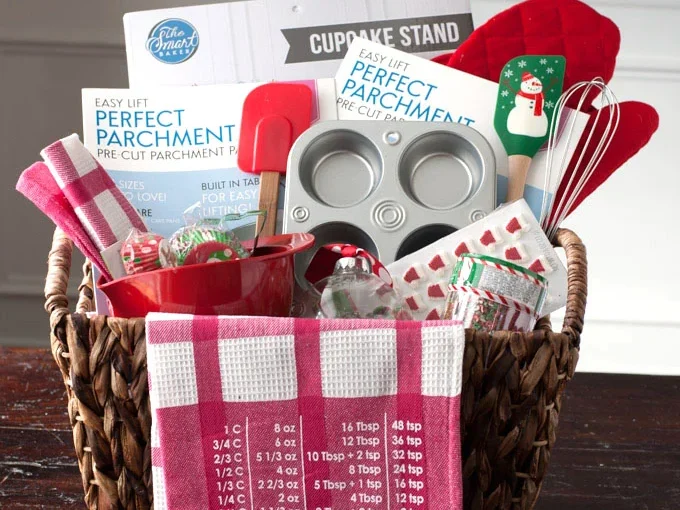 34 . Mommy Survival Kit (Classy Clutter) – Give both new and old mommies a gift that they will truly treasure and truly use! This little bracelet would be so cute in this kit!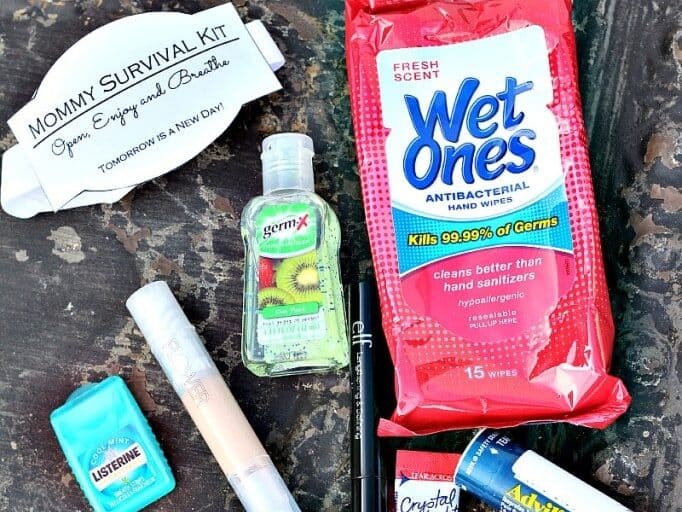 35 . Green-Thumb Garden Basket (The Merry Thought) – Don't let the snow and cold keep you from gifting to the green-thumb in your life! It will be a Christmas gift basket full of springtime.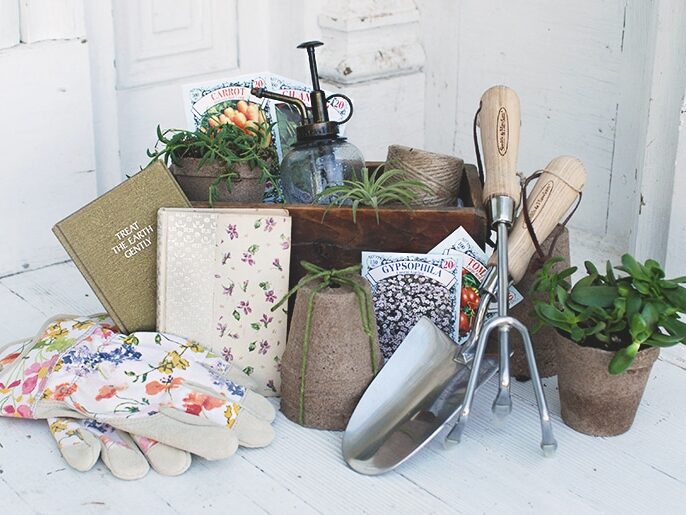 36 . Christmas Decor/Wrap Kit (A Girl and A Glue Gun) – A lack of tape will be a thing of the past with this perfectly complete Christmas decor/gift box. For even MORE decor fun, surprise your neighbors with our Ding-Dong Ditch Doorstep Christmas Surprise!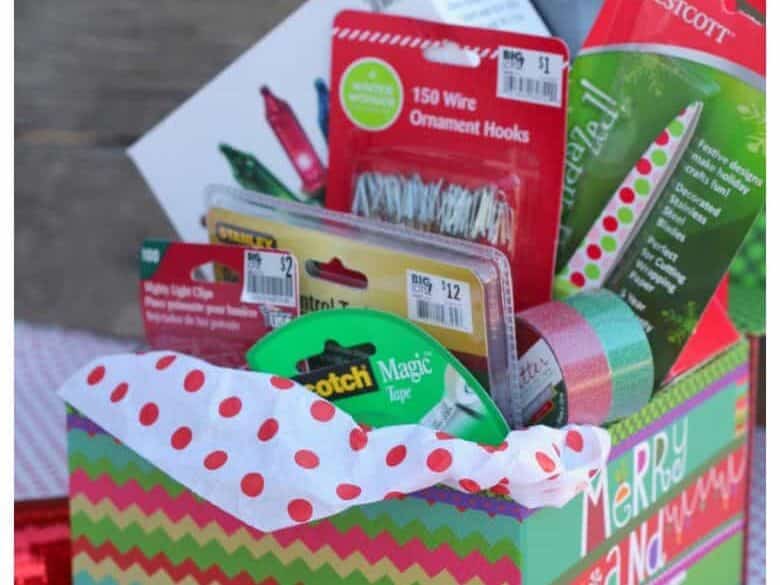 Themed Christmas Baskets for Men
From their adoration of snack foods to their love of the car, these Christmas gift baskets are PERFECT for the man in your life!
37 . Guy Food in a Jar (One Good Thing By Jillee) – A big jar stuffed with loads of man-approved snacks, this is one gift that will leave them drooling. (If you want a done-for-you kit, check out this Hangry Kit!)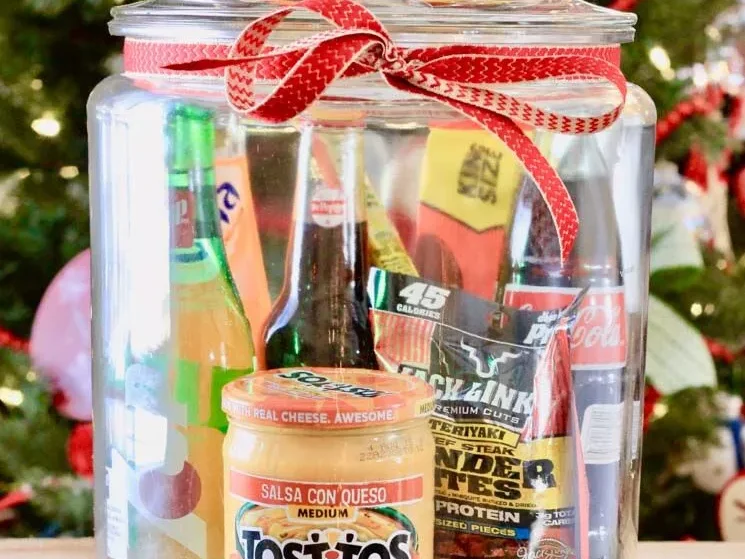 38 . Gamer Gift Basket (The Dating Divas) – Give the gamer in your life a "high scoring" gift with this video game-themed basket! Holiday gift baskets should all be this fun!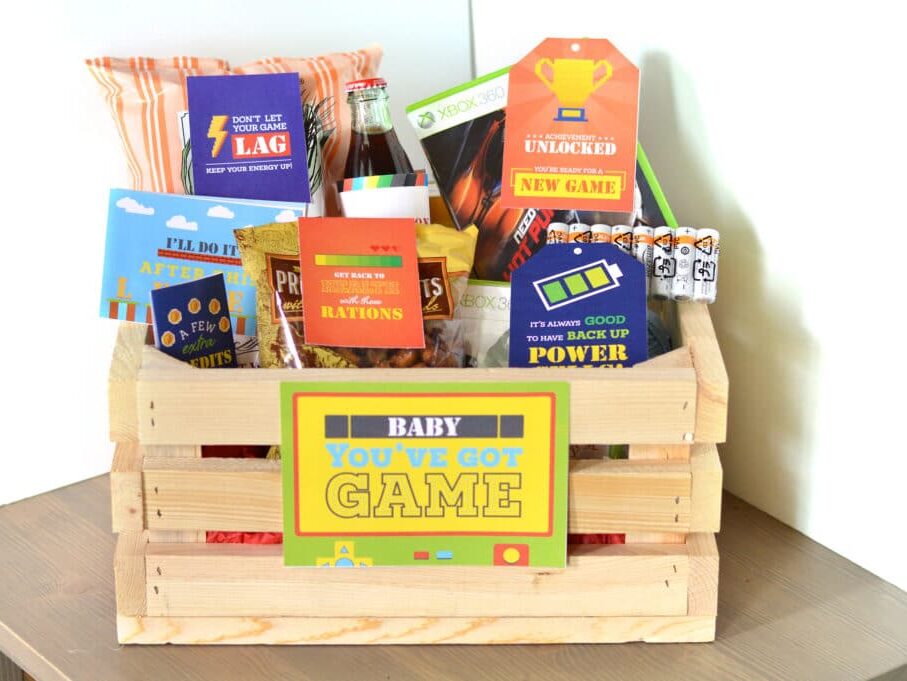 39 . A Gift That Doesn't Stink (Cutefetti) – Scrub-a-dub-dub, it's a gift that he'll LOVE! For even more man-approved pampering, be sure and check out our DIY Foot Rub Kit!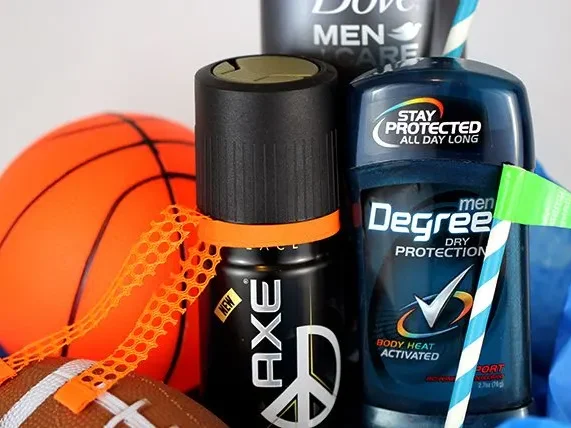 40 . Home Improvement Bucket (Hoosier Homemade) – What guy could complain about their honey-do list when they've got a love-packed basket of tools in tow?!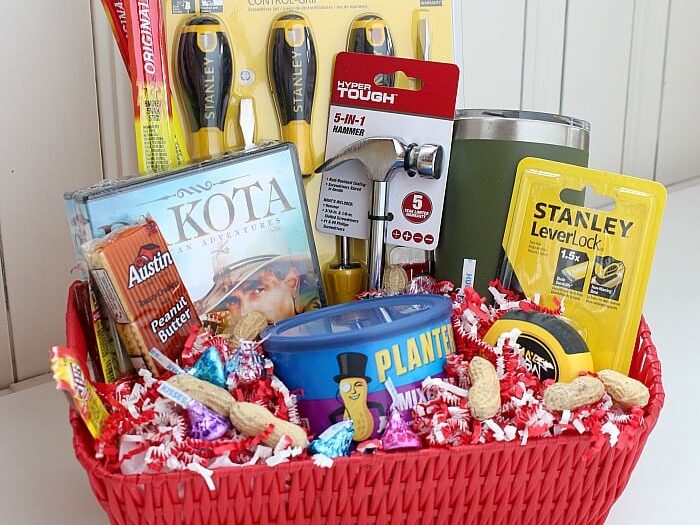 41 . Good Morning, Coffee Basket (Coffee Affection) – Pack your Christmas baskets with coffee or cocoa and throw in a year's subscription to his favorite paper for ultimate gift satisfaction!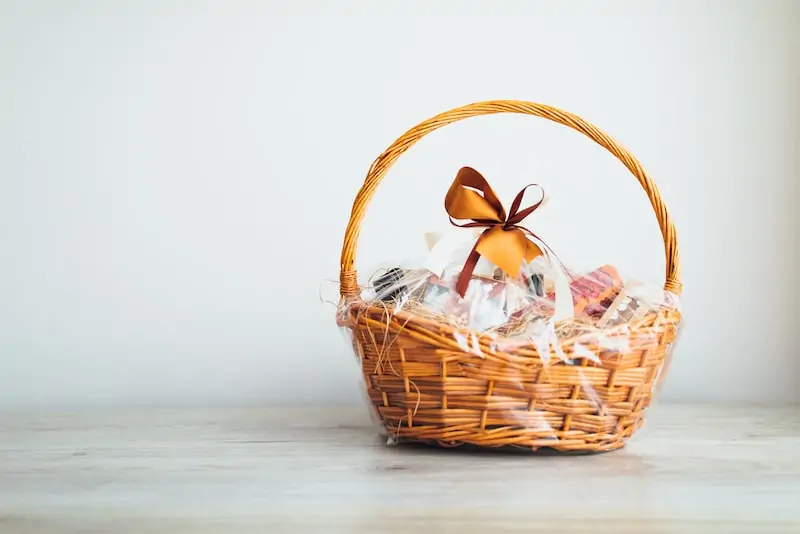 42 . Pop Bottle Gift Set (Lil' Luna) – Give him a six-pack he'll REALLY enjoy with this "sweet" gift!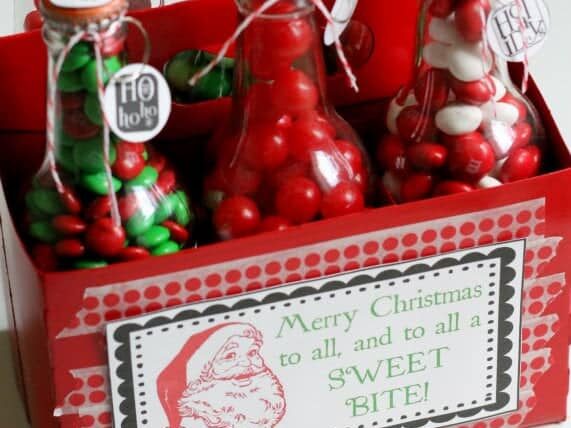 43 . DIY Mistletoe Kit (The Dating Divas) – This super simple and slightly seductive gift-in-a-jar will leave you both seeing stars this Christmas!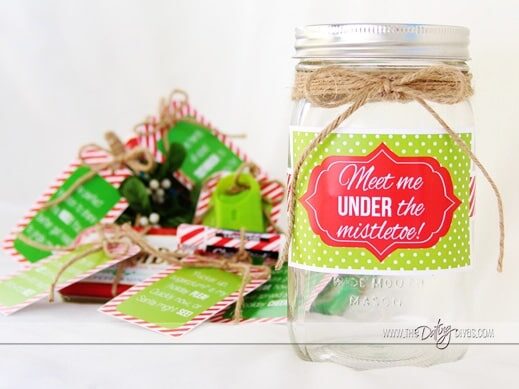 44 . Car Care Gift Basket (Life's a Bargain) – For the man who loves wheels, this gift is the one. Add in an air freshener or two to make it really sweet.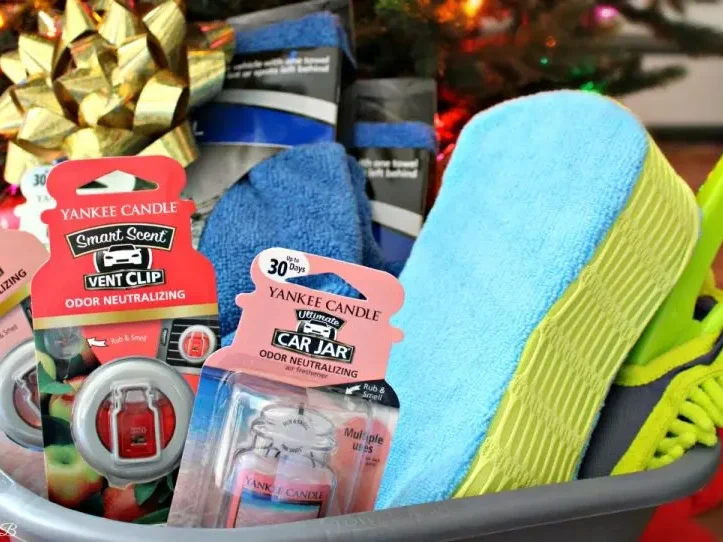 45 . Take It Easy Basket (Fantabulosity) – Help him relax from a long work week with a basket that is full of everything cozy. These slippers would be perfect for this Christmas gift basket!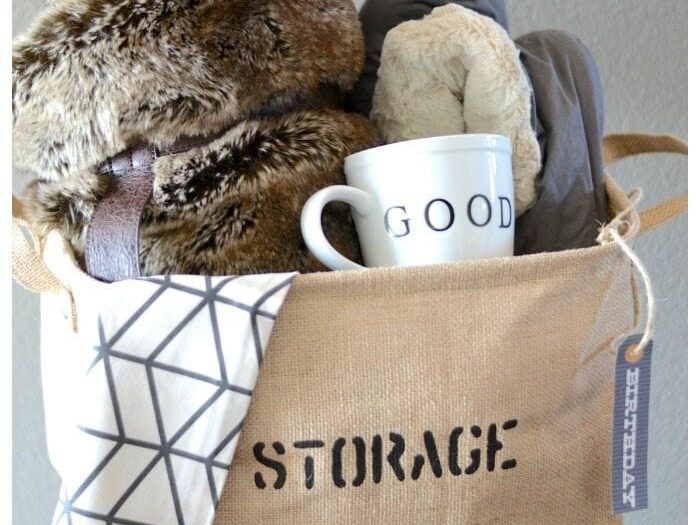 46 . Super Bowl Gift Basket (The Dating Divas) – Make him feel like a winner with his very own Super Bowl in a basket! For even more sports-themed gifts, be sure and check out A Year of Sport-Themed Dates!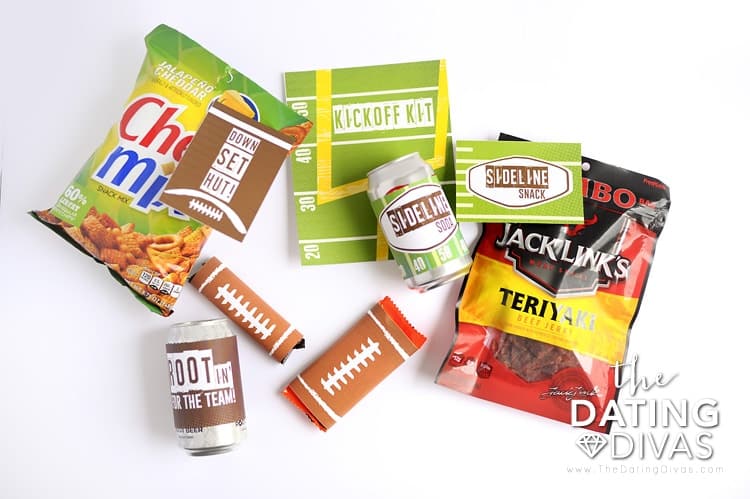 47 . Commuter Gift Basket (My Frugal Adventures) – Is he stuck in the car for hours a day? Give him this gift that's guaranteed to make his commute a lot more pleasant!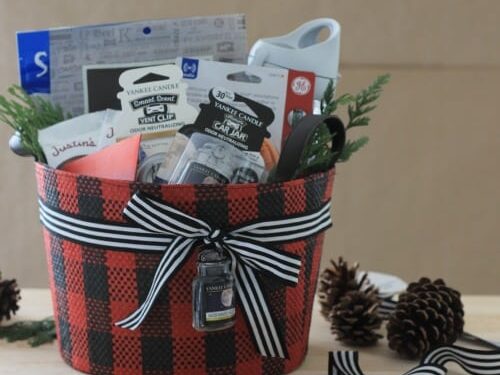 48 . Stuffed Burger Gift Basket (I Think We Could Be Friends) – Add buns, condiments, and a one-of-a-kind tool to create a gift that will make his mouth water.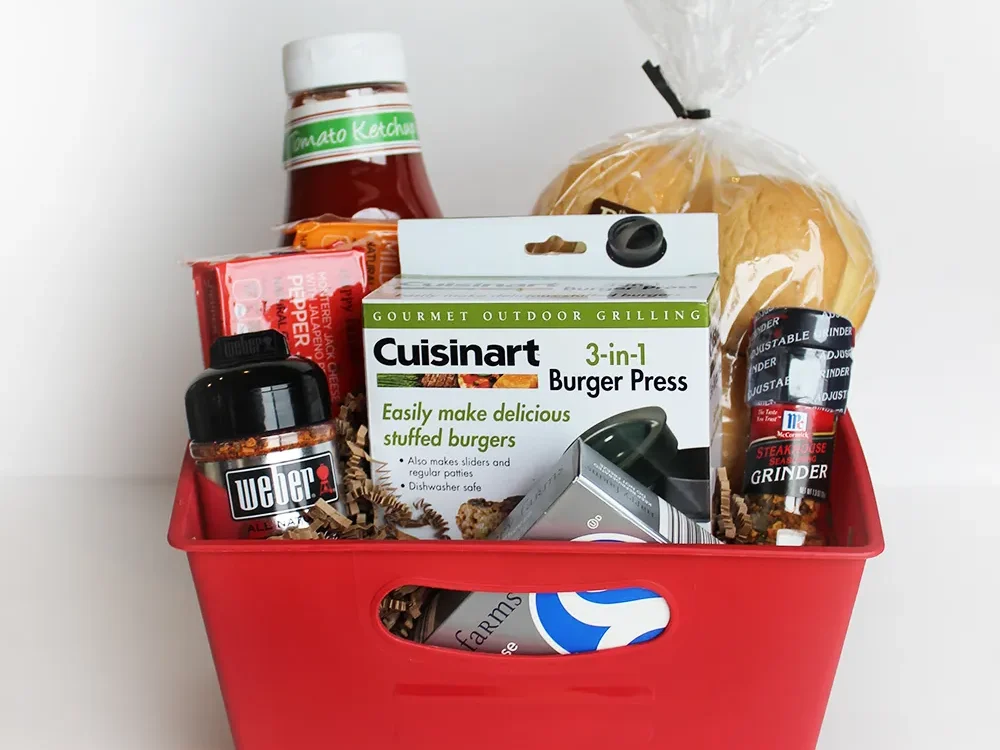 49 . Romantic Redbox Date Night (The Dating Divas) – Give your movie-loving man a gift that will make him blush with this Redbox themed box-o-love. For even more romance-in-a-box, consider gifting him our DIY Sexy Subscription Box for a truly hot Christmas basket!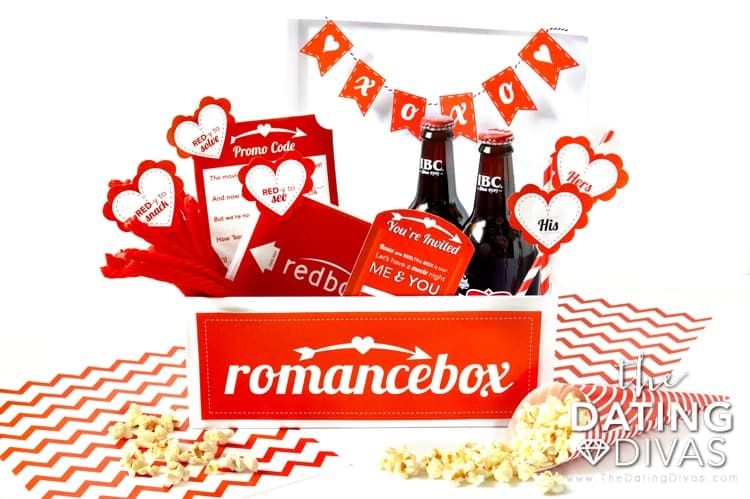 Themed Holiday Baskets for Families
Spread a little Christmas cheer to friends and neighbors with these DIY gift baskets the whole family will enjoy!
50 . Root Beer Float Kit (Thirty Handmade Days) – What better way to give the gift of fun than with a DIY float kit?!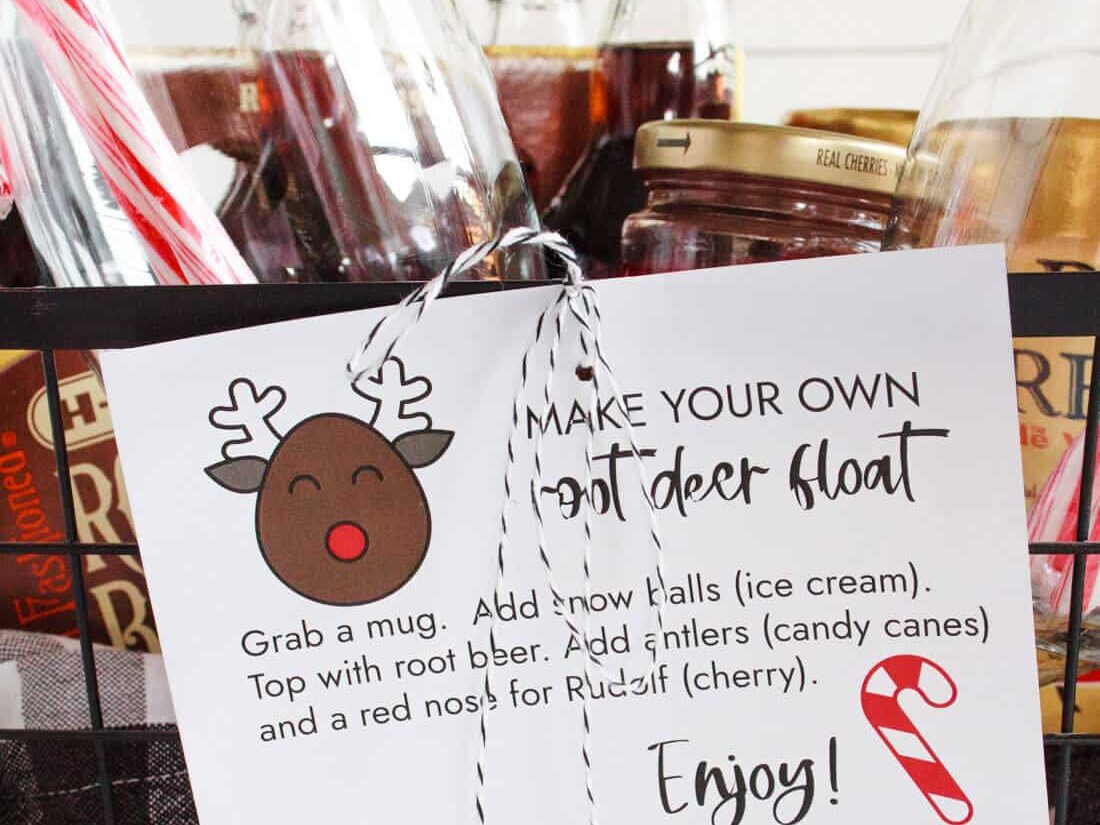 51 . Snow Day Survival Kit (The DIY Mommy) – Give Mom and Dad a helping hand with this gift tin that is perfect for that upcoming Snow Day! Make sure to include a Sno-Art Kit with this one!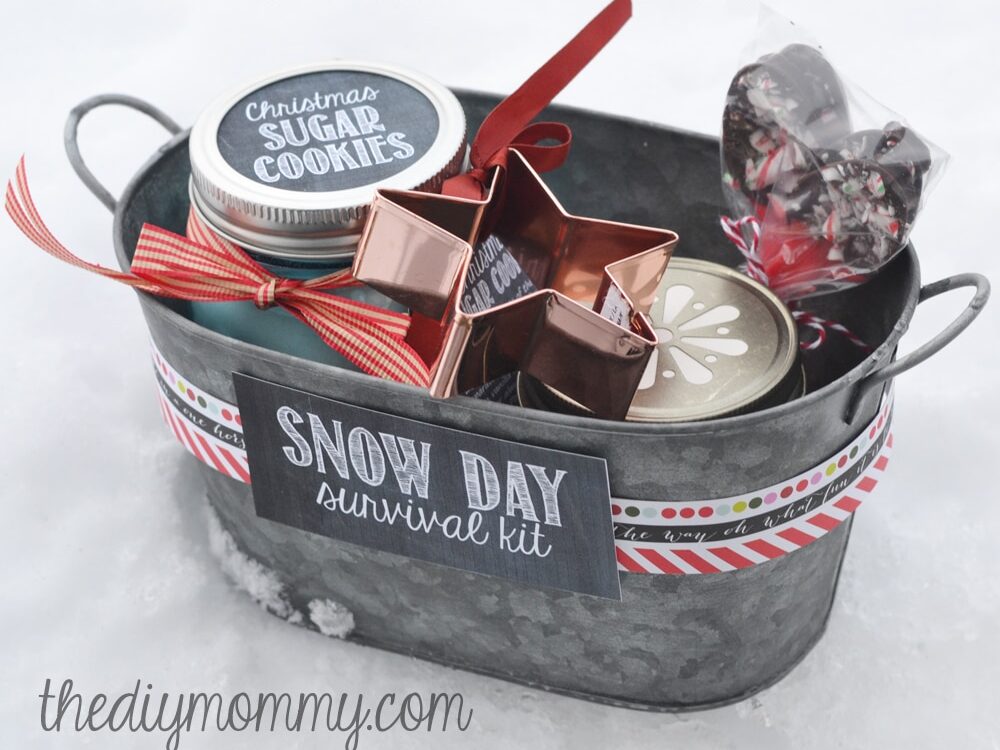 52 . Ice Cream Sundae Kit (Liz on Call) – It may be Christmas, but that doesn't mean ice cream is a no-go. Add an ice cream scoop to this deliciously chilly gift!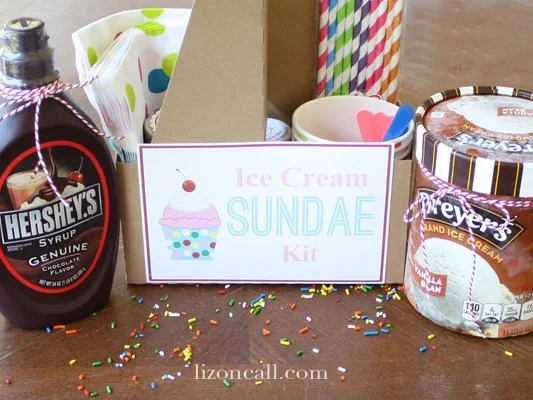 53 . Hot Cocoa Gift Basket (Tomkat Studio) – Help friends, neighbors, and couples warm up with their very own kit!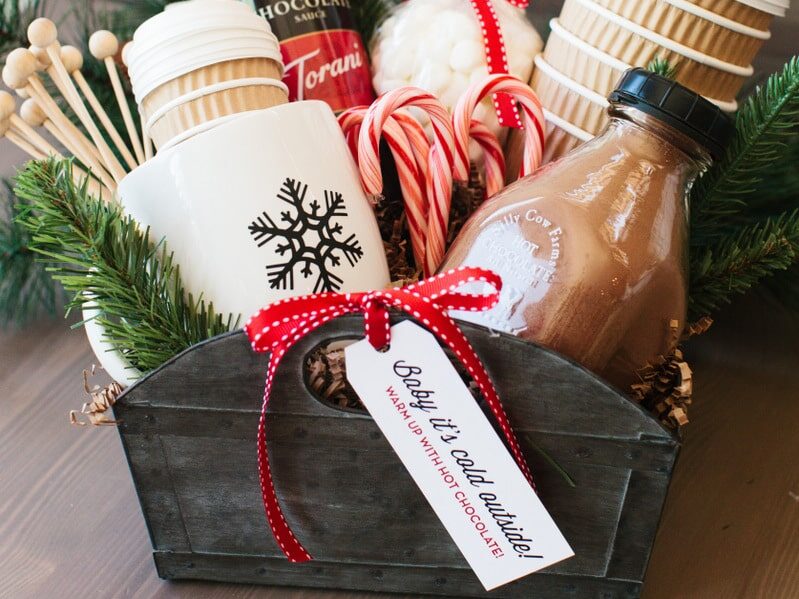 54 . Christmas Eve Box (The Dating Divas) – Make someone's Christmas Eve a bit more magical with this clever gift in a box full of fun Christmas gift basket ideas and surprises.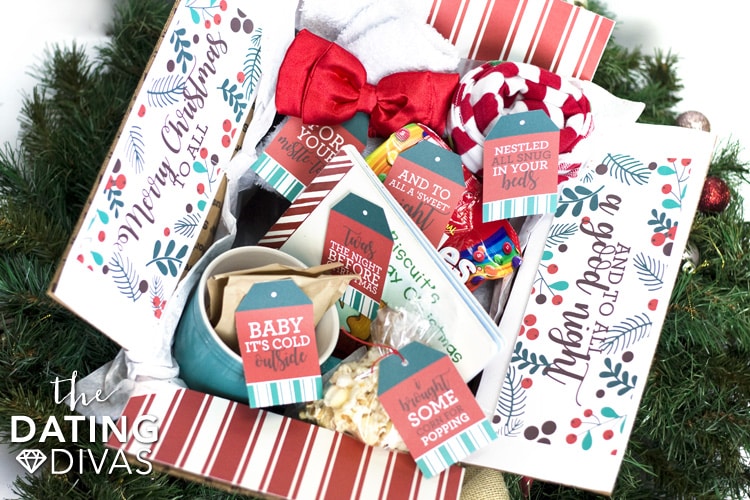 55 . Christmas Cookie Kit (Bloom Design Online) – We're in awe over how adorable this Christmas cookie kit is! For even MORE Christmas cookie fun, take a look at our Sprinkles and Cookie Party!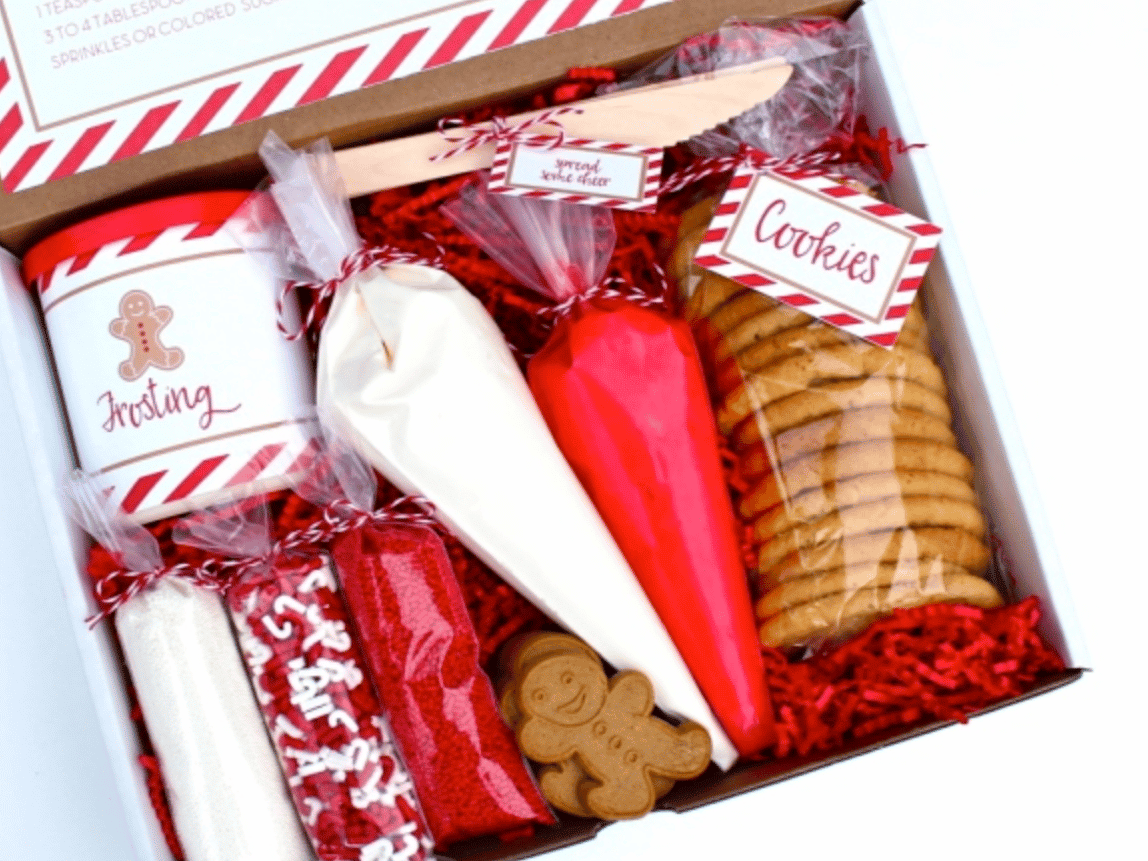 56 . Taco Dinner Kit (My Computer is My Canvas) – Spread the fiesta with this practically done-for-you taco basket! I'm loving these salsa bowls that you could include to take this holiday gift basket over the top!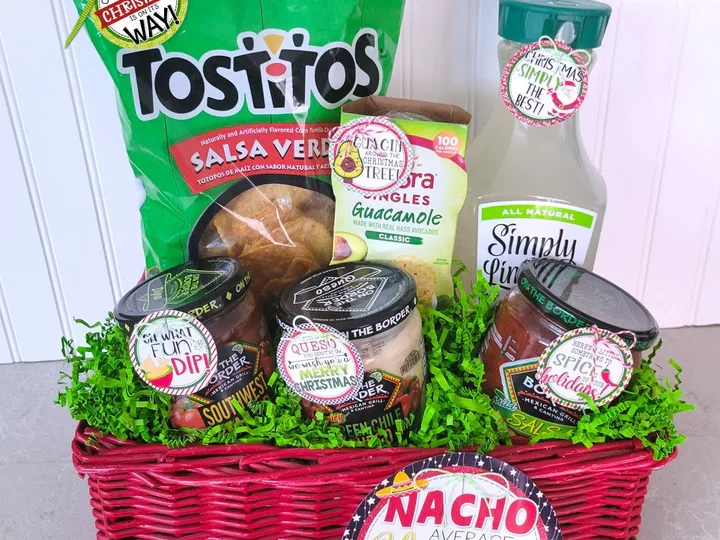 57 . "We'll Do The Dishes!" Gift (A Girl and A Glue Gun) – Give a helping hand with this SUPER quick and budget-friendly gift. Paper plates and cups are perfect for busy families and you can complete it with a printable gift tag!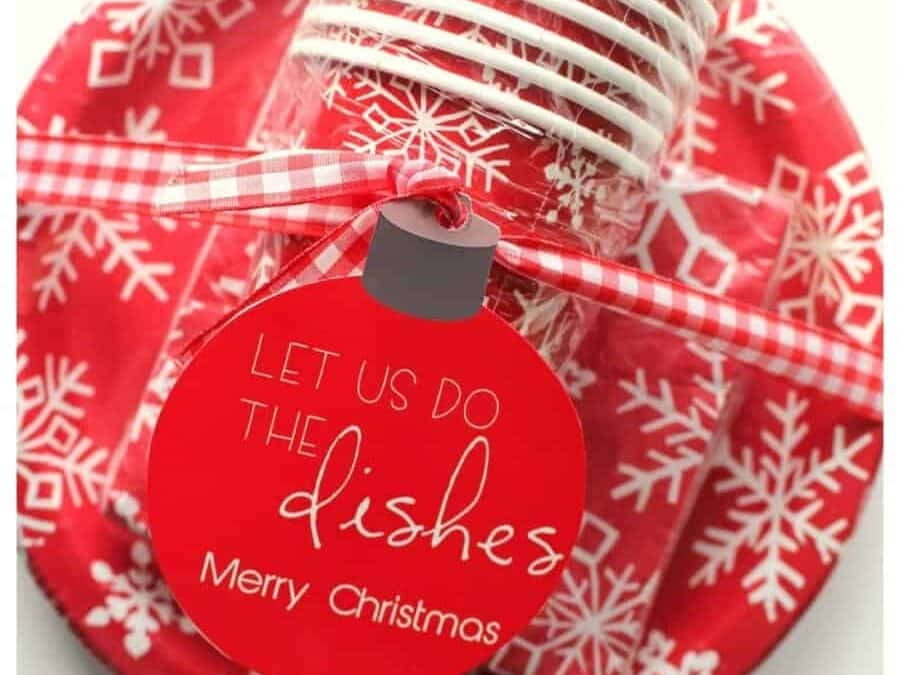 58 . Family Game Gift Basket (Salvaged Living) – Celebrate the holidays by spending special family-time with some board games and treats.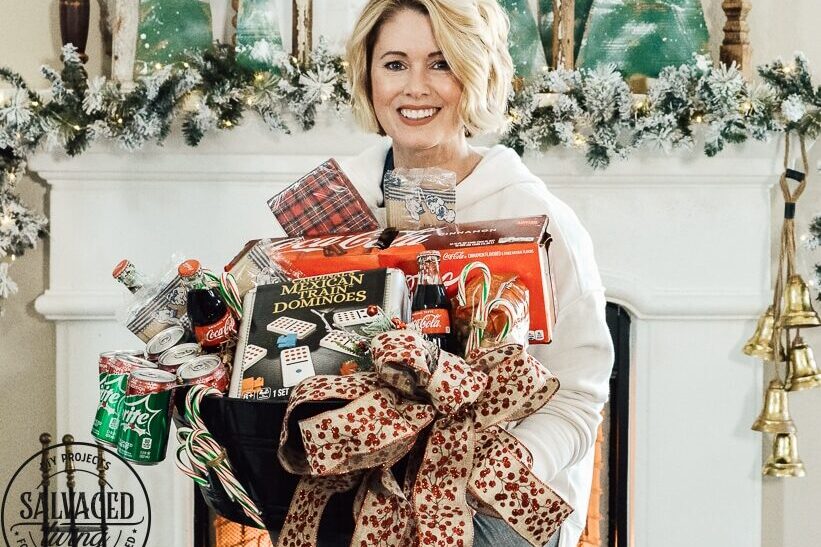 59 . Pancake Breakfast Basket (Curly Q Paper) – Recipients will truly appreciate the gift of breakfast this season, especially if it's THIS cute! Don't forget the syrup!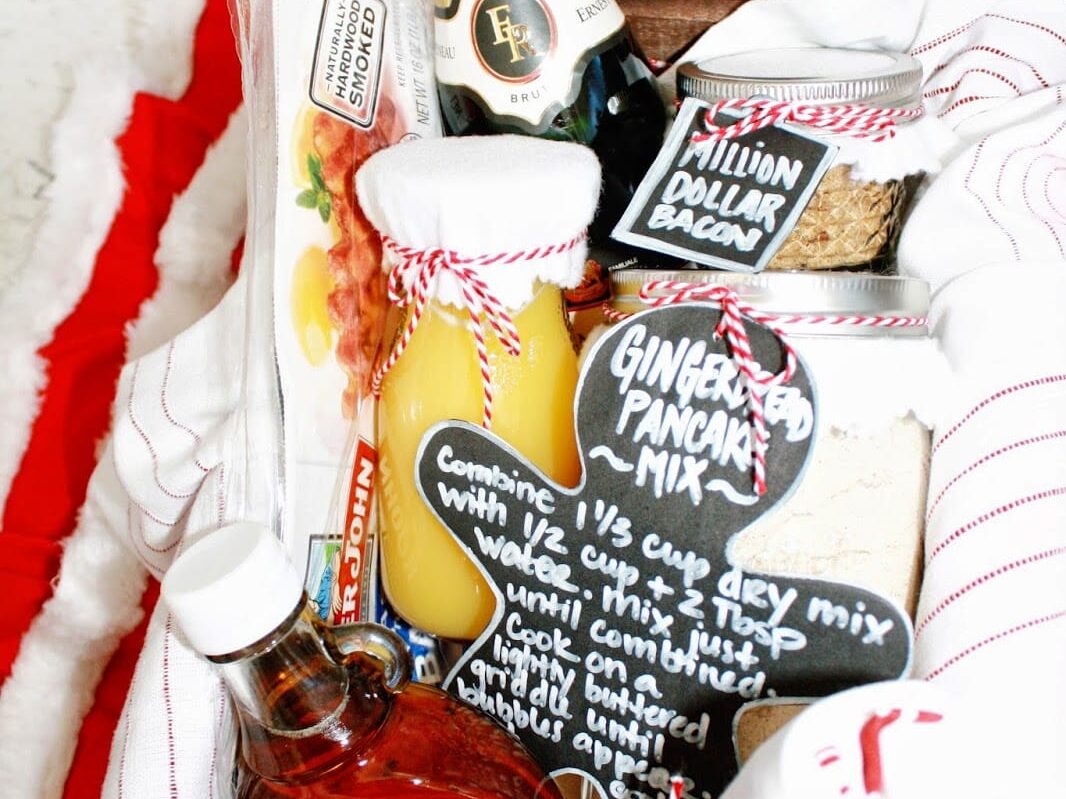 60 . Winter Cold Survival Kit (The DIY Mommy) – Sniffles and sneezes are part of the season, but make sure friends and family are prepared with this DIY cold kit! Have you heard of Boogie Wipes? They're perfect for the littlest sniffler!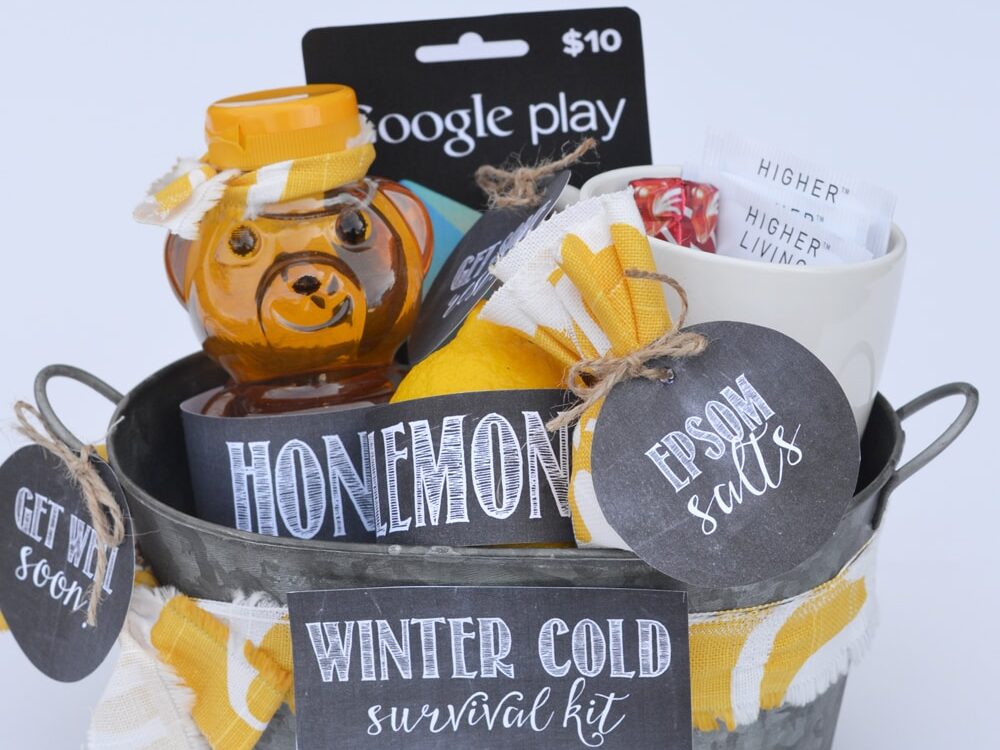 Bonus Idea from The Dating Divas
How fun would a Family Date Night Basket be?! Gather ALL the printables for a WHOLE YEAR of family date nights and give the gift of family time for Christmas! Yep, there's one for every month of the entire year, PLUS binder printables to keep it all organized. Talk about a meaningful family gift idea that keeps on giving all year long!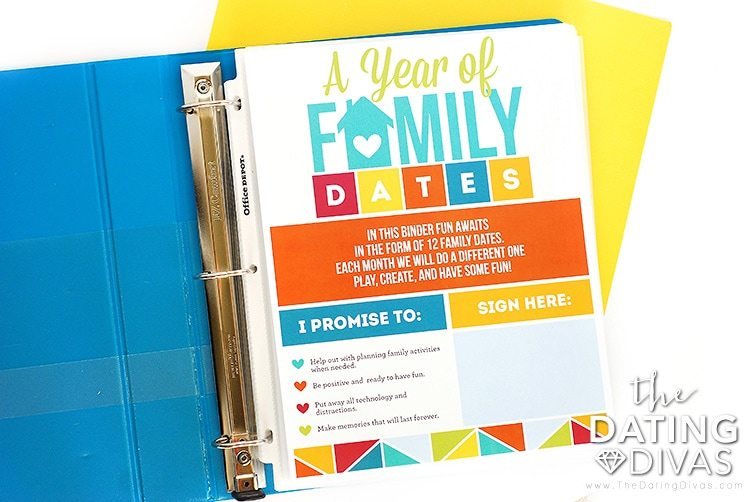 May these items inspire your Christmas gift giving to be creative, magical, and oh-so-merry! For even more great gift ideas, be sure and check out our Christmas Neighbor Gift Ideas and our list of Christmas Gifts for Kids! We even have a huge list of our Favorite Children's Christmas Books!
Happy Gifting!