Creative Gamer Gift Basket Ideas
Surprise your boyfriend or husband with the best gamer gift ideas of all time! Many of our spouses love to play video games in their spare time, and with that in mind, we've come up with the perfect gift idea; a gamer gift basket! This is one that gamers on any level will be sure to appreciate AND won't cost you an arm and a leg! It's time to show your honey a little gamer love with an adorable gamer gift basket!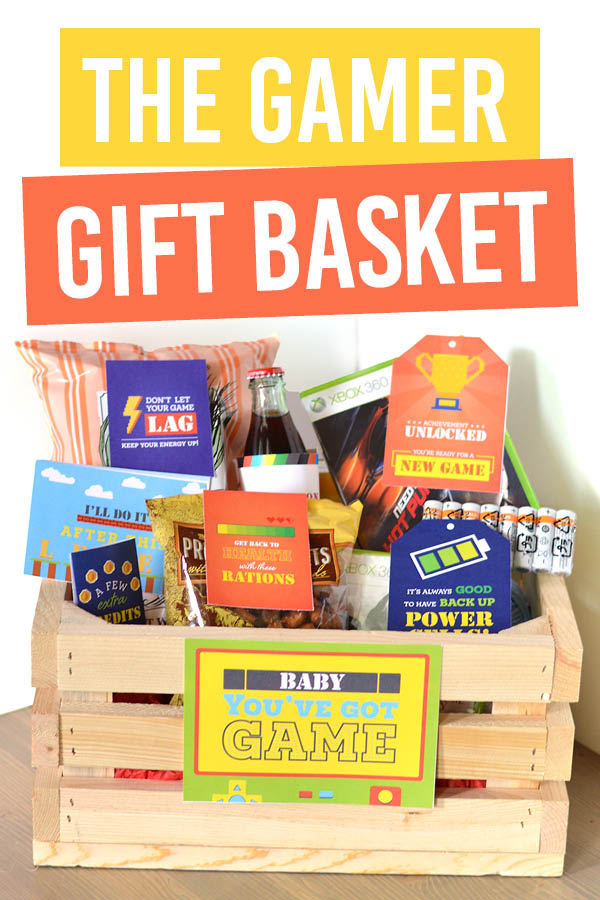 Disclaimer: This post contains affiliate links. To learn more about 'em, click here.
Joanna from JAB Creative really helped us take this video game gift basket to the next level! She is seriously a dream to work with! She helped us create these impressive printables for this gamer gift basket that are not too girly. Your guy will definitely like them!
How to Make a Gamer Gift Basket
The best part about this gamer gift idea is that you can customize it to your gamer's likes! Not to mention, it could not be any easier to put together! Follow these instructions to create the perfect gamer gift basket:
Step 1: Find a basket or wooden crate to store all your gift basket items in. I wanted something a little more "manly" for my man, so I went with a crate!
Step 2: Print the adorable gift tags and flirty love notes linked below! Trust me. Each tag and note is gamer-friendly and sends the perfect message! 😉 I personally love the "Baby, You've Got Game" sign that can be attached to the very of the basket.
Step 3: Arrange all your gift basket items strategically so the tags can be seen. (We've got tons of ideas below!) Don't hesitate to use some basket filler to make it appear nice and full!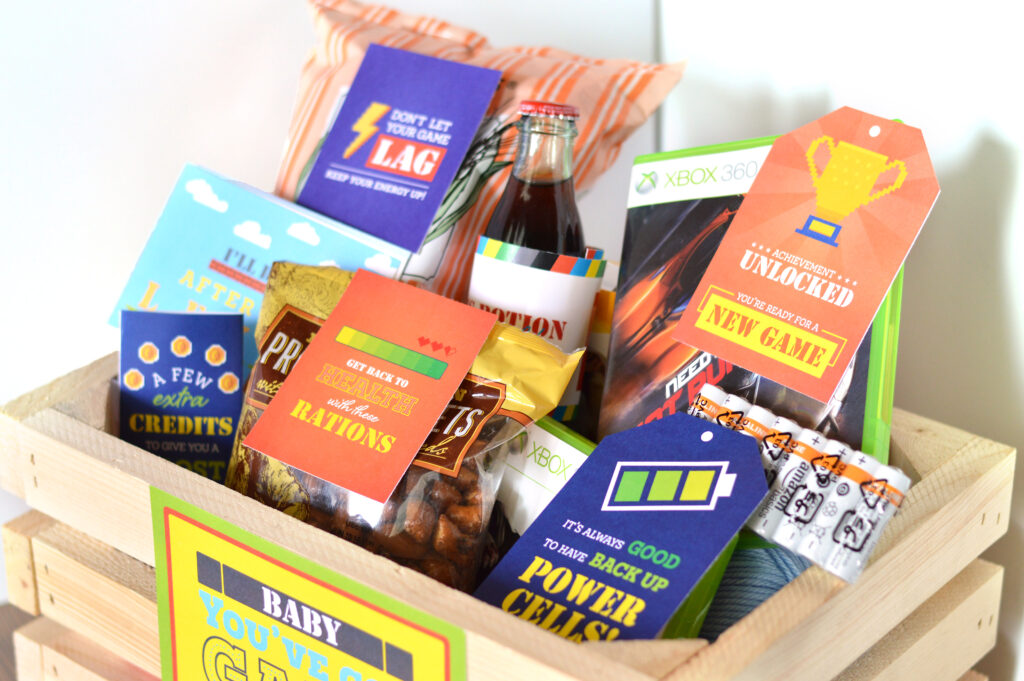 Gamer Gift Ideas
Check out these easy-to-find, fun, and tasty gift ideas you could use to fill your gamer gift basket!
Your sweetie's favorite snacks – Don't forget to attach the adorable gamer snack tags!
Extra batteries for their controllers
A new game (or 2)
Their favorite drink – Gotta stay hydrated! 😉
A gift card to buy more games!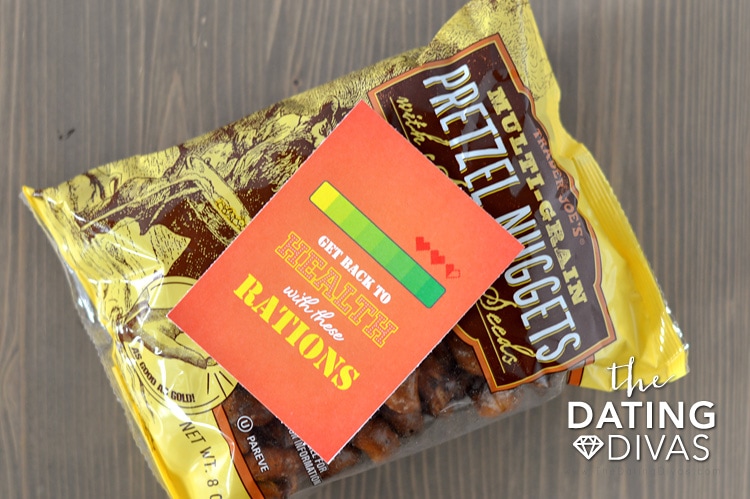 We even included a few bonus gifts that you can add to your basket (or crate!) that you don't even have to shop around for. Just print out these gamer-themed coupon cards and flirty notes on some card stock, add them in, and then your honey can use them while he's gaming to request a kiss or your company! Isn't that the cutest little touch?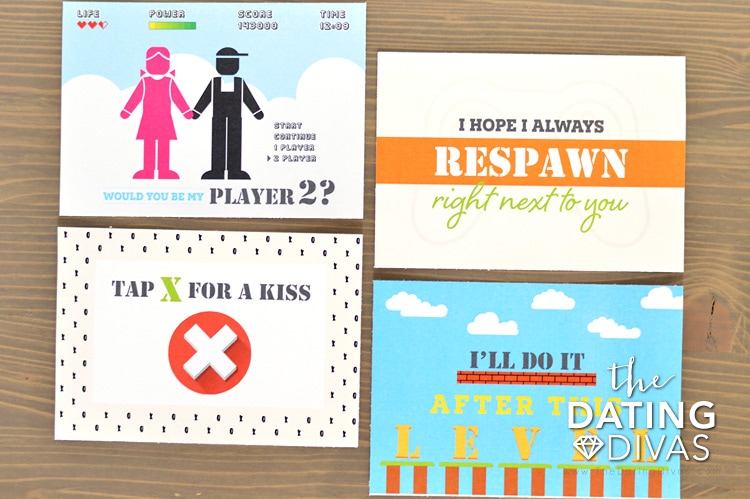 A Gift For Any Occasion
This gamer gift basket full of gifts for your boyfriend or husband would be the PERFECT gift for any occasion! Everything from your anniversary, to a birthday, or even Christmas! Additionally, this could be a surprise gift for no reason at all – just because!
One of our favorite ways to use this gamer gift idea is to make your man smile for Father's Day! Just leave out the love notes and use the "Dad, You've Got Game" sign for the front. Then, let your kiddos pick out a few snacks for their dad and you are all set! Without question, this video game gift basket will not disappoint regardless of when it's given!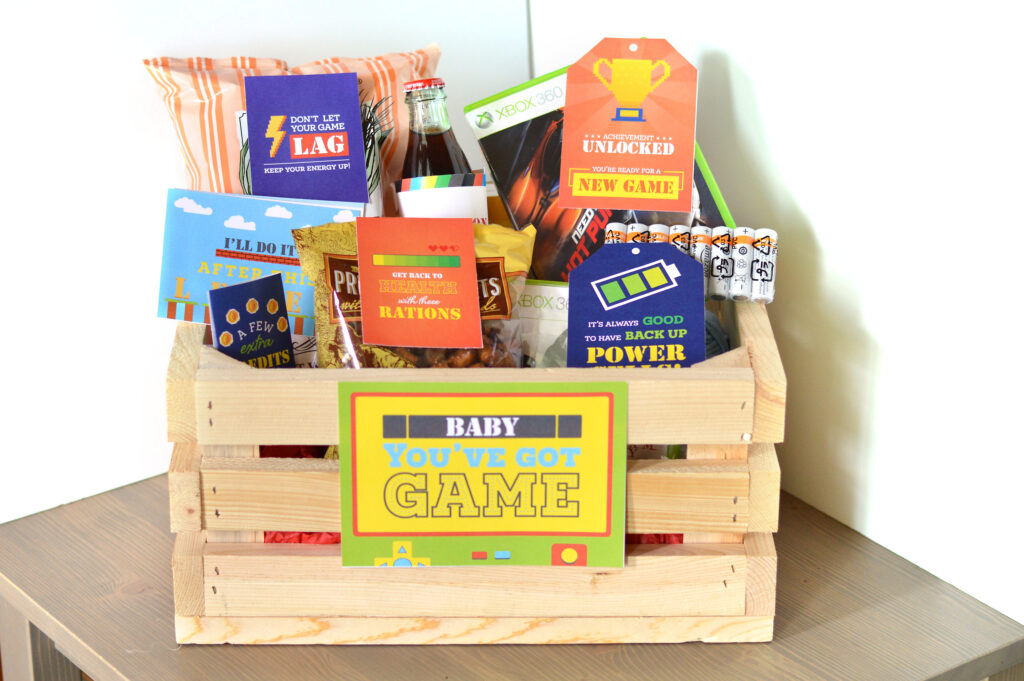 If you loved this simple gift idea, check out another fan-favorite, the Sex Box gift, or The Man Can. Both will unquestionably make the man in your life feel like a million bucks!
Happy gifting!
Gamer Gift Basket
Printables Designed by Joanna @ JAB Creative Exclusively for The Dating Divas