Fun Family Reunion Ideas to Make Planning Easy
Summertime is one of my most favorite times because it's a great excuse to get together with your family. Anyone else look forward to family reunions!? They are usually the highlight of our summer! However, planning the perfect reunion can be time-consuming and it can definitely be difficult to find activities that everyone will love! That's why we gathered the most unique and fun activities to help you plan your next family reunion.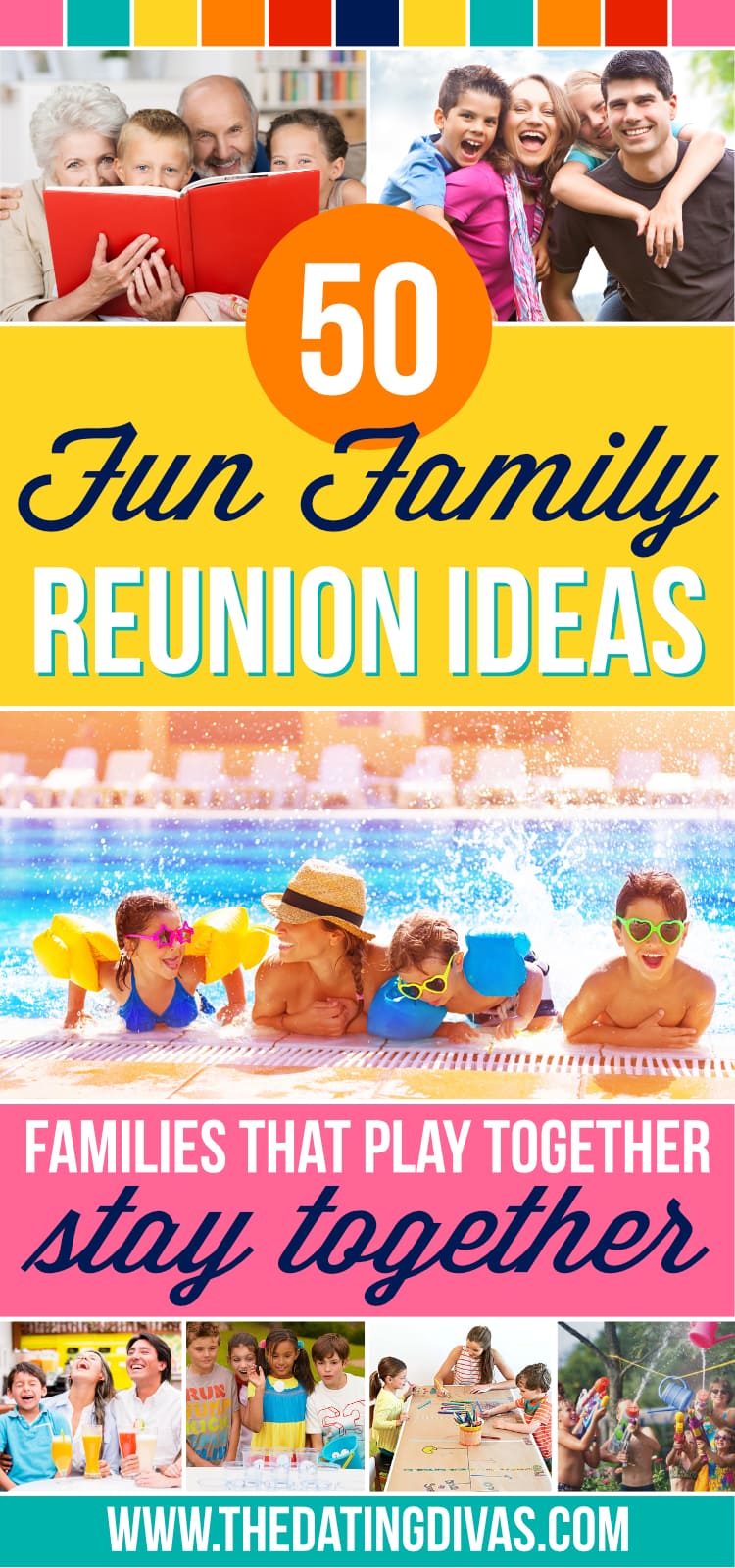 Disclaimer: This post contains affiliate links. To learn more about 'em, click here.
 Not only did we find some of the most unique and fun ideas, we looked for some great ideas that will help you make memorable moments with the whole family! After all, that's what family reunions are all about!
We've divided our list into 4 fun categories to make browsing a little easier:
15 Games for Family Reunions
14 Activities or Competitions for Family Reunions
9 Ways to Make Family Memories
12 Ways to Get to Know Your Family 
Here we go… read the ideas and let your imagination run wild with the possibilities – you don't have to use each activity exactly the way it is presented! Have fun with the list below.
15 Games for Family Reunions
There are so many fun ideas for games out there! Here are 15 fun ideas that you can tweak and turn into fun relays or tournaments to entertain the whole family!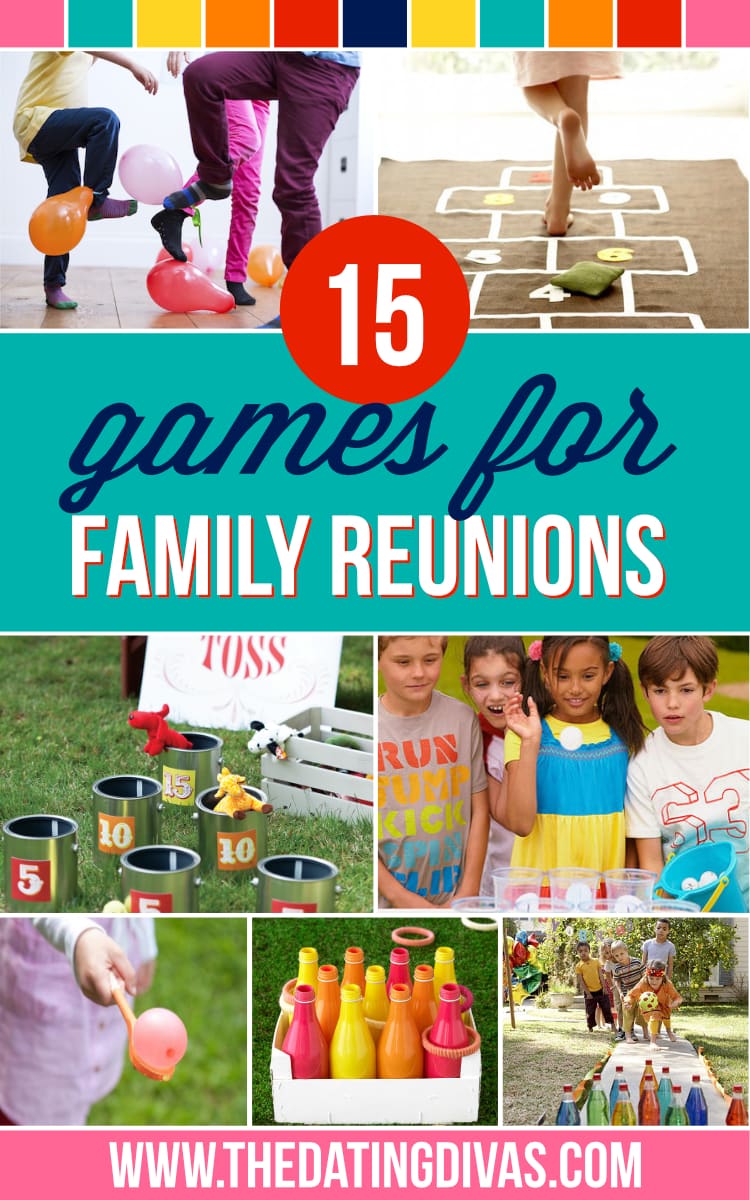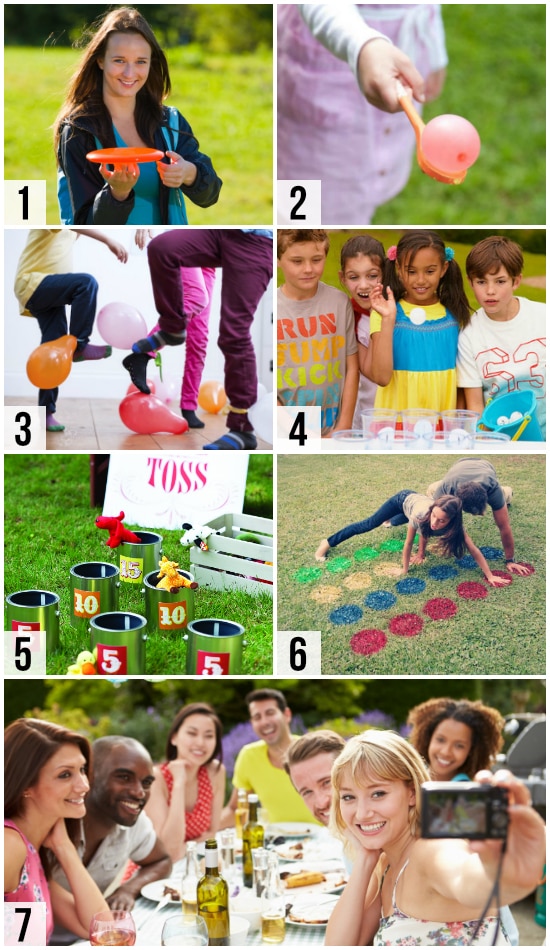 1. Frisbee Golf with a Twist – Frisbee golf is such a fun sport to play. Make it super unique by creating your own 'course', split the family into teams, and at each 'hole' have a fun, family fact, trivia question, or mind game for each small group to complete before moving on to the next hole. Instead of keeping score, the fun becomes learning more about your family and building friendships. Grab these great frisbee golf discs while you're at it!

2. Egg and Spoon Race – This one might get a little messy! 🙂 Race holding an egg in a spoon and see who wins. If you want to make it a little harder, have an obstacle course in your way!

3. Balloon Stomp – This game might get a little rough, so be prepared :). Blow up balloons, tie one to each participant's ankle, then go around and try to pop everyone else's balloon. Whoever has the last un-popped balloon is the winner! Fun!

4. Ping Pong Toss – Time for some carnival games… set up plastic cups (filled slightly with water), in a formation. Write different point values on the front and have a competition to see who can bounce ping pong balls into the cups and get the most points. You might be surprised to see who ends up being the winner!

5. Carnival Games – A fun idea for your family reunion is to have a carnival day with all kinds of carnival games like a bean bag toss (you can buy some here), can toss, cupcake walk, or even a prize punch!

6. Lawn Twister – If you like the game Twister, then you will for sure love this version! Paint the circles onto the grass and play to your heart's content!

7. Hot Potato Camera Game – This is just like the game hot potato, but with an awesome twist! Get a camera that has a timer on it. Pass it around the group, with each person having to hold it up at arms length (as if they were going to take a selfie). Whomever is holding the camera when it actually takes the pic is out of the game! Be careful not to drop the camera – you might want to sit on the ground to minimize damage!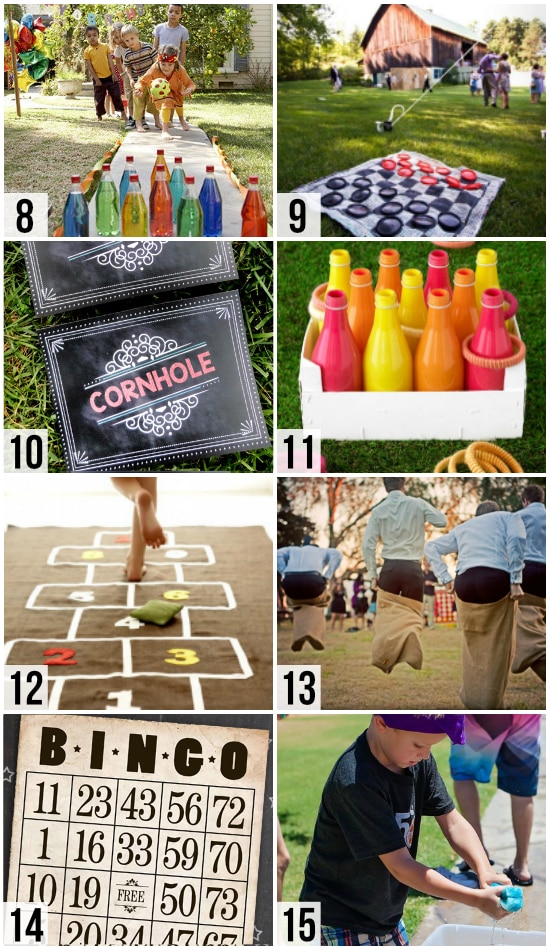 8. Glow Lawn Bowling – I cannot even believe how fun this looks! It's so simple. Fill up some old plastic bottles with water and food coloring and create your own mini bowling alley! Make your own bowling game in the dark using glow sticks! Any participant will love the added challenge of playing in the dark! Ha!

9. Lawn Checkers – Make your own over-sized game of checkers and play to your heart's content! This would be great to have out for people to play in their down time!

10. Olympic Yard Games – Turn up the competition with a round of Summer Lawn Olympics. Set up games like Corn Hole, Ladder Ball, Jenga, Twister, Bocce Ball, and Kubb. Make sure to grab awards to go with the medals for the winners!

11. Ring Toss – Create your own horseshoes using the materials you have inside the house and getting some 3 inch embroidery hoops. This will be a crowd pleaser, no matter the ages.

12. Hopscotch – Make a hopscotch board using tape and burlap. With this version, it's portable AND you can use it for family reunions in the future as well.

13. Burlap Sack Races – The original link is no longer available but just split the family into different age groups, give each participant a burlap sack, then, racing within each age group, hop to the finish line as fast as you can!

14. Bingo – Bingo is a classic game that never grows old! Play a few games to really get the party started! Don't forget fun and silly prizes for the winners!

15. Fun Relay Games – Relays are the perfect way to build family relations, make connections, and make fun memories! Plus, everyone loves to get a little competitive seeing who can launch sponges and fill a bucket with water the fastest! This is true skill!

14 Activities or Competitions for Family Reunions
Does your family like to compete?? Split up into teams for some family friendly competitions OR enjoy some fun activities for sweet family bonding time. I sure hope our next family reunion includes some of these!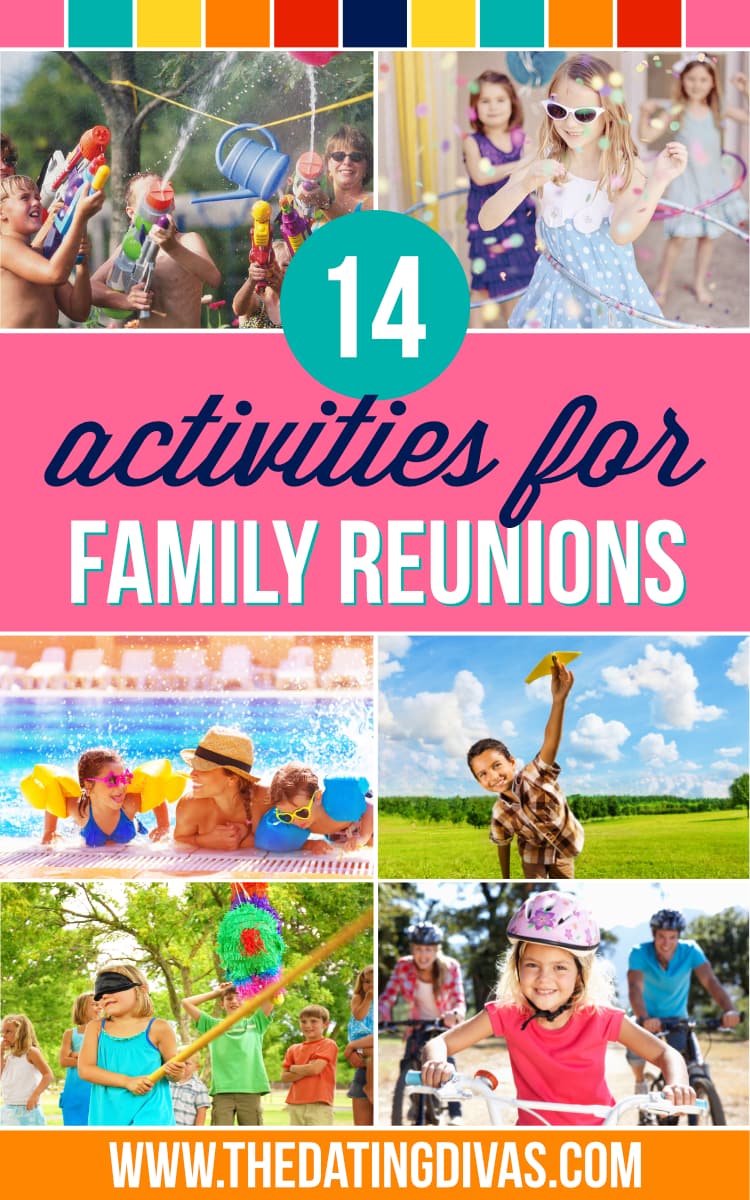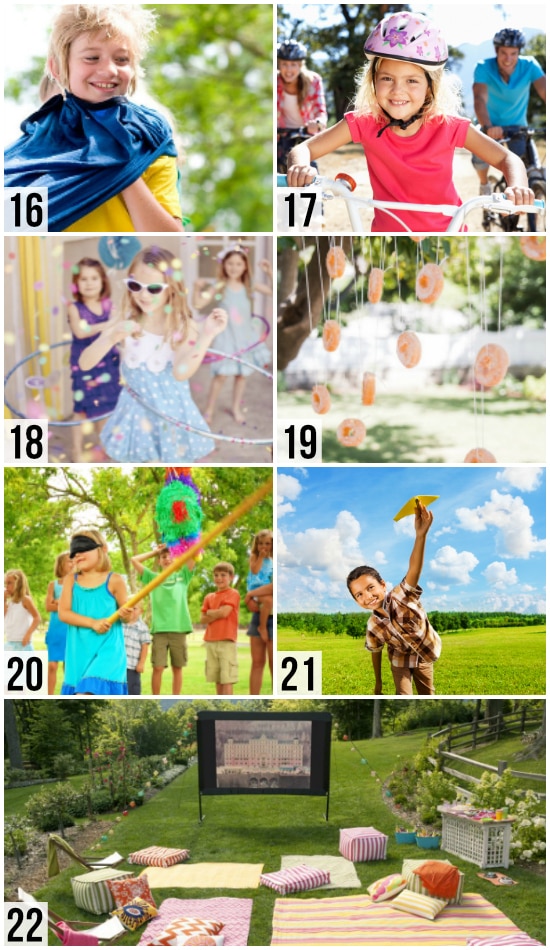 16. Frozen T-Shirt Competition – My family plays this fun game every time we get together for family reunions! We even have prizes and bragging rights until the next competition!

17. Family Parade – Every reunion must have a family parade! Throw in a family reunion banner, decorate some bikes, and have a blast showing off YOUR mad decorating skills to the rest of the family!

18. Hula Hoop Competition – This one is sure to bring the laughter when watching those that might not be the best at hula hoop. It's sure to bring a smile to everyone's face as they watch family members try to keep their hula hoop moving!

19. Bobbing for Donuts – Hang donuts on a string, tie the participant's hands behind their back, and see who can eat their donut the fastest. For large groups, you can split this into different age groups, or pick an individual to represent each family. Whichever you choose, this is sure to be a hit!

20. Piñata Fun – Every reunion needs a piñata! My mother-in-law always fills the piñata with the coolest little trinkets like these, and activities that lead to a night full of fun for the kids!

21. Paper Airplane Competition – Buy a book about how to make paper airplanes and let the kids go at it! Once you have some good ones, why not do a whole competition for the family and see who can get an airplane to fly the furthest?! Fun!

22. Outdoor Movie Night – Take the party outdoors with a fun movie night! Don't forget some comfy blankets, popcorn, treats, and more! Here are all of the tips you need to pull it off. You could even turn it into a fun slumber party and sleep under the stars!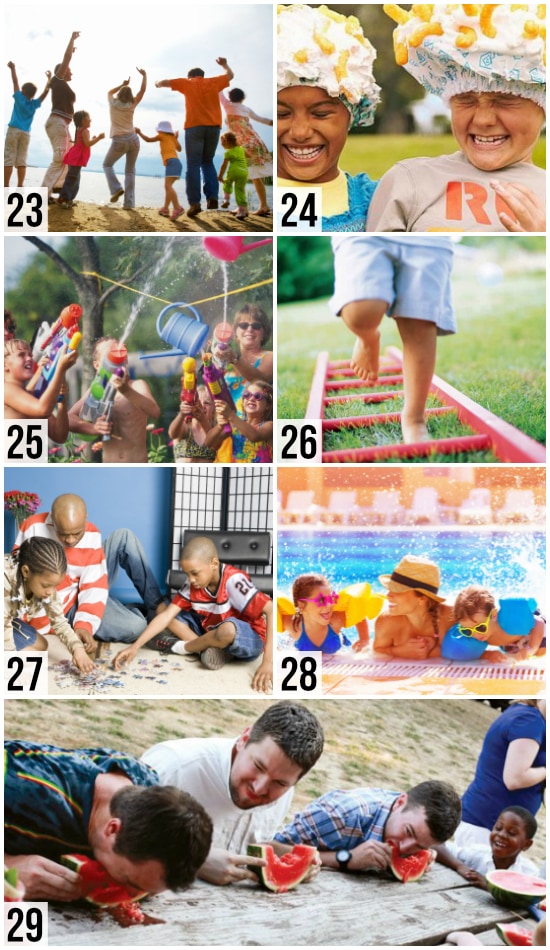 23. Dance Party – Let's dance! Get your groove thing on with a dance party for the whole family. No one should be left on the sidelines for this memory-maker activity!

24. Minute to Win It – Oh my goodness! If you want some good laughs, plan some minute to win it challenges like the snack toss and face the cookie or junk in the trunk! Getting a little silly and embarrassing yourself in front of everyone is one of the best ways to have fun and make memories. PLUS, the Divas have you covered with printable Win it in a Minute Games for almost any holiday or occasion!

25. Squirt Gun Races – This looks like such a blast and super easy to rig up! All you need is some good squirt guns like these and some kind of container attached to string that you can push along with water! (They used a plastic watering can).

26. Obstacle Course – Create an obstacle course with all kinds of challenges for the family to complete! This is probably one of the most memorable things my family did at reunions growing up. These ideas will get you started, but use your creativity to come up with your own family challenges. You could even have families come up with their own challenges.

27. Jigsaw Puzzle Race – My friend told me about this tradition. They do this at every reunion and they LOVE it! Pick out puzzles depending on the age and skill level of the family. You will be surprised at how fun and challenging this activity is and you'll be hooked on a new family tradition!

28. Splash Party – If your family reunion is in the summer, a splash party is the perfect event! Pull out all of the water toys or hit up a pool for some fun!

29. Watermelon Eating Contest – Eating contest!?!? Heck, yes! This one involves one of your favorite summer-time fruits. Yummy! You could use whatever you want for an eating contest. Go traditional with pies, or try cupcakes, or even tacos!

9 Ways to Make Family Memories
Reunions are all about bonding and growing close together! Here are some fun ways to build memories that you'll cherish forever.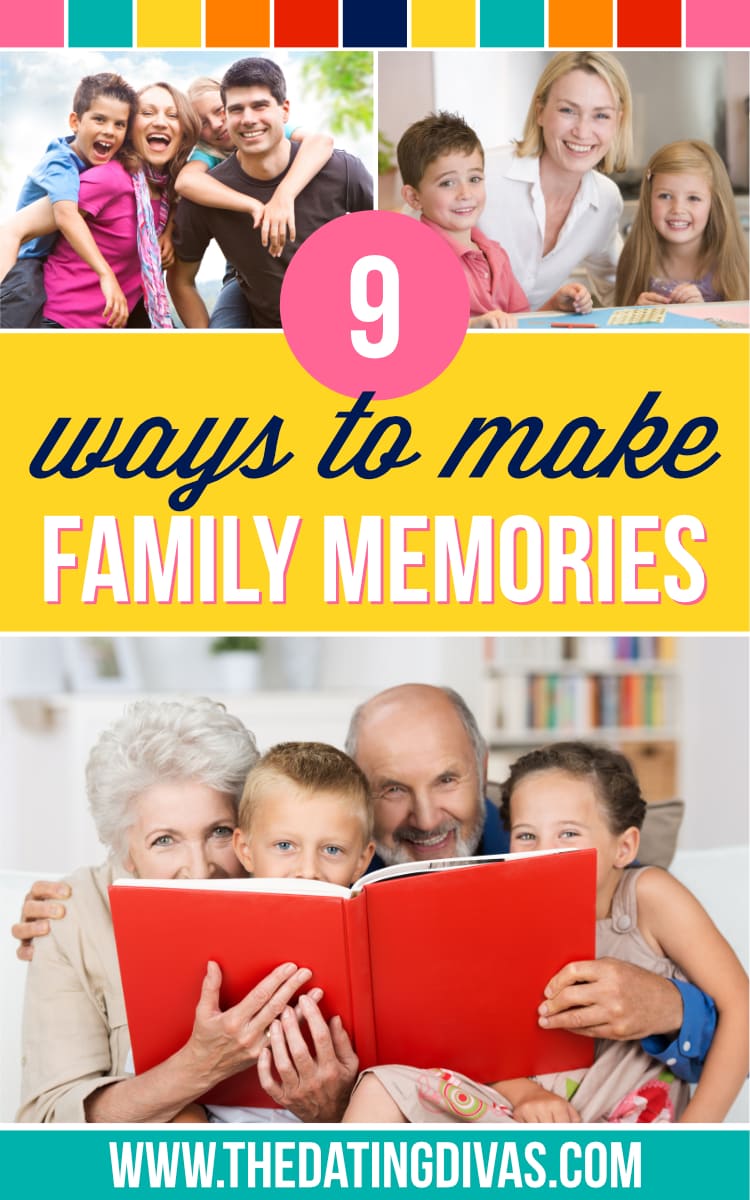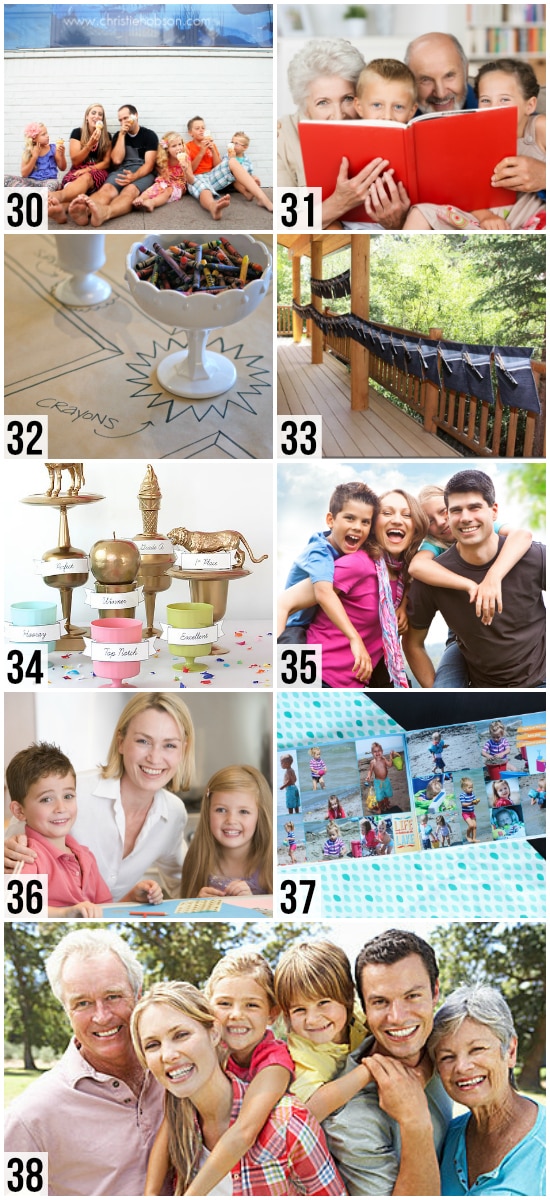 30. Family Photo Shoot – Every family reunion has to have a family photo shoot. Check out our family photography round-up for inspiration, then have each immediate family take their own picture using the timer on their cameras, then put together a slide show of all the pictures for everyone to enjoy OR all of your family pictures could be a candid shot instead of the normal point, smile, and shoot pics that are tradition!

31. Storybook Time – When you plan your reunion, you have to include this activity. Have each child coming to the family reunion bring their favorite childhood book to share with everyone. You can either have Grandma/Grandpa read them out loud to the group (depending on size of reunion), or split the group in small groups and have the books read there.

32. Decorate for a Special Meal – For a special family dinner, have the kids work together to decorate a tablecloth. Use butcher paper, crayons, markers, stamps, and stickers to make a fun display! Record memories, draw pictures, write notes… and don't forget to take pictures.

33. Give Secret Gifts – I love this idea! Hang up pockets for the reunion for each member of the family, and throughout the reunion you can leave notes or little gifts for family members to find!

34. Award Night – Have a fun awards night and give out the ultimate family awards… You can even make your own awards with some hot glue, plastic cups and paint!

35. Reunion CD – This family tradition sounds like a fun must-have for anyone's family reunions! Before getting together at the reunion, each family member sends in a favorite song. Then at the reunion, you try to guess who sent in each song… after the game, you have a fun playlist you can listen to! FUN!

36. Create a Family Crest – My mom grew up knowing what her family crest was, thanks to her grandma. What a special time it would be to create a family crest for your family to enjoy and help build relationships.

37. Family Reunion Book – Family reunions are so much fun! But the fun and memories don't have to end! My mother-in-law put together a fun family reunion photo book that she sent to all the families and my kids LOVE to look through it. It helps keep the memories fresh! Shutterfly is a great option to put this together. You can ship it to other addresses, so that's less work for you!

38. Interview Grandparents – Grandparents hold so much wisdom and understanding! They have so many fun stories that the family might not know or remember. Hold and record a special family interview so that you can have those memories for years to come!

12 Ways to Get to Know Your Family 
See how well you know your family members with some of these fun get-to-know you games! These can be really fun, even if you already do know everyone in the family really well.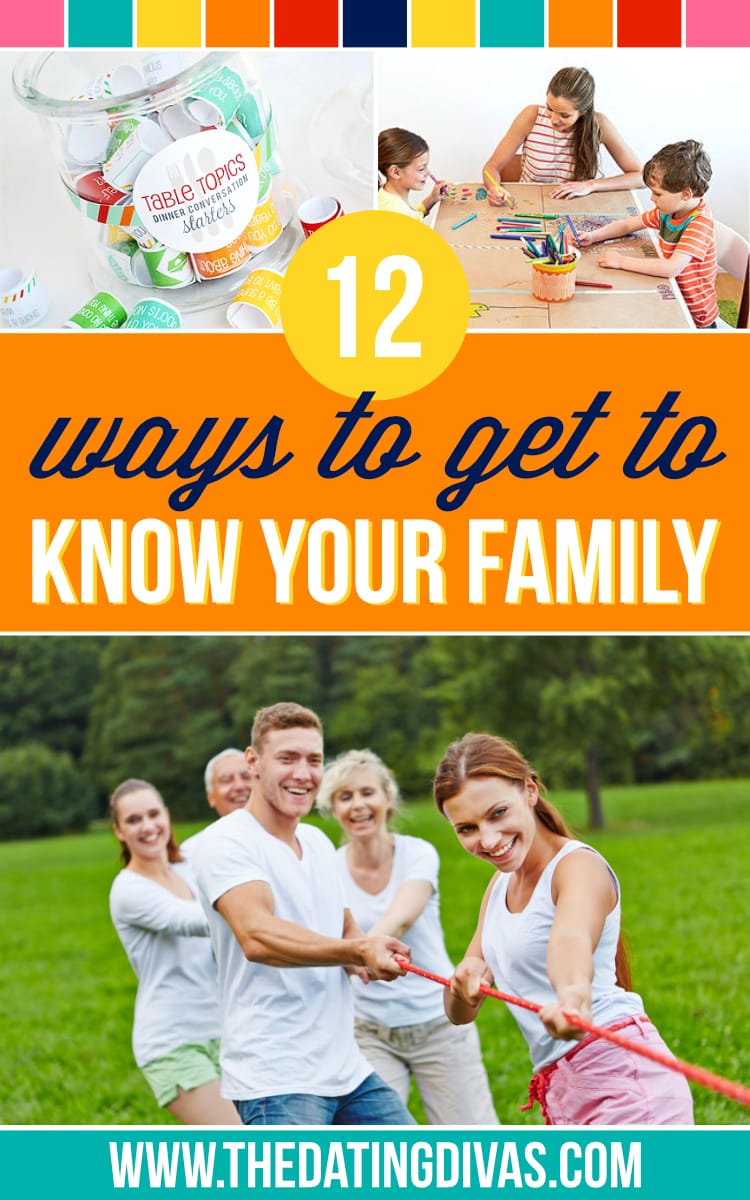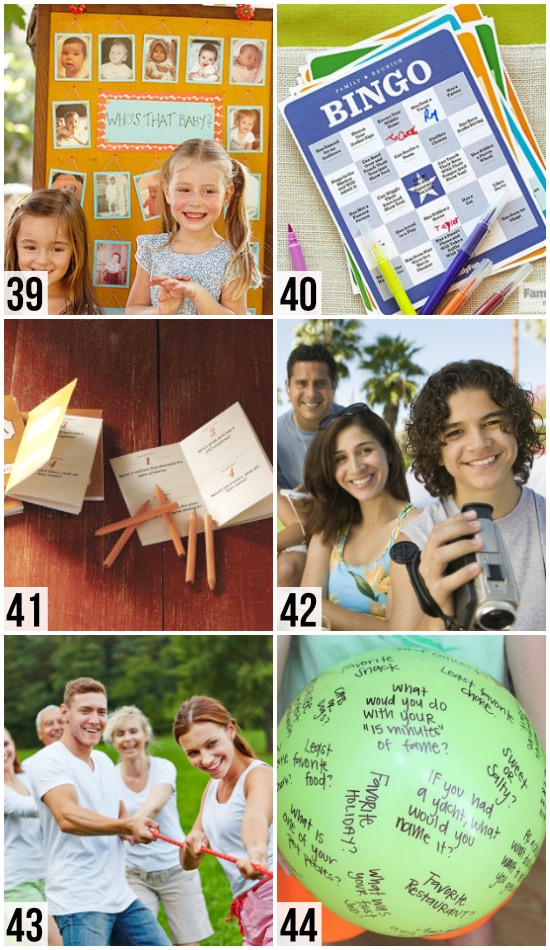 39. Who's Who Photo Game – Have everyone send in a baby pic before getting to the reunion. Then, have a competition to see who can guess who is in each picture! Fun and easy activity for your reunion!

40. Get to Know You Bingo – If your family needs to get re-acquainted after being away from each other for so long, this fun game of bingo will get everyone running around asking all of the IMPORTANT questions like: who loves broccoli and who is brave enough to go skydiving!

41. Family Trivia Game – Family trivia games are so much fun to play. Everyone ends up learning a ton about the family. What a fitting activity for a reunion!

42. Video Scavenger Hunt – Instead of doing just a regular scavenger hunt, each member of the family should be given a camera or video camera to PROVE they found the items. Make some fun memories with this intense scavenger hunt, check out idea #15 for more details on how to pull this off at your next family reunion.

43. Ice Breaker Games – Unfortunately, there are some family members who have never met each other or don't know each other very well. This game is perfect because it allows each individual to relax and get in the groove of having fun with each other!

44. Get to Know You Ball Game – This game can be fun for all ages! Write a bunch of random questions on an inflatable ball. Then take turns throwing the ball and answering questions… Make up your own rules to make it more fun and challenging – like you can only catch it with one hand or you have to throw it granny style.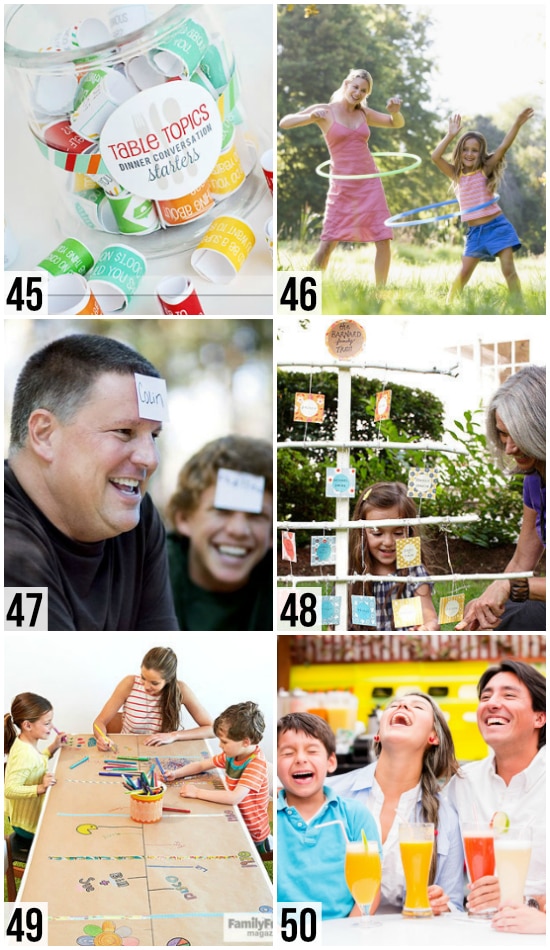 45. Conversation Starters – Get the family talking with these hot topics! Fun conversation is the best way to bond!

46. Talent Show – My kids' favorite thing to do when my family gets together is to participate in a talent show! They love showing off for their cousins and seeing what everyone else will come up with. This is a for sure when planning your family reunion!

47. Who Am I? – This would be so fun!! Write the names of everyone at the reunion and drop them in a hat. Have each player draw a name and tape it to someone else's forehead — don't let them see! Go around and ask other participants yes-or-no questions ("Do I have kids?" "Am I taller than you?") until everyone figures out whose name is taped to his or her forehead.

48. Family Tree Craft – This fun craft will help families get to know each other. Get some wooden garden stakes and a few other things you probably already have laying around, and watch it all come together!

49. Family History Timeline – Mapping out your family history can be a fun activity, as well as a great way to make family history more visible and meaningful for the everyone, even the littles!

50. Family Reunion Jokes – Every planned family reunion needs to include conversation building skills – or someone telling jokes! See who picks the best jokes. Share a few of these funny ones to get the jokes going!!
Aren't all of these ideas just perfect to help you plan your next family reunion? Remember, be creative! There are so many different variations you can use for each of these activities to help it fit for your family. If you are looking for more family ideas, check out these Backyard Games, 50 Fun and Crazy Family Games or 65 Outdoor Party Games for Family.