Fun Halloween Games for Kids, Teens, and Adults
Halloween means party time, and parties mean fun Halloween games for all ages! So whether you're throwing a Halloween party for kids, teens, adults, or the whole gang, we've rounded up enough Halloween party games to keep you busy until the monsters come out. No more spending hours searching for ideas, as all of our favorite Halloween games for adults and kids are on one spooky-fun list. Let's check it out!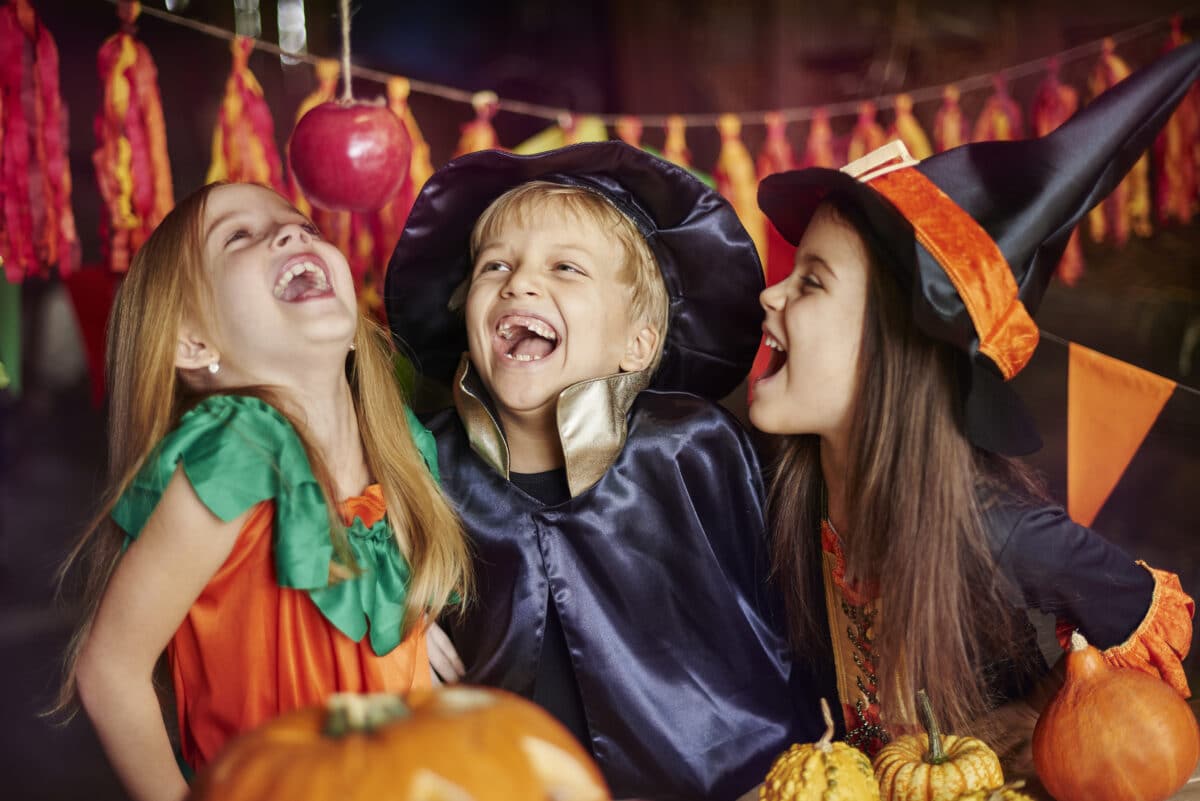 Disclaimer: This post contains affiliate links. To learn more about 'em,
click here
.
How to Host a Fun Halloween Party
You may be wondering how to host a Halloween party that's both fun and easy. It's easier than you think! Simply:
Ask your guests to dress up

Invite everyone to bring a treat to share

D

ecide on a few hilarious Halloween games to play
We've even made it extra easy by sharing some of our favorite Halloween games for kids, as well as the rest of the family below. There's something for everyone!
Table of Contents
30 Halloween Games for Kids
If you've been searching for the perfect set of Halloween games for kids, keep reading! We've compiled a list of ideas and activities that is sure to contain the perfect games for your Halloween festivities.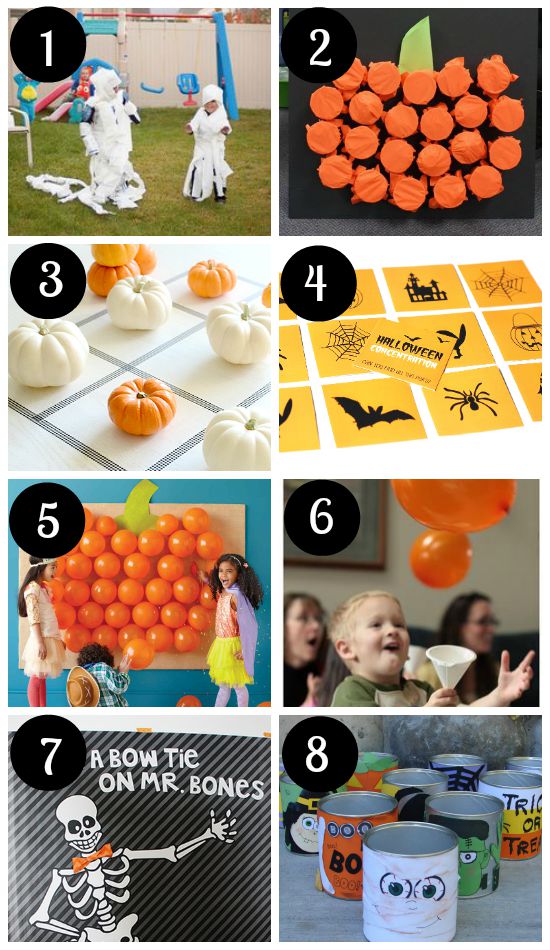 1. Mummy Race Halloween Game – Watch the kids race across the finish line leaving a trail of toilet paper behind them. So fun!
2. Poke a Pumpkin – Put prizes inside orange cups with napkins rubber-banded over the tops. Let each child breakthrough to get a treat or a trick!
3. Pumpkin Tic-Tac-Toe – Tape a grid on a table with masking tape. The game pieces are mini pumpkins. Love it!
4. Halloween Concentration Games – Let the kiddos test their memory of all things spooky with this fun Halloween game. Plus, free printables!
5. Pop Goes the Pumpkin – Kick off your Halloween games with a bang! This classic carnival game is both an activity AND party decor! Win-win!
6. Balloon Catch – Add this idea to your list of Halloween games by blowing up a few orange balloons and giving every player a paper funnel. Watch the kids catch, jump, and spin until everyone falls down with laughter.
7. Pin the Bow Tie on Mr. Bones – Print an engineering size print of Mr. Bones and you've got yourself a 4-foot tall skeleton. Add a blindfold and some bow ties, and you're good to go!
8. Pumpkin Bowling – Fill each DIY bowling pin with candy or a surprise. Players will then bowl with a small pumpkin and get a treat from inside of whichever pin they knock over.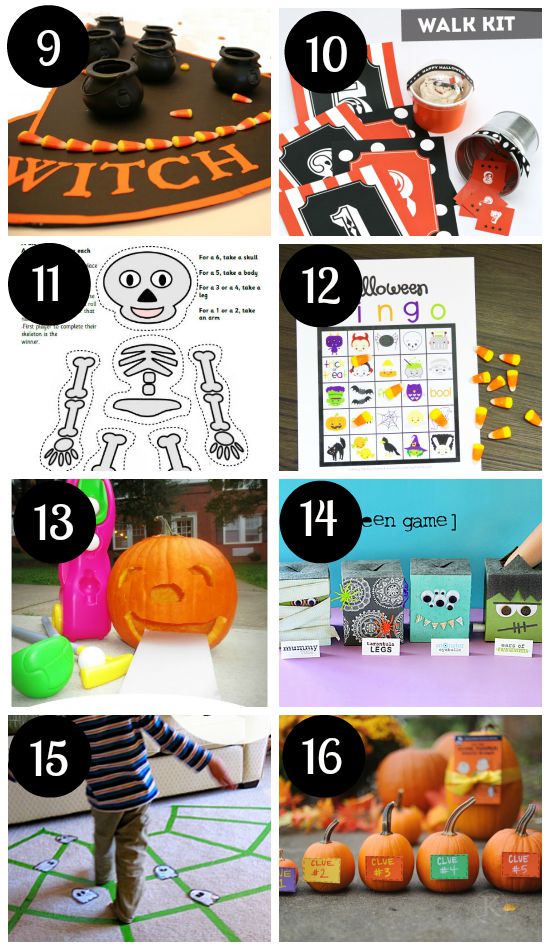 9. Witch Pitch – See how many candy corns the kiddos can toss into a cauldron. Whether they make it or not, there will be lots of yummy candy corn to munch on!
10. Cupcake Walk Kit – My kids love any game that ends with eating cake. Guess what?! Free printables too! Sold.
11. Skeleton Halloween Games – Roll some dice to gather all of the pieces of the skeleton. The first child to gather all of the bones wins!
12. Halloween Bingo – This free, printable Halloween Bingo is easy to play and perfect for kids because it's all Halloween pictures. Candy corns act as the perfect placeholders!
13. Pumpkin Golf – Carved pumpkins not only make great lanterns, but will help you create your very own miniature golf course. Grab some golf balls and get puttin' in this fun Halloween party game.
14. Touch and Feel Sensory Halloween Game – The old "peeled grapes for eyeballs" classic is one of the most fun Halloween games for kids. Gross!
15. Spider Web Walking Halloween Game – Grab some colorful tape and create a fun spider web for the kids. This activity uses balance, problem-solving, and imagination.
16. The Great Pumpkin Treasure Hunt – Lead the kiddos from clue to clue until they find The Great Pumpkin. We watch this every year and my kids LOVE it!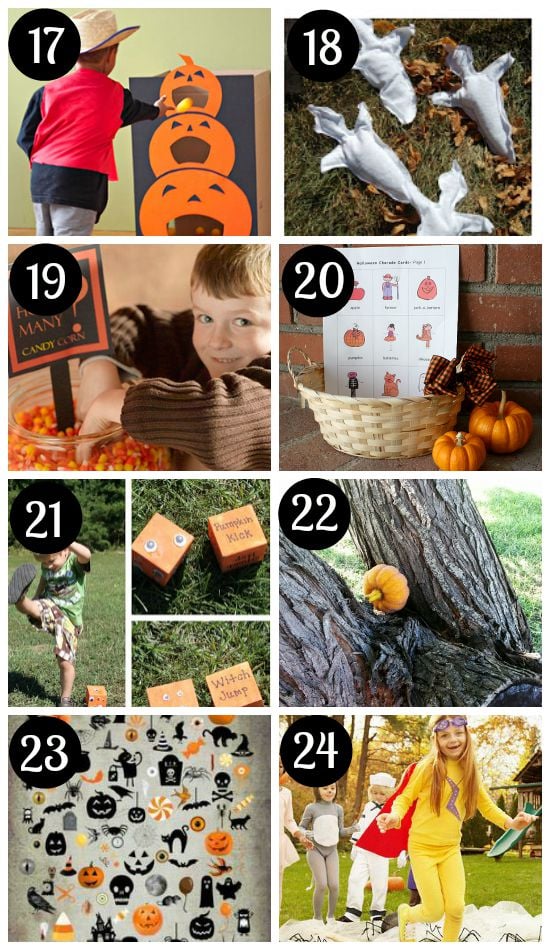 17. Pumpkin Toss – If you're looking for DIY Halloween games, this one is well worth the time spent making it. Oh, and don't worry about tossing pumpkins into a nasty mess. Draw pumpkin faces onto tennis balls to avoid all that!
18. Ghost Bucket Toss – This DIY Halloween game is not only cute and fun but easy and inexpensive. Plus, it's one of those Halloween party games that you can use year after year.
19. Candy Corn Guessing Game – For this sweet guessing game, start by filling a large clear bowl with candy corn, making sure to count each piece as you go. The child with the closest guess gets a prize! (Or the whole bowl of candy! Yummy!)
20. Halloween Charades – This game is a fun way to let children interact and play together. Free printable game cards are included!
21. Monster Dice – I really LOVE this little DIY game. An easy, creative, and great way to get the kids moving!
22. Pumpkin Hunt – I love the simplicity of this game, and it's a great way to have some Halloween fun outdoors!
23. Halloween I-Spy – My kids love I-spy games and this one is perfect for a Halloween party.
24. Halloween Game: Balancing Act – Challenge all players to walk the plank without falling into the spiderwebs! You'll need some tulle and cheesecloth to create your spider web.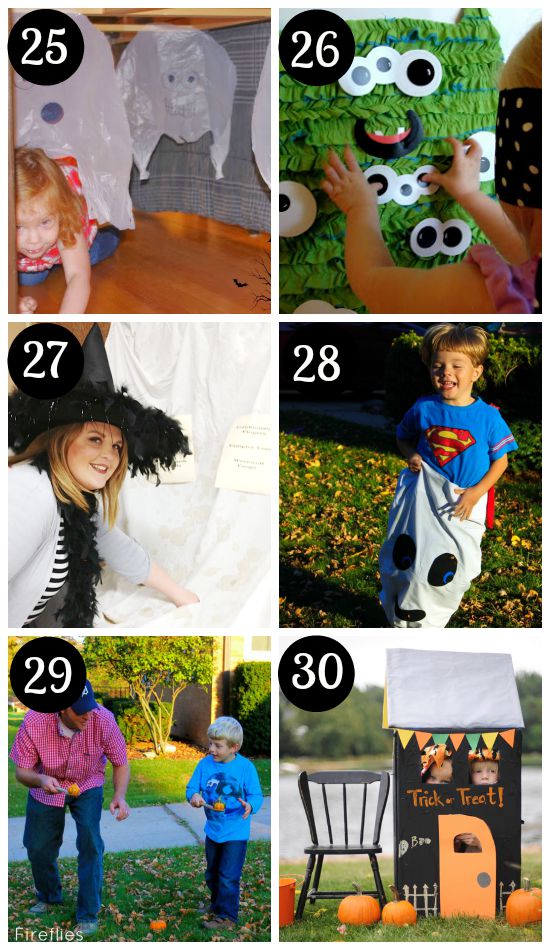 25. Easy Indoor Obstacle Course – These Halloween obstacles can be thrown together with things already in the home. Talk about easy!
26. Pin the Eye On the Monster – Blindfold the little ghosts and goblins, spin them around and watch as they try to add an eye to the monster poster. Monsters can have spooky eyes from top to bottom!
27. Halloween Blind Guessing Game – Add some creepy Halloween fun to your party. Hide different food items behind a sheet, add a small slit, and let the little hands slip through and feel the spooky items.
28. Ghost Races – This Halloween game is designed after the traditional Potato Sack Race, except the white pillowcase is decorated like a ghost. I love classic games turned into Halloween party games!
29. Gourd on a Spoon Challenge – Have the kiddos balance gourds or mini pumpkins on a wooden spoon as they walk around a course of pumpkins.
30. Fall Halloween House – Turn a cardboard box into a little Halloween house for all of the small party guests to play in. Let them all practice their trick-or-treating by knocking on the front door.
12 Halloween Party Games for Teens
Now that we've got the little ones taken care of, let's up the scary meter and give the older kids a turn! Zombies and witches and murder—OH-MY!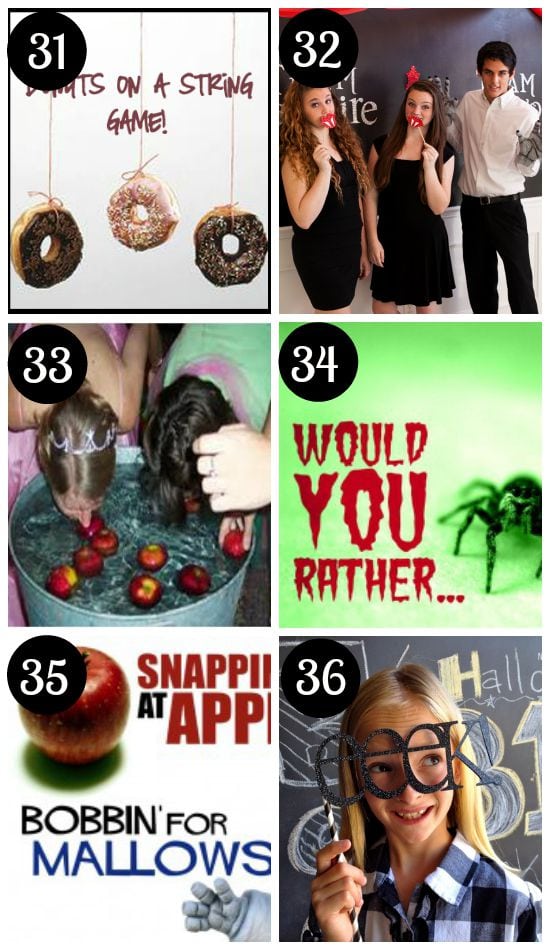 31. Donut on a String – Darn! This link no longer works. But this inexpensive Halloween party game is just as fun to watch as it is to play. Simply tie up some donuts on strings and have your guests try to eat them off using only their mouths!
32. Mind Reading – Here is a fun guessing game to get the whole Halloween party involved!
33. Bob for Apples – The player who picks the apple up out of the water without using their hands wins! Definitely consider having some hair ties available.
34. Would You Rather: Halloween Edition – Bummer, the original link to this list is broken. But you can easily come up with some spooky Would You Rather questions to get the conversation started.
35. Apples and Mallows – This is a great relay game for the whole group that takes bobbing for apples to a whole new level! Unfortunately, the link to this game is broken, but essentially you alternate between bobbing for apples in water to bobbing for marshmallows in flour. Yep, it gets messy but is so fun!
36. Halloween Photo Props – Use these free printable photo booth props to jump-start that teen Halloween party!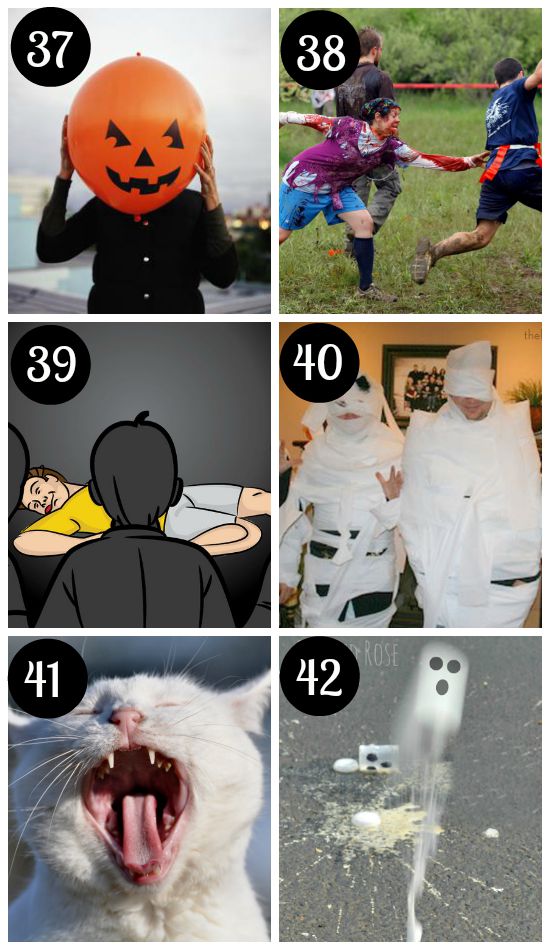 37. Battle of the Halloween Balloons – Have your guests split into two teams, each grab a balloon, and tie it to one of their ankles. Using only their feet, they have to try and break the other team's balloons.
38. Halloween Video Scavenger Hunt – In this Halloween party game, each team has a list of fun and wacky Halloween tasks/items to capture on video and bring back to the party to share with all of the guests.
39. Murder in the Dark – In this game, you're sure to find a dark room, a deck of playing cards, and a group of teens excited about a game of murder!
40. Dizzy Mummy – This one offers tons of fun and very little prep. Steal of few rolls of toilet paper from under your bathroom sink and you're ready to play!
41. Cat Got Your Tongue – At the start of the party, declare certain words off-limits. Use a common word people use during Halloween. If someone is caught saying one of the "forbidden" words they have to perform a "trick"!
42. Ghost Rockets – Have you seen these Alka seltzer rockets made with film canisters?! You're in for a treat and for some serious fun for a group of teens!
24 Fun Halloween Games for Adults
Move over kiddos, it's time for some real fun! Halloween games aren't just for the trick-or-treaters, you know…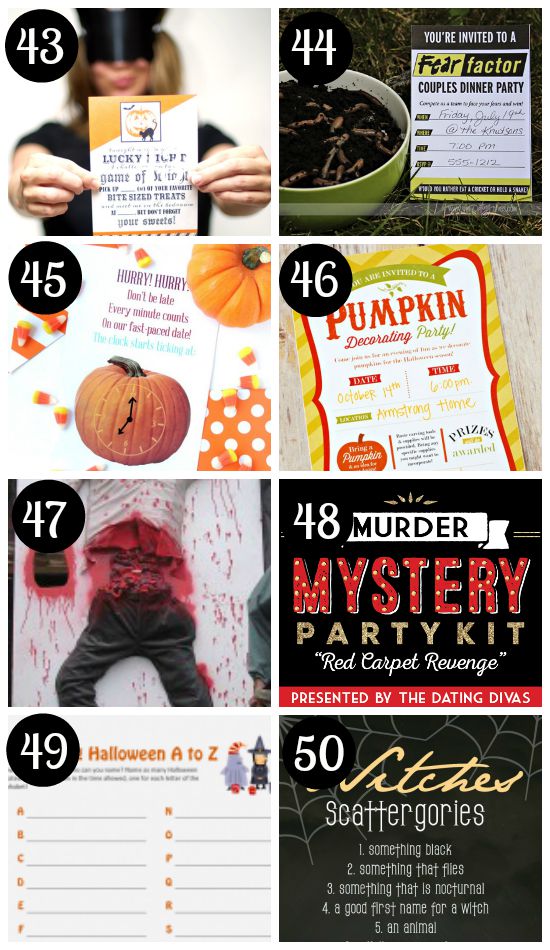 43. Guessing Candy Game – After the kids are in bed, the candy is just sitting around waiting to be tasted. This is the perfect way for you and your spouse to sample the GOODS!
44. Fear Factor – Nothing makes me more scared than this… Fear Factor is a great game to play for Halloween!
45. Pumpkin Win It In A Minute Halloween Games – This is an evening for planned, prepared, and fun Halloween games kids and all party guests will love. Plus – free printables!
46. Pumpkin Decorating Party – Carving pumpkins is such a wonderful Halloween tradition. Turn it into an evening of fun and games with these free printables!
47. The Body Part Toss Game – Aw bummer. This link is broken. But if you're a zombie fan and a little handy with a saw, I think I've found you a new DIY Halloween game. The tossing game isn't just for kids anymore!
48. Murder Mystery Party – This incredibly creative Murder Mystery Party Pack has everything you'll need to throw a killer at-home date! This is our all-time favorite Halloween party game!
49. Everything Halloween from A-Z – How much do you really know about Halloween? This game challenges your knowledge of everything Ghostly from A to Z!
50. Witches Scattergories – Download this free printable and play this fun witchy game while eating your spooky feast!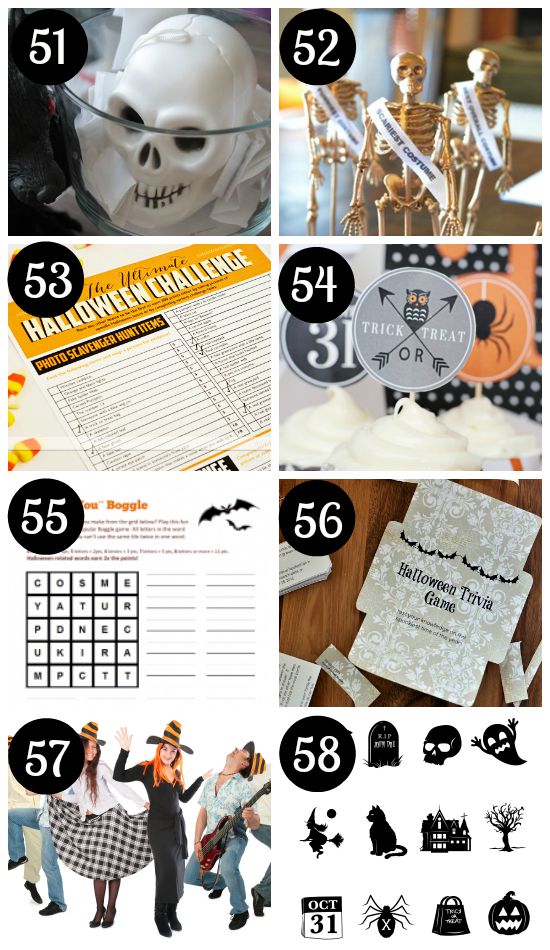 51. Winking Murder Game – When guests arrive, each one picks a slip of paper out of a bowl and the murderer is assigned. If the murderer winks at you throughout the evening you'll have 3 minutes to "die" in an elaborate and dramatic way somewhere in the house. Figure out the murderer before he gets YOU!
52. Costume Contest – Hand out these CUTE award ribbons to the guests with the best Halloween costumes!
53. Halloween Scavenger Hunt – In this hunt, clues lead teams to different places in town, where they must take a photo with their phone and send it back to their host for proof. There are some great ideas for Halloween clues, too!
54. Ultimate Halloween Printable Pack – Fun Halloween activities are just the beginning of this Halloween party pack. Food ideas, decor, and gift bags to take your party over the top!
55. Spooky Halloween Boggle – This printable game is played just like the real game of Boggle (a super fun game for two or more), but is already set up and has a spooky, Halloween twist.
56. Halloween Trivia – If you love Halloween party games that are practically done for you, try this. Plus, it has free printables!
57. Monster Mash Dance Party – Get everyone out on the dance floor for a Halloween Dance Competition! Here is a great Halloween song playlist to get the Halloween party games started!
58. Monster Match-Up – Each guest gets a small piece of paper with a Halloween theme on it. They then try to find another guest that is paired with their items. If you're looking for great activities that are also icebreakers, these are the best! (Examples might be fangs and Transylvania or Werewolf and full moon.)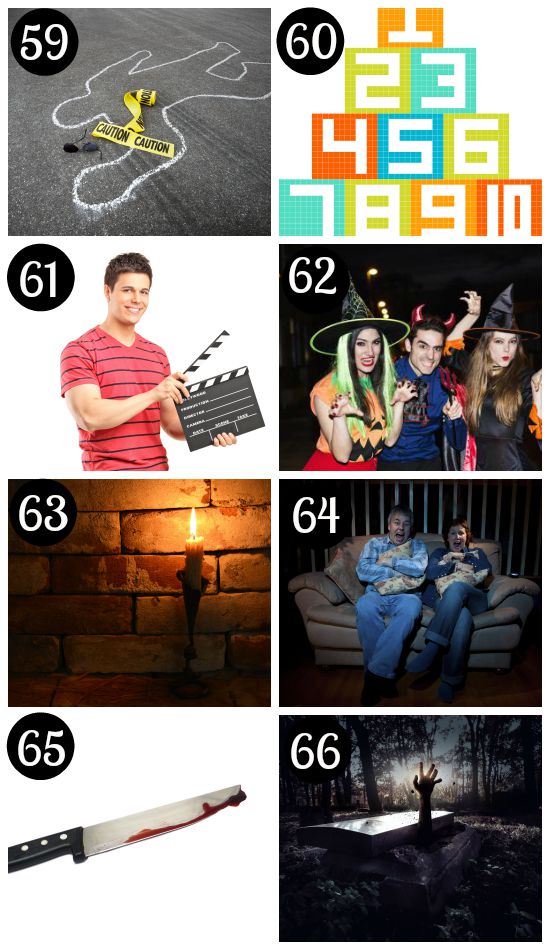 59. Chalk Outline – Invite guests to volunteer to have their forms mapped out in a chalk outline and challenge the other guests to identify who the outline belongs to. The original idea we had here no longer exists, so we found another option for you!
60. Petrified Pyramid – Like the famous television game show, this game has players competing in teams. They will choose categories and attempt to get their partners to guess as many answers in that category as they can within a time limit.
61. Halloween Film Festival – Do you have creative friends that always want to do something different and love unique Halloween activities? Well, challenge them to present at your Halloween Film Festival. Recreate a short Horror Movie film moment and share your creation with the group!
62. Halloween Guess Who? – When each guest arrives at the party, stick a label to their back with a Halloween character listed on it. As guests mingle, everyone should be treated like their "character." All guests that correctly guess their label win a prize! Candy of course!
63. Pass It On Ghost Story – Have everyone sit in a dark room and turn on a flashlight. The person holding the light will start to tell a spooky ghost story. Once the timer dings, pass the light to another person. Continue passing until the story comes to a creepy ending!
64. Have you learned anything from Horror Movies? – After watching a scary movie, we often find ourselves talking about mistakes the characters made that often led to their death. Turning this idea into one of our favorite Halloween games is so much fun. See how far you could make it in a horror movie!
65. Movie Picture Clues – Print out this great list of scary movie clues and have your guests match the clue to the movie. Easy and so fun!
66. The Grave Keeper – Any zombie fans out there? This Halloween game will test your staggering skills. Pick one person to be the grave keeper and all other guests will be zombies trying to eat the keeper. If the grave keeper sees someone move they are out of the game. Eep!
Your spooky party is sure to be a success with all of these fabulous and fun ideas! Don't you just LOVE that you've got such a variety? There are easy to throw together Halloween games for kids, Halloween games for teens that won't lead to eye-rolling, and even fun Halloween games for adults. Happy Haunting!