Anniversary Dates
Celebrate Your Anniversary In A Special Way With These Date Ideas!
Anniversaries come once a year, they deserve quite a bit of attention, and a little spice to make your special day memorable! We are helping you create the perfect anniversary celebration. You are going to find so many anniversary dates in this post that you won't know which to pick!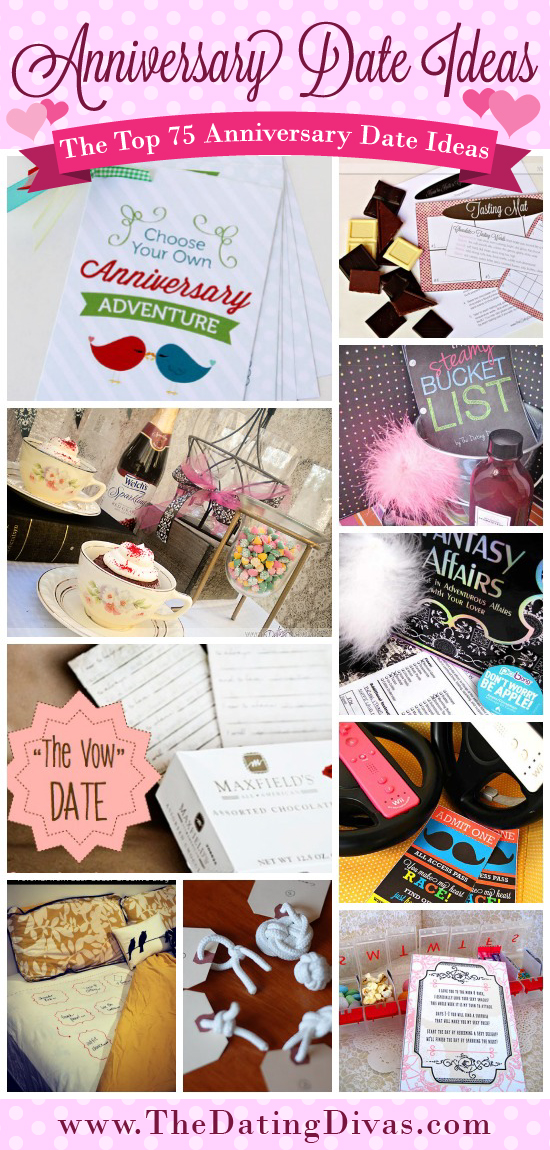 For those of you who struggle getting out, even on your anniversary, this selection of at-home dates are perfect for you. We are going to help you bring your anniversary celebration indoors!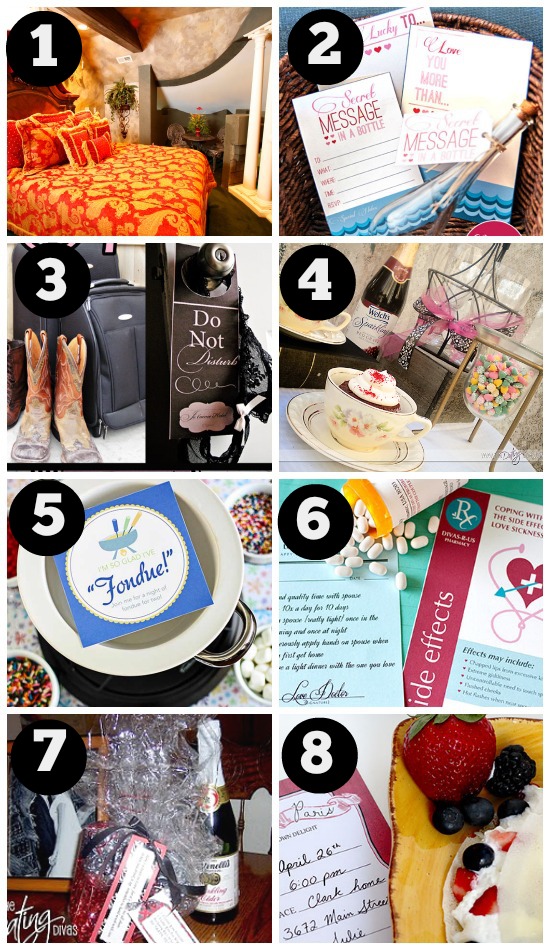 1. Shakespearean Rendezvous – Express your undying love for each other with a romantic Romeo and Juliet themed anniversary date. 
2. Secret Message In A Bottle – Use these FREE printables as the start of a romantic anniversary date. Use invisible ink to send them on a scavenger hunt that leads to you and the start of your secret date. 
3. Je T'iame Hotel – If you can't get away for your anniversary, bring the vacation to your home for a STAYcation. Turn your home into a fancy french cottage for two.
4. Great Expectations Date Night – A Victorian Themed date night that is sure to spark some romance! Includes FREE printables!!
5. Fondue Date Night – How glad are you that you found your mate?! Have a fondue date night celebration to remind them!
6. Love Sick Date – Feeling Love Sick this anniversary?! This date is just what the doctor ordered!
7. I'll Love You Forever!!! – Celebrate your forever love with this very romantic at home anniversary date idea. 
8. Crepes in Paris: No Ticket Required – Spend your anniversary in Paris right in your very own home enjoying create-your-own-crepes and creative spouse caricatures.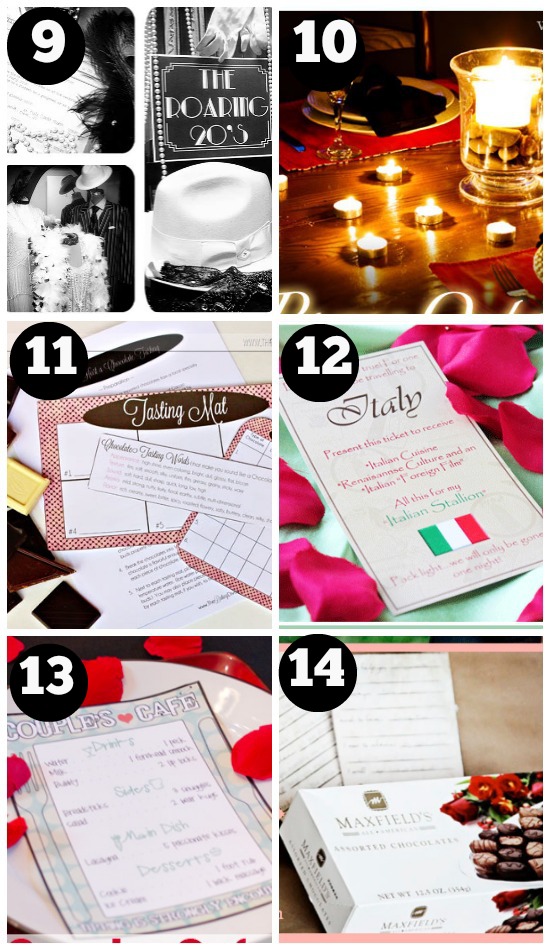 9.  Black and White Date Night – Host a Black and White Roaring 20?s dinner and a movie anniversary celebration. Fabulous free printables and a ton of swanky ideas to make your anniversary the cat's pajamas!
10. Power Outage Date – Turn out the lights and turn the romance ON. What better way to fuel the fire than to turn off all electronics for the night and enjoy an anniversary evening completely focussed on each other?
11. Chocolate Tasting – We've all heard of wine and cheese tastings. But how about a CHOCOLATE tasting?! Just download our free printables, grab some chocolate bars, and you're set!
12. Bella Notte – The perfect Italian Stay-cation for Two.
13. Couple's Cafe – Turn your anniversary meal at home into a romantic dinner for two! Even if you just planned a normal dinner – spice it up with these darling printables!
14. The Vow Date – Re-affirm your love by exchanging vows and remembering your commitments to each other this anniversary. 
Adventurous Anniversary Celebrations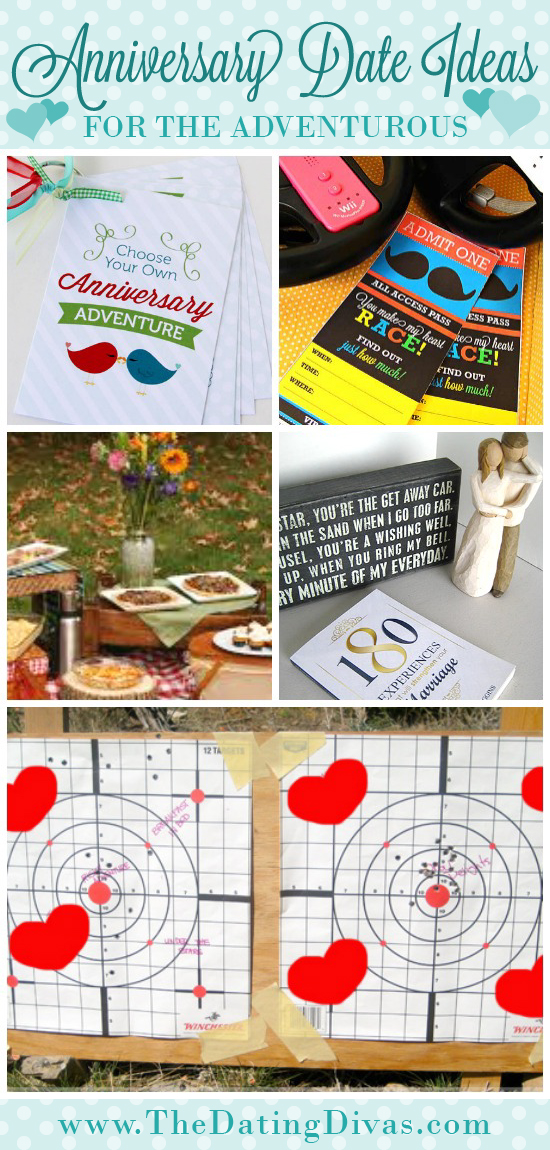 The two of you love trying something new, enjoying nature, being surprised, or getting active which is exactly why you are going to love these adventurous anniversary date ideas.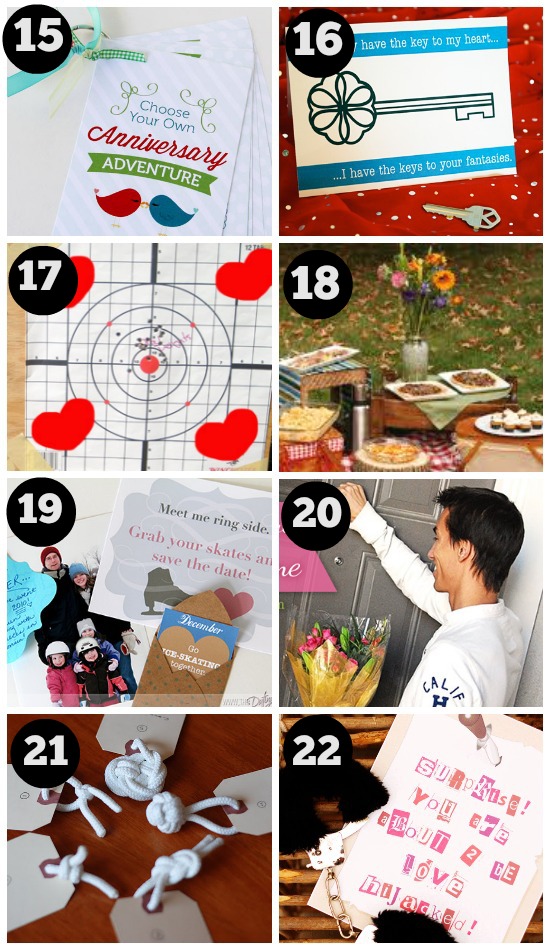 15. Anniversary Celebration Ideas – This post has EVERYTHING you would ever need to pull off the perfect Anniversary! It's ALL planned for you!
16. Fantasy Date Night – We've created a truly indulgent fantasy evening for an over-the-top date that is full of all those things you fantasize about doing, but never actually do. Create this real-life fantasy date with our FREE printables!
17. Boys and Girls Night Out – This anniversary weekend celebration is all about a "Boys Night Out" and a "Girls Night Out" with just the two of you
18. 97 Of The Best Picnic Date Ideas – We have gathered only the best picnic ideas and put them in one spot. Look no further everything needed for your next picnic date is in this picnic idea collection.
19. 12 SUPER Sporty Dates Your Man Will Love! – Celebrate wedded bliss with this amazing sports themed anniversary date! Your hubby will LOVE this collection of sports dates for an entire year!
20. Blind Date – Reconnect with your spouse this anniversary in a unique way: Go on a blind date with each other!
21. Tie The Knot Anniversary Idea – This date idea is the perfect way to celebrate "tying the knot."
22. Hijack and Kidnap Him – Get a little closer and surprise him with a handcuffed date he will love.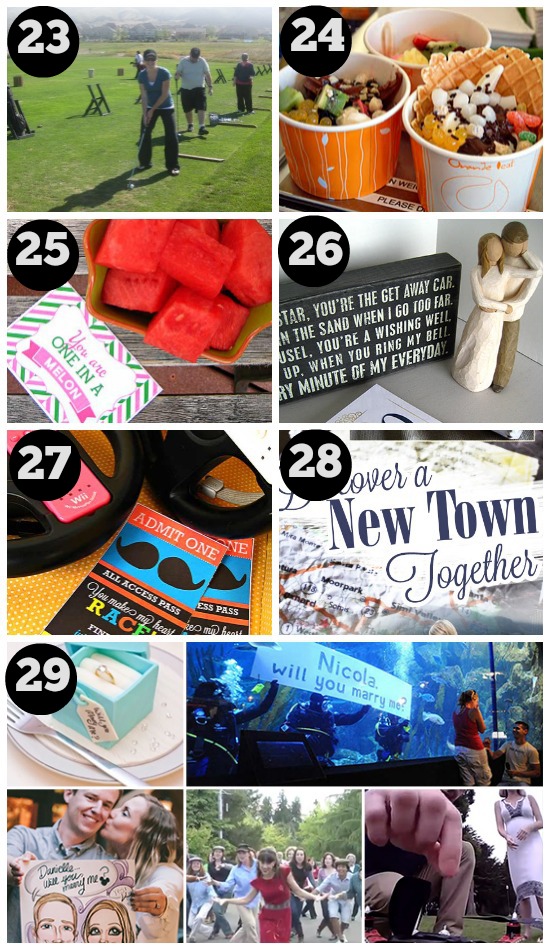 23. 4 Year Anniversary Date – Celebrate any year of your anniversary with a play on numbers date. Check out these ideas for your fourth year to help you prepare your date for any year. 
24. New York Date Night – Take a trip to New York this anniversary without ever leaving your home town! 
25. Watermelon Date Night – A SWEET date night that is perfect for your anniversary celebration with a free printable kit. Celebrate your anniversary with a full day of watermelon themed date ideas that your man will love.
26. 180 Experiences To Strengthen Marriages – Celebrate your anniversary by creating an experience that will create a special connecting and make lasting memories! 
27. Go- Kart & Super Mario Kart Date Night – Food, speed, and action…a recipe for a man loving date night! This anniversary date is going to get your hearts racing! Free printable pack included!
28. Discover a New Town – This is a great idea for an anniversary on a budget. Head to a town in your state and have fun discovering all it has to offer. 
29. Creative Marriage Proposals – Steal one of these fabulous marriage proposal ideas and transform it into a very creative anniversary date that your spouse is sure to remember! 
Romantic Anniversary Celebrations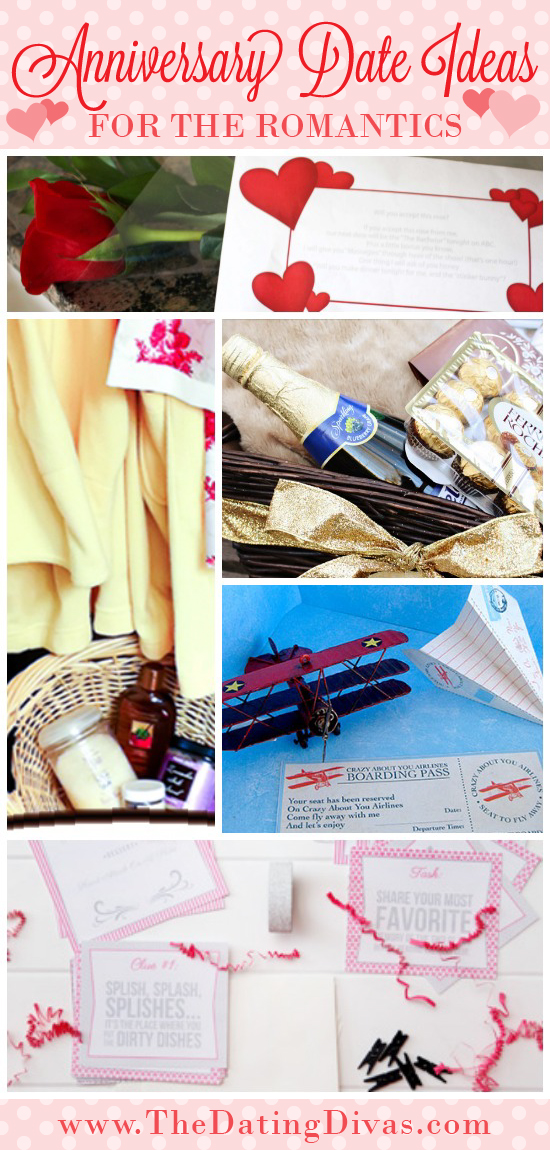 You can't celebrate an anniversary without adding romance! These date ideas will have the two of you snuggling, kissing, and oohing all night long!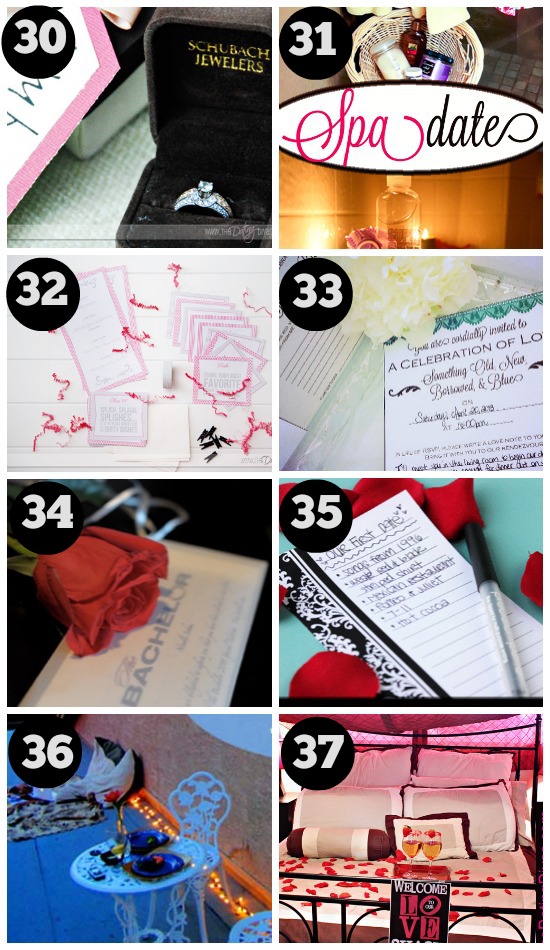 30. Say Yes All Over Again – Reconnect with your spouse as you re-create your proposal and remember why you said YES!
31. Spa Date – If you liked the idea of pampering your spouse – you are going to LOVE this idea! Enjoy the treatment of a spa right from your very home.
32. The Valentine Date – We've got the absolute BEST DATE EVER for your anniversary and it's ALL planned out for you! Dinner, games, and more!
33. Something Old, New, Borrowed, and Blue! – Celebrate your lifelong commitment to your sweetheart with this "Something Old, New, Borrowed, and Blue" themed date! This date is a true celebration of love.
34. The Bachelor Date – Surprise your sweetie in "Bachelor" style with 5 consecutive dates that lead up to your anniversary day!
35. Recreate Your First Date – Make your anniversary special by celebrating your first date together. 
36. Romantic Rooftop Date – Sometimes the most romantic things are the most unexpected. Grab a ladder, find a stable surface and surprise your spouse with a romantic dinner for two on the roof. That will certainly be unforgettable!
37. The Love Shack – Turn your bedroom into your very own Love Shack and escape for a night of romance!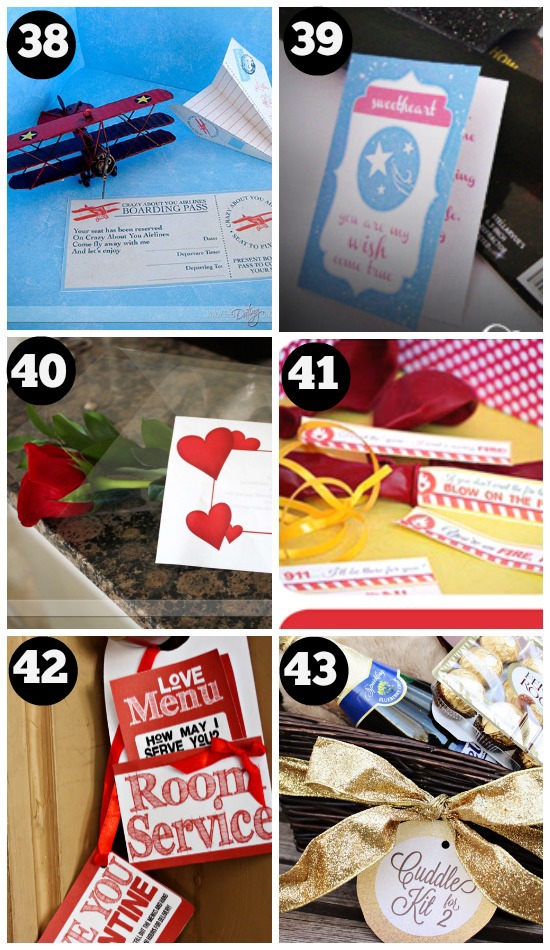 38. Plane Crazy About You – This plane crazy about you date night will have you two flying planes, enjoying a picnic, joining the mile high club, and grabbing baggage claim. *Free printables*
39. Star Light, Star Bright – You don't have to leave your home to take a step outside your back door and look up at the night sky. There is something SO romantic about cuddling under a blanket with your dream guy and wishing on a star.
40. "ROSE"-mantic Scavenger Hunt – This date is perfect for your anniversary. It is full of roses, surprises, and romance.
41. The Ultimate Fire-Themed Date Night – Create blazin' memories, come closer together, and turn up the heat with an ultimate fire themed date night that is right up your man's alley.
42. Room Service – Treat your spouse to the highest service possible: ROOM SERVICE.
43. Cuddle Kit For Two – Let your spouse know your intentions for a night of cuddlin', snugglin' and lovin' with this cuddle kit basket.
Intimate Anniversary Celebrations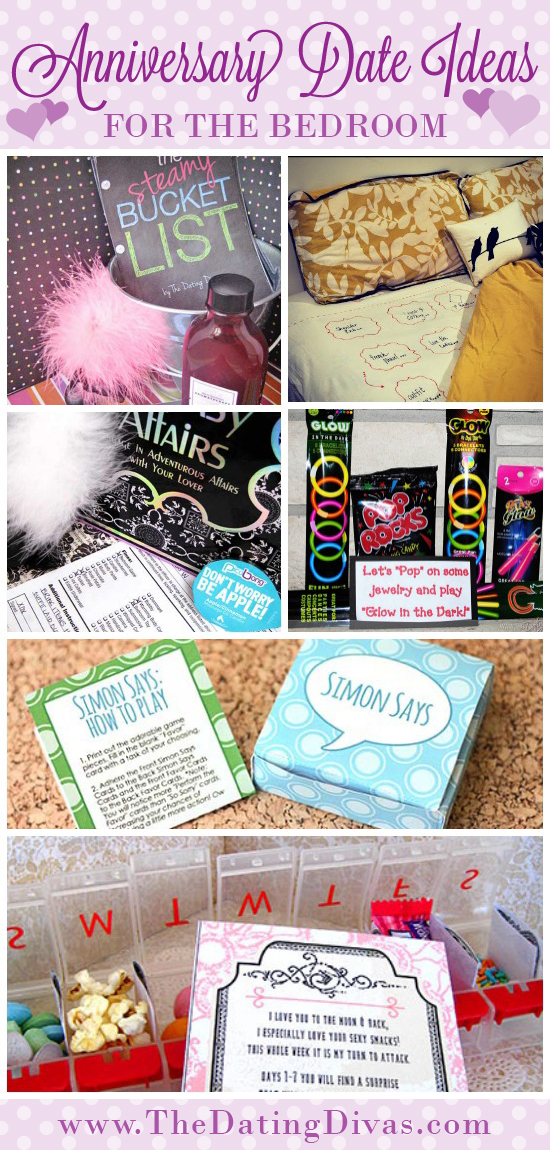 Remember those days when you couldn't keep your hands off each other. Rekindle the flames this anniversary with a little sass, spice, and sizzle to fire up your anniversary celebrations!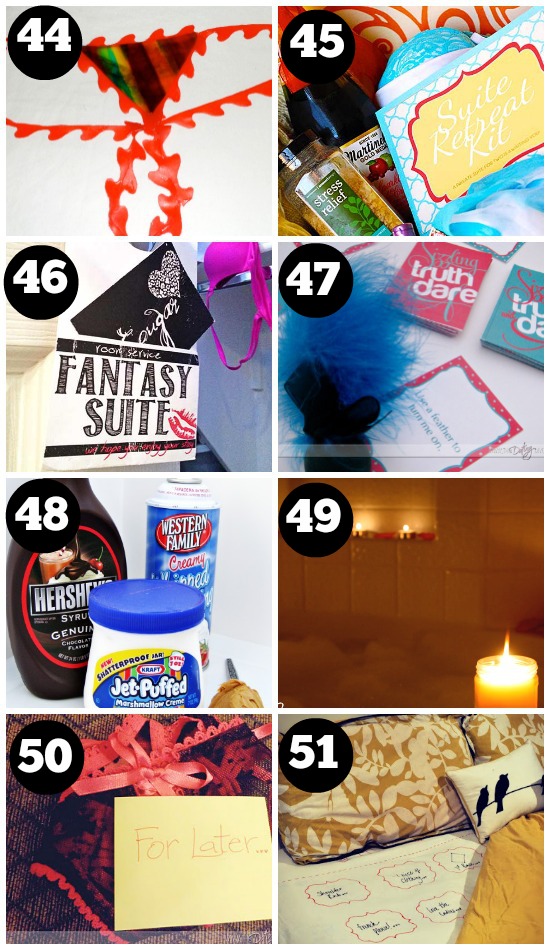 44. Flirty Fun With Candy – A flirty appetite and a little something sweet equals the before foreplay for an anniversary celebration. 
45. Suite Retreat Kit: A Romantic Basket For Two – This little basket has everything you need for a night away with your honey in your own private suite for 2!
46. Fantasy Suite Date Night – Surprise your spouse and spice up your marriage with this intimate moments suggestion!
47. Sizzling Truth and Dare – Are you ready to have a sizzling night with your heartthrob? It's time for a game of Truth and Dare. Add a little excitement to an old time favorite!
48. Name That Treat – End the night with a yummy taste testing that is sure to turn the heat up!
49. Sensual Touch Massage – Set a sensual mood for date night that's full of touching and seducing! 
50. Anticipation Half the Fun – Your honey will be craving you this anniversary week with these 7 teasing and pleasing date ideas.
51. A Game Of Love – Bring a lot of romance to your anniversary with this bedroom game that will surprise your spouse and make the night sassy!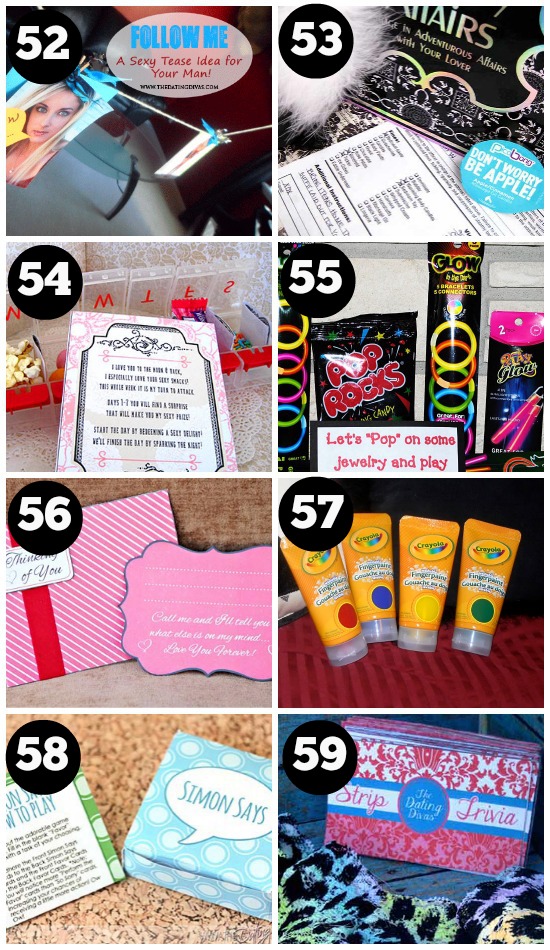 52. Follow Me Sexy Tease – This fun little idea will surprise and remind your man about how fun and sexy his wife is! Every husband loves a little tease!
53. Smoldering Violation Ticket – Tease and flatter your spouse with a violation ticket and get exactly what you want in the process. Cherry on top-Free printables.
54. 7 Days of Sexy Love – Make love each night of your anniversary week using a pill box to shower your spouse with notes, treats, and a romantic rendezvous each night of the week.
55. Make the Night Spark – Spark it up by playing dress up in the dark with these Hot Glow Bracelets, Hot Glow Bead Necklaces, and Pop Rocks! Add even more creativity and make jewelry for each other using glow sticks. Get ready to ignite!
56. Panty Gram – Prepare a steamy night for the two of you and by sending your man a panty gram. Your panty gram experience will be soooooo hot!!! The perfect way to kick things off for a spicy night!
57. Go Picasso! – A sassy black light celebration that you two will love! 
58. Simon Says – Let "Simon" dictate your night of intimacy! Play a game of Sassy Simon Says!
59. Strip Trivia, A Bedroom Game – This post is no longer available on our site but you can see all of our intimacy ideas here!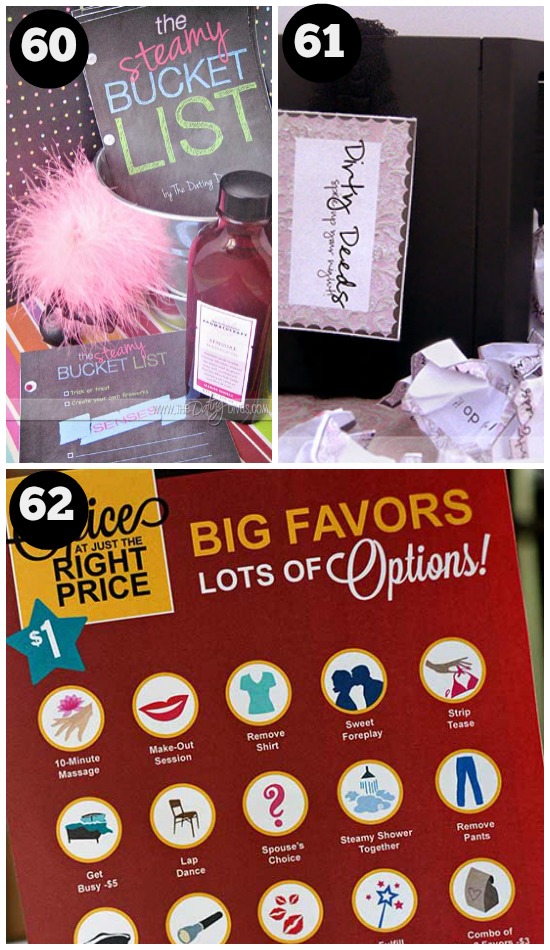 60. A Steamy Bucket List – What intimate items do you want to fulfill? Steamy pleasures are a check away. Rev up intimate time with your spouse on your anniversary and the whole year through!
61. Dirty Deeds – This anniversary increase intimacy and say hello to fireworks!
62. Bedroom Value Menu – Spice at just the right price! Use our Bedroom Value Menu to add a little spice to the bedroom tonight!
More Anniversary Celebrations
We aren't done yet!!! We have collected a list of 13 fabulous date ideas that are perfect for any type of anniversary celebration.
63. Hot Air Balloon Ride – Soar the skies with your love, take a picnic, and enjoy the ride!
64. Stay the Night In A Hotel – Book a night in a hotel room with a beautiful view and with a hot tub! 
65. Dinner Theater – Enjoy a dinner and a movie at the same time. Don't have one in town, attend a showing at a local theater that offers a meal during the show. 
66. Go To A Concert – Are you fan of jazz, indie, or rock and roll? Check out the local concert listings and get tickets for your big day!
67. Couples Massage – Hold hands and whisper sweet nothings while you both enjoy a luxurious massage together!
68. Horse Back Riding – Take a horse back ride on the beach or in the mountains together. Pack a picnic and blankets and take along with you to enjoy during your ride. 
69. Outdoor Adventure – A mountain biking, four wheeling, skiing, rock climbing tour would be an awesome way to celebrate your love and your hobbies! Turn these activities into a romantic outing by adding a picnic, blankets, and your favorite bubbly to enjoy after your adventure. 
70. Take A Dance Class – Learn how to Tango, do the Cha-Cha, or the swing by signing up for classes. Take your first class on your anniversary. 
71. Rooftop Dinner – Take in the view of your date and of the city while enjoying an elegant revolving rooftop restaurant. 
72. Sunbathe At The Beach – Enjoy a relaxing day at the beach together. Get a couples massage on the beach, build sandcastles together, and read a book together. End the night with a bonfire, dinner for two, and slow dancing on the beach. 
73. Museum Hopping – Visit a museum at night or talk a stroll down the art strip. 
74. Sunset Dinner Cruise – Splurge this anniversary with an evening of elegance, romance, and a stunning sunset on a luxury mini cruise. 
75. Water Adventure – Take a dive in love and in the water together! Go snorkeling, kayaking, boating, swimming in a secluded lake, water skiing, or surfing together! Kick up the romance by holding hands, setting out a romantic picnic, and kissing as often as possible! 
Now the hard decision is what are you going to choose for this anniversary. Bookmark this page for all of your future anniversaries to come!
Happy Anniversary!!!