Anniversary Ideas for the Bedroom
Ready to celebrate another year of wonderful, wedded bliss? We're guessing you've planned a fun date night or even a fabulous weekend away but we don't want you to forget about having some romantic and intimate fun, too!
That's why we decided to collect our very best, very favorite, very intimate anniversary ideas that are perfect for your next anniversary celebration… in the bedroom! So you want to make it a night neither of you will forget, right?! We've got more ideas than you'll ever be able to use, so you're sure to find some that are perfect for this year (and many years to come)!


With so many romantic and intimate anniversary ideas, we decided to make browsing them as easy as possible by organizing them into a few different groups, including:

24 Intimate Anniversary Printables
Get your anniversary night started on the right foot by inviting and tempting your spouse to join you in the bedroom! All you have to do is PRINT to use this collection of fabulous anniversary ideas.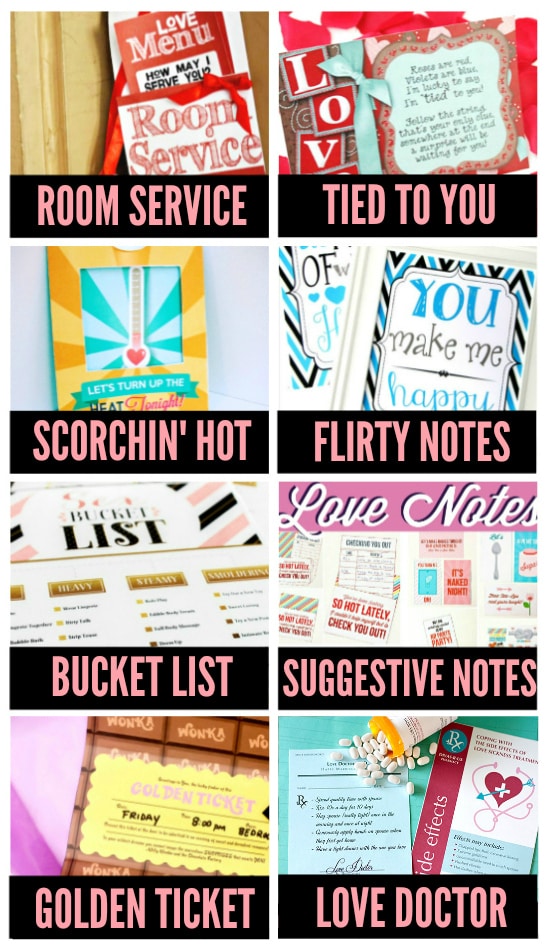 1. Room Service – Isn't hotel room service just the best?! You'll love using this idea to make your spouse feel pampered on your anniversary.
2. Tied to You – A clever way to entice your love into the bedroom with a 'tied' theme!
3. Scorchin' Hot – These DIY scratch-offs are a creative way to let your spouse know just how hot you think they are.
4. Flirty Notes – Use these prints to send a flirty little message your spouse's way with a hint of what's to come!
5. Bucket List – What better night to start crossing things off your bucket list than on your anniversary?
6. Suggestive Notes – Just give a little hint about what you'd like to happen tonight!
7. Golden Ticket – As kids (okay, as adults too!) we all want the 'golden ticket' and now you give that excitement to your spouse. Candy and a winning love note!
8. Love Doctor – I wanted to do something unusual, fun, and flirtatious while also being creative with things we already had around the house. So, I found my kids' play doctor kit and thought it would be fun to leave your spouse a teaser for what to look forward to at the end of the anniversary. -Diva Cami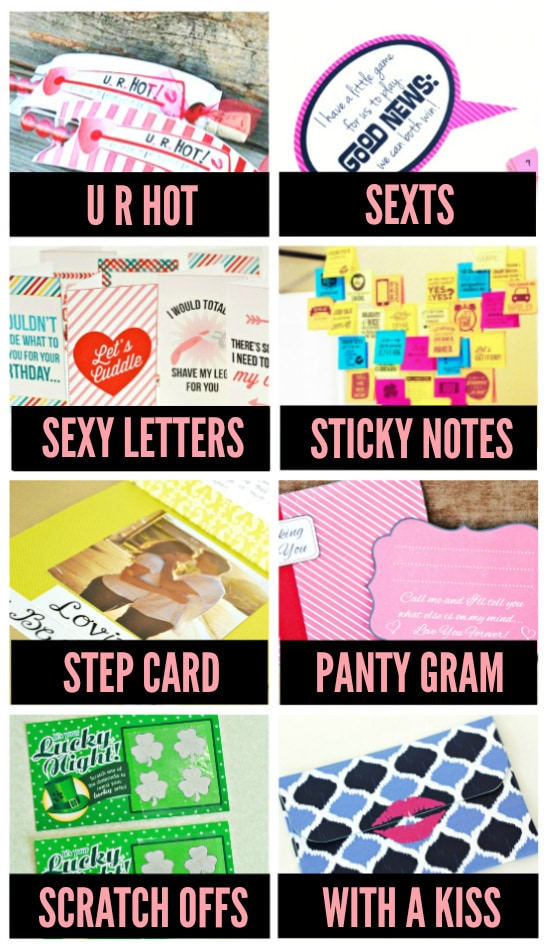 9. U R Hot – A sweet thermometer love note send the perfect message that it's time to turn up the heat!
10. Sexts – Use technology to help send your spouse a saucy message and get them excited for the night to come.
11. Sexy Letters – 25 different options for sending some sexy love letters!
12. Sticky Notes – Print a few sexy notes onto sticky notes and arrange them on the bathroom mirror. Don't worry, there are three different levels of 'sexy' included!
13. Step Card – Turn this creative card into a sexy DIY by adding saucy phrases instead of the average compliments.
14. Panty Gram – Let the lingerie do the talking, along with a simple little note. If you're separated on your anniversary, this is the printable for you!
15. Scratch Offs – These scratch offs might have originally been intended for St. Patrick's Day but there's no reason your spouse can't get lucky tonight, too!
16. With a Kiss – Dress up your lips and you'll have him intrigued!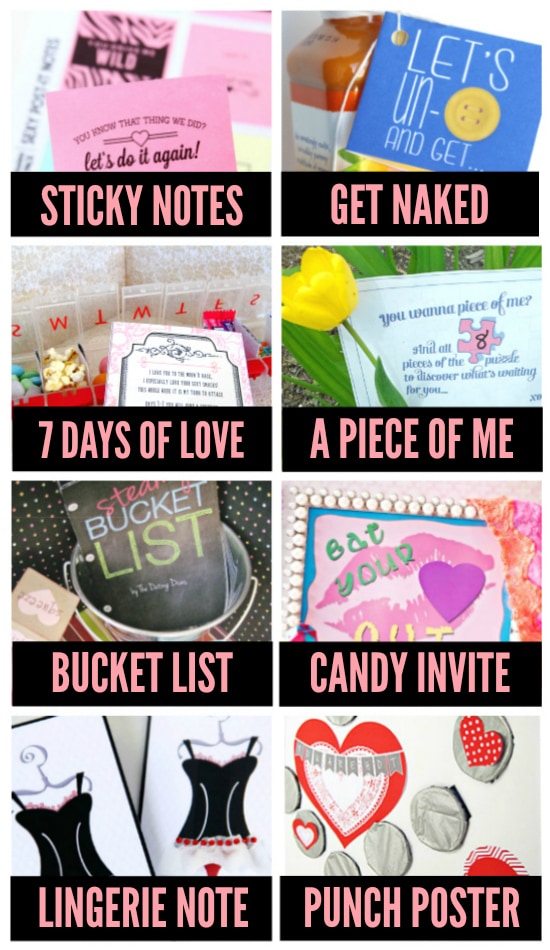 17. Sticky Notes – With an entire section devoted JUST to anniversary notes, this set of printable sticky notes is the perfect fit.
18. Get Naked – Short, sweet, simple and directly to the point. You won't leave your spouse guessing what you want with this invitation.
19. 7 Days of Love – Spend the week before your anniversary giving a little hint of love.
20. Piece of Me – For the couple who loves puzzles, these punny notes are the perfect fit.
21. Bucket List – Filled with brilliant ideas to start crossing off right away!
22. Candy Invite – A sweet and suggestive invitation!
23. Lingerie Note – Let the cute card cover do the talking and suggest what to expect tonight!
24. Punch Poster – If you're a creative spouse, your love will be sure to get a kick out of this idea.
14 Intimate Anniversary Decoration Ideas
Before the fun actually begins, check out our absolute favorite ideas for setting the mood in the bedroom. These decor ideas will make sure you're both ready for your intimate anniversary night.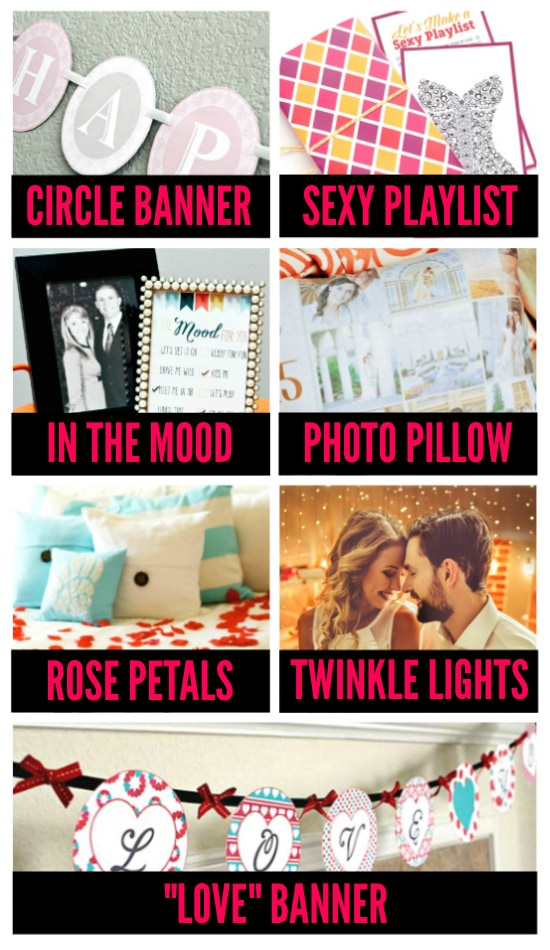 25. Circle Banner – Your anniversary only comes around once a year, so take the time to celebrate by adding this festive banner.
26. Sexy Playlist – Mood music is essential to a romantic night in the bedroom and this playlist has you covered. If you need some ideas for songs, check out the Ultimate Love Songs Playlist.
27. In the Mood Printables – Not the creative type? Simply print and frame, and you've decorated with class!
28. Photo Pillow – A DIY gift and bedroom decoration all in one!
29. Rose Petals – The classic bedroom decor – here are some great tips for using rose petals effectively!
30. Twinkle Lights – Get rid of harsh lighting and make it feel like your bedroom is filled with the soft glow of the stars.
31. "Love" Banner – An adorable banner of LOVE to make the bedroom feel dressed up for the occasion.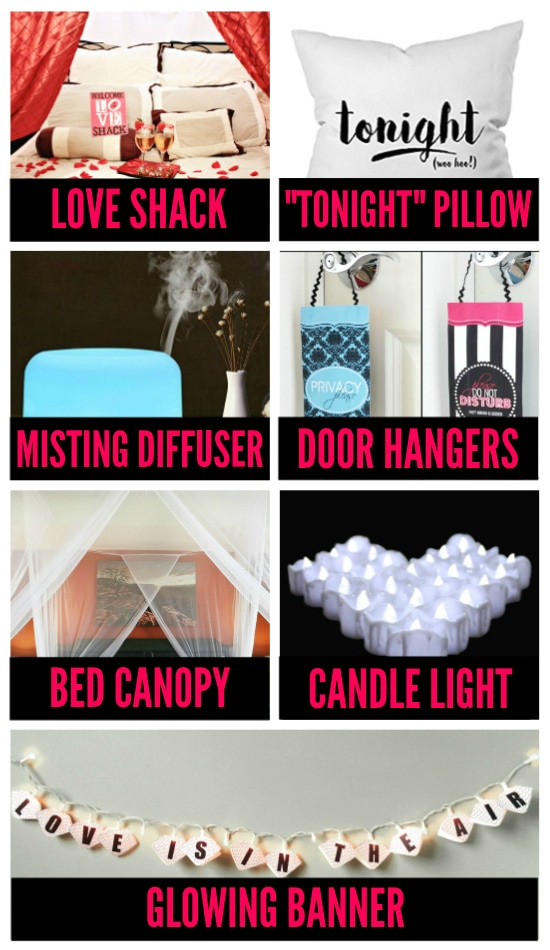 32. Love Shack – Tons of tips and great ideas to make THAT room feel that much more special!
33. "Tonight" Pillow – Another great gift idea, this fun pillow lets you both know who is in the mood – no guessing required.
34. Misting Diffuser – They say that scent is strongly tied to memory, so make sure you've got a spicy mood set to make it a night to remember.
35. Door Hangers – The perfect "hint" to let your spouse know what you have in mind later on that night!  Leave it hanging on the bedroom door awaiting your lover's arrival home or stick it in an envelope and give as a gift to use whenever.  This is a perfect surprise for any Anniversary and it has two sides depending on your "mood". – Diva Kristen
36. Bed Canopy – Make your bed feel intimate and private with a few sheer panels draped above you.
37. Candle Light – We love some romantic candle light but it can be hard to stay in the moment if you're worried about them burning the house down. Enter: These very realistic, flickering candle lights.
38. Glowing Banner – Use a leftover Christmas light string and these printables to create a banner that doubles as soft, romantic lighting.
14 Intimate Anniversary Dates
A fabulous and flirty set of dates that primarily take place in the bedroom. These are intimate ideas designed to spoil your spouse and what could be more perfect than that for an anniversary?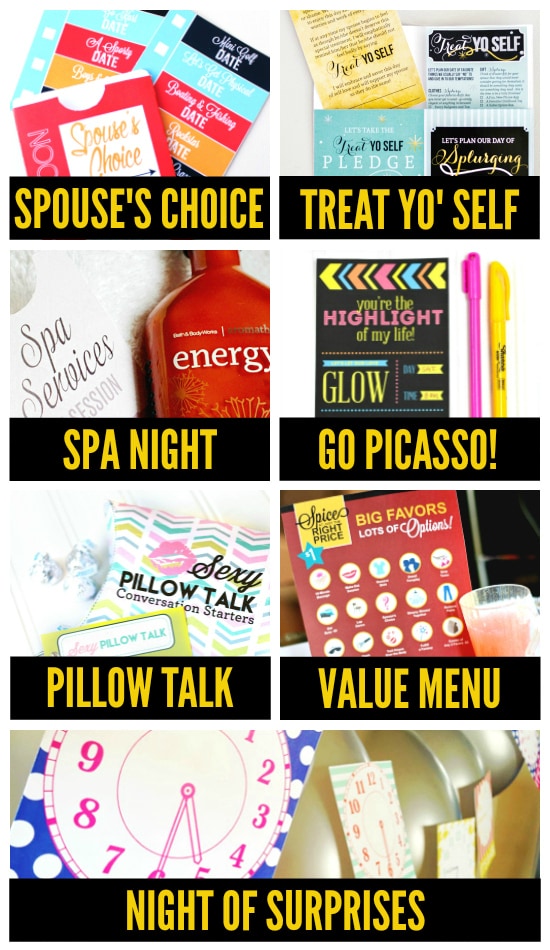 39. Spouse's Choice – What could be a better gift than giving your spouse exactly what they want?!
40. Treat Yo' Self – One day each year should absolutely be a splurge day, and your anniversary is the perfect day to make that happen.
41. Spa Night – Deluxe pampering is sure to lead to a steamy night.
42. Go Picasso! – Light up the night and the bedroom with some bright ideas!
43. Pillow Talk – These conversation starters are a great way to reflect on your years of wedding bliss, plus they're sure to lead to much more than talking.
44. Value Menu – Show your spouse just how much you value them!
45. Night of Surprises – What's better than a surprise on your anniversary? LOTS of surprises, and balloons!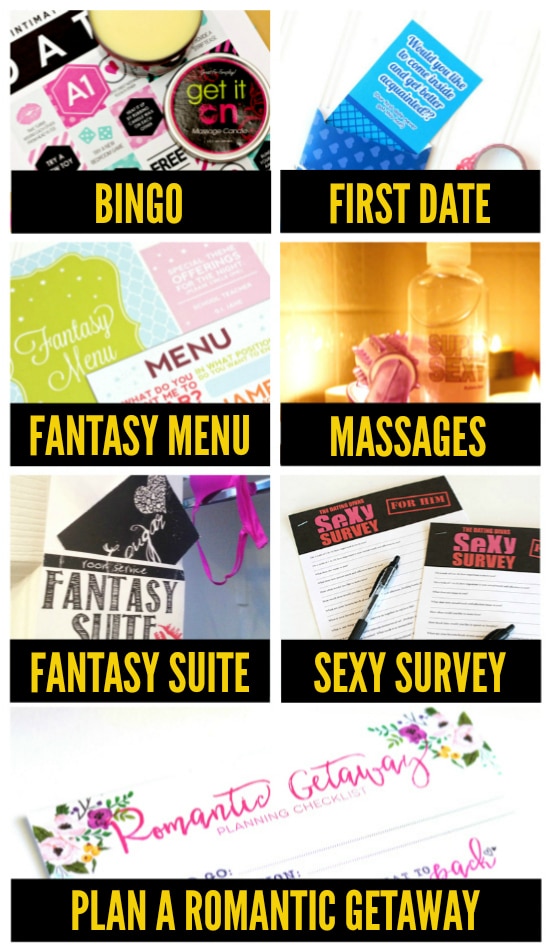 46. BINGO – Check out the Intimate BINGO card for a whole bunch of bedroom fun on this special night.
47. First Date – Recreating your first date might not get to sexy but trying to recreate your past is always fun. You could try to recreate your Honeymoon or even your wedding night! 😉
48. Fantasy Menu – Leave all the fantasies to your anniversary night and give your spouse total control!
49. Massages – Slow things down and offer sensual massages as an anniversary treat.
50. Fantasy Suite – Use these silly (but saucy) ideas to mix things up!
51. Sexy Survey – Reevaluate your intimate lives each year by making these sexy surveys a romantic tradition.
52. Plan a Romantic Getaway – Turn your anniversary night into and anniversary weekend… or WEEK!
31 Intimate Anniversary Games
A wedding anniversary is a time to celebrate another year of wedded bliss. The best way to celebrate? Playing games!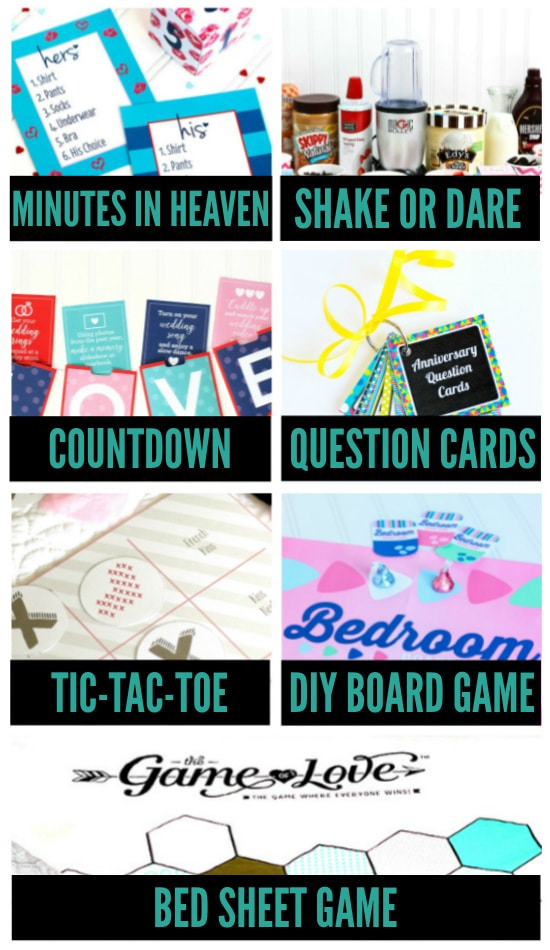 53. Minutes in Heaven – Act like a kid again… well, kind of. Use this simple game to take things to the next level.
54. Shake or Dare – A delicious and intimate game will leave you with all kinds of treats!
55. Countdown – It's your anniversary, make it a celebration for more than just one night!
56. Question Cards – These interview cards aren't all sassy but that doesn't mean you can get a little naughty with your answers!
57. Tic-Tac-Toe – It doesn't get easier than Tic-Tac-Toe. It's the perfect game if you want to make your anniversary special without too much extra fuss.
58. DIY Board Game – Make this bedroom game customized for your anniversary night.
59. Bed Sheet Game – Add these sheets to the bed and let the Game of Love lead you through the perfect intimate night. It's another fun idea that doubles as the perfect gift.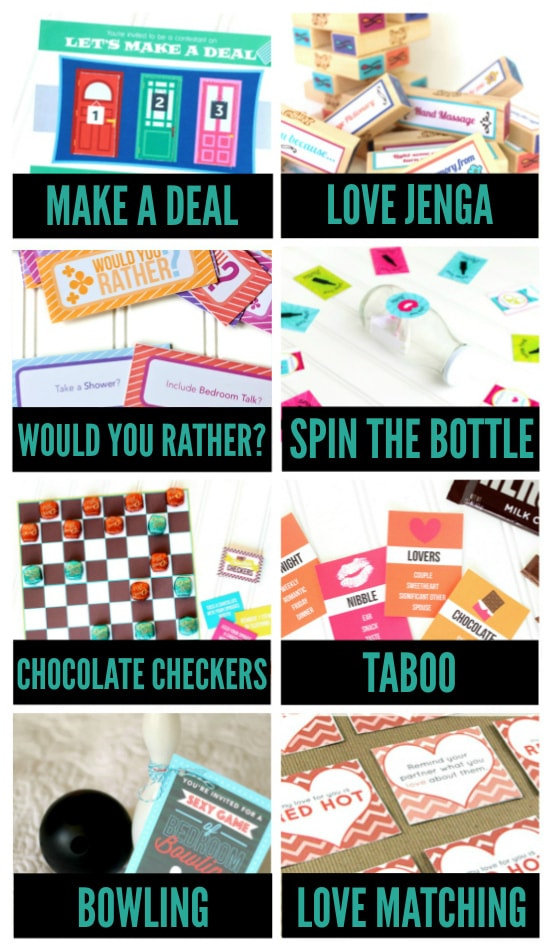 60. Make a Deal – See if you can each get creative and make your final prizes anniversary-themed!
61. Love Jenga – Let the blocks fall where they may and you'll be falling too… in love again, of course.
62. Would You Rather? – A night filled with decisions, but in this game there are no wrong answers.
63. Spin the Bottle – Especially perfect if you're high school sweethearts, this classic game is a fun way to spice things up!
64. Chocolate Checkers – Just agree to buy each other chocolates as a gift and use them to play checkers.
65. Taboo – Actions may speak louder than words, but these intimate words will get the actions started!
66. Bowling – Go out for a regular game of bowling, then finish up the night with your own private game.
67. Love Matching – The two of you are a MATCH, so what's more perfect than a matching game?!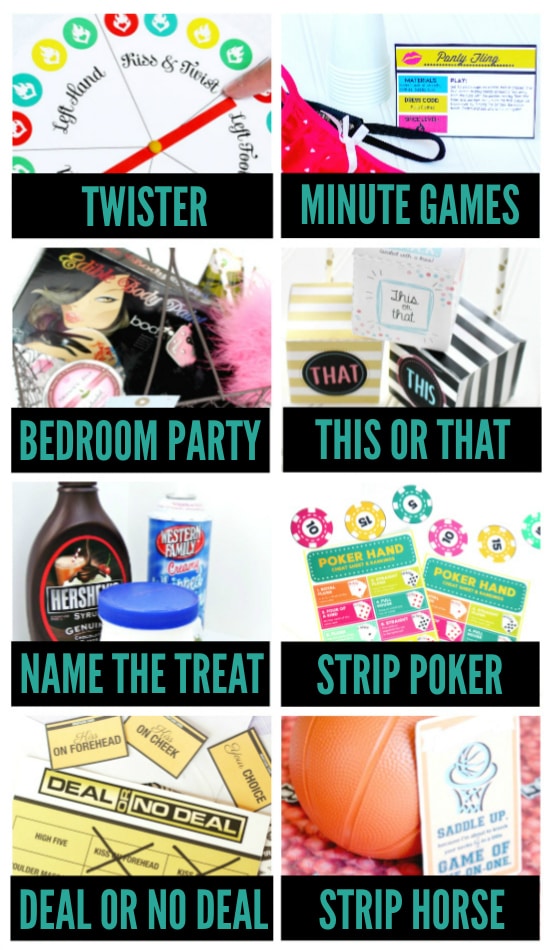 68. Twister – Grab the Ultimate Intimacy Pack which is filled with TONS of great intimate game ideas. This hot version of twister will get you close to each other in a jiffy!
69. Minute Games – You'll never laugh this much again! Try these quick, little games if you're the type of couple who likes to celebrate with a competitive edge.
70. Bedroom Party – Celebrate your anniversary the way you celebrate all special occasions… with a party!
71. This or That – A little bit of prep goes a long way to make this an anniversary-themed night.
72. Name the Treat – Anniversaries are all about special treats, so share them with each other and turn it into a guessing game.
73. Strip Poker – A classic game that's simply perfect for your anniversary.
74. Deal or No Deal – Agree to any of the 'deals' in this game and no one will lose.
75. Strip Horse – For the athletic types, you can beat a game of horse… unless you're stripping with your spouse!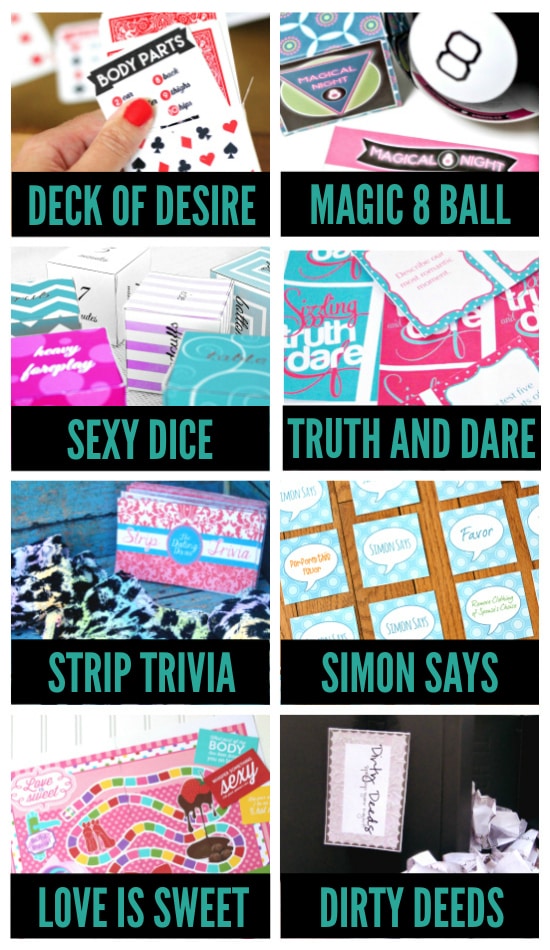 76. Deck of Desire – Don't have much time to whip up a fancy anniversary celebration? No worries, this intimate card game is all you'll need.
77. Magic 8 Ball – Leave your night up to chance and shake this retro ball for a magical anniversary.
78. Sexy Dice – Roll the dice to determine your bedroom fate. No matter what turns up, you'll have a spicy night.
79. Truth and Dare – A school-time favorite with a sizzling twist!
80. Strip Trivia – This post is no longer available on our site but you can see all of our intimacy ideas here!
81. Simon Says – Follow your spouse's lead for some frisky fun.
82. Love is Sweet – One of the Divas' all-time favorite games, this bedroom board game will remind you
83. Dirty Deeds – Suggestive ideas that will last all the way until your NEXT anniversary!
18 Intimate Anniversary Props & Products
Make your anniversary just that much more special by adding a few interesting items to your intimate night.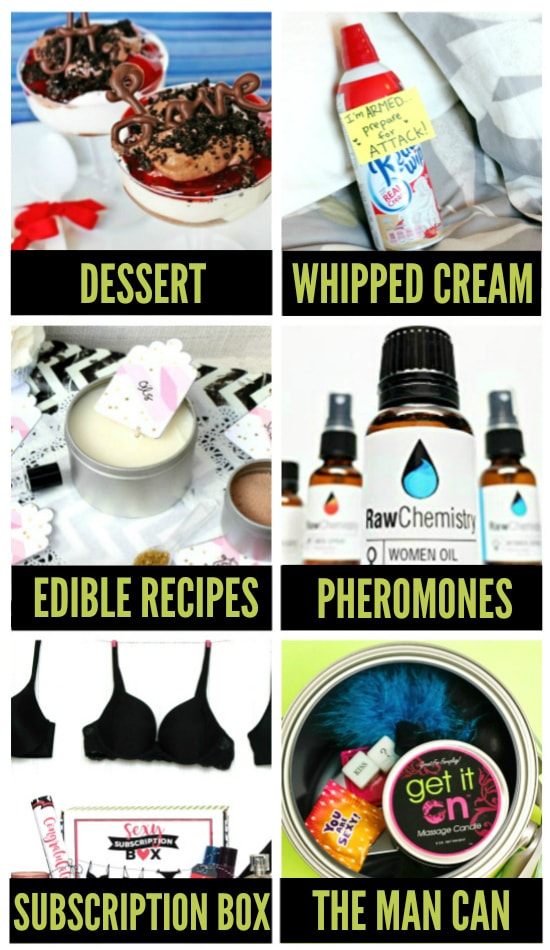 84. Dessert – For your first dessert of the night, make it these special chocolate phrases. We'll let you decide to do for your second dessert.
85. Whipped Cream – Have some fun with a simple can of whipped cream and a sticky note!
86. Edible Recipes – Why not combine two of the best parts of any anniversary—delicious treats and intimate moments?!
87. Pheromones – How you smell is a powerful lure to your spouse. This is one added trick that I have up my sleeve to reel my husband in on date night. Now, there has been plenty of research on pheromone scents. I apply it to my pulse points (neckline, wrists, behind the knees and behind the ears). -Diva Kari
88. Subscription Box – Start with a gift to set the mood that will last all year.
89. The Man Can – This gift will set the intimate mood right away and make your anniversary night absolutely unforgettable.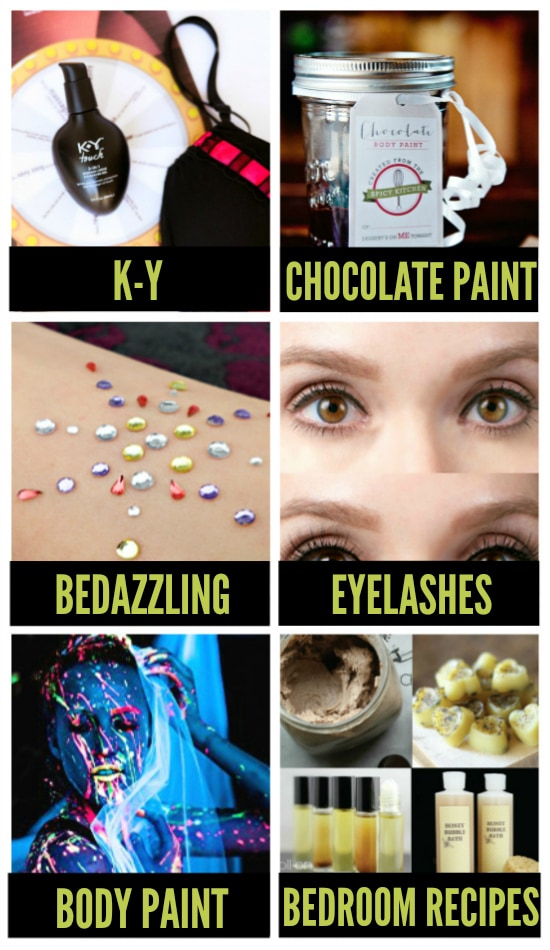 90. K-Y – We doubt you'll need much help figuring out how to use this, but if you need a suggestion for our favorite type just check it out!
91. Chocolate Paint – Decadent chocolate goes hand in hand with a romantic anniversary evening.
92. Bedazzling – Use this creative idea to give a sparkling surprise to your spouse.
93. Eyelashes – Make yourself even more irresistible than usual with these tips for Sexy Eyes!
94. Body Paint – Let your imaginations run wild and have a crazy, fun night.
95. Bedroom Recipes – These DIY recipes are perfect for anyone who wants to try some new things for their anniversary.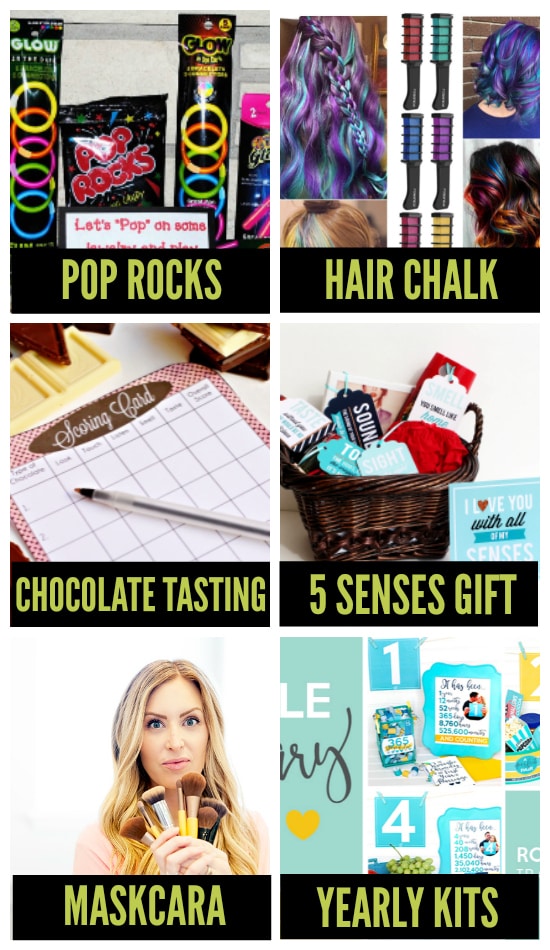 96. Pop Rocks – Try something a little different to make the night memorable – pick up some glow sticks and pop rocks. Then bring them home, create a fun saying, and leave them out for your spouse for when they come home from work. You can even make jewelry for each other using the glow sticks. Who hasn't wanted to try kissing with Pop Rocks? – Diva Lisa P.
97. Hair Chalk – Get fun and flirty with some funky hair colors. Choose your spouse's favorite color or even colors to coordinate with the flowers and theme you used on your wedding day!
98. Chocolate Tasting – Feed your spouse sweets and make a game out of it… we think we know where this is going to end up! 😉
99. Five Senses Gift – Fill your spouse's senses with an entire basket of naughty fun.
100. Maskcara – Get all dolled up with the best, simple makeup. The perfect products and easy tutorials if you're just beginning and trying to get the perfect look.
101. Yearly Kits – Celebrate your anniversary by year and use some of these ideas to jumpstart your night, just get a little bit more sassy with your loves notes or tweak the ideas a tad to fit in the bedroom!
Well, now you've certainly got your sexy and intimate plans all squared away but maybe you're realizing you don't have any idea what you're going to do before that, I mean you can't spend your entire anniversary in the bedroom – right?! Don't you even worry about it, anniversaries just happen to be one of our specialties and we have everything you need, just check out:
100+ Romantic Anniversary Ideas for Dinner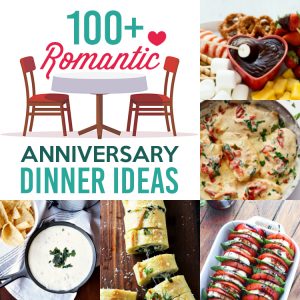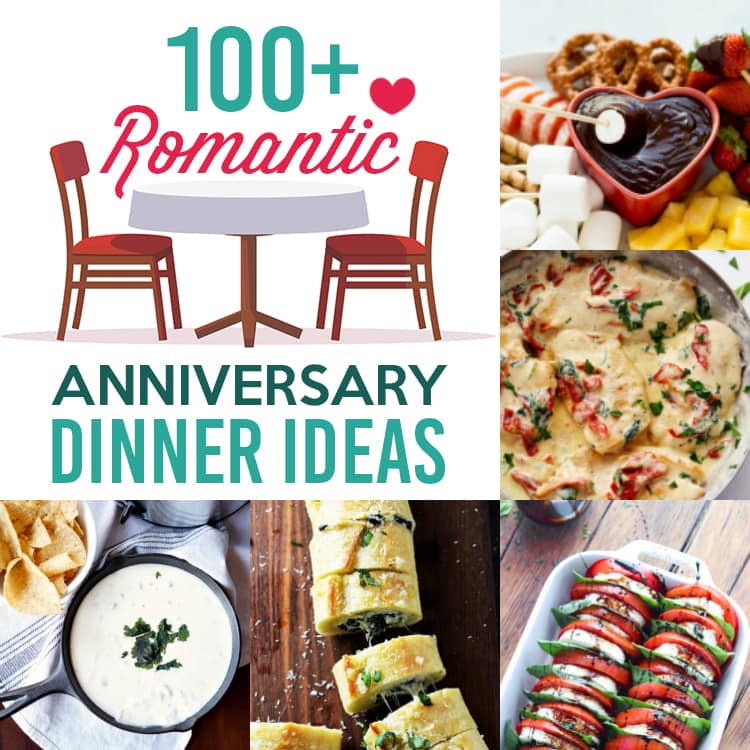 101 MORE Anniversary Gift Ideas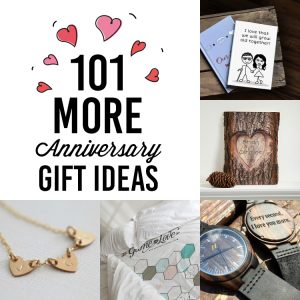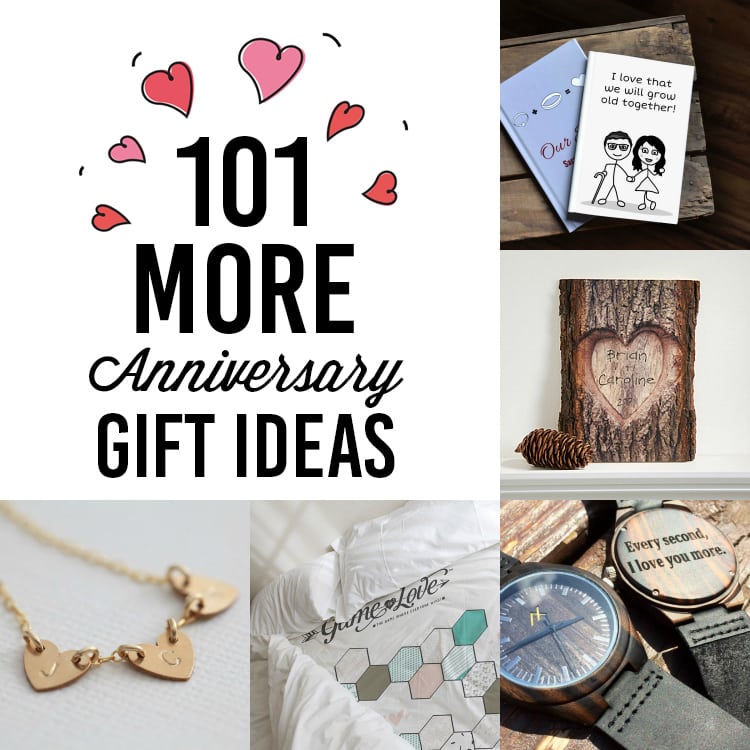 Anniversary Ideas for Each Year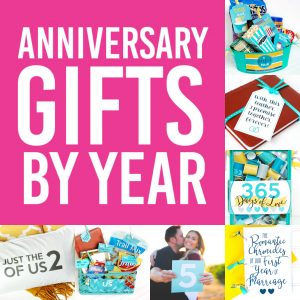 SaveSave