Sexy Deal or No Deal Game
Are you looking for an easy way to spice things up in the bedroom? Try your luck by playing a sexy game of Deal or No Deal! Inspired by the famous TV show, this Deal or No Deal game will have you and your spouse pick and choose envelopes, each containing sexy tasks and rewards. Plus, one special envelope contains the ultimate prize of passion! How great does that sound? Keep reading as we teach you exactly how to play Deal or No Deal! (Plus free printables linked below!)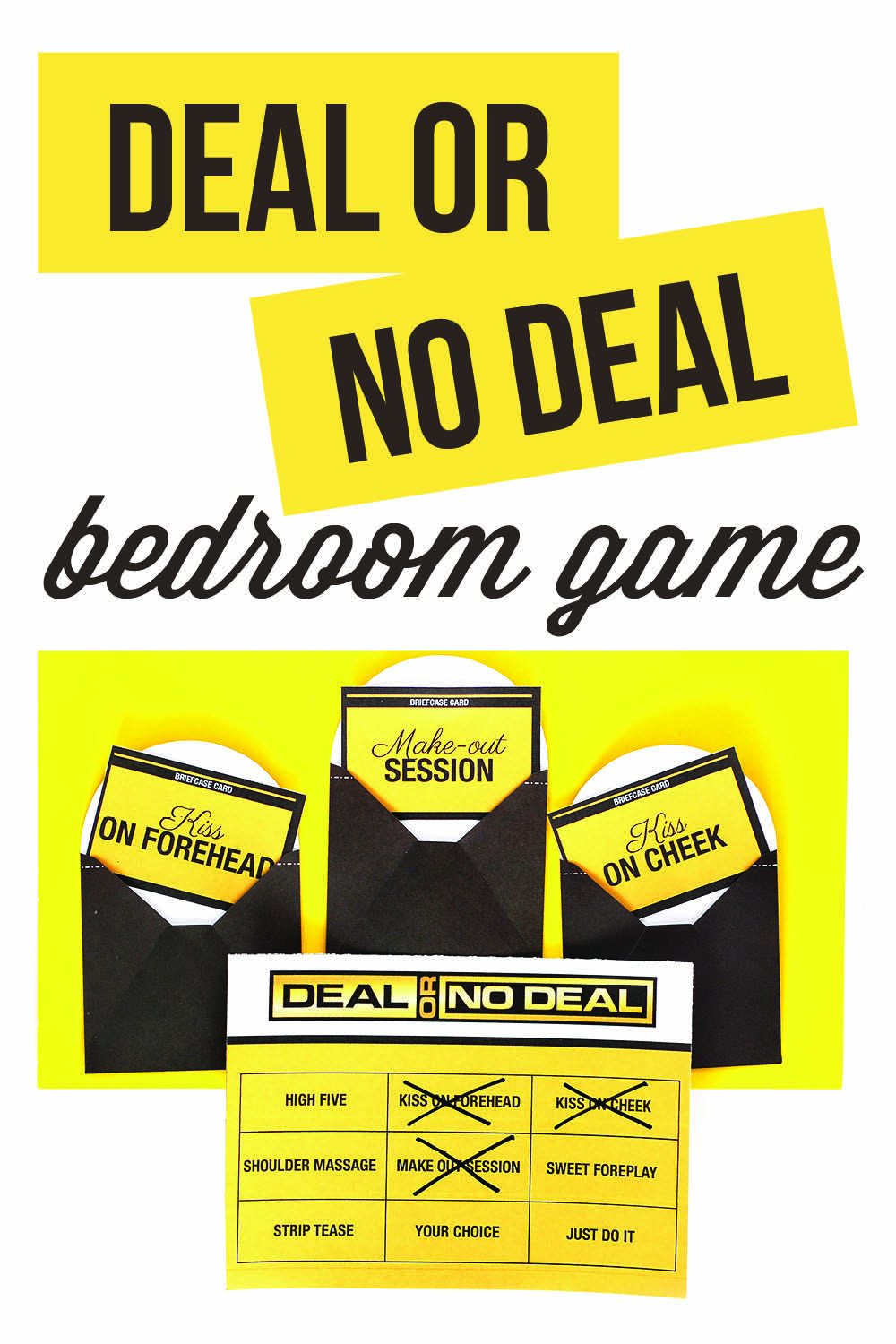 The Original Game Show
We have to admit, the Original Deal or No Deal Game Show is one of our absolute favorites! For those who are unfamiliar with the format, the game is based on a combination of strategy and luck. Players try and eliminate briefcases, each containing a certain dollar amount, all in an attempt to win as much money as possible. Things get really crazy when players are offered a cash deal in exchange for leaving the game. They can either take the deal, or keep playing and try to win more money! Sounds fun, right?
Deal or No Deal Game Setup Instructions
Now that we've explored the original version, it's time to check out our spicy, bedroom version! But before we dive into the actual instrutions for playing your sexy Deal or No Deal game, let's take a look at the setup.
1 . Start by printing out the included printables and cutting them out. We always recommend using a high-quality cardstock so you can play again and again!
2 . Grab 13 small envelopes. Label a set of envelopes 1-9 and place a briefcase card in each. Label the remaining envelopes 1-4 and place a deal card in each.
3 . Lay out the envelopes and grab your sweetie. You are now ready to play!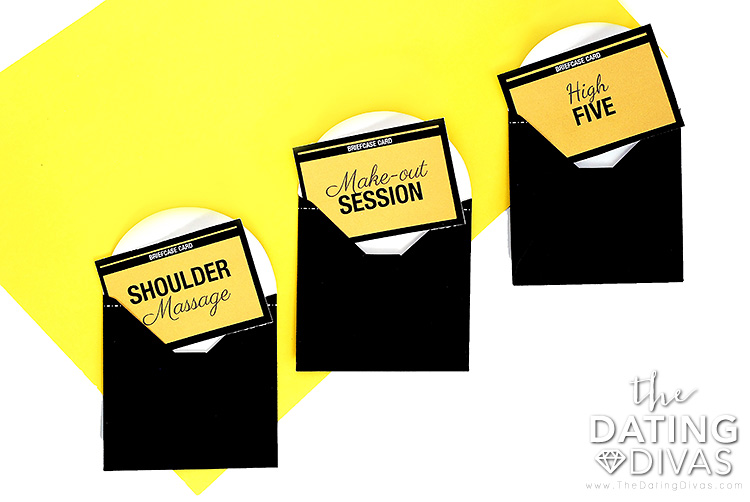 How to Play Deal or No Deal
If you've seen the real game show, you know that there are several rounds and steps to the game. But have no fear because we're going to remind you exactly how to play. Remember that you can also find a printable set of detailed instructions for this Deal or No Deal game in your printable download!
1 . Start by having your spouse select the one briefcase envelope he or she thinks contains the ultimate prize. Set this envelope aside. Now, the game really begins!
2 . Next, your spouse will eliminate 3 briefcase envelope cards. As they open these discarded briefcase envelopes, mark them off the game card.
3 . After the first 3 briefcase envelopes have been opened, your spouse will select a deal card envelope. They now have a choice to make. They can either take what's on the card and the game is over OR they can keep eliminating briefcase cards (see instructions for details), hoping that they make it to the ultimate prize in the envelope they selected at the beginning!
4. If your spouse chooses the latter, you will continue the same process of eliminating envelopes (see the included instructions for exactly how many envelopes to eliminate each round) and opening cards until they either take a deal, or take what was in their very first chosen envelope.
5. At any point in the game, you can choose to fulfill the tasks on the opened briefcases (because, why not?!) OR you can hold out for the ultimate prize! This game is about doing something fun, exciting, and definitely STEAMY!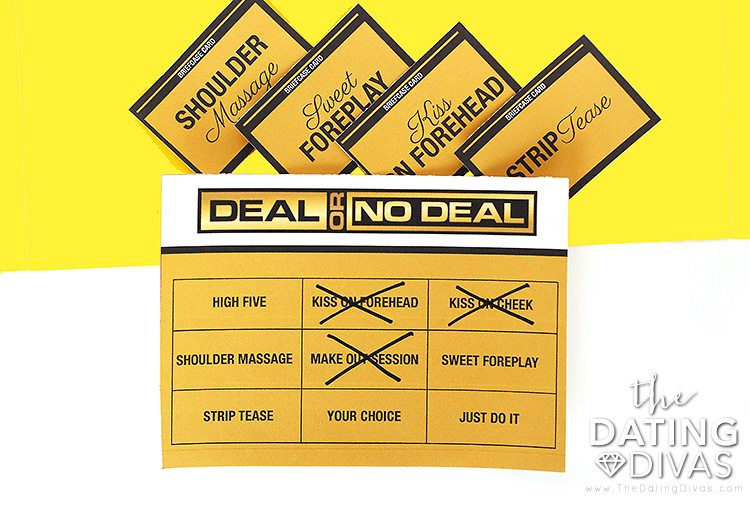 Does this sound fun or what?! The best part is that you can adapt this game to the two of you, so you can play however you choose! You could also choose to play several rounds, each being different from the last. Be sure and switch up who gets to guess!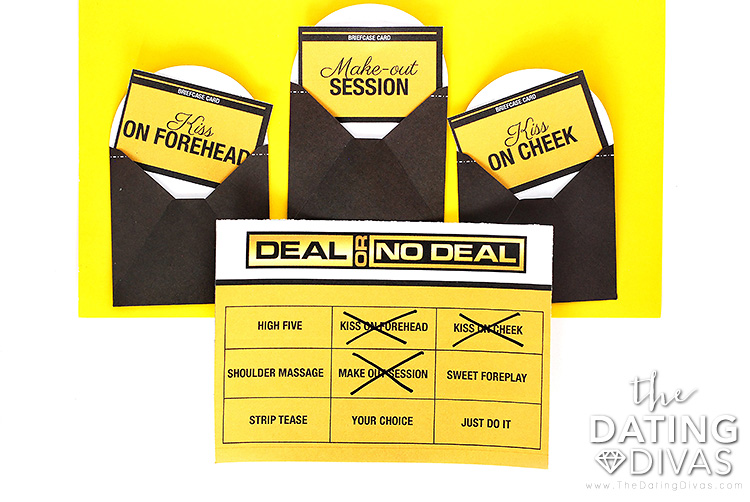 For even more bedoom fun similar to "Deal or No Deal", check out our:
Deal or No Deal Rules and Board Piece
Printables Designed by Leah @ LA Sync Exclusively for The Dating Divas
Deal or No Deal Briefcase Cards
Printables Designed by Leah @ LA Sync Exclusively for The Dating Divas
Deal or No Deal Deal Cards
Printables Designed by Leah @ LA Sync Exclusively for The Dating Divas