Strip Basketball in the Bedroom
If you or your main squeeze LOVE basketball, you will be pumped for this twist on the classic game of HORSE. It's a not-so-innocent game, great for an intimate night in! Turn some fun, sporty ball shooting into a strip bedroom game where you and your spouse are BOTH winners. It gets you moving, and RE-moving your clothes! 😉 This sexy game for couples is especially a hit with any basketball-lovers out there. Although some may feel that sports can be a distraction in marriage, this fun, intimate strip basketball date gives the participants the best of both worlds: sports and intimacy! So strap on your Nikes and get ready to swoosh! By the end of the night, you'll both be saying, "Let's 'Just Do It!'" (WINK!)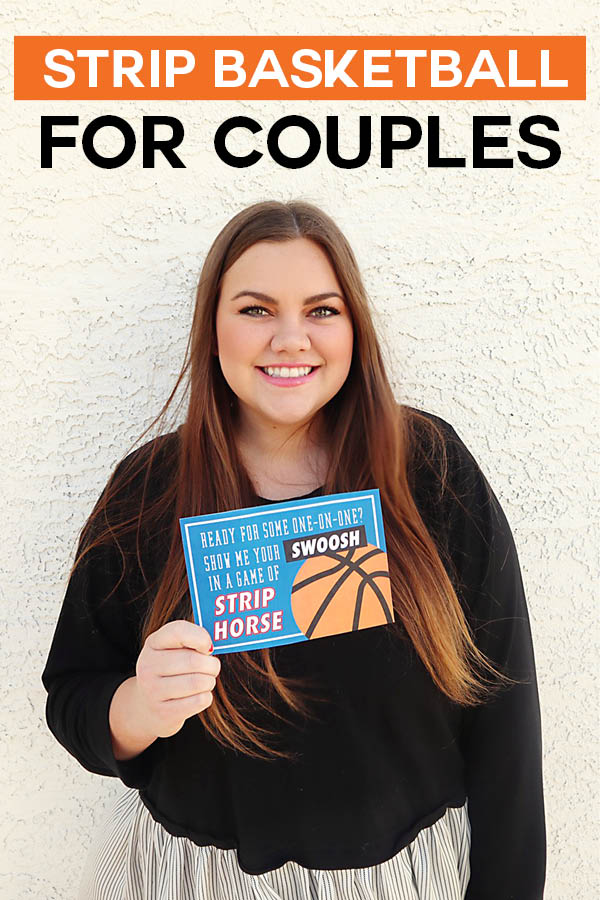 Disclaimer: This post contains affiliate links. To learn more about 'em, click here.
The printouts for this basketball bedroom game for couples were brought to life by the stellar Courtney of Paperelli designs. She seriously brought her A-GAME and we love them! Totally man-approved and not too girly!
Intimate Date Night Invite
You'll want to start your sexy date night out in advance with an invite telling your partner what's coming! What a pleasant surprise it will be for your sweetie when they receive this sporty, yet flirty, invitation, right? They may even break a sweat before the game begins! 😉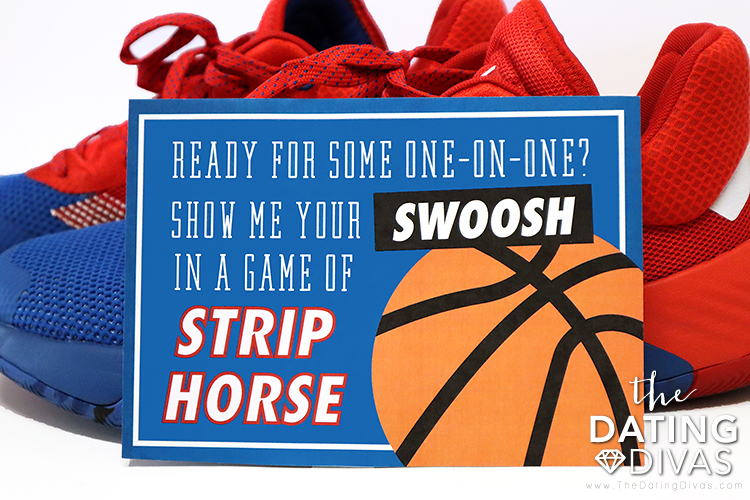 All you need to do to access this cute invite is click the link below, download all the free "bedroom basketball" printables, and get ready to ball out! In short, this strip basketball game will have you all over each other while looking like the cutest basketball couple ever! I promise this date is going to be a SLAM DUNK!
What You Need For Basketball in the Bedroom
Now let's chat about what you need to play this sizzling game of STRIP BASKETBALL! Here is a handy list to follow!
Comfortable sports attire for both you and your sweetheart – I laid out sporty outfits on the bed for both of us to suit up in (at least 5 pieces of clothing each), although I knew we wouldn't be wearing it long! I picked some tight spandex shorts, and a sporty top for me, and made sure to set out his favorite team shirt (Go UTAH JAZZ!)
A mini kid's basketball hoop and ball – If you already have this, great! But if you don't, you can be creative! I used our (clean) office trash can, a piece of a cardboard box, and the printable strip horse backboard to make a little DIY hoop as another option. You can download the template at the end of the post if you want to make your own. I also picked up a ball at the Dollar Store for this strip basketball date!
Water bottles (or Gatorade) to stay hydrated
Sweat towels (because things will get steamy! 😉 )
The darling letter cards, time out prints, and printable backboard (linked below!)
Now, keep in mind that you don't have to be a basketball couple to enjoy these "horse" bedroom ideas! Engaging in the game (or at least trying to) is a huge turn-on and an amazing way to bond over something that your sweetheart enjoys. Keep reading to read how to play!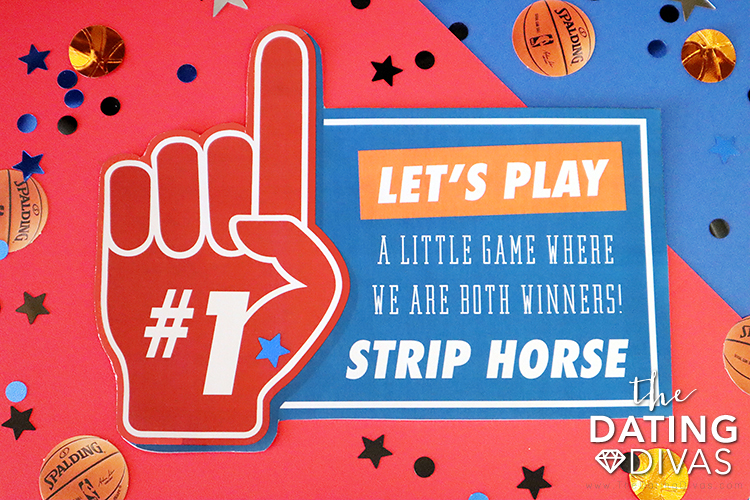 Strip Basketball Setup
To set up your strip basketball game, print out the HORSE letters and set up your basketball hoop in a cleared space of your room. Then, lay out the challenge cards somewhere you will be able to read them throughout your game. Lastly, turn the fan on high because you'll definitely be getting a great workout in with this sexy horse bedroom game! By the way, we highly recommend warming up before you begin! You wouldn't want to pull a muscle before the fun REALLY starts! 😉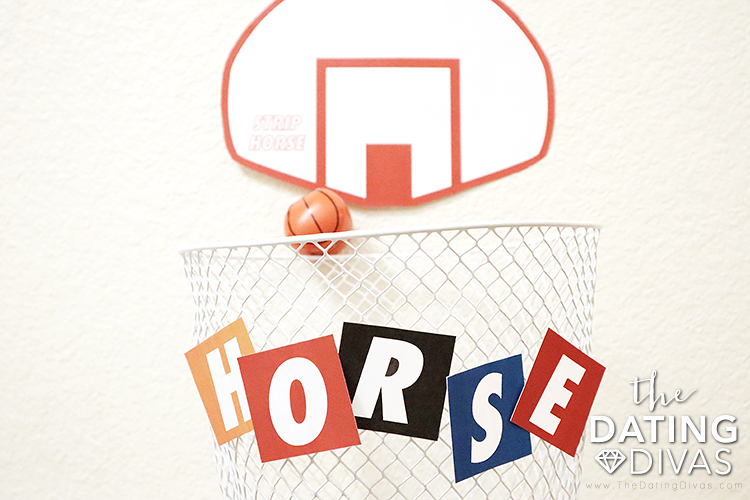 How to Play Horse in the Bedroom
So here's how to play HORSE in the bedroom, (or strip basketball, as we like to call it!)
One person takes a shot from anywhere in the room. We had fun shooting from silly spots like inside the closet or on the bed (the bed was MY money shot!)
If the first player makes their shot, the other person must make the exact same shot.
If the second person misses that same shot, they get a letter, spelling out HORSE. The first person to have all the letters of HORSE loses.
You can place the letter tiles on your individual sides of your dresser or bed, with each of you keeping track of how many letters you've accumulated.
Include this sexy twist! With each letter either of you receive, remove a piece of clothing. Ooo baby!
The way this went for us was after our kids went to bed, the buzzer went off and it was GAME ON! We turned on the "Space Jam" soundtrack for some pump-up jams (any 90s kids out there?!)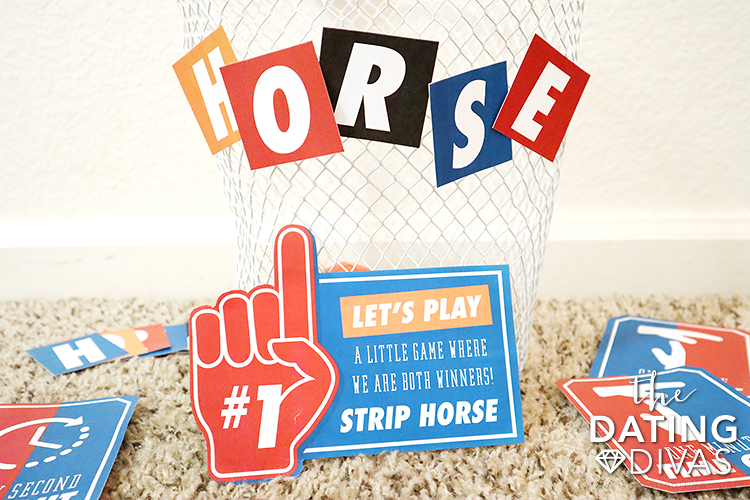 Strip Game Timeouts
As a fun twist to the game, use the FREE time out cards that you can pull at any time during the game! Each spouse gets a 20-second timeout and a 1-minute timeout to use at their discretion. Start the timer and have fun making out, dancing, or doing whatever you please (EXCEPT taking off clothes) during your time out! By using these adorable timeout cards, you can really create the HEAT in the bedroom! 😉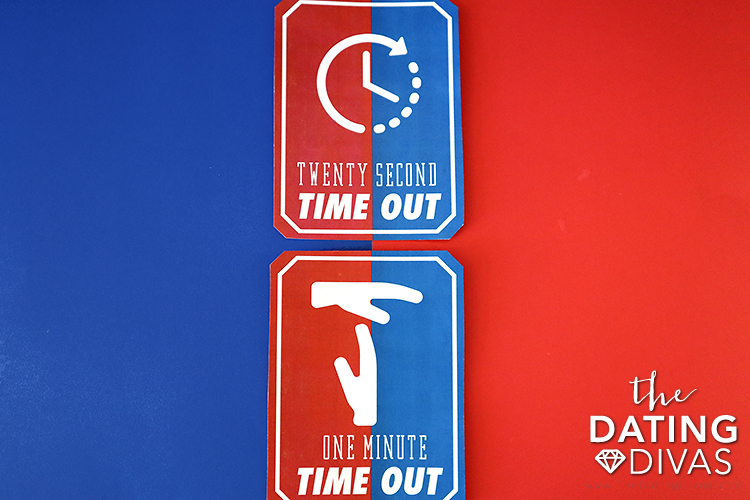 In the end, we really hope this strip basketball date makes all of your SWISHES come true! 😉
Are you looking for more sporty date ideas? We've got tons more! Try our Intimate March Madness Date or our Kickball Group Date!
Best of luck!
SaveSave
Strip Basketball For Couples
Printables Designed by Courtney @ Paperelli Exclusively for The Dating Divas