The art of massage, and particularly sensual massage, has taken a backseat when it comes to intimacy. Many people are uncomfortable giving massages to their spouses because they don't believe they are any good at it. The truth is, anyone can give an excellent massage! All it takes are a few tips and the ability to enjoy it as much as your spouse will.
Disclaimer: This post contains affiliate links. To learn more about 'em, click here.
How to Heat Things Up: Romantic Massage
I don't know about you, but I LOVE getting professional massages. I just feel so relaxed and pampered from the moment I walk in the door!
But, to be honest, I would take a massage from my husband over the spa any day. Here's why! There is something so sweet (and sexy) about a sensual massage from your spouse. Their intimate touch, loving hands, and desire to make you happy all come into play when you're together.
Because of this, I thought it would definitely be beneficial to share some ideas with all of you on how to give a sensual (aka sexy) massage right in your own home.
How to Set the Mood for a Sensual Massage
For starters, setting the mood for your sexy massage is crucial for success! Not only will this help your spouse unwind and feel comfortable, but taking time to set up a special experience for your spouse will help YOU get excited about this way to serve him or her!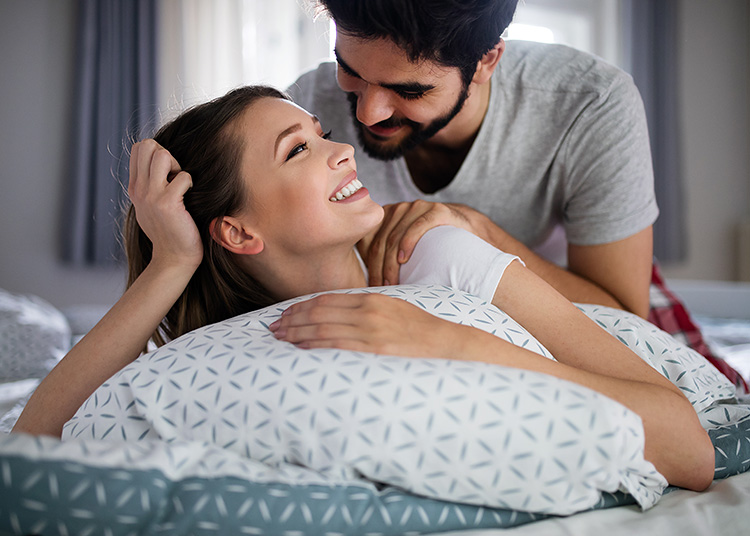 Here are a few tips to get you started:
1 . The ambiance is key. When giving a sensual massage, your environment needs to be serene and comfortable for both of you. Even if you are a little insecure about your skills, the atmosphere is of the utmost importance. It will create an environment of relaxation and comfort, which will help your spouse feel calm so they will be able to focus on their more intimate senses, if you know what I mean!
2 . Turn your bedroom into an oasis. You can set up shop in any room, but if you have kids and want to ensure privacy, I recommend doing so in your bedroom (wink, wink). Make sure that the room is de-cluttered and clean. It is hard to have romance or relax when there is a disaster everywhere you look.
3 . Scatter tea light candles around the room. Soft lighting creates a more flattering light for both of you. Decorate with some rose petals, lay down a clean sheet or towels (using massage oils can make a mess, so be prepared), and have some soft, calming music playing in the background (I prefer nature sounds or ambient noise…something along those lines). You can also use a blindfold if your spouse has a difficult time blocking out other distractions.
4 . Draw your spouse a nice, warm bath. Baths are always a good way to start out the night. Let your spouse relax while you set up for the massage. This will also help to warm up the muscles and relax them before you begin.
How to Give a Sensual Massage
Don't let the thought of a massage make you uneasy! Anyone can give a sensual massage with the right tools. Start with the basics and learn as you go. If you take the time to give your spouse a little extra special attention, you'll enjoy each massage more and more. Whether you are the giver or the receiver, a sensual massage can be a great way to relax, romance, and connect with your spouse.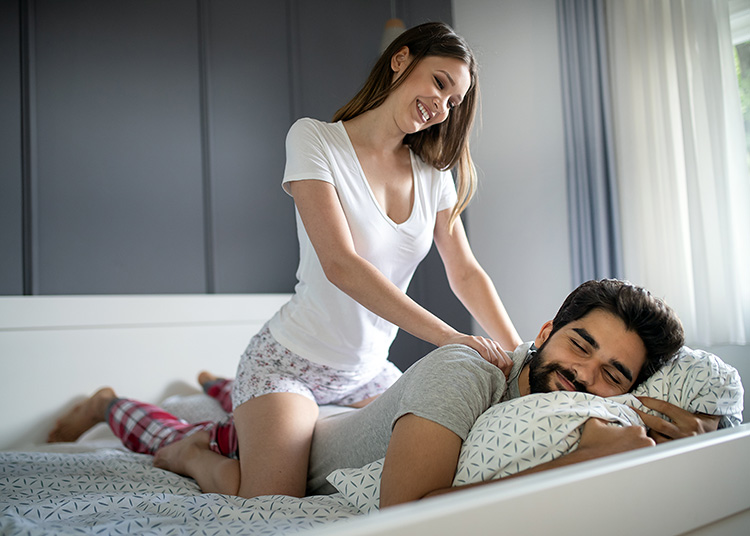 1 . Rub your hands together to warm them up. No one likes cold hands for a massage…brr! Warm the oil in your hands before putting it on your spouse, or take a tip from the spas and immerse the bottle in a bowl of warm water. I highly recommend Bath & Body Works Stress Relief Massage Oil from their Aromatherapy line…it's Eucalyptus Spearmint, and it's wonderful! I also have a small travel candle in the same scent that I will light and put close, so he's breathing in the relaxing, calming aroma. Another great option is the Kama Sutra massage oil line–it's edible :).
2 . Start out with a light touch. Remember that your objective is to arouse, not to bruise. Start with some long strokes with no oil down from the head to the toes. Touch very lightly so you are just touching the hairs of the body. You can try using fur or a feather duster to start the massage.
3 . Massage the back with oil. Place some oil on your hands and massage the back with long, easy strokes. You can position yourself behind their head and stroke down the back near the spine and back up the sides. The Divas are big fans of the Kama Sutra brand massage oil candle. You can also use a Heart Warming Massager at the beginning. It's a heated massage pad that is perfect for relieving muscle tension, reducing stress, and soothing your aches – plus it's reusable! Making sure that both you and your partner are warmed up is essential for a sexy massage.
4 . Start slowly, then increase the pressure. Once the muscles have warmed up and are relaxed, increase the pressure. Next, knead the muscles around your spouse's shoulders and neck using your thumb and forefingers. Most of us hold a lot of tension in our neck and shoulders (I personally collect a plethora of knots in between my shoulder blades, so this is the main area my husband massages for me). Keep in mind that you want to follow the flow of the muscles, not against them. Pay attention to what pressure points your spouse is responding to.
5 . Massage everywhere. You can massage the wrists, fingers, ears, the back of the neck, and the insides of the elbows and knees–these areas are probably rarely given any attention. Rub your fingers over your spouse's scalp, massage and rub every finger and every toe until your spouse is fully relaxed. Feel free to rub, kiss, lick, and even nibble on these neglected regions. Your spouse will feel appreciated by your attention to detail. If you have a problem with your hands tiring too quickly, give a sensual massage using your body. Your hands aren't your only tools; you can make good use of your oiled arms, chest, and stomach.
6 . As with most things, never, ever expect a massage in return. Your spouse may be so relaxed after getting one from you that they are unable to reciprocate immediately after you finish. That doesn't mean they won't reciprocate your loving affection later on.
BONUS: Romantic Massage Ideas and Tips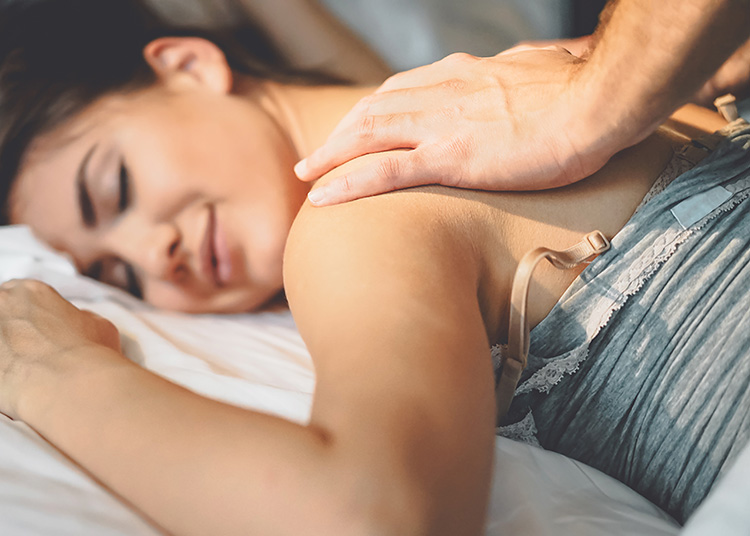 For women: Appropriate attire for you to wear? Try a silk chemise. Your husband will LOVE to have that silkiness glide across his skin while you are massaging his back muscles. Feel good about yourself as you give the massage–remember, this is a sensual massage.
For men: Women like to be touched, especially by their significant other. 🙂 It is comforting and stimulating at the same time. You want to relax her and to calm her–so don't press too hard. Be alert to her body's responses to you and you can't go wrong.
If you would like to incorporate more ideas into your evening of relaxation, try our Spa Date or Relaxing Date Ideas. If you know you'll be ready to have some fun after your time relaxing, try any of our Sexy Bedroom Games!
---
Sensual Massage FAQ

How to Give a Sensual Massage

Set the mood, give without expecting to receive, and start soft and gentle, moving to deeper more sensual touch,
When to Give a Sensual Massage

Sensual massage can be welcome during times of stress, or tranquility. Read your partner's attitude and determine the best timing. You should also talk to your partner and tell them that you want to give them this romantic massage.
What Items Do You Need to Give a Sensual Massage?

– A comfortable space
– Massage oil or lotion
– Towels for clean up
– Sheets or blankets for draping and warmth
– Relaxing music
We hope you now mastered the sensual massage. For more great ideas like this one, check out our:
Pin It!