30 Women's Lingerie Pieces & Sets You'll Love
If you're anything like us, you've likely spent a lot of time trying to find the best women's lingerie brands. Well, guess what? Whether you're looking for affordable, size inclusive, special occasion, or a little something to treat yourself to… girl, we got you! We have compiled a list of 30 sexy lingerie sets and pieces that we know you are going to love. Let this be your one-stop shop for all things women's lingerie!
Disclaimer: This post contains affiliate links. To learn more about 'em, click here.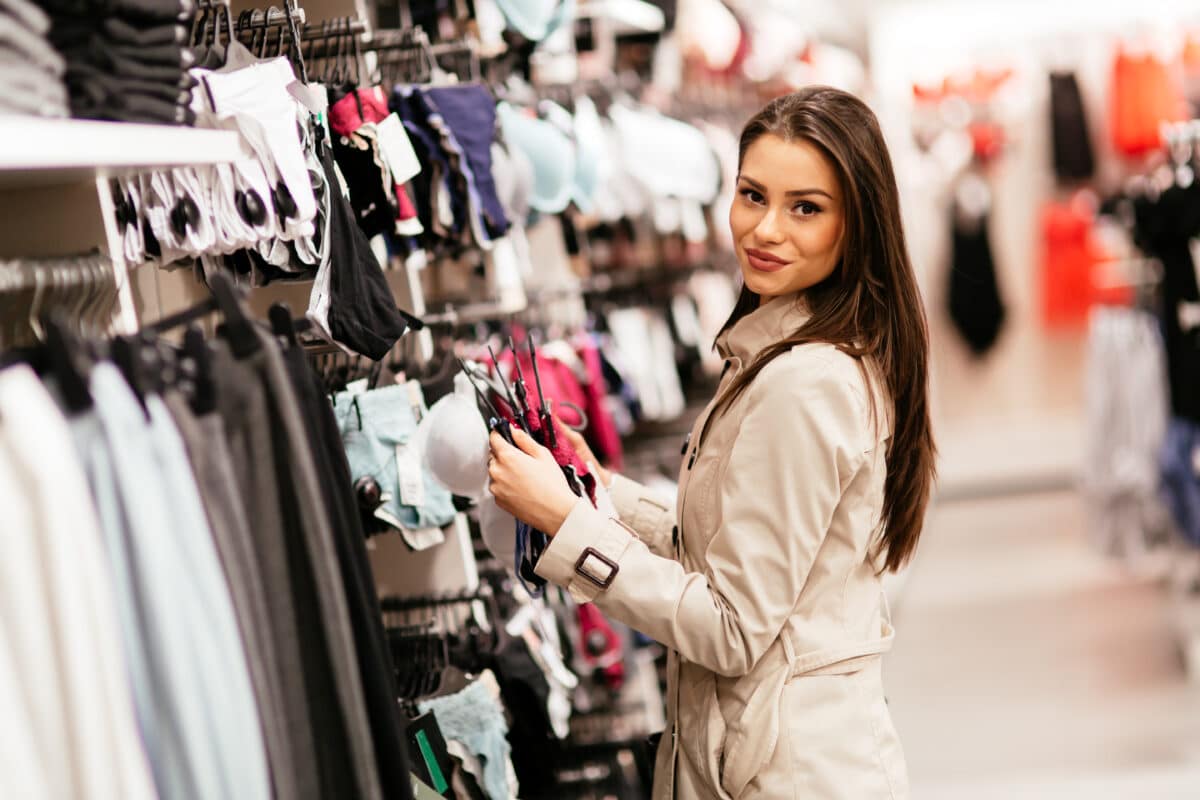 We have scoured the web for the best of the best lingerie pieces (including our personally tried and true favorites!) You'll find anything you're looking for on this list! Just click the links below for the exact type of lingerie you want.
Table of Contents
Curvy & Full Figure Lingerie
The pieces on this list are absolutely stunning! And of course, oh-so-sexy.
1. Loraina Plus from Adore Me: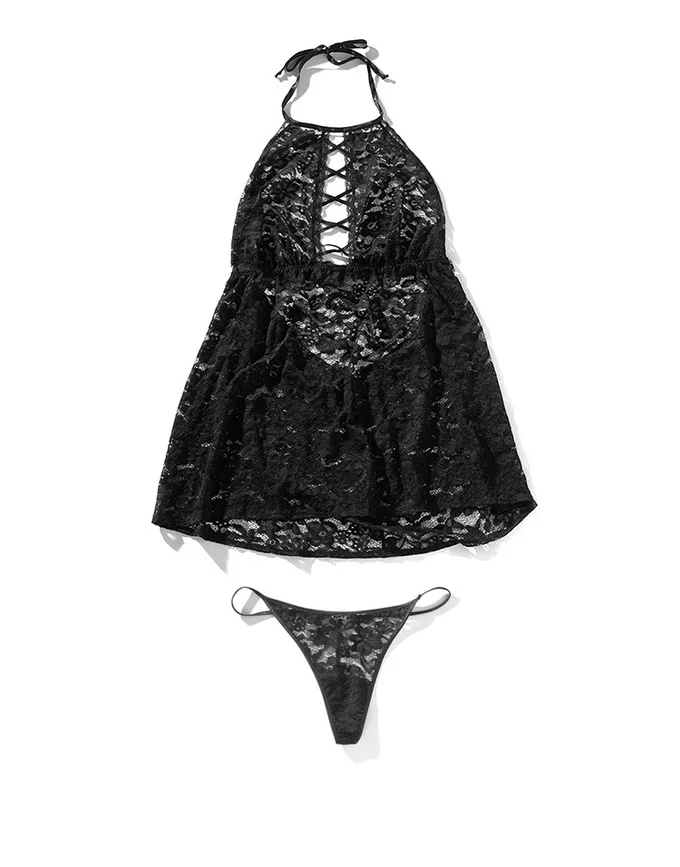 Isn't this set gorgeous?! This made the list for two reasons: the beautiful black lace and the crisscross detail near the bust. This particular set runs in 0X – 4X and can be purchased as a one time thing, or you can sign up for the Adore Me subscription boxes!
2. SOLY HUX Women's Sleepwear Set from Amazon: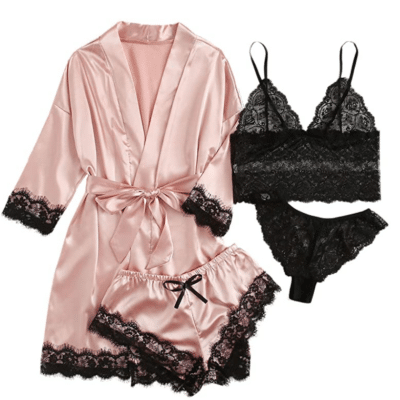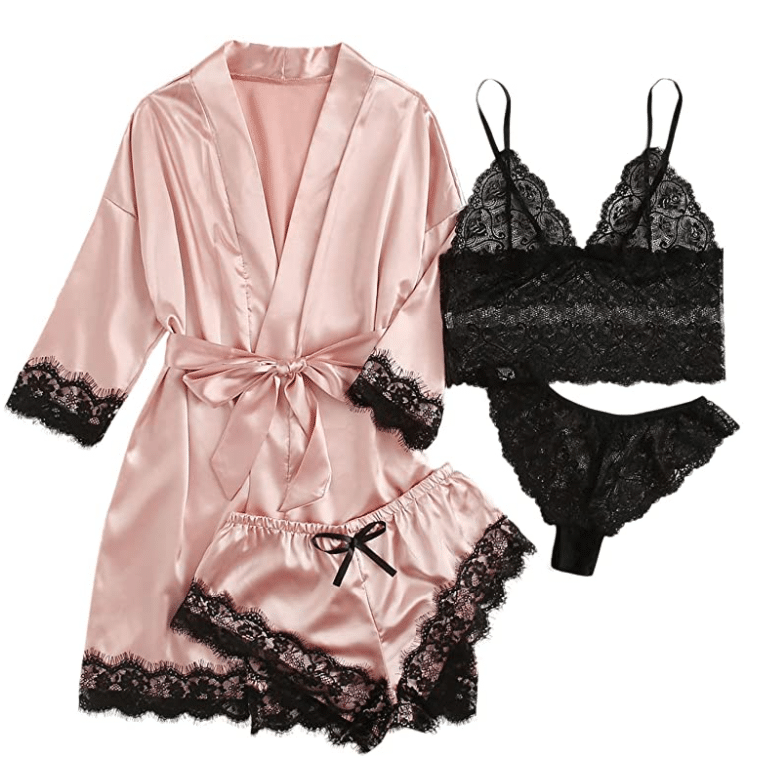 Not only does this set look super comfy, but it comes with four pieces! For less than $40, that is a steal! We love the lace detailing and the satin fabric. This sexy lingerie set comes in several different colors and is available in XS – 3X.
3. Alexis Underwire Bra from Hips & Curves: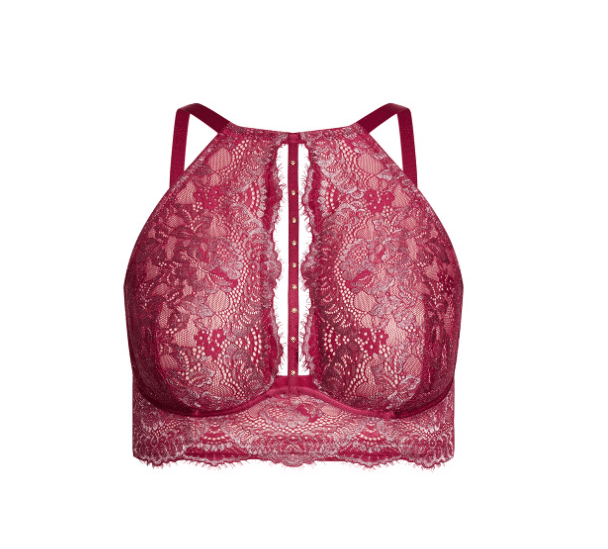 Isn't this color to die for? We are obsessed! This bra comes in two colors and runs in 38D – 40H. The best part? There are matching pantiesyou could pair with it!
4. Meadow Romper from Hips & Curves: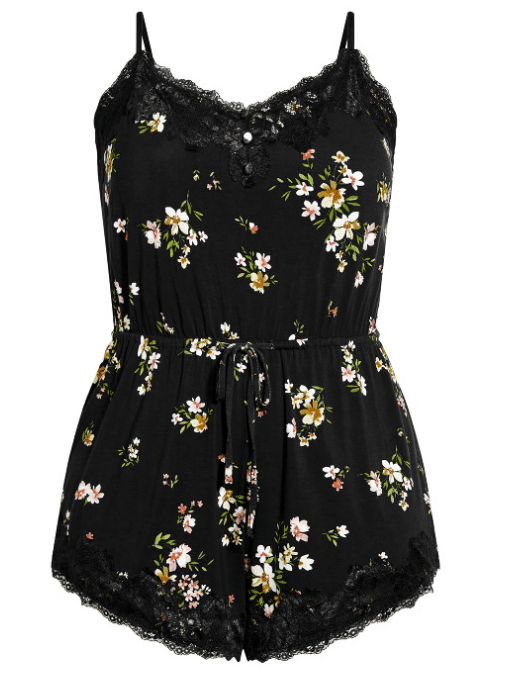 This romper is at the top of the list for cute lingerie. It's simple but flirty, and it looks so comfy! It runs in sizes 12 – 24.
5. Lace Black Bustier from Torrid: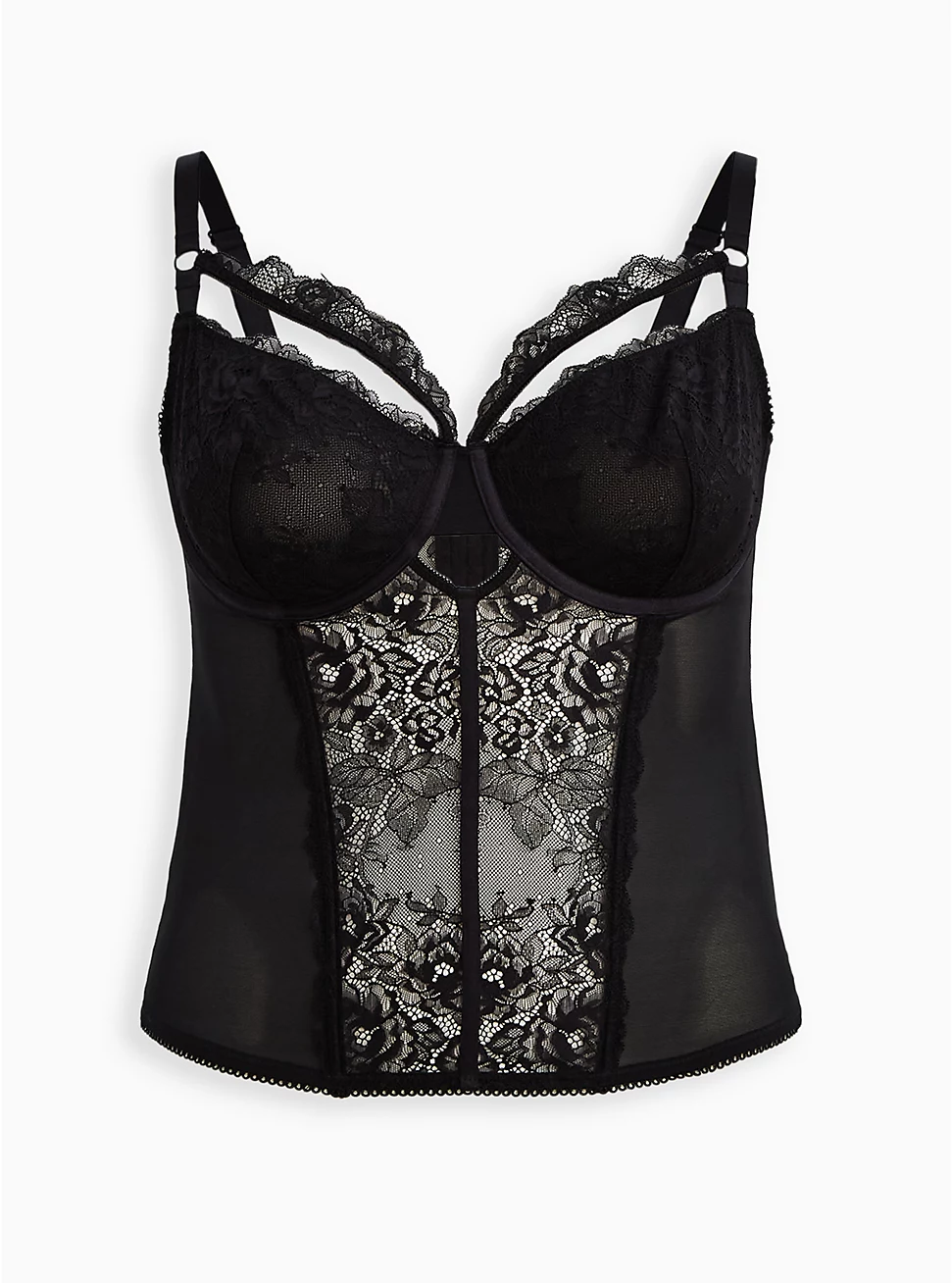 Elegant. Lacy. BLACK. In our opinion, black is one of the sexiest colors for lingerie! This gorgeous bustier is available in sizes 10 – 30.
6. Violet Lace & Mesh Underwire Bodysuit from Torrid: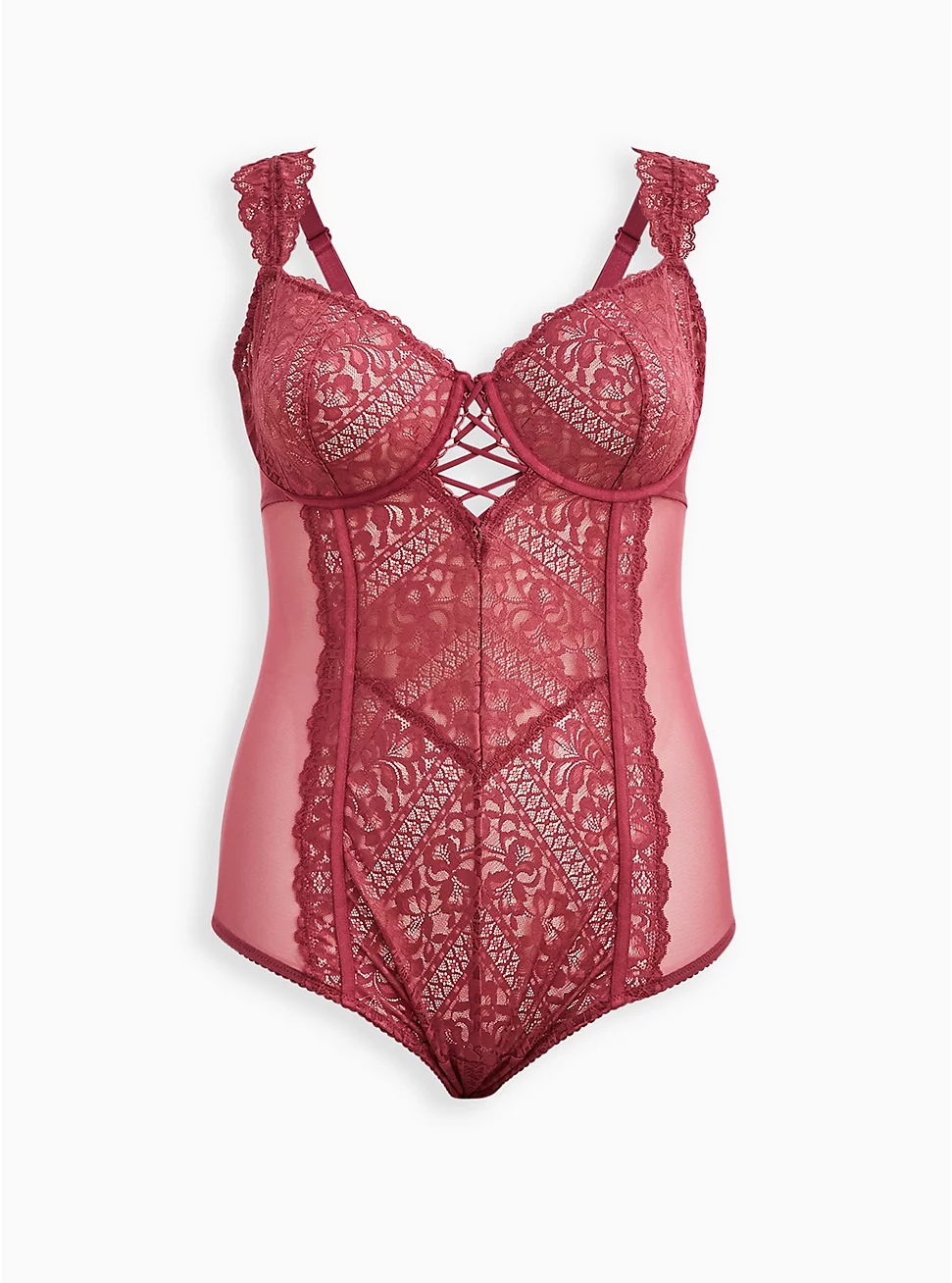 Can't conclude this list of best lingerie brands for curvy women without a bodysuit! We are drooling over this one! The color is beautiful, and the back has two sexy cutouts. Available in sizes 10 – 30.
Affordably Sexy Women's Lingerie
This list is for gals on a budget. So pretty much all of us, right? 😉 Even though these pieces are low in price, they are not low in quality.
7. Lace Halter Babydoll with Garters from Amazon: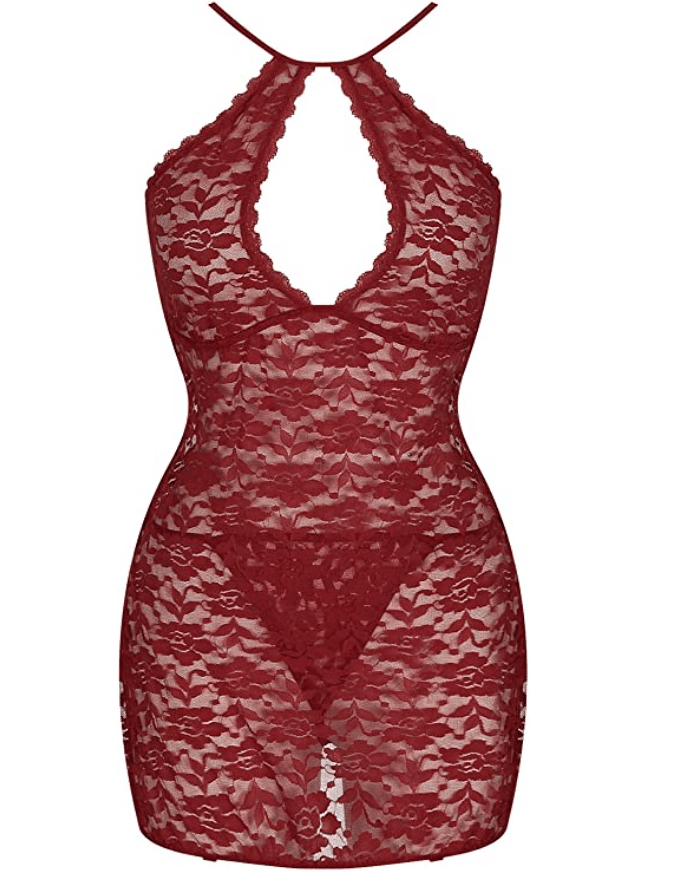 This babydoll is super sexy and super affordable! For under $20 you have eleven colors to choose from, and all the reviews agree that this is a steal. This beauty is available in sizes XL – 4X.
8. Push Up Bra and Panties Set from Walmart: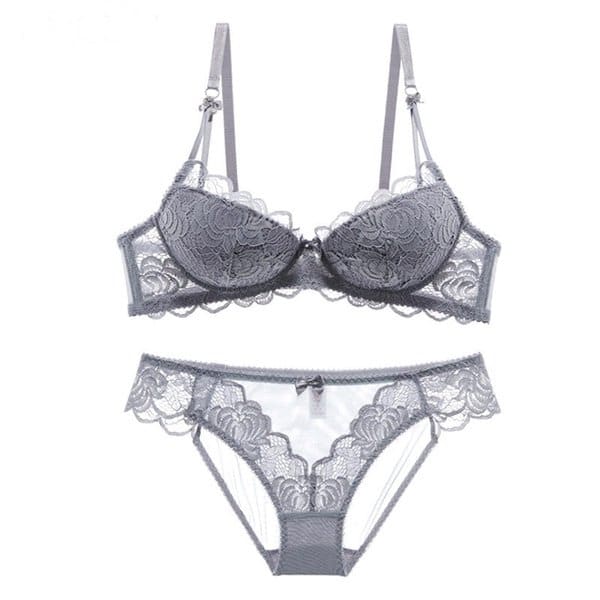 This is another sexy set for less than $20! After looking through Walmart's website, we were surprised to see so many lingerie sets that had great reviews as well as decent prices. Take note! This beauty is available in five different colors and runs in sizes 34B – 38C.
9. Smart & Sexy Signature Lace Deep V Bralette from Target: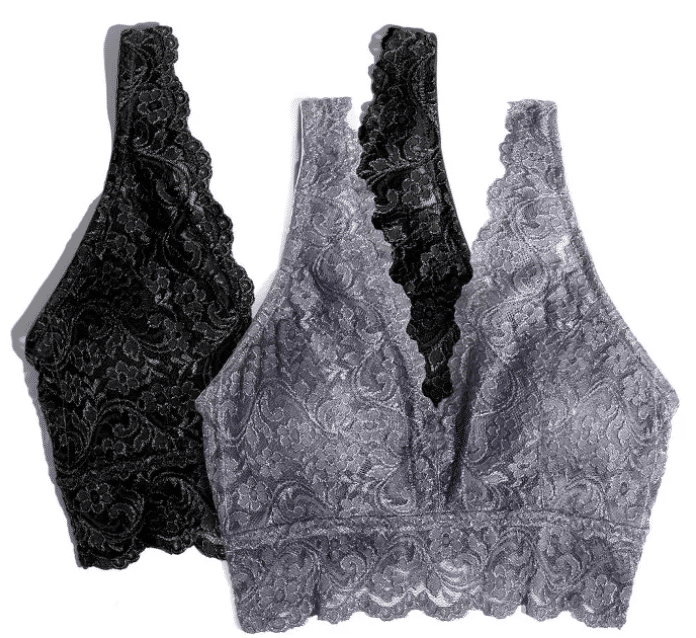 Stop what you're doing, and buy this set right now! First of all, how cute and sexy are these?! Second, they come in a TWO pack for $24. What a steal! Available in three different colors, and sizes S – XXL.
10: 4 Piece Sleepwear Set from Walmart: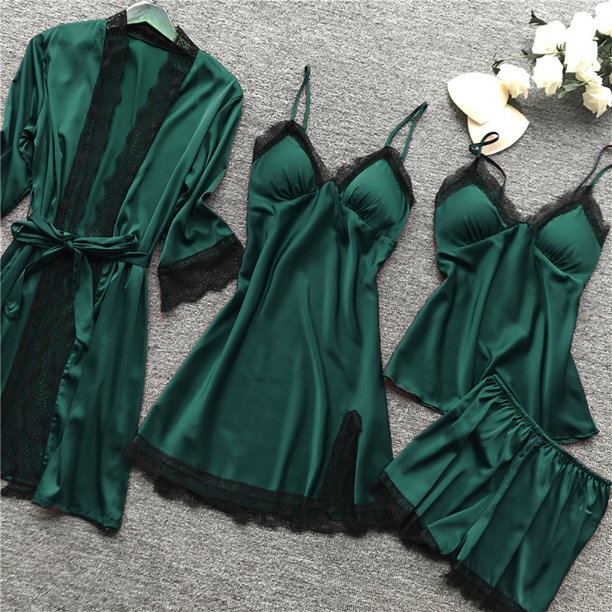 Isn't this color gorgeous? Seriously, emerald is such a beautiful color on its own, but it's even better when it's on a cute lingerie set! We love this set, because it comes with four pieces for under $27. We also love that you have 16 different colors to choose from, and it runs in sizes S – 3X.
11: Holiday Best Lace Padded Racerback Bralette from Aerie: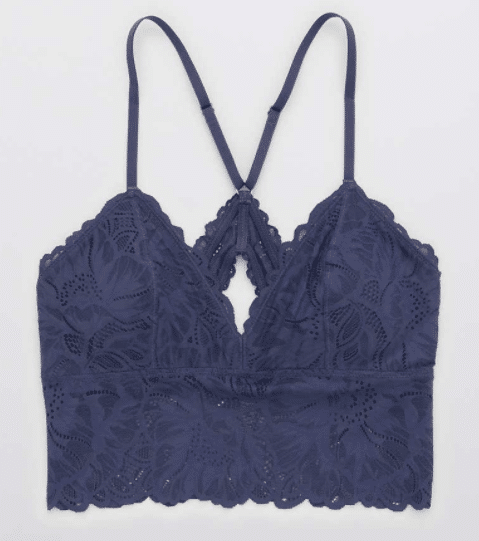 Aerie is an awesome place to shop for cute lingerie. They have so many styles to choose from, and they are known for their good quality! This beautiful bralette would pair great with this pair of panties, too. Get both for under $50. Available in XXS – XXL.
12. Sugar & Spice Set from Knotty Knickers: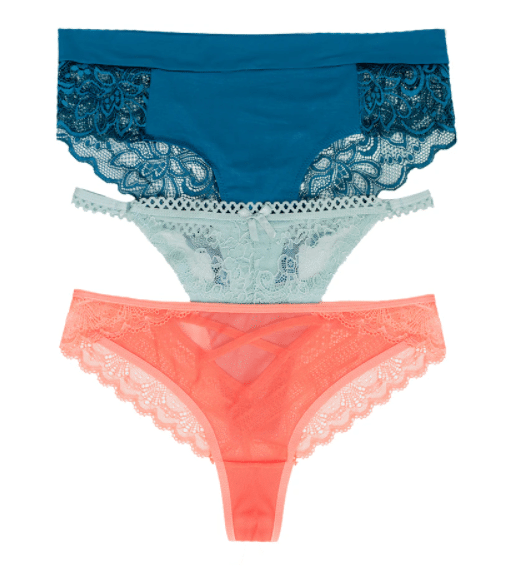 Knotty Knickers is all the rage right now. It's an online panties subscription service, and it's so affordable! Simply choose your size (available in XS – 3X), select which package you'd like (Naughty, Nice, or Sugar & Spice), and voila! You have three new pairs of panties delivered to your door every 1-2 months, for $3.99.
Splurgy Sexy
Alright ladies, who's ready to treat themselves? These sets put the wow in WOWZA. This list should be your go-to for the super sexy, best lingerie brands when you're ready to splurge on yourself!
13: Pleated Babydoll from Victoria's Secret: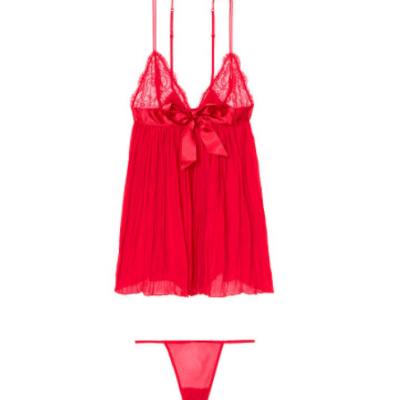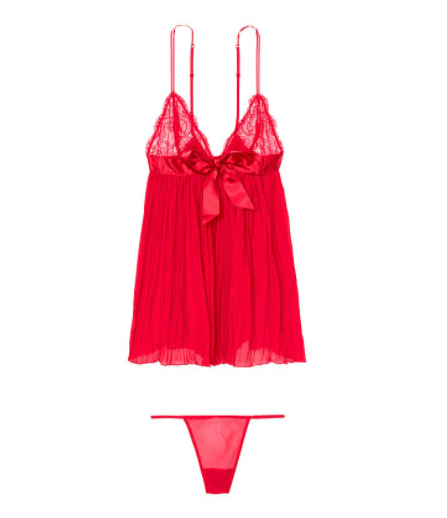 It's no secret that the go-to shop for all things sexy is Victoria's Secret! We love how this piece is flattering for all body types, and we can't get over that cute little bow below the bust. Available in sizes XS – XXL, as well as three different colors!
14: Lace Plunge Slip from Victoria's Secret: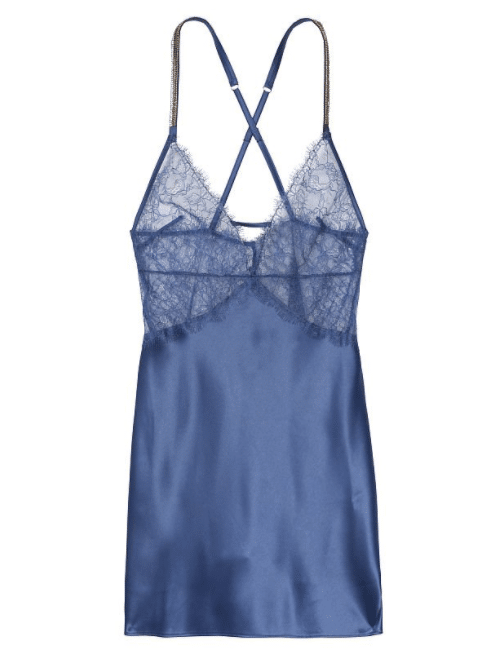 We love how slips can be worn for function AND fun! This would be perfect under your everyday dresses or even on its own… in the bedroom. 😉 There are six gorgeous colors to choose from, and it runs in sizes XS – XXL.
15: Embroidered & Mesh Cheeky Panty from Victoria's Secret: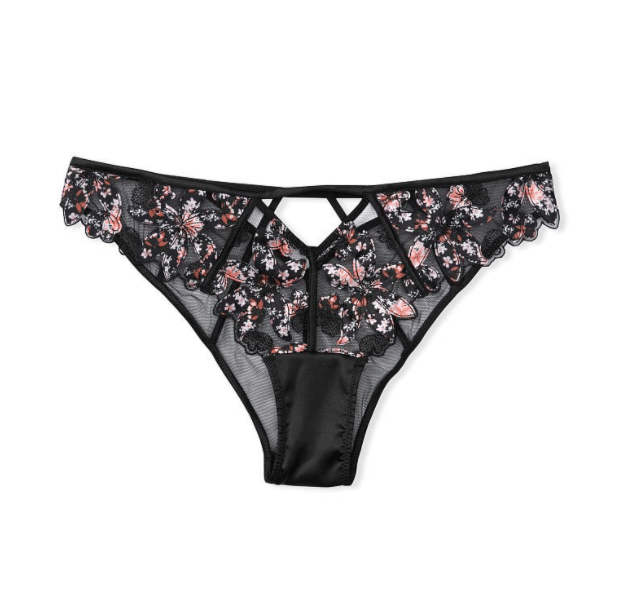 Everyone needs a super sexy pair of panties! We love how these are delicate, flirty, and sexy. Available in sizes XS – XL.
16. Savage Not Sorry Lace Teddy from Savage X Fenty by Rihanna: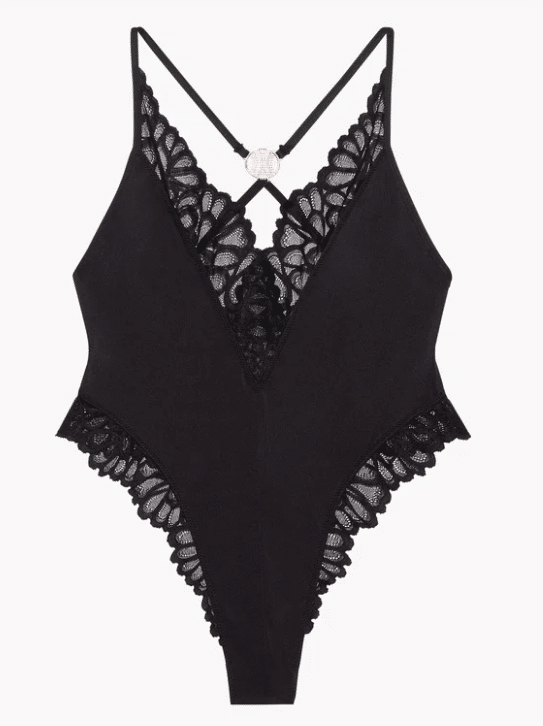 There are so many things we love about this teddy, but the thing we love most is the lace! Perfectly feminine and just the right amount of sexy. Savage X Fenty by Rihanna is quickly becoming one of the best lingerie brands out there, and we can see why! This line is size inclusive, too! This particular piece comes in two gorgeous colors and runs in sizes XS – 3X.
17: Gathered Mesh Strappy Teddy from Savage X Fenty by Rihanna: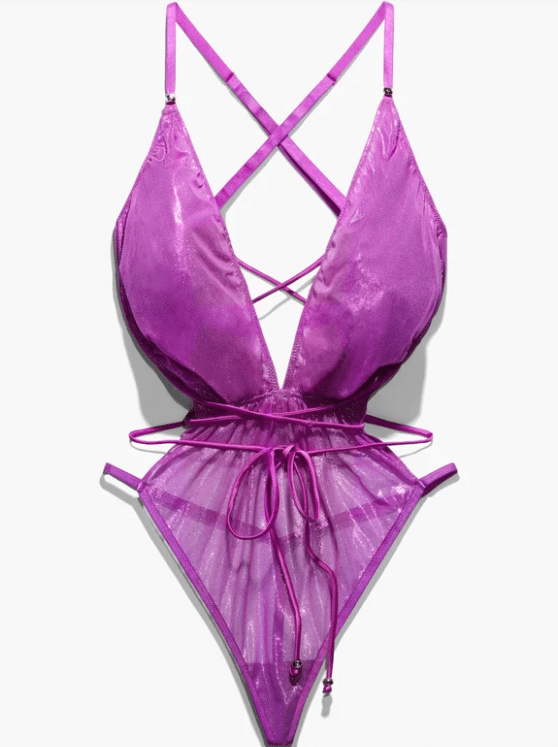 Okay, this piece is a showstopper! We love the gorgeous color as well as the unique detailing. Available in three colors, and sizes XS – 3X.
18: Rendezvous Bodysuit by Hanky Panky from Nordstrom: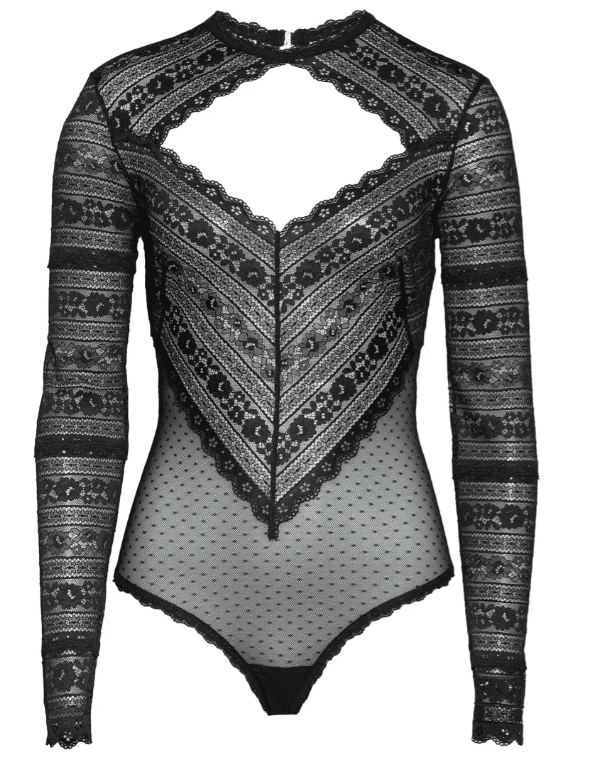 This piece is the most expensive on our list of splurgy sexy. But every now and then it's okay to treat yourself, right?! 😉 This stunning piece has such incredible detailing, and we couldn't love it more. Available in black only and sizes XS – L.
Bridal Lingerie
You've spent weeks or even months searching for the perfect wedding gown. Now what? Time to find what to wear under the gown! Let's be real: even though you won't be showing off what's underneath, we all feel more confident and sexy when we're wearing pretty little things. 😉
19. Eyelash Lace Teddy from Mentionables: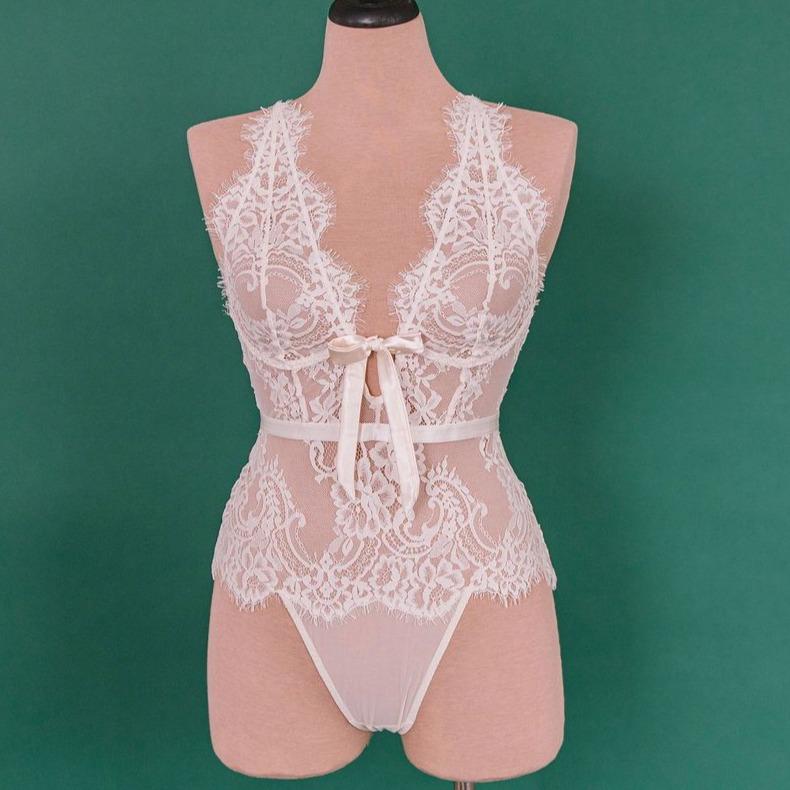 Here it is. The perfect piece to wear under that gorgeous gown! This piece is so beautiful, we bet you won't want to stop wearing it after the wedding! We love the lace detailing and the feminine, champagne color. Runs in sizes XS – XL and also available in plus-size.
20. Eyelash Waist High Panty from Mentionables: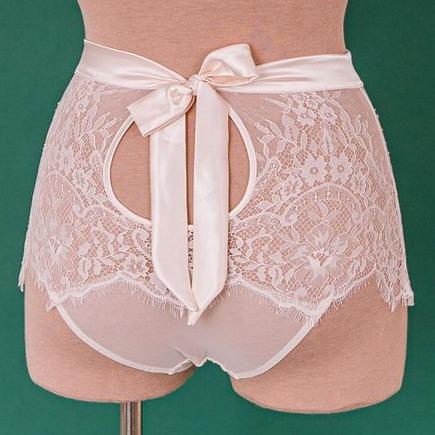 We can't decide what we love most about this panty! It's flirty, feminine, and delicate. Aka, everything you should want for wedding lingerie, right?! Pair it with this bralette, and you'll be set for your big day. Available in sizes XS – XL, as well as plus-size.
21. Rhinestone Embellished Sheer Teddy Bodysuit from David's Bridal: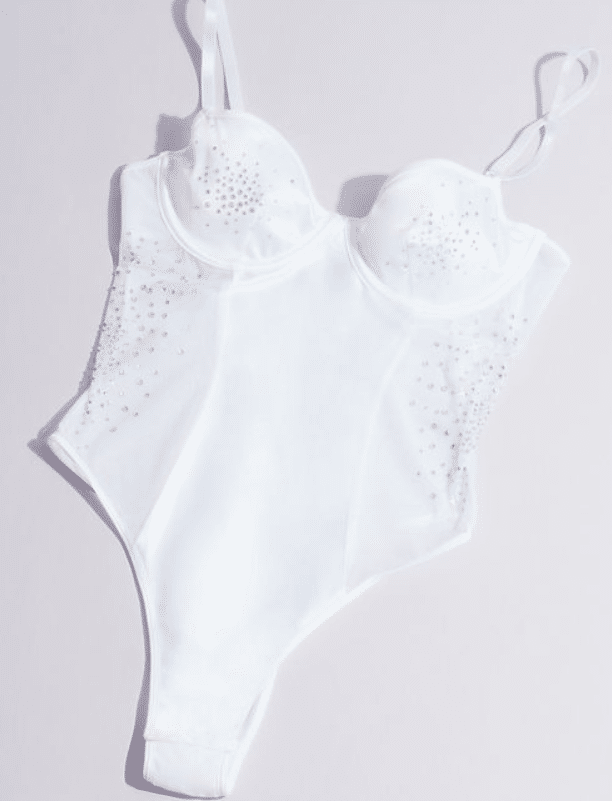 Can't have a wedding without a little sparkle, right? We believe this can be the rule for wedding lingerie, too! This beauty will surely make you feel like a princess. Available in sizes XS – XXL.
22. White Embroidered Bodysuit from Moxy Intimates: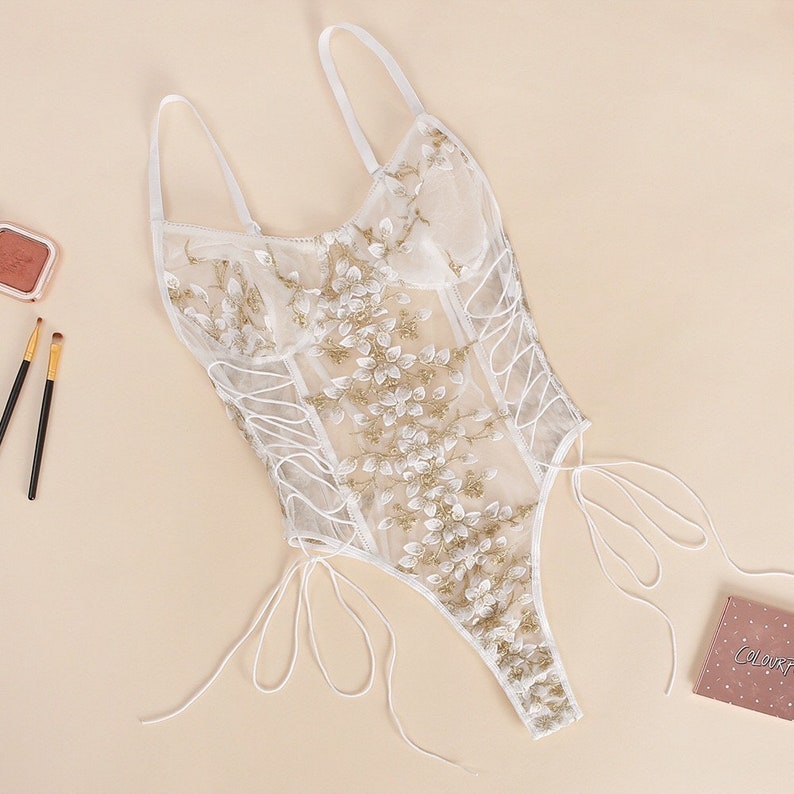 We can't get over this beautiful floral embroidery! The attention to detail is incredible, and we love how the pops of color are still neutral. This could be worn under your gown or just on the honeymoon. Either way, it's a showstopper! Available in this color only and sizes S – XXL.
23. Blue & Gold Lingerie Set With Garter from Moxy Intimates: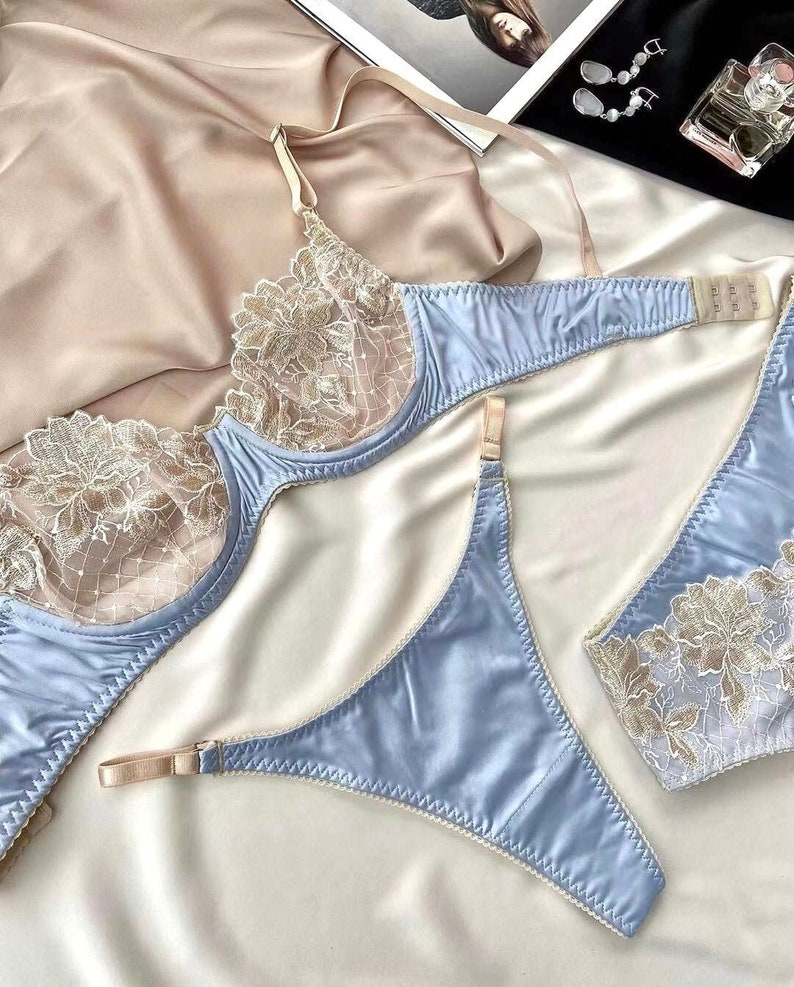 Can't have a wedding without something blue! We're dying over the floral patterns, and we think the blue is so dreamy! Only available in blue and runs in sizes S – L.
24. Satin & Lace-Up Romper from Victoria's Secret: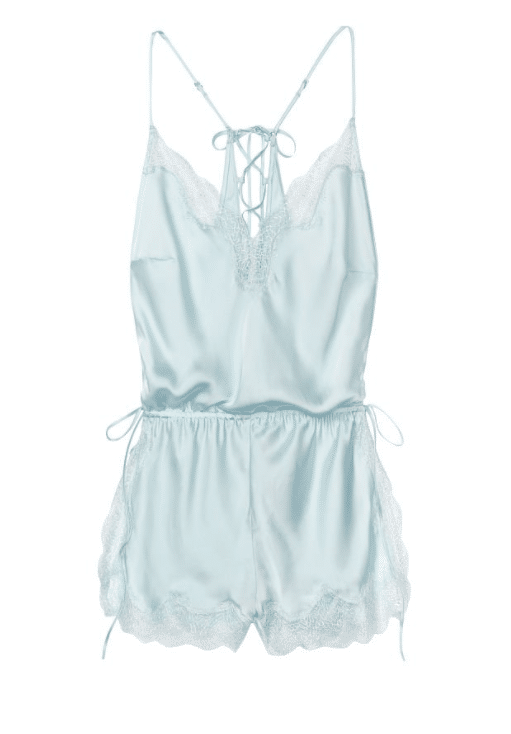 Another piece for your "something blue!" We love how rompers are playfully sexy. This would be perfect for the honeymoon! This piece also comes in white and is available in sizes XS – L.
Before we wrap up the bridal lingerie recommendations, we'd love to mention Leonisa. This brand offers more than just bras, but for now we want to focus on their Bridal Bras. It's important to have a bra that feels secure and comfortable, especially on your wedding day! These bras are high quality and functional for any style of wedding dress, and they're sure to help keep you comfortable all day (and night!) long.
Holiday Women's Lingerie
SURPRISE! We couldn't wrap up this post without mentioning holiday lingerie. Christmas, your anniversary, and Valentine's Day are just a few days of the year that we recommend getting a little something to wow your sweetheart in the bedroom with. You will absolutely love this list!
25. Unwrapped Bow Front Bra from Venus: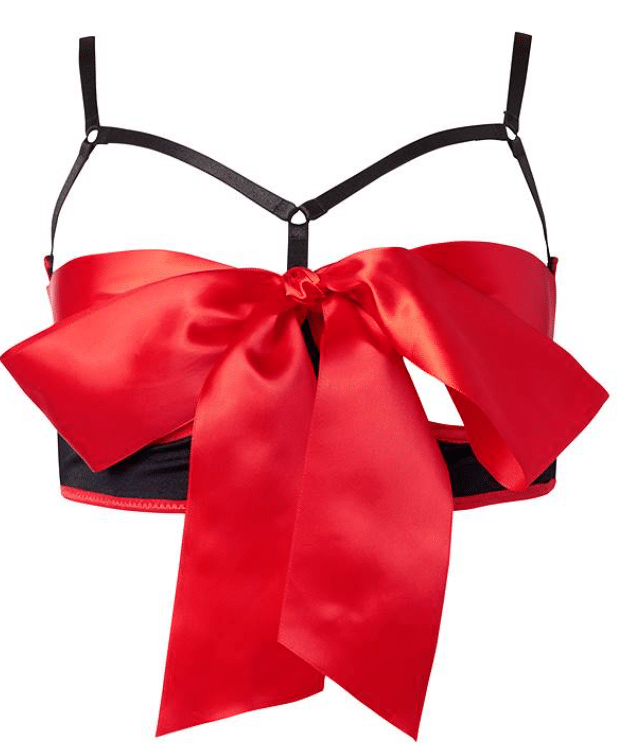 It wouldn't be Christmas without a few bows to unwrap, right? 😉 Available in sizes S – XL and pairs perfectly with this panty.
26. Santa Babydoll from Venus: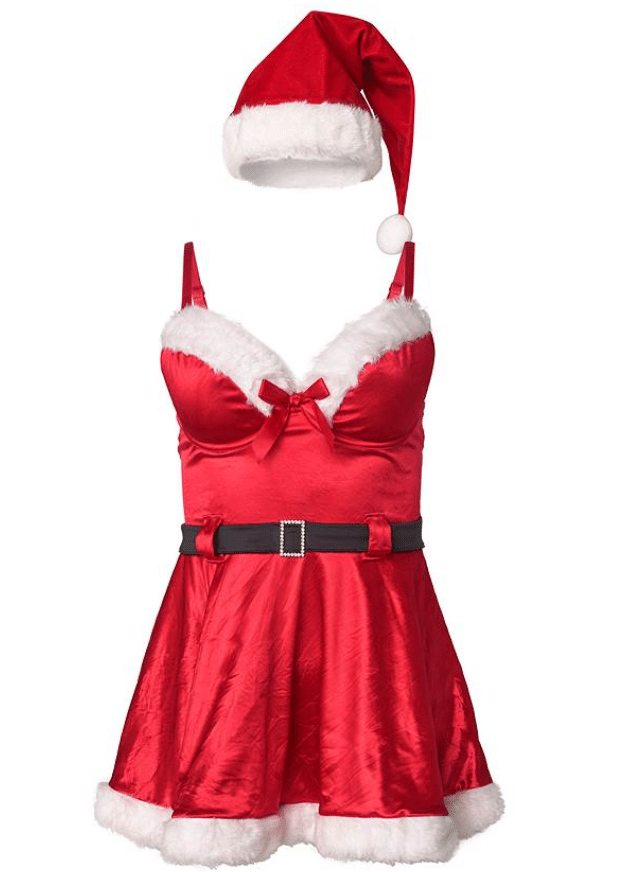 Santa baby….doll! Now that the song is stuck in your head, let's focus on how FUN this set is. It's sure to add a little spice to the holiday season! Available in sizes S – XXL.
27. Naughty and Nice Panties from Knotty Knickers: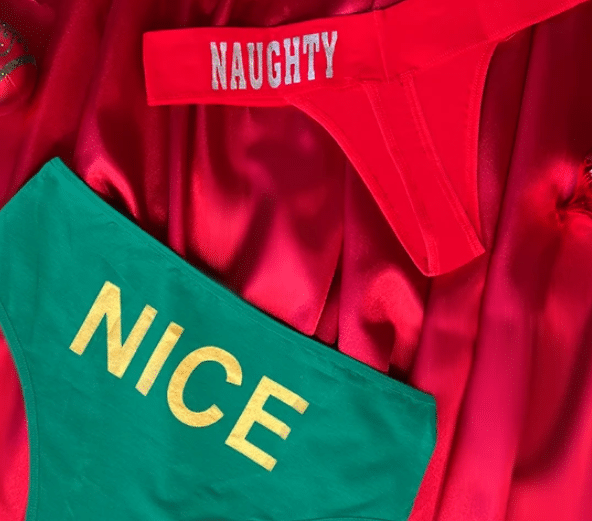 Okay, how cute are these?! Perfect for Christmas Eve, right? And they look so comfy! $8.99 for BOTH and they run in sizes XS – 3XL.
28. Full On Glam in Deep Blue from Gooseberry: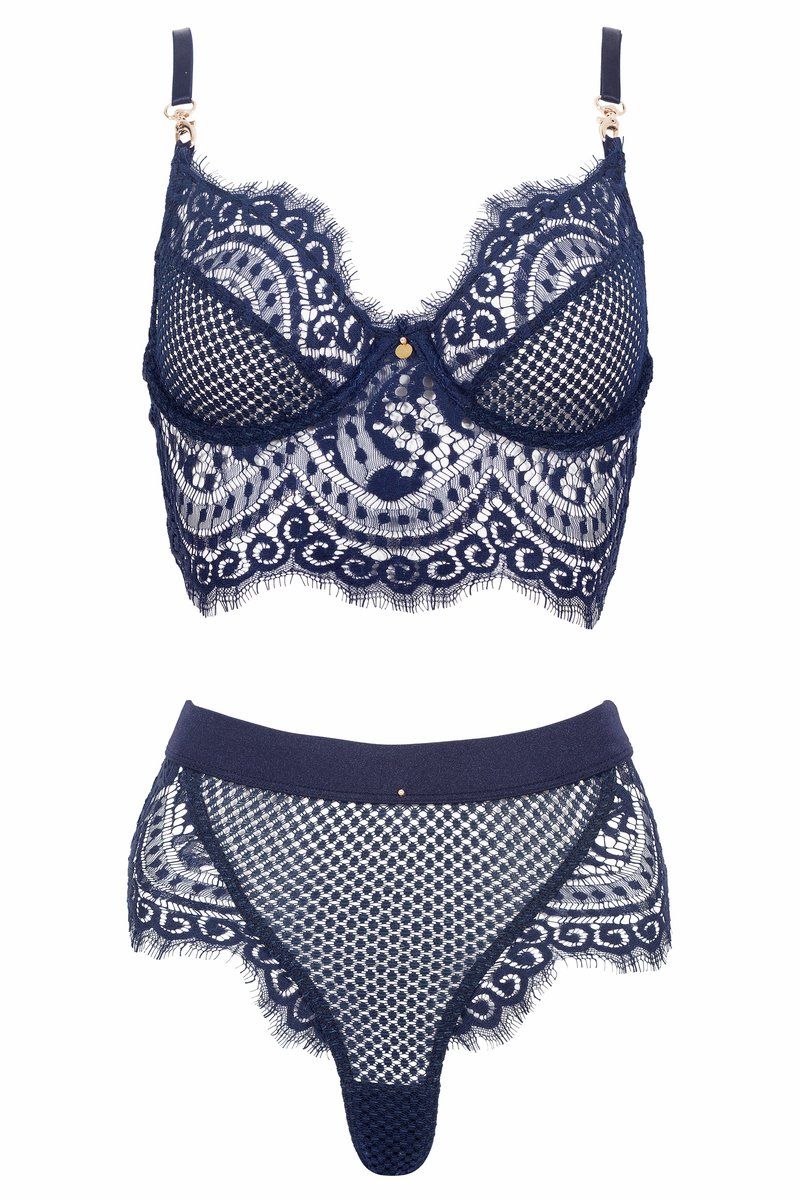 We cannot get over how stunning this set is! It's oh-so-glamorous, so an obvious choice for New Year's Eve lingerie. The bralette pairs perfectly with this panty. Available in six gorgeous colors and in sizes XS – L.
29. Parisian Underwire Lace Bra from Belk: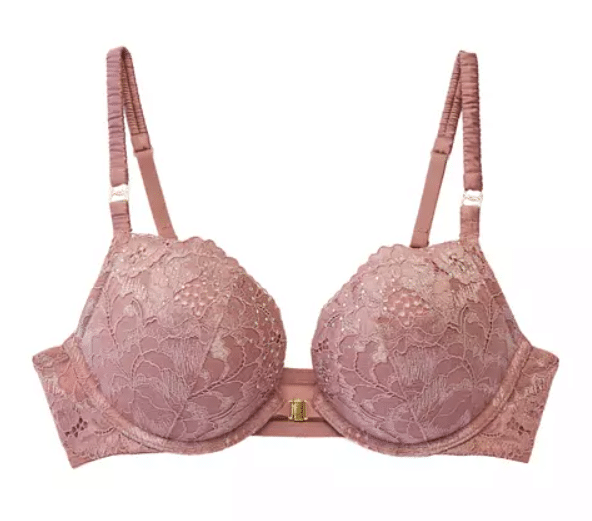 We thought this delicate, pink bra would be perfect for Valentine's Day with your sweetie! It's subtly sexy and really feminine. Available in 32DDD – 34DD.
30. Valentine's Lingerie Robe by LePetitMariage from Etsy: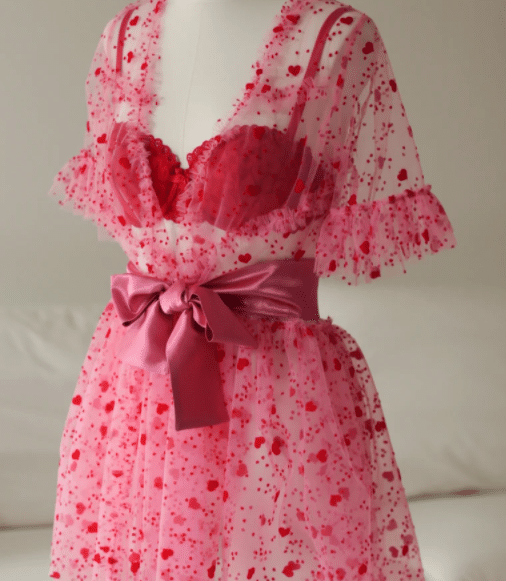 Stop what you are doing, and buy this gorgeous robe! This shop has thousands of amazing reviews, and this robe seems to be a favorite among the customers. Pair it with this red bra, and you're set for Valentine's Day! Available in four different color/pattern options and one size fits all.
That's a wrap on this go-to guide of women's lingerie. We hope you've found a piece (or two, or three, or four….) on this list that you love! Enjoy, ladies!