Sexy Love Note Idea for the Bedroom
We've got a special surprise for you today!  One of our fabulous readers sent us a GREAT IDEA and adorable printables that will definitely spice up your bedroom!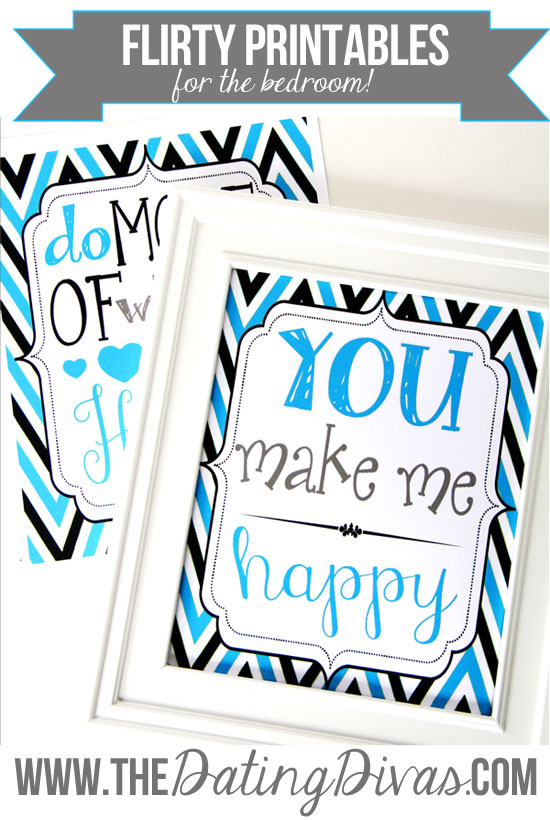 In Alyssa's words, "I got the inspiration to create these sassy bedroom printables from some quotes I saw that were originally unrelated. But I thought, how fun to pair them up, frame them up, and put 'em in the bedroom!  I thought maybe you'd like to share them with all your readers too!"
By pairing the relatively common phrases, "do more of what makes you happy" AND "you make me happy," Alyssa created her own spin on a fun and flirty reminder to spark some romance!  It's definitely a sassy and suggestive way to keep your relationship a top priority.Alyssa designed these 8×10 printables in 4 color schemes.  Download your favorite frameable quotes here:
You Make Me Happy in LIGHT BLUE
Thank you so much, Alyssa for this awesome DIY art idea!  Wouldn't these be cute as little love notes for your spouse, as well?  Lots of sassy possibilities! (wink!)  If you liked this frameable quote idea, be sure to check out THIS POST and THIS COLLECTION to see some of our favorite love quotes.