Strip Chocolate Checkers
Are you looking for a little romance? Stress-relief? Fun in the bedroom?? We have the perfect solution! Strip Chocolate Checkers…. Yes, chocolate is good for a lot of things, including a little sweet seduction. This game is full of a little strategy and a lot of creative and sexy tasks involving your favorite chocolates! Add in your favorite person and what could be better than that!?
Get ready for a sweet and addicting at home date night!!


Disclaimer: This post contains affiliate links. To learn more about 'em, click here.
This game is so fun! About three summers ago, my husband and I were in the middle of our third move in less than a year. After tucking our two kids in bed, we sat down in the middle of our bedroom with boxes strewn everywhere. We wanted to celebrate being in our first home and just relax… that's when we noticed my husband's rustic, wooden checkers board. Luckily, we had some Reese's Peanut Butter Cups on hand and thus our version of Chocolate Checkers was created!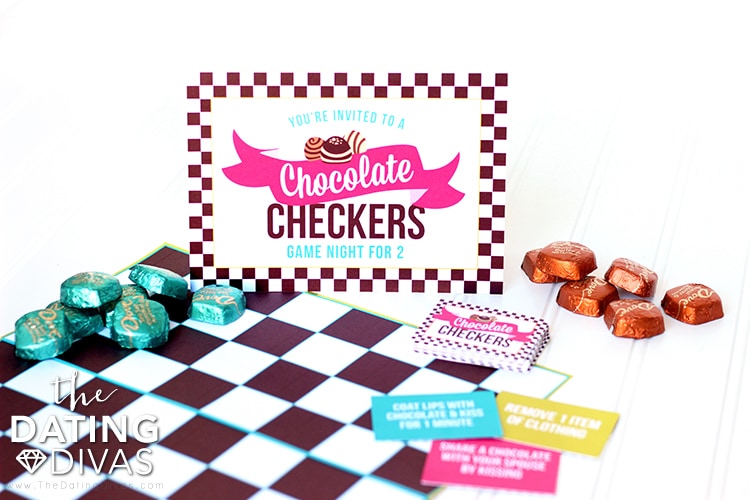 And let me tell you, it was a lifesaver. We ended up playing multiple times that summer to help us cope with a lot of transitions. That's when we decided to diva-fy this game! These gorgeous printables were designed by Messes to Memories.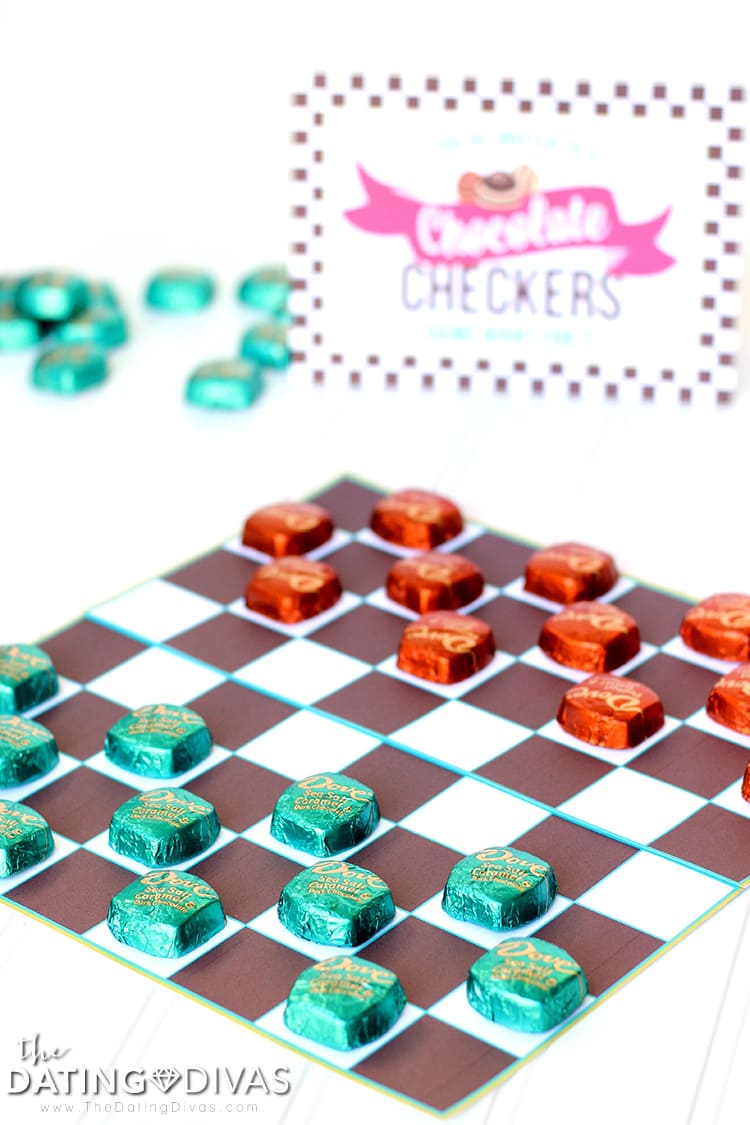 Every Diva-game needs a cute invite—anticipation is everything!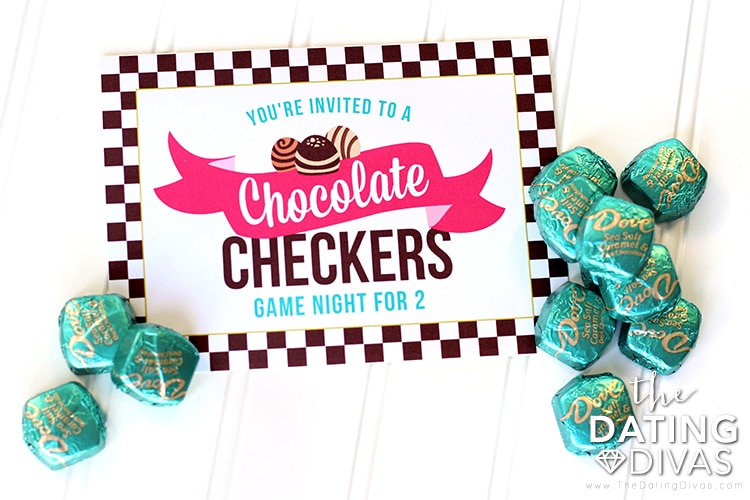 The most important element of this game is the chocolate…. and you are completely in charge of what kind of chocolate you want to use for your game-play. We love playing with Dove chocolates because they come in all different colors and flavors and they are the perfect size. But you really can't go wrong – Reese's, Snickers, Hershey's, Kisses, anything goes!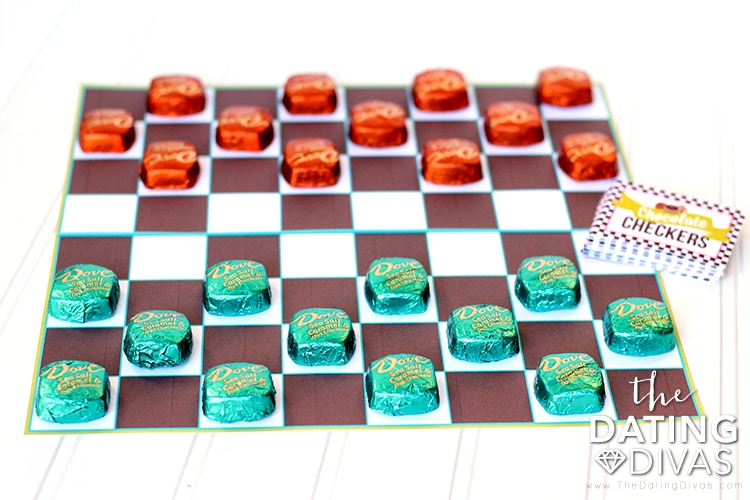 If you have a Checker's board at home, feel free to use it! If not, we have a simple printable checkers board. Just print and attach with tape on the back. Then it will match your game cards.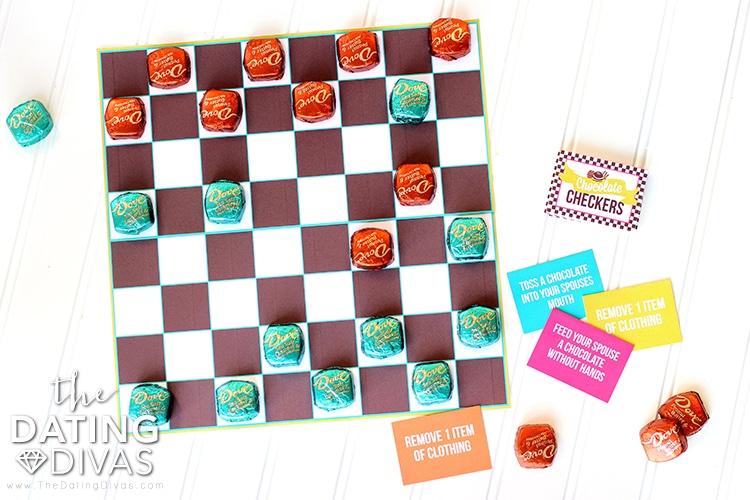 Print the game cards on cardstock and then when you fold and glue them, they'll be gorgeous and super sturdy. This way they can last game after game and you don't have to print new ones… 'cause believe me, once you play this game once, you'll want to play again!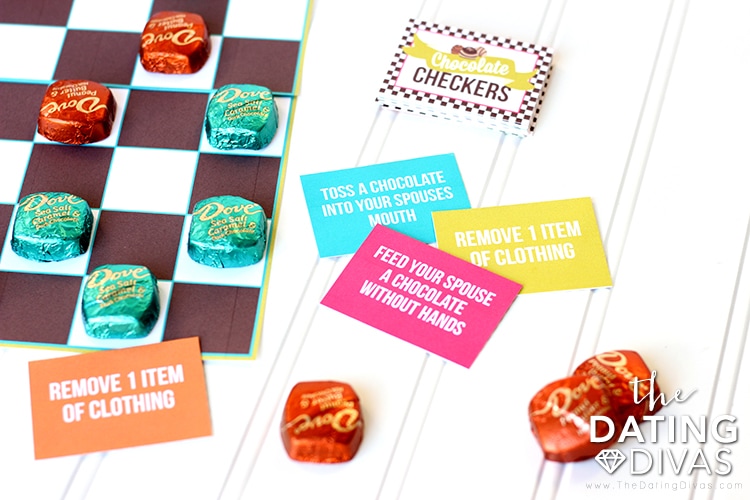 Game play begins just like normal checkers. When you jump a piece of chocolate, you get to draw a card.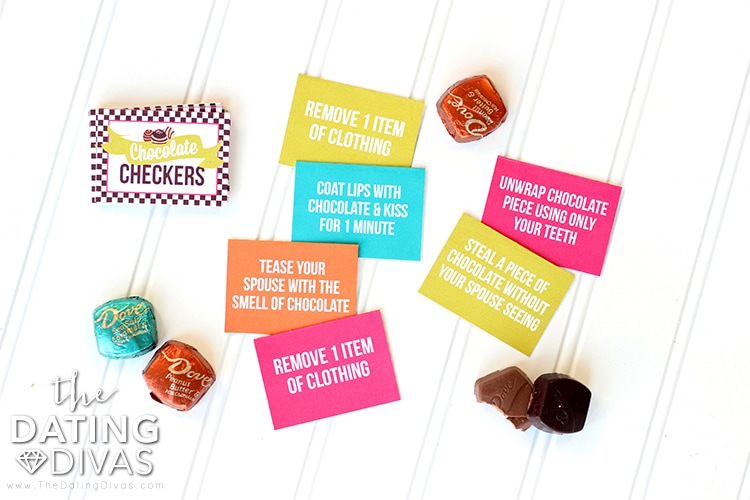 There are two different kinds of game cards—half say remove 1 item of clothing… that's where the stripping comes in! The other half of the cards have sexy tasks that you'll have to complete with your chocolate pieces. Let your inhibitions go and just be fun and sexy. This is where you don't take yourself too seriously and have loads of fun creating memories with your spouse.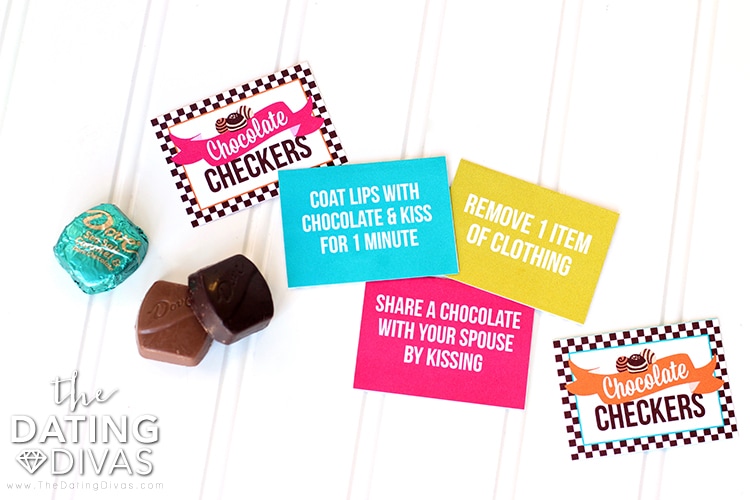 After playing a game of chocolate checkers, you'll definitely find yourself daydreaming about your spouse with a little smile.
Chocolate Checkers
Printables Designed by Carisa @ Messes to Memories Exclusively for The Dating Divas