Romantic Game for Couples
It's a Love Match! A romantic twist on the classic game of memory!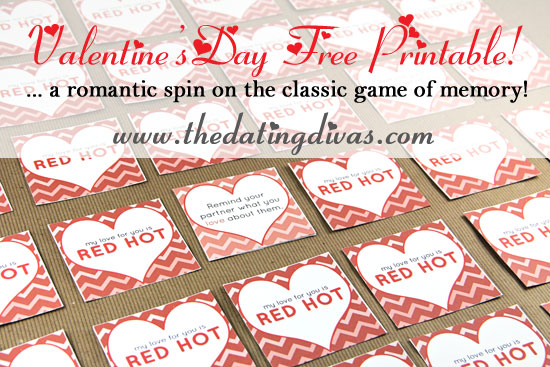 Disclaimer: This post contains affiliate links. To learn more about 'em, click here.

Are you looking for a fun way to connect with your spouse that will spice things up in the bedroom, sharpen your memory skills, and celebrate Valentine's Day?  Today's post accomplishes all three of these goals by putting a romantic spin on the classic game of Memory!  Our version contains fun little romantic prompts that your hubby and you are only allowed to complete once a match has been made!  So, to surprise your sweetheart with some friendly competition, and create your own game, download this free printable: It's a Match!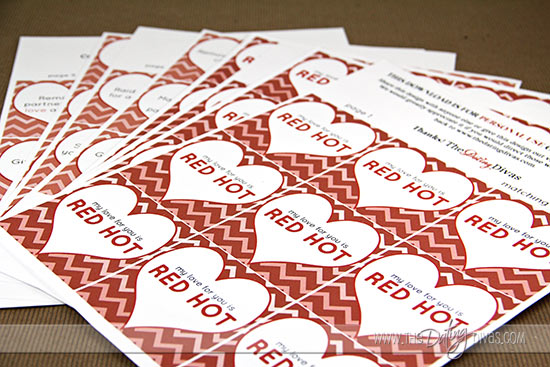 A huge thank you to Diva Robin for creating this awesome printable for our readers!  This cute pdf contains enough squares to make a 6 x 6 grid.  The first 4 pages of the printable are the "fronts" of each square playing piece.  The last 4 pages are the "backs," which contain all the fun romantic suggestions.  To assemble the game, simply cut out each square, and adhere 1 "front" piece to 1 "back" using tape, glue, or adhesive.  To make this task super quick and easy, I used a tape adhesive roller similar to this product: Tombow Adhesive Dispenser.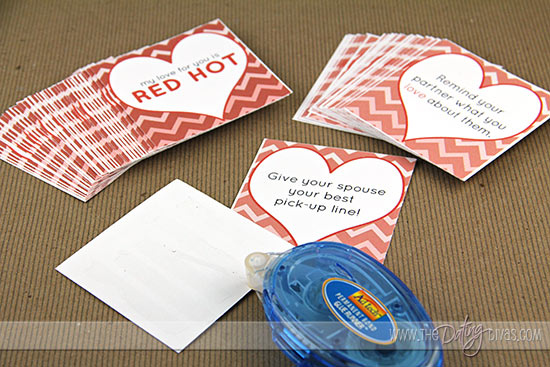 You will notice that there are 4 blank "back" pieces, which equals 2 pairs of suggestions.  Here's your chance to get creative and write in 2 your own ideas!  (Remember, to form a pair, you will have to write the suggestion twice.)  When all your game pieces are ready to go, be sure to mix them up before arranging them in a 6 x 6 grid.
The rules for playing this game are simple… once a match has been made, you and your sweetheart can complete the prompt!  And, if you don't quite make it through the whole game before sparks start flying, no worries! (…wink, wink!)
If you like this idea, you will love Tara's post, "I've Kissed the Ground You Walk On," which describes an awesome way to surprise your hubby when he gets home.  Who wouldn't love a trail of rose petals and Hershey's Kisses leading to a romantic destination of your choice?!