Fun Couple Games & Activities
You know those nights when you want to hang out with your sweetie but you've got no energy to think up a creative idea … so you end up in front of the TV or doing nothing at all? Well, say "good-bye" to those days and "hello" to a gigantic list of fun things for couples to do when you're bored! We've gathered all our favorite couple activities in one place! So if you're looking for fun things to do with your boyfriend, or fun things to do with your girlfriend… or even your spouse,  this list of boredom busters is your go-to list of fun couple games for when you're bored!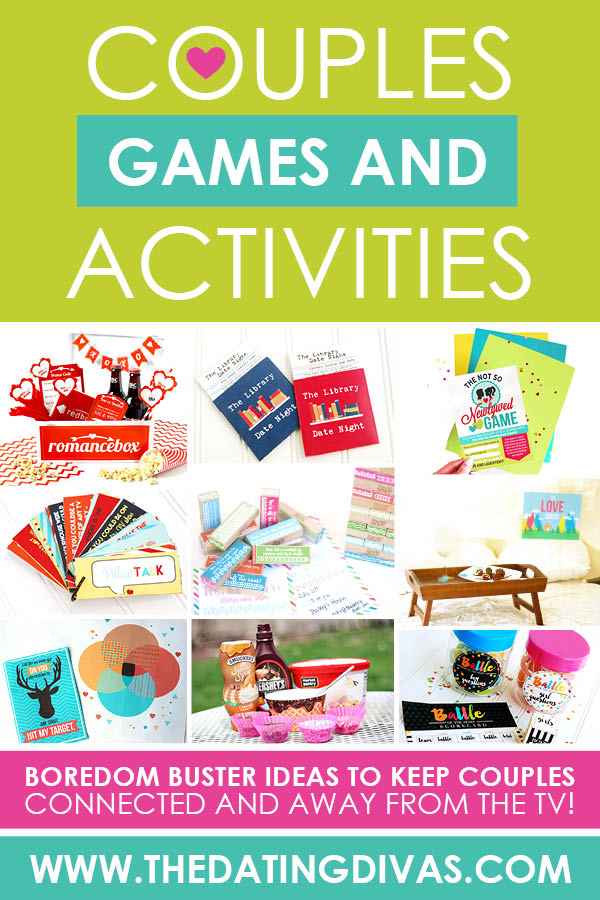 Disclaimer: This post contains affiliate links. To learn more about 'em, click here.
We have so many boredom busters, couple games, and activities for you that we had to split them up into 6 different categories so you'd be able to find exactly what you're looking for.
Here are all the couple games categories:
Fun Things for Couples to do at Home
Let's be honest, sometimes we just don't feel like going out but we DO want to do something fun. In fact, for my sweetie and me, that's how we feel the majority of the time! (Plus, finding a babysitter is sometimes not an option). If you can relate, then here are some great things to do with your boyfriend, girlfriend, or spouse without ever leaving the house! These at-home couple games are perfect if you're looking for some fun things for couples to do at home, but you don't want to just sit and watch or TV (or if you DO feel like a "netflix and chill" kind of night, be sure to check out our Netflix Binge Date Night!)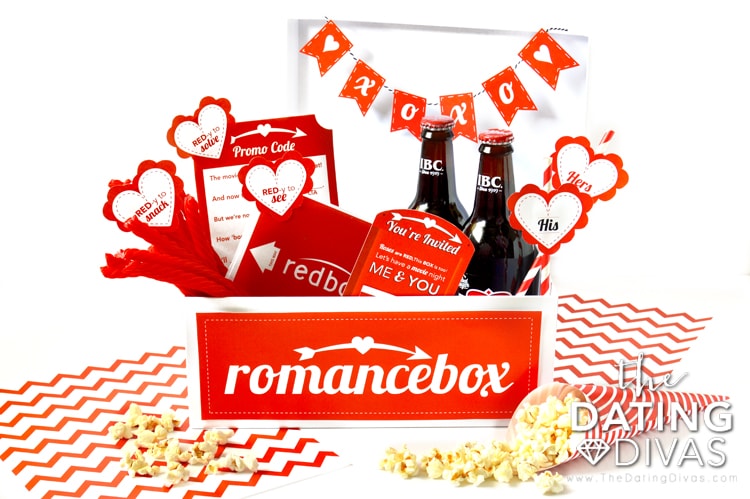 1. Romantic Redbox Date Night – Movie night will never be the same! Our Redbox date night for couples, with printable treats and activities, will have you falling in love all over again!
2. Custom Coldstone Creations – Turn dessert into a fun activity at home – just grab your favorite toppings and put it in a homemade waffle bowl!.
3. Puzzle & Pretzels – It doesn't get much more simple than these two "P's" for a night of intellectual fun! Try your hand at making your own pretzels!
4. Shooting Range – Set up your own shooting range in the backyard and work for any prize you choose. (You can totally use NERF guns and stay inside, too!)
5. Love Shack – Escape to your own private love shack. You don't need to let us know what happens there. 😉
And for even more fun things for couples to do at home, check out our YouTube Date and this entire post dedicated to At-Home Date Night Ideas!
Quick and Easy Things for Couples to do Together
Let me guess, you're settling in for the night and looking for some fun things to do with your girlfriend (or boyfriend, or spouse!) but you've got no time to plan. If that sounds like you then these couple games are for YOU! These fun games for couples are quick to prep and perfect for last minute planning. For me and my sweetie, we are both so busy that having a date night that requires minimum effort but gives us maximum FUN is definitely what we need. So let us help you break out of that rut and spend more meaningful time with your sweetie with these couple activities!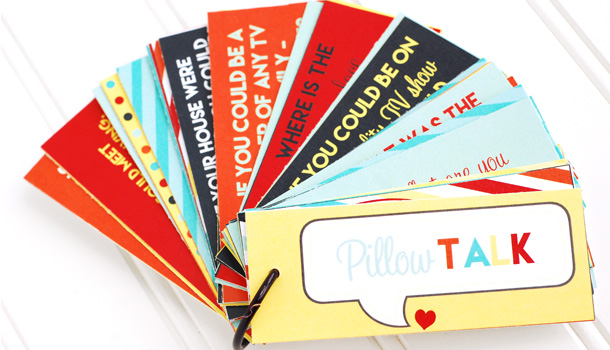 6. Pillow Talk – Sometimes all you need is a little conversation and these printables are here to help you get started.
7. Card Games – Grab a deck of cards and you'll have plenty to do! These are all 2-player games.
8. Coloring – The simple task of coloring can be so cathartic and relaxing. These pages are for adults and turn into beautiful works of art in the end.
9. Couples Quiz Date Night & Interview – Learn more about each other with these discussion-provoking questions.
10. Sunrise/Sunset – Just take some time to enjoy the beauty of the world you live in. Catch a sunrise or sunset on a blanket together. If you've missed dawn or dusk, it's still fun to observe the sky – clouds or stars!
For an even BIGGER list of quick and easy last-minute date ideas head to our Last Minute Date Ideas post!
Fun Couple Activities to do Around Town
It's time to paint the town with these fun things for couples to do around town! Whether you want to workout, hit the library, go play some football, mini golf, bowling games, go to the symphony, or just go for a drive… we've got a date idea for everything! And let me give you a little hint, if you are looking for fun things to do with your girlfriend, as a woman I can tell you that getting me OUT of the house is a sure way to win my heart! Don't get me wrong, I love a good date night in, but there's something about seeing my sweetie go the extra mile to plan something fun to do out of the house! So if all of this speaks to you, then these couple games are just what you're looking for.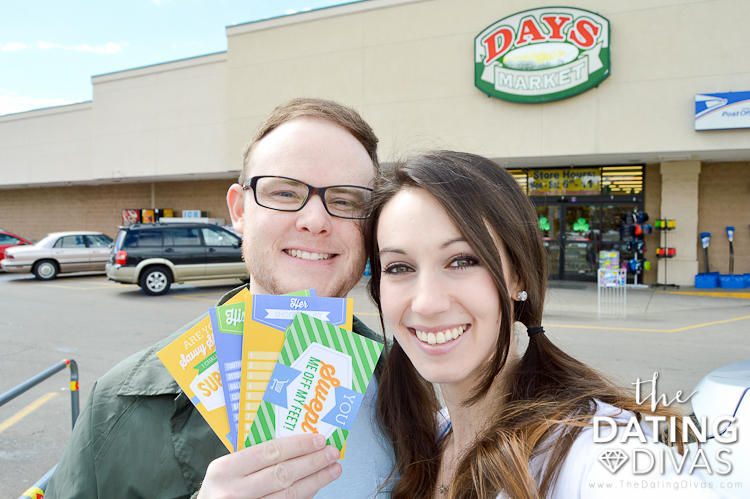 11. Library Date – The ideal activity for book lovers, use our printables to have some quiet fun.
12. Book Store Date – Make your way to the nearest book store and go on a scavenger hunt!
13. Jokers Date – Act out all kinds of hilarious scenarios and check out the crazy looks you get from strangers who aren't in on the joke. The perfect idea for any outgoing couple!
14. Super Store Sweep – See how well you know your spouse's favorite things!
15. Cozy Car Date – If you're so cold you don't like leaving the house, the activities on this date will help you stay warm while cruising around town.
Feeling outdoorsy and looking for even more ideas to do together? Check out our massive list of Outdoor Date Ideas here!
Fun Games for Couples
Who doesn't love a little competition? If you're still on the single scene and looking for fun things to do with your boyfriend that will for sure win his heart, look no further. When my sweetie and I were dating we would make a game out of EVERYthing and it really was such a fun way to connect and get to know each other. Plus, I don't know a guy out there that doesn't love a girl with a competitive drive! So if you're looking for fun things for couples to do, then these couple activities will have the winner and the loser laughing out loud in no time. Fun Couple Games & Other fun Things to do with your Boyfriend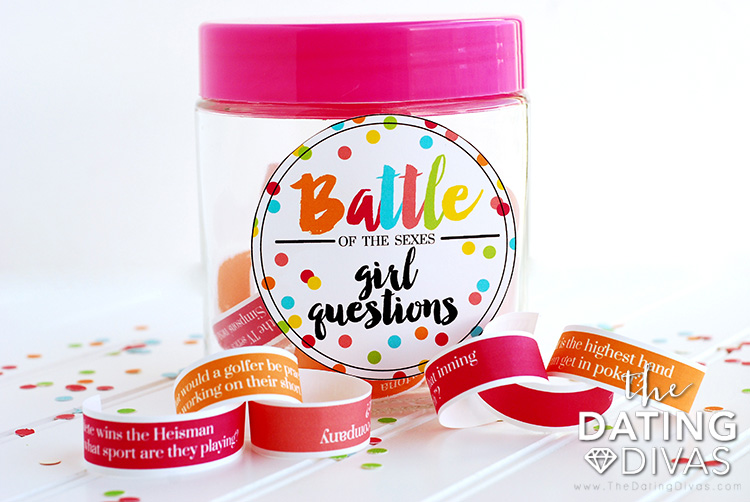 16. Battle of the Sexes – The classic debate: Men vs. Women. Who will be the reigning champion??
17. Midnight Snack Love Game – Have a little fun with these love games, while also enjoying a sexy midnight snack. This will be a midnight snack you crave over and over again!
18. Two-Player Games – Sometimes it's tough to get a whole group together for game night, so this is the ultimate list of games for just the two of you.
19. Spouse Scattergories – We've added a marriage-inspired challenge to traditional Scattergories and it makes for a seriously thought-provoking game.
20. The Not-so Newlywed Game – So you've been married for more than a few years? Think you know everything there is to know about your spouse? These are the questions for you!
21. Getting to Know You Matching Game – A personalized matching game – you just might be surprised at what your spouse doesn't know about you.
22. Deal or No Deal – Try to make a deal… in the bedroom!
23. The Price is Right – Play your own version of the TV show and see how well you know the market.
24. Sexy Dice Game – Spice up your marriage in no time with this printable dice game! Roll the dice and let the bedroom games begin!
25. If the Shoe Fits – All you need is shoes and the thoughtful questions included in our printables and you're ready for this game full of opposing views.
26. Win it in a Minute Games – The best part about these fast-paced games is the timer – just ONE minute apiece. You can play as many or as few as you like. Also, you'll be absolutely rolling on the floor with laughter!
27. Truth or Dare Jenga – Turn Jenga into a much more memorable affair. You don't need a whole group to play, but if you've got some wild friends, they'd certainly love joining you.
28. All About Us Charades – A charades game that can be played over and over – it's tailored to you and your spouse!
29. Couples Would You Rather – Decisions, decisions. This will here to help you find out everything there is to know about your spouse's preferences.
30. It's a Love Match: Memory – Remember memory? (haha, get it?!) Play our version and every time there's a match, it'll get you and your spouse to DO something, too.
Intimate Couple Games & Activities
When it comes to fun things for couples to do together, one thing quickly comes to mind… intimacy! After all, it is a staple in just about any relationship. But life in the bedroom can get a little mundane sometimes, so we are here to help you out! These couple activities are not just ANY kind of activity. We've gathered together all the best intimate couple games that are meant to get your competitive juices flowing and help you get your sexy on! So commit to shedding all of your inhibitions, put your trust in the process, and let loose with these super fun games for couples that all take place in the bedroom.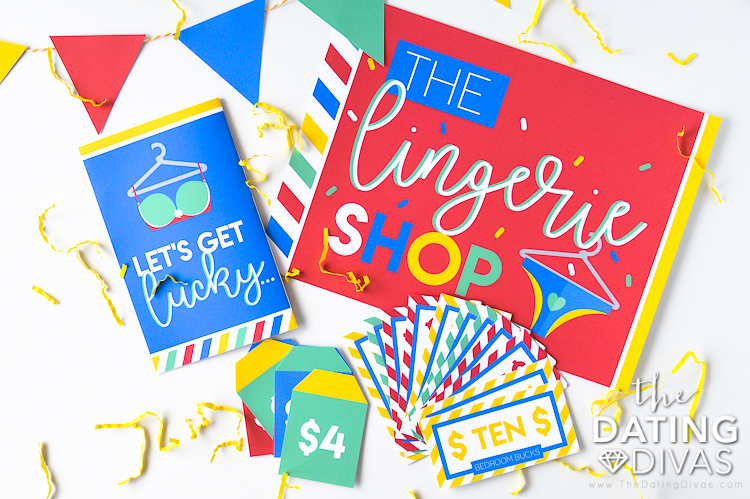 31. Bedroom Bucks Lingerie Shop – Turn up the heat with one of our favorite bedroom games for couples! Lead your sweetie on the sexy shopping adventure of a lifetime and get it on.
32. Massage Night – A quick and easy idea for a hum-drum night. Who knows where a massage might lead…
33. Make Out Party  – Go back to the basics of intimacy – kissing! Make sure you have some lip balm on hand!
34. Steamy Bucket List – Talk to your spouse and create your own bedroom bucket list – then start crossing items off!
35. Sexy Spinner – A super simple idea for spicing up your bedroom activities.
If this list isn't enough for ya, you better believe we've got more where this came from! Check out our Best Sexy Games For Couples post with even MORE fun things for couples to do!
Crafty Things for Couples to do Together
Make all kinds of memories with your sweetheart with these creative and artsy couple activities. There's just something special about working together to craft, build, connect and share ideas! You will quite possibly learn more about each other in this one evening than you would after years of being together. They say that team work makes the dream work, so put your skills to the test to see if you two really do make the best team! Here are our favorite couple activities and games for all you craft-a-holics.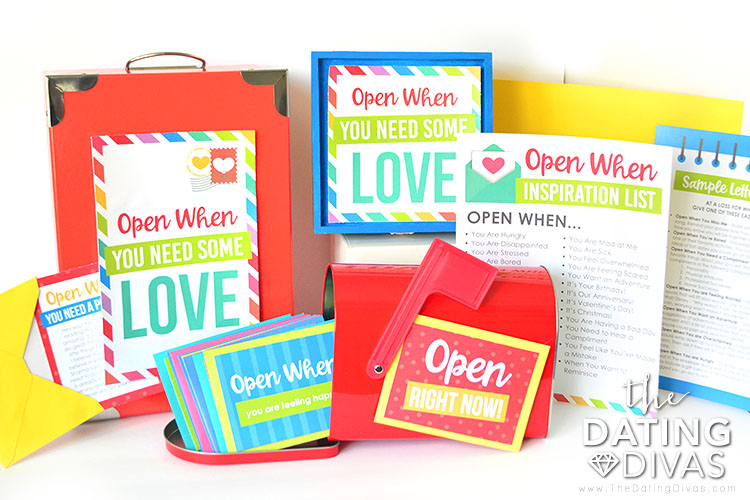 36. Open When Letters – The possibilities are practically endless for writing these letters together. You could work together to write them and give them to someone else, you could split the letters up and do half for your spouse while receiving the other half from your spouse OR you could each prepare ALL of them. It might even be fun to work on one letter a night.
37. DIY Travel Map – Relive your adventures in your favorite places and create this fun travel map together. You could even work on an Adventure Book, too!
38. Emergency Romance Box – Warning! This is not a drill! Our darling one-of-a-kind love box for couples is filled with everything you need for when a romance disaster strikes. Printable download included.
39. I Love Us Printable Book – Discuss your favorite memories and the stories that make up your relationship and fill in all your favorites in this gorgeous book.
40. Love Explosion Box – A super easy DIY explosion box tutorial with detailed instructions, ideas and even a printable template! Use this tutorial to learn how to make your own exploding box card and fill the 24+ flaps with pictures and personalized messages for your sweetheart!
41. DIY Vacation Countdown – Plan your next trip and create a countdown to get you excited about it.
42. Sexy Cootie Catcher – These sexy cootie catcher will take you back to your childhood for date night. We have three free printable game options to spice up your date night!
43. Our Story Wall Art – Think back on the most important days of your lives together and make note of them on this fun printable to decorate your home.
Looking for even more ideas to connect as a couple?
Well folks, there you have it! No more excuses for "nothing to do" with all of these incredible couple games for you and your sweetie to do together. We hope you find all kinds of fun things for couples to do and are never left bored again! And if you just can't get enough, we have even more posts on our site to help you out. For all you ladies out there looking for fun things to do with your boyfriend, check out our At Home Date Night Ideas post.