Pillow Talk With Your Spouse 
After a long day of work, kids, and the stresses of life, it is nice to wind down and find some time to reconnect with your spouse! Right before bed is the perfect time for this! Taking just a few minutes each night when the lights go out to chat with your spouse can really help to strengthen a marriage! Today we share with you our collection of over 50 different questions to ask your spouse in bed to get the pillow talk started!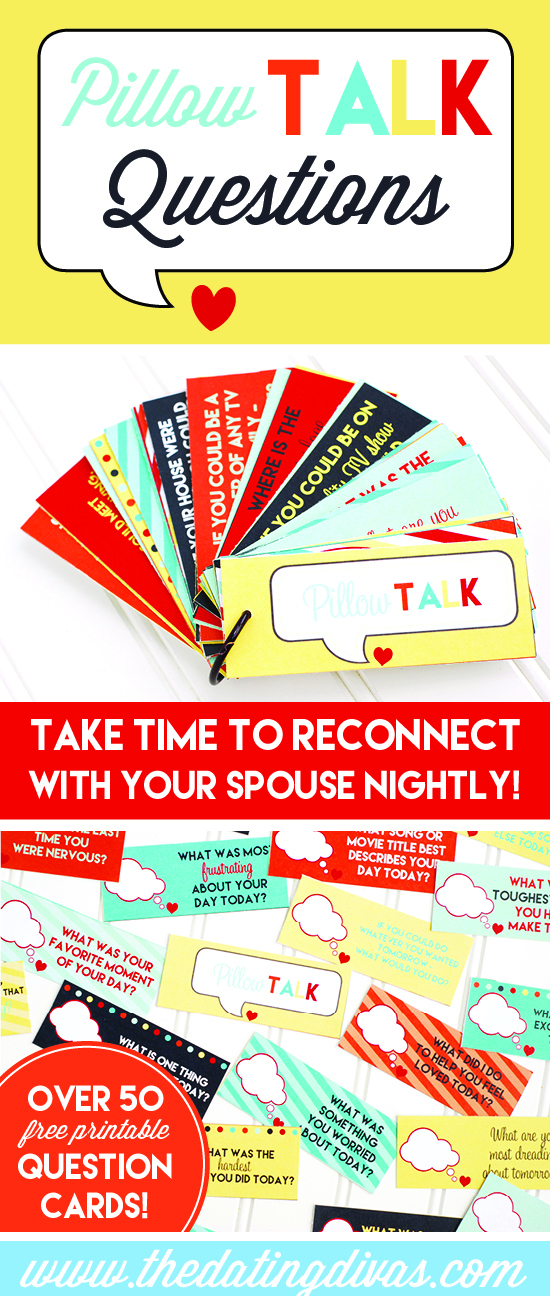 Disclaimer: This post contains affiliate links. To learn more about 'em, click here.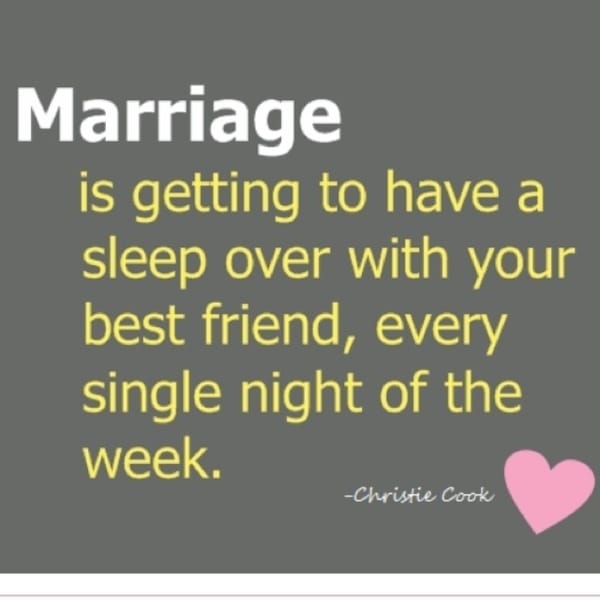 I love this quote! Remember the teenage days of sleepovers when you would stay up late into the night chatting with your best friend in the dark? There is something so bonding about laying in the dark with your best friend sharing your dreams, worries and hopes! Every night of the week you get to have a sleepover with your eternal best friend – your spouse and do the same! Pillow talk is the perfect way to connect with your spouse at the end of each night and we with our printable question cards – have made it easy!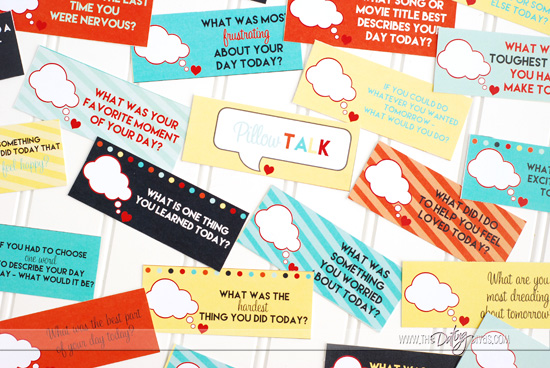 With over 50 printable pillow talk question cards – you will never run out of conversations with your spouse! And check out these colorful designs by our designer Kayley at the Etsy shop Ollie and Lulu they're are not only functional but also incredibly adorable! I love the bold colors she uses in all of her designs!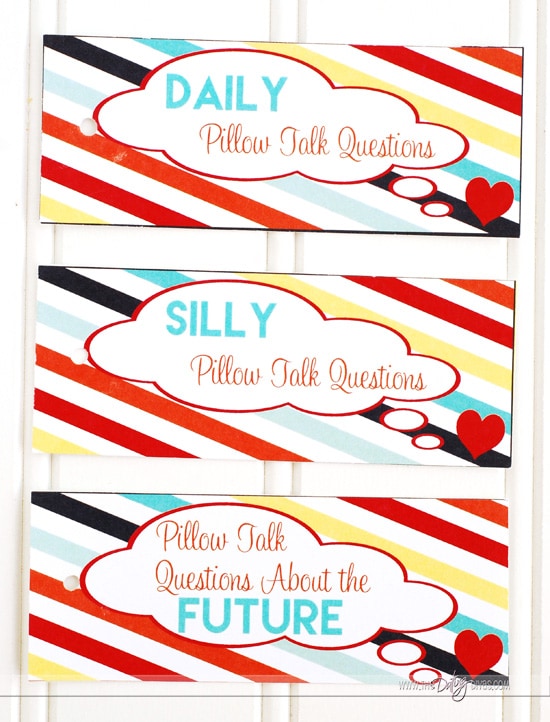 These pillow talk conversation starters come in three categories: 
DAILY Pillow Talk Questions 
SILLY Pillow Talk Questions
and
Pillow Talk Questions about the FUTURE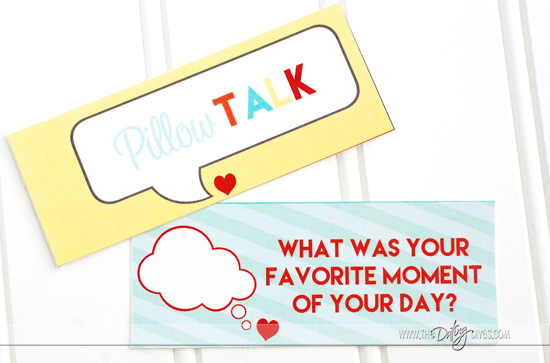 You can use our printable pillow talk questions in whatever way works best for you and your marriage. Maybe you do a different question each night or maybe you make a whole date night out of it by asking several questions (these cards would be a great addition to our Spouse Sleepover Date Night Idea!). How you decide to use these question cards is up to you!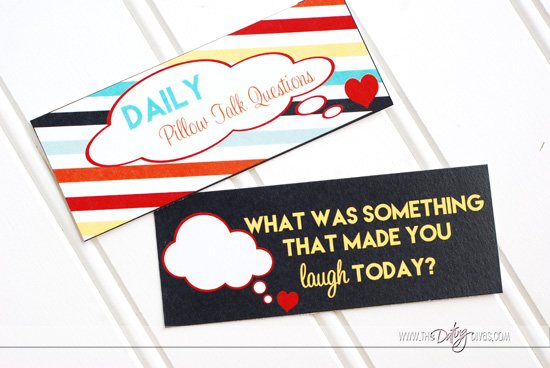 You could even do these questions with your kids before bedtime too! These would love it!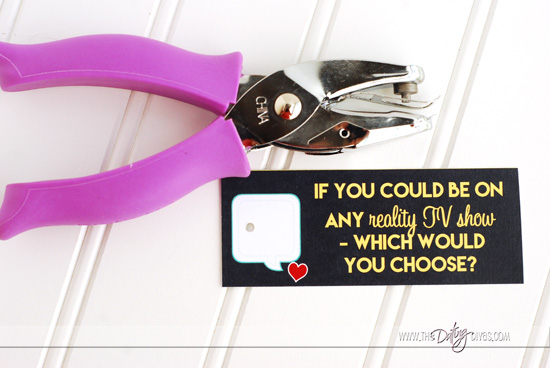 To keep all of my printable pillow talk questions organized I used a 1/8 inch hole punch to make a hole  on the left side of the card.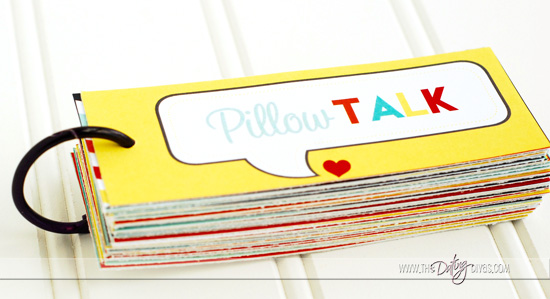 Then, I added all 50 of the cards (keeping them in their categories) to an index card/book ring and snapped it together!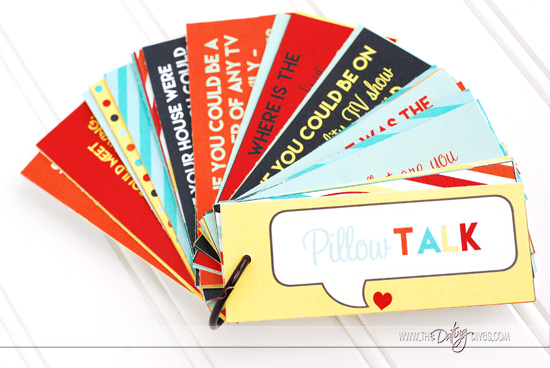 Now I can keep all 50 pillow talk cards conveniently on my bed stand – ready to use at any time!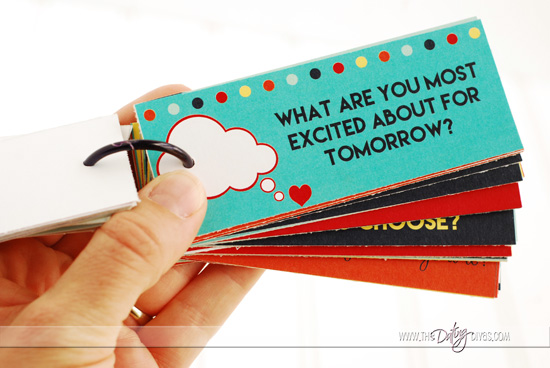 Just grab the stack and get the conversation started! It is that easy! 
UPDATE!!
We've received such great feedback from you all about wanting even MORE conversation starters for your marriage. Ones that really focus on the DEEP and IMPORTANT issues in marriage. So… we designed a whole NEW pack of Conversation Cards! These cards were designed to tackle the tough topics and really open up meaningful conversations.  
Our NEW Conversation Starters Kit includes printables for creating your own unique carrying case for your cards, plus the 250 question prompts in the following 5 categories:
1. Intimacy, 2. Finances, 3. Quality Time, 4. Romance, and 5. Family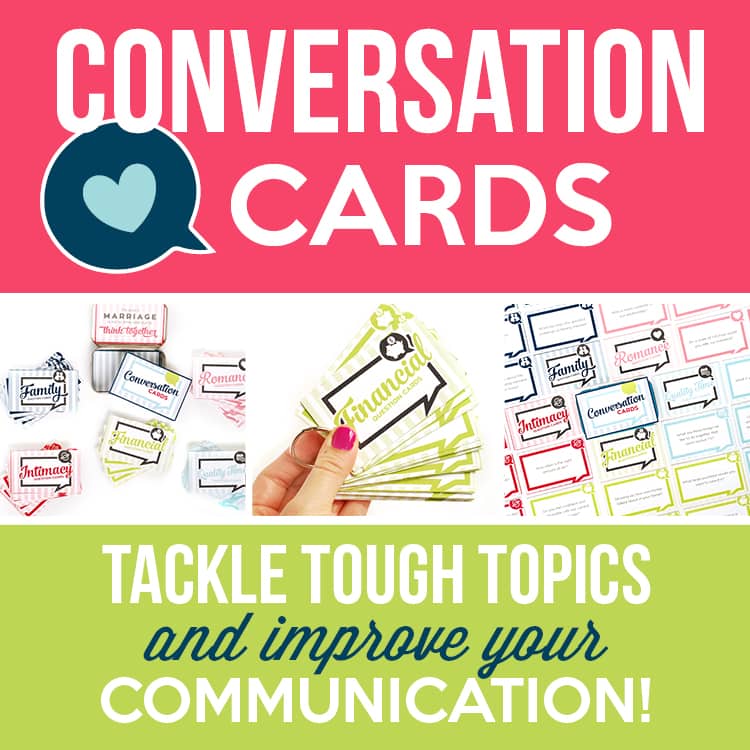 CLICK HERE to check out all the deets and purchase our NEW pack. 
Then make sure and come back to download your FREE pillow talk conversation starters.  We also have pillow talk for kids! And don't forget to give some Diva love to Kayley at her shop Ollie and Lulu before clicking the link below to get your free printables: