The Best This or That Questions Date Night
I think everyone can agree that asking "This or That" questions can make for a good time. So why not break out some questions for an easy and free date night with your sweetie? You're in for a real treat with this epic list of This or That questions we've compiled below! This date also comes with the most GORGEOUS (and super handy!) printables, which we've included at the bottom of this post! Keep scrolling for instructions on how to print, prep, and play our This or That questions game for date night!
Disclaimer: This post contains affiliate links. To learn more about 'em, click here.
When I did this date with my sweetheart, these This or That questions got us talking, sharing funny experiences, and flirting — Total win for a date night, right?  If you love date night games that get you talking, laughing and connecting, this is perfect for you!
This or That Questions
1. Salty or sweet
2. Cookies or brownies
3. Vanilla or chocolate
4. Movie or TV series
5. Cabin or tent
6. Books or movies
7. Massage or naps
8. Comedy or drama
9. Swim or tan
10. Sunrise or sunset
11. Nature or city
12. Bookstore or library
13. Cake or pie
14. Early bird or night owl
15. Beach or mountains
16. Breakfast in bed or dinner at a restaurant
17. Date night out or date night at home
18. Rose petals or candles
19. Kisses or hugs
20. Back massage or foot rub
21. Love letter or surprise gift
22. Couch cuddles or bed snuggles
23. Group date or one-on-one
24. Romantic weekend getaway or a romantic weekend in
25. Love texts or phone calls
26. New movie or old favorite
27. Adventure or relax
28. Spontaneous or planned
29. Dress up or dress down
30. Fancy restaurant or burgers and fries
31. Movie at home or in the theaters
32. Dinner and a movie or dinner and bowling
33. Quick kisses or serious smooching
34. Body paint or body chocolate
35. Sexy or sweet
36. Netflix and chill or YouTube date night
37. Lingerie or nothing
38. Bedroom games or get to it
39. Chocolate syrup or whipped cream
40. Bubble bath or steamy shower
Printable This or That Questions Invite
We believe in going BIG for date nights, and that starts from the very moment you invite them on a date! Check out this colorful invitation (created and designed by the talented Courtney from Paperelli) you can use to creatively invite your sweetheart to join you for some This or That questions. We have a digital OR printable option that kick off the theme of the date perfectly. Linked below!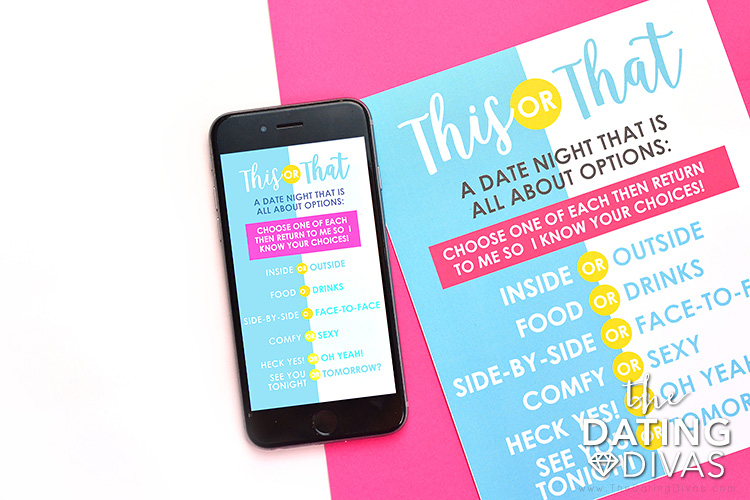 You can leave the printable invitation out for your spouse a few days before your date to help them get excited. This also allows you to make a few arrangements based on their choices!
How to Play This or That Questions Date Night
To start the game, each spouse takes a turn drawing a card. The card will have two simple options to choose from — for example, Kisses or Hugs? You can then each share your answers and opinions. This is the part where you can do all that talking and flirting!
That is the basic idea for the game, but we also included an instruction card with a few variations to the game so you can add your own special twist if you want! When my husband and I played, we went with the second variation, "Make a Guess," and tried to guess what the other person would answer. I have to admit that it was harder than I thought it would be, but it added a competitive twist to the game! By using this list of the best This or That questions, you're definitely going to have fun!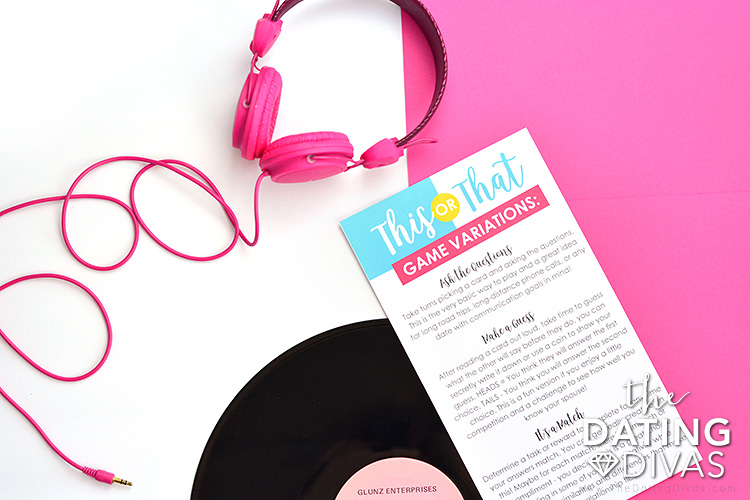 This or That Game Printables
The prep for this date night is seriously so easy — just print, cut, and glue! We designed our This or That questions so you can simply fold and glue them to make them double-sided!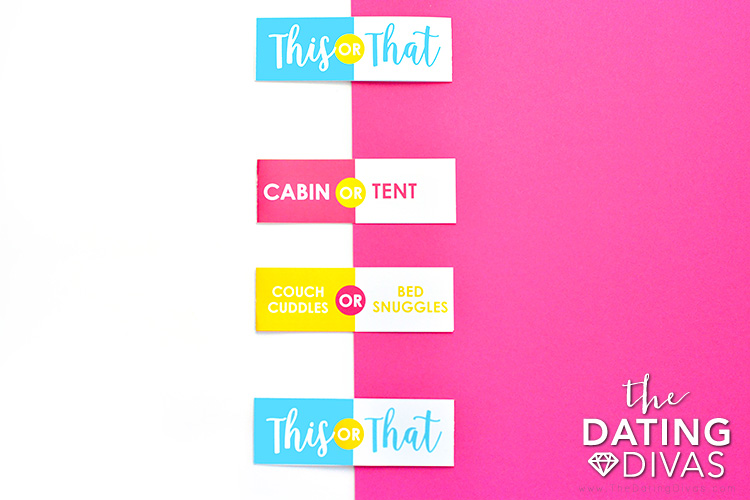 When I prepped this date to do with my sweetie, it took less than 20 minutes from start to finish to get everything ready. I just popped on a TV show and cut out my cards using a paper cutter!
Free This or That Questions Game For Date Night
You can get our free printables by clicking the PINK link below! Included are 40 of the best This or That question cards for your gaming pleasure!
These are also a great idea if you are currently in a long-distance relationship (you can easily ask these questions over the phone). Not to mention, many of the questions would be great for a party!
And if you really enjoy these types of questions (much like "Would You Rather" questions), make sure to check out our Sexy Would You Rather game! Additionally, this Couples Quiz is a total blast as well.
If you loved getting to know your sweetheart better through these fun questions, check out these posts:
This or That Questions Date Night Printables
Printables Designed by Courtney @Paperelli Exclusively for The Dating Divas
This or That Questions Date Digital Text Invite
Printables Designed by Courtney @Paperelli Exclusively for The Dating Divas