2 Player Card Games
Everybody LOVES a good card game. I especially love playing card games with my hubby! He may not like it as much because I always WIN!! But that is ok! That's why we're sharing this HUGE list of two player card games! All you need is a deck of cards to play these fun card games for two! Believe it or not, there are tons of different games you can play with a deck of cards. With this list, you'll always have a variety of card games to choose from when you pull out your cards for game night!
Have you been looking for something fun to do with your better half? If so, you can never go wrong with some card games for two. Card games are great because they can be played at home, they're easy to travel with and they are handy in your purse or pocket! You can literally play cards anywhere as long as you have a deck of cards. THIS is the perfect way to spend quality time together!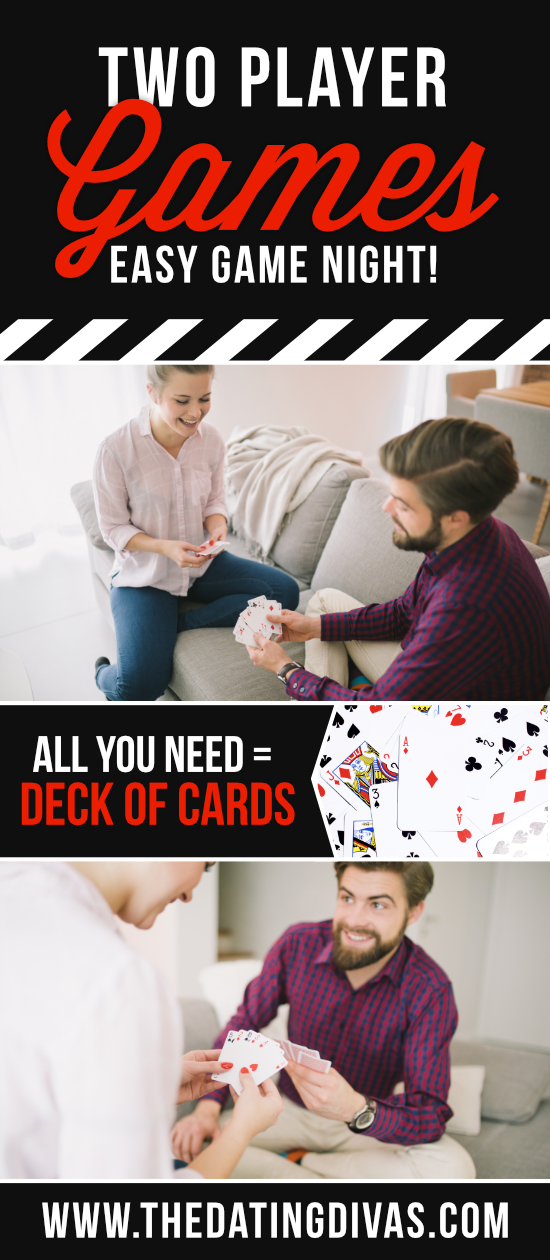 Disclaimer: This post contains affiliate links. To learn more about 'em, click here.
Are you excited or what??? We have SO MANY fun ideas for you! We even included the links to the directions to play each one just in case! We've put together an amazing list of card games and we organized them by their difficulty levels so you can easily find the best card games for you!
Difficulty Levels for 2 Person Card Games
Easy Card Games for Two

– These are 2 player card games that ANYONE can play, even kids!
Popular 2 Player Card Games – You might need some previous card playing skills for these 2 player card games. But with instructions and a little quality time with your sweetie, you'll be a pro in no time!
Fun Card Games for Two – Got a little time on your hands? These fun 2 player card games will be your favorites.

Adult Card Games

 – Some of these two player card games should just be for adults!

Even More Two Player Card Games

 – These are not the most well-known card games, you may need to read and possibly re-read the directions before playing. But figuring out a new card game is half the fun, right?
Ready to dive in?! We sure are! And remember, to help you with your game playing experience just click on the name of the game for instructions on how to play each one!
Easy Card Games for Two
Let's go ahead and start with the basics, shall we? When it comes to game night, not everyone is ready to jump in with both feet. Sometimes keeping things nice and easy is the best way to really enjoy one another's company! With these easy 2 person card games, you'll be able to have some fun without all the fuss.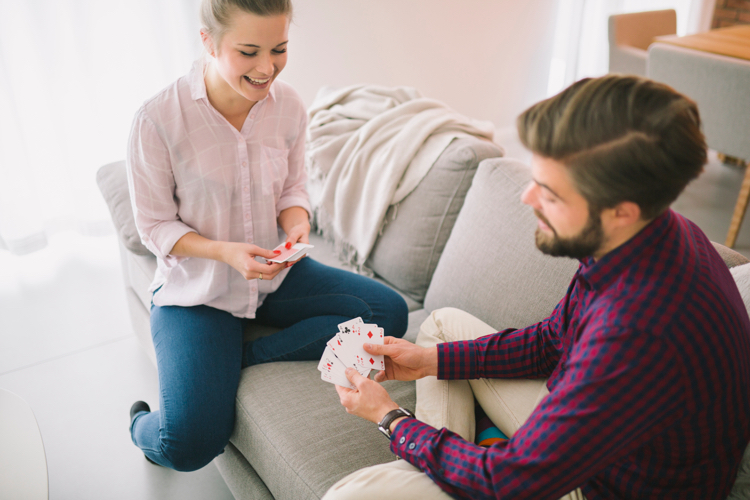 Popular Two Player Card Games
Alright, did we wet your appetite for more? Let's move on to these popular 2 person card games. They didn't get their fame for nothing! They're fast, fun, and full of strategy! And if you're really ready to up your card game, why not try playing cards for date night? Try out this super fun card game date night we created!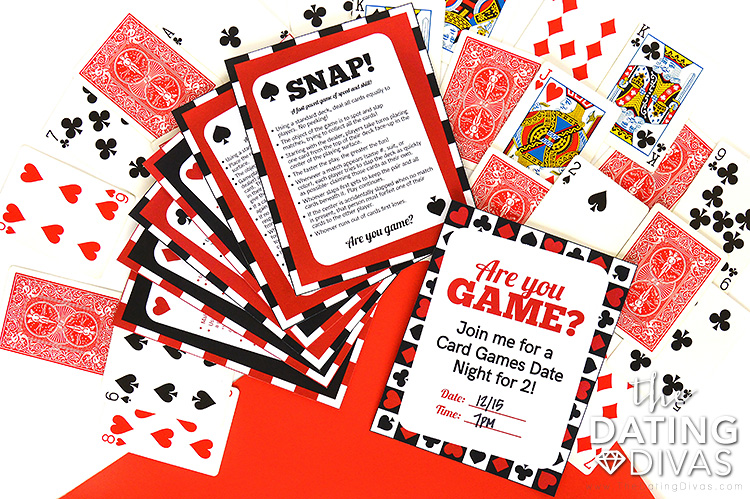 More Quick, Easy & Popular 2 Player Card Games
We're not done yet with our list of popular 2 person card games! Keep on scrolling and you'll find some of our all-time FAVORITES like "Bullshi*t" and "Texas Hold 'Em". You'll never show up to a party as a rookie again. Dazzle everyone with your card playing skills since many of these games have multiple player options as well!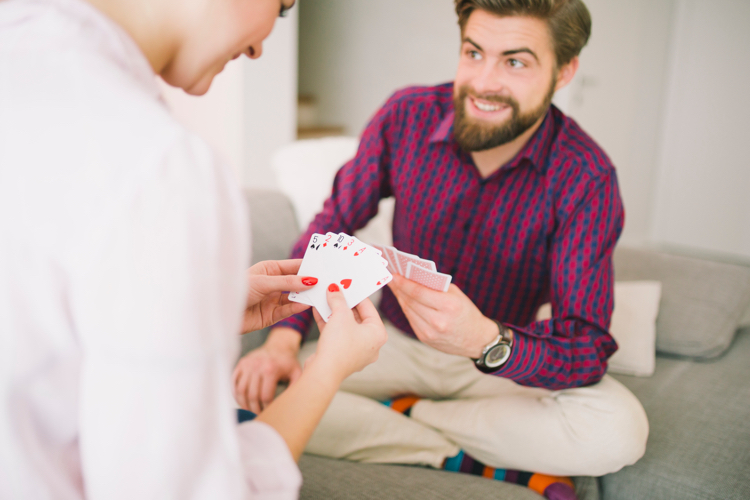 Fun Card Games for Two
You haven't lived until you've tried these games! These fun 2 player card games are what we like to call "oldies but goodies". They're classics! When it comes to card games for you two players, these are by FAR the most fun!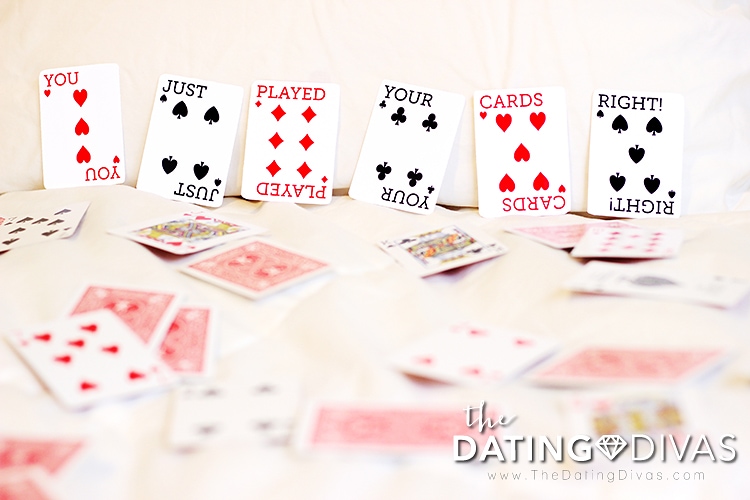 Adult Card Games
Alright ladies and gents, it's time to put the kiddos to bed. These adult card games are for YOUR EYES ONLY! And let's be real, if you're looking for 2 person card games, what's more fun than a card game that spices things up?! Obviously you won't be busting any of these games out at your next dinner party, but make no mistake, you will want to SAVE THESE IDEAS FOR LATER! You catch my drift?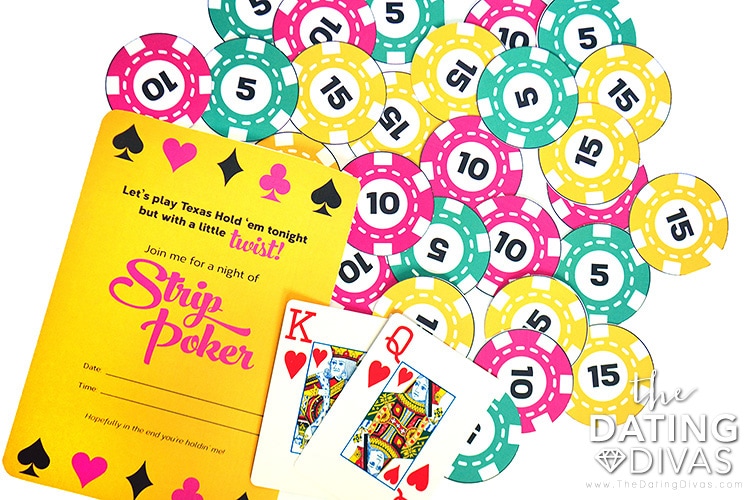 For even more at home date night ideas, try this spin on a "normal" night at home! Or to switch things up, hit up the movie route with a "Double Feature" in the comfort of your own home. 
If you absolutely LOVE any other 2 player card games where all you need is a deck of cards then comment and tell us so we can add it to the list! There is nothing better than having everything in one place!