Sexy Couples Would You Rather Bedroom Game
Do you want a way to spice things up in a hurry? These sexy would you rather questions for couples are just what you need! We all know (and the research shows) that sex is a must in any marriage! But over time, life seems to take over, and unfortunately, our desire for connecting intimately with our spouse dwindles. Instead of giving your spouse the option of engaging intimately with you or not, give them an option of how! Our Would You Rather Bedroom Game might seem a little silly at first, but it will have you connecting with your spouse like never before.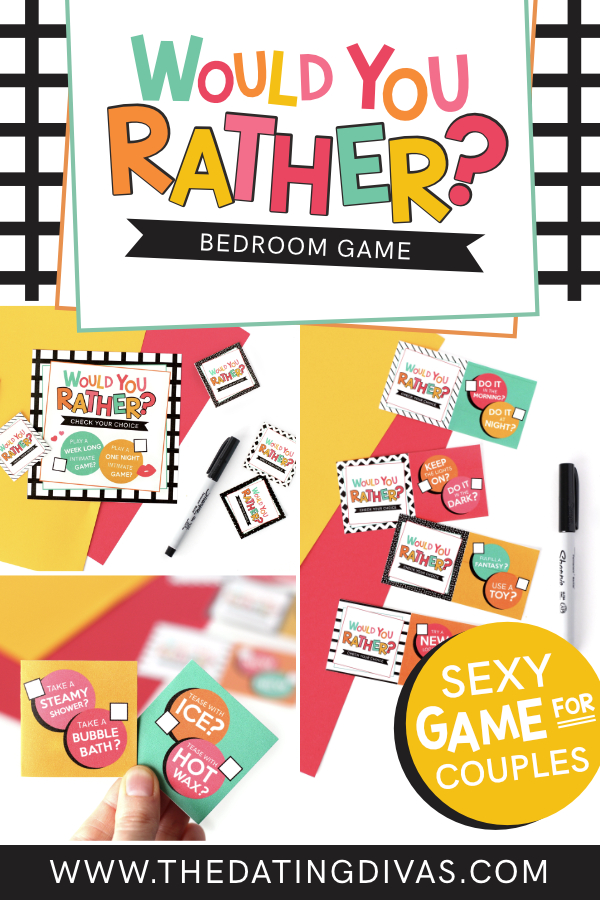 Disclaimer: This post contains affiliate links. To learn more about 'em, click here.
We get it. Marriages and sex lives can get stagnant. One of the best ways to break out of the routine is to give our sweetie some options. For example, what sounds more enticing to you?:
"Hey sweetie, what do you say we put the kids to bed early tonight and enjoy some "you and me" time in bed?"
OR
"Hey sweetie, would you rather take a steamy hot shower together or a warm relaxing bubble bath together?"
See?! It's all about the options. It gets your imagination spinning, piques your interest, and builds up the anticipation for later! So here's how you can get started with revamping YOUR sex life…
Two Great Would You Rather Games for Couples
First up, there are two different ways you can play this game! We've created it in such a way that you can present your spouse with the option of playing a HOT and Sexy Would You Rather Bedroom Game for just one night or draw it out all week long! Their choice is a win-win and you can even save the other option for another time!
So tell me, would you rather use these darling printables or maintain your boring bedroom routine?!
I thought so! OF COURSE, you'd rather spice things up!
Make Your Sexy Would You Rather Game Invitation
Next, invite your spouse to a week-long event of connecting physically every night or turning the heat up high for just one night of passion! With our invite, you can easily ask your spouse if they want to "SPICE it up for one night or ROCK it all week long?!" Either way, with this Sexy Would You Rather Game, you'll be able to enjoy some one-on-one time with your spouse in a new and exciting way.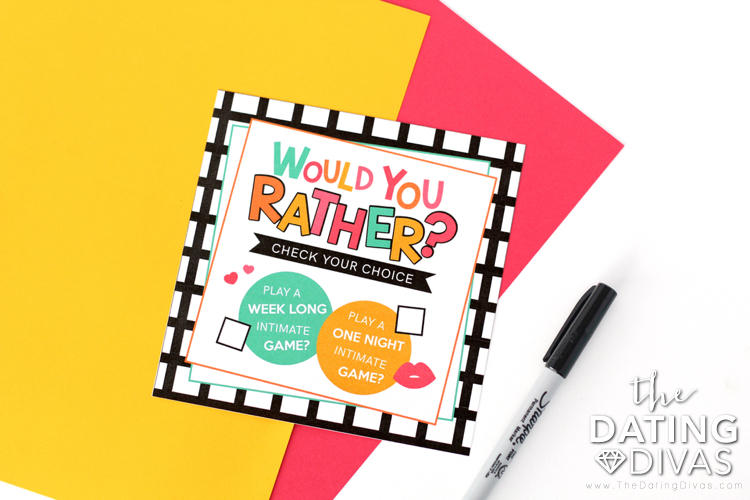 Print and prep both stacks of our printable bedroom game, designed by the TALENTED Carisa of Messes to Memories, just to be ready! Keep the second stack handy for another time of intimate fun! The Sexy Would You Rather cards are designed to be double sided! Print, cut, fold and glue to make super sturdy cards – that way you can reuse them again and again!
Version 1 – A Week Long of Steamy Fun
If your spouse selects a week long of fun, you will use the first deck of cards that provide two options on the back. Each night you will select one card that offers you two options. You and your spouse can either decide together or take turns deciding which you'd rather do that evening! There is even a blank card if you'd like to create your own! You can just use 1 card each night… or do a couple! There are plenty of cards to last you all week long.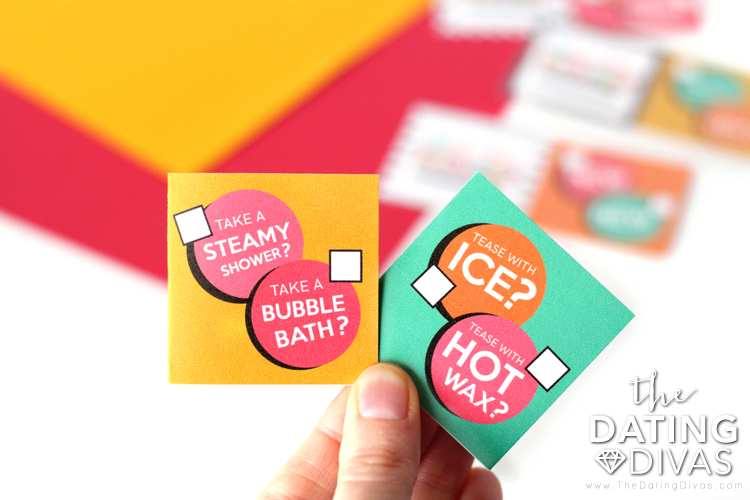 Version 2 – A Night Full of Intimate Pleasures
If your spouse selects one steamy night of intimate fun, you will pick 2 Sexy Would You Rather cards with only one option on the back and then decide which option you prefer. And to make the night last even longer, you can each take turns selecting two cards. Whoever selected the Would You Rather cards gets to decide which option they'd rather do! You never know what you're going to pull, making this option SO much fun! It might be hard to decide!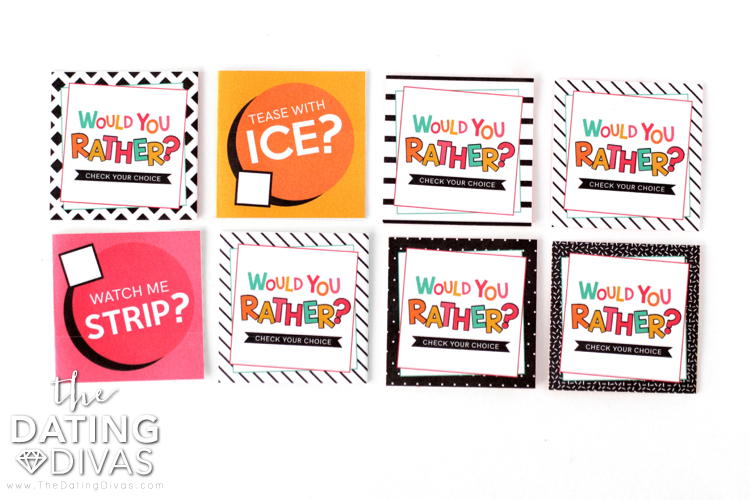 To make these nights easy and fun, make sure you check out all the cards beforehand and gather any items you might possibly need. We want to make sure you get lost in the FUN and we doubt you'll want to stop in the middle to go grab some supplies. If you're looking to spice things up even more, check out JimmyJane. They have tons of products to keep things exciting in the bedroom and if you're planning ahead enough, you can order them today!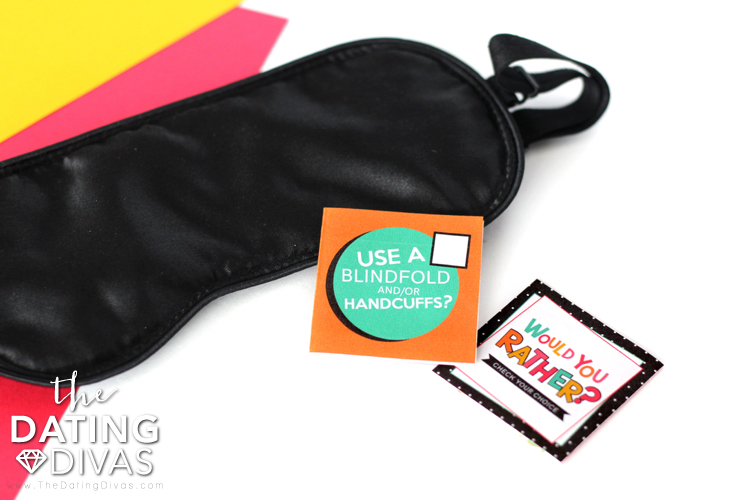 For more at-home sexy ideas, we can't get enough of The Game of Love – it is SO fun and a totally different game every time you play! Honestly, we could rave about it all day! We also love a good old fashion game of Strip Horse Basketball and our Love Is Sweet bedroom board game!
Would You Rather: Bedroom Edition
Printables Designed by Carisa @ Messes to Memories for The Dating Divas