LET YOUR SPOUSE CHOOSE YOUR DATE! 
This creative date night idea will be incredibly easy to plan. Hand your spouse an envelope with choices and let them pick what you two will do for date night. We've taken the pressure of planning date night for you. What's even better, these date ideas are dates your spouse will love!

Do you have a spouse who doesn't take the initiative to plan date night? If so, you know how much blood, sweat, and tears goes into planning date night. One of the biggest worries is if your spouse is going to like what you've planned. Trust me I've been there and I feel ya! This is the exact reason why I love this date idea!!! 
Remember the Choose Your Own Birthday Date and Choose Your Own Adventure Date if you loved those ideas, you are going to love this date idea because it's another choose your own twist. 
I've taken the fuss out of date night planning. On top of that you've hit the jackpot…You're not just getting one amazing date idea but FOUR! And there's more…You can do this date over and over again without doing the same date more than once! You are welcome!
Date Night Preparations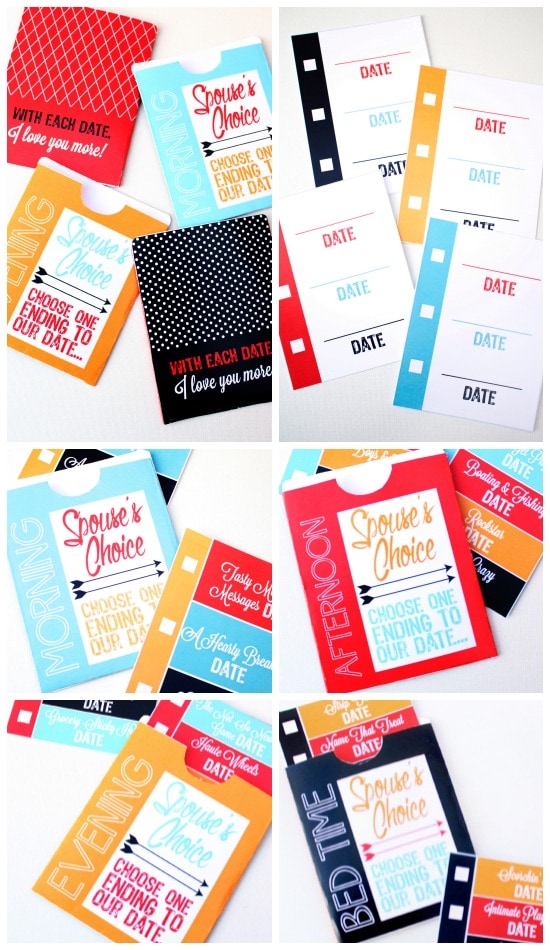 Look at those gorgeous printables! They are designed by Kristin with C Dot Love, isn't she incredibly talented?! Take a peek at her page and you'll see why I love her soo much!
You can't tell me you're not excited about this date night!!!
So how do these fabulous printables work? You need to print them out to find out, kidding. But seriously you need to print them out. Print out the inserts and envelope pdf's. Simply cut the inserts out. Now follow the directions on the pdf's to make your super cute envelopes. 
There are four different sets of envelopes one for the morning, afternoon, evening, and bedroom. Each category will contain two inserts with 3-5 different choices of activities to do during those hours. There are also 1 blank insert per category for  you to personalize with your favorite ideas. 
You can use the inserts and envelopes several different ways. First choose which date you want to do, morning, lunch, evening, or bedroom. Then either place:
1. one insert into each envelope. 
2. two inserts into each envelope. 
3. all 3 inserts, including the blank one that you personalize, into each envelope. 
Once you have chosen the insert(s) and envelope, you'll need to decide how you want to prepare this date. You can either: 
1. Give envelope and insert to your spouse the week prior to date night. Give them one day to choose which date they want to do. Once they've chosen, head back here and grab all the printables and ideas you need to pull off your date. 
2. Give envelope and inserts an hour or so before the date. Together grab all the needed items and ideas from our site and prepare your date together. 
The choice is up to you. Regardless of what you choose to do, save the inserts and envelopes for future dates. You have 9-15 possible dates per category, awesome!!!!!  

 Sleepy, lazy morning dates are awesome! Wake your spouse up to breakfast in bed. Sneak out of bed and prepare a picnic for two to enjoy while watching the sunrise. Or go to your favorite breakfast diner. You get the idea!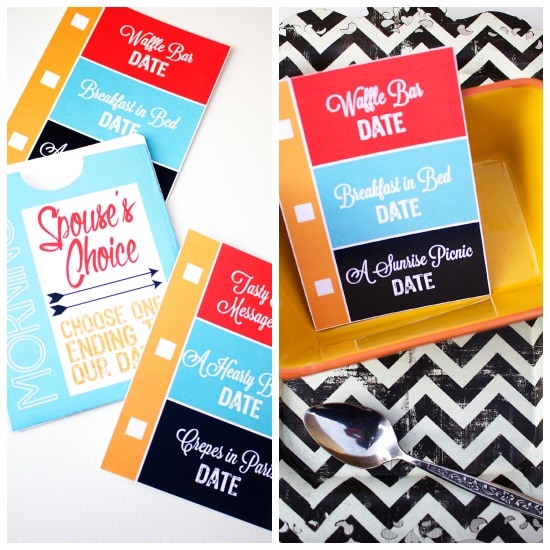 There are soo many choices to pick from. You are going to love this collection of dates!!! 
Insert 1: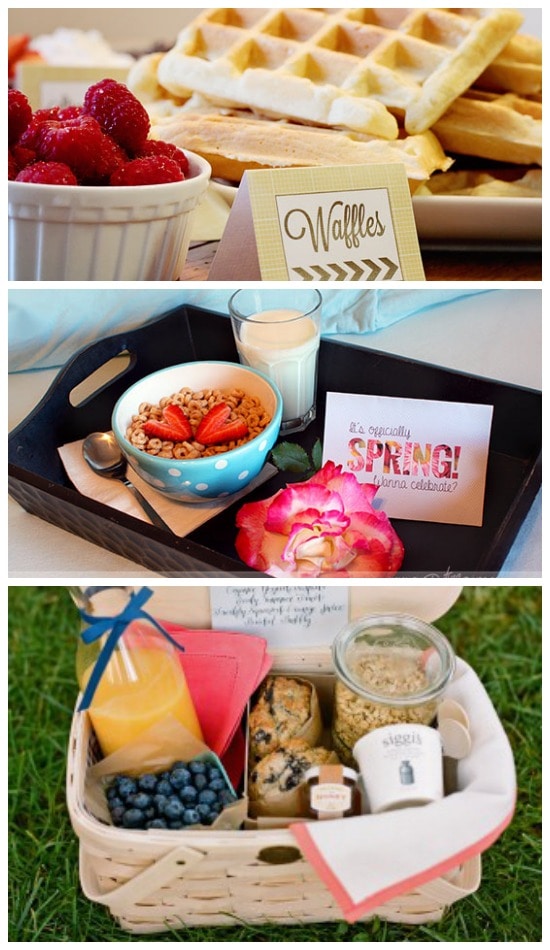 Waffle Bar Date: A delicious and fun waffle bar date. 
Sexy Breakfast In Bed: Put a spring in his step with this breakfast in bed idea. 
A Sunrise Picnic: Wake up before sunrise and enjoy an early morning breakfast picnic.
Insert 2: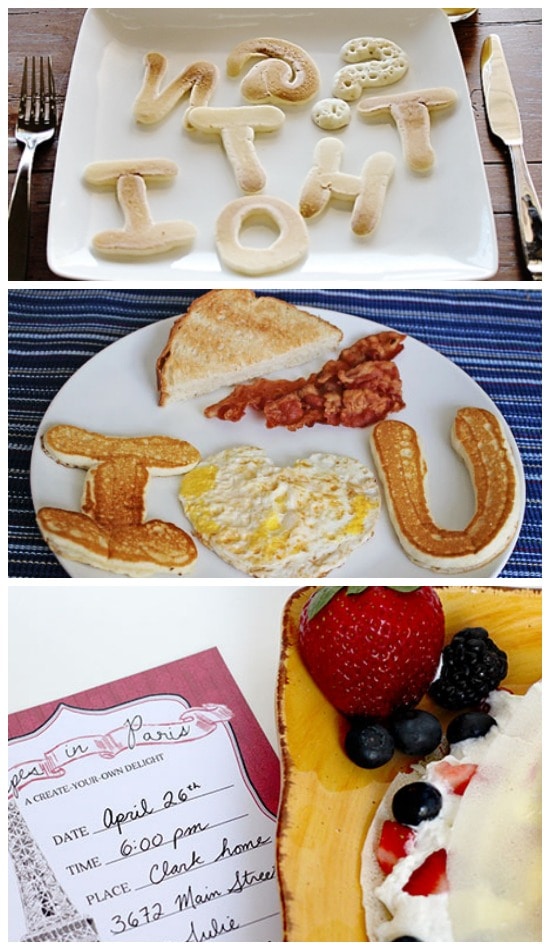 Tasty Morning Messages:
Edible messages your spouse will love to see and eat first thing in the morning. PLUS four creative ideas on how to make this even more memorable!
A Hearty Breakfast:  Start your spouse's day off right with a "heart-y" breakfast!
Crepes In Paris:  Spend a morning in Paris right in your very own home enjoying crepes.

If you haven't discovered lunch dates, you're missing out!  I'm not sure why, but we love lunch dates a little more than evening dates. Maybe we have more energy or we don't have to fight the crowds, whatever the reason we always have so much fun and so will you!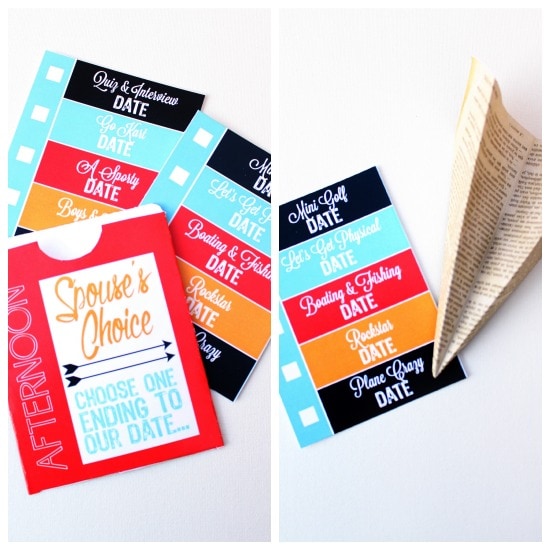 These are a collection of my favorite date ideas. The two of you are going to love taking a lunch break to enjoy each other during the middle of the day! 
Insert 1: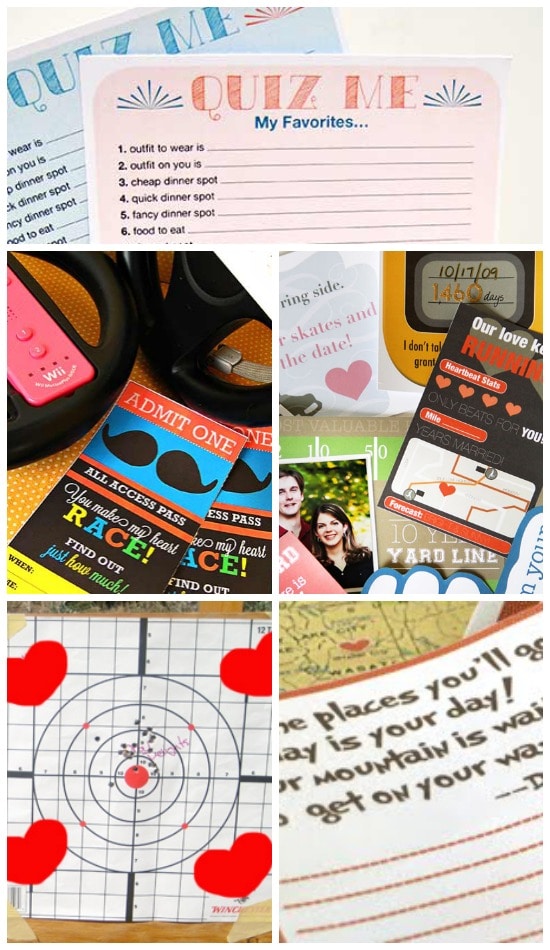 Quiz and Interview: This printable quiz and interview is a sneaky way to secretly get your spouse to plan future date nights while having fun.
Go Kart: Food, speed, and action…a recipe for a man loving date night! This date is going to get your hearts racing! 
A Sporty Date: Pick from 12 great ideas that your man will love! 
Boys and Girls Night Out Date: Spend a weekend doing what your hubby loves to do. Take a peek at this post for a list of ideas to get your date started! 
Discover a New Town: Break out of your bubble and become a little adventurous together while exploring a new town.
 Insert 2: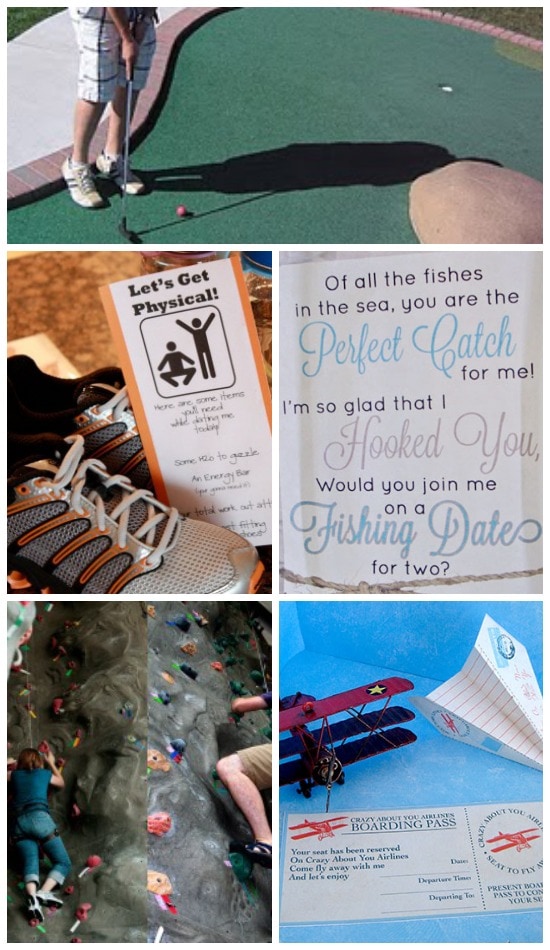 Mini Golf:  Be silly together and enjoy a fun goofy golfing day. 
Let's Get Physical:  Take a boxing class, CrossFit, or lift together and get those endorphins pumping!!! Finish your workout with a hot tub or sauna session!!! 
Boating and Fishing: Rent a pontoon for the day and plan a FUN, inexpensive fishing date for you and your spouse. List of free fishing dates by state and a free printable included!
Rockstar Date: Every man wants to be a Rockstar, right? Well, this is his chance to be a "rockstar." 
Plane Crazy Date: This plane crazy about your date night will have you two flying planes, enjoying a picnic, joining the mile-high club, and grabbing baggage claim.  

We all look forward to an evening date on a the weekend! This date idea selection will keep you looking forward to date night.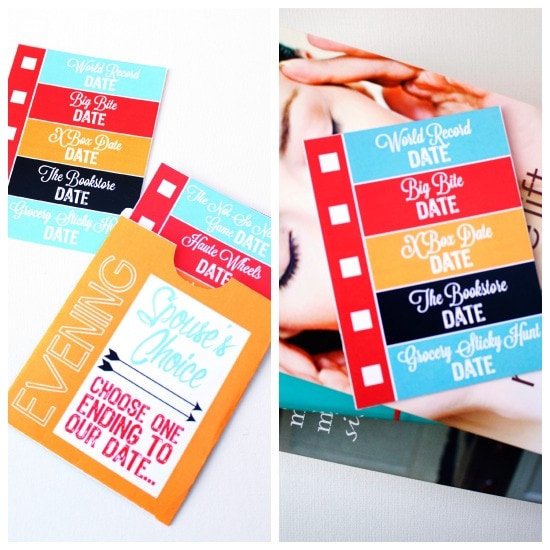 Whether you love going out or staying in these are fabulous date ideas! 
Insert 1 Dates: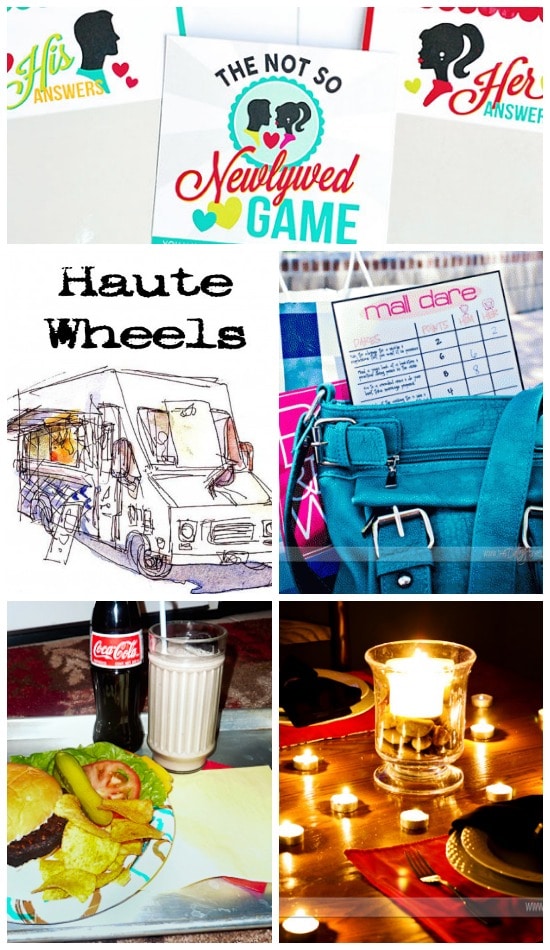 The Not So Newlywed Game: The Newlywed Game Show is back with a twist! 
Food Truck Date:  On top of your to-do list of dates should be to eat at a mobile food truck. If you have eaten at a food truck, but it has been a few years, you are in for a SURPRISE! 
Mall Dare: I dare you…We all know men love a good dare!!! Enjoy a night of aching bellies from laughing soo hard!!! 
Drive-In Date: Go to the drive-in theaters or create one in your backyard. 
Power Outage Date: Bring the light to a date in the dark! This power outage date is full activities to do withOUT electricity!
Insert 2 Dates: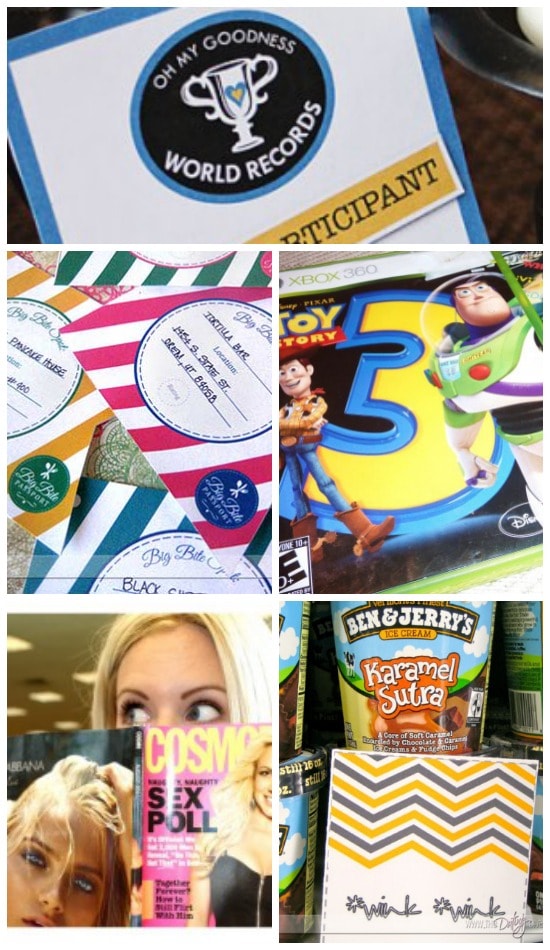 World Record Date:   Looking to try something totally NEW for date night? How about setting a world record? Yep- you just might be able to check that off of your bucket list after this date!
Couple's Cafe:  Turn your normal dinner meal into a romantic cafe for two. 
X Box Date:  We have a fun way to make your husband's game fantasies come true! You playing games with him! 
The Bookstore Date: Discover a little more about each other in the most unlikely of places…the bookstore!
Grocery Sticky Hunt Date:  Your hubby will love this yummy and lovely hunt all about him and a tasty treat!  

This is where it starts to heat up!!! Spend an entire date night loving on each other, what man doesn't love that?! He'll be begging for more dates just like this, just you wait!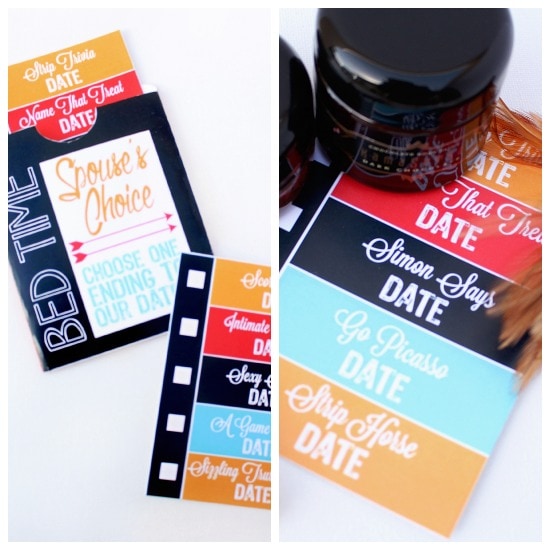 This is my over the top favorite list of bedroom games for two! Get ready, because it's going to get hot in here! 
Insert 1 Dates: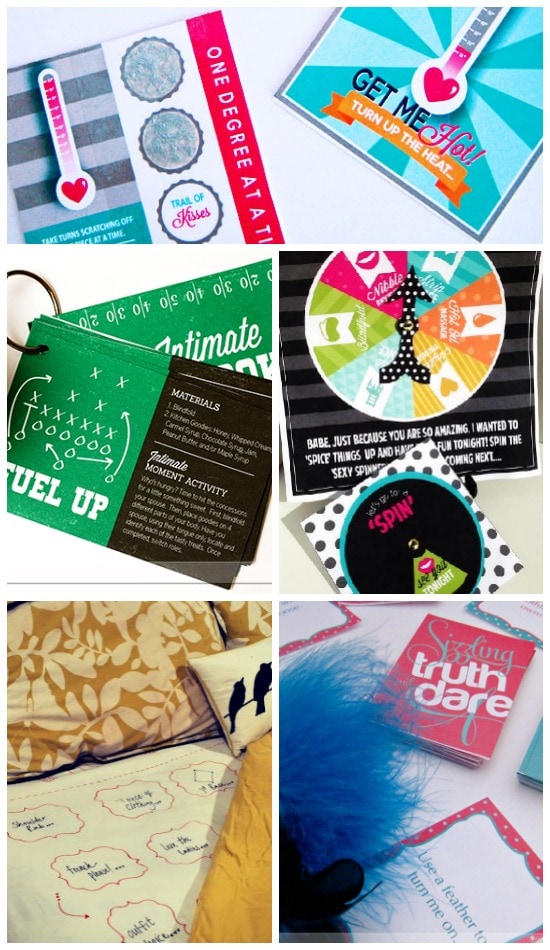 Scorchin' Hot Date: Are you ready to turn up the heat? This sexy game for married couples is going to kick your passion up a notch or two.
Intimate Playbook Date:  He'll choose YOUR game over any football game on TV!
Sexy Spinner Date:  Spice up your bedroom with this sexy spinner card that has 6 different options for you and your spouse to have a hot date night!
A Game Of Love:  It's time to play The Game of Love! It's a game your hubs will love even more than the Superbowl! 
Sizzling Truth or Dare:  Are you ready to have a sizzling night with your heartthrob? It's time for a game of Truth and Dare. Add a little excitement to an old time favorite!
Insert 2 Dates: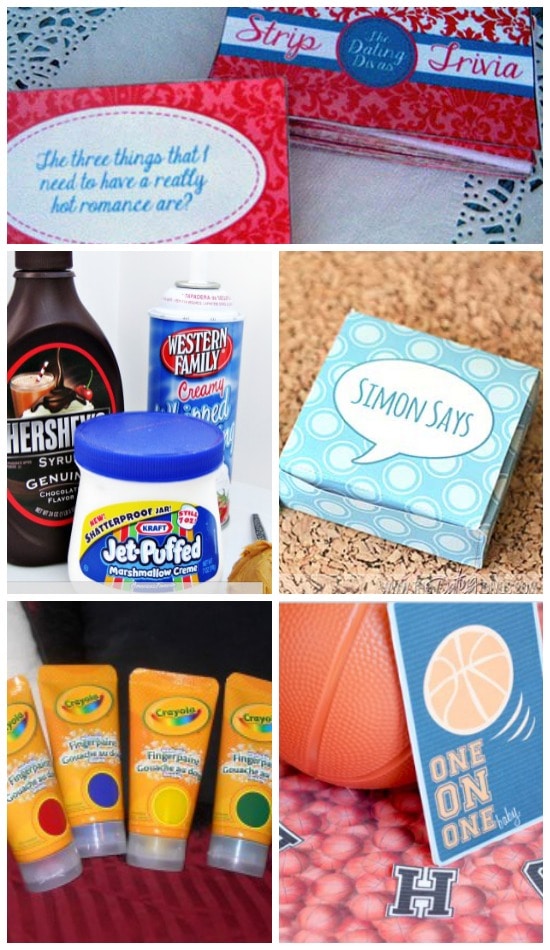 Strip Poker Date:  An enticing stripping game where even the loser, wins! Or, you can see all of our intimacy ideas here!
Name That Treat:  Looking for a way to change things up tonight??? Here's an easy idea that is sure to please! Play a game of "Name that Treat."
Love Match Game:  A sexy game of memory. Make a match? Do the action! 
Go Picasso Date:  Get creative with black lights, highlighters, finger-paints, and body paint. Heat up the romance by Picasso-ing! Sweet finale… washing the art off each other in the shower!
Strip Horse Date:  Horse is such a quick and easy game, why not turn up the stakes! Grab your inside basketball set and these amazing printables for a couple rounds of one-on-one!
 Not to toot my own horn but I think the Spouse's Choice Date is probably the best idea ever!!! There are so many reasons to love this date, my top three are: there is unlimited potential for many future dates, these are man loving date ideas, and date night is easy to pull off! No more delay, get your Spouse's Choice Night started!
Spouse's Choice Date Envelope
Printables Designed by Kristin @ CDotLove Exclusively for The Dating Divas
Date Idea Inserts
Printables Designed by Kristin @ CDotLove Exclusively for The Dating Divas