Uniq

ue Anni

versary Countdown Idea
Your anniversary honors one of the best days of your life, your wedding! Your anniversary celebration ideas should incorporate just how special your wedding day ways. It was the start of your marriage and wonderful life together. That being said, an anniversary is something amazing that needs to be CELEBRATED! Your relationship is a big deal, so why only celebrate for one day??! We have an adorable anniversary idea to make your day even more memorable this year! Countdown the week before with sentimental, fun and even some sexy ideas that bring back memories and bring you closer together as a couple!

The lovely miss Courtney, graphic designer from Paperelli, created this B-E-A-U-TIFUL set of anniversary printables. Pretty and romantic, but not TOO girly, these are perfection!! I'm seriously dying over the cuteness, especially the bedroom board game! When it comes to anniversary ideas, we have you COVERED with this fabulous countdown pack!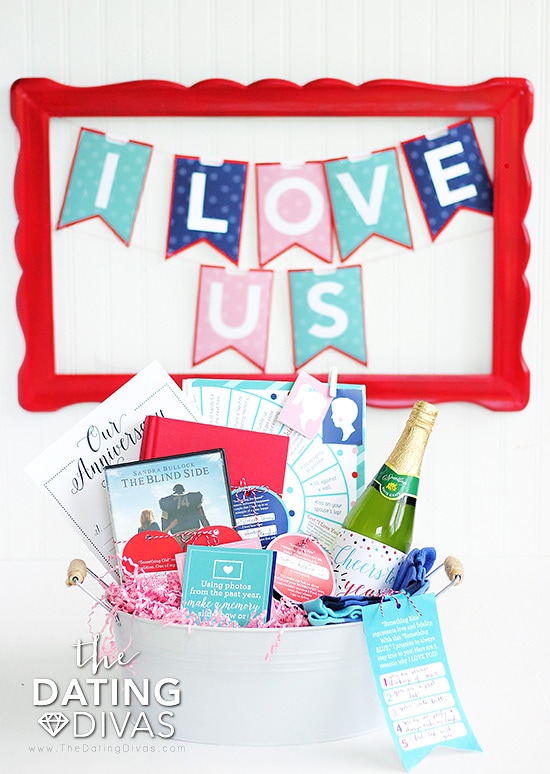 What's included inside this darling anniversary idea kit- 
Anniversary Pocket Banner –

 

Open one pocket each day leading up to your anniversary and complete the activity inside!

Twelve Activity Cards –

 

Choose from a dozen cards that will have you doing sweet relationship-themed activities together as you lead up to your anniversary.

Anniversary Scavenger Hunt –

 

All the printables needed to send your spouse on a love hunt.

Frame-able Vow Renewal –

 

Beautiful anniversary printable to fill out and display.

Personalized Bottle Label –

 

Cheers to your wonderful years together as a couple!

Steamy Bedroom Game –

Relive the milestones of your relationship with a sexy twist with this anniversary idea!
Anniversary Pocket Banner
Put together this cute banner and display it somewhere easy for you and your spouse to use (like the master bedroom!). We have two versions of this banner- "I LOVE US" and "STILL DO." Choose whichever saying fits your fancy!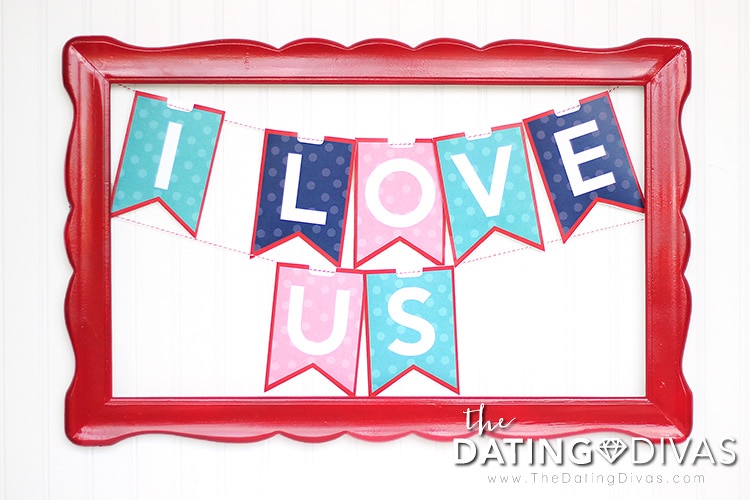 Anniversary Activity Cards 
You'll find 12 activity cards, and some blank ones too, for your anniversary countdown. Add the cards you like best to the pockets of the banner, and have your sweetheart open one each day of the week leading up to your anniversary. Some of these activities are free with little-to-no prep, and others require a little more planning!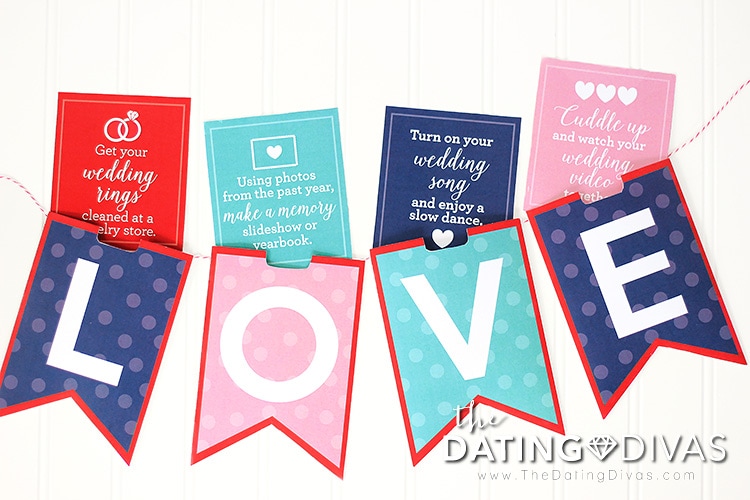 Four of the anniversary activity ideas we came up with for the countdown require special printables – and don't worry, we have included those for you!
Anniversary Scavenger Hunt
This little scavenger hunt sends your spouse hunting to find sweet love notes and small meaningful gifts. The clues are based on the old wedding adage- "Something old, something new, something borrowed, something blue!" Each clue has a spot to write down things you love about your spouse, memories, and goals, based on the poem!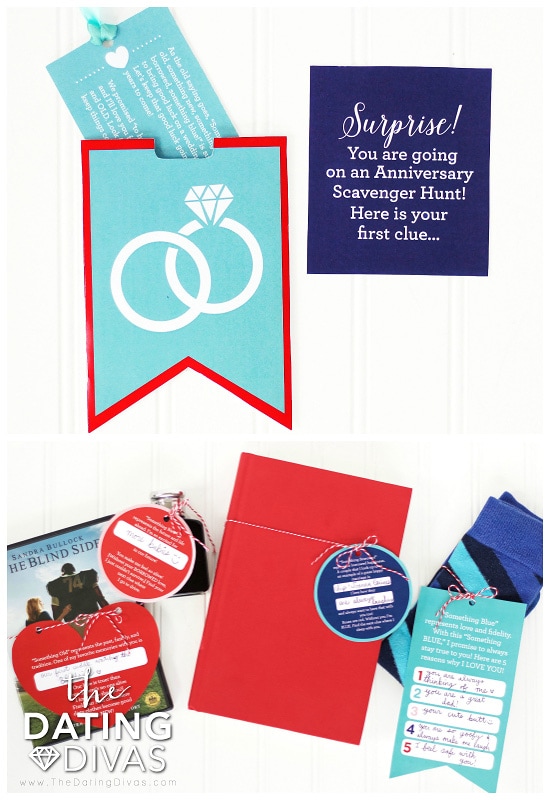 Frame-able Vow Renewal Printable
It may have been awhile since you actually made those promises at the altar, but don't forget about them now! Revisit the vows you made by jotting them down on this gorgeous printable. Add any new commitments you want to make as well. Then frame it as a reminder that "we still do!"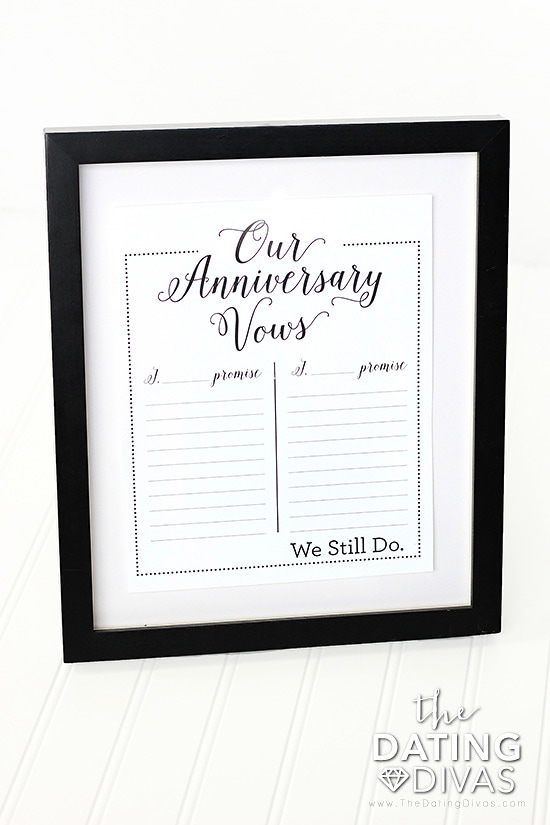 Personalized Bottle Label
Ready for an anniversary toast? This fun label is easily attached to any bottle of sparkling cider or bubbly you like. Customize it with your own years of marriage and say "CHEERS" with your spouse!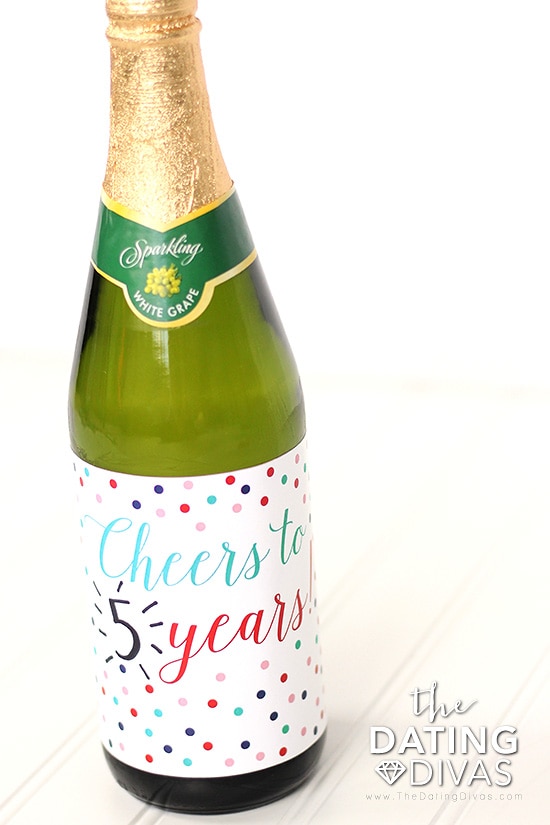 Steamy Bedroom Game
It wouldn't be a proper anniversary without some bedroom lovin', am I right? This fun little anniversary game will get the sparks flying for a night of intimacy, as you talk a (steamy!) walk down memory lane. Each space has you complete a romantic action that corresponds with the different stages of your relationship. The spaces at the beginning start out a little more sweet and innocent, and as you near the end it turns up the heat! Whoever said that married passion ends after the newlywed phase was WRONG-O!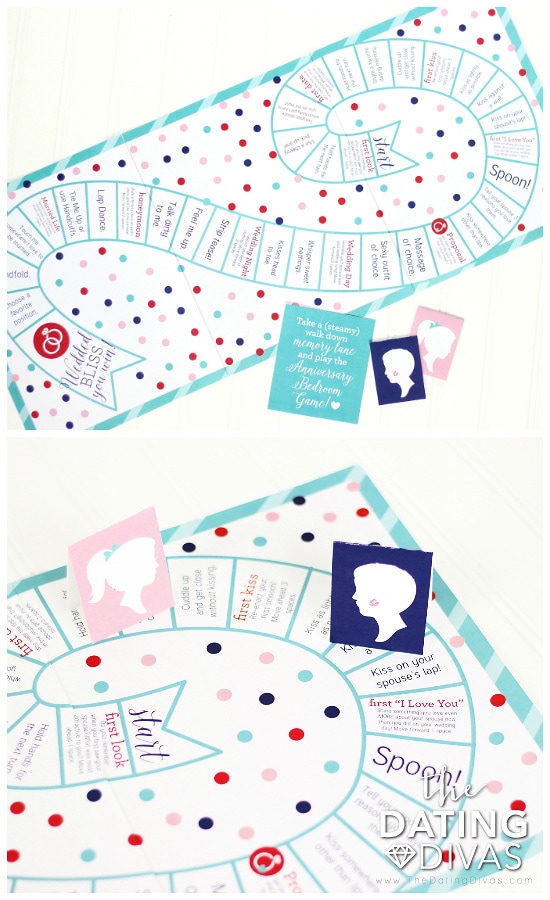 So there you have it, your anniversary is DONE this year! Your spouse will be totally surprised by this clever idea… and you can drag out the festivities for a WHOLE week vs. just one day! More partying?! Yes, please! And the best part it, it's less than $10! This is a super steal to pull off a fabulous, romantic and creative anniversary date!!
Get the darling
Anniversary Countdown Printables
for only
$ 7.97!


It's
ANNIVERSARY WEEK
here at the Dating Divas!
For this week only, grab our absolutely
FREE Anniversary Guide!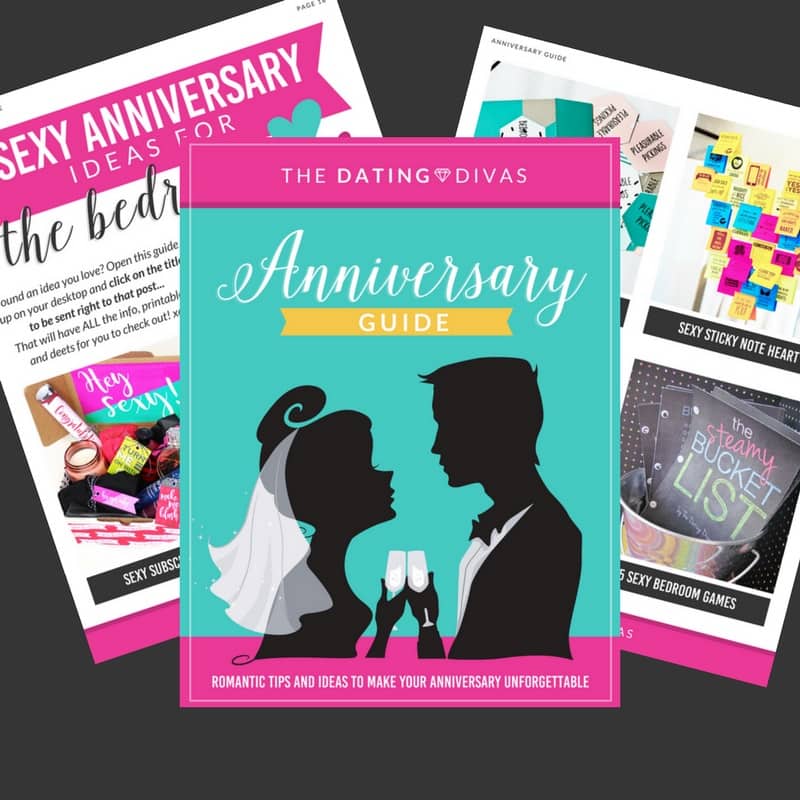 This baby is stuffed full with over 25 pages of romance ideas, date ideas, gift ideas and sexy ideas to make your anniversary unforgettable. Snag it now while before the week ends!

(add it to your cart and checkout with no payment)
Want even more meaningful Anniversary ideas for NEXT year? You have come to the right place! We Dating Divas have anniversary idea after anniversary idea up our sleeves! For a sweet memory book and keepsake idea, look up our I Love Us Journal. And our Anniversary Printable Pack is FULL of fun ideas – from personalized t-shirts to cards to love coupons! You're welcome!