Geocache Date for Couples or Families
I may be biased, but I think we have some pretty awesome dates on our site. However, today I am SO excited to present a date idea totally different from anything on our site! (Drumroll, please!) So buckle up and get ready to learn about geocaching–a fun and unique treasure hunting game we think you will love!
Whether you are already a total Geocache pro, or you've been searching "geocaching near me" and not finding any results, we've got all the answers for you, plus a fun date ready to go. So let's get right to it!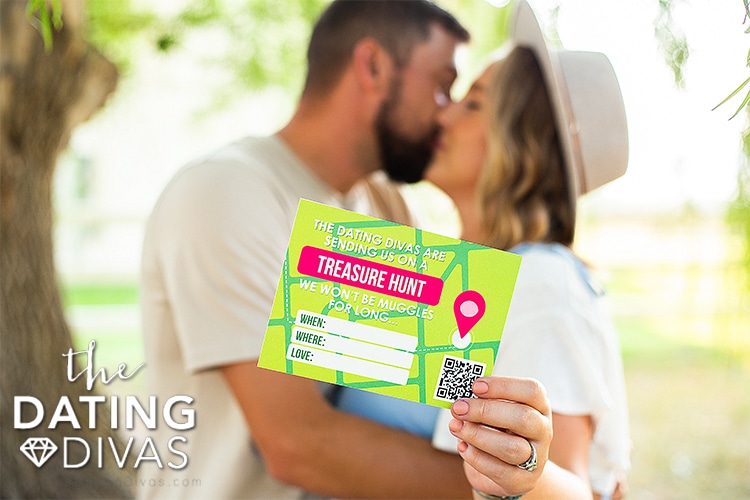 Disclaimer: This post contains affiliate links. To learn more about 'em, click here.
What is a Geocache?
Let's jump right in. What exactly is a geocache, and what is geocaching? Simply put, it is a hidden "treasure" that you can find using GPS. You might be surprised to find that there are several geocaches hidden on your street, near your job, or even on your daily walking trail. This mystery is part of what makes the hunt so fun.
People who don't know about geocaching are referred to as "muggles" (nothing to do with Harry Potter) by geocaching pros, and those searching for caches don't want muggles to see them searching.
What exactly is this "treasure"? It can be a lot of things. A standard geocache will have a list or small notebook for people to sign. This is simply a fun way to see who has found a cache and when somebody last found it. Some larger caches also contain little "treasures," usually dollar store-type toys that are fun for kids.
When we take our kid's geocaching, we start them each off with a small dollar store toy (think Hot Wheels sized or smaller), and then as we find caches, they can choose to trade out their toy for something we find. The standard rule for a cache is: you can take something if you leave something.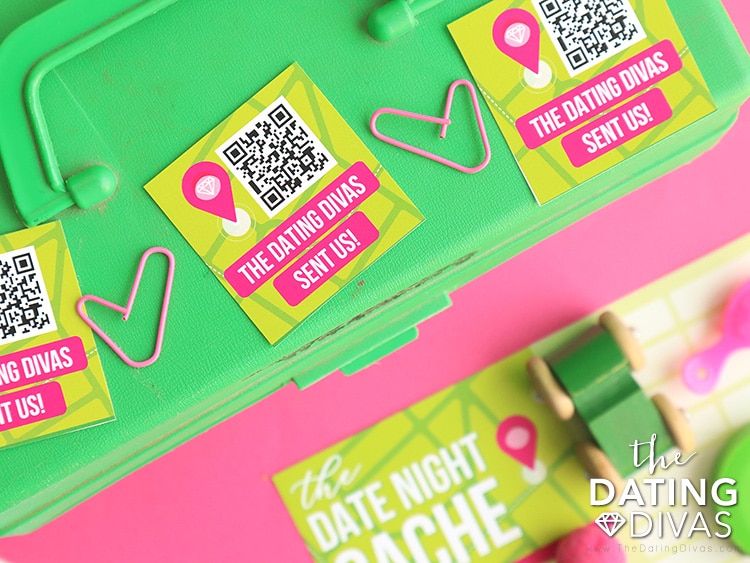 Of course, not all caches contain toys or treasures! There are many micro-caches out there, most of them so tiny they can barely contain a little slip of paper for hunters to find. These caches are usually such a rewarding find, and they can be hidden in plain sight and never found by muggles.
Are you intrigued yet? Once you start finding caches, you might want to hide one yourself! It is so fun to see people find and enjoy your cache, see what trades are made, and get feedback on your hiding place. Geocaching is truly a unique experience, and once you get started, you won't be able to get enough of the global treasure hunt.
How To Geocache
So, now that you have the answer to the question "what is Geocaching", are you wondering how to Geocache? Luckily, the process is SO simple. All you need is to download the Geocaching App! (Here is the Geocaching app for Android users!) We recommend both you and your partner have the app. That's all you need to get started!
Searching "geocaching near me" is all done in the app. The app shows where caches are hidden, their difficulty and terrain level, hints if you can't find them, and even allows people to mark caches that are no longer there. You can leave feedback for the people who hid the cache and keep track of how many you've found. Trust me when I say it's addicting!
Geocaching is such a fun date idea or family activity, you can do it at home or while on vacation, and to top it off, it can be done for free!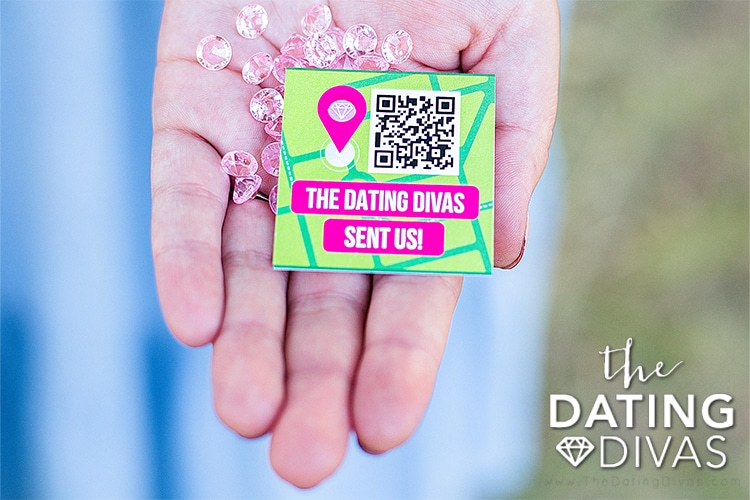 Of course, we are pretty into sprucing up any date idea, so to make your treasure hunt extra special, we've got some free printables you can use for this date!
Free Geocache Printables
Our awesome geocache printables include:
Date Night Invite: Get your spouse psyched for this fun adventure with our printable, treasure-hunt-themed invite.
Guest List: This is so you can create your OWN geocache! (More on this down below.) Put this list inside your geocache container, and check back in person or on the app to see who has visited your cache. When we first hid ours, we had someone rush out to find it within 15 minutes. It was so cool!
Tags: It's pretty standard to leave something in a cache when you find it. One fun thing to do is find something that's "yours" to leave. (For example, my husband and I used to leave tiny, colored clothespins in the caches we found.) All you need are these printable tags to leave behind for this date! You can also leave these Dating Diva Diamonds behind- they are perfect for even a micro cache! This is such a cool way to leave behind something to show you've been on this date and hopefully pique the interest of hunters who come after you.
How to Make Your Own GeoCache
Hunting for a Geocache is such a fun new hobby; we're convinced you'll want to make your own cache, too! Sometimes caches have a fun theme, so let's make a "Date Night" Geocache together!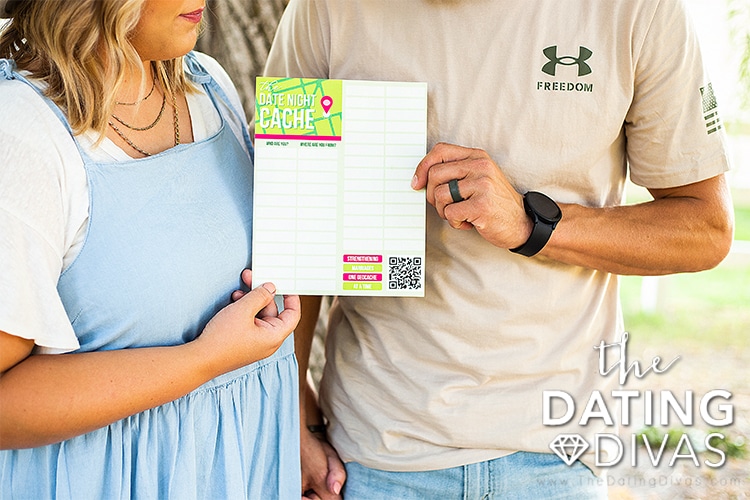 You will first need to decide on a Geocache container to make your own cache. You could use a:
Microcache Container – How cool is this one that looks like a bolt? You could hide this in plain sight, and no muggles would ever suspect a thing. These caches are typically magnetic and so small that they can be hidden in busier areas without drawing attention.
Standard Cache Container – An army surplus box is fairly common for a geocache.
Any container you can find – As I said, no two geocaches are the same. The only real requirements are that the cache is waterproof, can be hidden easily, and is sturdy enough to last outside. Once you've found several caches, you will get more ideas of what works. For example, we've used Tupperware from the dollar store covered in green duct tape, and it worked just as well as an expensive micro cache!
Next, you need to choose the right location. You can check out some official geocache guidelines for choosing a good location, but essentially you just need to:
Make sure it's legal to hide there
Check that it is at least .1 miles from the nearest cache
Do you have any locations special to you that you want others to explore? This is a Date Night Geocache, so maybe you can hide yours somewhere you and your spouse love going on dates, where you went on your first date, etc.
And of course, we've got you covered with a logbook- just use the Guest List provided in our free printables! (Hint: if you choose to hide a micro-cache, resize the Guest List to be smaller, roll it up, and it should still fit in your cache!)
Use the app to help guide you in placing the cache and getting your coordinates, and then once you submit it, it will be temporarily under review. You might be surprised how quickly it's found once your review is approved!
A Treasure Hunt For Two
This idea may seem a little strange or daunting, but take a leap of faith and give it a try. I am confident you are going to love it! This is a great date if you've been looking for fun hobbies to share with your spouse or activities to do as a family. Plus, every cache is different, and there are so many to find that the game never has to end!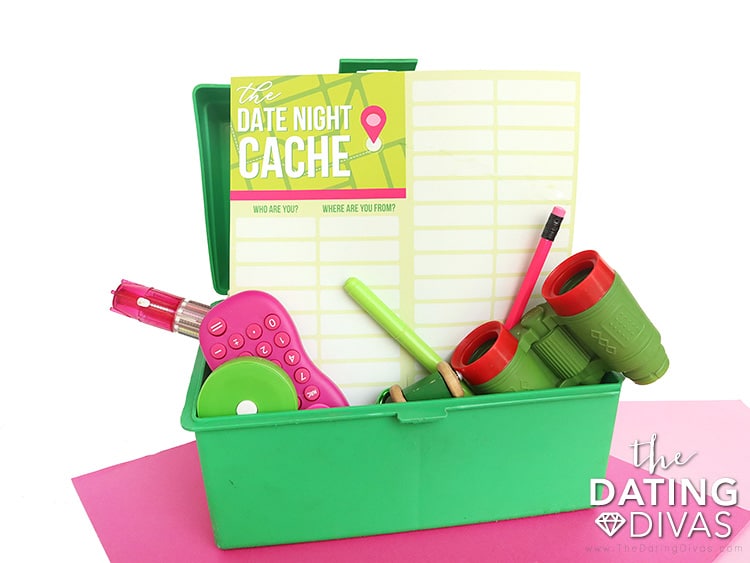 If you loved this date as much as we thought you would, you have to check out our Hobbies for Couples to Try and our Last Minute Date Night Ideas.
Geocache Date
Printables Designed by Courtney @ Paperelli Exclusively for The Dating Divas