**An updated post with a free printable can be found HERE**
Let's all be honest here for a minute… When was the last time you told your spouse you were sorry???  And when was the last time that you know you really should have said sorry but ignored the urge and let it go, which either caused a bigger tiff between you and your spouse, or you both got over it eventually only leaving you more unaware of the issues that may arise in the future.
Well I can honestly say that I do not give my husband the apologies that he deserves probably 75% of the time.  We are both very quick to get over things and often times ignore situations that may have hurt one another, instead of swallowing our pride and just saying "I'm sorry!"  We are also not the mushy type so saying I'm sorry sometimes seems a little cheesy or hard to say.
Well this last pregnancy I was being much more of a "JERK" than I usually am.   I don't know if it was me being pregnant or what.  Well pregnant or not, my husband NEVER deserves to be treated so poorly, and as easily as I could have just blamed it on the pregnancy, I knew it was important to swallow my pride and let my spouse know how sorry I was regardless of my state of mind.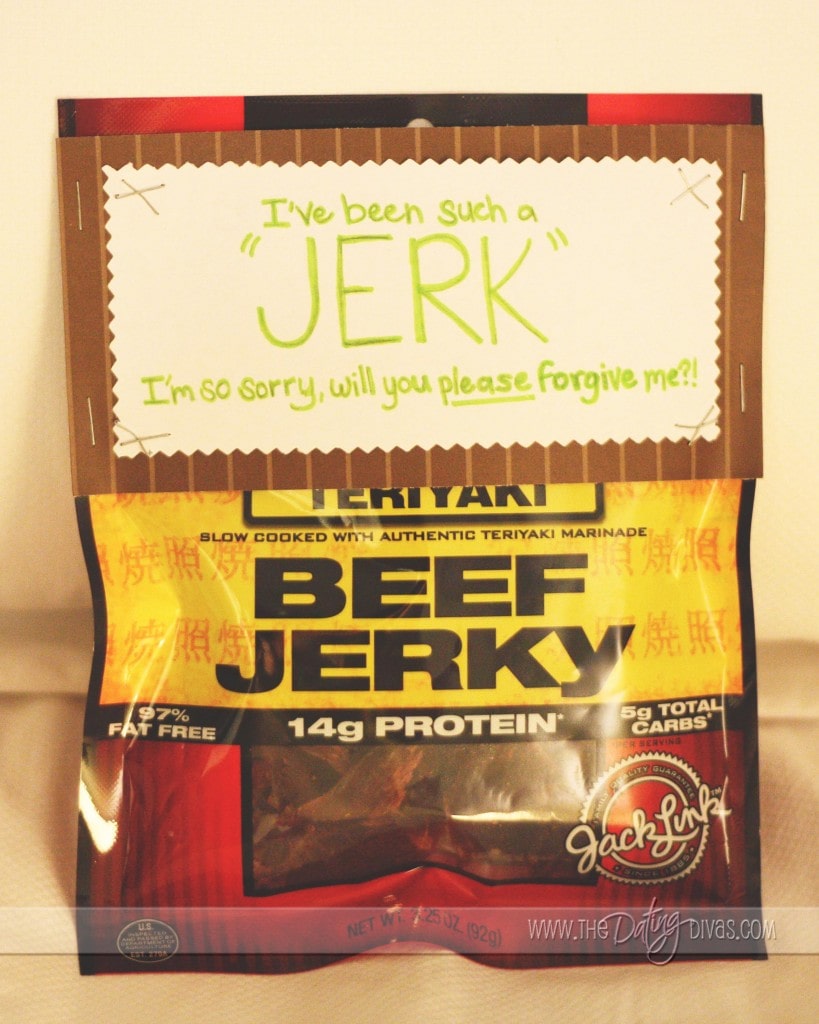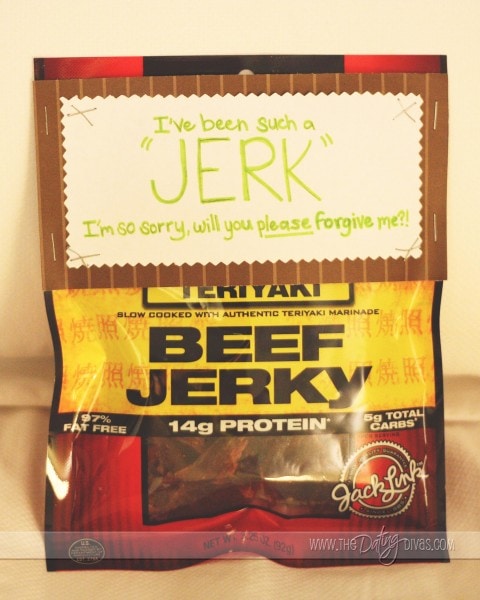 Disclaimer: This post contains affiliate links. To learn more about 'em, click here.
The next time I was at the grocery store, I grabbed a bag of beef Jerky and wrote a simple note to attach to the bag and left it somewhere that he would find it.
This was such an easy way for me to give a very heartfelt apology that was in return very well accepted.
Now anytime I give my husband beef Jerky he knows it's my easy way of saying I'm sorry.
If this is a subject you would like more advice for – you can check out Dr. Gary Chapman's book The Five Languages of Apology
.
We love Gary Chapman and think he has wonderful advice for couples.