Open When Letter Ideas
Open when cards are a sweet and simple gift that you can share with a loved one. We love how simple it is to prepare such a heartfelt way to help your loved ones at any moment of need! Sometimes when something happens, it's hard to find the right words to say at the moment. These open when ideas are perfect for putting pen to paper in advance so that when the time comes, you're ready! You may want to offer comfort, congratulations or just a kind, uplifting word showing that you care. Open when letters make it easy to thoughtfully and sincerely construct a letter for a future moment so that you get just the right words on paper! These open when cards can be filled to the brim with your love!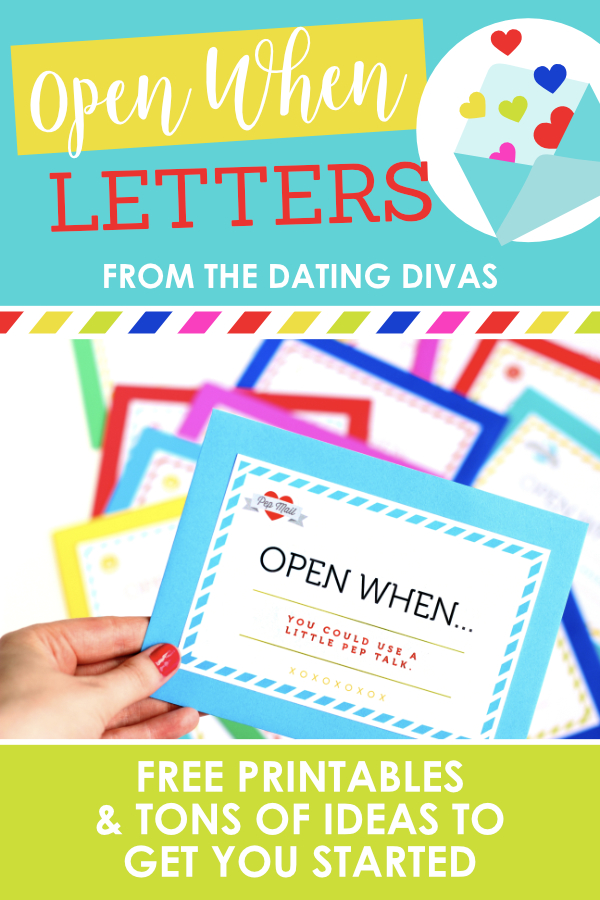 Open When Cards
You are gonna LOVE this simple idea of made-for-you open when letters! Print them out to prepare your own open when ideas and you'll be all set to whip them out for your loved ones! You can find these FREE envelope labels if you scroll to the bottom of this post! Want to know what all of the envelope labels say? We've included ideas for every occasion:
Open When…
You Need to Know How Much I Love You
You're Worried
It's Your Birthday
You Need a Good Laugh
You're Upset or Angry
It's Our Anniversary
You Could Use a Little Pep Talk
You're Feeling Happy
It's Valentine's Day
You Are Feeling Lonely
You Want to Reminisce
It's Christmas Day
You Want Me!
You Can't Fall Asleep
As you can see, we've already done all the work for you by picking out the right time to give the gift of a love letter. All of the labels are already filled out with fully prepped open when ideas!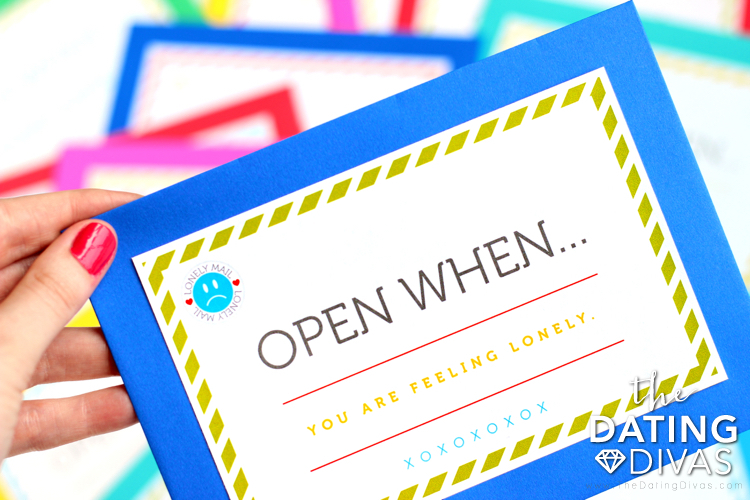 What's great is that these adorable labels can be used with any envelopes (we love these ones because they fit perfectly and are so colorful!)
and you can write a card or letter to place in these envelopes for that special moment! Wondering what to write in open when letters? Don't worry, we've got you covered! We have tips for that down below as well.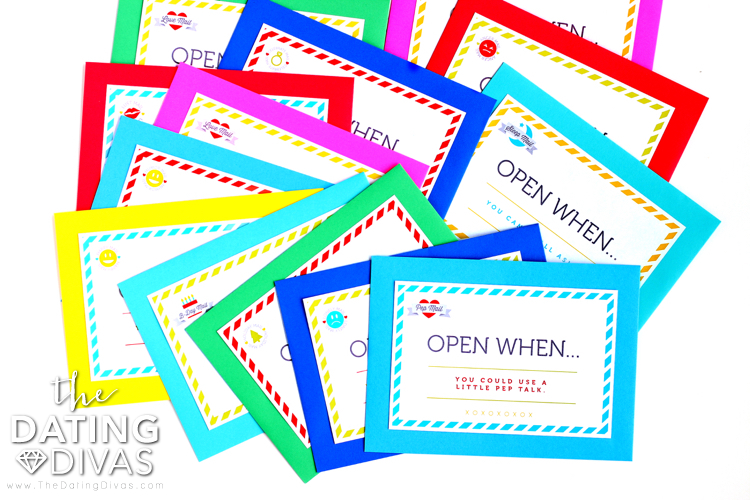 To assemble your open when cards, just cut and glue the labels to your choice of envelopes.  Then use the coordinating blank cards to write your own personalized love letter to match the label's theme. Print out as many pages as you need so you're always ready for any occasion. It doesn't get any simpler (or sweeter) than that!
Come Up With Your Own Letter Ideas
If the ideas we've provided for your open when letters have you only wanting more, then feel free to make your own! The beauty of an open when letter is that it can be customized to ANY occasion. Here's just a quick list of open when ideas for other occasions you may be needing some letters for:
Open When…
You're Excited
You Are Ready for An Adventure
You Miss Me
You're Tired
You're Overwhelmed
We've Said Goodbye
You Feel Sad
You Need Some Cheer
I'm Angry
You Feel Like Giving Up
You're Angry
You're Traveling Alone
You Need Some Cash
You're Afraid
You Need to Make a Big Decision
Someone Let You Down
You're Frustrated with Work
You Have Some Bad Luck
You Are Sick
You're Confused About Life
I'm Driving You Crazy
You Have Financial Stress
You Need Someone to Believe in You
Someone Passes Away
You Need A Little Spice in Your Life
What To Write In Open When Letters
It can be hard to figure out what to write in a letter. It's never easy speaking from the heart. But here are a few suggestions we have to help get you started with what to write:
Share your own experiences! Nothing builds connection and shows love more than a relatable personal experience.
Make them laugh! Laughter really is the BEST medicine… and can be the perfect way to share your love.
Compliment them! Affirming words can go a LONG way in brightening up someone's day.
Slip a gift card inside! Depending on the occasion, a little gift might be just the perfect token of love.
More Open When Letter Ideas From The Dating Divas
Handwritten love letters will never go out of style. Over time we've put together several open when letter printable packs to help make it easy to put together an unforgettable love letter for the people you love. We have a full-blown Open When Letters Kit complete with sample letters to get you started, pre-written cards to keep things easy, labels, tags, embellishments, small printable gifts, and fully designed labels and cards. It's all pictured right here: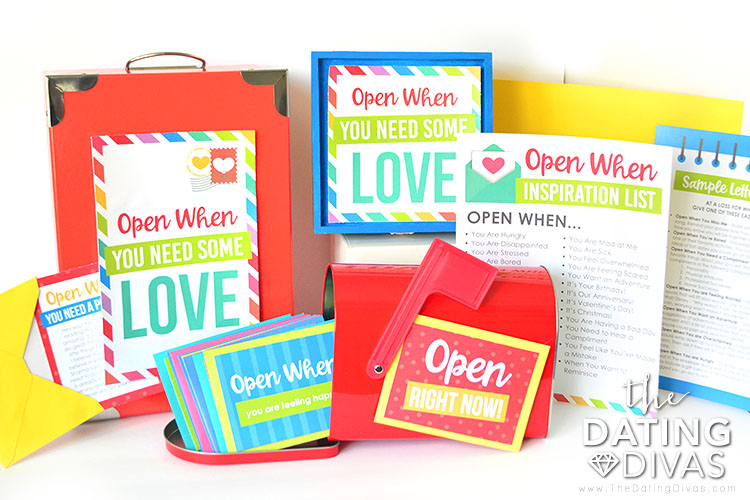 Open When Letters for Kids
We also have an Open When Letters for Kids Kit that is absolutely amazing for all those special moments in your kid's life! From when they just learn to read to when they are graduating high school or even going off and getting married, these open when cards are a perfect sentiment! This kit includes 25 coordinating labels and cards, 10 additional letter options for the BIG milestones in your kids' life, and a special keepsake box cover to store your letters in so your child can keep them forever. It's such a sweet sentiment and a beautiful way to show your love.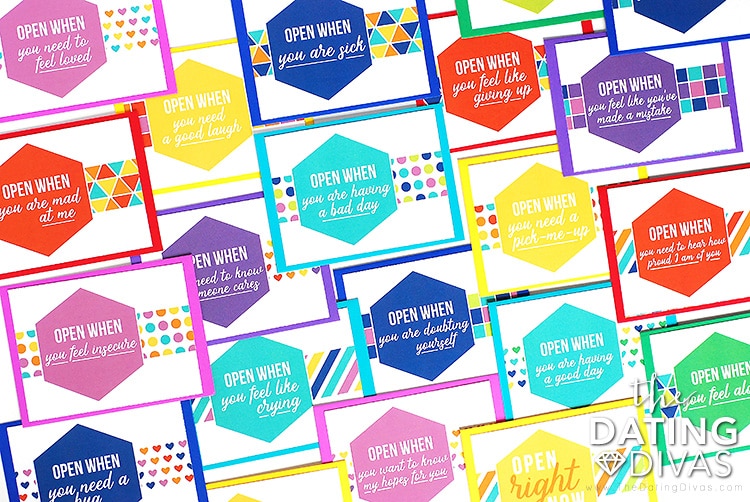 And of course, use our FREE printables below to get you started on the right foot. We've done all the prep work for you to make it easy-peasy writing your letters. Now you're all set and ready to write a pile of love letters for your man (or your woman) or even for your kids!
---
What is an Open When Letter?
These are letters you can prep in advance for someone to open during a specific moment.
What events should I write Open When Letters for?
Birthdays, anniversaries, graduations, when someone needs a pep talk, and when someone needs to laugh.
Why would you use Open When Letters?
This is an easy way to give a boost of support and love to someone in the exact moment that they need it!