Marriage Tradition
We all need to feel appreciated and loved from our partner and you don't need to wait for a special event to do it! In fact, expressing your love can be done on a daily basis! While here at the Dating Divas we love to provide printable love notes and cards you can give your spouse – there is something special about verbally expressing your love to your spouse.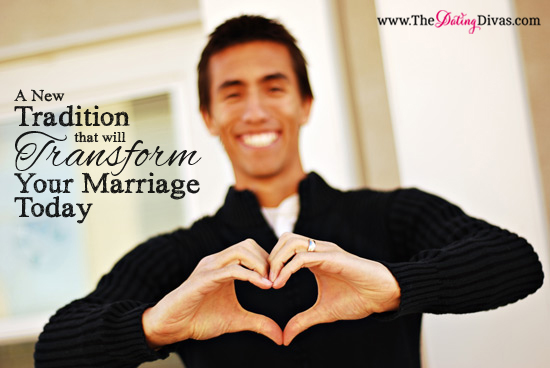 Disclaimer: This post contains affiliate links. To learn more about 'em, click here.
One little tradition that my husband and I share is our nightly, "I love you today because . . . " Each night as we get into bed, in that moment right after the lights are turned out, we each share one thing that we love about the other person. We try to specify it with something from the day, but sometimes it is just general. It is the perfect way to end the evening – no matter what kind of a day it has been. We have really felt this simple act benefit out marriage in so many ways. Here are a few ways sharing a nightly, "I love you because . . ." can strengthen your relationship:
Each person goes to bed feeling loved and appreciated.
It encourages you to be looking for something good in your spouse throughout the day when you know you will be sharing that night!
When you've had a rough relationship day, this tradition is a fantastic way to break the ice and know that no matter what happened that day – you love your spouse and are loved.
If your spouse or your spouse's love language is words of affirmation – this will definitely help them feel loved and add to their love bucket!
If you struggle with verbally expressing your love – this tradition gives you an opportunity to do it PLUS there is something safe about sharing your feelings in the dark at the end of the day that just makes it a little easier!
You will be amazed at how quickly this tradition will become something you look forward to each night. It takes less than a minute, you can start at any time and the benefits are well worth it!