Romantic Dinner Ideas for your Anniversary
Ahh, the anniversary; that once a year event where the two of you celebrate another year of adventure, happiness, and—you guessed it—love! It's a time when even the most un-domestic of us want to give our honey a little bit of fine dining, but the planning can be tricky! That's where we come in! We've put together a list of over 100 romantic anniversary dinner ideas to help you whip up a menu that's perfectly magical. Throw on an apron and sharpen those knives 'cause it's time to unveil the eats!

Disclaimer: This post contains affiliate links. To learn more about 'em,  click here.
To make your anniversary meal planning even MORE exciting, we've divided our list of anniversary dinner ideas into four fabulous categories. Simply pick one item from each list and you've got yourself a four-course meal that is insanely amazing.
Check out the categories below:
Appetizer Anniversary Dinner Ideas

Entree Anniversary Dinner Ideas

Anniversary Side Dish Ideas

Anniversary Dessert Ideas
Time to get going!
Romantic Anniversary Appetizers
Start your meal off on the right (and did we mention romantic?) foot with these tasty and easy to prep appetizers that are sure to impress! Maybe prep some appetizers in advance to share while prepping the main course together.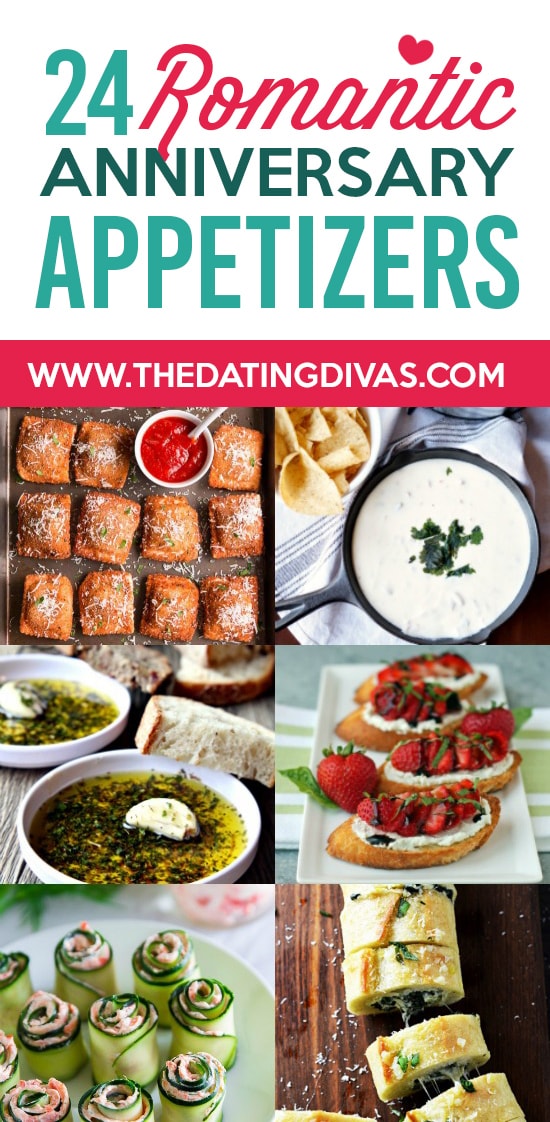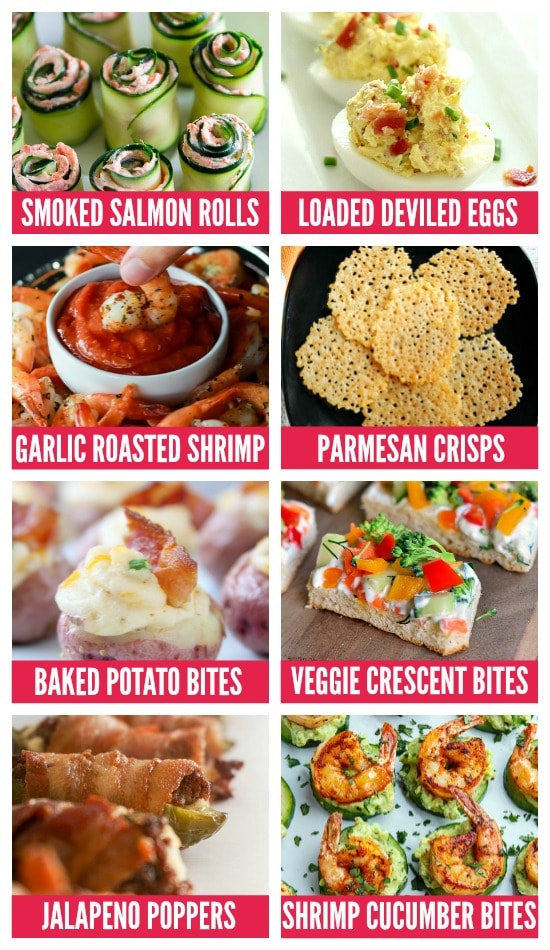 1. Smoked Salmon Rolls (Simply Home Cooked) – A little bit smoky and a lotta bit elegant, these rolls are the perfect intro to a night of romance due to salmon's inherent aphrodisiac qualities. Mmmm…
2. Loaded Deviled Eggs (Six Sisters' Stuff) – Deviled egg-lovers will be drooling over this hearty and man-approved twist!
3. Garlic Roasted Shrimp (Joyful Healthy Eats) – Everyone's favorite Italian ingredient takes center stage in this perfect seafood appetizer for two!
4. Parmesan Crisps (Cooking With Mama C) – Crispity, crunchity, and perfect for munching, these parmesan crisps pair perfectly with just about anything!
5. Baked Potato Bites (Somewhat Simple) – Meat and potato loving guys will be all over these mini morsels that still pack a wallop of flavor!
6. Veggie Crescent Bites (Mom On Timeout) – Tried and true, we guarantee the deliciousness of these veggie-topped treats.
7. Jalapeño Poppers (Keto Connect) – You can never go wrong with bacon and these pepper-infused poppers add a whole new dimension of flavor!
8. Shrimp Cucumber Bites (Closet Cooking) – Watch these disappear faster than dessert, and don't hesitate to share a few with us.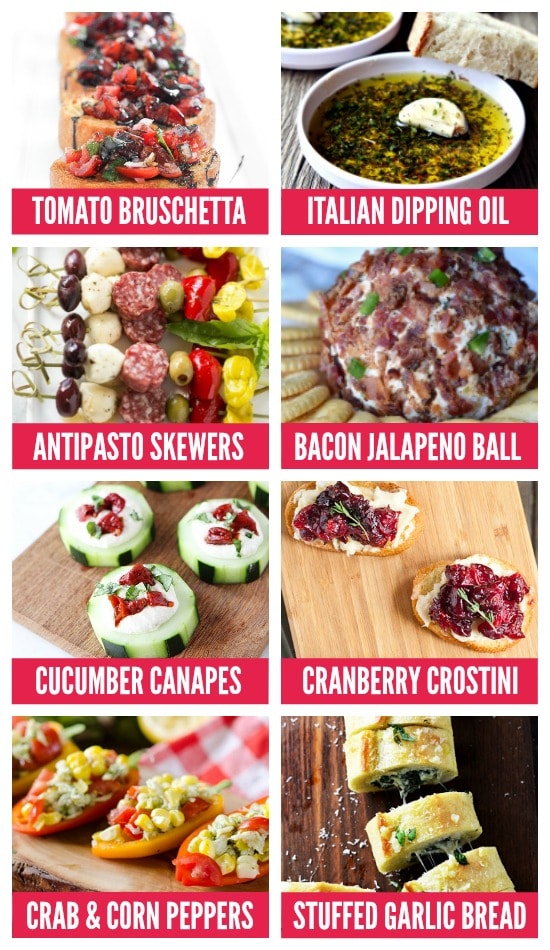 9. Tomato Bruschetta (Ahead of Thyme) – A classic bruschetta recipe with a healthy dose of something secret (spoiler: it's balsamic), this is one finger food that's finger lickin' tasty!
10. Italian Dipping Oil (Manila Spoon) – Italian entrees make for the perfect match to this flavor-filled dipping oil and a side of bread! 
11. Antipasto Skewers (Dinner at the Zoo) – The only thing more fun than making these bad boys is eating them! 
12. Bacon Jalapeño Ball (Butter Your Biscuit) – Bacon and jalapeno meet together once again for this creamy, spreadable goodness that pairs perfectly with your favorite cracker! 
13. Cucumber Canapés (Two Peas & Their Pod) – Fans of feta cheese will be in heaven as they devour these adorable cucumber canapes topped with fresh ingredients like tomato and basil. 
14. Cranberry Crostini (NeighborFood) – Give us all the brie and we'll be happy campers! Try this cranberry topped treat for the perfect blend of sweet and savory. 
15. Crab & Corn Peppers (The Creative Bite) – Seafood lovers will be over the moon about these crab stuffed peppers—we sure are! 
16. Stuffed Garlic Bread (Host the Toast) – Be still our hearts, we simply can't get over how divine this appetizer is. Artichokes win again!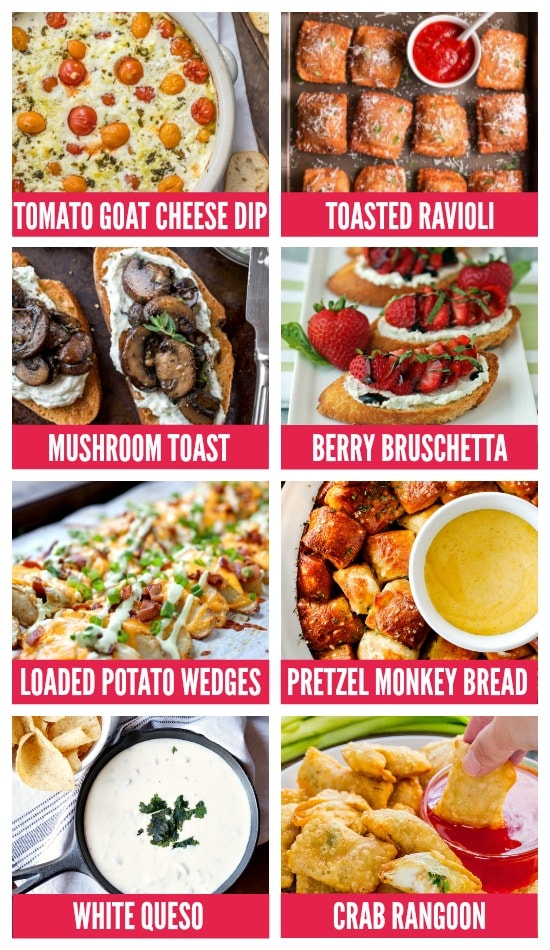 17. Tomato Goat Cheese Dip (The Cookie Rookie) – For a touch of elegance that's a bit outside the usual, this goat cheese dip is surprisingly scrumptious and heavy on taste!
18. Toasted Ravioli (Garnish & Glaze) – Perfectly dippable and terrifically toasted, these ravioli squares will be gone in a heartbeat. 
19. Mushroom Toast (The Cozy Apron) – Mushroom haters will be singing a different tune once they sink their teeth into these flavor-packed toasts topped with garlic and love. 
20. Berry Bruschetta (Emily Bites) – Give typical tomatoes the boot in favor of this strawberry packed bruschetta. Does it get any more romantic than this?! 
21. Loaded Potato Wedges (Macheesmo) – A fabulous partner to a delicious steak dinner, these loaded potato wedges are topped with everyone's favorite guilty pleasures.  
22. Pretzel Monkey Bread (Carlsbad Cravings) – So totally bite-sized (and fun to eat at that!), this pretzel-ized spin on monkey bread is a guaranteed pleaser. 
23. White Queso (The Baking Fairy) – Have we mentioned how much we love queso? And after you try THIS dreamy, creamy version, you'll be a believer as well. 
24. Crab Rangoon (Spend With Pennies) – Cream cheese and crab combine to make this Asian-inspired appetizer a definite win! 
Romantic Anniversary Entrees
Show your main-squeeze a little extra lovin' with these main dishes that can't be beat! Whether you want to keep it simple and elegant or go gourmet, there are romantic dinner ideas to wow your spouse below. Make dinner together or surprise your sweetie with one of these gorgeous anniversary dinner ideas.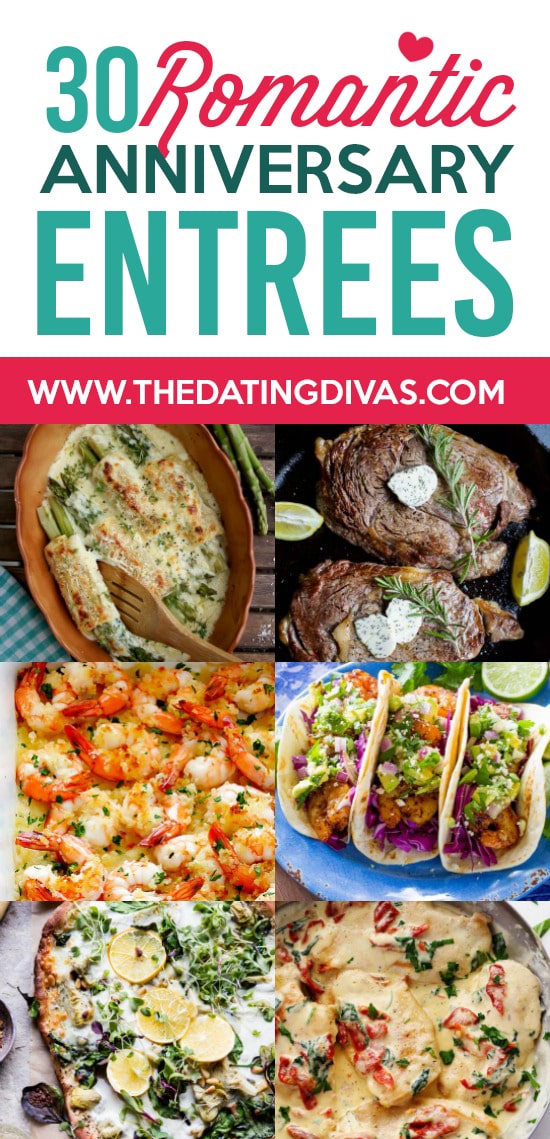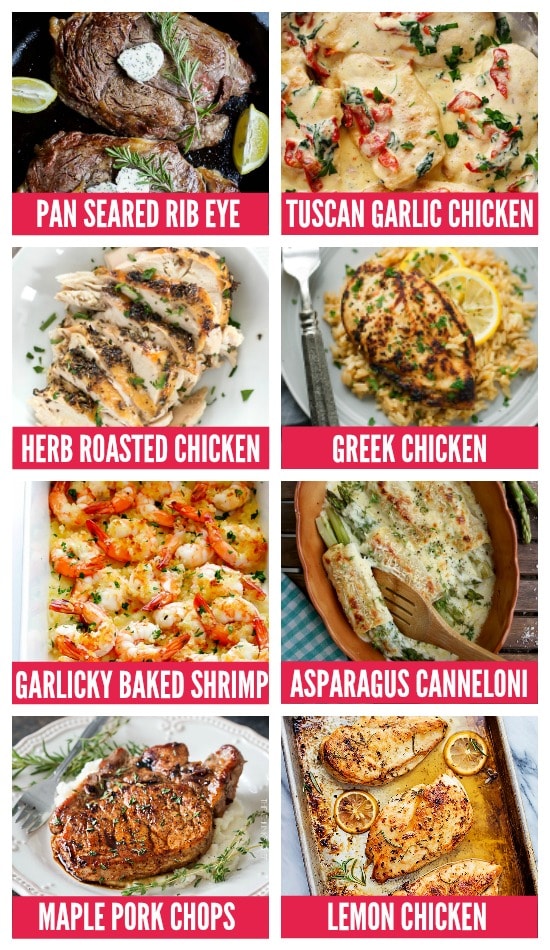 25. Pan Seared Rib Eye (Joyful Healthy Eats) – A quintessentially romantic meal, these pan seared rib eye steaks are about as mouthwatering as they come!
26. Tuscan Garlic Chicken (The Recipe Critic) – Infuse a little bit of Italy into your night with this creamy chicken dish that can stand on its own, or pairs perfectly with pasta. 
27. Herb Roasted Chicken (Budget Bytes) – Simple and delicious, you cannot go wrong with this classic dish! 
28. Greek Chicken (Little Spice Jar) – Always wanted to visit the Islands of Greece? With this one-pot dish, you're practically there!
29. Garlicky Baked Shrimp (Gimme Some Oven) – With a twenty minute prep time, and the serving versatility that typically comes with a shrimp dish, this is one entree you'll definitely want to give a go.
30. Asparagus Cannelloni (Healthy Kitchen. Rocks) – Layers of lasagna noodles, prosciutto, and béchamel create this mouthwatering concoction we're dying to try! 
31. Maple Pork Chops (The Chunky Chef) – With flavors such as maple, balsamic, and dijon mustard, these is one pork chop recipe that will really take you for a ride!
32. Lemon Chicken (Creme de la Crumb) – It's hard to believe this mouthwatering dish is so healthy—making it the perfect anniversary choice for those wanting something a little lighter.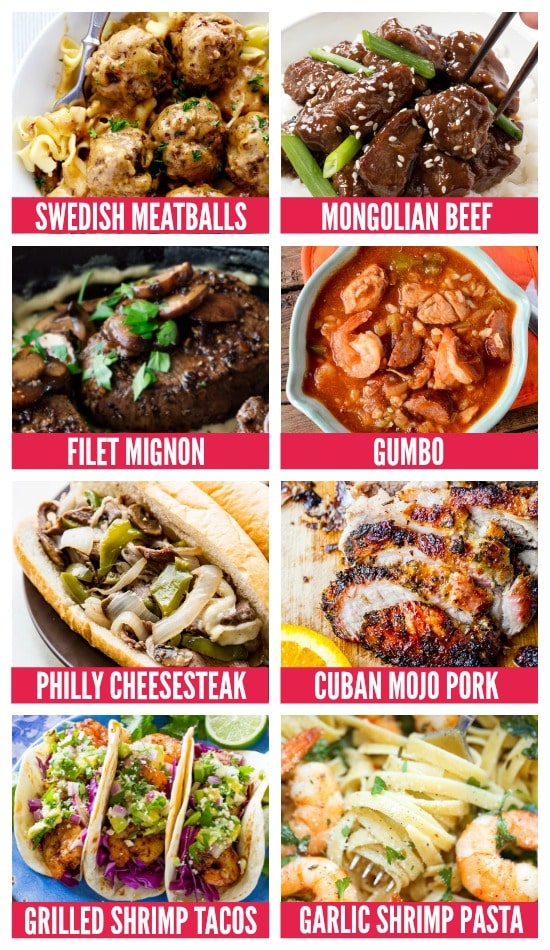 33. Swedish Meatballs (The Recipe Critic) – You don't need to be Swedish to enjoy this rich and creamy feast, although it certainly couldn't hurt!
34. Mongolian Beef (Chef Savvy) – Asian cuisine is presented at it's finest with this incredibly easy dish that rivals any Chinese takeout. 
35. Filet Mignon (Barefoot Contessa) – The venerable Ina Garten does it again with this upscale recipe that anyone can create! 
36. Gumbo (Timmilee Tips) – Pull out all the stops with this spicy and sassy gumbo dish that contains everyone's favorite fillings. 
37. Philly Cheesesteak (Eazy Peazy Mealz) – A meal that's both casual and man-friendly, this quick and easy cheesesteak is always a good choice! 
38. Cuban Mojo Pork (The Food Charlatan) – Bring a little Latin American flair to your meal with this marinated pork dinner. 
39. Grilled Shrimp Tacos (The Girl Who Ate Everything) – Topped with avocado salsa and filled with everything good in the world, these grilled shrimp tacos will bring a bit of island living right to your table! 
40. Garlic Butter Shrimp Pasta (Damn Delicious) – Anything dripping with butter is a total win in our book!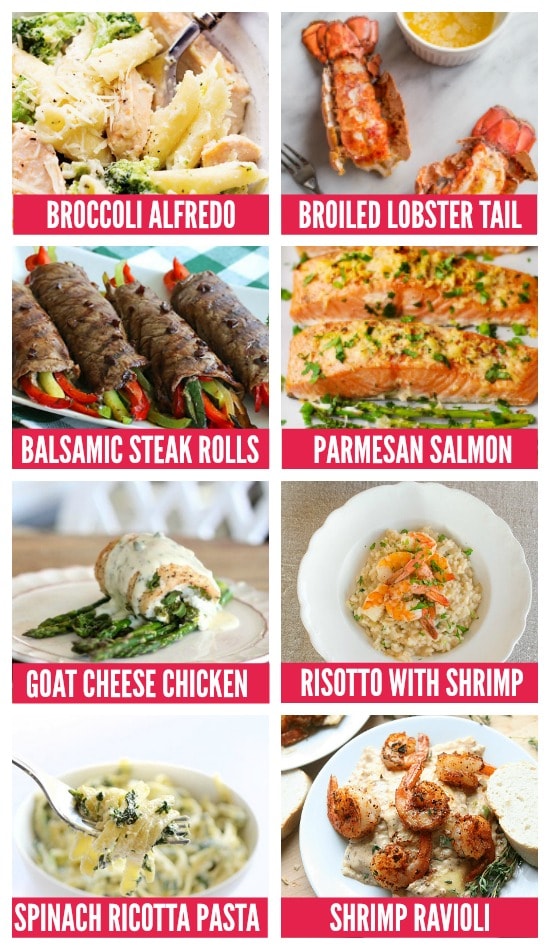 41. Broccoli Alfredo (The Recipe Critic) – Just because it's anniversary time doesn't mean you should forget the veggies! Sneak them into this scrumptious dish and you'll be glad you did!
42. Broiled Lobster Tails (Sweet C's Designs) – The pinnacle of romance and refinement, this tasty dish is simpler than you might think and tastes unbelievable!
43. Balsamic Steak Rolls (The Daring Gourmet for Tablespoon) – Put a clever spin on an ordinary steak with these veggie-stuffed rolls that are garnished with balsamic.
44. Parmesan Salmon (Julia's Album) – Classic flavors like garlic and parmesan make this salmon dish one that you won't want to miss.
45. Goat Cheese Chicken (The Organic Kitchen) – Creamy goat cheese takes center stage in this stuffed chicken dish that we guarantee you'll want to make again.
46. Risotto With Shrimp (Kitchn) – A creamy rice dish that's bursting with flavor, this parmesan risotto is where romance meets comfort food in the best way possible.
47. Spinach Ricotta Pasta (Budget Bytes) – Lasagna lovers will love the ricotta infusion that this dish encompasses while healthier eaters will certainly appreciate it's spinach addition!
48. Shrimp Ravioli (Amy In The Kitchen) – Give us a stuffed pasta dish and we are SO there!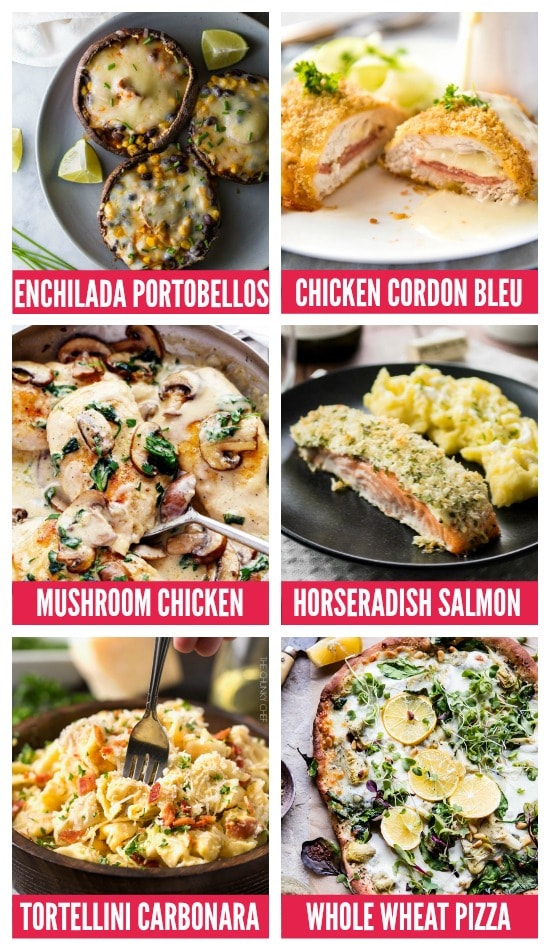 49. Enchilada Portobellos (Sweet Peas and Safron) – Vegetarians, listen up! This meatless miracle dish is sure to please even the pickiest of palettes and in such style.
50. Chicken Cordon Bleu (RecipeTin Eats) – Swish cheese, ham, and chicken – three of nature's most amazing ingredients – come together in this heavenly dish that's totally worth giving a go!
51. Mushroom Chicken (The Recipe Critic) – Is there anything more perfect than parmesan? We don't think so and this creamy, garlicky chicken takes that charming cheese to new heights!
52. Horseradish Salmon (Plated Cravings) – You haven't tried salmon like this before and you're missing out!
53. Tortellini Carbonara (The Chunky Chef) – Cheese loaded pasta meets everything good in the world with this hearty meal!
54. Whole Wheat Pizza (Half Baked Harvest) – Give ordinary pizza the boot in favor of this glammed up (and did we mention healthier?) version of a classic celebration treat!
Romantic Anniversary Dinner Sides
Be sure to round out that entree of yours with a few selections from this savory list! Dinner isn't complete without a few scrumptious side dishes. You've never seen veggies dressed up as nice as these before.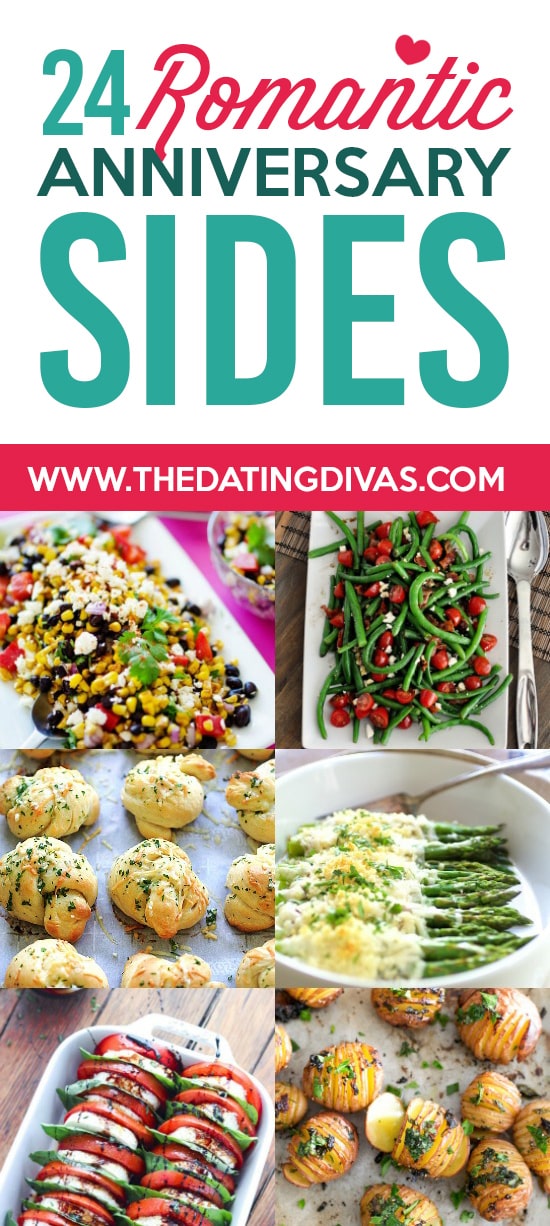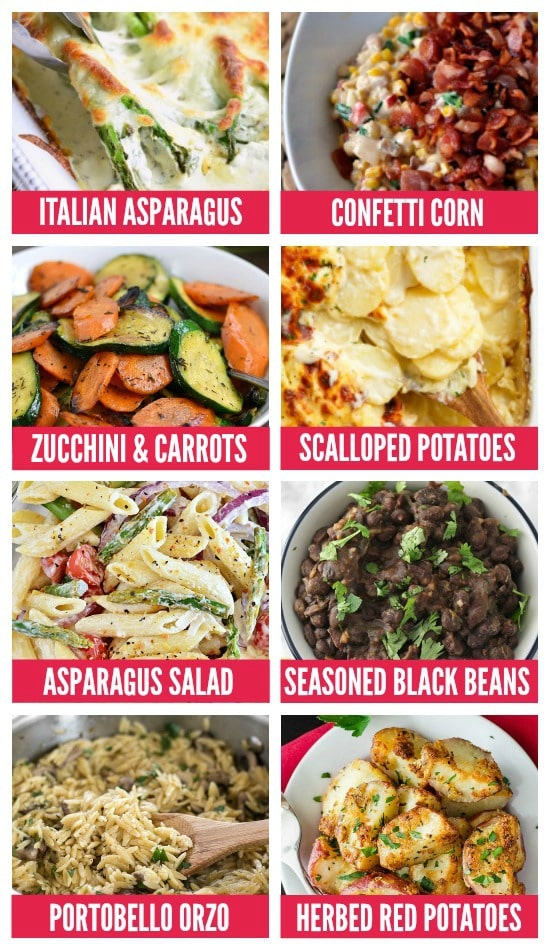 55. Italian Asparagus (Will Cook For Smiles) – When you're looking for something a little more glam than basic asparagus, this is where you'll want to come!
56. Confetti Corn (Mel's Kitchen Cafe) – There's nothing 'corny' about this side dish! Just a big dose of flavor and a whole lot of fun. 
57. Zucchini & Carrots (Cooking With Curls) – Wanting to stay on the healthier side of things? This sauteed side is exactly what you need!
58. Scalloped Potatoes (Cafe Delites) – Cheese-topped and practically perfect, we recommend pairing this one with a meaty entree.
59. Asparagus Salad (Tidy Mom) – With ingredients like Greek yogurt, red onion, and lemon, this pasta salad sounds scrum-diddly-umptious!~
60. Seasoned Black Beans (Honey and Birch) – Looking for the perfect dish to complement your Latin American flair? You've found it!
61. Portobello Orzo (Budget Bytes) – With just a handful of ingredients, this mushroom-spruced orzo can be enjoyed with just about anything!
62. Herbed Red Potatoes (Fresh April Flours) – We think red potatoes are just the bees knees and you will too after you try this roasted dish.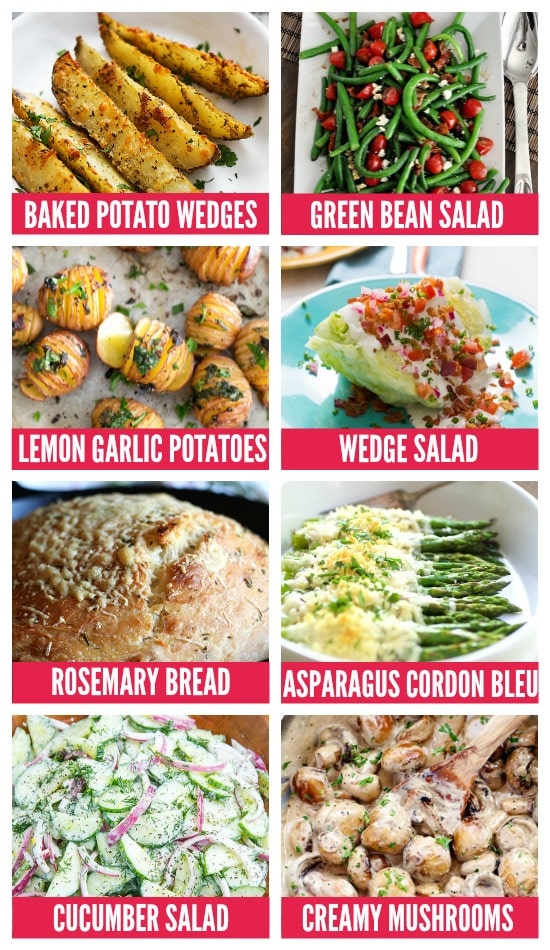 63. Baked Potato Wedges (Creme de la Crumb) – French fries are a thing of the past. Give these delicious (and healthier!) versions a go instead!
64. Green Bean Salad (Mel's Kitchen Cafe) – Getting those veggies has never been so much fun with this lip-smacking salad.
65. Lemon Garlic Potatoes (Crazy Vegan Kitchen) – Lemon keeps this dish tasting fabulously fresh while garlic adds a savory kick.
66. Wedge Salad (Serious Eats) – Surprise your sweetie with this glammed-up version of a salad that tastes so good, he'll be swooning.
67. Rosemary Bread (Handle The Heat) – Skillet meals are our fave, so skillet sides are an absolute must!
68. Asparagus Cordon Bleu (From a Chef's Kitchen) – Possessing all of the flavors of cordon bleu, and a healthy dose of veggies, this rich and creamy dish has us drooling.
69. Cucumber Salad (Closet Cooking) – Creamy, cool, and the perfect chilled salad, this side works especially well with a summer anniversary meal.
70. Creamy Mushrooms (The Recipe Critic) – You've never had mushrooms like this before and you're gonna love it!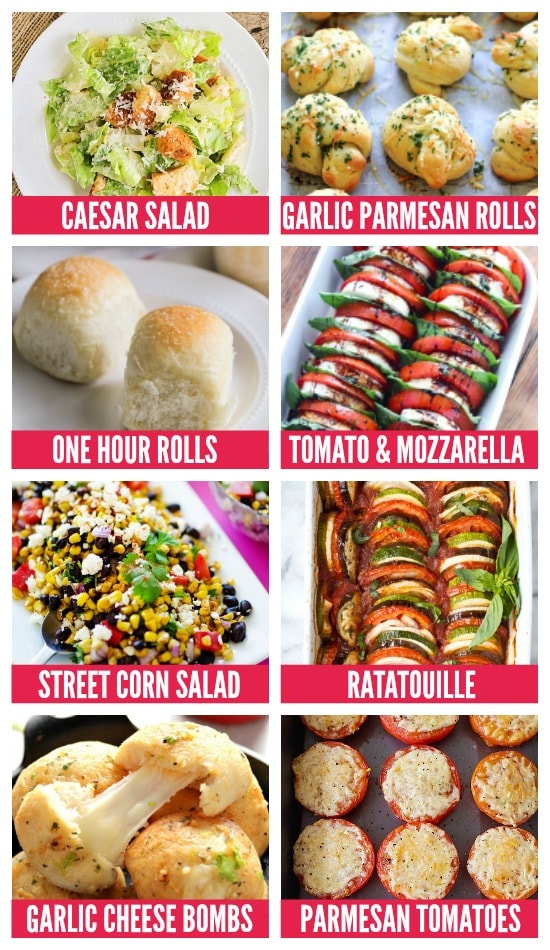 71. Caesar Salad (Lil' Luna) – A classic dish that's loved by all, this homemade caesar salad and accompanying croutons pair fantastically with beef.
72. Garlic Parmesan Rolls (Rasa Malaysia) – Spiced with garlic and loaded with parmesan, these heavenly dinner rolls go with practically anything!
73. One Hour Rolls (The Baker Upstairs) – The name says it all! You can't go wrong with this speedy side.
74. Tomato & Mozzarella (Little Broken) – Light and fresh, but heavy on taste, this balsamic-topped salad can be whipped up in no time flat!
75. Street Corn Salad (Live Eat Learn) – The perfect side for a Mexican feast, this corn salad is packed with flavor!
76. Ratatouille (A Clean Bake) – We all love the movie but have you ever sampled this tasty French dish? You're gonna want to!
77. Garlic Cheese Bombs (Crunchy Creamy Sweet) – Give dinner rolls an ooey-gooey makeover with this easy recipe that pairs perfectly with an Italian meal!
78. Parmesan Tomatoes (Rasa Malaysia) – Stuffed with parmesan and perfectly roasted, these tomatoes are as comforting as they are delish.
Romantic Anniversary Desserts
After all those delicious anniversary dinner ideas, we can't forget a mouth-watering dessert to end the night. Nothing says I love you better than a little something chocolatey, cream-filled, or just bursting with berries! We've got all these (and more!) to share with your sweet.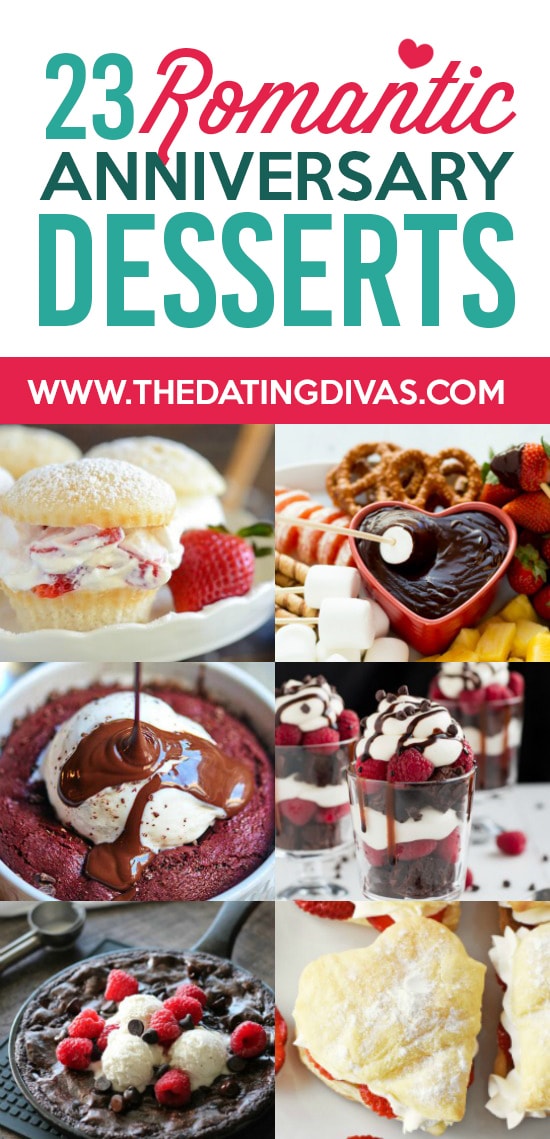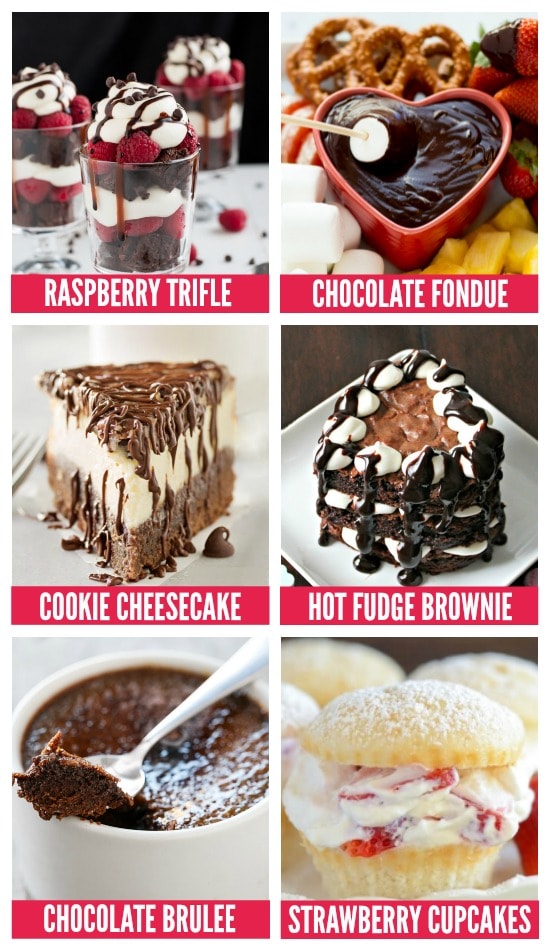 79. Raspberry Trifle (Garnish & Glaze) – We think dessert is always better layered and after trying this concoction, you'll think so too!
80. Chocolate Fondue (Fox and Briar) – Grab your favorite dippings and you've got yourself the epitome of romance in a dish.
81. Cookie Cheesecake (The Chunky Chef) – This brownie-bottomed cookie dough cheesecake is about as close to heaven as desserts come!
82. Hot Fudge Brownie (Life With The Crust Cut Off) – The only thing hotter than your honey is this fudgy treat!  
83. Chocolate Brûlée (Love & Olive Oil) – Crème Brûlée in chocolate form?! We are SO there!
84. Strawberries Cupcakes (The Novice Chef) – Chocolate-covered strawberries are so yesterday. Try these strawberries and cream cupcakes instead!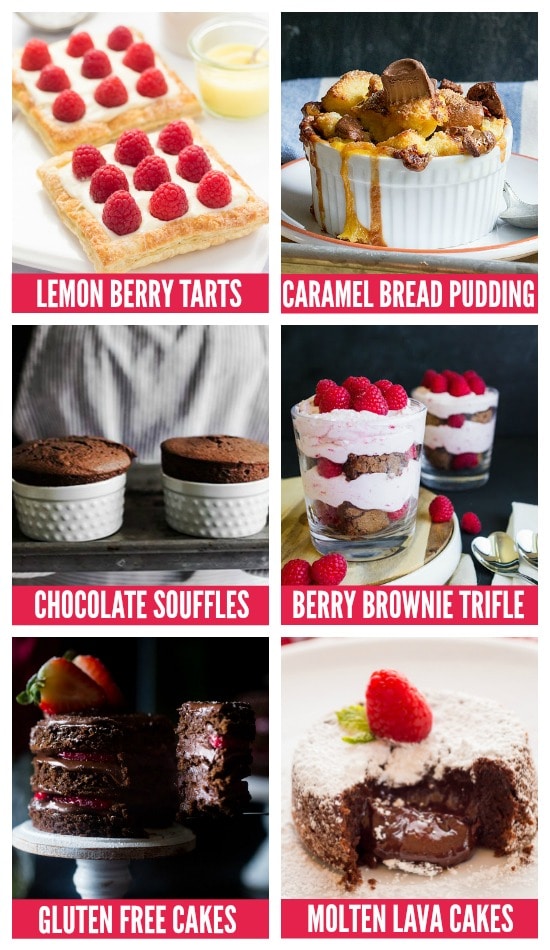 85. Lemon Berry Tarts (Cooking on the Front Burner) – Packed with citrus and berry flavors, these tarts are the perfect end to any meal.
86. Caramel Bread Pudding (Dessert for Two) – Creamy caramel, chocolate, and everyone's favorite grainy treat combine to form this warm and soothing dish that's best when shared.  
87. Chocolate Souffles (Handle the Heat) – French foodies especially will find these double-trouble souffles irresistible! 
88. Berry Brownie Trifles (Lolly Jane) – We're not lying when we say you and your sweetie will think this treat is 'berry' tasty! 
89. Gluten Free Cakes (Food Faith Fitness) – Gluten sensitive peeps will be especially fond of these chocolatey cakes! 
90. Molten Lava Cakes (Fox and Briar) – Let the romance (and the chocolate!) flow with these built-for-two lava cakes!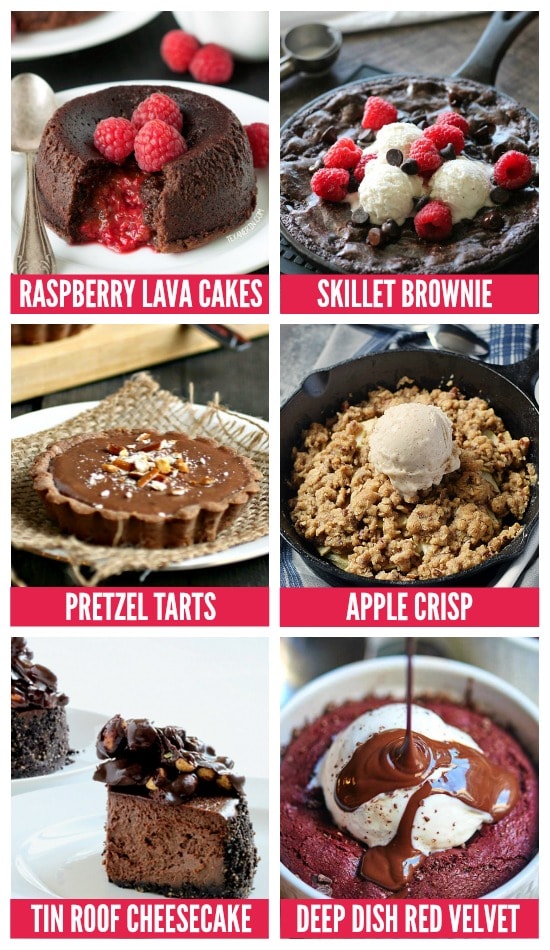 91. Raspberry Lava Cakes (Texanerin Baking) – Adding a touch of everyone's favorite berry takes these lava cakes from ordinary to amazing! 
92. Skillet Brownie (Dessert Now Dinner Later) – This skillet dessert not only tastes amazing but also incorporates a mix making it super speedy! 
93. Pretzel Tarts (Hungry Couple) – Peanut butter and chocolate—the only pair sweeter than the two of you. 
94. Apple Crisp (Cooking with Curls) – Fall celebrators will be cuckoo for this apple dish that's the perfect size for sharing. 
95. Tin Roof Cheesecake (Dessert for Two) – Plain cheesecake is for the everyday, while THIS cheesecake is for that special anniversary occasion. 
96. Deep Dish Red Velvet (Show Me The Yummy) – How deep is your love? Find out with this deep dish dessert!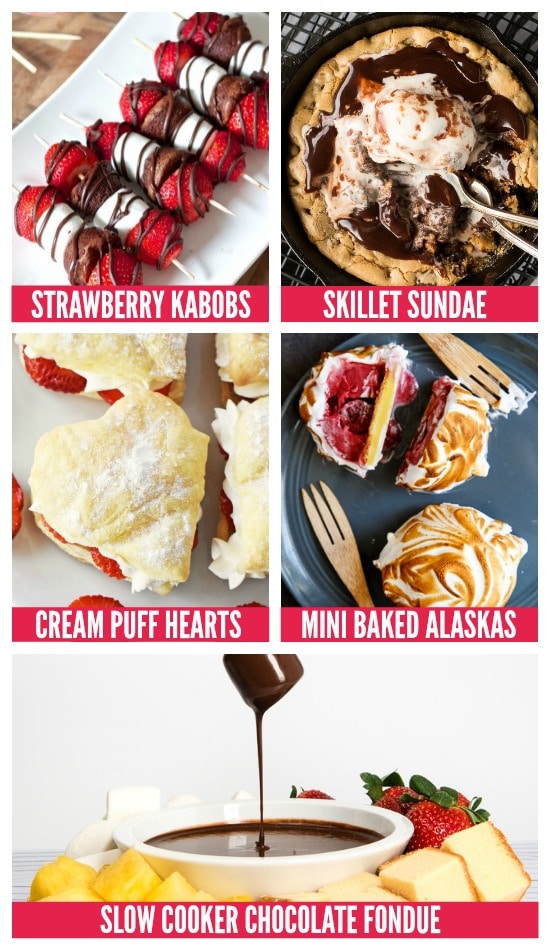 97. Strawberry Kabobs (Awesome Food Recipes) – Never has a dessert been so fun to prep! And it only gets more fun as you eat! Take turns feeding each other for bonus romance points.
98. Skillet Sundae (Fox and Briar) – We say blondies are better when you eat them together!
99. Cream Puff Hearts (Savvy Saving Couple) – Berries and cream are presented in a new and mouthwatering way with these darling puffs! 
100. Mini Baked Alaskas (Dessert for Two) – Essentially a sorbet-filled cake topped with meringue, these baby versions of a classic dessert will end the meal in style. 
101. Slow Cooker Chocolate Fondue (Everyday Good Thinking) – Do you fondue? If not, you need to and this recipe will help you every step of the way. 
Boy, oh boy, are we stuffed already! With all of these delicious anniversary dinner ideas, you are sure to find something to hit the spot. Here's wishing you and your sweetheart a Happy Anniversary and another joy-filled year together! 

For even more great anniversary ideas be sure and check out Anniversary Gift Ideas, Anniversary: Intimate Moments, and our Anniversary Gifts By Year posts!