Anniversary Gift Ideas for Your Spouse
Once a year we get to celebrate the day we promised to love our best friend forever!  This day can be as special or as meaningful as you would like to make it.  Time and time again we have had our fabulous readers emailing us asking for ideas for their anniversary. We were excited to put together this fun list of ideas to inspire your anniversary gift giving! We have included several different categories to make sure you find something perfect for your husband or your wife! Let's get to it!

Disclaimer: This post contains affiliate links. To learn more about 'em, click here.
We have SO many resources for you to have the perfect anniversary. After you find the perfect gift from this guide, make sure you check out Anniversary: In The Kitchen, Anniversary: Intimate Moments, and our Anniversary Gifts By Year post! This post is the perfect place to get your gift-giving juices flowing! We have compiled gifts by category so that you can find the perfect fit for your sweetheart.
18 Anniversary Gift Ideas for Her

18 Anniversary Gift Ideas for Him

20 Anniversary Gift Ideas for Him or Her

18 DIY Anniversary Gifts

17 Anniversary Gifts to Do Together

10 Non-Physical Anniversary Gifts
With so many options to choose from you're sure to find something perfect to celebrate your anniversary!
18 Anniversary Gift Ideas for Her
Your wife does so much for you. You want to get her something that makes her feel special, pampered, and excited! We have compiled ideas that are simple, sweet, thoughtful, and unique.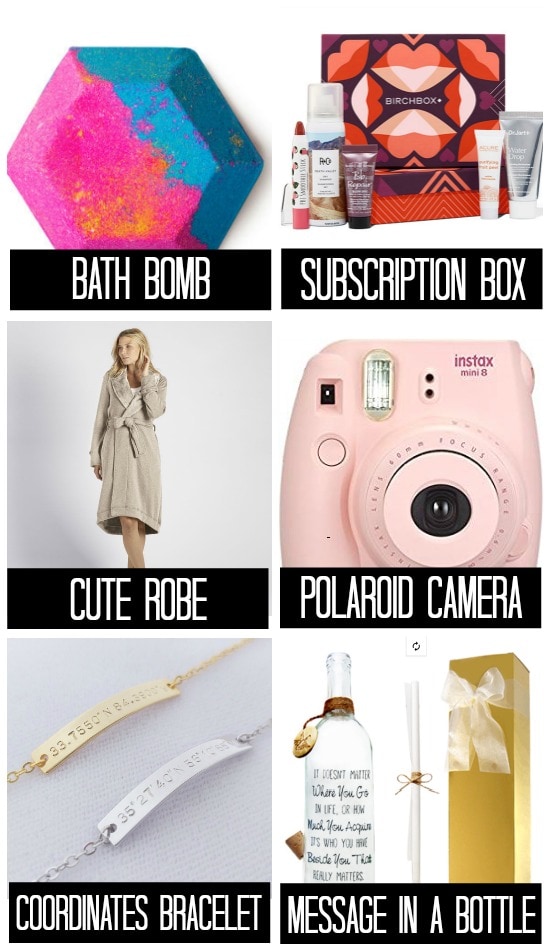 1. Bath Bomb (Lush) – There is nothing more luxurious and relaxing than the gift of a warm bath paired with a bath bomb!… She may even let you join her!

2. Subscription Box (Birchbox) – Keep the gifts coming! With this subscription box, she will get amazing new surprises every month!

3. Cute Robe (UGG) – Give her a cute and cozy new robe to snuggle up to each other in!

4. Polaroid Camera (Amazon) – Capture new memories together in the years to come with a fun Polaroid camera.

5. Coordinates Bracelet (QQ47 Jewelry) – Remember your special day by wearing this adorable bracelet engraved with the coordinates of your wedding location!

6. Message in a Bottle (Message in a Bottle) – Does your sweetheart love romantic gestures? This is as memorable and romantic as it gets!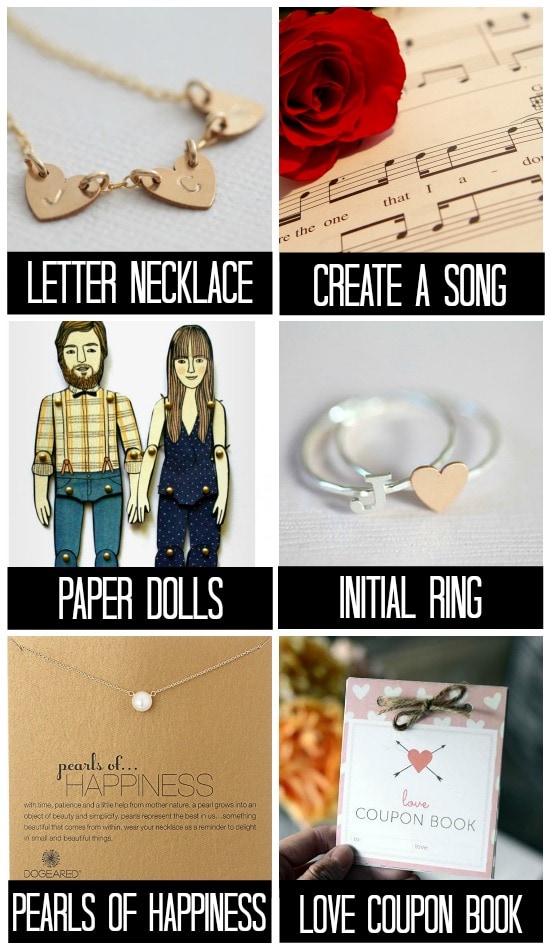 7. Letter Necklace (Moncadeau) – If your wife loves dainty, meaningful jewelry this is the perfect gift! This is my all-time favorite necklace!

8. Create a Song (CustomSong) – Your wife will love to have her very own song! The best part is, you don't have to be a songwriter to give her this amazing gift.

9. Paper Dolls (Jordan Grace Owens) – Paper dolls were a favorite of most girls while growing up. Your wife will love this personalized, updated version!

10. Initial Ring (Moncadeau) – Put your initial on this ring and she will always look down and think of you.

11. Pearls of Happiness (Amazon) – Pearls are created in a long process that results in a beautiful outcome. Give her this pearl necklace and let her know how beautiful she is to you.

12. Love Coupon Book (FTD Fresh) – Surprise her with a book full of thoughtful coupons. It will mean so much to her that you planned so many special surprises!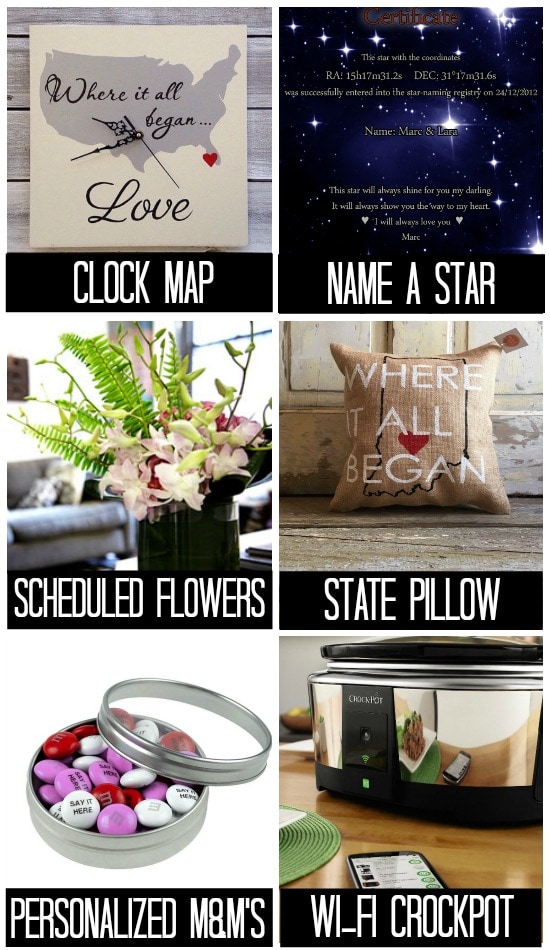 13. Clock Map (I Decor 4 You) – This clock is just about as cute as it gets. Have the location you met or married customized on the clock map!

14. Name a Star (Star Registration) – What's more romantic than giving her a star that you have named after her?

15. Scheduled Flowers (H.Bloom) – Women love receiving flowers! This idea is genius! Subscribe for her to receive a beautifully designed bouquet weekly, bi-weekly or monthly!

16. State Pillow (Two Peaches Design) – She will love having this adorable pillow to display. Every time she sees it, it will remind her of you!

17. Personalized M&M's (My M&Ms ) – If your wife is a chocolate lover, this is by far the SWEETest anniversary gift you could give!

18. Wi-Fi Crockpot (Amazon) – If your wife is an amazing cook, give her a sweet note about how much you love her meals AND get her this new amazing gadget for the kitchen!

18 Anniversary Gift Ideas for Him
Men can be so hard to shop for. It's just the truth. You want to get them something they will actually like and use, but you don't want to get too cutesy and loose their interest. We have rounded up so many ideas for him, you are sure to find something that will catch his eye and be the perfect complement to your anniversary celebrations!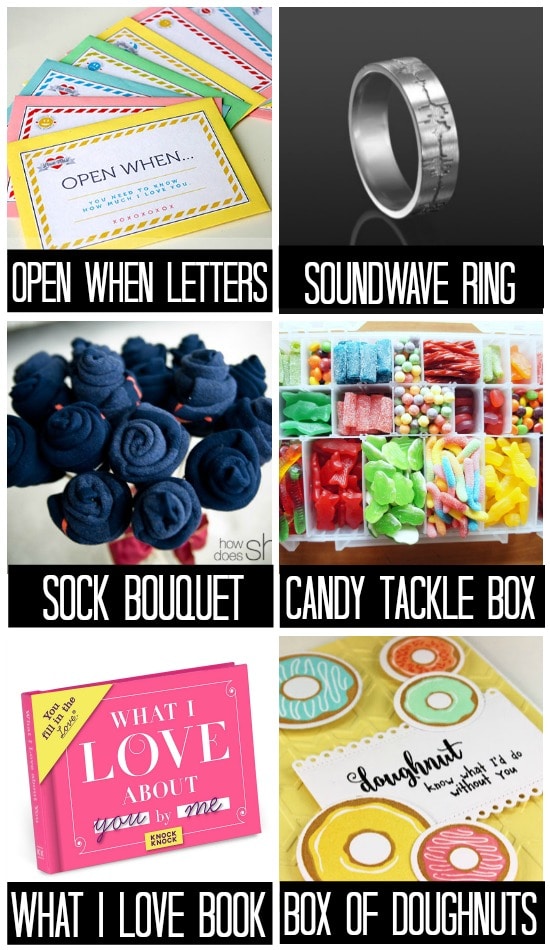 19. Open When Letters (The Dating Divas) – Give him a variety of envelopes that he will open at different designated times. He will feel the love for a long time to come!

20. Soundwave Ring (Soundwave Jewellry) – This ring is as unique and sentimental as it gets. Record your voice and put the recording onto jewelry!

21. Sock Bouquet (How Does She) – Does your guy need practical things, like socks? Dress them up as a bouquet for a funny, yet useful gift!

22. Candy Tackle Box (Slice of Southern Pie) – Give your man a sweet treat and let him know, "You're a good catch," or "I'm hooked on you!"

23. What I Love Book (Amazon) – Fill out each page of this tiny book and make sure he knows what you love about him!

24. Box of Doughnuts (A Kept Life) – Tell your man "doughnut know what I'd do without you" in the most fun and delicious way possible—a box of doughnuts!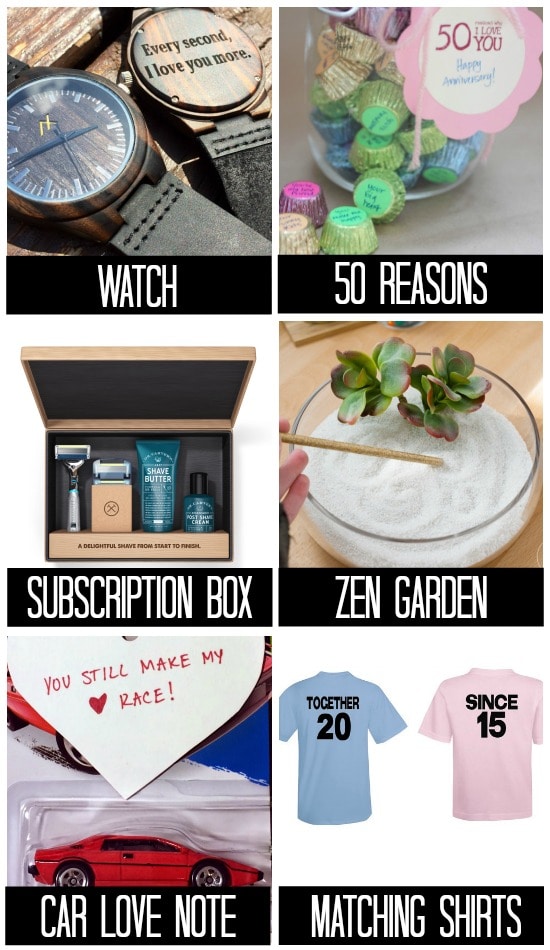 25. Watch (axMen) – Let him know how much your "time" together has meant to you!

26. 50 Reasons (The Dating Divas) – Gift him a sweet treat and 50 reasons why you love him!

27. Subscription Box (Dollar Shave Club) – Give him a gift that helps him feel his best and is new and exciting each month!

28. Zen Garden (Dwell Beautiful) – If your husband spends most of his time working, give him a gift that will remind him of you throughout the day and relieve some of his stress.

29. Car Love Note (The Hofreiters ) – A sweet and inexpensive gift for your guy. This site has several other easy love notes to add to small gifts!

30. Matching Shirts (You Had Me at Ink) – If you're looking for a funny, but cute idea, get him a t-shirt to match you!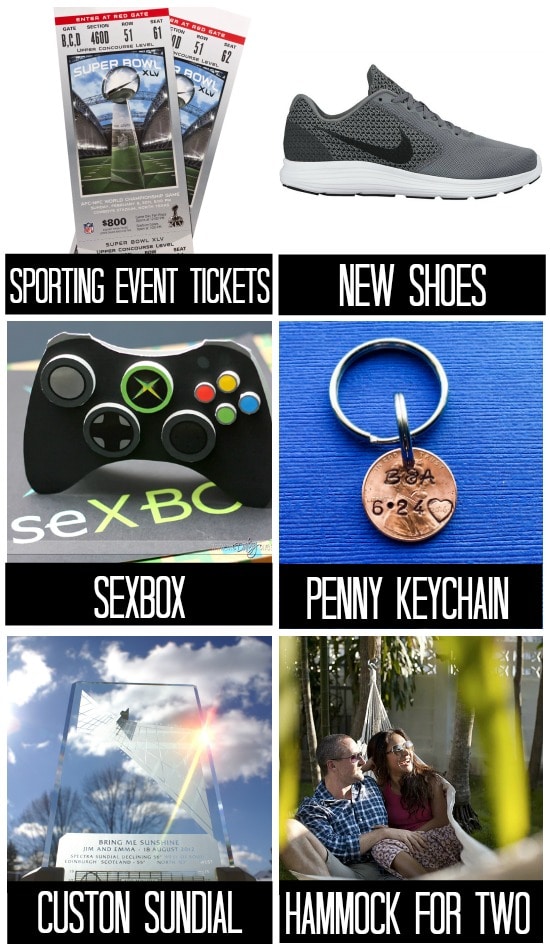 31. Sporting Event Tickets (Ticketmaster) – Gift him tickets to go together to see his favorite team play!

32. New Shoes (Amazon) – Write him a note to tell him you've loved him since the moment he "walked" into your life, or that he's been "running" through your mind ever since the first time you met!

33. seXBOX (The Dating Divas) – Turn up the heat and give him a gift he will remember for years to come!

34. Penny Key Chain (Pickity Pick) – Give him this personalized keychain and every time he glances at his keys he will think of you!

35. Custom Sundial (Artisan Sundials) – This is an indoor rainbow sundial that is not only functional, but you can also have a custom date and message added!

36. Hammock for Two (Amazon) – Hammocks are such a fun and relaxing gift. Make it a hammock for two and it's the perfect romantic gift for him!

20 Anniversary Gift Ideas for Him or Her
These ideas are perfect for your husband OR for your wife! Each idea is a cute way to say happy anniversary that he OR she is sure to love!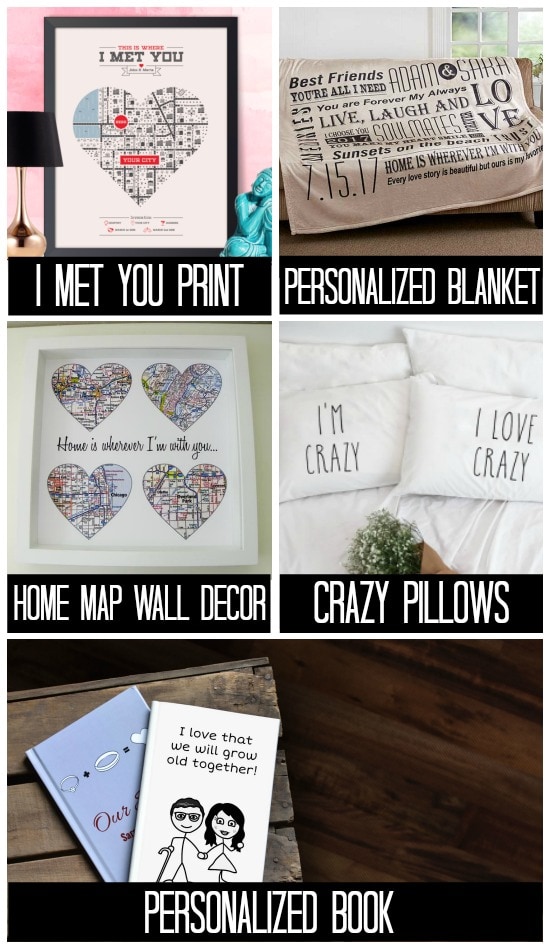 37. I Met You Print (Lovecation) – This map can be made into a wall hanging or a pillow. It is a unique way to display where your love began!

38. Personalized Blanket (Personalization Mall) – Create a personalized blanket and snuggle up together to enjoy!

39. Home Map Wall Decor (Define Design 11) – Personalize this wall hanging with map hearts of all of the places you have lived together!

40. Crazy Pillows (Creative Pillow LV) – These pillows are the perfect addition to your bed! There are tons of couples pillow cases to choose from!

41. Personalized Book (Love Book) – Personalize a book of your love story. You and your kids will love looking through the pages!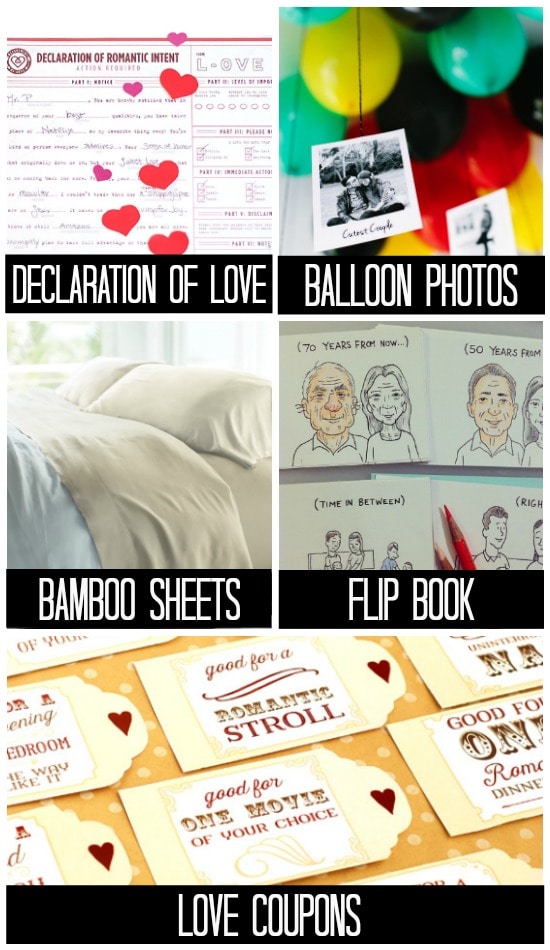 42. Declaration of Love (The Dating Divas) – Let your spouse know just how much you love them in the most official (and silly) way possible!

43. Balloon Photos (Studio DIY) – Tie photos to balloon strings with little notes and comments on each. This is such a fun anniversary surprise to come home to!

44. Bamboo Sheets (Cariloha Bamboo) – Better sleep may be the best thing you can do for your relationship and for your nighttime cuddle routine. These glorious, super soft sheets should do the trick!

45. Flip Book (The Flippist) – Have your own flip book made telling your love story or reflecting on your year together!

46. Love Coupons (The Dating Divas) – Coupons are a fun and easy way to give your spouse a gift they can use all year!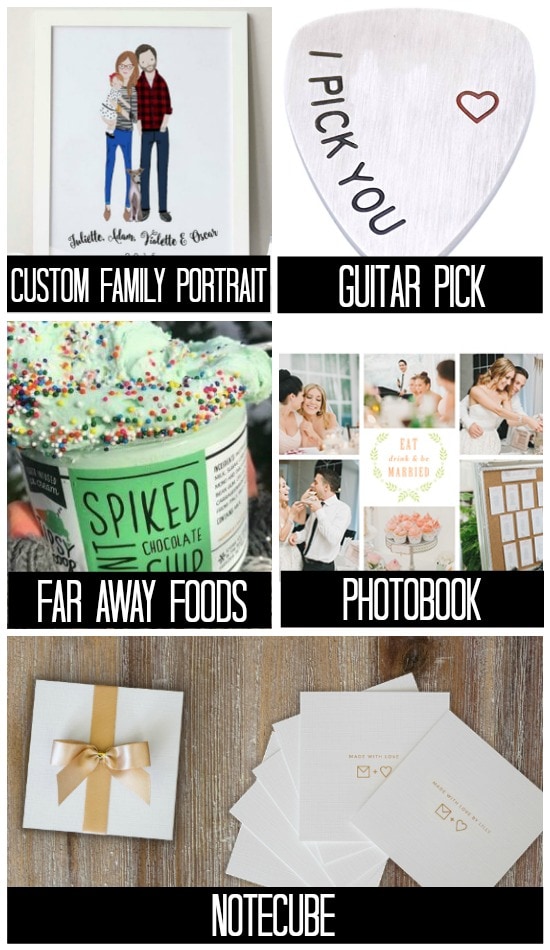 47. Custom Family Portrait (No Fuss Printable) – Have a sweet, custom portrait of your family created!

48. Guitar Pick (Amazon) – This is the perfect anniversary gift for the music lover in your life!

49. Far Away Foods (Goldbely) – If your spouse is a major foodie, you NEED to check out this site. They will bring popular food favorites from around the country right to your door!

50. Photobook (Shutterfly) – Fill a photo book with images from the past year or from your wedding.

51. Notecube (NoteCube) – This site will print beautiful notes from just you, or whoever else you give the link to. They then combine them all into an adorable little box as a keepsake.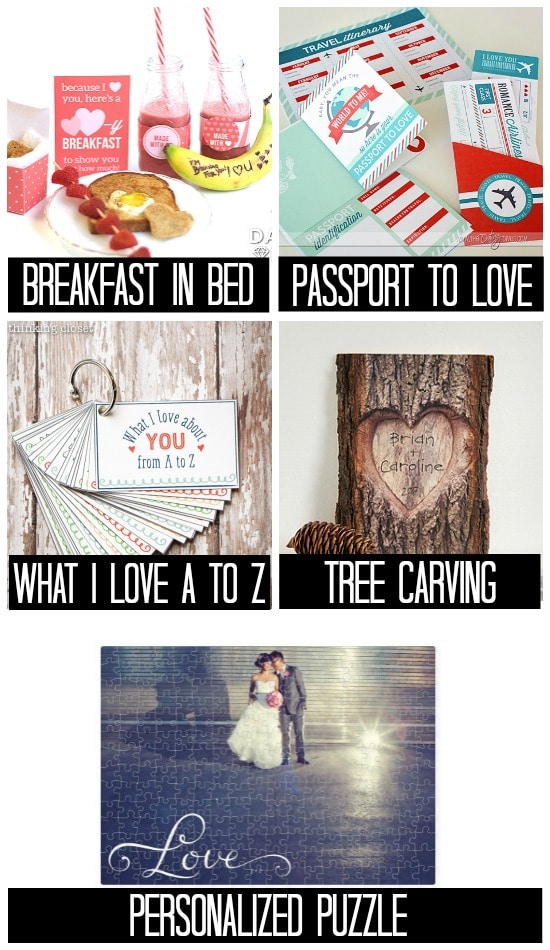 52. Breakfast in Bed (The Dating Divas) – Serving your sweetie a heart-themed breakfast in bed is always a great way to kick off your anniversary!

53. Passport to Love (The Dating Divas) – If you don't have the money to have a big anniversary trip, this is definitely the next best thing! Each month have a date themed around a new exciting place!

54. What I Love A to Z (The Thinking Closet) – So cute and so simple. Print off the cards and fill out what you love about your spouse starting with A and ending with Z!

55. Tree Carving (Personalization Mall) – Personalize your own tree initial carvings for a cute and unique gift!

56. Personalized Puzzle (Shutterfly) – A puzzle is a cute and unique way to display a favorite photo, or give your honey a sweet anniversary message that they have to piece together!

18 DIY Anniversary Gifts
An anniversary is the perfect time to get out your crafting supplies and get to work! Not only are these ideas crazy cute, but they will also mean so much more knowing that you put in the time to make them!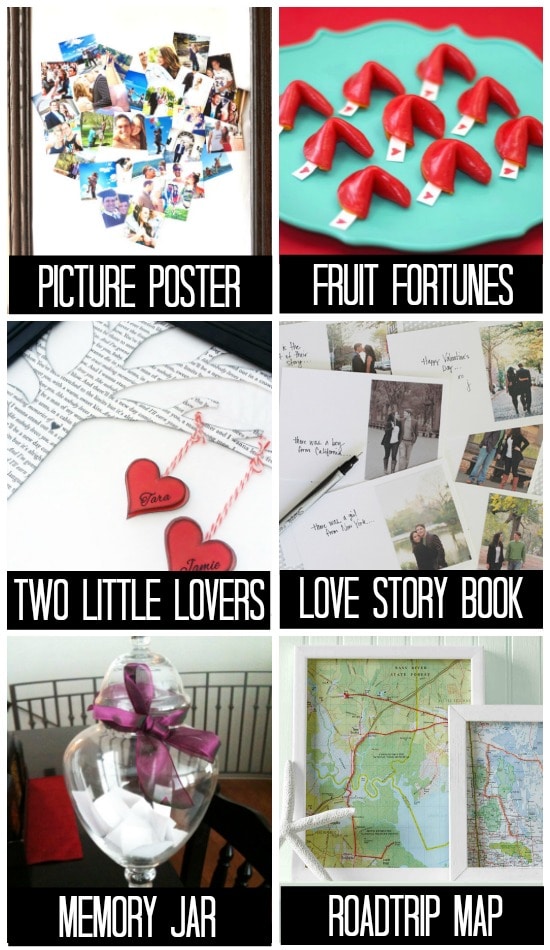 57. Picture Poster (The Dating Divas) – This DIY wall hanging heart poster is the perfect way to display all of your memories together throughout the years!

58. Fruit Fortunes (She Knows) – Insert cute or sassy notes into these fortune roll-ups as a unique and fresh anniversary gift/treat! OR if your spouse loves chocolate, modify our Valentine's Fortune Cookie Countdown to fit your anniversary celebration!

59. Two Little Lovers Picture (The Dating Divas) – This is the cutest DIY wall decor, perfect for an anniversary gift. Just grab your supplies and follow this guide!

60. Love Story Book (Wedding Chicks) – Create a tiny book filled with pictures and your love story. This is such a sweet and sentimental gift!

61. Memory Jar (The Dating Divas) – Reminiscing on old memories is the best way to celebrate your anniversary and reconnect with your sweetie.

62. Roadtrip Map (Martha Stewart) – Map out one of your favorite trips you took together using this easy and cute tutorial.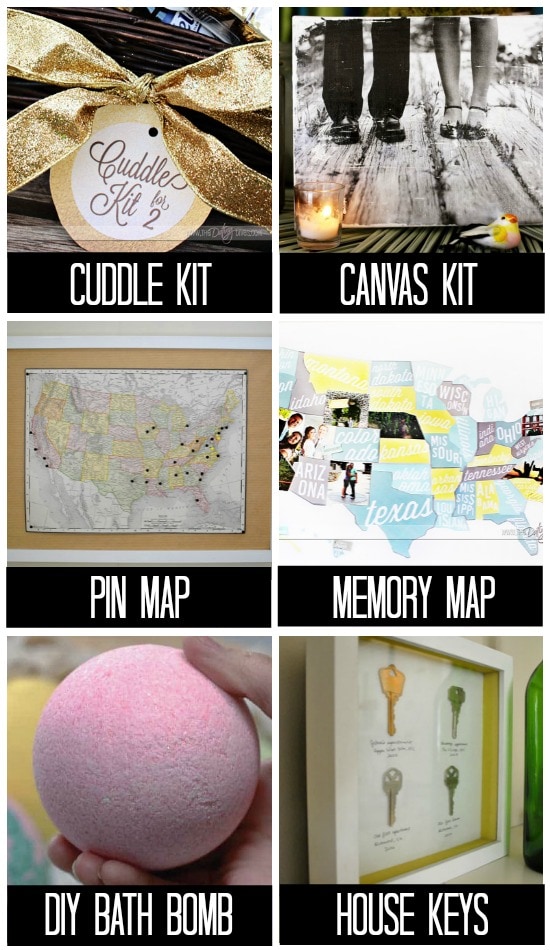 63. Cuddle Kit (The Dating Divas) – Make a cuddle kit for the two of you to get cozy together and enjoy your anniversary!

64. Canvas Photo (A Beautiful Mess) – Make your own Canvas wall hanging using your own photo!

65. Pin Map (Young House Love) – Place pins on all of the places you have been and on all of the places you want to go together!

66. Memory Map (The Dating Divas) – This map is so cute and so easy to put together. You will love adding your own photos as you and your spouse travel together!

67. DIY Bath Bomb (DIY Projects) – Bath bombs are so much fun, so try making your own for a luxurious anniversary bath together!

68. House Keys (Young House Love) – Collect keys from all of the homes you have lived in together. An adorable and sentimental piece of decor!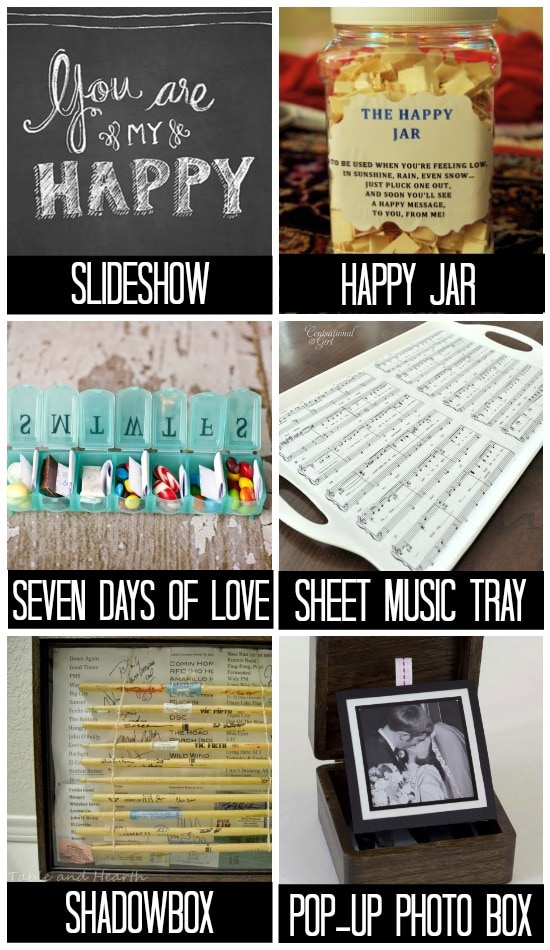 69. Slideshow (Smilebox) – Create a slideshow filled with your favorite memories. Using their templates, designs, and songs makes for an easy project!

70. Happy Jar (Our Army Life) – Fill a jar with happy thoughts and love notes for your spouse to pick out whenever they need a little pick-me-up!

71. Seven Days of Love (The Dating Divas) – Give him a pill box with different treats and love notes! This is just what the doctor ordered!

72. Sheet Music Tray (Centsational Girl) – Use this guide to make your own decoupage serving tray out of sheet music from a song that is special to both of you!

73. Shadowbox (Table + Hearth) – Gather up all of your ticket stubs and other items that remind you of your favorite memories together and combine them into a shadowbox!

74. Pop-Up Photo Box (The DIY Village) – This project is simple and so sweet! Use your favorite photos to create a little box with so many memories inside.
 
17 Anniversary Gifts to Do Together
Anniversaries are all about celebrating the years you have spent together. Why not get a gift that you can do together? Each of these gifts are fun ways to spend time together and connect.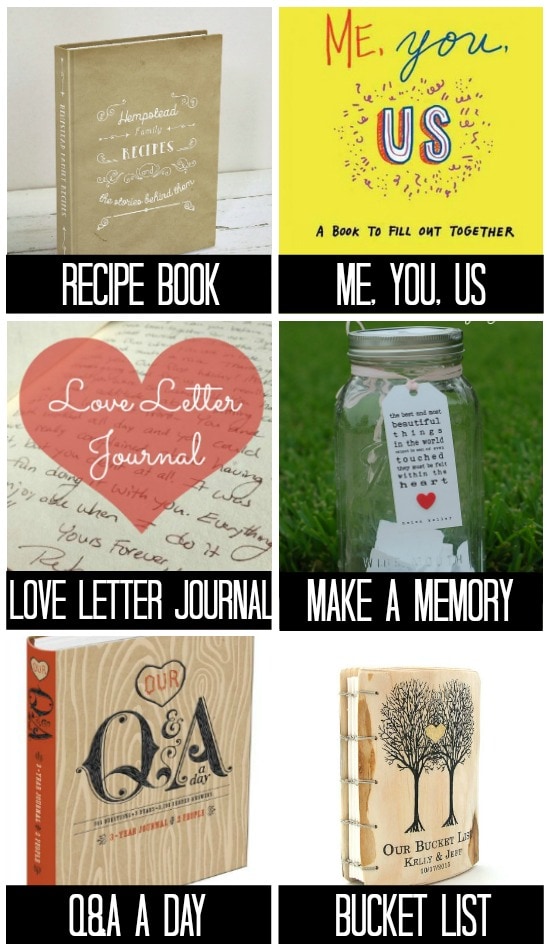 75. Recipe Book (Old Ways Fuss N Feathers) – Do you and your spouse love to cook? Fill this book with the recipes you love–add a little story to make this recipe book even more special.

76. Me, You, Us (Amazon) – This is a fun activity book to fill out together. It will also be so fun to look back on after it's completed!

77. Love Letter Journal (Simply Rebekah) – The perfect anniversary gift is one that keeps your love alive and growing. Give a love letter journal that you and your sweetie pass back and forth writing sweet love notes to each other!

78. Make a Memory Jar (Five Birds on Parade) – Make a simple memory jar and fill it together with your favorite memories throughout the year.

79. Q&A a Day (Amazon) – Answer one question together every day and create an amazing journal together!

80. Bucket List (Kat Deco) – Look forward to the future together by creating a bucket list with plans for the years to come!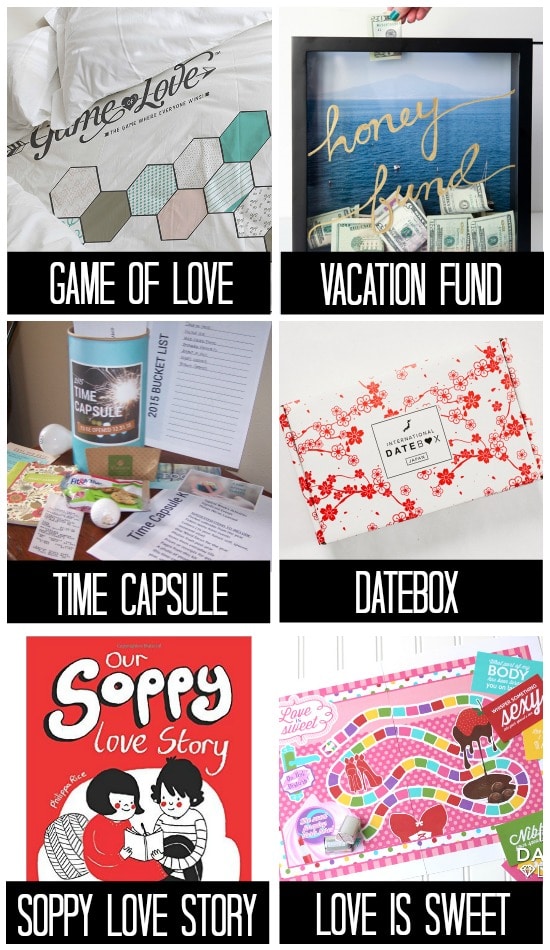 81. Game of Love (Game of Love) – This bedroom game is so fun and customizable. You will have so much fun playing together on your anniversary… and many times after that!

82. Vacation Fund (Something Turquoise) – Your honeymoon may be long gone, but you can start saving together for your next adventure!

83. Time Capsule (Simply One) – Make an anniversary time capsule as a way to reflect on the year and more fully enjoy the next!

84. Datebox (Datebox) – Get a subscription box that comes right to your door each month with a fully prepared date with supplies and everything else you need for a fun date night!

85. Soppy Love Story (Amazon) – This interactive journal is both funny and meaningful.

86. Love is Sweet (The Dating Divas) – Celebrate your anniversary with this fun, intimate game for the bedroom!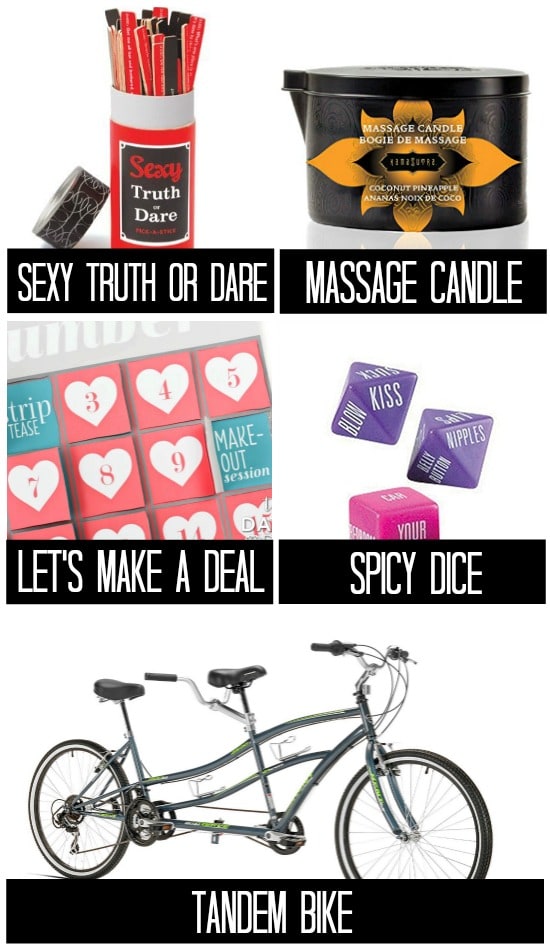 87. Sexy Truth or Dare (Amazon) – Sexy Truth or Dare is the perfect anniversary gift to spice things up and have a little fun!

88. Massage Candle (Amazon) – This Kama Sutra candle melts into a sexy massage oil. Talk about setting the mood!

89. Let's Make a Deal: A Bedroom Game (The Dating Divas) – Add a fun bedroom game to your anniversary celebrations!

90. Spicy Dice (Amazon) – This simple but fun game will spice up your anniversary celebrations in a hurry!

91. Tandem Bike (Amazon) – You're riding through life together, why not ride through the neighborhood together too?!

10 Non-Physical Anniversary Gifts
One of our favorite anniversary traditions is to take the money we would have spent on a physical gift, and use it to experience something new together! Take your love by the hand, go out and remember why you fell in love years ago!
Check out Groupon.com for some deals on the great ideas below in your area!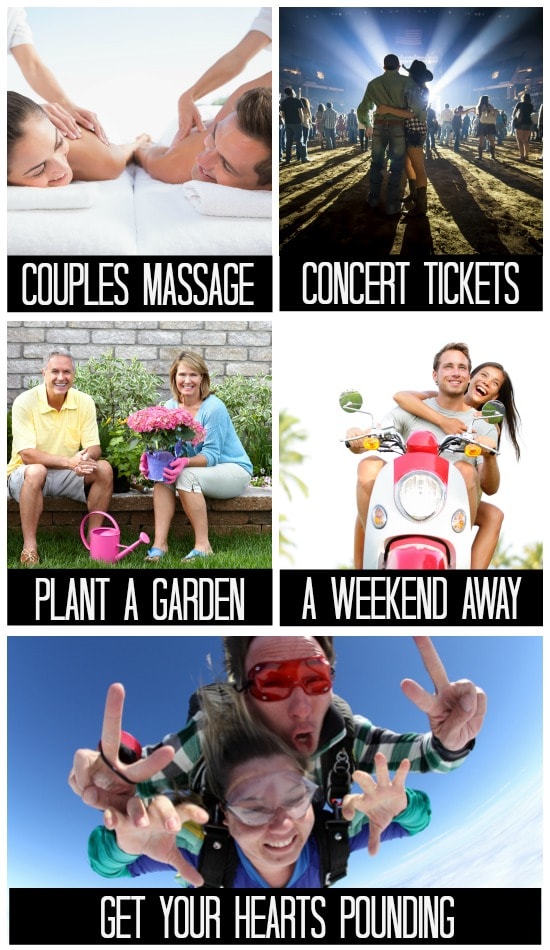 92. Couples Massage – Rather than spending money on a gift, put that money toward an afternoon of sweet relaxation.

93. Concert Tickets – Find a nearby concert or event and get tickets for a fun night out!

94. Plant a Garden – Planting a garden is a fun way to spend time together growing a garden that you will both get to enjoy for years to come!

95. A Weekend Away – Take off for the weekend! Whether it's a luxury vacation or a simple road trip, you will never regret spending that quality time together! Use our Getaway Checklist to plan a romantic trip without forgetting to do a thing!
96. Get Your Hearts Pounding – Celebrate with a rush of adrenaline! Go skydiving, bungee jumping, zip lining, skinny dipping, or do something else that gets your heart pounding!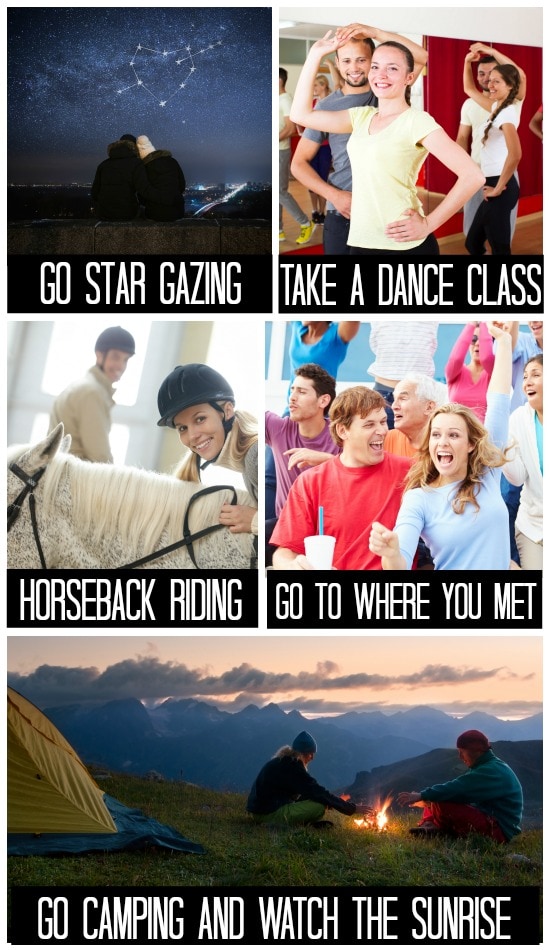 97. Go Star Gazing (The Dating Divas) – A romantic night cuddling and staring up at the stars is the perfect way to spend your anniversary.

98. Take a Dance Class – Get out of your comfort zone and try something new! A dance class is a fun way to get close and practice a new hobby together!

99. Go Horseback Riding – Ride off into the sunset together! This is romance at it's finest! Plus, you can add some fun to it by getting all the details on how Amanda put together our She's All Country date!

100. Go Back to the Place You First Met – To reignite the spark and bring back a flood of memories, plan a date to go back to the place you first met or to Recreate Your First Date!

101. Go Camping and Watch the Sunrise – Camping is a meaningful, but inexpensive way to get away as just the two of you. Waking up early to watch the sunrise is always a good idea! If you're camping don't forget to Build S'mores and check out all of our Camping Tips and Camping Ideas to help you prep before you leave!
We've got one more sexy gift idea to use as a steamy bedroom surprise-
This steamy bedroom idea is a quick and easy way to pull together a sexy gift to let your sweetie they are loved and WANTED! Check out the post here!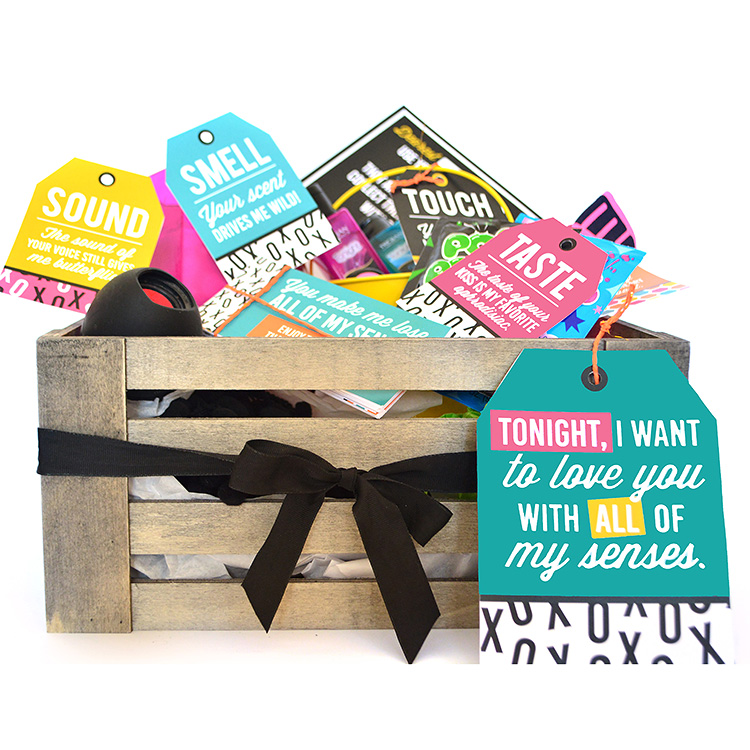 Anniversaries get our hearts fluttering! We have so many ideas to inspire you and make your own anniversary perfect. If you love traditional Anniversary Gifts By Year, we have all of the ideas you could ever need. Also, check out our Anniversary: In The Kitchen, and our Anniversary: Intimate Moments post for even more ideas!