100 of the Best DIY Gifts for Men
Ok, so is it just me, or are the men in our lives REALLY hard to find gifts for? I can find hundreds of gift idea/tutorials for the women in my life; older women, my mama-woman, little women, all of them! But to find something good for men, now there's a different story! Are you in the same boat? If so you will be SO GLAD that you checked our blog today! We've gathered 33 of the best DIY gifts for men out there! So sit back, SCROLLAX (my new word for relaxing while scrolling, haha), and find that perfect gift for the men in your life. You're welcome. 🙂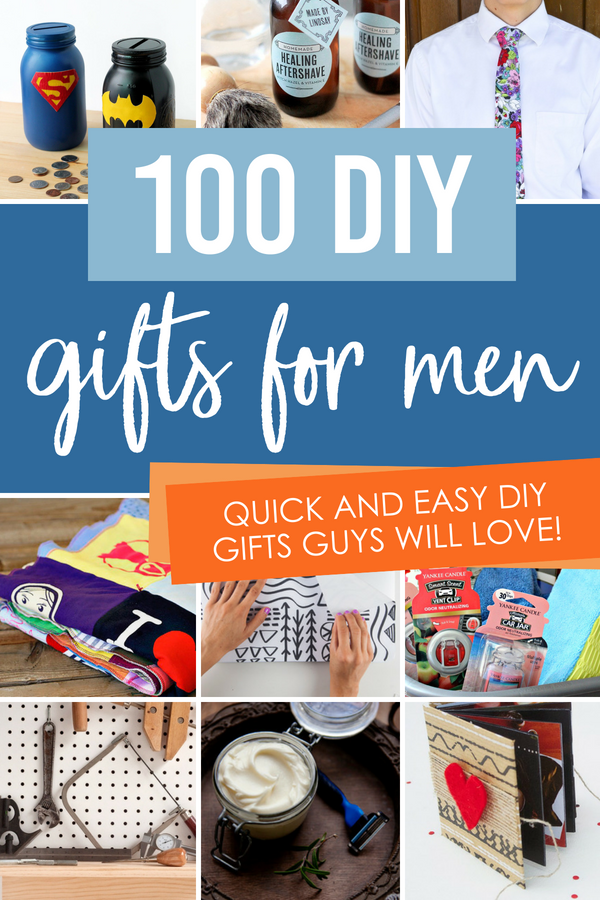 Since we're talking about gifts – we have one for you real quick! We have a fun set of ebooks for sale in our store, and we think you'll love them. You can get ALL FOUR today! Click here to get the details and purchase now.
To make your DIY gift giving even easier, we've divided our list of DIY Gifts for men into the following 4 categories:
Ready to take a look at the goods? Let's go!
DIY Birthday Gifts for Men
Throw the confetti and cut the cake! Your guy's birthday is about to get SO much better!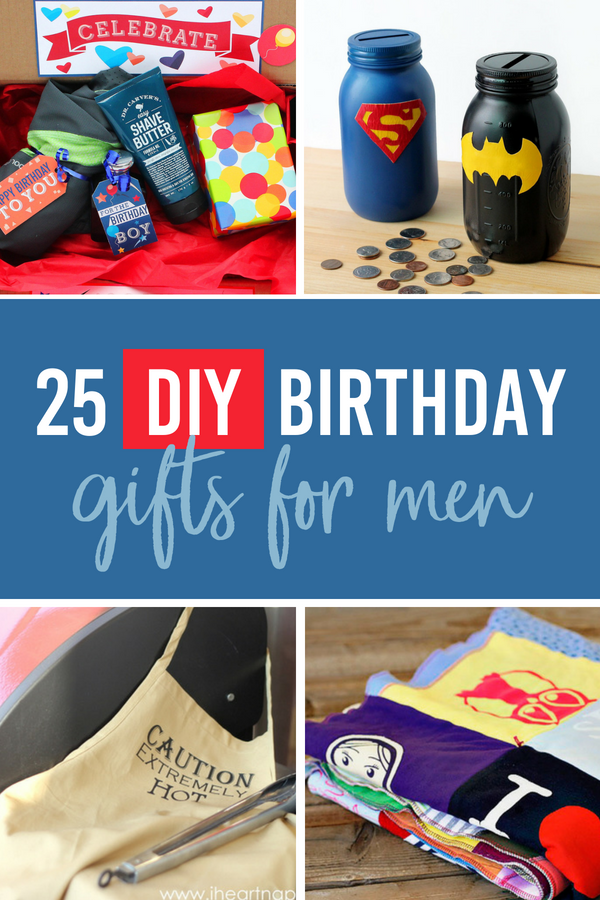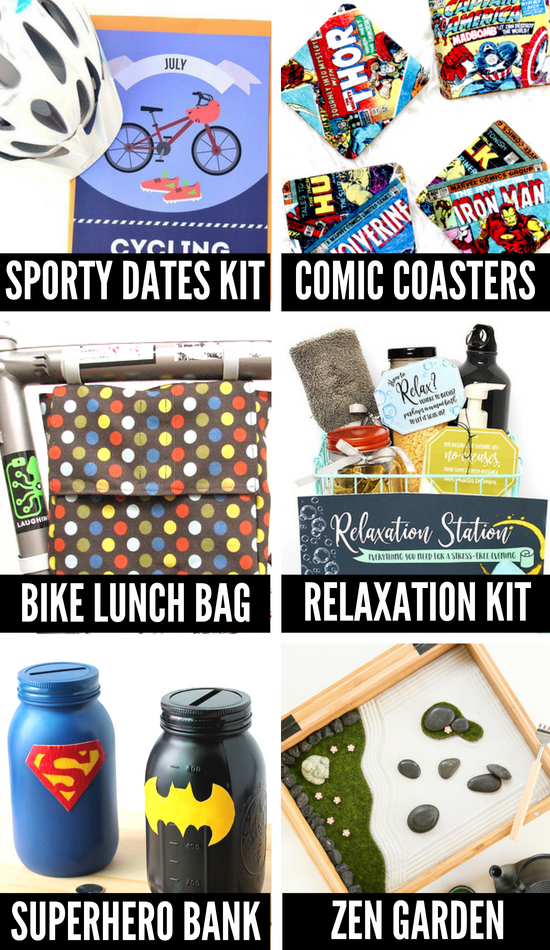 1. Sporty Dates Kit (The Dating Divas) – This set of gifts for men will have you sporting it up all year long!
2. Comic Book Coasters (Ann Marie John) – Have a comic book fan in your life? These comic book coasters are sure to be a hit with that crowd. They're not only awesome in the super-hero category, but an awesome vintage-looking item as well!
3. Bike Lunch Bag (Evil Mad Scientist) – If your husband bikes to work, or even just loves to ride, this is the gift for him!
4. Relaxation Kit (The Dating Divas) – Help him unwind with a basket of relaxing DIY gift ideas- perfect if he's feeling a bit frazzled.
5. Superhero Bank (Fireflies + Mudpies) – Have you ever seen DIY gifts that are more fun than these?!
6. Zen Garden (Thirsty for Tea) – Have an office man in your life? I think this is the coolest gift for the guy that has to sit at a desk all day.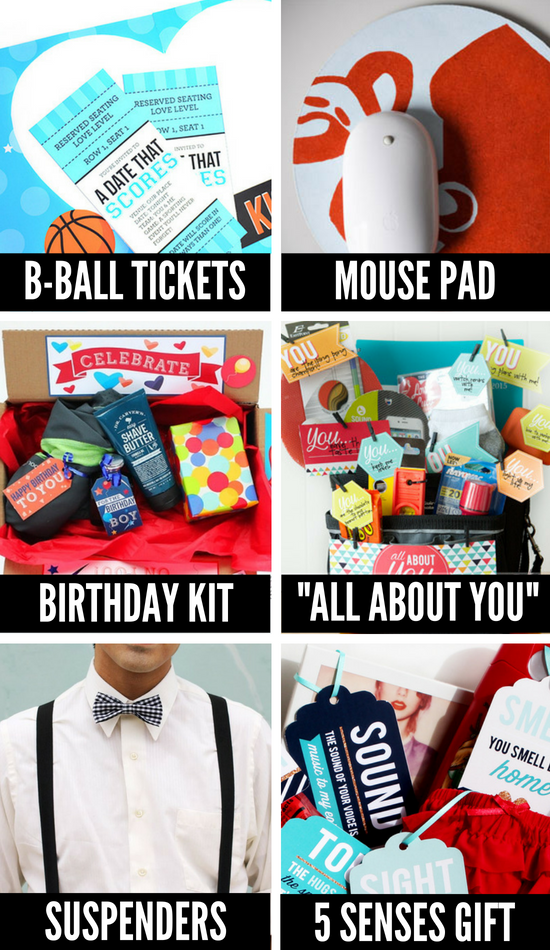 7. Make Your Own Tickets & Basketball Date (The Dating Divas) – A gift by diva Shanelle. She found an AWESOME way where you can make your own tickets! The possibilities with this idea are endless! She did basketball tickets to invite her spouse to their date, but you could almost make them for anything!
8. Mouse Pad by (Design Sponge) – This is such a fun idea from Design Sponge. They show how to handpaint a mouse pad using any design you want! I was thinking it would be fun to customize for the men in our lives, like an, 'I Love You' or 'World's Best Grandpa'  – things like that. Even just a simple heart or your kids' handprint would be cute!
9. Birthday Kit (The Dating Divas) – The ultimate kit of DIY birthday gifts, this idea will make him feel like a king.
10. "All About You" (The Dating Divas) – Packed with DIY birthday gifts and funny gifts for men, this unique gift idea covers all the bases.
11. Suspenders (A Beautiful Mess) – Show him how chic he is with these homemade suspenders.
12. 5 Senses Gift (The Dating Divas) – He'll really get a 'sense' of how much you love him with this DIY gifts kit.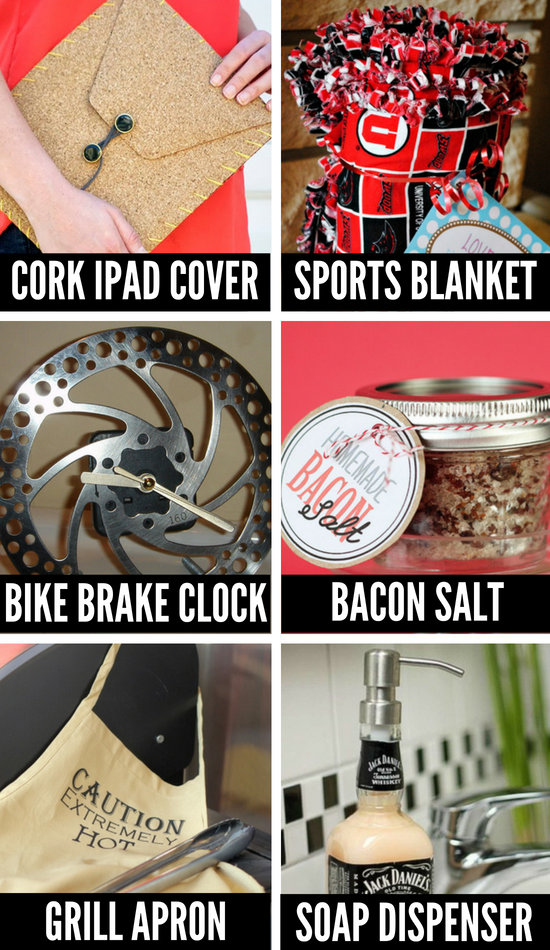 13. Cork iPad Cover (Creme de la Craft) – This cute iPad/tablet cover is so much fun! Your guy will love it.
14. Sports Blanket (The Dating Divas) – Check out this post by diva Lisa P., this would be a perfect gift for the sports fan!
15. Bike Brake Clock (Instructables) – This is a cool clock for the man cave in your house. At first glance I didn't realize how fabulous this item was, I thought 'maybe someone who works on bikes would appreciate that.' Then my husband comes up (who does NOT work on bikes nor is a mechanic of any kind) and said, 'WHOA! That is an awesome clock.' There you have it. A man has spoken. Men like this clock.
16. Bacon Salt (Taryn Williford) – Did someone say bacon?! Make his mouth water with this DIY recipe- perfect for the chef in your life!
17. Grill Apron (I Heart Naptime) –  Show him who's grillmaster with this do-it-yourself apron we absolutely adore.
18. Soap Dispenser (We Must Be Dreamers) – If you're looking for both functional yet funny gifts for men, you've found it!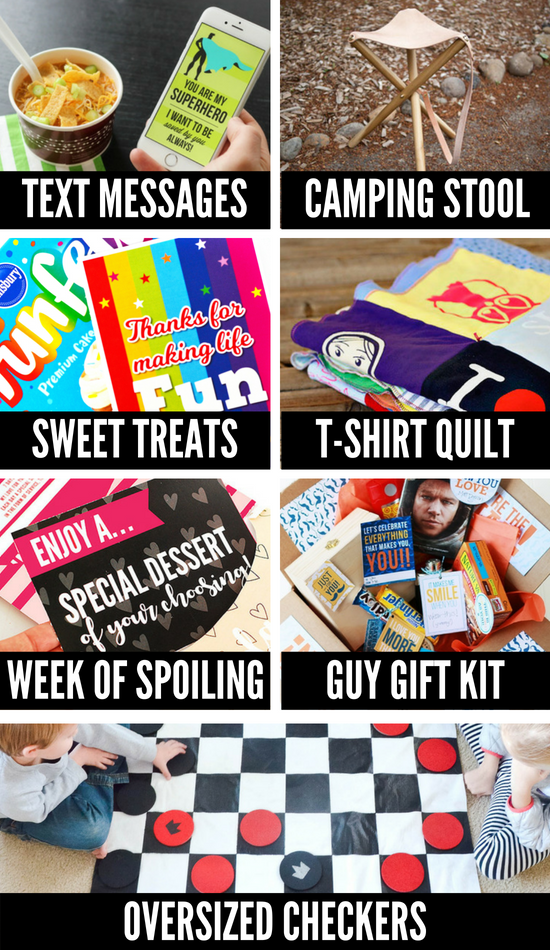 19. Text Messages (The Dating Divas) – DIY gifts for men don't have to be complicated and this amazing text pack proves it!
20. Camping Stool (Design Sponge) – The perfect gift for a nature lover, this DIY camping stool goes along perfectly with this Camping Trip Kit.
21. Sweet Treats (The Dating Divas) – Raise your hand if your guy loves sweets! Add a little something extra with these printable messages that help turn them into fabulous DIY birthday gifts for men.
22. T-Shirt Quilt (Lil Blue Boo) – The gal from Lil Blue Boo used her daughter's old dresses (but you could use your husband's shirts) and made them into this darling quilt! What a fun memorabilia item from those old shirts that you don't really want to wear anymore but don't quite want to get rid of.
23. Week of Spoiling (The Dating Divas) – His birthday may only be one day, but help him celebrate all week long with this 7-day DIY gifts set.
24. Guy Gift Kit (The Dating Divas) – Spoil and surprise him with a box that's packed with gifts he's sure to love.
25. Oversized Checkers (Project Nursery) – Why settle for ordinary DIY birthday gifts when you could do larger than life, extraordinary DIY gifts!

Christmas DIY Gifts for Men
Get in the holiday spirit with these DIY gifts for men that are totally Christmas-friendly!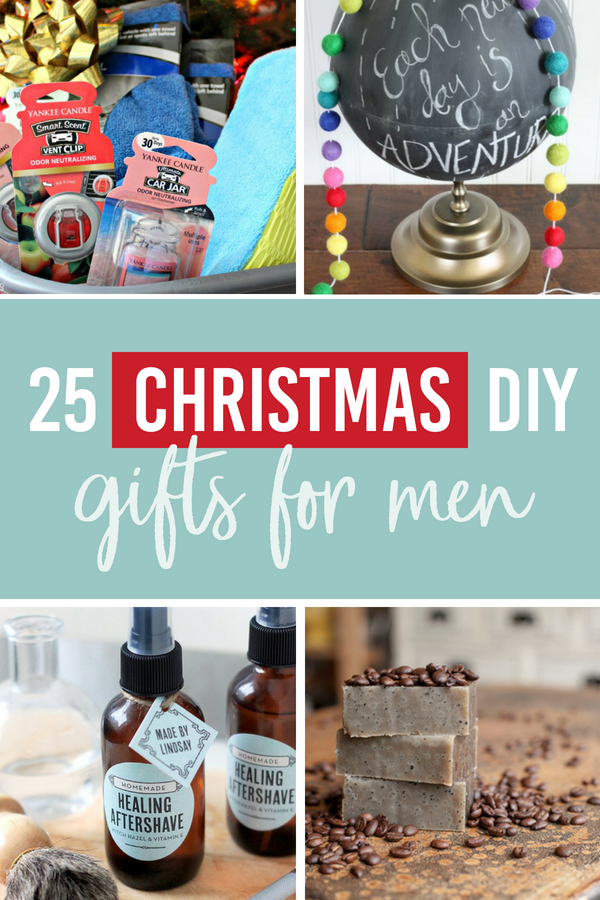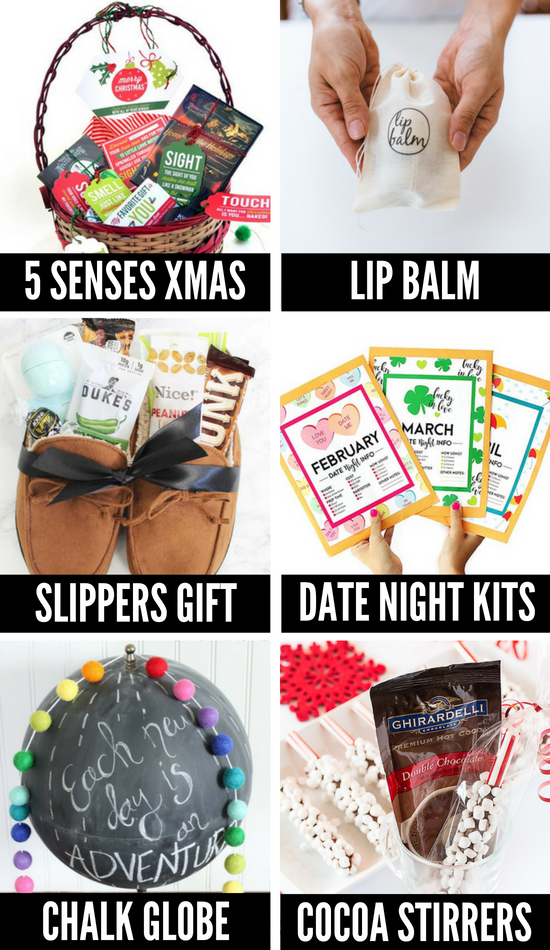 26. 5 Senses Xmas (The Dating Divas) – A clever spin on our classic 5 Senses gift, this Christmas version has everything you need to ring in the holidays.
27. Lip Balm (Fellow Fellow) – Filled with essential oils and other all-natural ingredients, these lip balm DIY gifts will be a hit.
28. Slippers Gift (Pretty Providence) – Help him cozy up this winter with a DIY gifts pack that's creative and practical.
29. Date Night Kits (The Dating Divas) – A year's worth of DIY gifts and dates awaits with these Date Night Kits. We just love them!
30. Chalkboard Globe (Gypsie Magpie) –This cute chalkboard globe would be so cute as a sentimental gift to your significant other, especially if the two of you are travel bugs! This would also be fun if you met and/or married in a different country. You could mark all significant spots on this awesome globe.
31. Cocoa Stirrers (Bake Love Give) – Get your DIY gifts on Christmas style with these cocoa stirring spoons.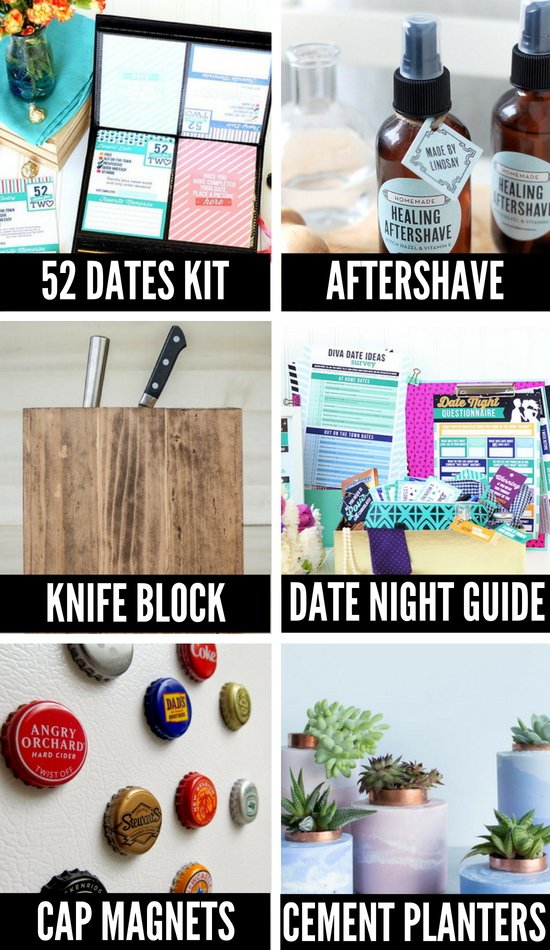 32. 52 Dates Kit (The Dating Divas) – A year's worth of date ideas? Sign us up!
33. Aftershave (Evermine) – DIY gifts for men don't get much better than this!
34. Knife Block (Bigger Than the Three of Us) – If your guy's a chef, he'll adore this handmade knife block.
35. Date Night Guide (The Dating Divas) – We're all about the dating and these DIY gifts will help both of you make it happen!
36. Cap Magnets (The Pin Junkie) – Turn something out of nothing with these fun, fridge-approved DIY gifts for men.
37. Cement Planters (Apartment Therapy) – These cement planters have such an organic feel. I LOVE the way they look! They would make a great gift for the gardener guy in your life.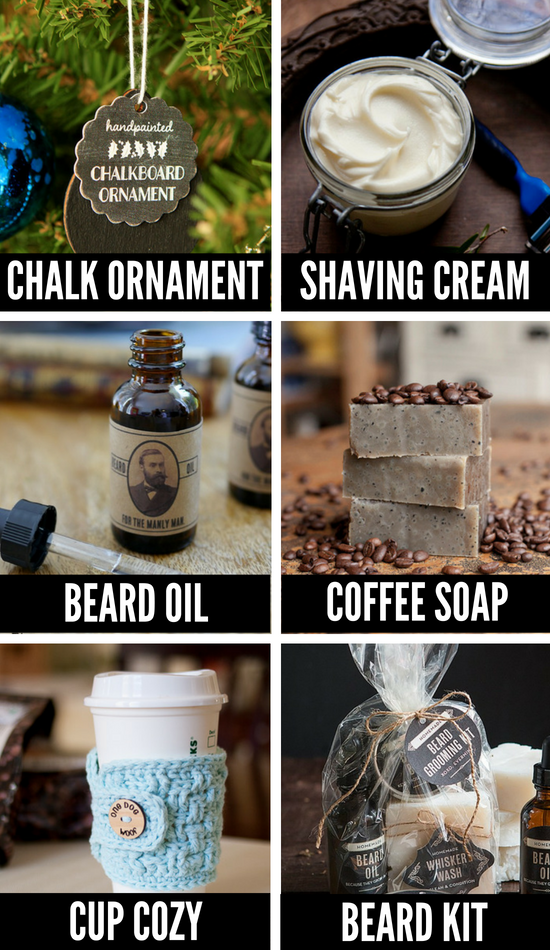 38. Chalk Ornament (Evermine) – Coated in chalkboard paint and super easy to make, he'll appreciate this thoughtful gift year after year.
39. Shaving Cream (Food for My Family) – Scented with rosemary and unbelievably creamy, this is a definite winner.
40. Beard Oil (Everything Etsy) – Smooth and silky will be the name of the game with this DIY oil.
41. Coffee Soap (Offbeat & Inspired) – Where are our mocha lovers at? Help your guy feel clean and fresh with this coffee scented concoction.
42. Cup Cozy (1 Dog Woof) – Keep his cocoa or coffee hot with this diy cup cozy.
43. Beard Kit (Evermine) – Help him tame that face-mane with this set of DIY gifts for men with beards.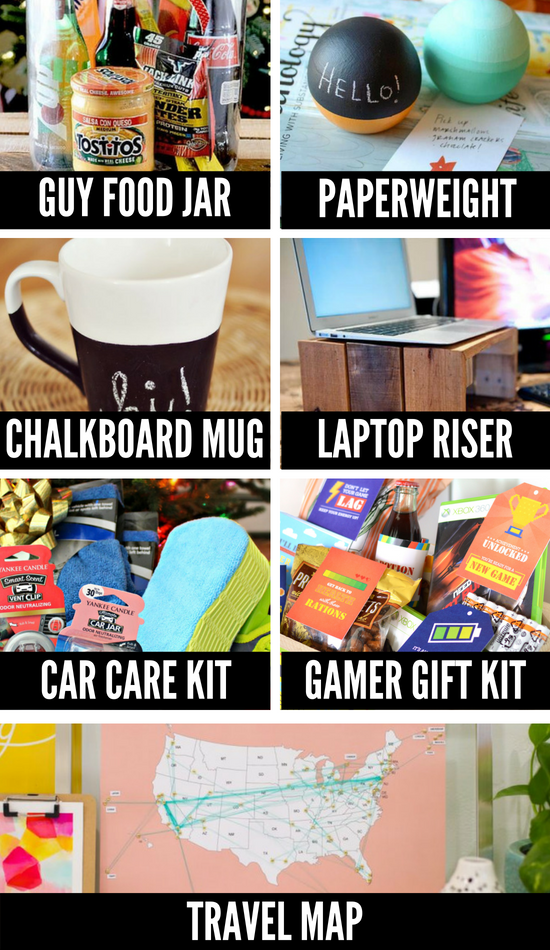 44. Guy Food Jar (One Good Thing By Jillee) – This jar of DIY gift ideas is PERFECT for any of the men in your life.
45. Paperweight (Trend Hunter) – This doorknob paperweight will turn something average into something awesome!
46. Monogram Chalkboard Mugs (A Beautiful Mess) – I thought these were so simple and classy. I want to make a bunch of them!
47. Laptop Riser (101 Pallets) – This is the best idea. Why haven't I thought of something like this before? We like to watch movies on the laptop in bed and it's always a struggle to get it set up in just the right place. Too hot for the laps; too low to sit on the bed. This would be perfect!
48. Car Care (Life's a Bargain) – If your guy loves his car as much as ours do, he'll be obsessed with this DIY gift ideas kit.
49. Gamer Gift Kit (The Dating Divas) – Gamers will be all over this video game themed gift kit that's super easy to assemble!
50. Travel Map (Lovely Indeed) – Yet another great idea from Lovely Indeed, this map is adorable! This is another great way to mark significant places, but for the US of A. I would love to make this with separate pins: places we've been, and places we still want to go!
Valentine's Day DIY Gifts for Men
These DIY gifts for men are about to make hearts day a whole lot happier!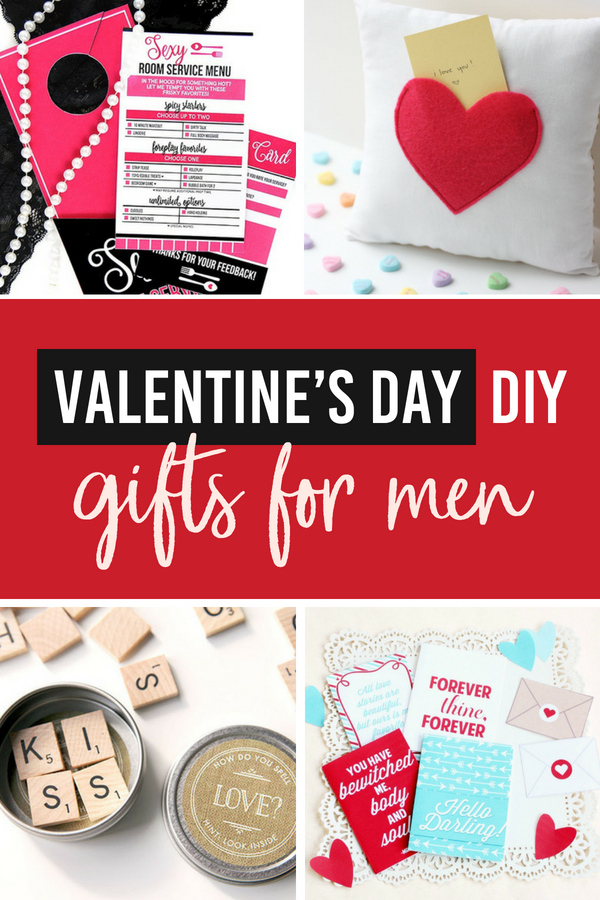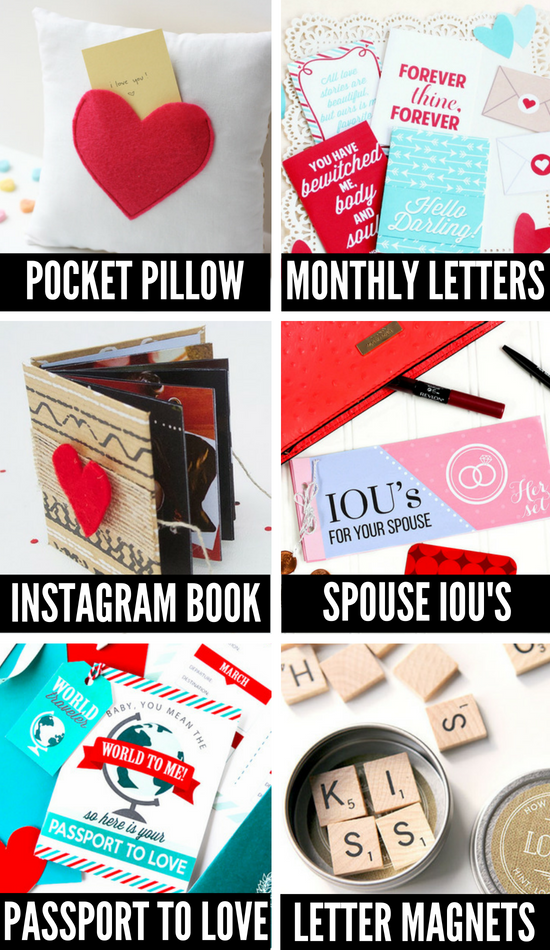 51. Pocket Pillow (See Kate Sew) – Take Valentine's Day DIY gifts for men to an entirely new level with this pocket pillow. How cute is that?!
52. Monthly Letters (The Dating Divas) – The gift that keeps on giving, these monthly love letters will keep the flame alive.
53. I Love You Instagram Book (Creme de la Craft) – Such a cute idea from Creme de la Craft. You can put ANYTHING you want in this baby to make a sweet, sweet present for your favorite guy. She did cute things like little photos and even embellishments!
54. Spouse IOU's (The Dating Divas) – Short on time and in need of some quick and easy Valentine's DIY gifts? You've come to the right place!
55. Passport to Love (The Dating Divas) – Travel the world (without even leaving the house!) with these travel-themed gifts for men.
56. Letter Magnets (Evermine) – Spell out exactly how much you love him with this fabulous and fun scrabble letter magnets.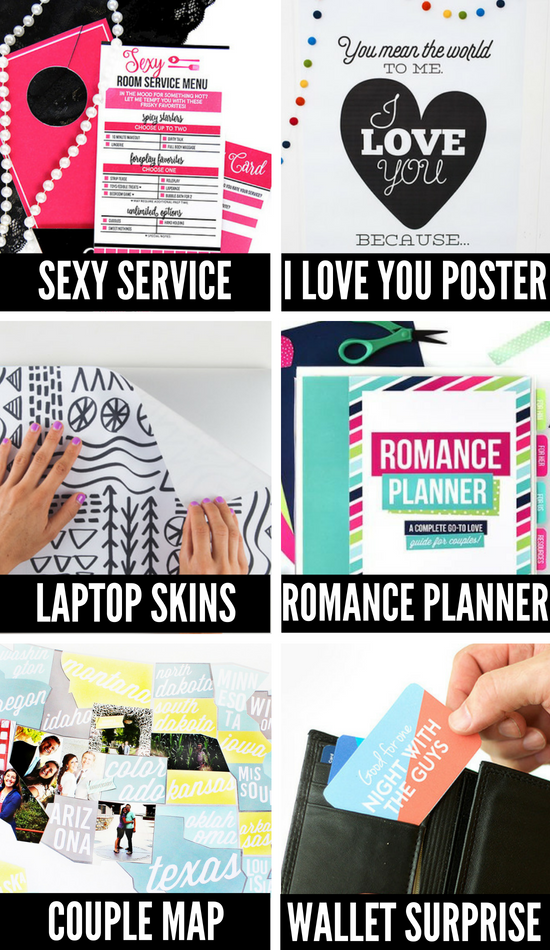 57. Sexy Service (The Dating Divas) – Packed with DIY gift ideas that are perfect for Valentine's Day, this idea will really spice things up.
58. I Love You Poster (The Dating Divas) – Quick and easy are the perfect way to describe these fun printable posters.
59. Laptop Skins (Design Sponge) – Give his tech a little extra lovin' with these do-it-yourself laptop skins.
60. Romance Planner (The Dating Divas) – Ramp up your love life with this- the king of romantic DIY gifts.
61. Couple Map (The Dating Divas) – Gift your guy this clever gift and make a note of your travels together!
62. Wallet Surprise (The Dating Divas) – These DIY gifts for men are not only easy but will give him quite the surprise!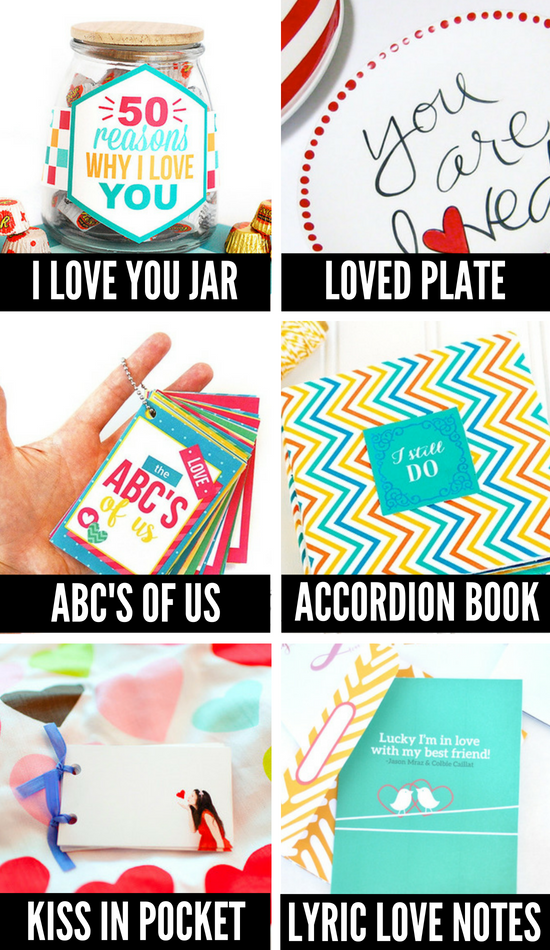 63. I Love You Jar (The Dating Divas) – This customizable gift idea is the perfect way to tell him how much you love him.
64. You Are Loved Plate (Creamy Life) – Another great post by Creamy Life, this gift is super inexpensive and super simple!
65. ABC's of Us (The Dating Divas) – Remember the good-times from A to Z with this alphabet themed memory book.
66. Accordion Book (The Dating Divas) – Great for Valentine's Day, anniversaries, or other special occasions, this idea will have him walking down memory lane in no time.
67. Kiss in your Pocket (Color Me Katie) – How cute is this?? The final product is a little flip book that shows a kiss. It is so sweet! This would be awesome not only for a husband, but you could make this of the kids for Grandmas and Grandpas too!
68. Lyric Love Notes (The Dating Divas) – Make a 'note' of your love for him with these music-themed funny gifts for men.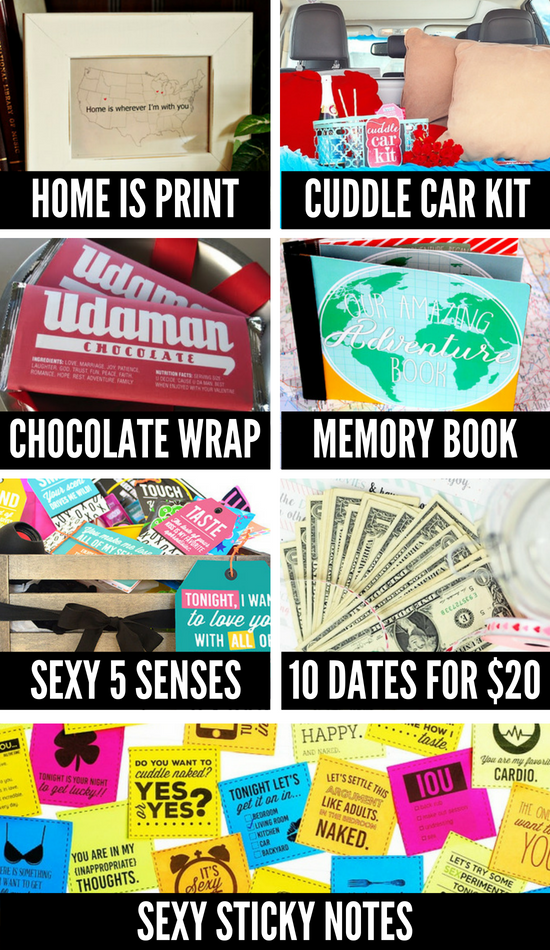 69. Home is Wherever I'm with You(The Dating Divas) –I love, love, LOVE this post by diva Erika! It was originally an anniversary idea, but I think it'd be so cute for Christmas too!
70. Cuddle Car Kit (The Dating Divas) – I totally love this idea. The idea if having a cute little emergency cuddle kit is great. Everyone should have one.
71. U DA MAN Chocolate Bar Wrapper (Jeanne Winters) – Awesome stocking stuffer or Valentine's Day gift. Great for any guy
72. Memory Book (The Dating Divas) – Document those good times with this adventure book that's made just for couples!
73. Sexy 5 Senses (The Dating Divas) – Give him a basket filled with these sexy DIY gifts for men and he'll be racing for the bedroom in no time at all.
74. 10 Dates for 20 Dollars (The Dating Divas) – I think this date jar would make such a fun Christmas gift. Check out the post from Corie to see more!
75. Sexy Sticky Notes (The Dating Divas) – Stick these spicy DIY gifts anywhere and everywhere for ultimate Valentine fun!
Father's Day DIY Gifts for Men
Show dad how much he's loved with these DIY gift ideas that are perfect for Father's Day!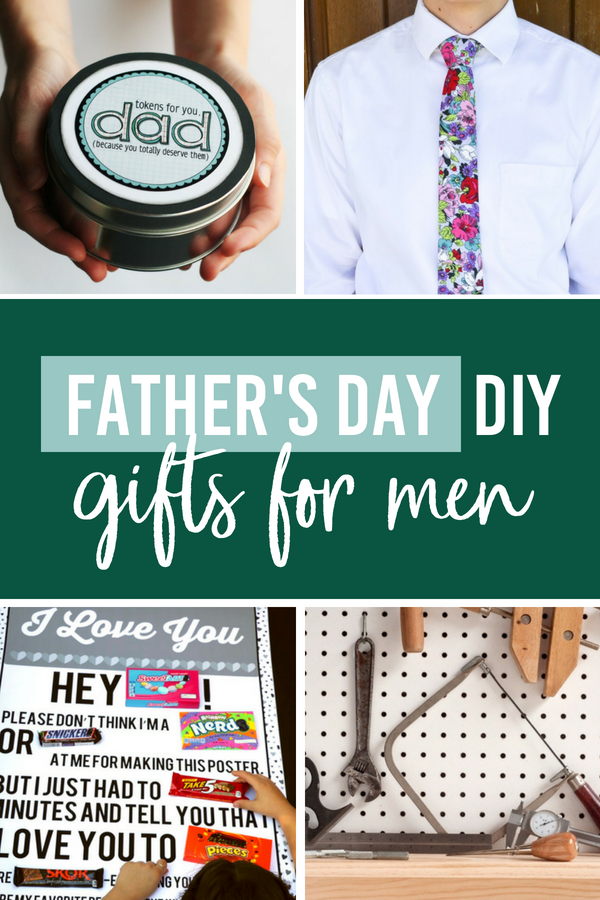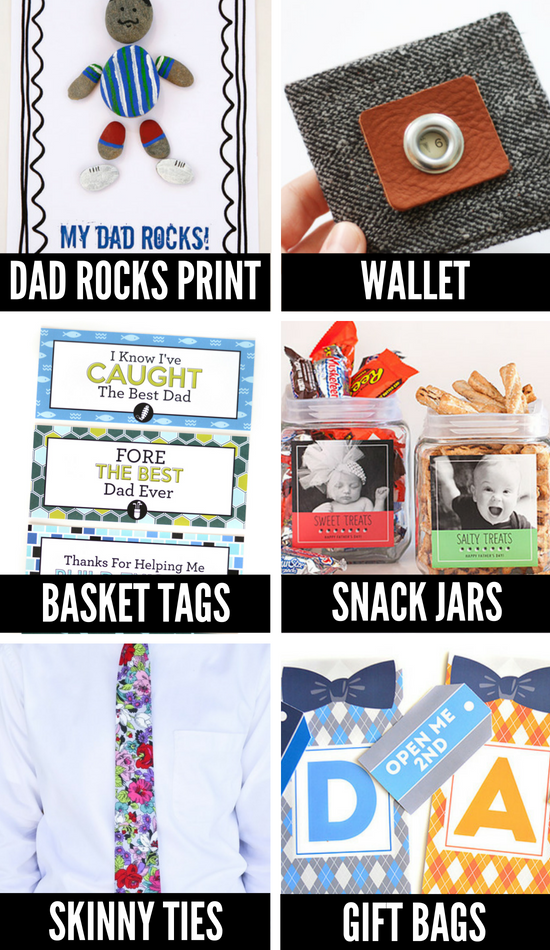 76. Dad Rocks Printable (Non Toy Gifts) –Need a simple gift idea for the kids to give? Grab this free printable from Non Toy Gifts, stick it in a frame, and wrap it up for Dad!
77. Wallet (Noodlehead) – Noodlehead made this cute little wallet for her son, but I think it would be awesome for a man, too! It is complete with sections for putting cash and cards. I love anything that I can customize with my own fabric/colors.
78. Basket Tags (The Dating Divas) – Having trouble deciding which Father's Day DIY gifts to give? This will help you decide!
79. Snack Jars (Evermine) – The perfect DIY gifts for men who like to munch, these Father's Day treats are sure to be loved.
80. Homemade Skinny Ties (Camille I Am) –These are darling! A simple tutorial from the Purl Bee using any material you want! I am already thinking of coordinating ties for my husband and boys for family pictures…
81. Gift Bags (The Dating Divas) – Pack these clever gift backs with the Father's Day DIY gift ideas of your choice and you're ready to go!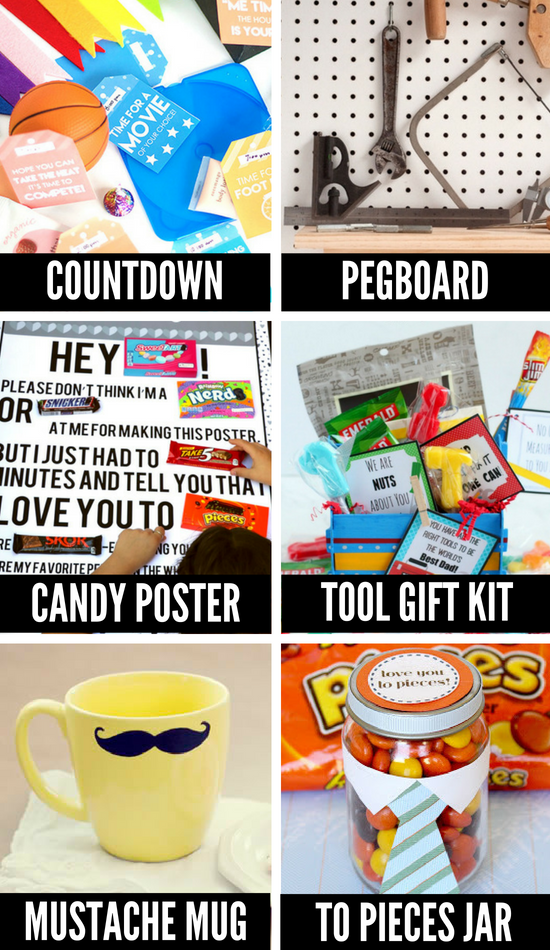 82. Countdown (The Dating Divas) – Help him countdown to the big day by using this special idea.
83. Pegboard Organizer (Man Made DIY) –If your man is HANDY, this is the gift for him. I have a pretty handy man myself but our garage is a horror story! This would do SO much good in our garage. Maybe this present would be more for me than him…
84. Candy Poster (The Dating Divas) – With multiple options to choose from, these DIY gifts are a great way to get the kids involved.
85. Tool Gift Kit (Giggles Galore) – This is an awesome idea from darling doodles. She whipped up a little tool gift kit, along with FREE printables. Such a fun Christmas gift!
86. Mustache Mug (From the Tortoise & The Hare) – Give his morning cup of joe a whole new makeover!
87. To Pieces Jar (Creatively Christy) – If you love him to pieces, you'll love this one for sure.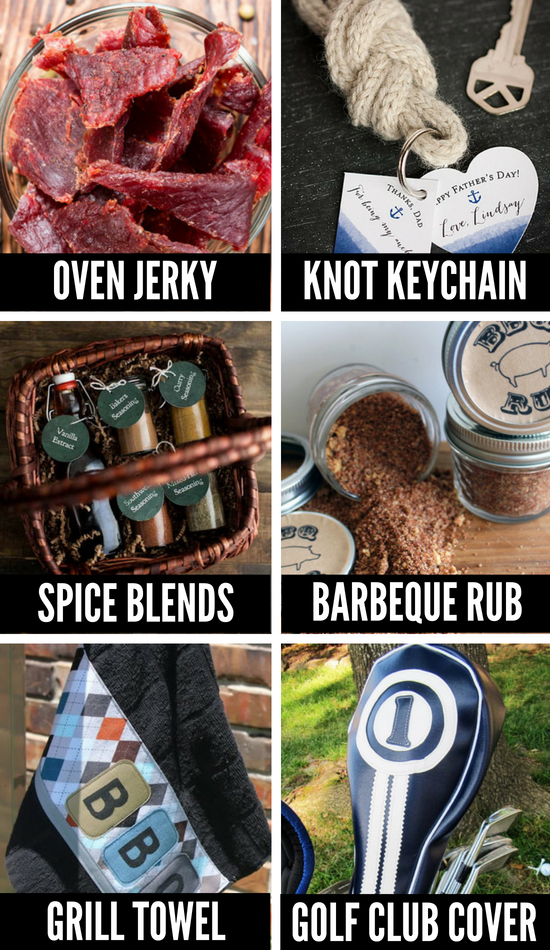 88. Oven Jerky (One Country) – Yep. Jerky is one of my husband's favorite snacks. How cool would that be to home-make a bunch of it, in your oven! My husband would love having a little bit of this to take to lunch everyday.
89. Knot Keychain (Evermine) – Boat loving men will be obsessed with this DIY keychain and we are too!
90. Spice Blends (Naturally Ella) – These spice blends are not only darling but are the perfect set of DIY gifts for men who love to cook.
91. BBQ Rub (The Country Chic Cottage) –This is super cute. I love how she used the different spices in layers in a glass jar. This gift would be really inexpensive and looks adorable.
92. Grill Towel (Craft Whatever) – Help him wipe that brow and not burn those burgers with a diy gift that's super grill-friendly.
93. Golf Club Head Covers (Positively Splendid) –Now, my husband is not a golfer, but I have friends whose husbands are HUGE golf lovers (i.e. diva TARA)! This would be the perfect present for husbands like that. You could customize them however you want. I would love to add my own touches/use my husband's favorite colors for this. The possibilities are endless!

94. Token Tin (Eighteen25) – Give dad a few somethings that are super special with these coupon-inspired diy gifts.
95. Gone Fishing Printable Sign (DIY Candy) – This is another easy-peasy printable gift. If your husband likes to fish, this is the gift for him! Just print, prep, and you're done!
96. Lego Cufflinks (Mike Shouts) – These are awesome. The guy over at Mike Shouts whipped these up for fun. I think they are so stinking cute and subtle enough that he could totally wear them to work.
97. Choo-Choo & Car Track Massage Shirt (All Parenting) –As I was writing this post, my husband saw this picture and said, "OH yeaaaaah!" I think he was feeling that massage already. Put those kids to work!
98. Open When Notes (The Dating Divas) – Keep the love coming with this set of 'open when' letters.
99. Necktie Pillow (Mom Spark) – This idea will help you take DIY funny gifts for men to a whole new level. We love it!
100. Remote Caddy (Instructables) – My husband is always trying to track down the remotes (where do they always go anyway??). I think this would be an awesome start to an entire, "Dad's RELAXING area" of the house. I'm already imagining a place for him to put his feet and maybe one of the caddy pockets could hold some TV snacks too 🙂
Well, that's all folks! I hope you enjoyed these DIY gift ideas and more importantly, I hope you found your perfect gift! Are you doing any cool DIY gift for your man? Let us know! We would LOVE to hear what you are making!!
And if you just don't quite have the time to make something, we rounded up some great Father's Day Gifts and Romantic Gifts for Him!