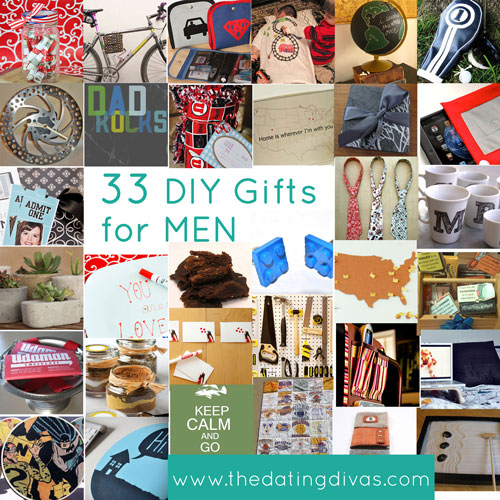 Ok, so is it just me, or are the men in our lives REALLY hard to find gifts for?
I can find hundreds of gift idea/tutorials for the women in my life; older women, my mama-woman, little women, all of them! But to find something good for men, now there's a different story! Are you in the same boat? If so you will be SO GLAD that you checked our blog today! We've gathered 33 of the best DIY gifts for men out there! So sit back, SCROLLAX (my new word for relaxing while scrolling, haha), and find that perfect gift for the men in your life.
You're welcome. 🙂
Since we're talking about gifts – we have one for you real quick! We have a fun Mistletoe Madness Bundle Sale happening on our  ebooks.  You can get ALL FOUR for over 60% off, but only through Christmas day!  Click here to get the details and purchase now.
1. BBQ Rub from Real Simple
This is super cute. I love how she used the different spices in layers in a glass jar. This gift would be really inexpensive and looks adorable.
2. Mouse Pad by Design Sponge
This is such a fun idea from Design Sponge. They show how to handpaint a mouse pad using any design you want! I was thinking it would be fun to customize for the men in our lives, like an, 'I Love You' or 'World's Best Grandpa'  – things like that. Even just a simple heart or your kids' handprint would be cute!
3. Monogram Mugs by Design Mom
I thought these were so simple and classy. I want to make a bunch of them!
4. Homemade Ties by the Purl Bee
These are darling! A simple tutorial from the Purl Bee using any material you want! I am already thinking of  coordinating ties for my husband and boys for family pictures…
5. Golf Club Head Covers by Positively Splendid
Now, my husband is not a golfer, but I have friends whose husbands are HUGE golf lovers (i.e. diva TARA)! This would be the perfect present for husbands like that. You could customize them however you want. I would love to add my own touches/use my husband's favorite colors for this. The possibilities are endless!
6. Zen Garden by Curbly
Have an office man in your life? I think this is the coolest gift for the guy that has to sit at a desk all day.
7. T-Shirt Quilt by Blessings Overflowing
The gal from Blessings Overflowing used her husband's coaching shirts and made them into this darling  quilt! What a fun memorabilia item from those old shirts that you don't really want to wear anymore but don't quite want to get rid of.
8. Chalkboard Globe by Design Sponge
This cute chalkboard globe would be so cute as a sentimental gift to your significant other, especially if the two of you are travel bugs! This would also be fun if you met and/or married in a different country. You could mark all significant spots on this awesome globe.
9. Travel Map by Design Sponge
Yet another great idea from Design Sponge, this cork-board map is adorable! This is another great way to mark significant places, but for the US of A. I would love to make this with separate pins: places we've been, and places we still want to go!
10. Comic Book Coasters by Modge Podge Rocks
Have a comic book fan in your life? These comic book coasters are sure to be a hit with that crowd. They're not only awesome in the super-hero category, but an awesome vintage-looking item as well!
11. iPad Cover by Smashed Peas and Carrots
Isn't this a cute iPad/tablet cover? I love that it looks so retro and you could spell whatever you want on it! Easy tutorial from Smashed Peas and Carrots.
12. Wallet by Noodlehead
Noodlehead made this cute little wallet for her son, but I think it would be awesome for a man, too! It is complete with sections for putting cash and cards. I love anything that I can customize with my own fabric/colors.
13. Pegboard Organizer by Martha Stewart
If your man is HANDY, this is the gift for him. I have a pretty handy man myself but our garage is a horror story! This would do SO much good in our garage. Maybe this present would be more for me than him…
14. I Love You Book by Me and My Shadow
Such a cute idea from Me and My Shadow. You can put ANYTHING you want in this baby to make a sweet, sweet present for your favorite guy. She did cute things like little poems and even a lock of their daughter's hair!
15. Choo-Choo Massage Shirt by Repeat Crafter Me
As I was writing this post, my husband saw this picture and said, "OH yeaaaaah!" I think he was feeling that massage already. Put those kids to work!
16. Bike Brake Clock by Instructables
This is a cool clock for the man cave in your house. At first glance I didn't realize how fabulous this item was, I thought 'maybe someone who works on bikes would appreciate that.' Then my husband comes up (who does NOT work on bikes nor is a mechanic of any kind) and said, 'WHOA! That is an awesome clock.' There you have it. A man has spoken. Men like this clock.
17. Car Kit by Hoildash
I totally love this idea. First of all, the idea if having an emergency kit is great. Everyone should have one. Second, if you're going to make one, why not make it ADORABLE?
18. Lego Cufflinks by Sugar Tart Crafts
These are awesome. The gal over at Sugar Tart Crafts whipped these up for her architect hubby. I think they are so stinking cute and subtle enough that he could totally wear them to work.
19. Remote Caddy by Sew4Home
Here is a great idea from Sew4Home. My husband is always trying to track down the remotes (where do they always go anyway??). I think this would be an awesome start to an entire, "Dad's RELAXING area" of the house. I'm already imagining a place for him to put his feet and maybe one of the caddy pockets could hold some TV snacks too 🙂
20. Dad Rocks Printable by Make it Perfect
Need a simple gift idea for the kids to give? Grab this free printable from Make it Perfect (she has other colors, too!), stick it in a frame, and wrap it up for Dad!
21. Bike Lunch Bag by Evil Mad Scientist
If your husband bikes to work, or even just loves to ride, this is the gift for him!
22. Laptop Riser by Man Made DIY
This is the best idea. Why haven't I thought of something like this before? We like to watch movies on the laptop in bed and it's always a struggle to get it set up in just the right place. Too hot for the laps; too low to sit on the bed. This would be perfect!
23. Kiss in  your Pocket by Color Me Katie
How cute is this?? The final product is a little flip book that shows a kiss. It is so sweet! This would be awesome not only for a husband, but you could make this of the kids for Grandmas and Grandpas too!
24. U DA MAN Chocolate Bar Wrapper by Jeanne Winters
Awesome stocking stuffer. Great for any guy!
25. Cement Planters by Apartment Therapy
These cement planters have such an organic feel. I LOVE the way they look! They would make a great gift for the gardener guy in your life.
26. Oven Jerky from About.com
Yep. Jerky is one of my husband's favorite snacks. How cool would that be to home-make a bunch of it, in your oven! My husband would love having a little bit of this to take to lunch everyday.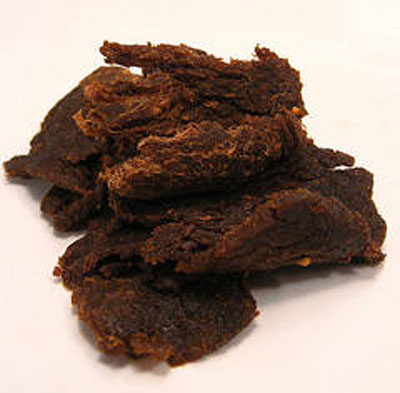 27. Go Fishing Printable by The 36th Avenue
This is another easy-peasy printable gift. If your husband likes to fish, this is the gift for him! Just print, frame, and you're done!
28. Sports Blanket Post by Lisa P.
Check out this post by diva Lisa P., this would be a perfect gift for the sports fan!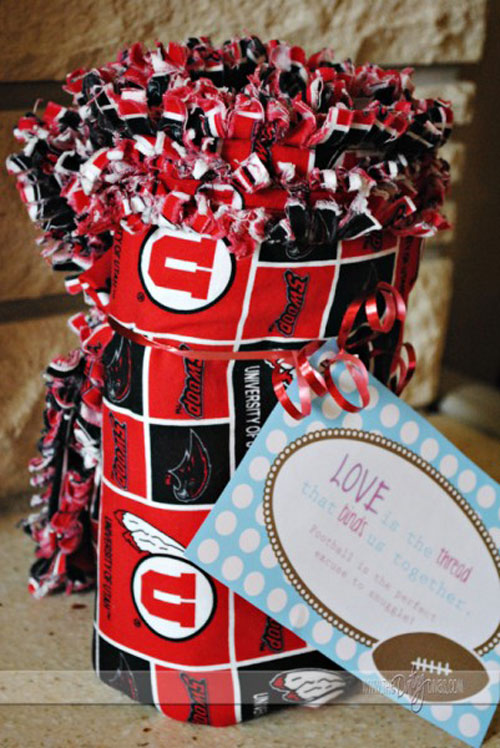 29. Home is Wherever I'm with You by Erika
I love, love, LOVE this post by diva Erika! It was originally an anniversary idea, but I think it'd be so cute for Christmas too!
30. Make Your Own Tickets by Corie
A gift by diva Corie. She found an AWESOME site where you can make your own tickets! The possibilities with this idea are endless! She did movie tickets to invite her spouse to their date, but you could make them for anything!
31. You Are Loved by Corie
Another great post by Corie, this gift is super inexpensive and super simple!
32. 10 Dates for 20 Dollars by Corie
I think this date jar would make such a fun Christmas gift. Check out the post from Corie to see more!
33. Tool Gift Kit by Darling Doodles
This is an awesome idea from darling doodles. She whipped up a little tool gift kit, along with FREE printables. Such a fun Christmas gift!
Well, that's all folks! I hope you enjoyed these gift ideas and more importantly, I hope you found your perfect gift! Are you doing any cool DIY gift for your man? Let us know! We would LOVE to hear what you are making!!