A Night of Relaxation 
A few years ago I was a huge mess of stress. My husband and I had just moved to a new town, I was in a stressful employment situation and I was having frustrating health issues. Everything combined seemed too much to handle at the moment and I felt completely overwhelmed. After a particularly long day, I came home to find a warm bubble bath ready to go and a basket of goodies (chocolates, candles, bath salts…) all prepared for me by my loving husband. It was one of those moments where the person by my side was there to show his support, understanding, and love in a time of need. It didn't require much for him to put together, but his actions that day helped to lift my spirits, renew my ability to face my challenges and most of all de-stress from the craziness around me. A relaxing date night at home was exactly what I needed!


Disclaimer: This post contains affiliate links. To learn more about 'em, click here.

Years ago my husband laid out an evening of relaxation to help me through a time of stress, and now it was my turn to do the same for him (with cute printables designed by the lovely Joanna from Cutify Creative, of course!). Time has gone on and the tables have flipped. My husband now faces the major daily stress. He has finished Pharmacy school and is now in a demanding residency that requires a lot of his time. He has projects, deadlines and a lot of pressure. I wanted to return the favor and treat him to an evening of relaxation and pampering!
Here is what I did: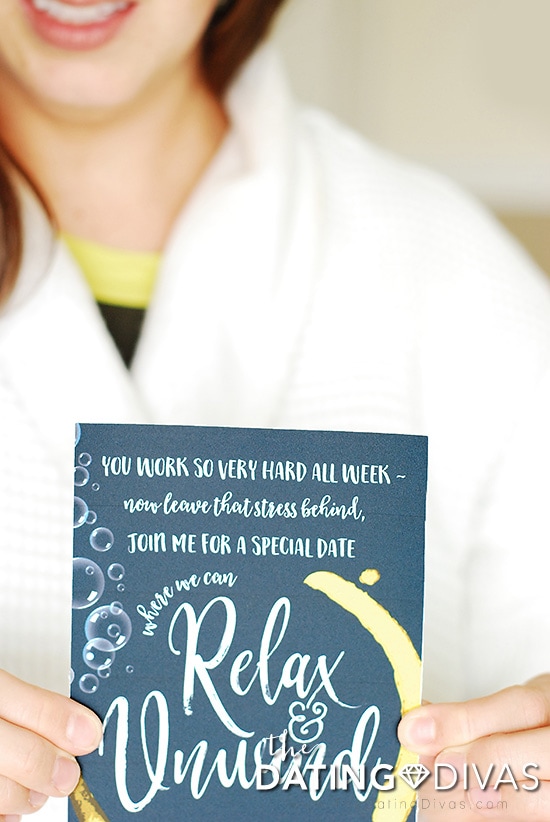 I left this little invitation for him to find so that he would know I had date night covered!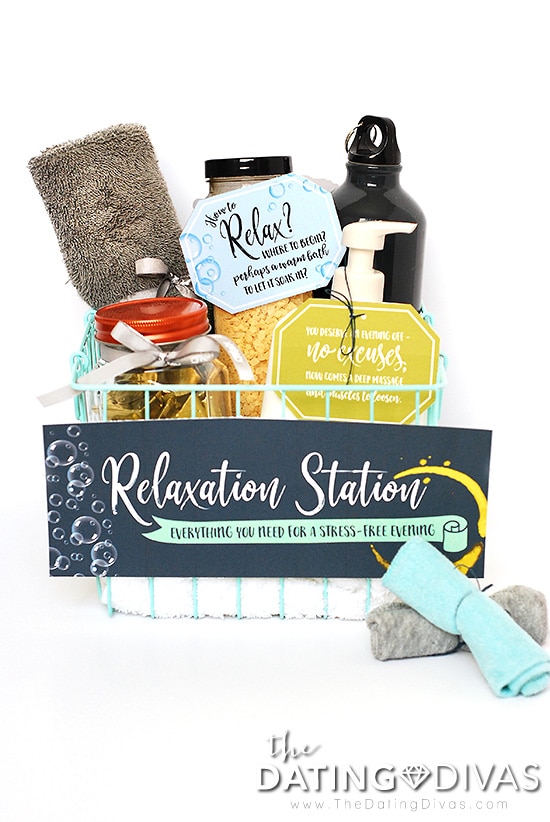 I found a simple basket and taped the "Relaxation Station" label to the front. I placed it right in our entrance so it would be the first thing my husband saw after his long day.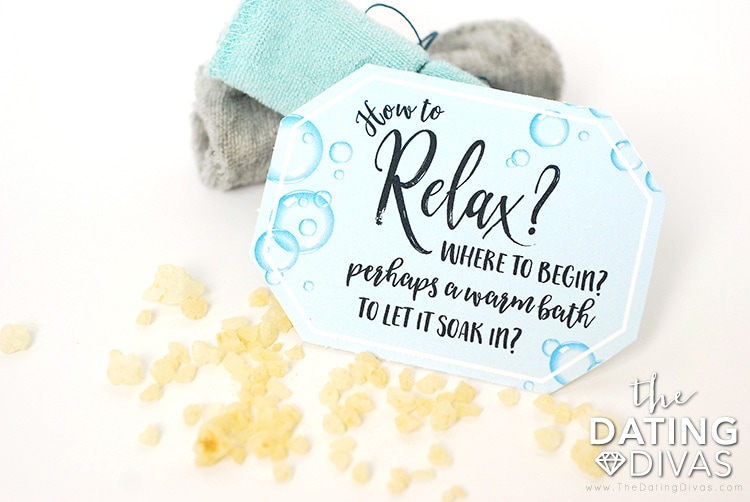 Then, I gathered up various items for our evening of relaxation and added them to a basket along with these beautiful printable tags that Joanna created.
There are six tags included in the download that go perfectly with the following suggested items for your relaxing date night basket:
Items for a Bubble Bath (bath bomb, bath salts, soft towel)
Dinner Plans (gift card to eat out, menu to order delivery, ingredients for a dinner at home)
Special Lighting (tea lights, candles, aromatherapy candles, essential oil diffuser)
A Drink (your favorite form of bubbly drink, hot cocoa)
Treat (chocolates, mints, your spouse's favorite treat)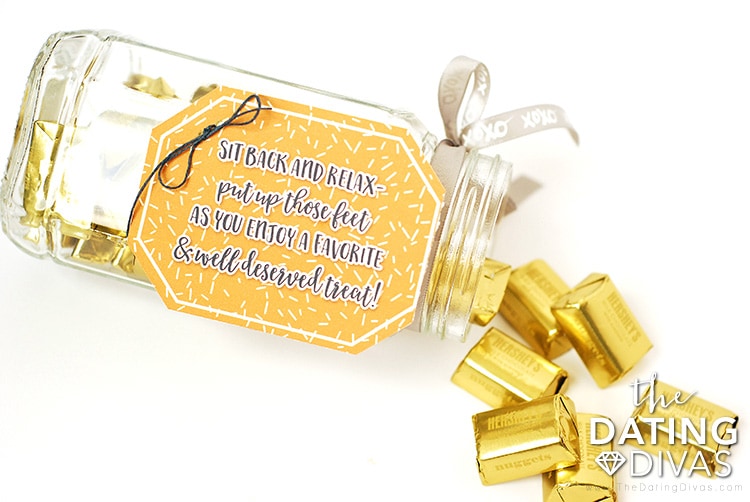 For your own relaxing date night gift basket, just think about what your spouse would love to do to de-stress and add it to the basket! Other ideas could include:
A Favorite Movie
Relaxing Music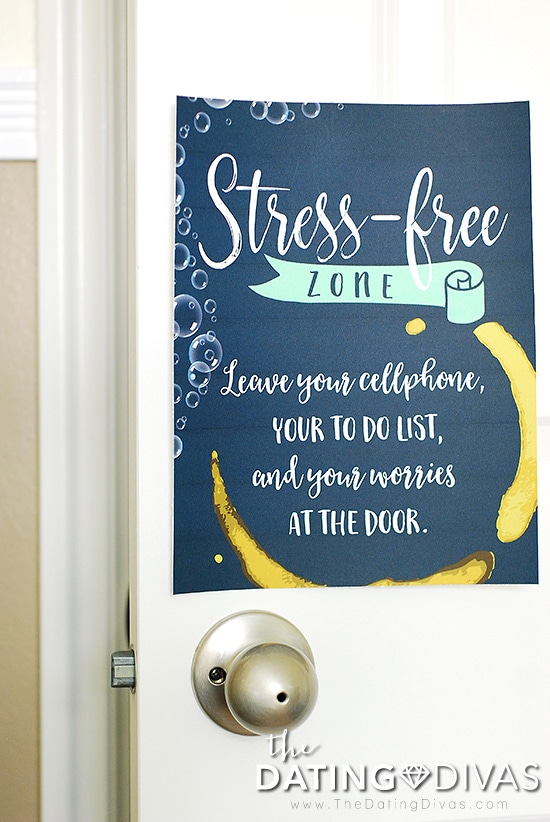 For your actual date night, the goal is to completely relax and pamper! The evening should be stress-free so I also added this sign to the front door.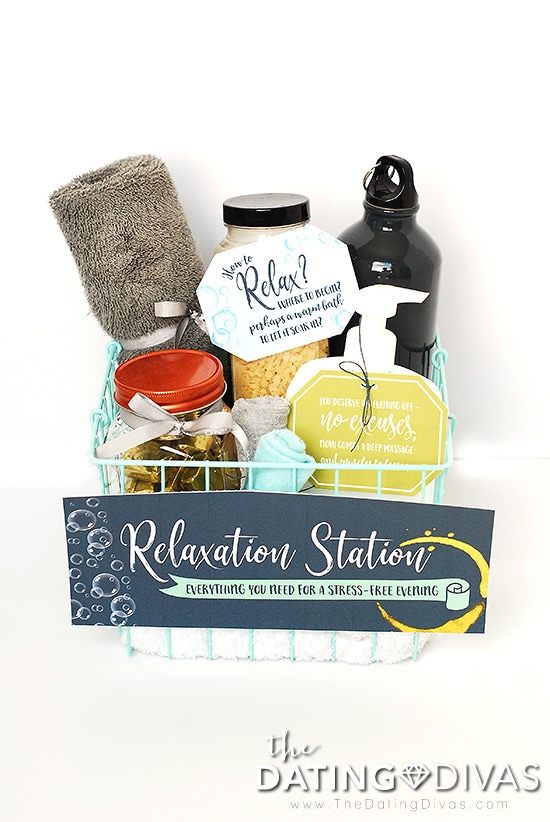 What you do on your relaxing date night is totally up to you. What do you and your spouse consider a relaxing evening? Here are a few suggestions:
Do yoga.
Go for a walk.
Enjoy a bubble bath.
Give massages.
Binge watch a favorite show.
Finally, did I mention that planning this date night is stress-free on your end too? We have this printable download that makes prepping for this evening easy peasy! You can download your relaxing date printables right here: