Travel Map Where I've Been
Bring your vacation memories to life with our personalized push pin travel map! This DIY project is the most adorable home decoration, bucket list, and memory keepsake – all in one! This Personalized travel map is a cool way to reminisce and plan for future fun. Whether you have lots of visited states under your belt or a long bucket list of travel plans this is the perfect way to document your travel adventures! Your DIY map could be a great gift, or a fun activity to do together as a couple!
Want to make your own? Watch this video from our YouTube channel to find out more about our 50 states photo map because you know you need this in your life!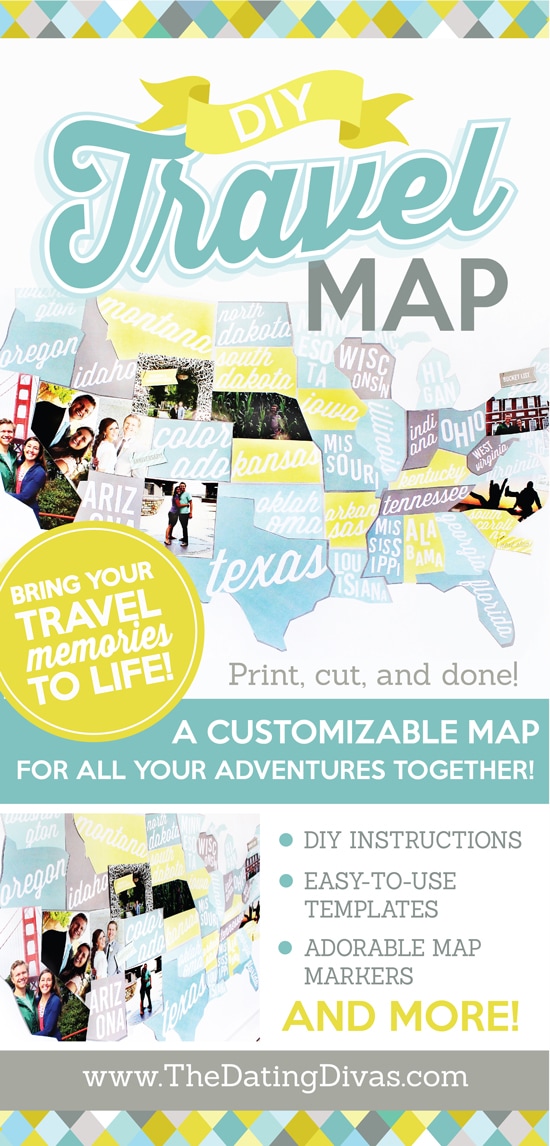 Disclaimer: This post contains affiliate links. To learn more about 'em, click here.
Isn't this travel map where I've been GORGEOUS?! Our darling Courtney from Paperelli was the designer behind this beauty. Courtney has turned each state into a work of art! She's created the 50 states photo map in a fairly neutral scheme, with pops of color, to coordinate with any decor in your home. The finished push pin trabel map comes out to be 24 x 36″, so it will fit perfectly in a frame that size!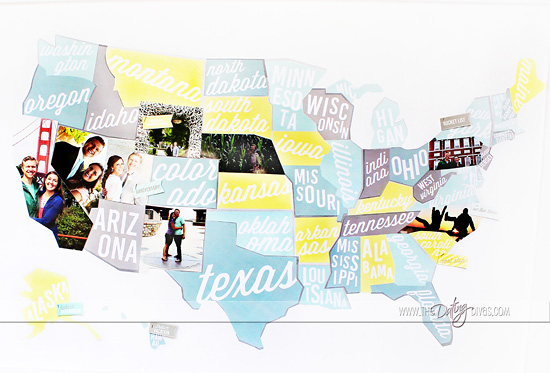 The DIY Travel Map Kit includes:
Beautiful base 50 states travel map
Visited states DIY map templates
Destination & embellishment flags
Personalized Travel Map
This printable travel map pack has a darling design of every single one of the 50 states! Just print these beauties, cut them out and piece them together to make the gorgeous travel map of where you've been! We've created them in "chunks," groups of states stuck together, so it's less cutting for you as you create your own personalized travel map!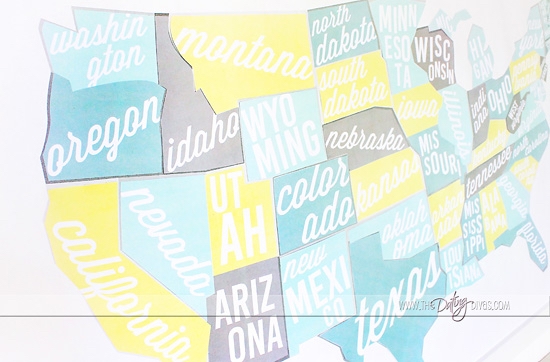 50 States Photo Map
Although the map is lovely all on it's own, adding your own pictures and memories will make it really stand out. The pack includes templates of all 50 states for you to trace and cut perfectly sized photos that fit directly onto your DIY map!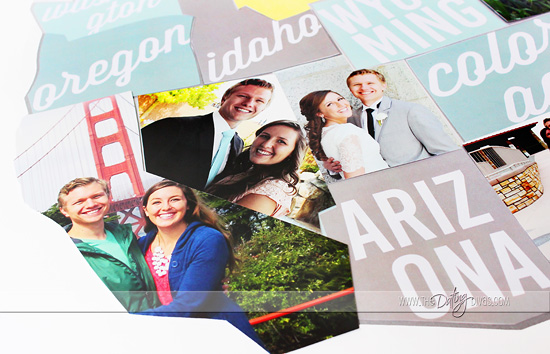 DIY Push Pin Travel Map
Mark your map with your favorite vacation spots, future destinations, and special getaway spots! The embellishment flags included attach easily with a small pin and they also add extra cuteness to your travel map!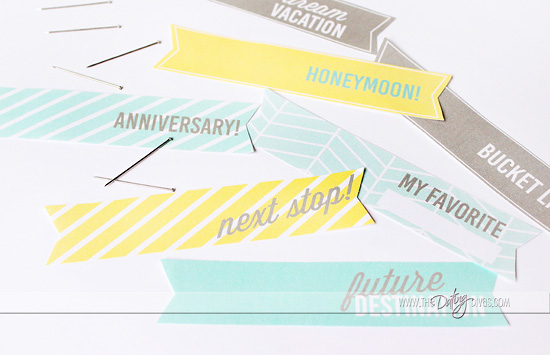 DIY Map Project Tip:
We recommend using metal sewing pins to attach your flags. Stick them right through the states at an angle and they will lay flat. We like these because they don't have a very large head, so they easily fit behind the frame's glass. If you want to use bigger pins or tacks that stick out a little more, create the map in the frame, but leave the glass or plastic covering off. Then, it's more easily updated as well! If you choose to take that route, we would recommend gluing the print to poster board or a piece of cardboard to keep it stiff and firm in the frame.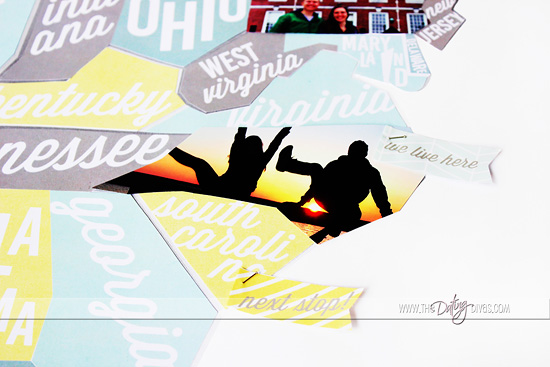 Isn't this such a CUTE personalized travel map project? Our printables make it so easy to pull together. No one will guess that you didn't slave over this map for hours on end because it looks so professional! The travel map with pins is just such a fun piece of art to display and also a great conversation starter. You know you're dying to make your own personalized push pin travel map!
Buy your
DIY Push Pin Travel Map Printables
for only $8.97!


While you're making travel plans, you might want to use our awesome road trip planner called, The Road Trip in a Box Kit! It has everything to keep your car crew entertained, and it also makes your family travels smooth and happy!
If you have a loved one traveling, we have the perfect pack to welcome them back into your arms. Our Welcome Home Printable Pack has everything you need to make your sweetie's homecoming extra special, but also extra memorable!
Travel Map Gift Idea
We have one other push pin travel map idea for you that you can also do completely yourself. AND we have free printables to make it work for you!
My husband's grandparents have been married for 61 years and have displayed in their home a detailed map labeled with all of their travels throughout their marriage (and they have a LOT!). I thought that was so sweet and something I would like to do with my spouse, but when I went to go buy the same map
 it cost $169.00. Now – it is a BEAUTIFUL map, but that is money that I would MUCH rather spend on our next trip! So I made my own and am sharing with you today how you can make your very own Travel Map for under $25.00!
For My Map I Used the Following:
TOTAL COST: $24.32
Make a DIY Travel Map
I purchased my 24×36 poster frame from Target, but the frame outline was black. I wanted an antique-feel for my map, so I used my favorite kind of spray paint to give a copper-toned color to the frame. What I like about this spray is that it gives off a "hammered" look rather than a smooth, glossy finish. The texture adds a nice depth and helps the final project look more antique.
After the spray had completely dried, I added my World Map Poster to the poster frame. I played with the idea of using foam board, cork board or even canvas for my backing but all of that required trimming my map and/or gluing. Way too difficult. I am all about easy and effective! Using the poster frame I had an instant frame, and the frame CAME WITH cardboard back and the map fits perfectly! The pins stick into the cardboard without any problem and I didn't have to cut or trim at all! A crafters dream!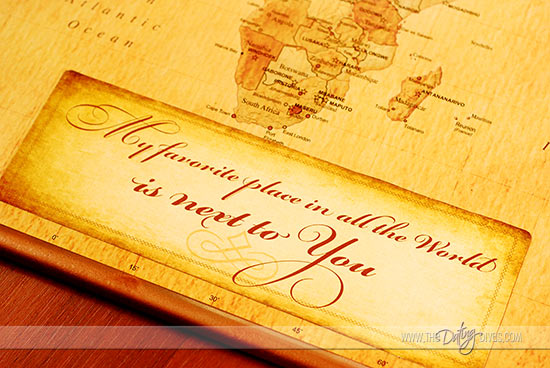 How to Make a Push Pin Map
Next, I used spray adhesive to add the printables created especially for this project by our designer Leah Aldous. She does custom design work and for this project, she matched the design to my purchased map perfectly! It totally looks like it was meant to go with the map. If you ever need anything designed contact her – trust me you won't regret it!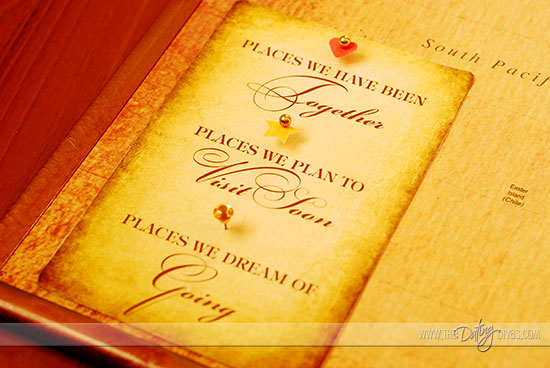 Next, you will want to decide how you want to label your pins. The legend provides three categories: places we have been together, places we plan to visit soon, and places we dream of going. Amazon has oodles of color pin
 choices and even some tacks with colored flags
 that you could have a different color pin for each category. This is the traditional way of doing a travel map.
For my own unique spin, I went with all gold pins to match the antique feel of my map, and used paper punch shapes for each of the categories. I used my punch to make hearts for the places we have been together and stars for places we plan to visit soon. I then pricked the pin through the shape and placed each in the legend. For the places we dream of going, I used my hot glue gun to glue a small jewels to the head of the pin.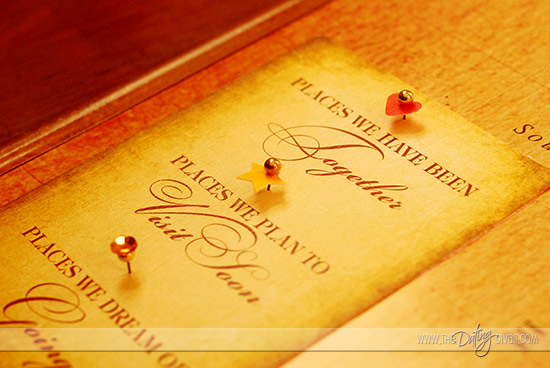 There are so many ways you can label your map! This is where you can really personalize it to make it special.
Push Pin Travel Map
Then comes my favorite part – adding in the pins to show where you have traveled!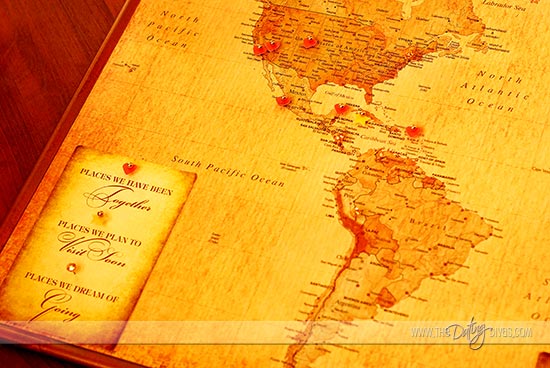 Using the legend I created, I placed pins all over the world to the places we have traveled together, the places we have plans to visit soon and even the places we dream of visiting together. We have both traveled the world separately, but for this gift, I wanted to focus on our travels together.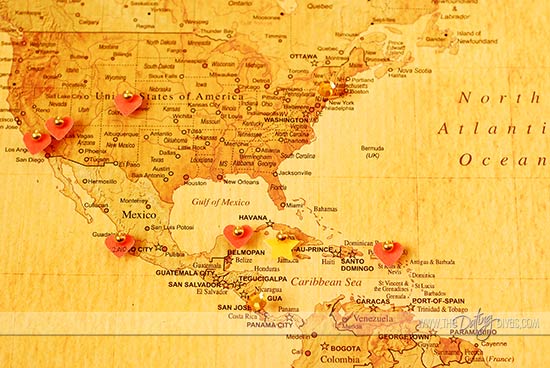 I am so excited to give this to my husband on our anniversary. I love to have something that we can continually add to throughout our years of marriage together. After we have some more trips marked on our map, I think it would be so fun to make a book that includes pictures and memories from those travels just like this one that Erika's husband made for her!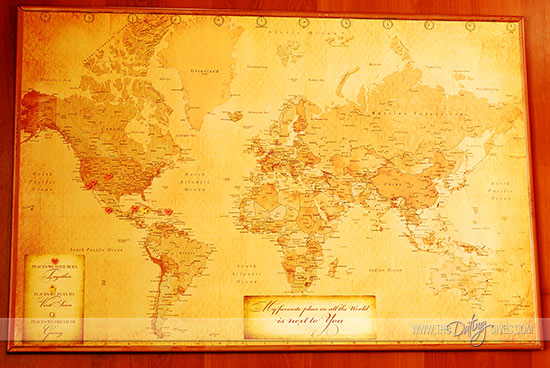 And there you have it! Your very own travel map for under $25.00! Perfect for the couple who loves to travel!
DIY Push Pin Travel Map
Printables Designed By Leah @ Leah Aldous Exclusively For The Dating Divas