Love Journal Prompts
We understand that life gets busy and there just isn't always the time for late-night chats with your love. Here we have a fun and unique way to further communicate with your spouse. Have you ever done a couple's journal? The idea is simple and with our printable download, it's super easy! Just establish a common notebook that the two of you can write your thoughts, memories, love notes, concerns—anything!
A book for your thoughts that you share together is the perfect go-to spot for couples to share personal messages when the time doesn't always allow them to talk in person, or it might be the perfect icebreaker for topics that are difficult to discuss. Use our free printables, relationship journal prompts, couples journal questions, and make a tradition of a weekly marriage journal check-in.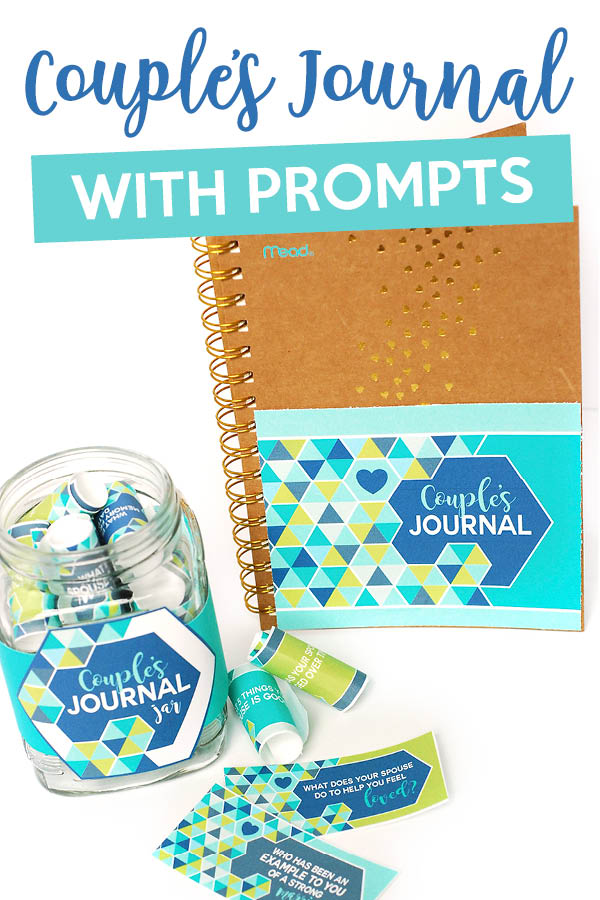 Couple's Journal Ideas
A couple's journal is easy to put together, especially with these beautiful designs. Don't you just love how cute these free couple's journal ideas and printables are? Even the couple's journal prompts and the couple's journal questions are designed to match the journal.
The printable download for the weekly marriage journal includes 52 unique couple's journal prompts so a little writing each week will result in a year's worth of memories, love notes, thoughts, words of appreciation, and more!  This would certainly be something you and your spouse will treasure forever!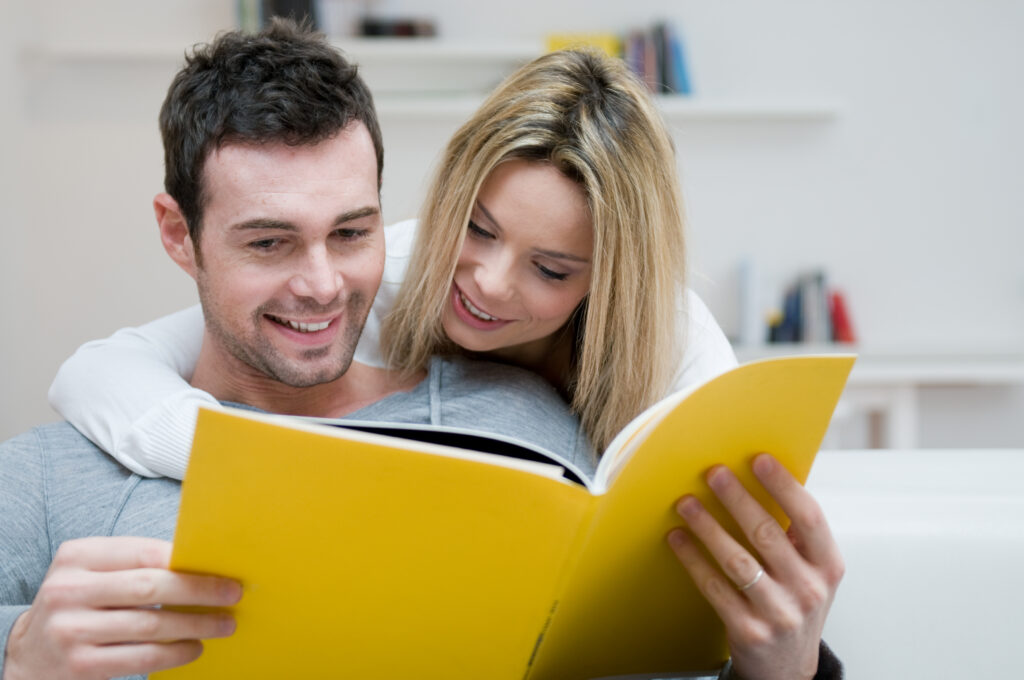 Create Your Own Weekly Marriage Journal
The free couple's journal ideas and printables include everything you need to get started. Simply print out each of the relationship journal prompts and journal decorating printables. Next, put it all together. Finally, enjoy a more meaningful connection with your spouse! This printable set includes:
Journal Cover – to convert any ordinary notebook into your very own couple's journal.
Journal Jar Cover – to keep all of the journaling prompts neat and organized in one place.
Couple's Journal Prompts – 52 writing prompts to get you inspired for what to write in your own love journal. These relationship journal prompts will get your really thinking and digging deeper for your spouse.
Gift Tag – A couple's journal also makes for the perfect gift for another couple.  Just think of all those bridal shower and wedding gifts you will be giving this year – this would be perfect (and inexpensive) gift!
How to Make a Weekly Marriage Journal
To get started with your own couple's journal, find a simple notebook or journal (I am in love with this journal!) and add the printable journal cover to the front. You can convert any notebook into your designated love book – it is super easy! You probably even have one laying around your house that you can use. Next is preparing a place for the couple's journal questions.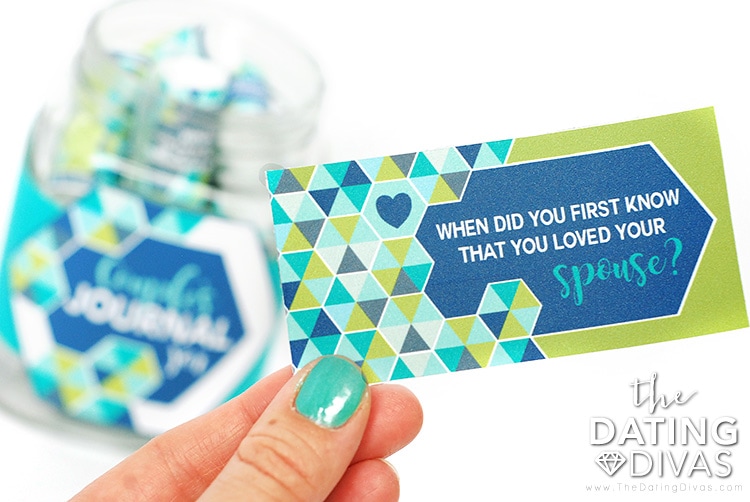 Each week choose some new relationship journal prompts from the journal jar. Personalize your love journal to you and your spouse. Write about anything really, but these couple's journal prompts are there to help you get started and inspired on what to write.
Couple's Journal Questions
The prompts include a variety of couple's journal questions including ones that ask you to fill in the blank, make lists, complete a written task, or share a memory. The prompts also range from lovey-dovey to sexy and sassy! Certainly, there are plenty of couple's journal ideas to fill this little love journal to the brim!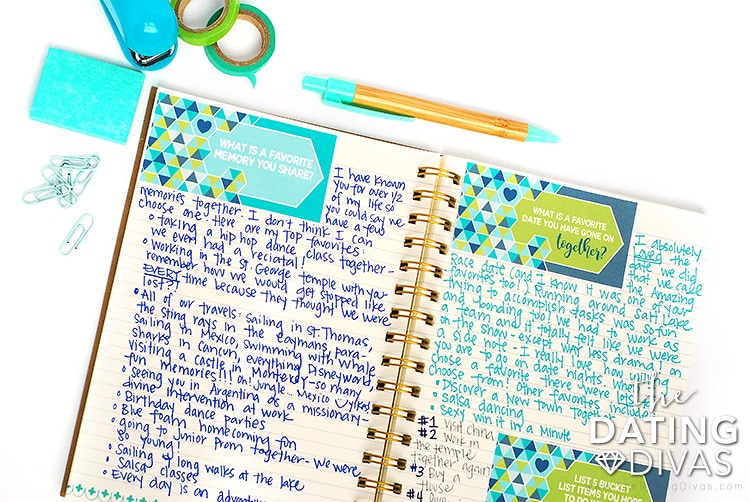 Add your writing prompt into your notebook (I totally recommend this double-sided adhesive for the job) and get writing! Your message doesn't have to be lengthy or eloquent – just from the heart. That is what is most important!
Now, the fun part! Leave the journal somewhere for your sweetie to find. Your spouse will love reading your heartfelt message written just for them and now, it is their turn to do the same!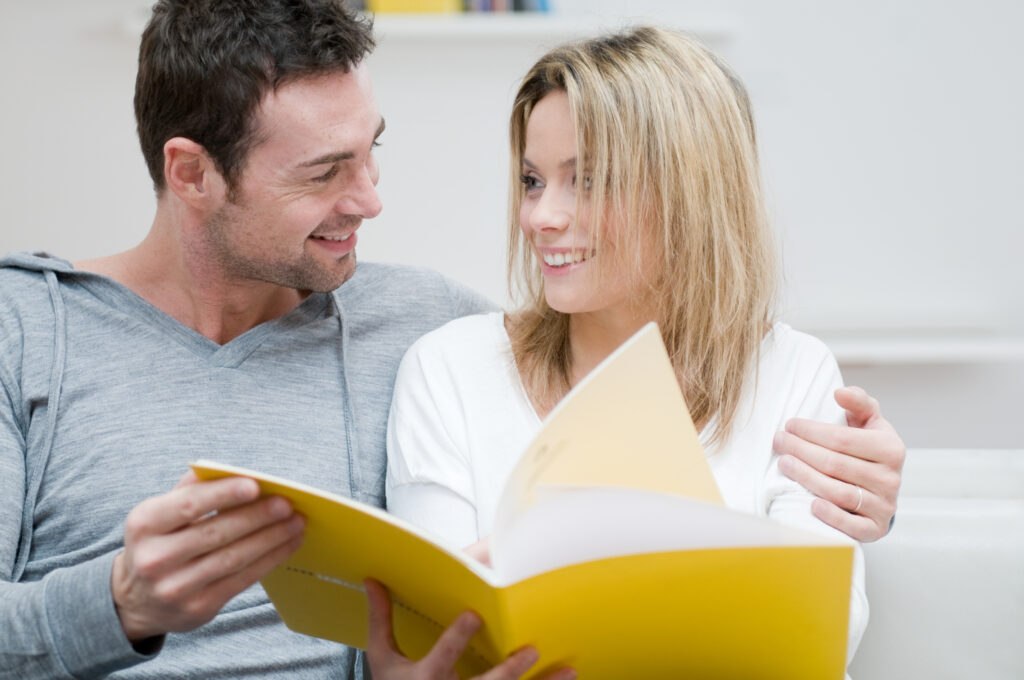 If your spouse isn't on board with this idea or perhaps is living long distances, why not just make it a gift from you? If you were to take a little time each week for a year and fill this journal up it would make a very special gift. I am a big fan of the book The 5 Love Languages by Gary Chapman and I just can't help but think what an extra special gift this would be for a spouse whose love language is words of affirmation! Also, if you are in a long-distance relationship we have lots of more ideas for you.
However, if you choose to use your couple's journal, we hope you love it! You get all of these printables by clicking the download button below.
Couple's Journal
Printables Designed by Carisa @ Messes to Memories Exclusively for The Dating Divas