Some of my most fond memories involve outdoor family games at our BBQs or neighborhood get-togethers. Whether it was Cornhole with my cousins, playing catch with my brothers, or badminton with the neighbors it was always a blast! Summer and these outdoor yard games go hand-in-hand. The nice afternoon breeze, the smell of BBQ, and a game of giant Jenga… Does it get any better than that?! I don't think so! We rounded up…
The Best Family Yard Games
These games will not only get your kids outside and being active but they will help to create family memories that will last a lifetime! Some games require you to work as a team and others will require great sportsmanship for you competitive athletes. HA! There are even some games that glow in the dark, allowing the fun to continue on past sunset! We hope these yard games can make this summer the best one yet! Save this list of yard games on Pinterest!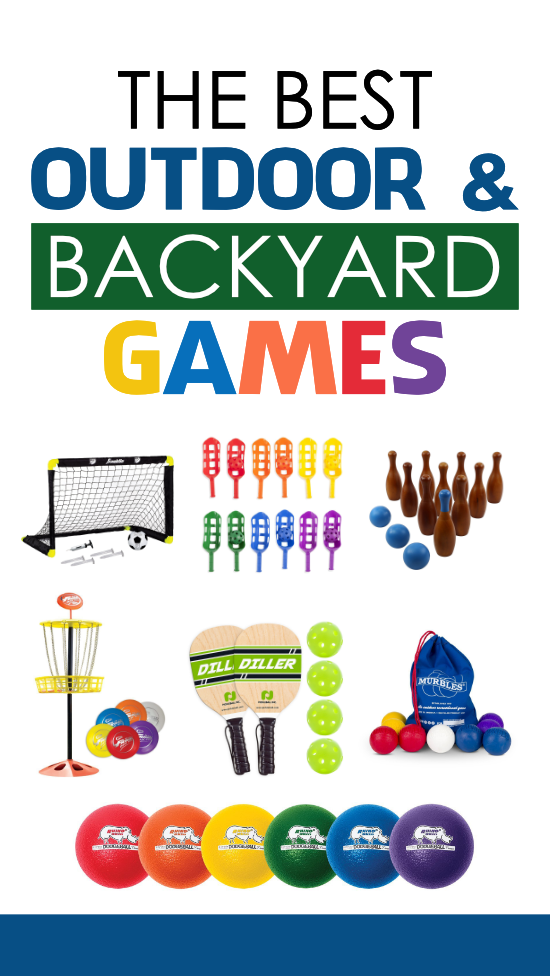 Disclaimer: This post contains affiliate links. To learn more about 'em, click here.
The weather is warming up and I cannot wait to get outside and play some of these games! So without further adieu…
Outdoor Family Games!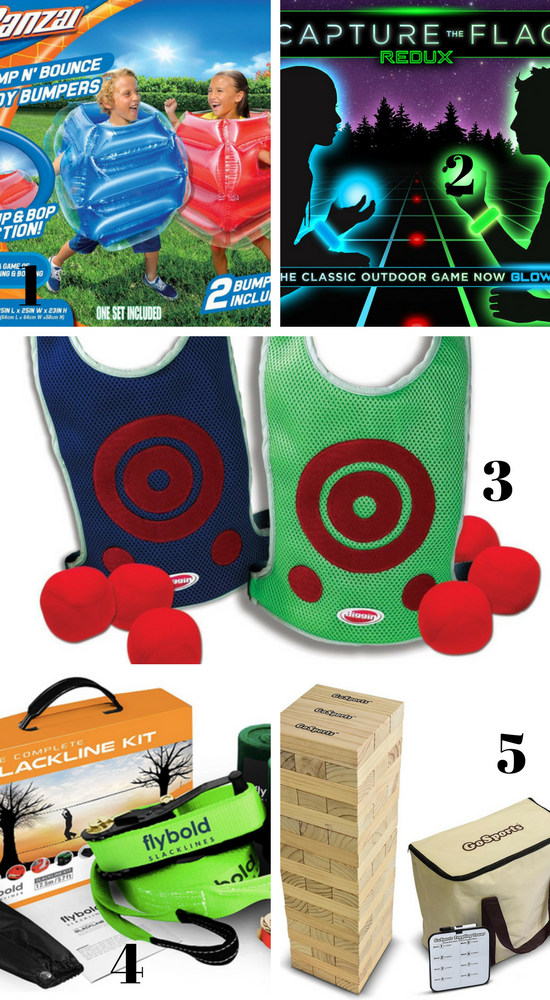 1. Body Bumpers – All you have to do is find a buddy, suit up, and then run into each other! Sounds pretty fun, right? HAHA!

2. Capture the Flag – Classic capture the flag that glows! Includes 33 light up game pieces, perfect for night games!

3. Dodge Tag – Puts a twist on the usual game of dodgeball, put on your vests and try to get your balls to stick to your opponent.

4. Slackline – A durable slackline with a training line to help all ages walk across. And apparently, slacklining is a great core workout, win-win!

5. Giant Jenga Tower – This giant tower starts at 2.5 feet tall and can get up to 5 while playing! So fun but watch out when it goes toppling over! 😉 Seriously one of the best outdoor family games!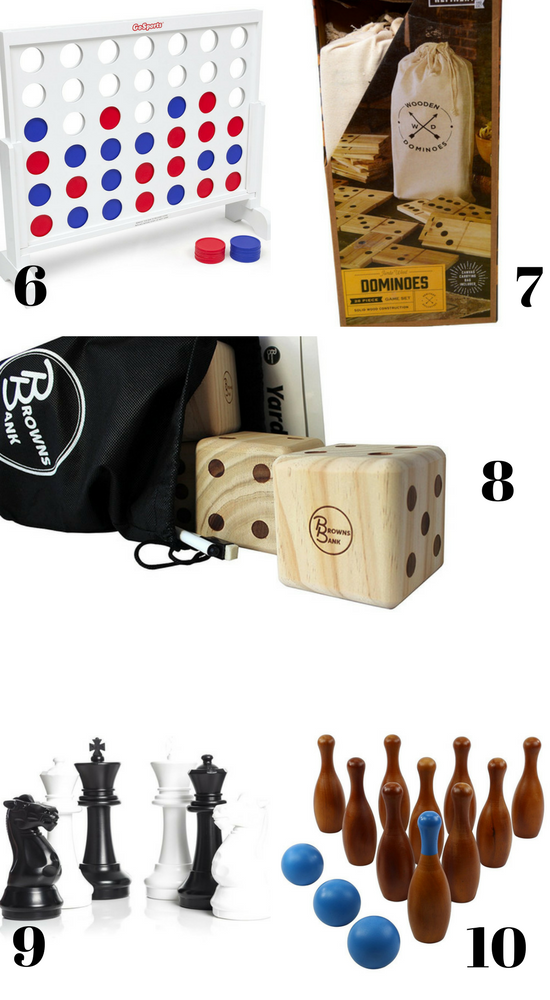 6. Giant Connect 4 – This game is 3 feet wide and over 2.5 feet tall! So fun and uses some serious strategy to win!

7. Jumbo Dominos – Each wooden domino is 7 x 3.5 inches! Plus who doesn't love a good game of dominos or maybe just building domino towers?! I totally thought that's what dominos were for when I was little. HA!

8. Giant Yard Yahtzee – This is just like the classic game but with HUGE dice! Also it comes with laminated scorecards and markers for endless games!

9. Mega Yard Chess Set – The king is 12 inches tall! And all pieces are water resistant and UV protected. Perfect for outdoor play!

10. Lawn Bowling – 9-inch pins and 3 bowling balls included. Perfect for all ages, young and old alike.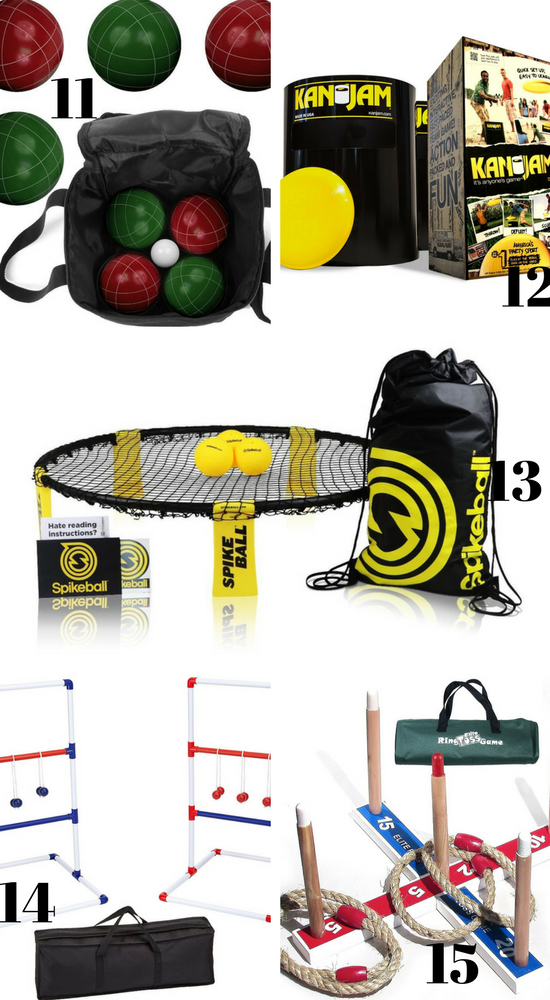 11. Bocce Ball – This game can be played on grass, dirt, or sand. So it is perfect for any location and event!

12. KanJam Ultimate Disk Game – A mix of Cornhole and Frisbee Golf! Hours of entertainment for a wide variety of ages.

13. Spikeball – Working as a team to hit a plastic ball off the net on the ground. Works on all kinds of surfaces and any age can play. This game took off and they now have tournaments for it!

14. Ladder Golf – One of the most fun outdoor family games, set up a bracket and have a tournament for hours of entertainment! Gets pretty competitive!

15. Ring Toss Game – Toss rings onto wooden pegs that have varying point values! Easy and fun outdoor game!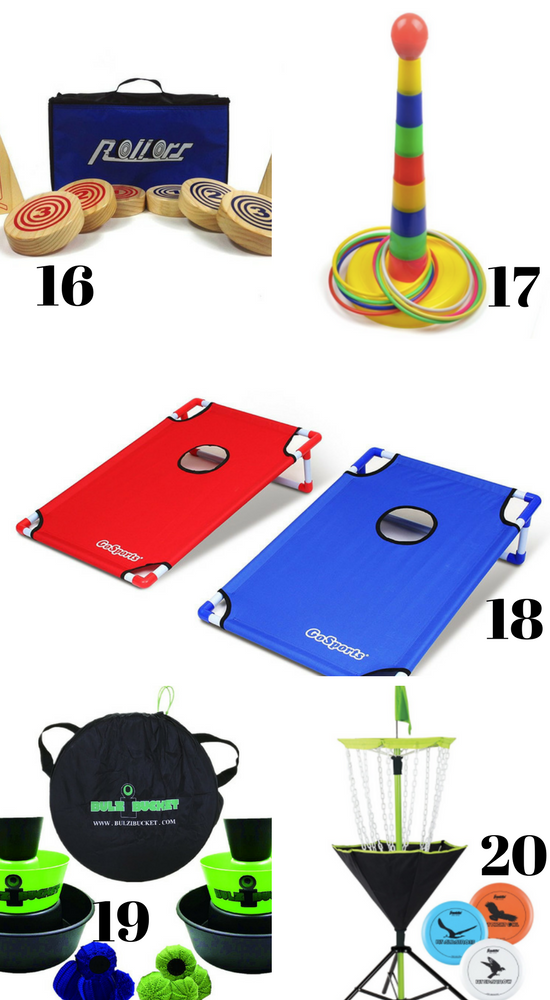 16. Rollors – A mixture of bowling, horseshoes, and bocce ball. Pieces are a good grabbing size making it a great game for all ages!

17. Plastic Ring Toss for Kids – Toss the plastic rings onto the tower. Perfect for younger children and it collapses nice and small for storing.

18. Cornhole – Such a fun and classic outdoor game! Cornhole is a summer outdoor staple as you toss bean bags onto an inclined surface. This one might be one of my favorite outdoor family games!

19. Next Generation Cornhole – Instead of a flat surface this has you throw bean bags into a collapsable tiered bucket! What a fun switch up!

20. Frisbee Golf – Basket is quick and easy to set up on a tripod-like stand allowing it to be set up on almost any surface! Also comes with 3 colored discs.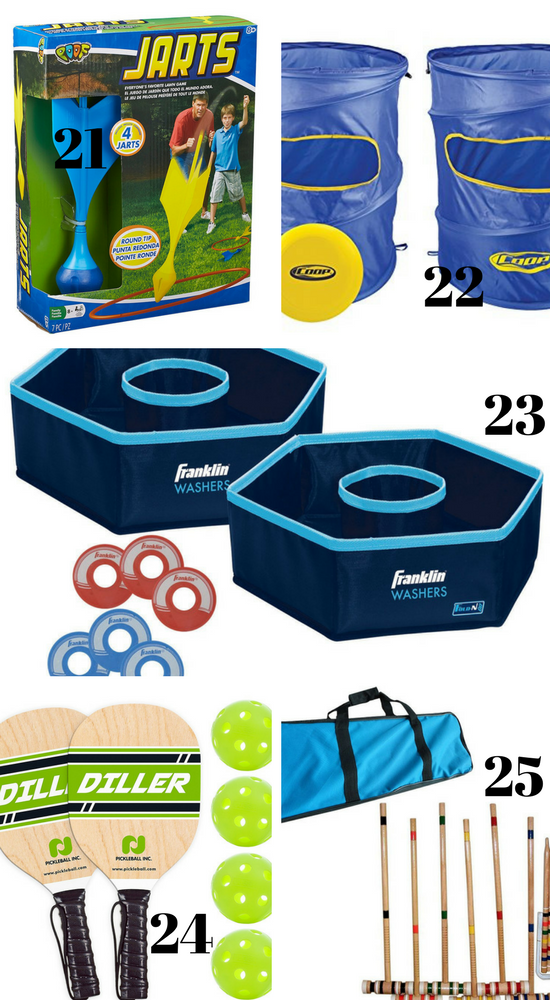 21. Jarts Lawn Game – Puts a fun, aerodynamic twist on horseshoes. Looks so fun and is safe for all ages.

22. Coop Spring Slam – Action packed game involving a frisbee and disc slots on collapsible tubes. The game folds up super small for easy, quick clean up.

23. Washers – This game tests your accuracy as you try to toss steel washers into the center! Competitive and fun!

24. Pickleball – Nice wooden paddles that are great for beginners and great for all ages! 2 paddles and 4 balls allowing you to get playing right away!

25. Croquet – All you gotta do is set up the wire hoops, assign some colors and PLAY!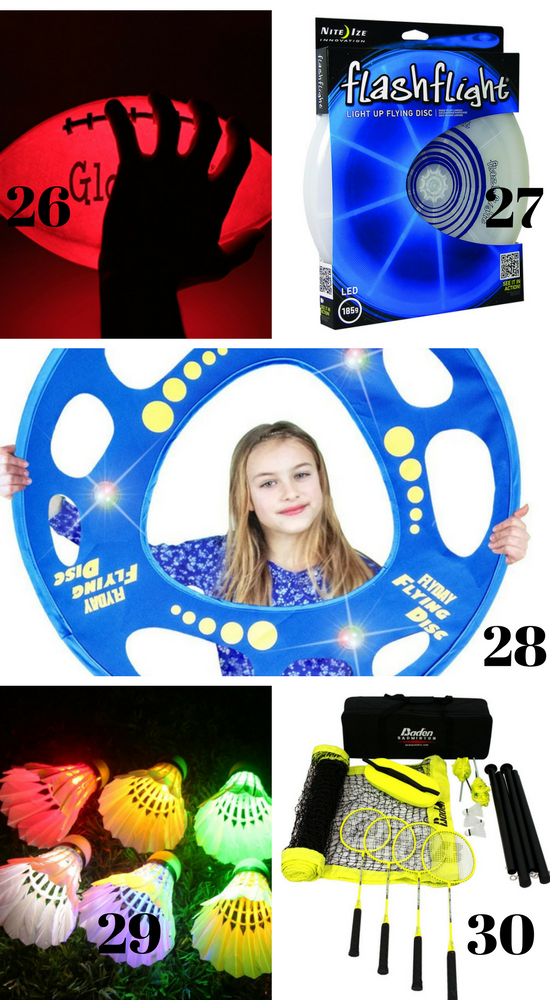 26. Glow-in-the-Dark Football – Playing catch with my brothers and dad are some of the best memories and this allows that fun to continue into the night!

27. Flashflight – Light up Frisbee! How fun! It allows you to keep playing after the sun goes down.

28. Giant Flashlight Frisbee – Because giant anything is more fun than regular size!!

29. Glow-in-the-Dark Badminton Birdies – So much fun! A six pack of glowing birdies that allow the fun to continue on!

30. Badminton Set – I love Badminton, it is so fun and so easy! This set has everything you need so you can get your game on!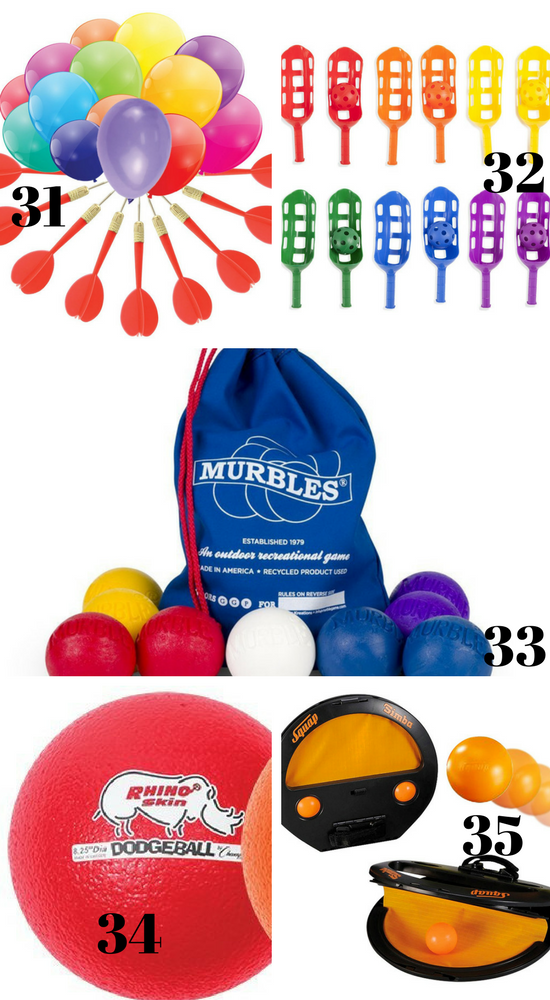 31. Dart Balloon Game – Includes 288 balloons and 36 darts which allows for countless hours of "supervised" fun.

32. Scoop Ball – A six pack of colorful scoops with coordinating wiffle balls.

33. Murble Game – This game requires basically no skill and no setup… my kind of game! Directions are printed on the canvas carrying bag.

34. Dodgeball – These soft spongy balls will soar but won't sting when hit with one. Perfect for all ages.

35. Squap – Open the "mitt" to launch and snap to catch the ball! Great for teaching kids hand-eye coordination!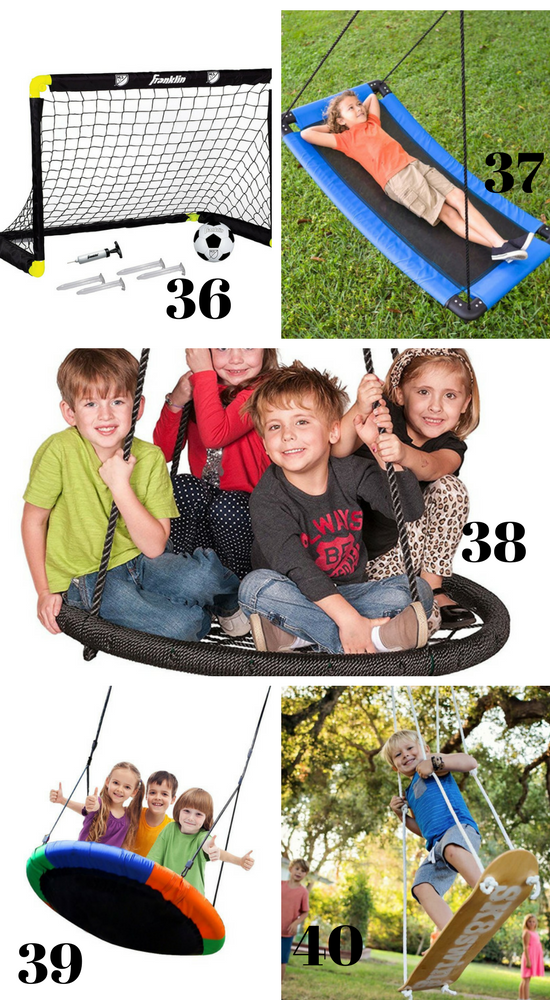 36. Soccer Set – This set has everything needed to teach the kiddos the great game of soccer!

37. Platform Swing – Doesn't this look like SO much fun?! I want one ASAP!

38. Outdoor Swing N' Spin – You are sure to be the coolest house on the block with this swing!

39. Tree Swing – We had something similar to this at my grandma's and it was always swinging!

40. Sk8 Swing – This looks intense and fun! I know my nephews would go crazy for this!
Don't these outdoor family games just make you want to get out and play?! I know they make me want to! I cannot wait for family BBQs out back and parties at the park. You can bet I'll be bringing some of our favorite yard games found in this post. We are so excited to hear what games you play this year and all the memories created because of it!
We also have 75 Outdoor Water Activities for those super hot days and a way fun Backyard Camping Date for you and your babe to enjoy the outdoors!
SaveSave