The Ultimate List of Bridal Shower Favors
So you're planning a bridal shower and need some bridal shower favors inspiration. Well you came to the right place! Not all bridal showers need party favors, but it's no question the ones that have them are SO FUN! A simple party favor not only conveys your appreciation to your guests for attending the party, but it also gives BACK to them for supporting the bride.
We think bridal shower favors are fun, sweet, and the perfect extra touch at a bridal shower! So check out this list of super trendy bridal shower party favors and watch your guests be tickled pink over them!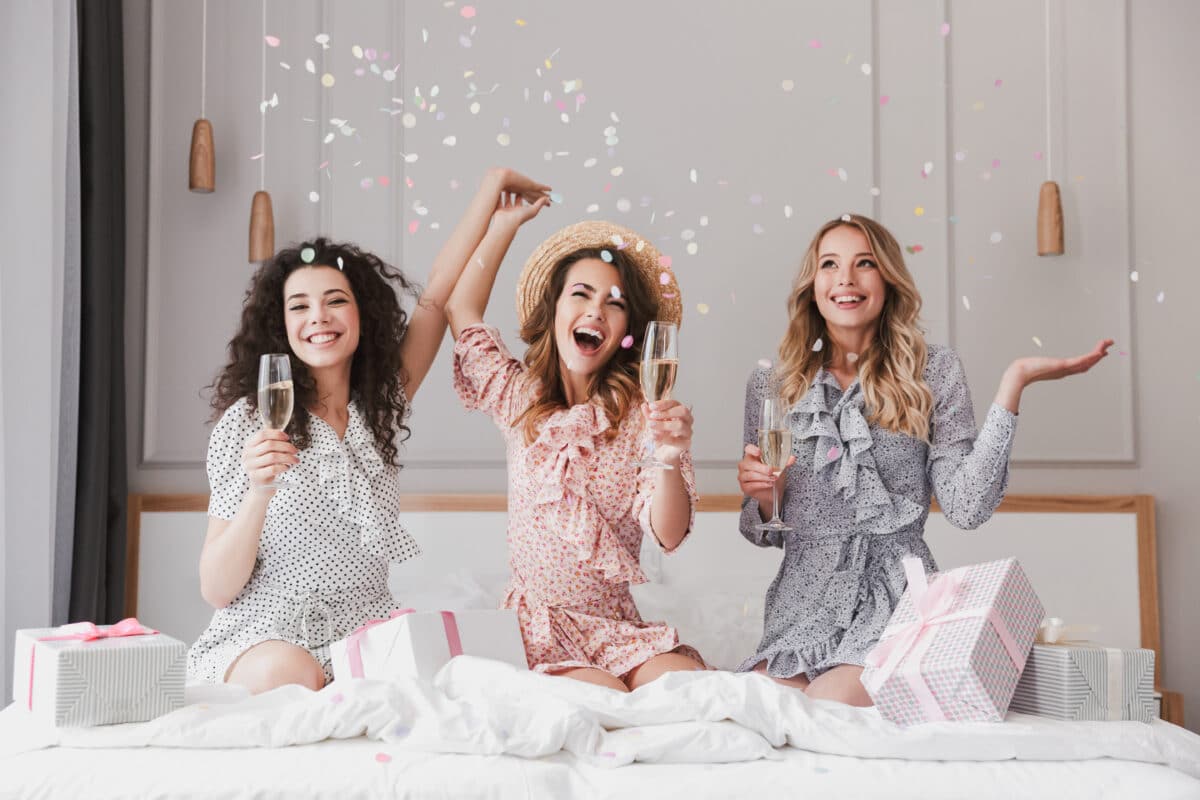 Disclaimer: This post contains affiliate links. To learn more about 'em, click here.
Simple & Sweet Bridal Shower Favors
1. Baked Bath Salt Bridal Shower Favor Idea – Show some love to your bridal shower guests with these specially baked bath salts! Head on over to Something Turquoise for the amazing baked bath salt recipe and adorable FREE printable labels! You can also get some amazing pre-made ones in almost every color too! They have so many cute bridal shower ideas over there!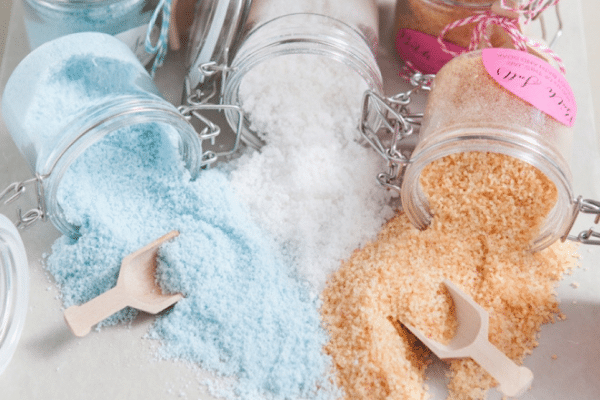 2. Pedicure in a Jar Favor – Who wouldn't love a free pedicure?! Check out one of our favorite bridal shower party favors from Rachel at Ever Mine! Create a cute pedicure in a jar for each of your friends! Don't forget the spa slippers!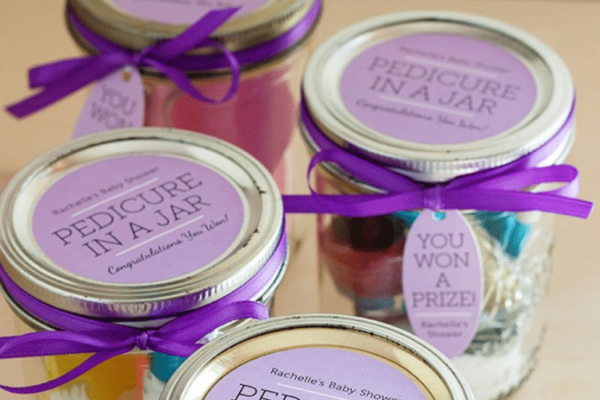 3. "Mint to Be" Bridal Shower Gift – Shake things up with this darling party favor idea! Simply package up some tic-tacs with this adorable "mint to be" printable from Cristina from Bird's Party!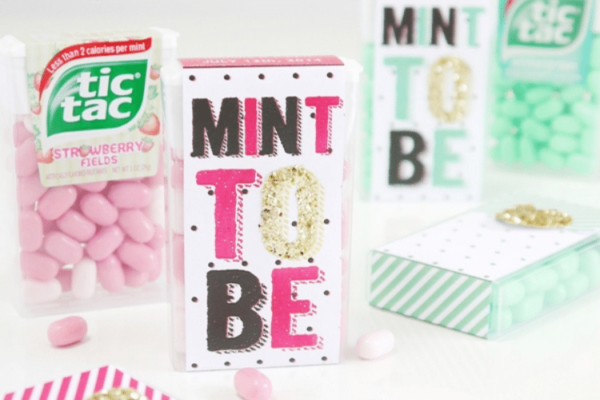 4. "Love & Spice" Bridal Party Favors – Yum yum! Send your guests home with some special "love" spices! Find the full details and adorable "Love Spice" jar labels over at Something Turquoise! You can get some of the empty spice jars here!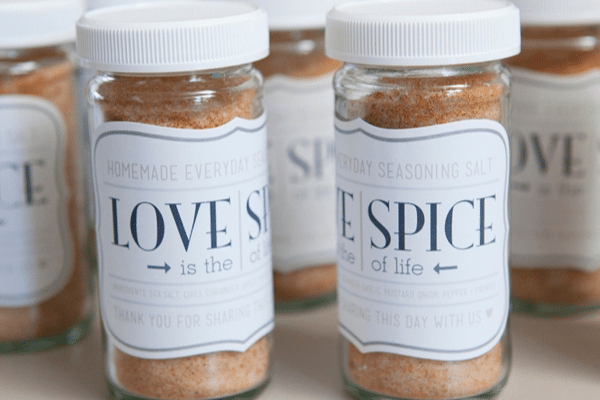 5. The Perfect "Match" Favors – Take a look at these darling chalkboard printables from Craft Your Life! For a fun and practical party favor, send your guests home with a cute set of decorated matches!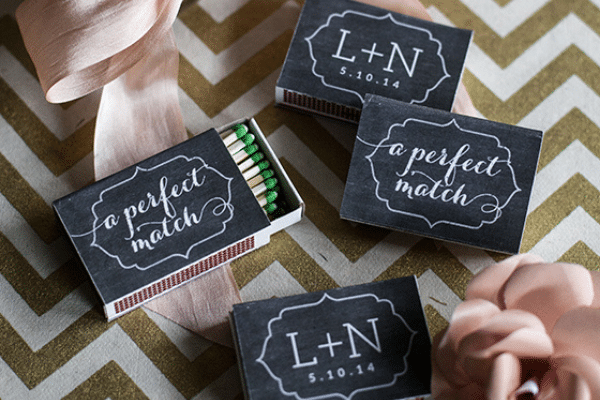 6. Macaron Bridal Shower Pops – We LOVE this adorable idea — macaron pops! They make for an unforgettable bridal shower favor!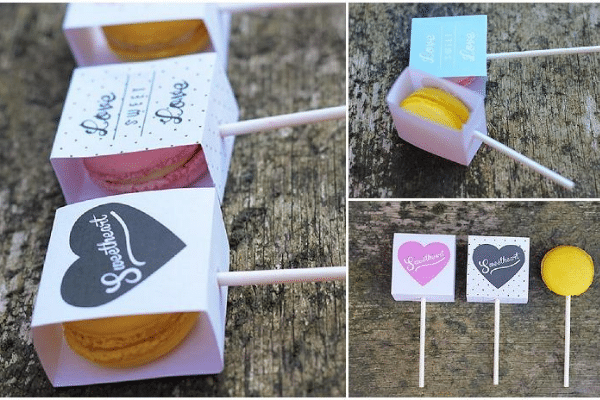 7. Instant Mocha Bridal Shower Mixes – Here is one of the most unique bridal shower favor ideas we've ever seen AND your guests will LOVE! With just a few ingredients, you can recreate this adorable thank you gift from Something Turquoise!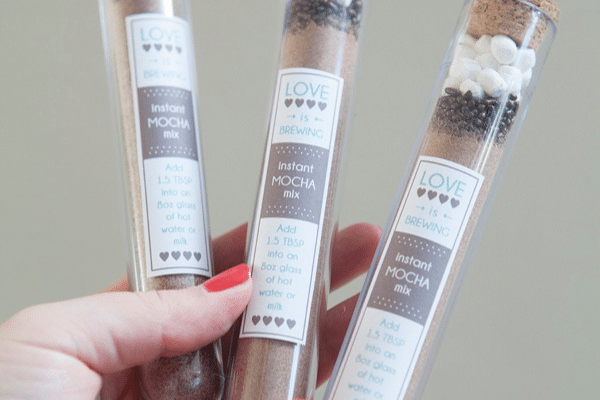 8. Nail Polish Bridal Shower Favor – You can NEVER go wrong with nail polish as a party favor! We love this example from Emmaline Bride — so cute! You could also do a fun play on words on your tag like "Mani Thanks!"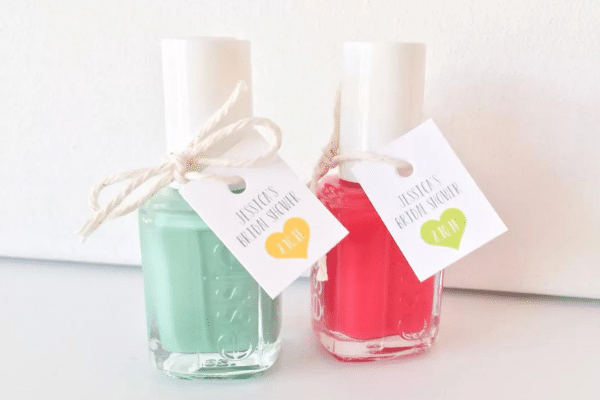 9. Scented Candle Thank You Favors – Send your guests home with a gift from the heart with these easy-to-make lavender rosemary candles from Live Simply Me!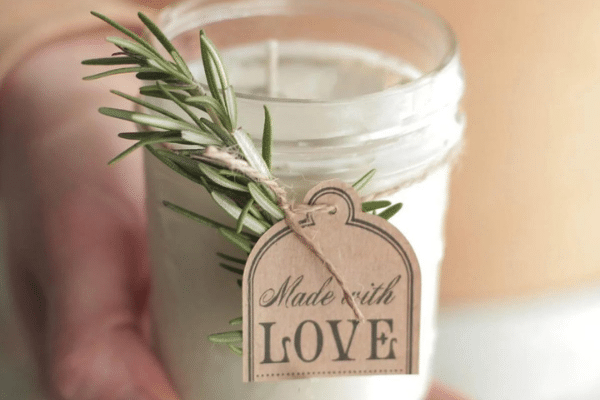 10. Pretty Popcorn Bridal Favor – Create the perfect bridal shower party favors with this adorable idea from Annie's Eats! Package up tasty popcorn with a cute box, tag, and fun ribbon for each of your guests!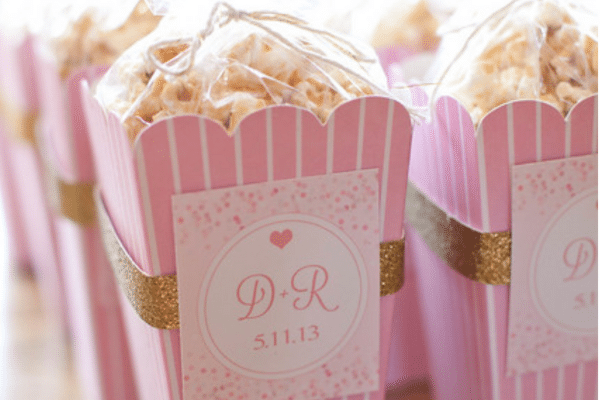 11. Glitter Wooden Spoon Favor – Pick up a few wooden spoons and add some glitz to them! Check out this adorable tutorial from Something Turquoise!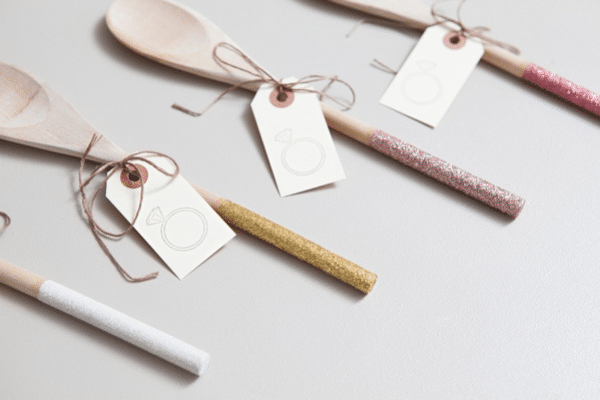 12. Lipstick Bridal Shower Favor – Trust us! You can never go wrong with lipstick! Create a bridal shower favor your guests will love with this darling idea from Two Prince Bakery Theater!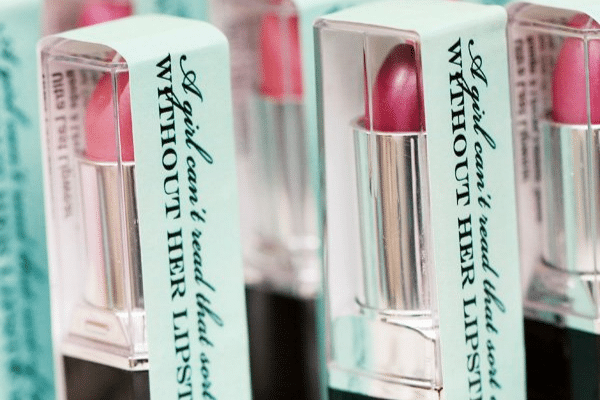 13. "You're a Real Gem" Ring Pops – Okay, can we take two seconds to talk about just how CUTE these bridal shower party favors are from Eighteen25?! Send your guests home with this little gem of a treat! Ring Pops have never looked this GOOD!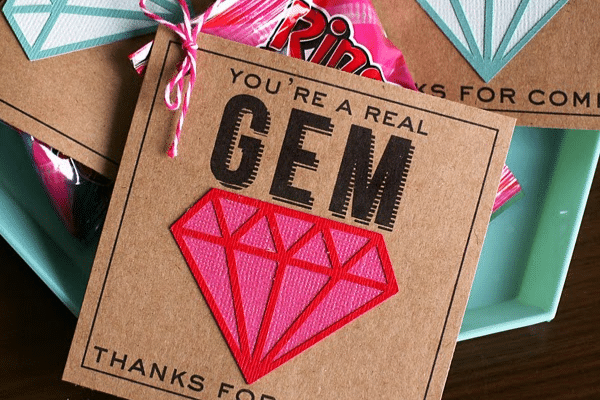 14. Mint Bridal Shower Gift – Grab some tins for mints and add this elegant label from Martha Stewart to create some classy bridal shower gifts! She has some beautiful bridal shower ideas!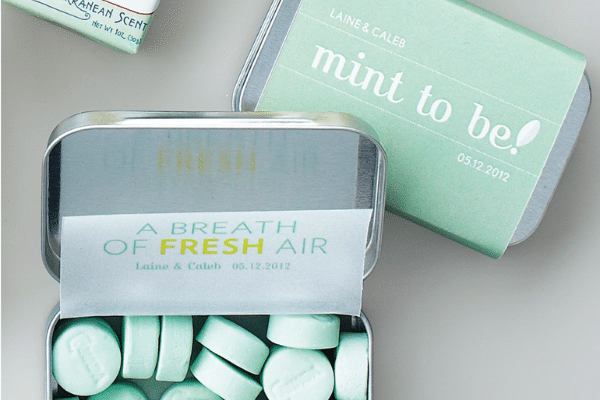 15. S'more Love Favors – We love the idea of creating your own s'more packages to send home with your guests! Simply take some graham crackers, marshmallows, and chocolate, and tie them up with a cute ribbon! Don't forget the cellophane!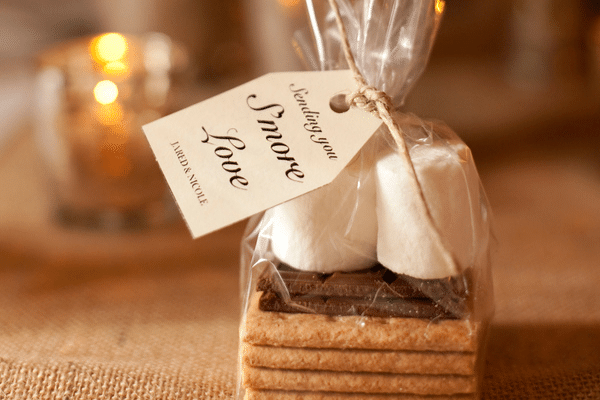 16. Bridal Shower Favor Magnetic Board – Check out this fun twist on the typical bridal shower party favor from Kara's Party Ideas! Adhere a magnet to the bottom of a treat container and attach them to a cute board for your guests to take home afterward!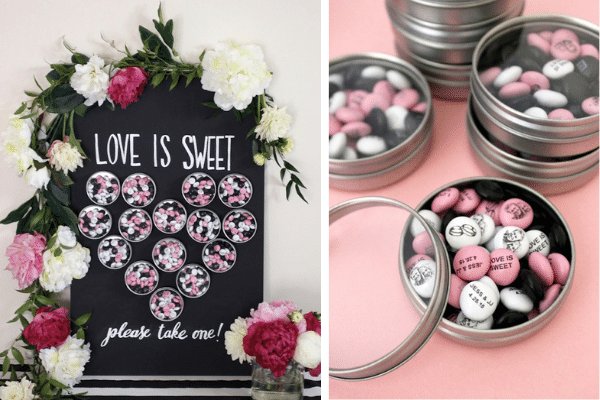 17. Themed Bridal Shower Goodie Bags – If you are throwing a themed bridal shower, why not send your guests home with something to remember the party, like a themed goodie bag? For instance, check out this idea from Shawna Brockmeier Styled Events! She threw a "Breakfast at Tiffany's" themed bridal shower and sent her guests home with goodie bags filled with Audrey Hepburn sunglasses, a set of pearls, and Tiffany blue treats! SO cute!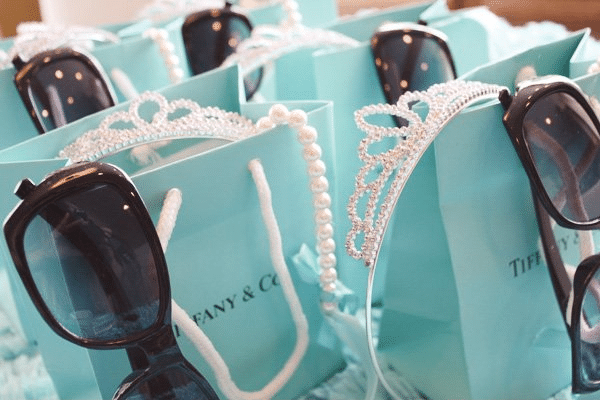 18. Adorable Doughnut Party Favors – Short on time? Run over to your nearest doughnut shop and pick up some sweet treats for your bridal shower favors! Probably one of our easiest bridal shower ideas to date!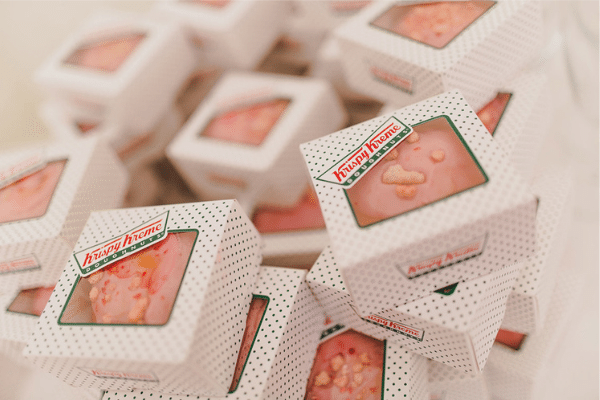 19. Decorated Tea Lights – You'll want to grab some cute Washi Tape to make these adorable decorated tea lights from Evermine! We love a gift that's not just cute, but practical, too!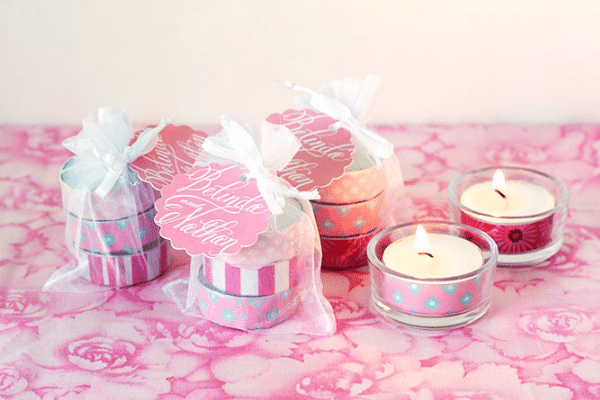 20. "Let Love Grow" Succulent Bridal Favor – Send your friends home with some green succulents! Not only are they SUPER popular right now, but they are also eco and budget-friendly! Bag this adorable favor in a "let love grow" printable bag from Something Turquoise! One of the more simple bridal shower ideas, yet totally adorable!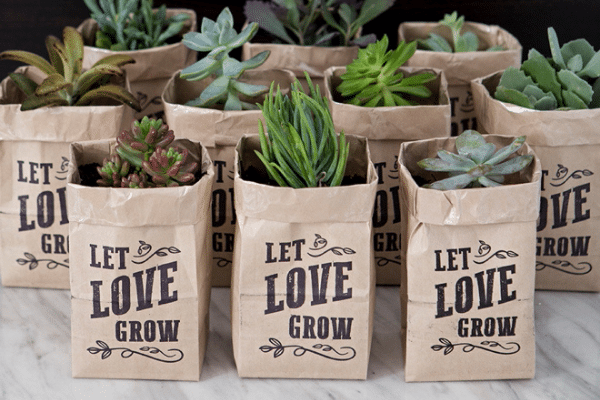 21. Cake Pop Bridal Shower Party Favor – The great thing about cake pops is you can dip them in just about any colored chocolate — meaning you can easily match these sweet treats to your bridal shower color scheme! Head on over to These Peas are Hollow for an easy-to-make cake pop recipe!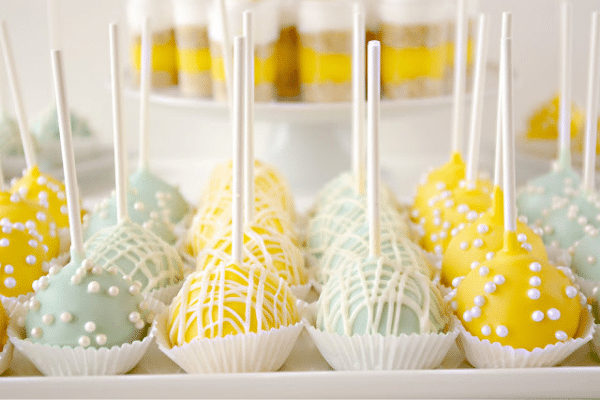 22. Hair Scrunchie Favors – No girl has ever said "I have too many hair accessories," especially CUTE ones (like these guys)! Your bridal shower guests will LOVE this party favors!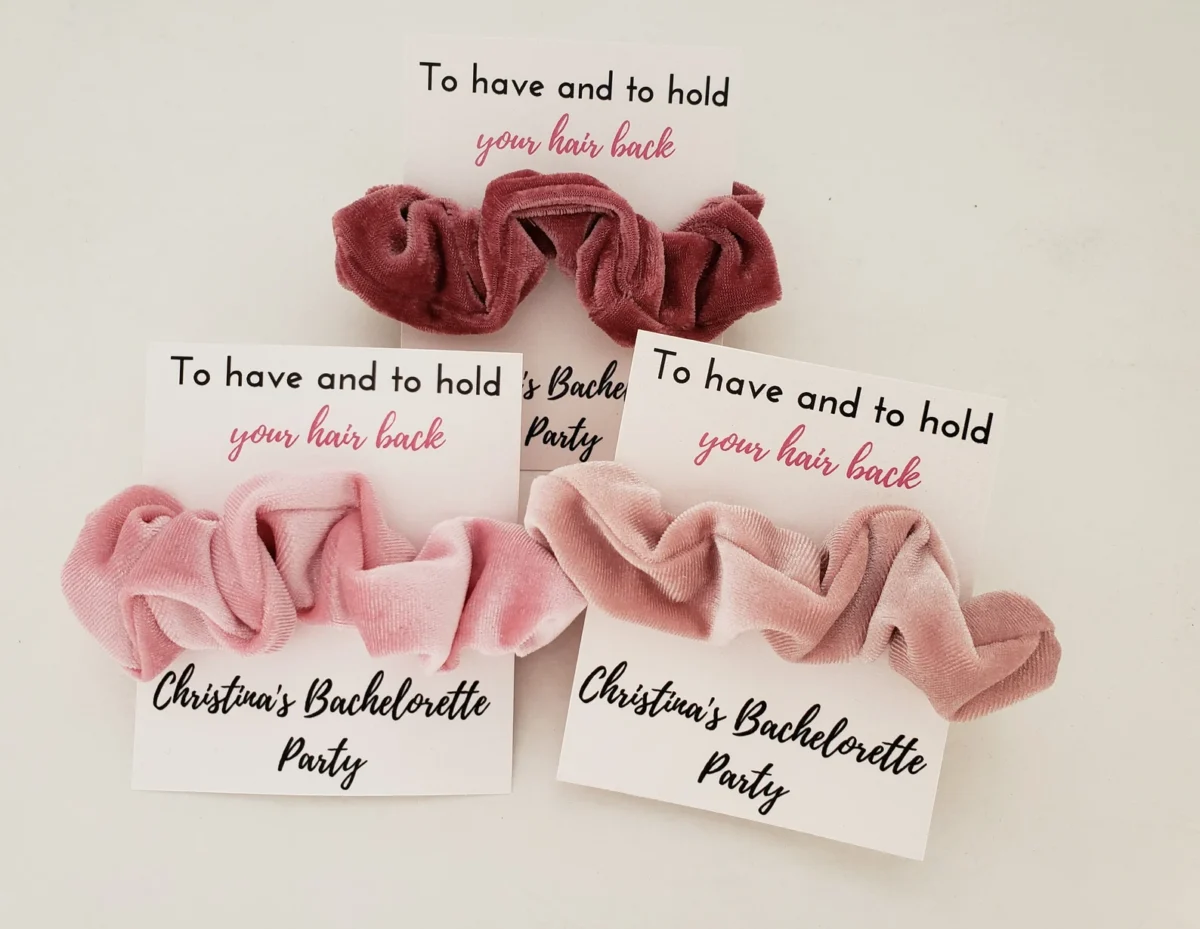 23. Bridal Shower "Treat Yo'self" Bag – Invite your bridal shower guests to treat themselves with a cookie and the CUTEST printable bag! Who wouldn't love this delicious and fun treat?!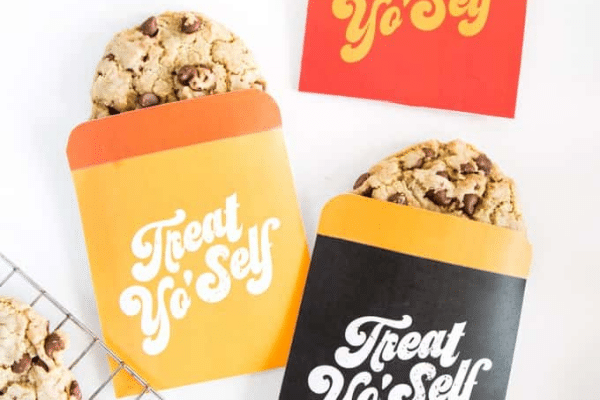 24. Personalized Tote Bags – You could surprise your guests with the ULTIMATE party favor — personalized totes! These cute bags are easy AND artsy… Win/win!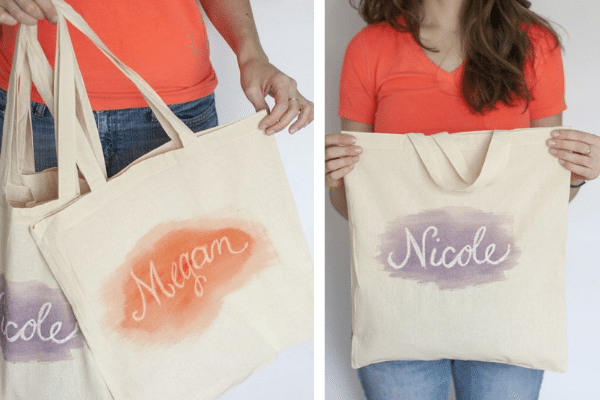 25. Bridal Shower Button Pins – Aren't these little bridal shower pins from Sassy and Co soooo cute? For a simple bridal shower party favor, send your guests home with a small memory token, like these darling buttons! And check out her other bridal shower ideas while you're at it!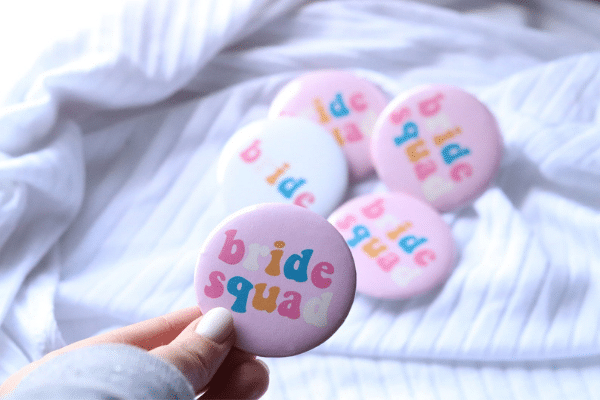 Without a doubt, your guests will love any of these bridal shower favors — you can't go wrong! What are the best bridal shower party favors you've received? Tell us in the comments!
If you're interested in even more bridal shower ideas, make sure to check out our amazing list of 100+ Bridal Shower Ideas and our round up of Bridal Shower Games. You'll be set to host the cutest bridal shower ever in no time!