Best Bridal Shower Games
Bridal showers are meant to be FUN! And nothing says fun more than GAMES! Once your guests have settled in, had a bite to eat, and chatted for a while, we think that's the perfect time to break out one or two bridal shower games.
Luckily for you, we've got the best list out there of bridal shower game ideas that are classy, fun, and all about the bride-to-be! So, check out this awesome list and get ready to check this planning task off your list!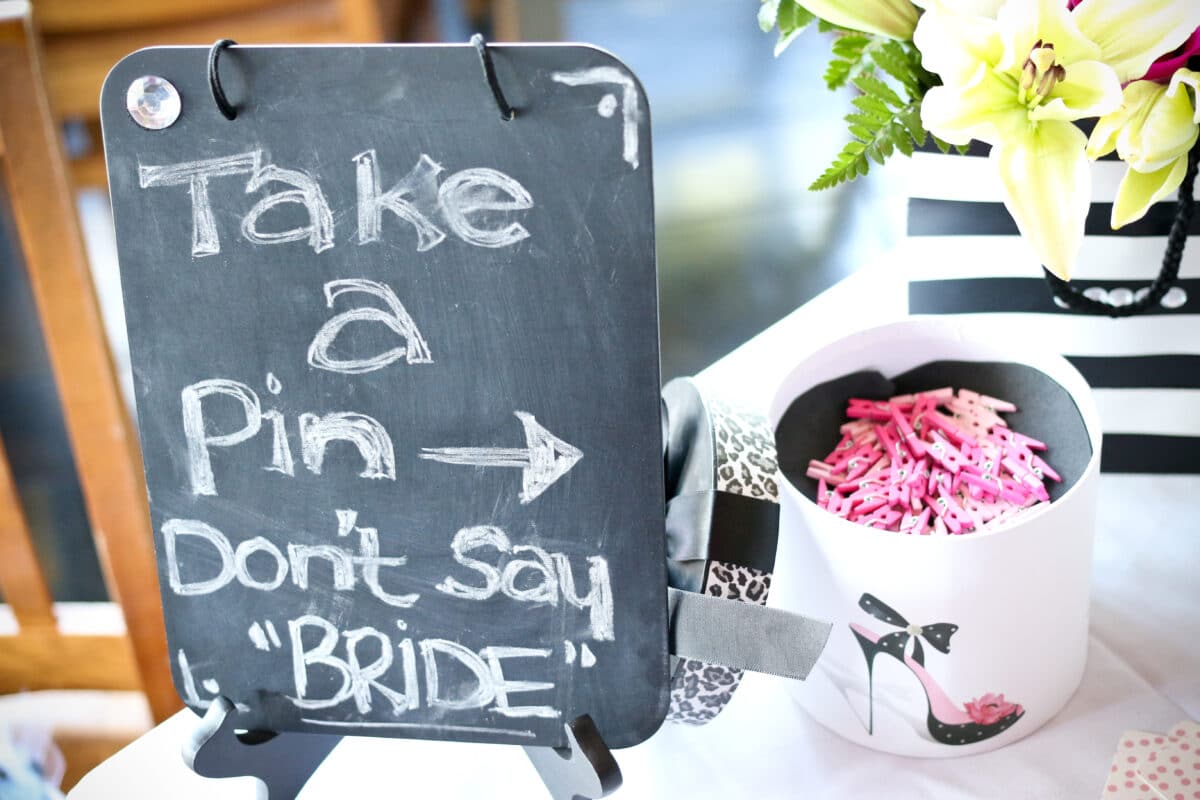 Disclaimer: This post contains affiliate links. To learn more about 'em, click here.
fun, not boring, bridal shower games
1. "Name That Groom" Bridal Shower Game – If you're looking for wedding shower games that will have everyone participating and laughing, then check out this awesome idea from Lelia at Life on the Homestead! Basically, your friends will have a blast matching pictures of celebrity brides to their groom!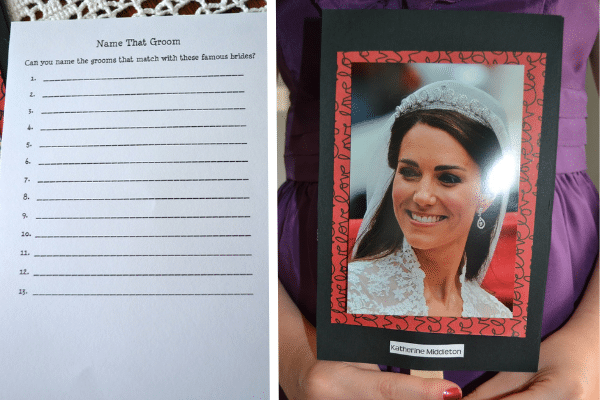 2. "He Said, She Said" Bridal Shower Game – To play this game, ask the bride and groom 15 unique questions (make sure they are the same questions)! Then, at the bridal shower, cut out some cute mustaches and lips! Read off the questions and have the bride's friends guess who said what! In the end, the person who answers the most questions correctly wins!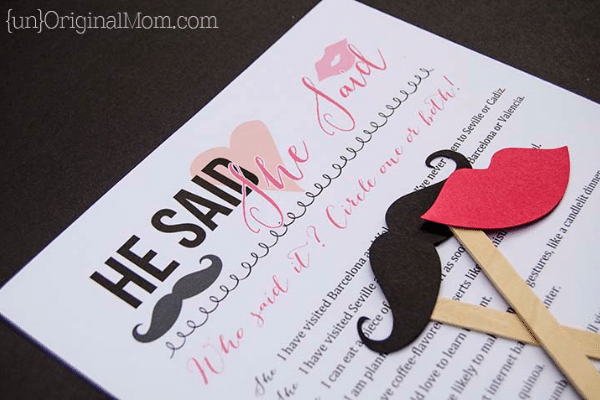 3. "Recipe For a Good Marriage" Bridal Shower Activity – Here is a sweet and simple bridal shower activity idea from Sweet C Designs! First, set out a bunch of wooden spoons. Then have the bride's friends write down some marriage words of wisdom on them! This activity would be especially perfect if you are throwing a kitchen/cooking themed bridal shower!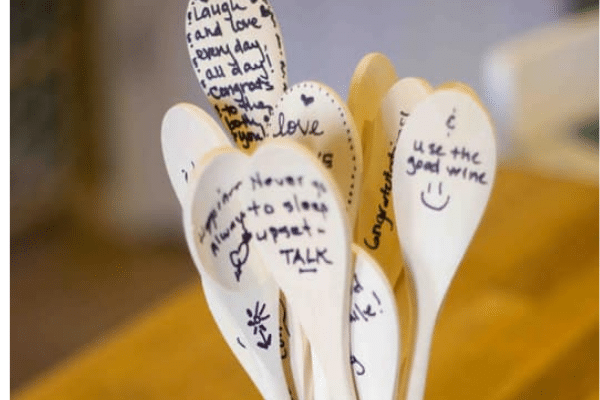 4. The "Price is Right" Bridal Shower Game – To play this game, gather a bunch of household items (that the bride and groom can keep as a gift), such as cleaning products, dental floss, medicine, etc. Give each party guest the chance to write down their guesses of the price for each item. The person with the closest correct guesses wins!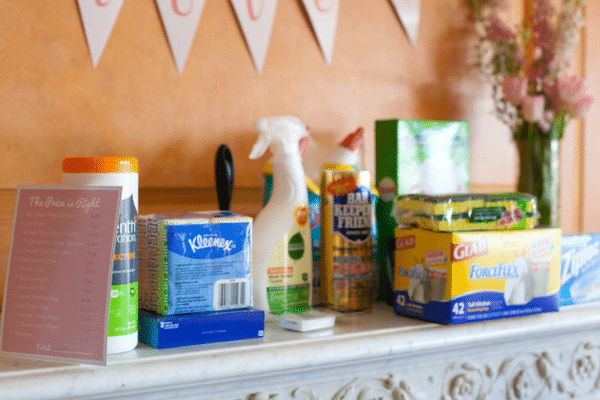 5. Fill in the Celebrity Couple Bridal Shower Game – This game is similar to "Name That Groom," but you could be guessing the husband OR the wife! This printable is adorable and your guests will have the most fun time filling out the famous couples!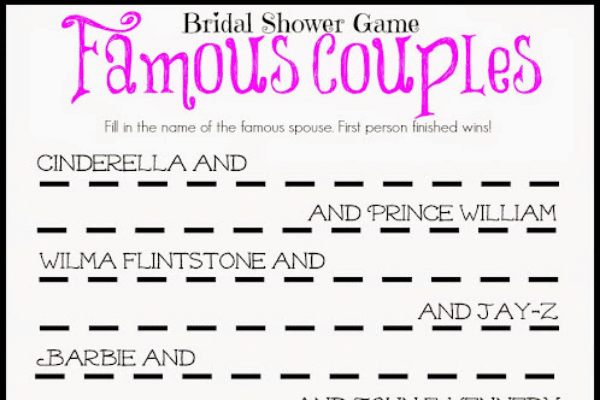 6. Bridal Shower Present Bingo – Give your guests something to do while the bride opens her gifts! This adorable bridal shower bingo game from Something Turquoise is perfect! To play, have each guest write down what she thinks the bride will receive. As she is opening her gifts, have them mark their cute printable bingo cards!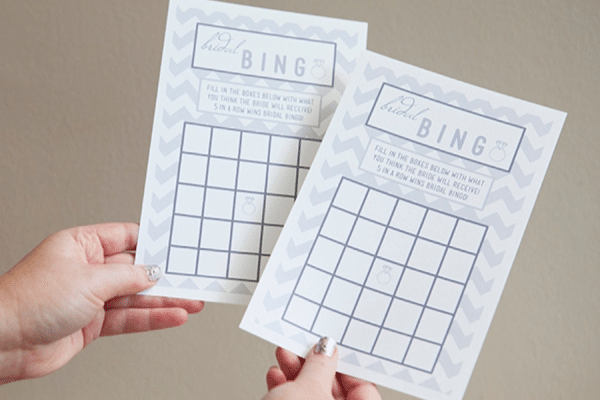 7. Personality Panties Bridal Shower Game – This is one of our favorite bridal shower game ideas, and it came from Pinning with Mrs. Pennington! To play, invite each of the bride's guests to bring a pair of panties (as a gift) for the bride-to-be that represents THEIR personality! When the future Mrs. opens up the special presents, she will have three guesses to match the panties to the specific friend's personality! Hilarious, right?!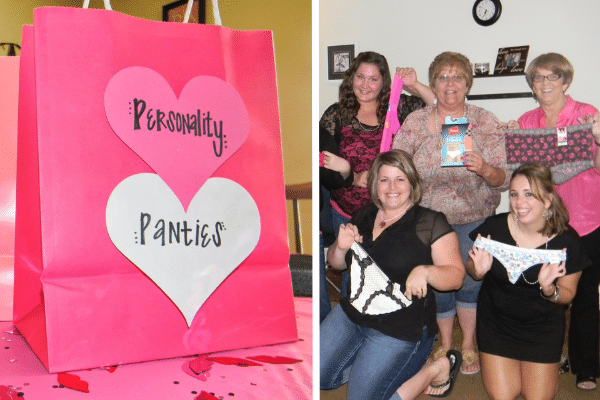 8. "How Well Do You Know the Bride?" Bridal Shower Game – Not only is this bridal shower game a crowd-pleaser, but it is also absolutely free and ready in just minutes! Win, win, win! Cheryl from Everyday Dishes has done all the work for you! So, be sure to hop on over and get your FREE printables for your next bridal shower!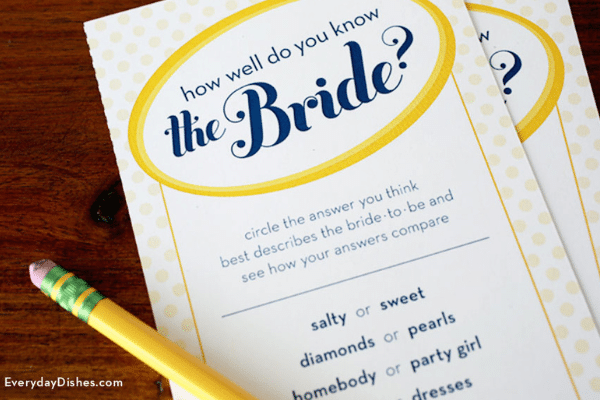 9. "Minute To Win It" Bridal Shower Games – Bring out the competitive side of your guests with some 'minute to win it' games! To play, simply pair your guests up into teams and play a series of fun, wedding-themed challenges that last only a minute.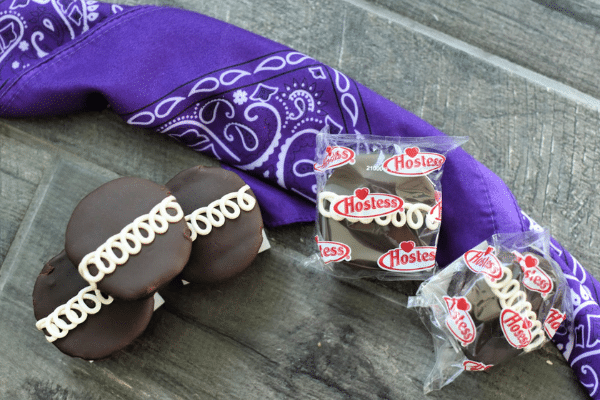 10. "Name That Romantic Movie Quote" Game – The ultimate game for chick flick lovers! This game has you list which movie the romantic quote comes from (complete with an answer bank at the bottom). It's SUCH a blast!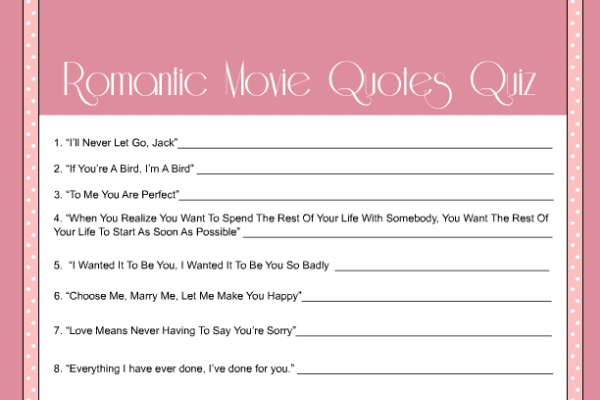 11. DIY Nail Polish Bar for a Bridal Shower – Are you looking for an alternative to the typical bridal shower game? Look no further! Spoil your guests with a gorgeous nail polish activity bar! Your bride's guests will have a BLAST creating their own special concoctions! Take a glimpse at this amazing DIY nail polish booth tutorial from Something Turquoise! Additionally, make sure to grab some of these handy wearable nail polish holders for each girl while they're painting.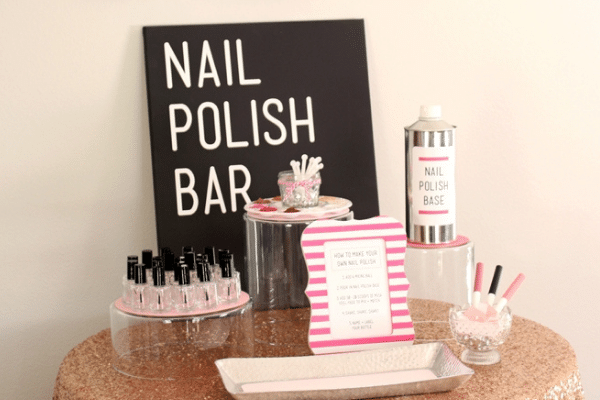 12. Bridal Shower Photo Booth Props – We are loving these wedding-themed photo props from The Budget Savvy Bride! Set up a fun backdrop and take some funny photos as an activity during your bridal shower! Without a doubt, this is definitely one of our most favorite bridal shower ideas.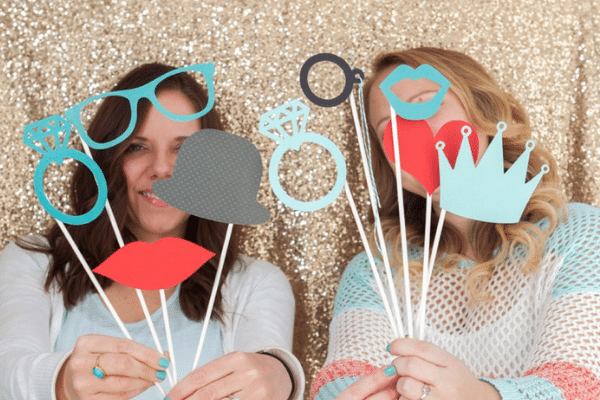 13. Bridal Childhood Photo Guessing Game – How well do your guests know the bride? For this game, gather a bunch of photos of the bride-to-be at different ages in her life and test their knowledge! See if your guests can determine how old the bride was in each of the photos! To us, this is one of the more classic bridal shower ideas, but we love it all the same!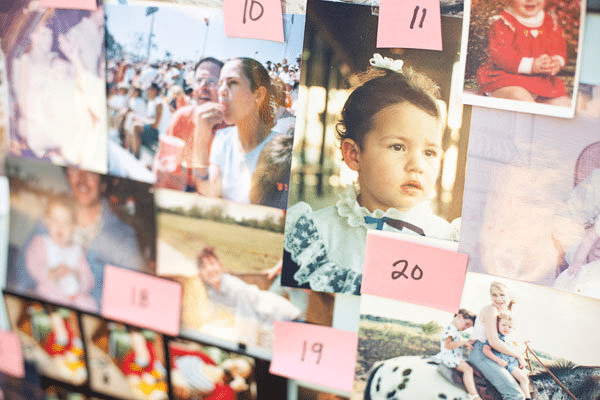 14. Bridal Shower Date Night Jar Activity – This amazing idea comes from Strange & Charmed and serves two purposes! Not only is it a fun activity for the guests, but the future Mrs. will ALSO walk away with a priceless gift! First, set out some craft popsicle sticks (or slips of paper). Then, have the bride's friends write down their favorite date night ideas on the sticks or paper. After the shower, present the bride with the jar filled with date night ideas for her and her future spouse to share!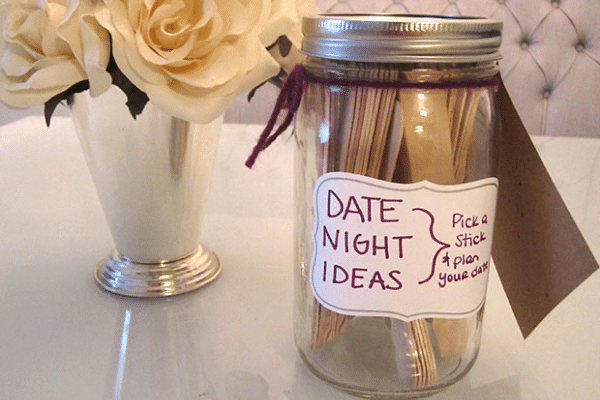 15. "Who Am I?" Bridal Shower Game – For a meaningful bridal shower activity, check out this idea from Erratically Elizabeth! Have your guests write down personal memories of the bride and share them throughout the bridal shower!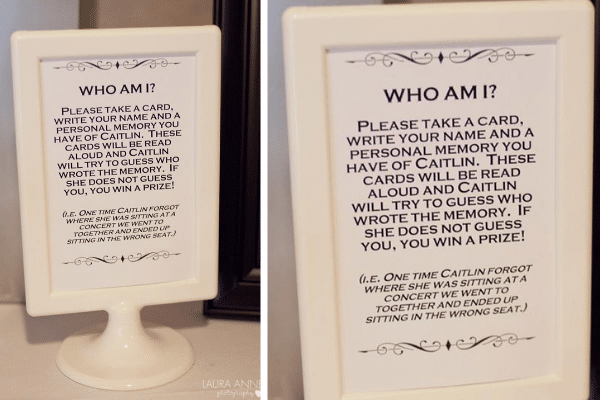 16. Purse Scavenger Hunt – This is SUCH a fun game that'll have everybody laughing at the ridiculous items in their purse! Using this scavenger hunt printable from Spot of Tea Designs, see who gets the most points based off of what items they have in their purse!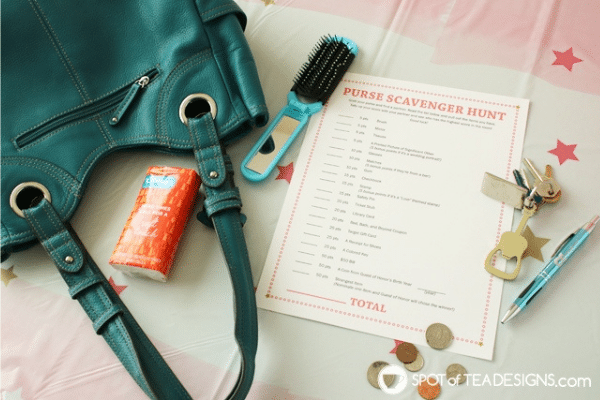 17. Right/Left Bridal Shower Game – Who says the bride and groom should get all the gifts? We are loving this Pass The Presents game suggestion from Intimate Weddings! You can find the full details on how to play here!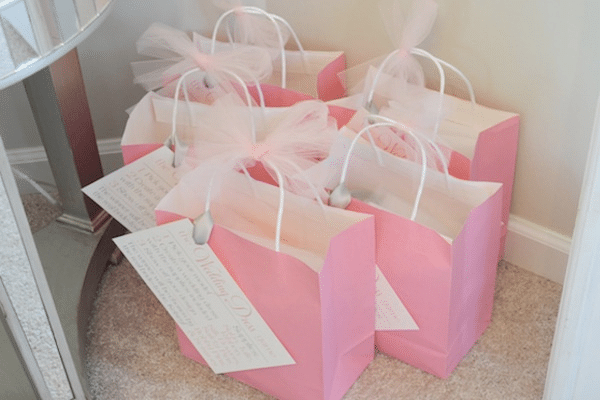 18. Name That Spice – This would be the CUTEST game for a kitchen or food-themed bridal shower! So easy to put together AND so much fun! It's exactly what it sounds like: everyone guesses the spice based on appearance and smell — they're not allowed to taste! You'll be surprised at how competitive your pals get over this (in a good way)!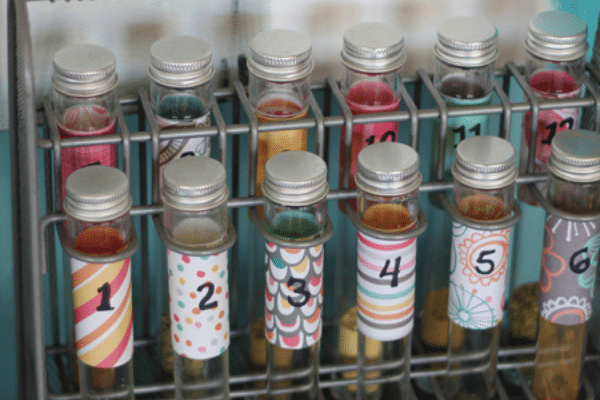 19. Newlywed Bridal Shower Game with Video – This is probably one of our FAVORITE bridal shower games ever! Prior to the party, interview/video the groom answering a list of questions you have prepared! At the bridal shower, have everyone gather around the T.V. and ask the bride the SAME questions! After she answers, playback the groom's response! If their answers match-up, then the bride gets a prize! If not, the bride has to eat a piece of bubblegum (add a new piece of bubblegum for every wrong answer)! Check out an example of this fun game at Lisa Hadley Studios! By the way, you can get any color of bubblegum to match the theme of the shower! (If you're looking for virtual bridal shower games, this is one you could totally use!)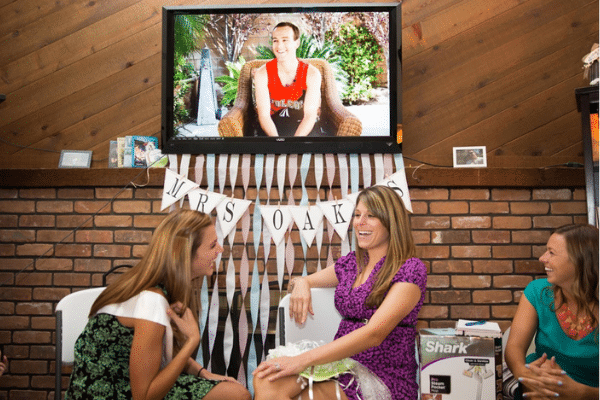 20. Bridal Shower "Taboo" Game – Here is another fun bridal shower game idea from Fun Squared! This game can be played a few different ways, so make sure to check the instructions to see how you want to play!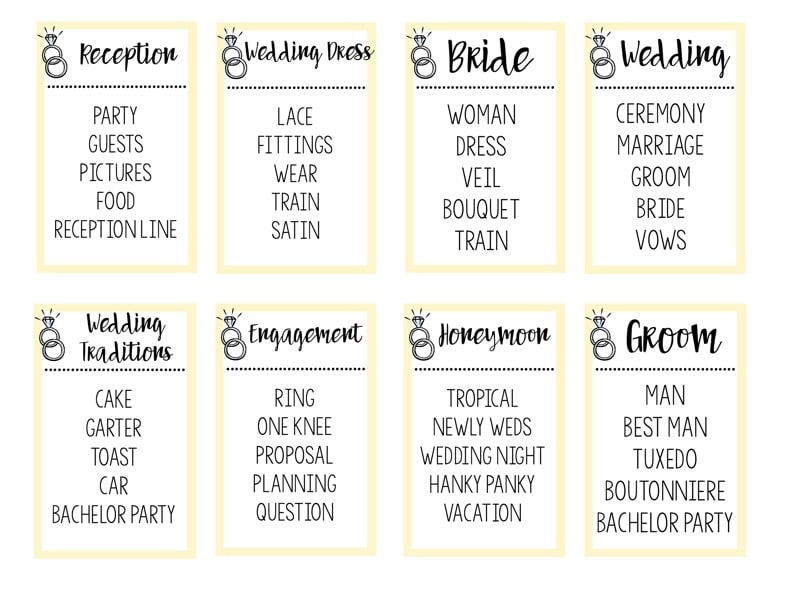 21. Pin the Lips on Ryan Gosling Bridal Shower Game – Any Ryan Gosling lovers in the house?! (Me, me!) We totally burst out laughing when we saw this AH-MAZING bridal shower game idea! Inspired by the many Ryan Gosling "Hey Girl" memes, your guests will LOVE this bridal shower activity…trust us (wink, wink)!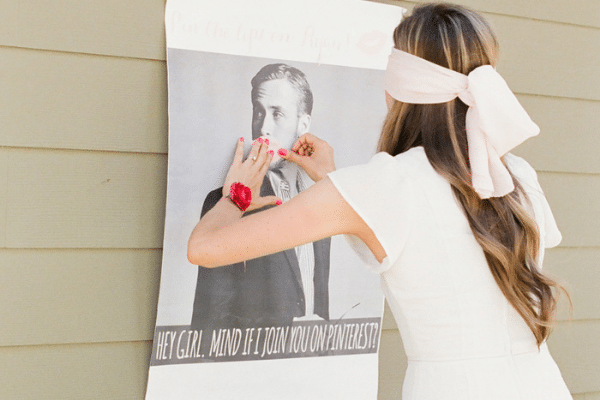 22. Bridal Shower "Mad Libs" Game – Looking for a fun and silly game for your bridal shower guests? Check out these hilarious "wedding libs" from Something Turquoise! Additionally, she has even included three different versions! The best part about these cute printables is they are absolutely FREE!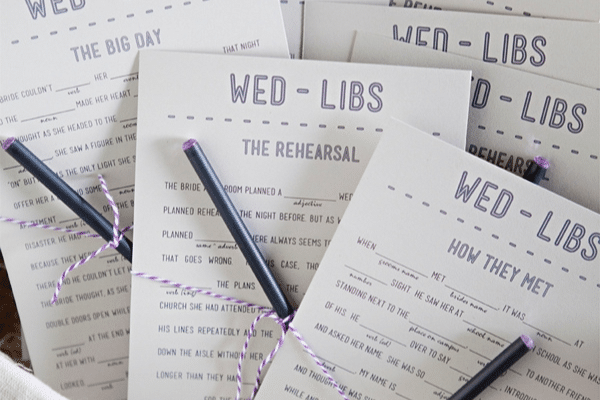 23. Floral Crown Bridal Shower Station – If you are searching for an activity your guests will love, rather than the typical bridal shower games, simply create a DIY floral crown table! This activity would be especially ideal if you are throwing a boho or garden-themed bridal shower! So, check out these awesome instructions on how to create your very own floral crowns. And, don't forget to snap a picture of you with your guests in your beautiful new accessory!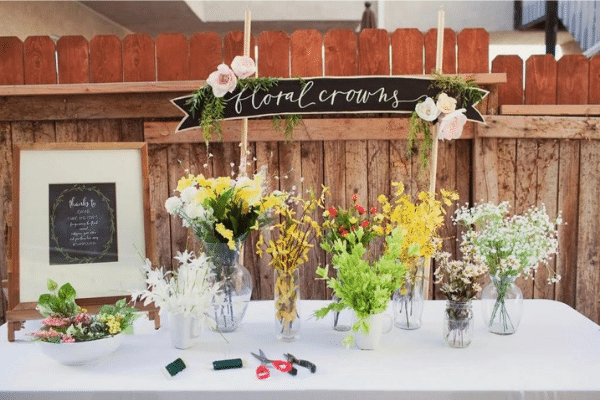 24. Bridal Shower Kiss Board – Another great and personal activity to involve your guests during your bridal shower is to create a kissing board! To understand how to do this, read all about this original idea from Star at Sterling Engagements!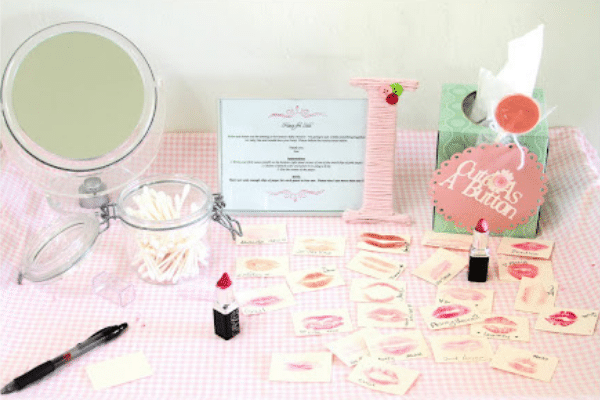 25. Bridal Shower Toilet Paper Dresses/Lingerie – Let's be honest… You can never go wrong with classic or hilarious bridal shower games! To play, split your guests into teams and give them a roll of toilet paper. Put their Project Runway skills to the test and have them create a luxurious wedding dress with their limited supplies. In the end, you'll have lots of hilarious outfits and tons of laughs! If you are looking for a fun twist on this game, then you can also check out this lingerie version!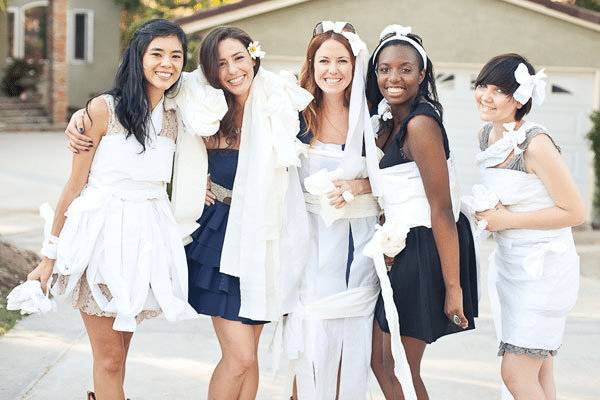 Whichever of these bridal shower games you decide to play, your guests will have a BLAST! You'll have the best time making memories together before your friends gets hitched — what more could you ask for?!
If you loved these bridal shower game ideas, check out our amazing list of 100+ Bridal Shower Ideas and the ultimate list of Bridal Shower Favors — they'll help you throw the bridal shower of your friend's dreams.
Have fun!