How to Keep CHRIST in Christmas
Because HE is the reason for the season and His presence is more important than the presents.
Raising kids in this commercialized world is tough. In our family we've made an effort to really focus on the things that matter most, especially at Christmastime. But sometimes with all the hustle and bustle, it can be hard to keep the focus on the birth of the Savior and the blessings that Christ brings to our lives. In an effort to keep Christ in Christmas, we've rounded up plenty of ideas for you and your family to enjoy this Christmas.

Disclaimer: This post contains affiliate links. To learn more about 'em, click here.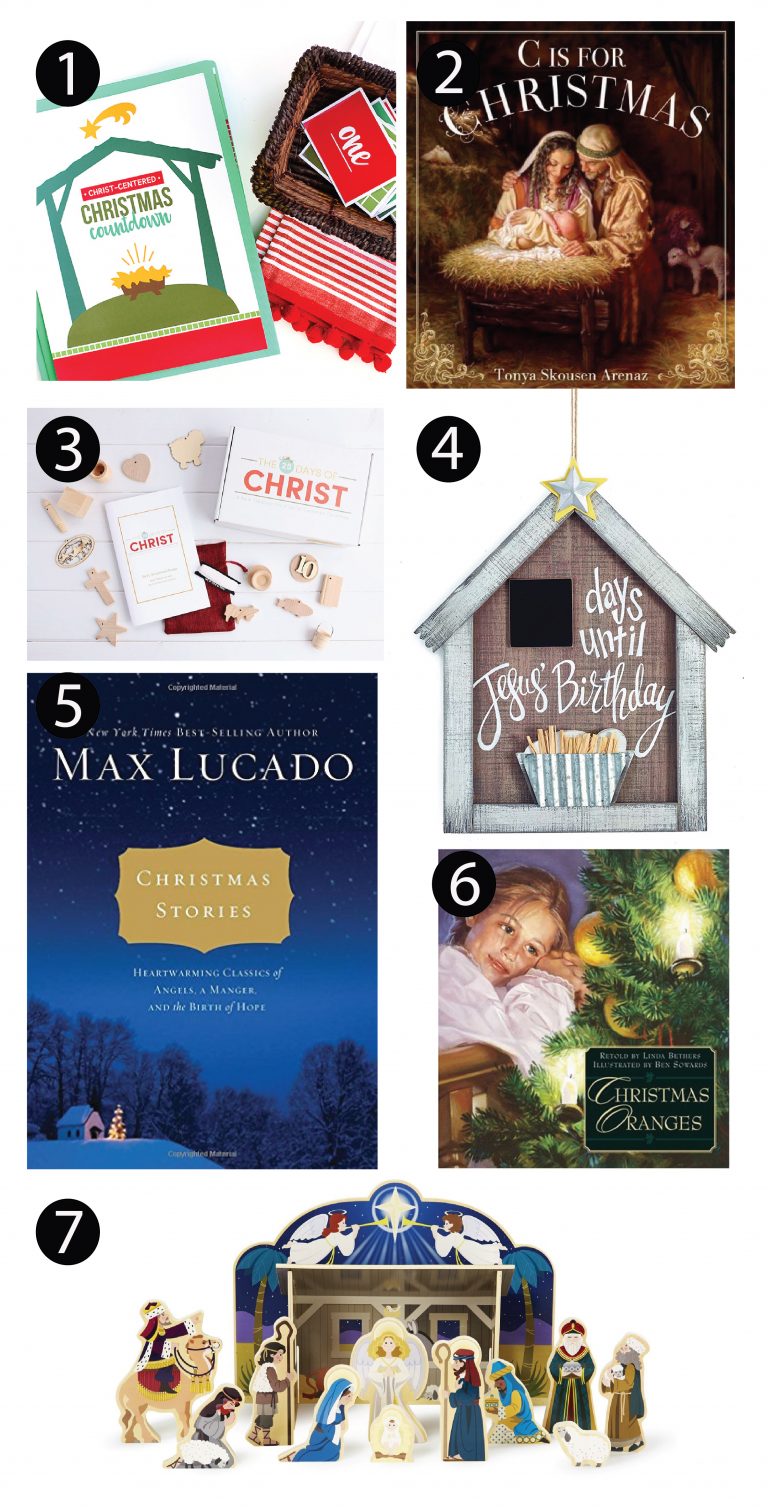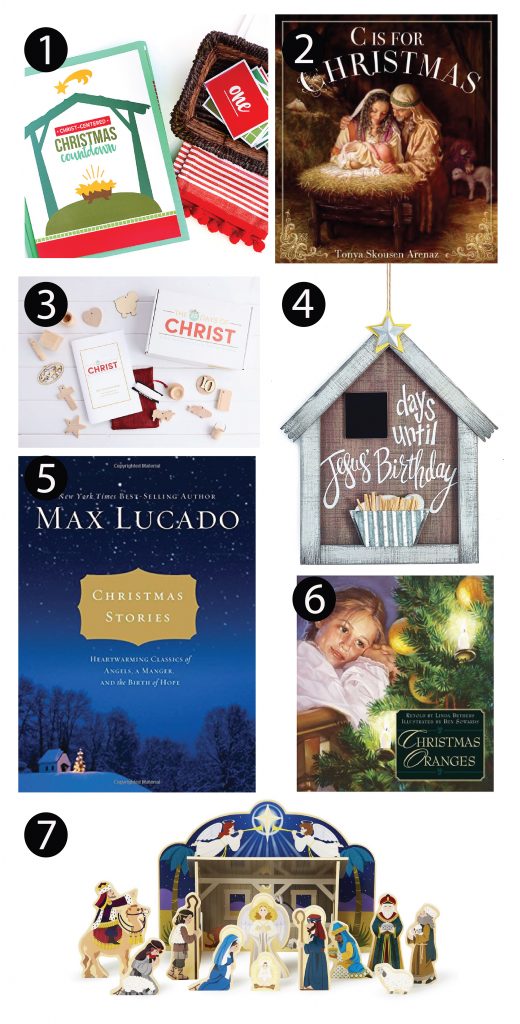 1. Our NEW Christ-Centered Christmas Countdown – Not just another countdown, but daily scriptures, thoughts, and activities centered on CHRIST to help remind us all of Him all the way until Christmas Day!
2. C is for Christmas Book  – A good ol' fashioned ABC's of Christmas book and of course, Christ's birth at the center of each letter's description. Sweet and simple, and would make the perfect gift for a young family!
3. 25 Days of Christ – This is a craft kit that starts as a fun do-it-yourself activity and results in a wonderful Christmas tradition. This kit comes with craft materials needed to create your own set of ornaments to celebrate the events of Jesus Christ's ministry. A guide book AND gift bag included.
4. Nativity Countdown Plaque – Guys! The stars on this are TOO MUCH! This would go perfectly in a little boy or girls room, on your mantel, or in your kitchen. Okay, it would go perfect ANYWHERE! We love this one!
5. Christmas Stories – There's something special about a Christmas miracle, a tender example of service, gratitude, and love, or just a feel-good story. This book is a compilation of stories that do all of those things and we love it!
6. Christmas Oranges – A sweet child's first taste of a Christmas orange, this story if magical in a child OR adult's eye. Grab some chocolate oranges to go with this sweet storytime!
7. Melissa & Doug Nativity – A kid-friendly, darling, EASY nativity that will entertain for hours! This one speaks to us because of the bright colors, ease of setup, and the sweet meaning behind it!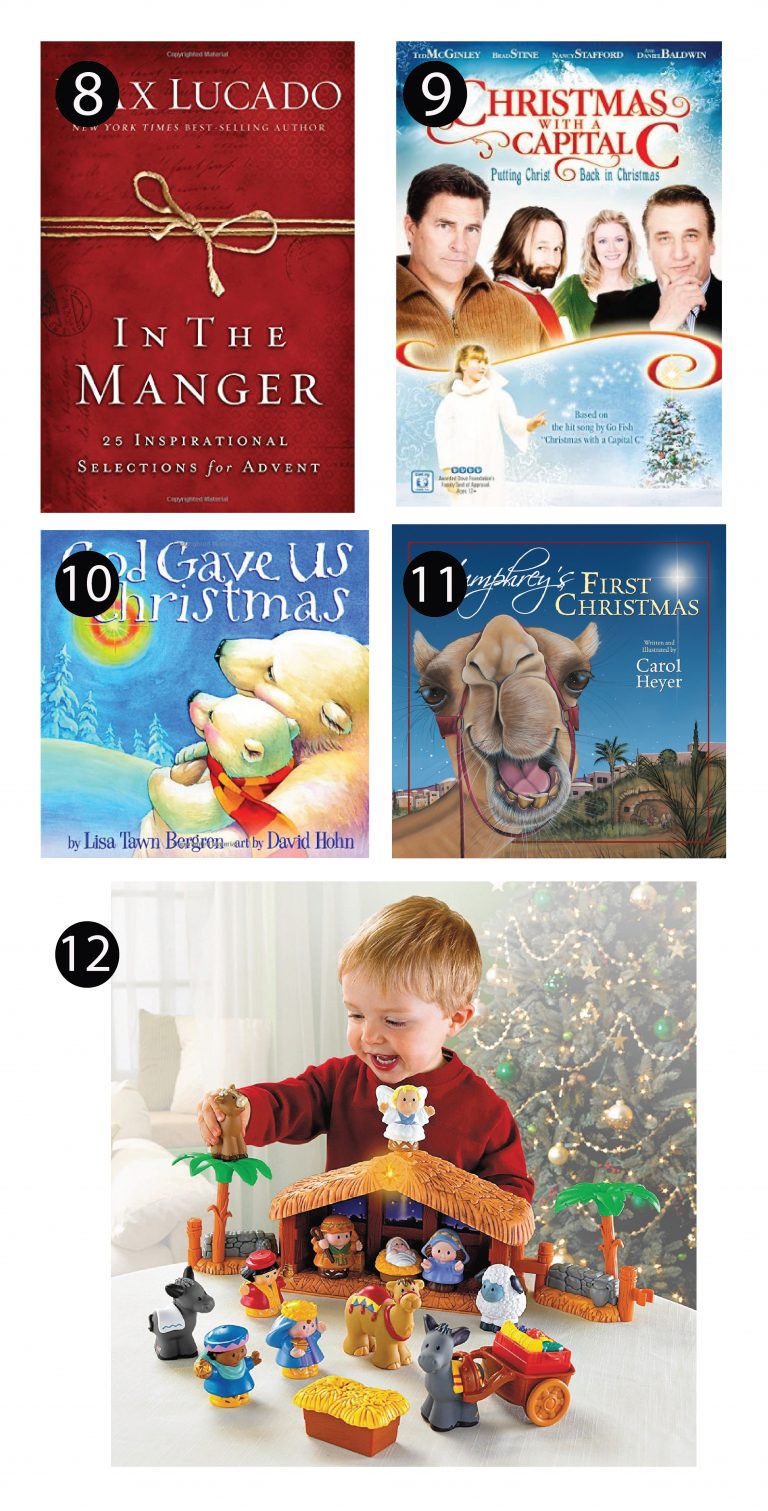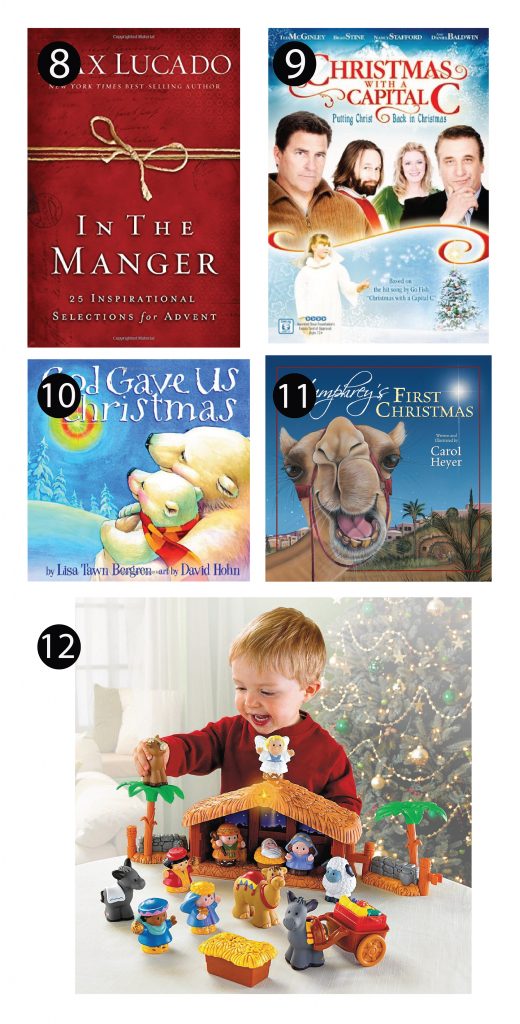 8. In the Manger – Another must have in your Christmas-story collection. These sweet and simple devotions help you remember each day what Christmas is all about!
9. Christmas with a Capital C DVD – Christmas with a Capital C is all things cute, Christmas'y, and Christ-centered. We love the special emphasis on Him this movie portrays. It's a must see!
10. God Gave Us Christmas Children's Book – When it's told so that a child can understand, it resonates so simply, doesn't it? We LOVE this children's Christmas story that perfectly sums up the meaning of Christmas!
11. Humphrey's First Christmas Children's Book – Any spin on the classic Christmas story is a win for us! Variety helps anyone and everyone relate to the simplicity and sweetness in Christ, right? This one is perfect!
12. Fisher Price Nativity Set – This top seller is perfect for young and old! It's perfect to play with, but also to tell the story of Christ's birth. Kids love it for it's fun and parents love it because it's won't break! Win-win!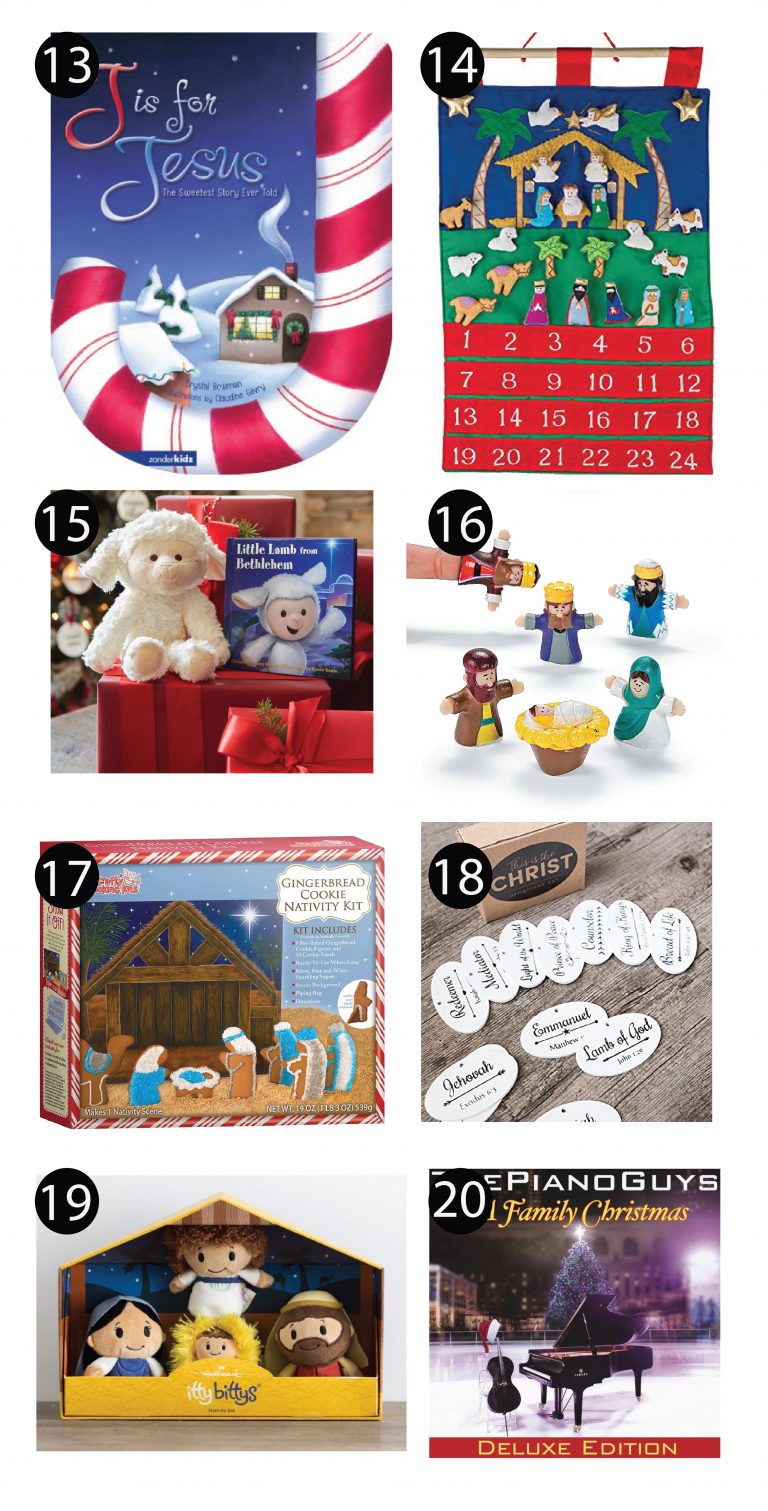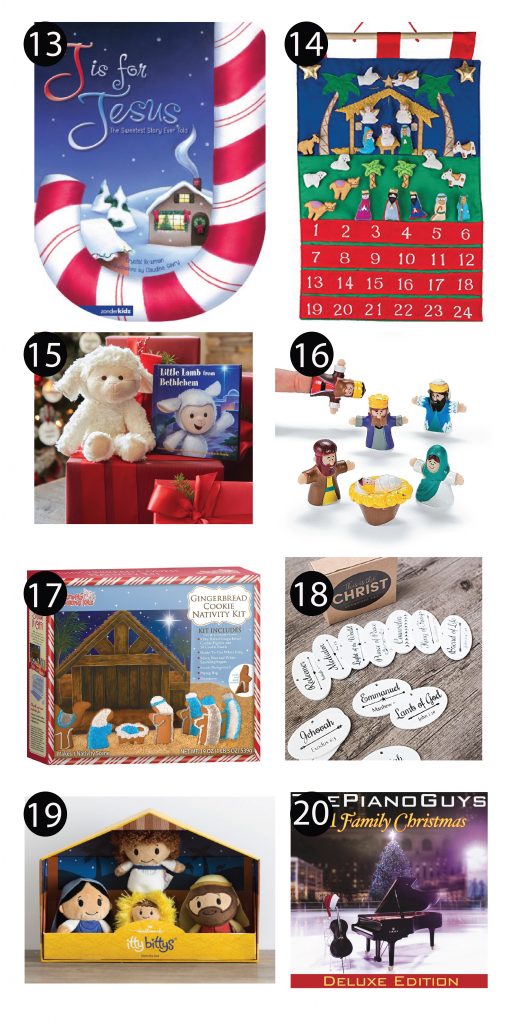 13. J is for Jesus Children's Book – The upside down candy cane analogy and it's tie to Christ is the perfect symbol to help your kids enjoy and understand Christmas. Pair this with some sweet candy cane's and you have yourself a perfect night of Christmas devotion!
14. Nativity Advent – Advents on advents on advents. Give us all the adorable advent calendars! This one is particularly unique because it's nativity themed, reminding us that the delivery of Christ is the ultimate gift!
15. Little Lamb – Much like the Elf on the Shelf, but with the sweetest, non-mischievous way of symbolizing Christ through a little lamb, hidden and moved each day to entertain children and remind them of Him during the days leading up to Christmas!
16. Nativity Finger Puppets – If you're wanting to tell the story of Christ with ease and fun, these finger puppets do the job! Not only will kids enjoy your telling, but they can play themselves with this kid friendly toy!
17. Nativity Gingerbread Kit – Oh boy. This one might be our FAV! Gingerbread "house" in Nativity Form is the perfect edible symbolism for the special day. Buy a few and make a party out of this one!
18. This is the Christ Ornament Set – This stunning display of ornaments with different biblical names of Jesus and a scriptural reference is perfect addition to any tree or wreath at Christmas! Bonus that is can be used for Easter too! Click on the link to see how to turn your mantel into a gorgeous display using these!
19. Itty Bittys Nativity Set – We love nativity sets in any size and shape, but this Itty Bitty one about takes the cake! It's simple, sweet, and STUFFED so that it won't break if knocked off the mantel. This is a must have for families!
20. The Piano Guys Christmas CD – Music speaks volumes at all times of the year, but at Christmas? It's something TRULY magical. The Piano Guys nail it with their Christmas album. And by nail it, we mean you'll be dancing, crying, and smiling throughout the whole album!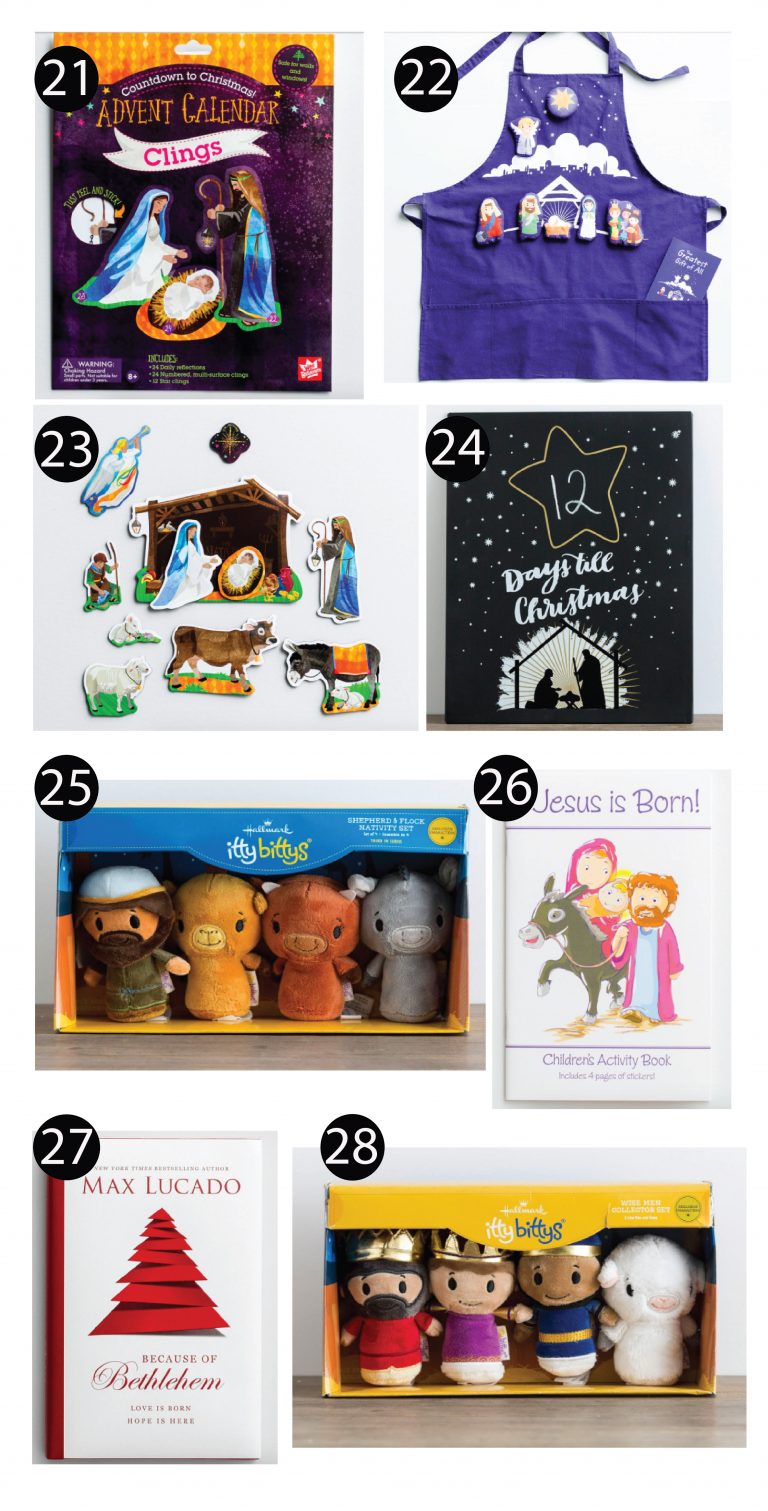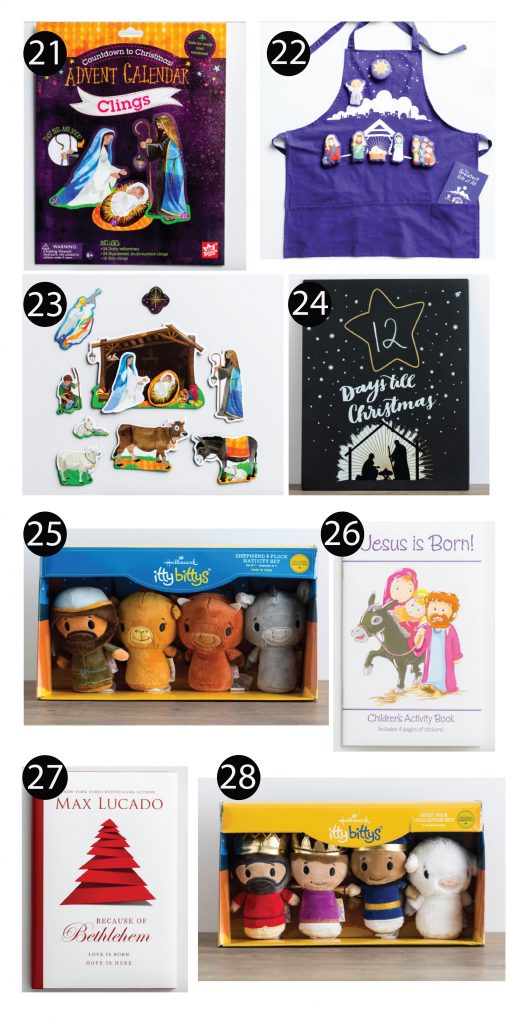 21. Advent Calendar Clings – We don't know a single kid who doesn't enjoy putting cling on stickers onto windows! This adorable set of window clings tells the story of Jesus and is the perfect countdown to the big day!
22. Nativity Storytelling Apron – We bake all month long, why not add in some nativity education while we're add it?? This cute-as-can-be apron tells the story of Jesus all while those yummy cookies bake in the oven!
23. Nativity Magnets – Magnets = The best invention since sliced bread! An entertainment activity for young ages AND the cutest way to show all who were there when Christ was born. Put on your refrigerator and you'll be reminded every day!
24. Nativity Countdown Plaque – Guys! The stars on this are TOO MUCH! This would go perfectly in a little boy or girls room, on your mantel, or in your kitchen. Okay, it would go perfect ANYWHERE! We love this one!
25. Itty Bittys Shepherds and Flock Set – And now you have a perfect set with all the key players! This would make the perfect early Christmas gift to enjoy leading up to Christmas day!
26. Jesus Is Born Activity Book – Need an activity to teach of Christ's birth? This one is perfect! A simple, lovely, artistically simple activity book that can help teach the most important lesson of all!
27. Because of Bethlehem – Drop your Christmas to-do list and pick up this amazing read! Not only does it have those warm, tender moments perfectly written within, it inspires you to go out and do some good!
28. Itty Bittys Wisemen and Sheep Set – Can't forget the wise men and sheep who accompanied Christ's birth that night so long ago! A perfect pair to the nativity above. Seriously, the cuteness is too much!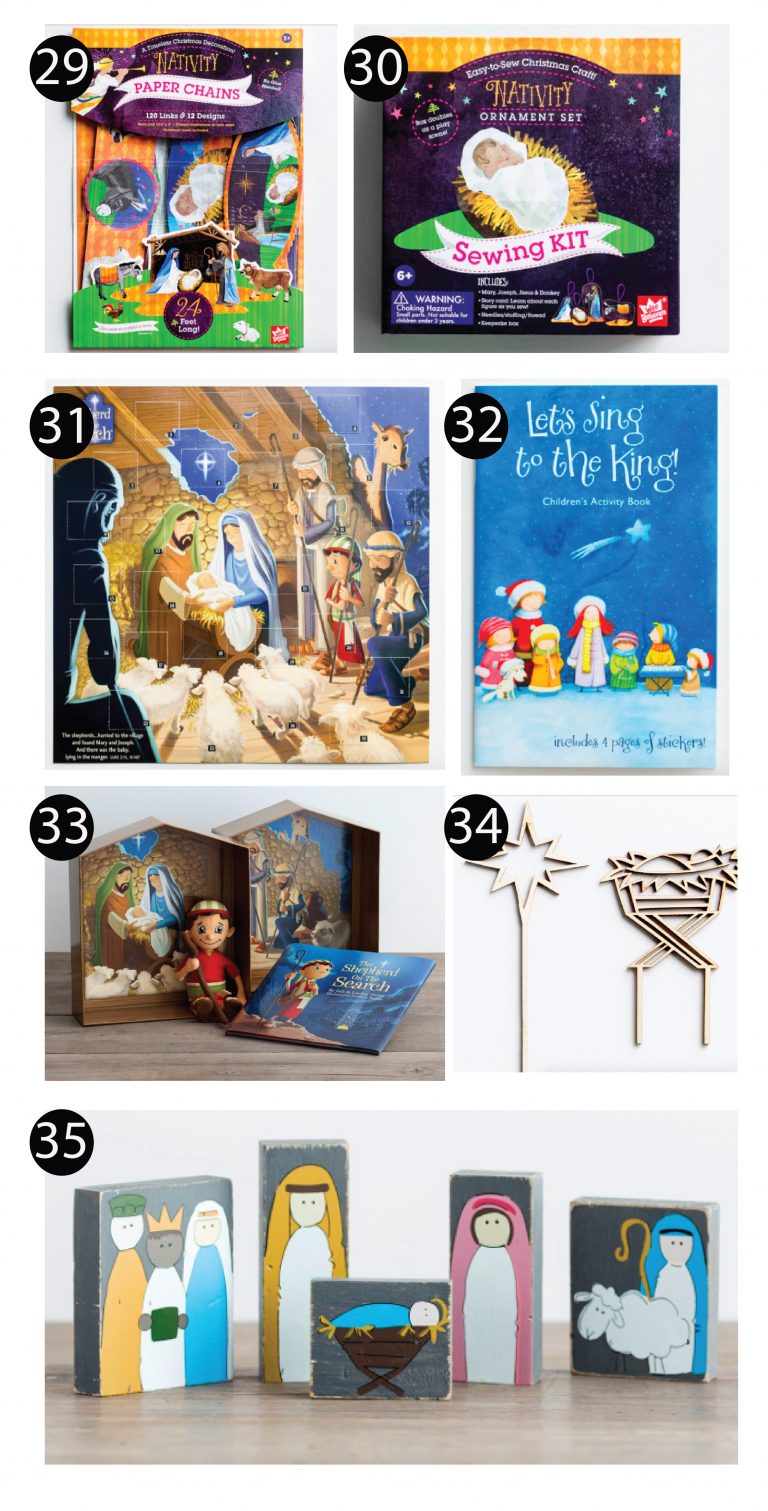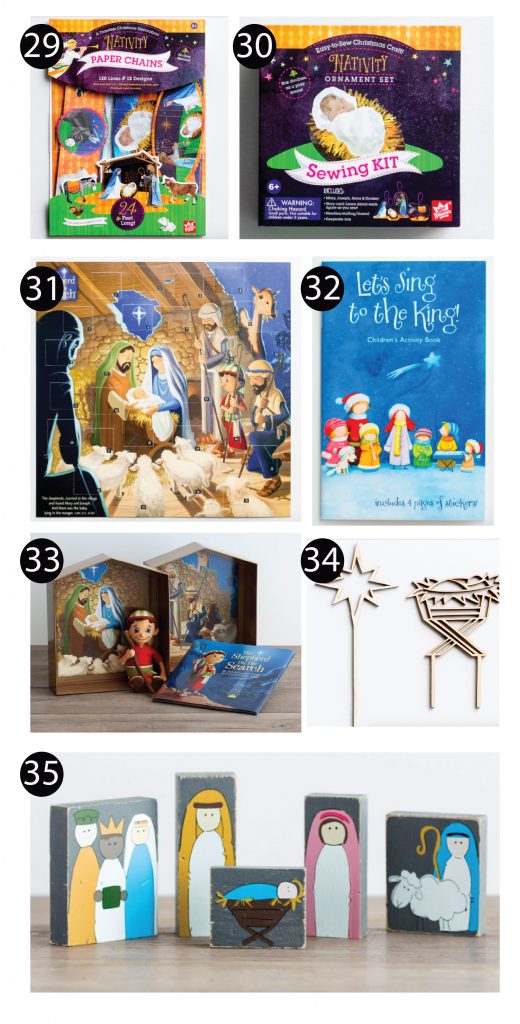 29. Nativity Paper Chains – Nothing says countdown better than a paper chain! This set of nativity chains is not only colorful, but practical in telling the story AND remembering Christ every day. Love this!
30. Nativity Ornament Sewing Kit – Anyone else love a chance to sew something special and unique? This is just that! A sweet and simple craft that can go on your tree and touches your heart at the same time.
31. Shepherd on the Search Advent Calendar – Another advent calendar to tell the story of Christ! This one is so special because it pairs so nicely with the Shepherd on the Search above! Don't your kiddos just love turning over a new page every day of the season?
32. Let's Sing to the King Activity Book – As we sing carols this Christmas, our favorites have Him as the main theme. This activity book has all our favorites AND entertains kiddos through various Christmas events. Grab yours!
33. The Shepherd on the Search – Look at this little shepherd! Couldn't you just squeeze him?? So perfectly cute and simple all while telling a story: The most important story of all AND the perfect addition to Christmas traditions focusing on HIM!
34. Manger and Star of Bethlehem Wooden Cake Toppers – Happy birthday dear Jesus, Happy Birthday to you! We totally think celebrating Christ's birth via birthday cake is acceptable! Make your cake unique with these darling toppers!
35. Nativity Wood Blocks – These are our FAVORITE ever! Such a crowd pleaser, easy for children to play with, and the craftiness is just too much! Ever had these before? You gotta get them now!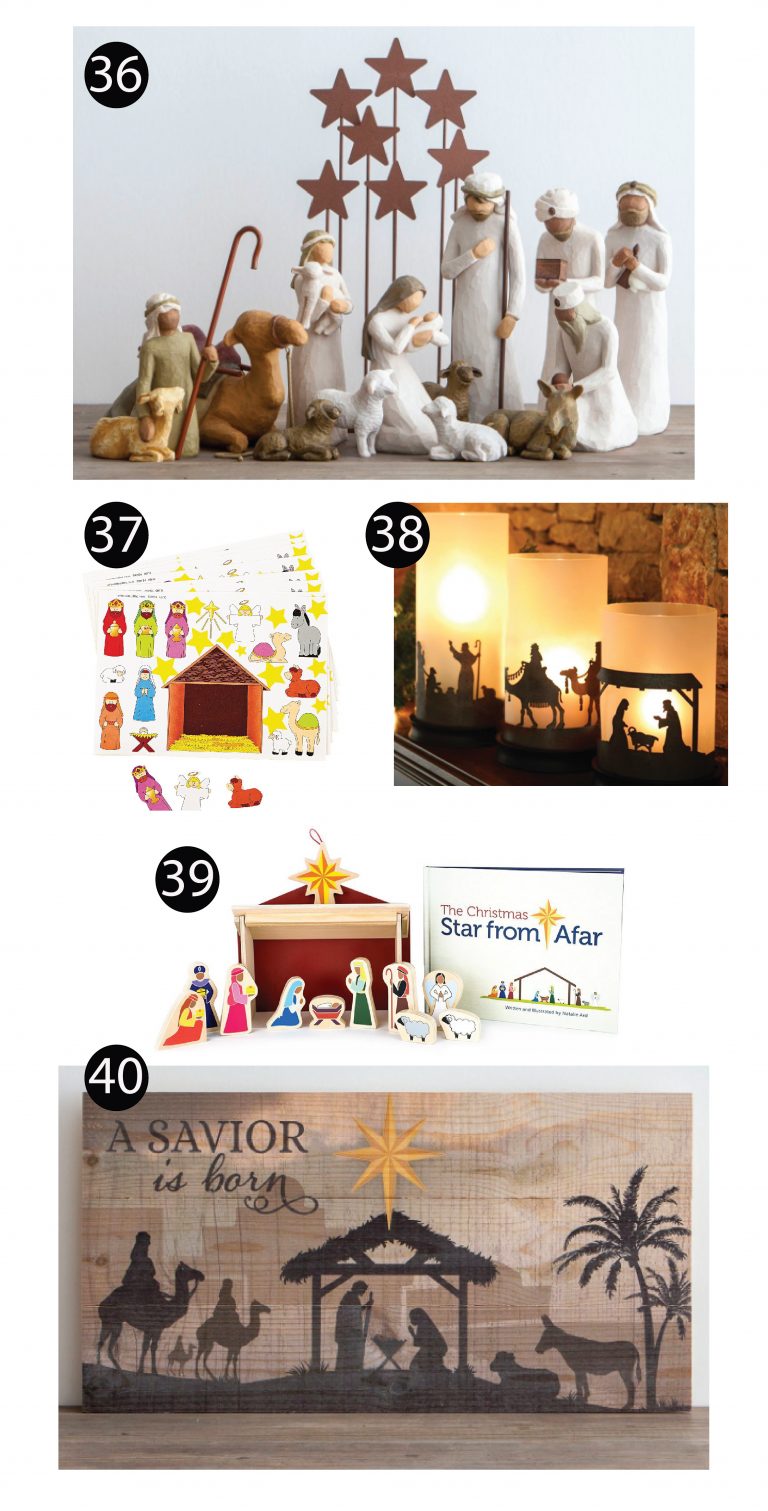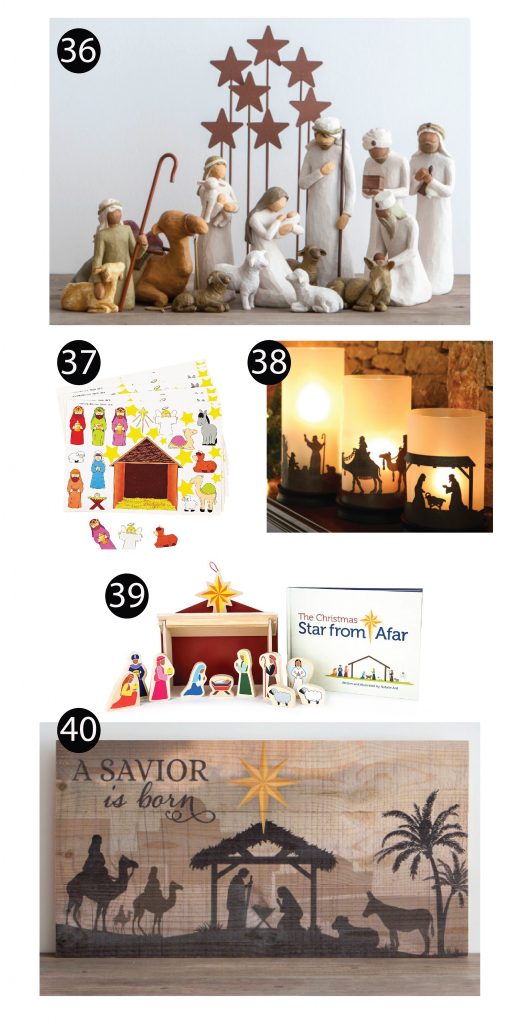 36. Awe & Wonder Complete Willow Tree Nativity Set – This complete scene with additional features from the Nativity Set above is beyond gorgeous and would make the perfect set to gift or to have as your own! People will stop in their tracks to admire it!
37. Build Your Own Nativity Sticker Sheets – Stickers, stickers, and more stickers! Perfect for kiddos and ya know what…Perfect for adults too! A simple way to display the nativity and super fun!
38. Nativity Candle Holder Trio – Candle obsessed, anyone?? We are! These candle holders make us SWOON! And with the light from the candle burning behind them, it's a knock-out holiday decor item!
39. Star from Afar – Such beauty and simplicity in this story, with a hidden star to mark the gift that is revealed in the end. Perfect for little ones learning about Christ's story!
40. A Savior is Born Plank Wall Art – Stop and stare at this beauty for a minute. Isn't she gorgeous? We can picture this working for ANY home. So beautiful and SO creative. Shall we gift this for everyone in the family??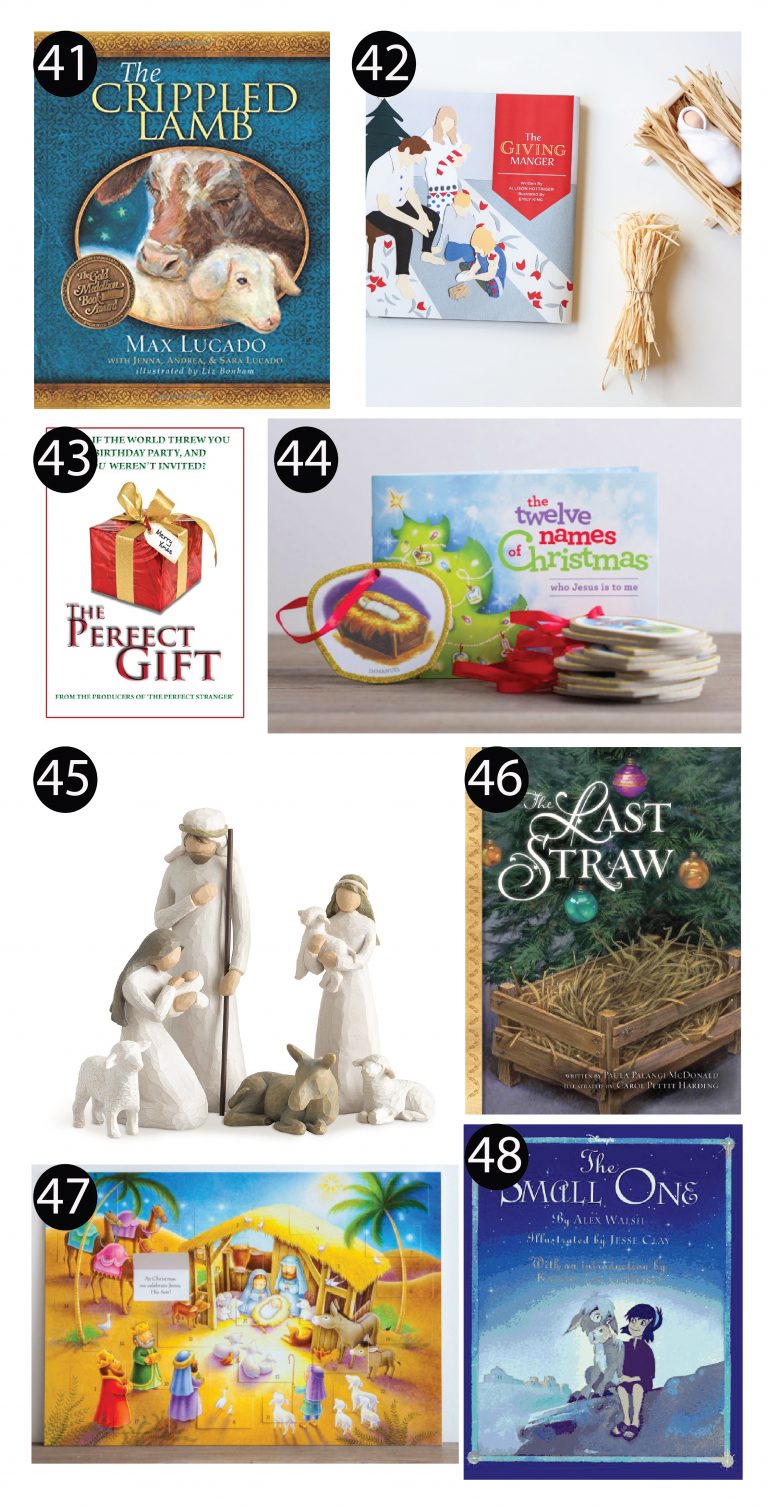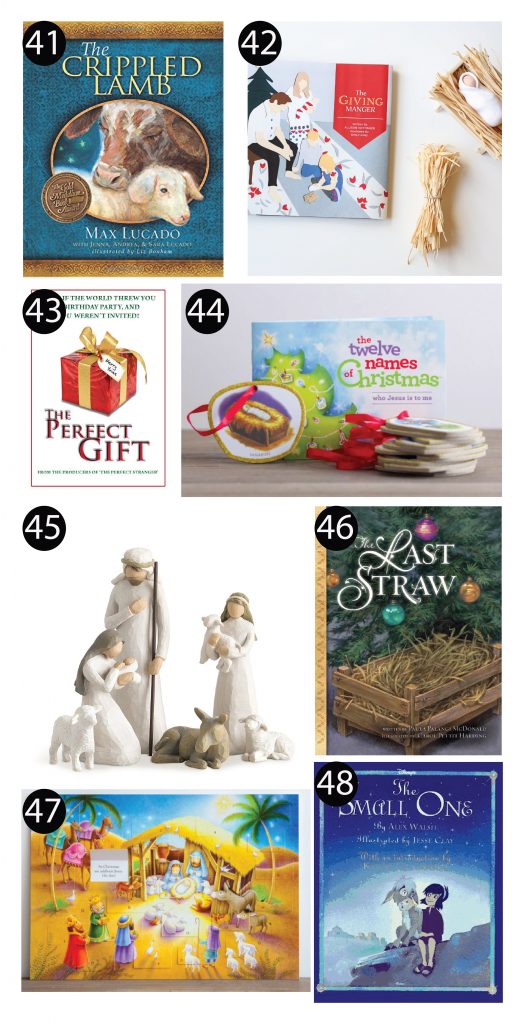 41. The Crippled Lamb Children's Book – Another reminder of the humble circumstances that Christ was born into. This story is so sweet it will be on repeat year after year!
42. The Giving Manger – The perfect way to teach your children about service during the Christmas season! Read the story together and then challenge your littles to do daily acts of service. For each act of service, they get to add a piece of straw to the manger. The goal is to have a soft bed for the baby Jesus by Christmas Day! A fun tradition to start this year!
43. The Perfect Gift DVD – What if your birthday was on Christmas? Would you enjoy sharing your special day with Christ? This adorable movie is a holiday classic and the perfect reminder of what Christmas is really about!
44. The Twelve Days of Christmas – Twelve meaningful names of Christmas made into ornaments to dorn your tree might just be the best idea anyone's ever had. A sweet reminder of the "why" behind Christmas and can be used year after year!
45. Willow Tree Nativity – Give us ALL the Willow Tree sets! This Nativity set by Willow Tree is stunning, priceless, and perfect for the holiday season! Throw this in with your holiday set up and you won't be sorry.
46. The Last Straw Book – This one will melt your heart! Another version of the amazing "service manger." A straw is added each time someone does something kind or nice to another and slowly, a bed for baby Jesus is born. This story is sweet and can quickly become a tradition in your home!
47. Advent Calendar – How many advent calendars is too many?? The answer? There's never too many! This one beautifully depicts the manger scene and what we love most is the little details!
48. The Small One – Grab some tissues! Such a sweet story about a boy searching for someone to sell his donkey to…Only to stumble across a man named Joseph. You'll read this one year after year!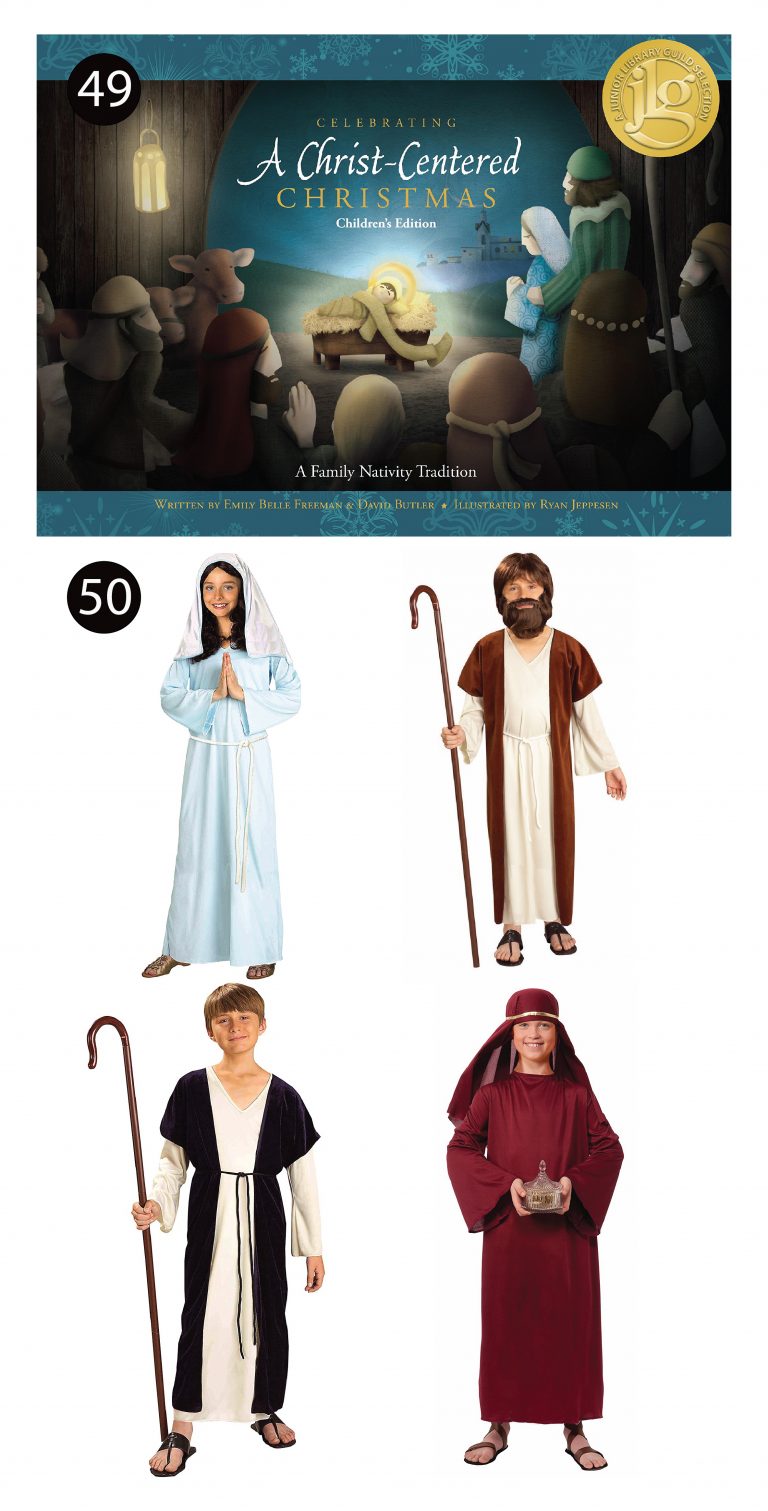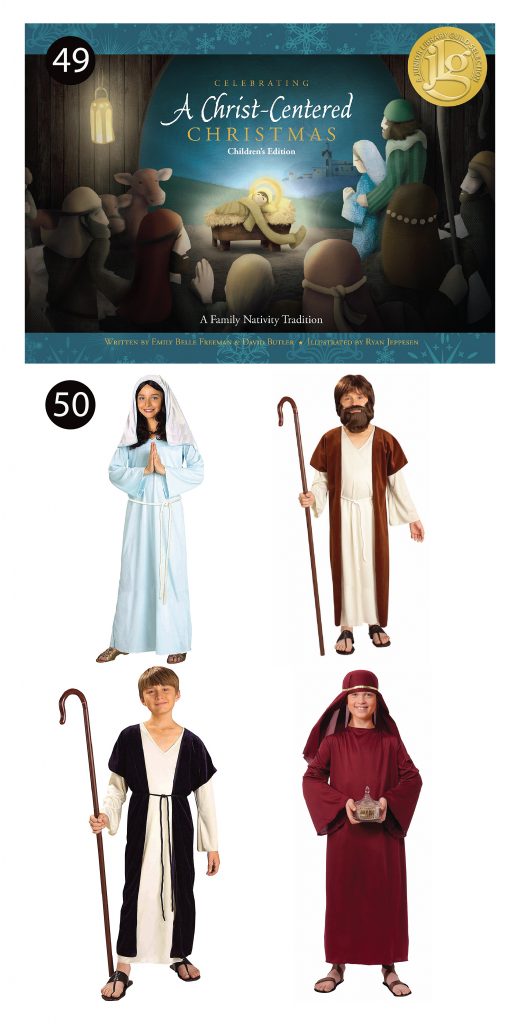 49. Celebrating a Christ-Centered Christmas Book – This picture book is perfect for kids and tells the story of Christ's birth in simple and sweet images! A perfect book to add to your Christmas collection!
50. Costumes to Act Out the Nativity – Okay, raise your hand if you act out the Nativity scene as part of your Christmas traditions?? Just us? We love costumes and these one's are the CUTEST!
We just can't get enough of anything CHRIST in Christmas! And isn't it obvious?? That's a good thing! We love that the holidays bring so much joy in all sorts of ways, but we certainly love this kind of holiday celebration the most. Now if only we could get 20 of each of these to share with all our friends and family. May your holiday be filled with CHRIST in any way, shape, or form!
Merry CHRISTmas!