How to Cuddle and the Benefits of Cuddling
Have you ever wondered how to cuddle? It's sometimes not as easy as it seems! But figuring out how to comfortably cuddle up with your spouse has major benefits. The benefits of cuddling are profound. Our bodies release hormones that bond us and keep us healthy and happy! Figuring out how to cuddle also makes us feel a close connectedness that we all need to thrive.
We've come up with some tricks and tips to help guide you on your way to cuddling like a pro! First off, take it slow. Lean your bodies against each other and wrap your arms around the other person. Readjust until you both find a good position to melt into each other. You can lightly rub or scratch the arm of your significant other, too. When you're wanting to get more comfortable, you can try the spoon position. Just remember: Couples that cuddle together, stay together!
We've created the perfect resource to ensure your next cuddling session is a success. Now presenting, a romantic cuddle kit for two! It's quick, easy, AND romantic. Plus, it comes with a darling, free printable gift tags and a list of items that you'll want to have on hand for cuddling. Keep scrolling to learn more of the benefits of cuddling!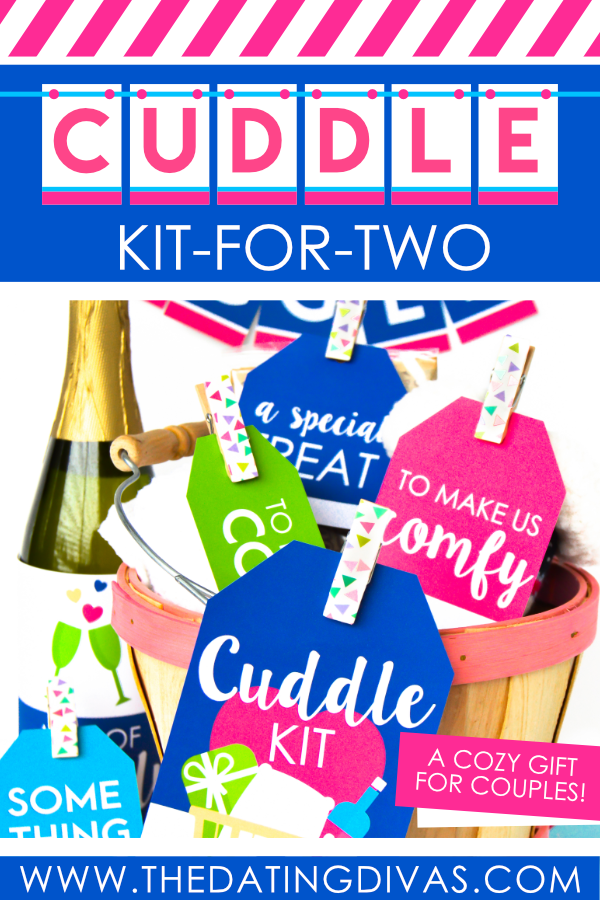 This post contains affiliate links. To learn more about 'em, click here.
A romantic Cuddle Kit is an amazing gift for your anniversary, your spouse's birthday, Valentine's Day, Christmas, OR just because! It would also make a cute wedding or bridal shower gift, or a quick-pick-me-up for a cold weather day. It can be thrown together in a jiffy, and who wouldn't LOVE a night of cuddlin', snugglin', and lovin' in a basket? It's quick, easy, AND romantic, plus, it comes with a darling, free printable gift tags and "Snuggle Up" banner to help you have the most romantic cuddle around. Doesn't get much better than that!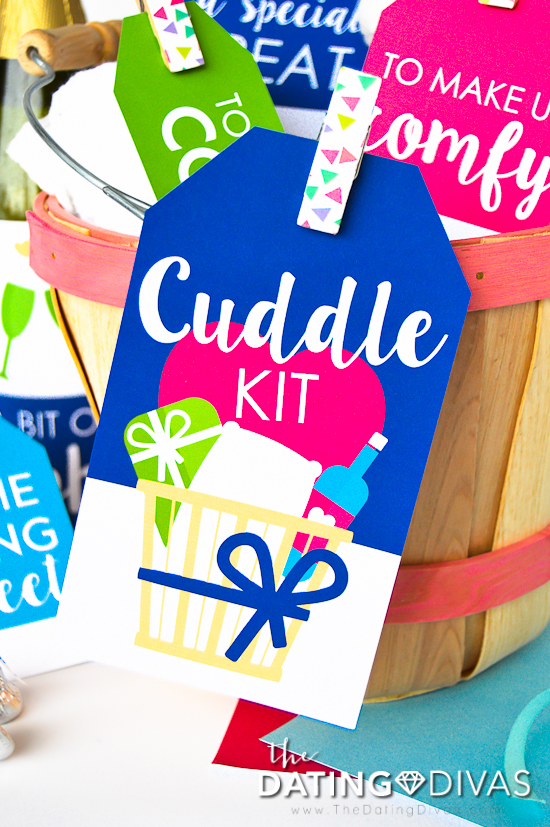 What's Included in Your Romantic Cuddle Kit
We're ALL about infusing more romance into our marriages and that's why this romantic Cuddle Kit really takes the cake! Assembly is SO easy and we're about to prove it. All you need to do is grab several snuggly gift items, a fun box or basket, and our printable download included at the bottom of this post. Take a look at all of the goodness below: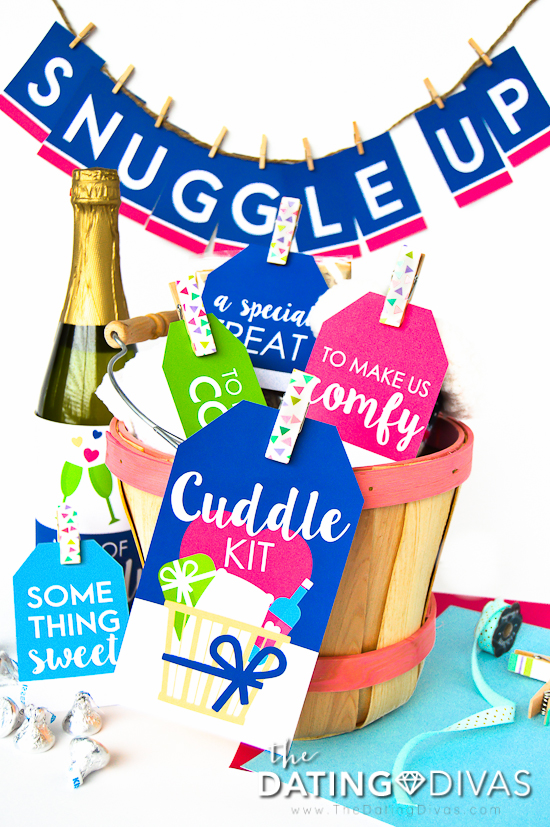 Included Items:
"Snuggle Up" Banner –

This darling printable banner will add the perfect touch of coziness to your night of cuddling. Just print, cut, attach to some string or twine and you're ready to roll!

"Cuddle Kit" Tag –

This larger tag goes on the OUTSIDE of your romantic Cuddle Kit and is so gosh darn cute, we can hardly stand it.

Kit Item Tags –

Attach these bad boys to your chosen kit items and prepare yourself for ultimate cuddle-faction.

Bottle Label –

Wrap this label around a bit of bubbly to complete your kit!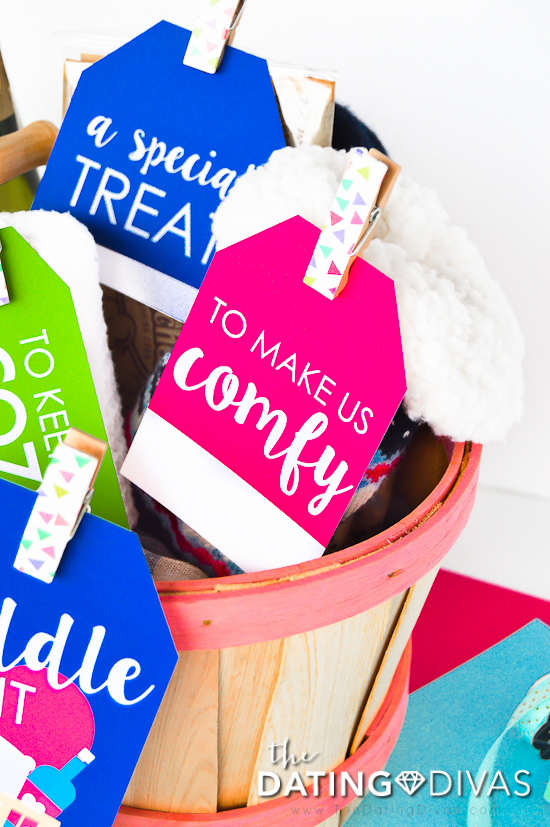 Cuddle Kit Item Ideas
Your kit includes four printable Kit Item Tags- plus a few blank ones if you want to come up with your own ideas. Each tag has a darling and oh-so-cozy phrase listed on it.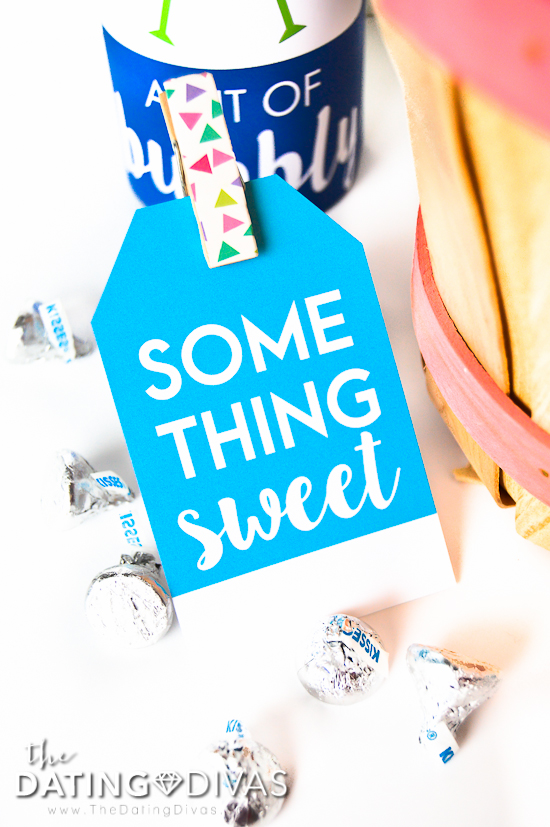 These phrases include:
"To Make Us Comfy"
"To Keep Us Cozy"
"Something Sweet"
"A Special Treat"
Aren't those fun?! Yes indeed, this romantic Cuddle Kit takes quick and easy gift ideas to the next level, and we're about to make it even easier! Keep reading for some ideas of inexpensive and easy-to-find items to include in your kit.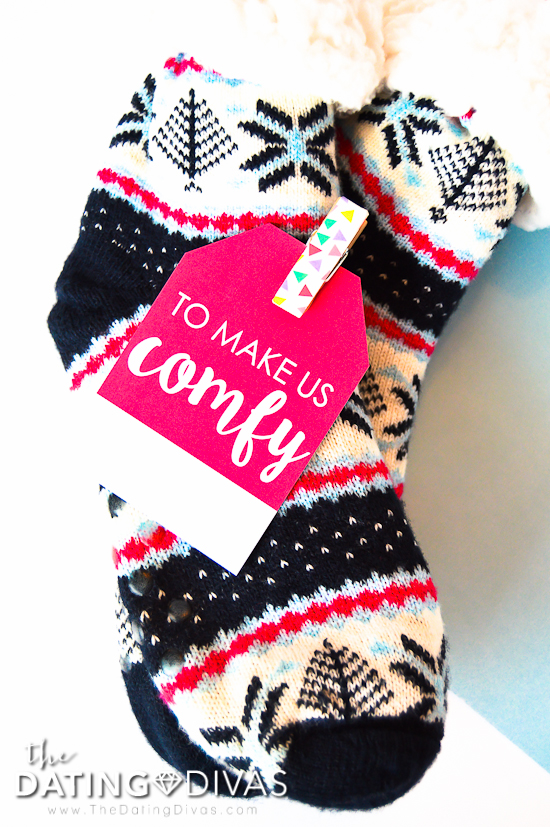 Here are some suggestions of what you might put inside…
The opportunities are literally endless! Just include whatever you think is comfy, cozy, and super cuddly.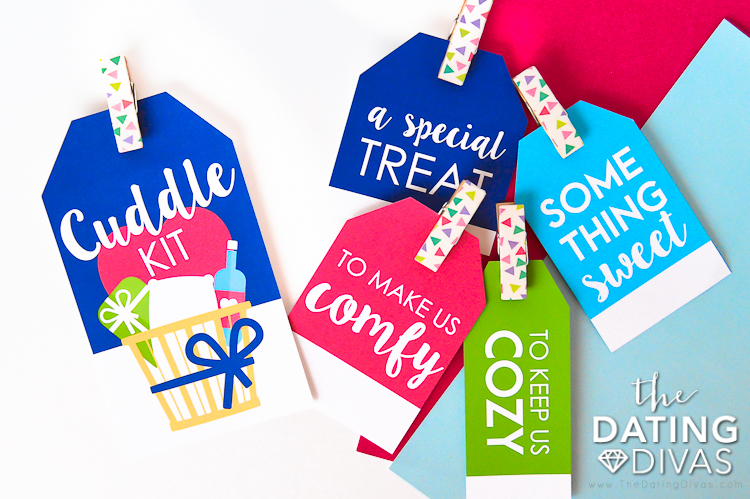 Cuddle Kit Bottle Label
Don't forget the bottle label for your bubbly! Simply print, cut, and affix to the front of whichever beverage you choose. The sparks (and snuggles!) will be flying in no time.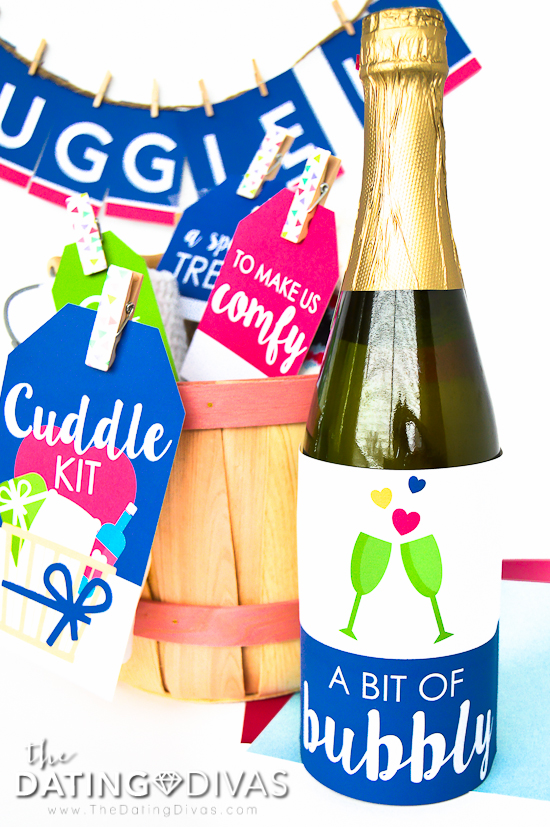 Is that a quick and easy (not to mention FUN!) gift idea or what?! Go find a cute little basket
and fill 'er up today! Happy Snuggling!
Romantic Cuddle Kit for Two
Printables Designed by Elizabeth Edwards Exclusively for The Dating Divas