My husband is such a blast to be around. As you will find throughout this date…he has a great sense of humor. He is really spontaneous and has a nack for making the ordinary date hilarious. Without further ado, here is MY hot husband, Adam.
*     *     *     *     *     *     *     *     *     *     *     *     *
The Dollar-Menunaire Date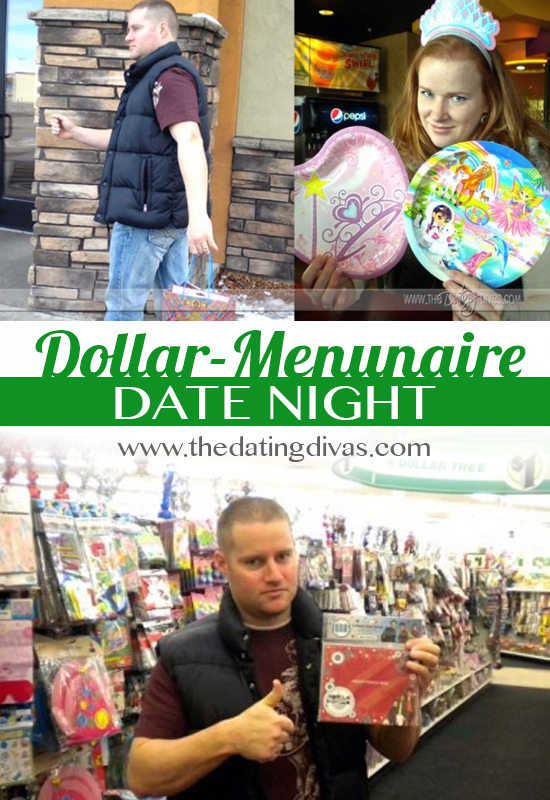 I have become a cheapskate lately. Like many people across this country, money is tight and we are on a strict budget…which makes dating a challenge. At the same time, I wanted to have a fun date with my wife that would be memorable despite our small budget for date nights. So what better way to experience a cheap date than by going to the Dollar Store, ordering off the dollar menu, and hitting a dollar movie. Weeeeeee!!!!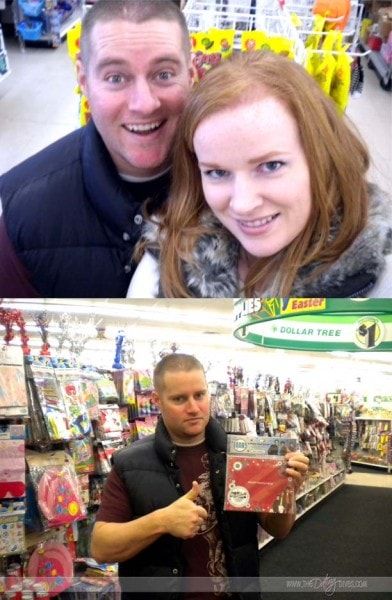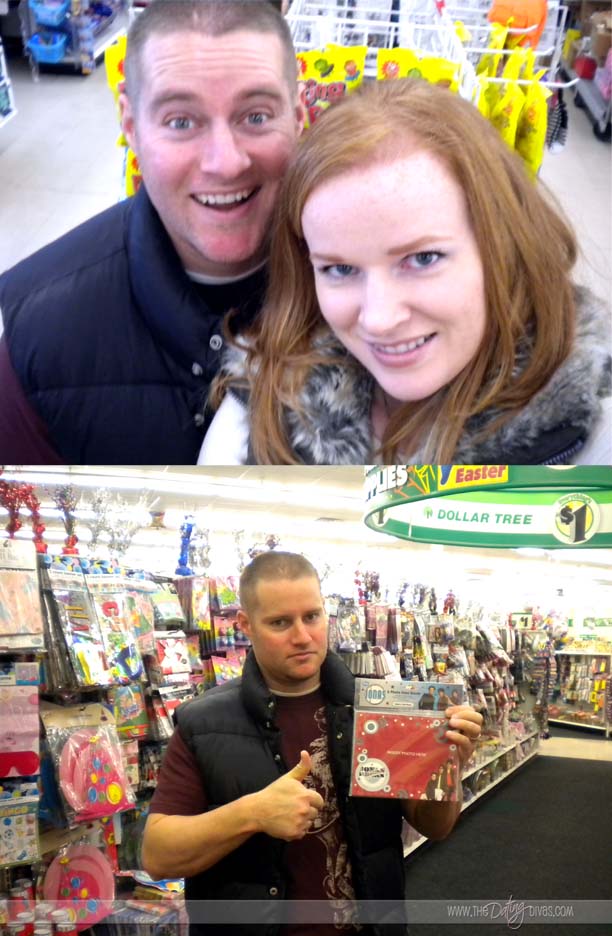 We arrived at The Dollar Store with a very vague objective at first…we spent a half hour rummaging through the store laughing at some of the things we found. It was actually entertaining just discovering all of the different high quality products The Dollar Store has to offer. We came up with a plan to spend $3.00 on each other (so $6.00 total). We would purchase 3 items for each other that fell into each of the following categories:
Dollar Store Objectives:
Something to Give Away – I found Kari some little girl party Tiaras for her to wear during lunch and then give away to our nieces. Then, Kari found me a Jonas Brothers card ('Cause I'm a HUGE fan…) so I can put a picture of myself in it and send it to my brother in Japan.
Something to Use Right Now – We picked out party plates for each other to eat on during lunch. Kari, of course, got princess plates and she picked out these awesome Unicorn Princess plates for me. Oh yeah, I'm also a huge fan of unicorns!
Something to Use In The Future – We decided to pick out permanent gift bags for each other that will make their appearance for birthdays, anniversaries, and any other memorable occasion. We picked out the funniest ones that we could find…so for every special occasion, we'll get to remember this cheap date.
Total cost for Dollar Store items…$6.00.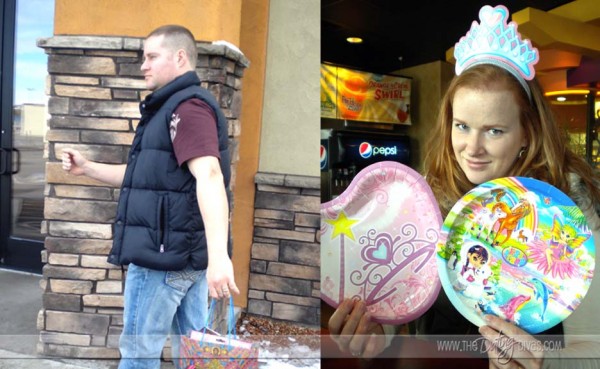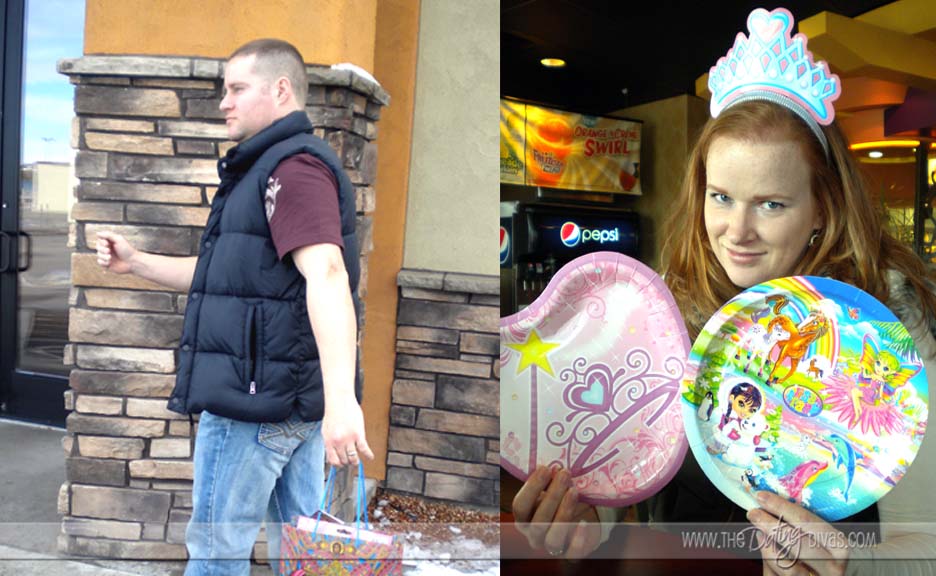 With our gifts in hand (er…really we carried it all in one of the gift bags we purchased), we made our way to three of the finest dollar menu fast food diners in the valley (Pocatello Valley, that is). Conveniently, all three of these diners happen to be right next to each other. Taco Bell, Wendy's, and McDonald's offer the highest quality dollar menu products money can buy. Our objective? To make good use of our Dollar Store items while having our Dollar Menu lunch.
Dollar Menu Objectives:
Our budget for each of the three diners is $1.00 each per dollar menu. Total cost for lunch…

$6.00

.
We have to eat our lunch on our party plates at each diner.
I will carry all of our Dollar Store items in one of the gift bags, but Kari has to wear one of her Tiaras all through lunch.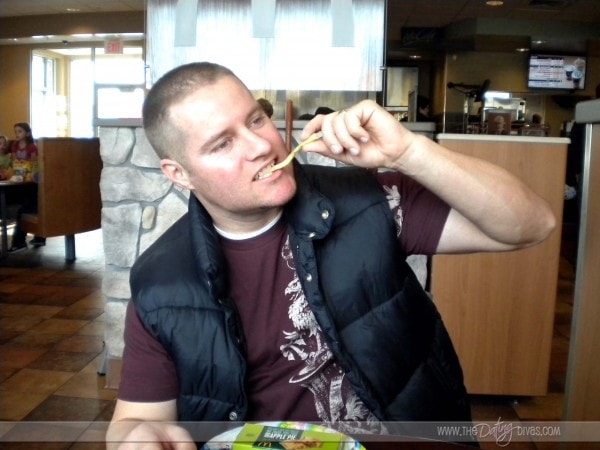 It just so happened to be the lunch time rush on a Saturday, which made each place packed to the brim with customers…and considering Pocatello is a really small town…we just so happened to get a lot of stares. Especially from little girls that liked Kari's Tiara. It was a lot of fun watching each other eat off of our little party plates.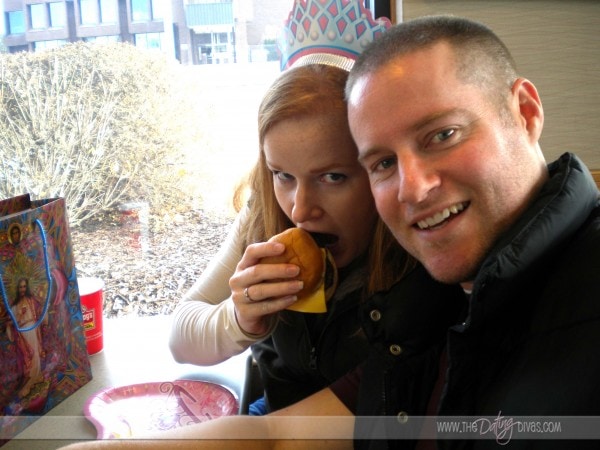 Dollar Movie Objectives:
Find a dollar movie that we hadn't already seen.
Find a dollar movie that is good.
Find a dollar movie that is rated PG-13 with someone who has brought their little children under the age of 5 to it.
Just kidding!! Our objective was really just to stay with the Dollar theme so a Dollar Movie sort of fit in perfectly. Even though the above objectives (#1 & #2) really were challenges…#3 really did happen.
Total cost for the Dollar Movie…$4.00.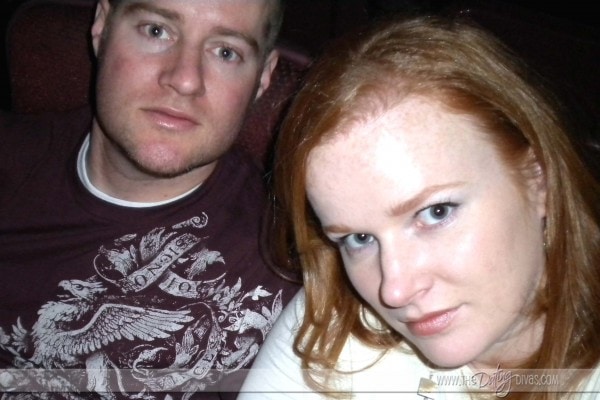 Total cost of this date…$16.00.
I really had a fun time on this date despite the fact that we spent very little money. We both laughed a lot throughout the whole date. It made the normal dinner and a movie much more memorable,…and we've got the gift bags to prove it. My wife is a good sport and is always willing to try new things. I'm so lucky to have a wife that loves to laugh and is up for going on spontaneous dates with me.
– Adam
*     *     *     *     *     *     *     *     *     *     *     *     *
There you have it. This man never ceases to amaze me. So guys, take it from me, it really doesn't take an over the top date to impress your wife. Creating an opportunity where you can laugh together is the best experience for both of you…and ladies, don't be shy…let your man know that even an "every day" date can easily be made into something fun, memorable, and even cheap! Have some fun with your next date night out!
P.S.  If you're looking for the perfect way to end this night in the bedroom…  check out our printable Bedroom Value Menu!