Fun Family Halloween Dinner Idea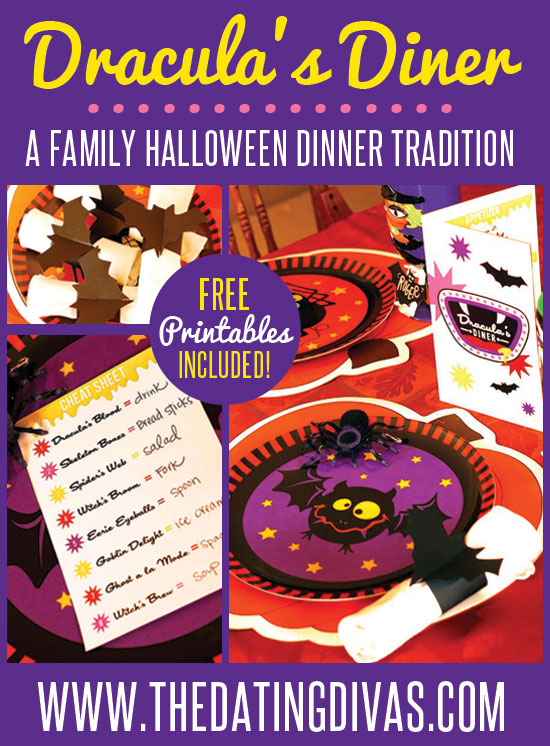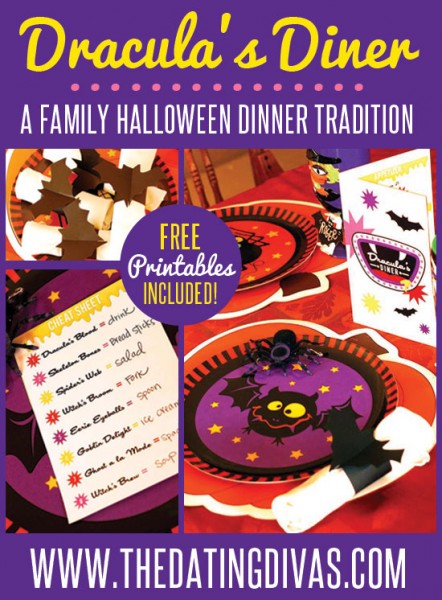 Disclaimer: This post contains affiliate links. To learn more about 'em, click here.
Halloween is my absolute FAVORITE holiday of the year. My whole family is huge on Halloween and we always go all out for costumes and decor. When I was a little girl, my mom made this holiday an absolutely magical time of year. One of the traditions she started in our home was a special Halloween meal. We looked forward every year to our dinner of "skeleton bones" and "Dracula's blood" and her stories of how she obtained the bones from the graveyard.
Combining the inspiration from my childhood memories and Becca's amazing Cupid's Crazy Cafe family dinner date idea, I bring to you . . .
Dracula's Diner! 
This spooky and kooky dinner is sure to be a Halloween tradition in your home that everyone will look forward to. It is SO easy to do – you can do this with ANY meal. Plus – with the free printables that our amazing designer Erin at Strawberry Mommycakes created all you have to do is print!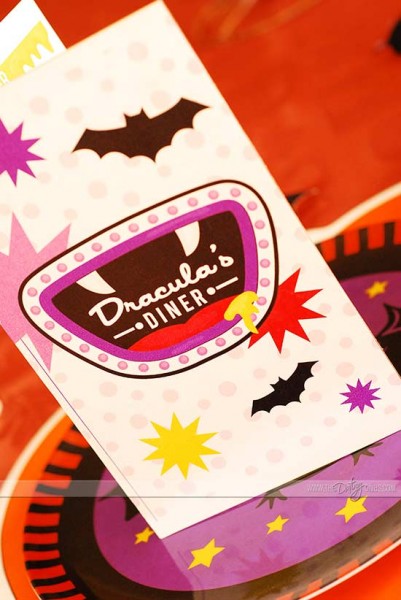 At Dracula's Diner, the menu items are unique and the menu is NOT like other menus. Your guests at the dinner must order from items such as Ghost a la Mode, Goblin Delight or Eerie Eyeballs.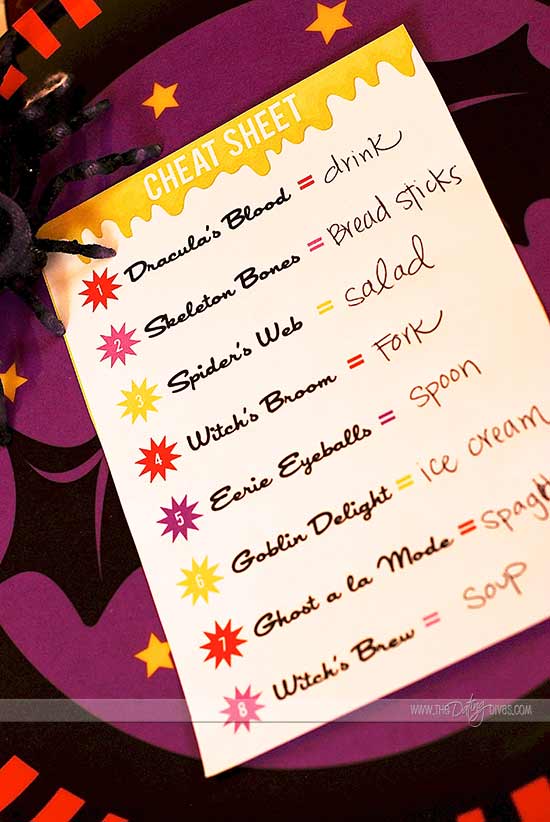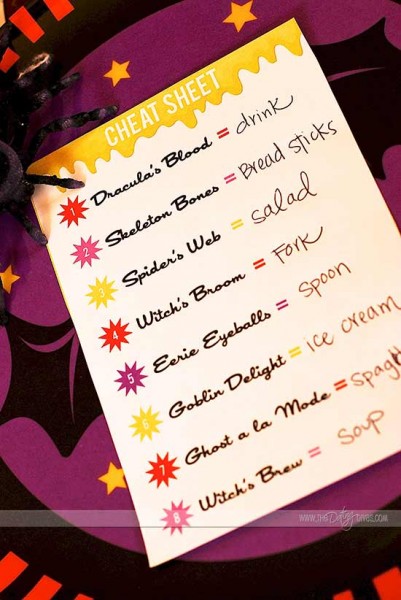 To begin, decide what you want to serve for dinner. Using the cheat sheet provided, assign each item of your meal (including utensils!) to each one of the spooky code words. You can try to assign your items to match the words (Dracula's Blood = red Kool-aid & Skeleton Bones=breadsticks) but really you can just assign any item to any code word.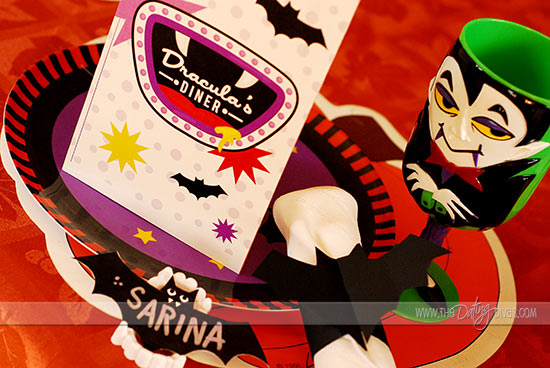 Now it is time to pull out all of your Halloween decor to set the scene. At Dracula's Diner, spiders and spiderwebs are no longer a health hazard and there is broom parking at the entrance! Really you can just grab any Halloween items and make it work!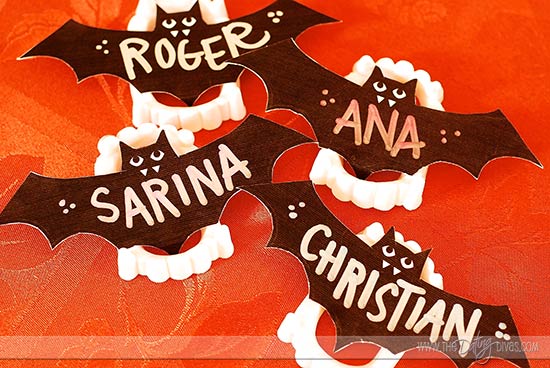 To help with setting the scene, we have place cards that you can make for each of your guests. I used these Dracula fangs

to hold up the place cards and a metallic sharpie markers to write each of the guest's names.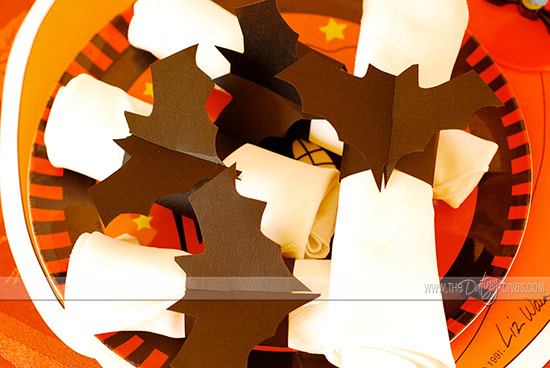 We even have these batty napkin holders! How cute is that? HINT: If you do choose to set out napkins – make sure it isn't one of the items put on your cheat sheet that they have to order!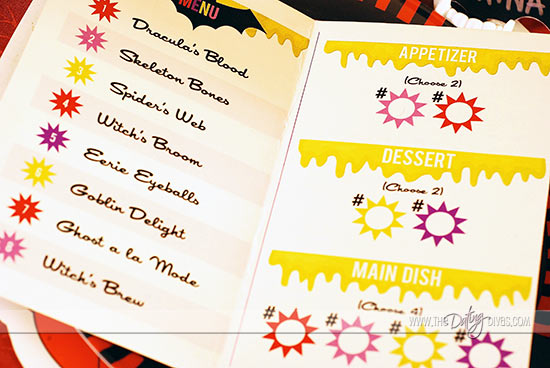 When it is time to order, have each of your guests fill out their menu making sure to use each of the 8 different items only once. Then use your cheat sheet to serve each guest their course. At Dracula's Diner one guest might get a side dish and a dessert for an appetizer and another might get a fork and a drink for dessert.
Dracula's Diner
Printables Designed By Erin @ Strawberry Mommycakes Exclusively For The Dating Divas