Egg Drop Project Ideas
Are you ready for an Easter activity (or anytime activity!) to unleash your competitive and creative sides? We've got just the thing for you! This egg drop project is packed with egg drop challenge ideas and is full FUN. We promise all of your friends and family will love it and you will too. The best part of all is that we've included practically everything you need, from a printable invite, egg drop experiment guide, and awards! Get egg-cited because this is one egg-straordinary activity you don't want to miss. Let's take a look!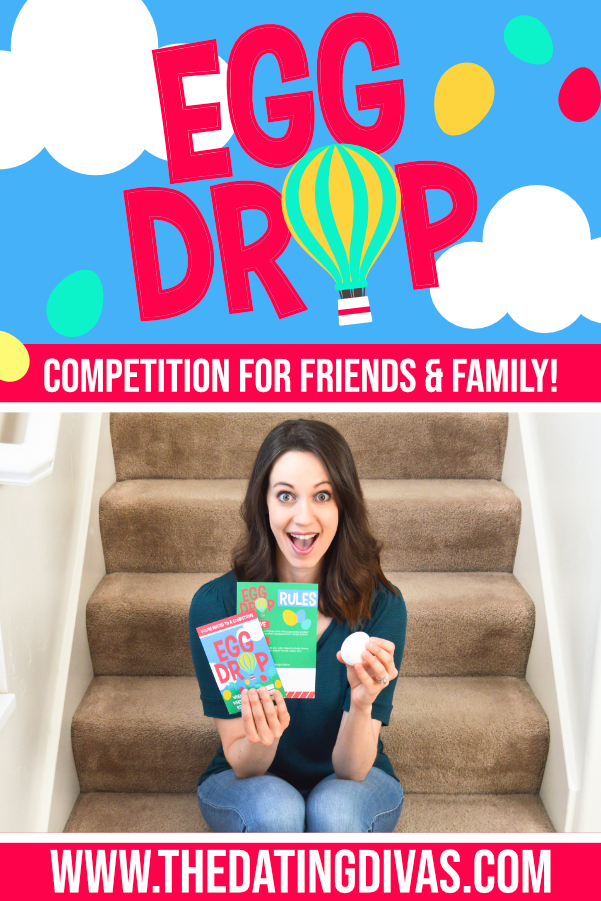 Disclaimer: This post contains affiliate links. To learn more about 'em, click here.
Before we explore more about these fabulous egg drop ideas, we HAVE to give a huge designer shoutout to Diva Elizabeth. She helped make these egg drop designs a reality. They are truly egg-cellent!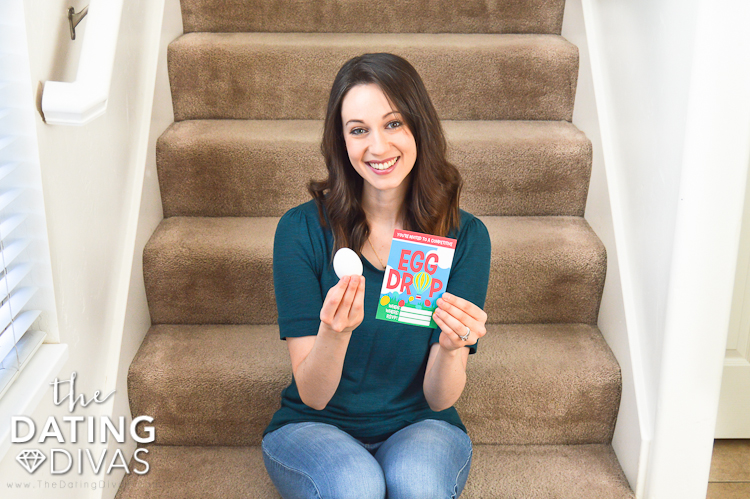 What's Included in Your Printable Download?
Your egg drop project ideas are super easy to put together and make for a fabulous Easter (or anytime!) activity. Take a look at the included egg drop designs and printables below, and keep reading through the post for a more detailed description of how to use each of them:
Egg Drop Challenge Invite
Egg Drop Challenge Ideas & Guide
Award Ribbons
How amazing are those?! Keep on reading to take an even closer look at each of the egg drop designs and printables, and for tips and tricks on how to assemble them. Don't forget to grab some quality cardstock!
What is the Egg Drop Project?
If you ever did the egg drop experiment in school, you'll know eggs-actly what we're talking about. Basically, the goal is to create a container or device that will protect an egg from a high fall. Working in teams, participants will map out their egg drop ideas. After that, they will assemble their prototype and put them to the test! Whoever's egg is in the best condition after the drop is declared the winner.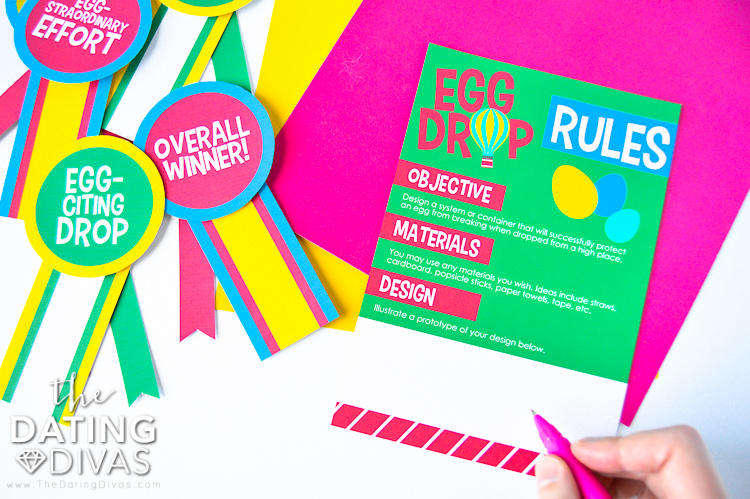 Egg Drop Project Invite
Get everyone ready for the egg-straordinary fun to come with this uniquely designed invite! Print as many copies as you need, cut, fill in the info and deliver to your guests. You can make this activity as big or as small as you like! In other words, it's totally up to you.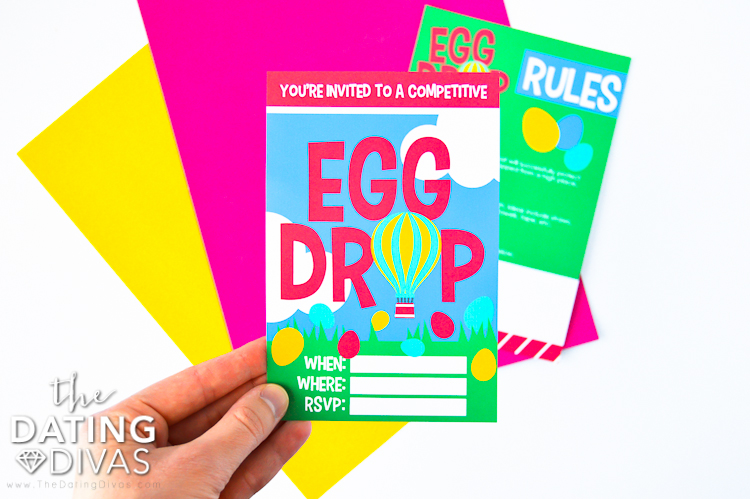 Egg Drop Project Guide
Once everyone is assembled, split them up into teams. Moreover, if you have a smaller group, you can have each person work individually. It's up to you! After that, make sure everyone gets a guide (these guides are packed with instructions and egg drop ideas) and put them to work! Above all, you'll want to be sure and provide plenty of supplies for them to choose from. For example, you can include cardboard, tape, tissue paper, straws, packing peanuts, plastic containers, etc. Additionally, you could choose to set a time limit for assembly to really put on the pressure.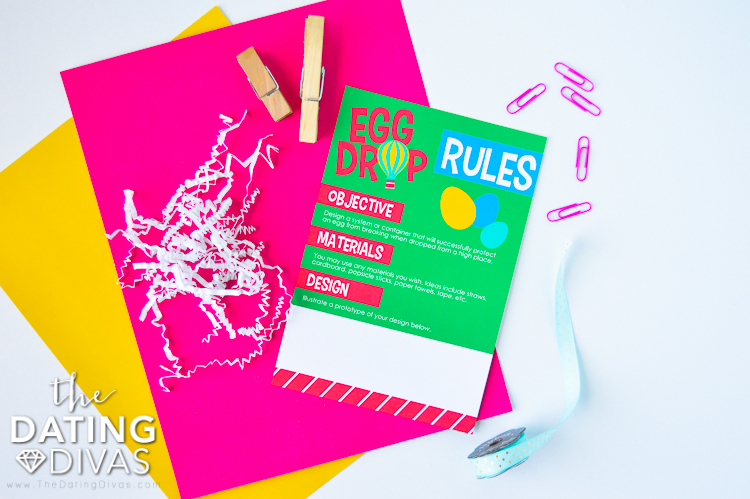 Now it's time to put the egg drop project designs to the test! Choose a location with a steep drop and have teams go one at a time. Make sure to document the fun!
Printable Awards
Finally, you can check the results! Begin by having everyone open their containers to view the damage. Additionally, you could have everyone present their eggs and explain why they think they should win. After that, it's time for you to determine the winner! Your printable egg drop experiment awards are SO darling and easy to put together. In addition, we've included blank options. so there's enough for everyone. Hard work always deserves a little recognition!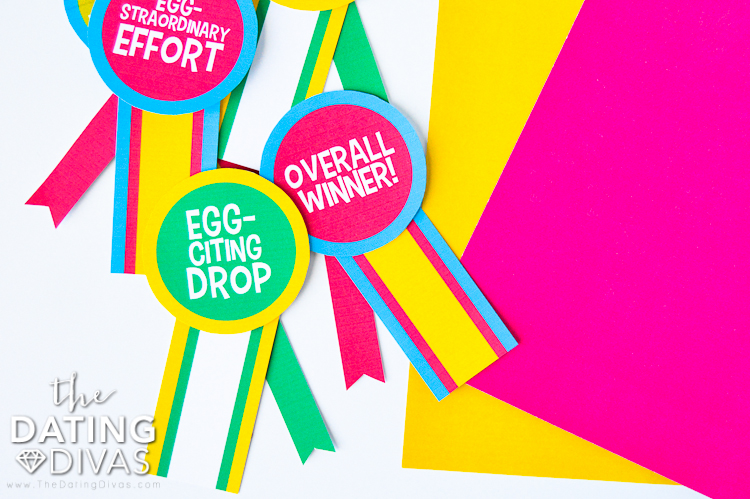 How great is all of that?! We really have included everything you need for a truly egg-citing egg drop project with your friends and family. Additionally, you could tweak these egg drop project ideas slightly to be a fun and fabulous date idea for two, a super fun group date, or a fun family night idea.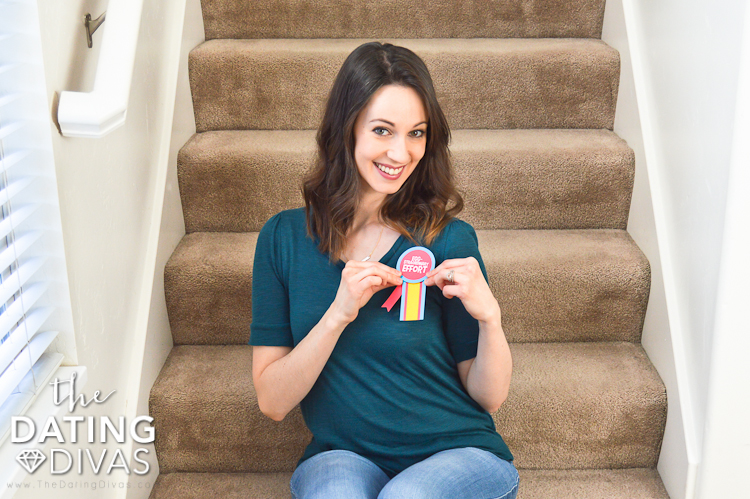 For even more Easter fun, take a look at our Easter Egg Hunt Game and our Easter Cookie Kit!
Egg Drop Project Competition
Printables Designed by Elizabeth Edwards Exclusively for The Dating Divas