Activities for Kids Movies on Netflix
We think family is SO important, but all too often the TV takes center stage, right? That's why we're so beyond excited about this Netflix Kids Binge that turns ordinary shows and kids movies on Netflix to a one-of-a-kind family idea! We promise you'll start to see TV time in a whole new light. This family activity even includes a fabulous list of the best kids movies on Netflix and our favorite Netflix kids shows. Additionally, we've included a printable invite, challenge cards, and MORE! Are you ready to learn how to make TV time the BEST family time ever? Let's take a look!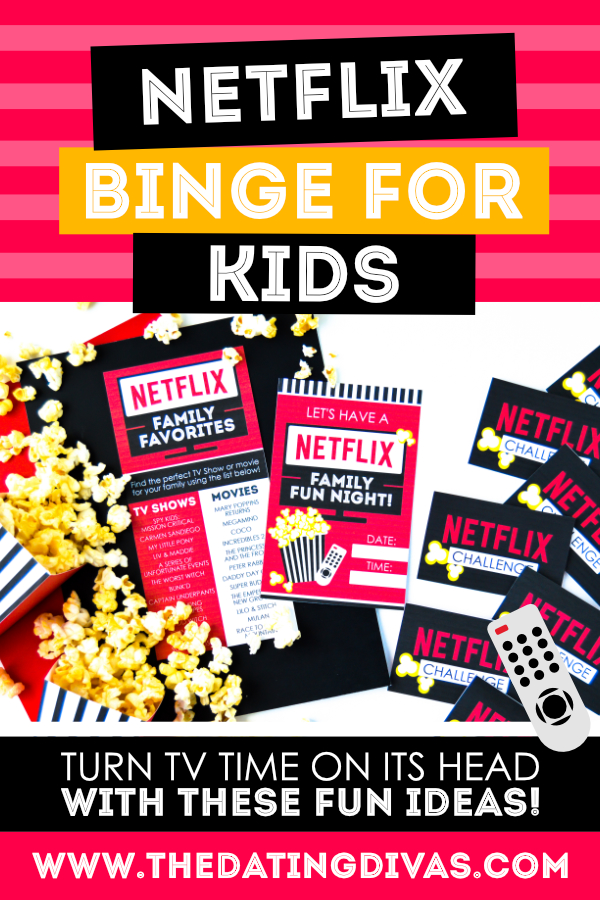 Disclaimer: This post contains affiliate links. To learn more about 'em, click here.
Before we explore more about this fantastic family idea, we HAVE to give a huge designer shoutout to Diva Elizabeth. She helped make these Netflix kids binge a reality with her designs.
What's Included in Your Printable Download?
Your own Netflix Kids Binge is super easy to throw together and makes for a great family activity! Take a look at the included items below, and keep reading through the post for a more detailed description of how to use each of them:
Netflix Kids Shows Invite
List of Kids Movies on Netflix
Netflix Kids Challenge Cards
Printable Popcorn Boxes
How fun are those?! Don't forget to grab some quality cardstock before you assemble your Kids Movies on Netflix activities.
Netflix Kids Shows Invite
Get all your family members ready for the fun to come with this uniquely designed invite! It features a darling TV design and is the perfect way to introduce some good kids' movies on Netflix. Plus it's beyond simple to put together. Simply print, fill in the info, and place it somewhere your family will see it.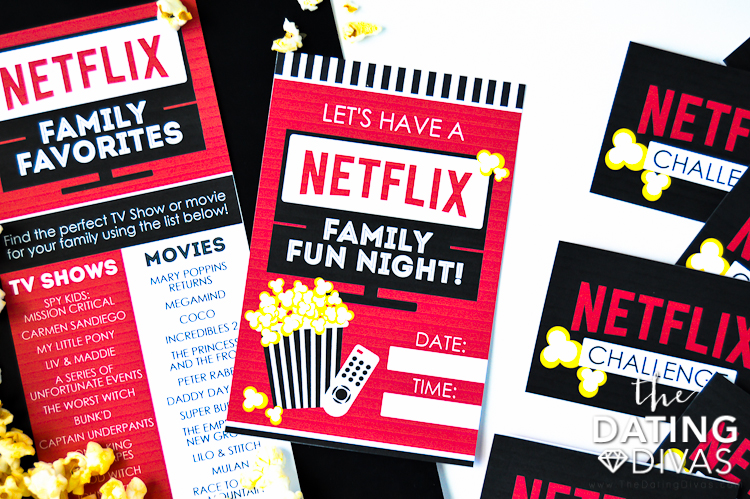 List of Kids Movies on Netflix
If only we had a nickel for every time we heard, "What should we watch?!" Well, not anymore! Your printable list of the best kids movies on Netflix will help you choose quickly and easily. We've even included a list of our favorite Netflix kids shows in case you're running short on time.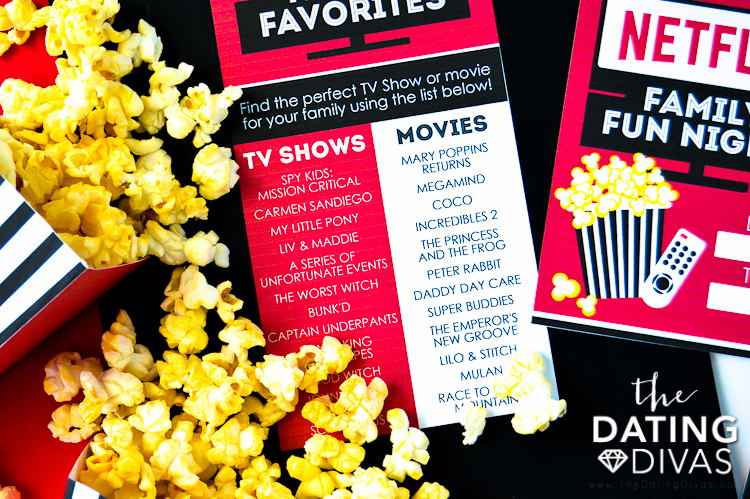 Netflix Kids Challenge Cards
While the shows and movies you select might be the 'star of the show,' we're about to help you take this netflix kids and family idea one step further. For example, why not make watching family movies on netflix totally interactive?! These printable Netflix kids shows challenge cards are SO fun and hilarious!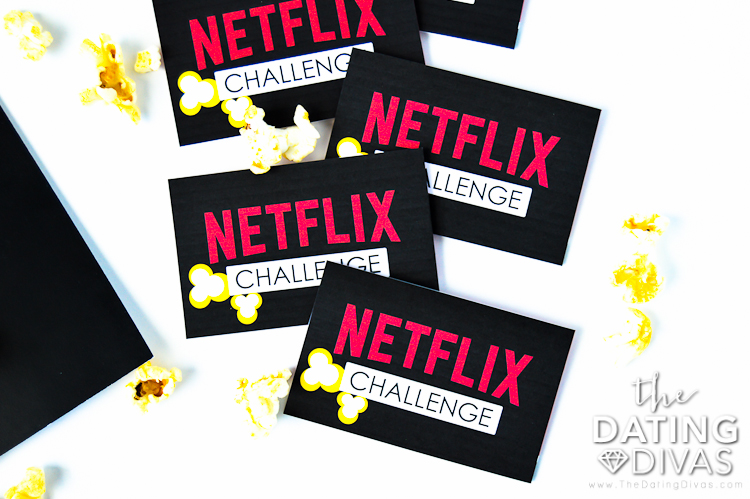 Consider setting a timer for every twenty minutes or so during viewing time, and take turns drawing from the pile. Even the best kids' movies on Netflix will be better with these witty tasks!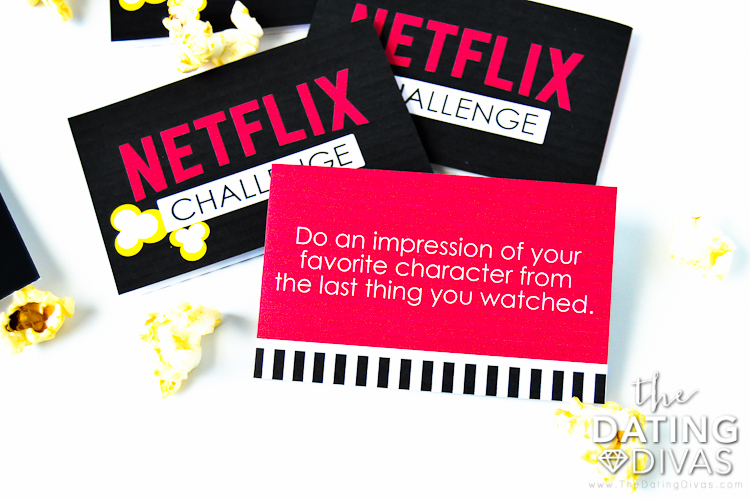 Printable Popcorn Boxes
The greatest TV shows and the best kids movies on Netflix aren't complete without popcorn, right? Right! That's why we've included a printable popcorn box to help set the movie mood. Moreover, it's so easy to put together. Start by printing as many as you need. After that, go ahead and cut out the boxes. Meanwhile, you may want to have some popcorn popping. Once that's done, all that's left is to fold your boxes, apply adhesive to the edges, and fill with popcorn. Voila! It's so easy.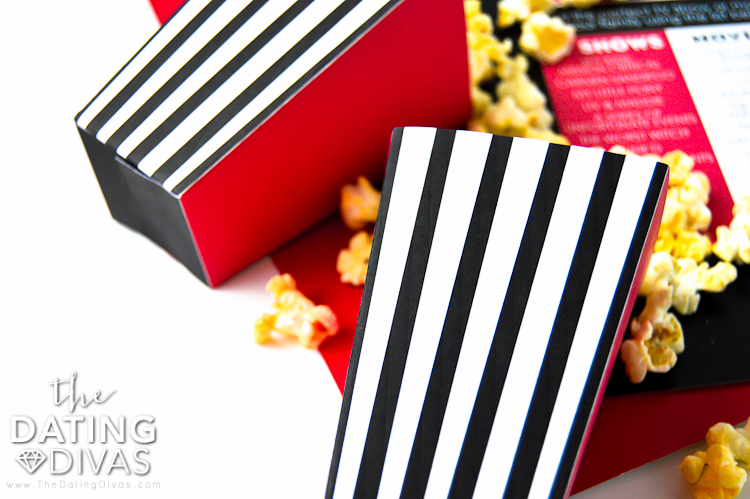 How great is all of that?! We really have included everything you need for a night of the best kids movies on Netflix (or TV shows!). Additionally, you could tweak this idea to be a fun and fabulous date idea for two. Invite your sweetie using the invite and prep a two-person movie or TV show night of fun. Additionally, you could grab a fluffy blanket to snuggle under!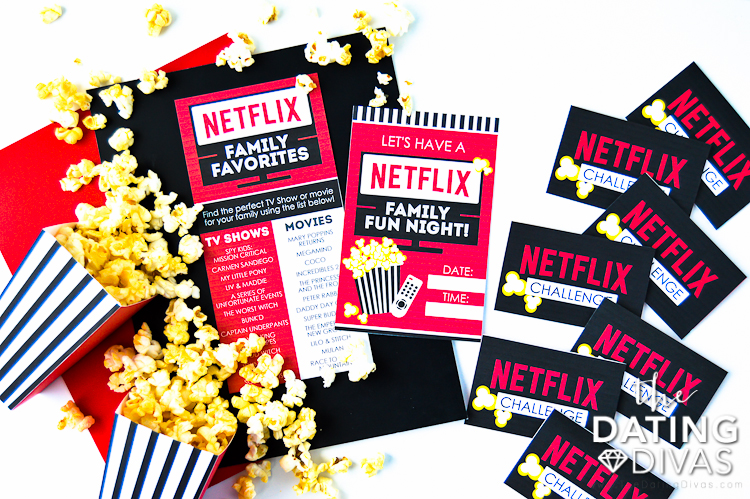 For even more movie goodness, take a look at our Family Movie Night and our Netflix Binge Date (for adults)!
Netflix Binge for Kids
Printables Designed by Elizabeth Edwards Exclusively for The Dating Divas