Drive-In Movie Date
Don't you LOVE a good movie night with your sweetheart? We sure do, but after a while, that go-to movie night can get a little dull, right? Well buckle on up and drive on down because we're about to turn movie date night on its head! Our Drive-In Movie Date Night has everything you need to create a one-of-a-kind drive-in experience with your sweetheart. Complete with a printable invitation, concession items, tickets and more, we promise we'll have you and your sweetie pulling into the date night fast lane. Let's take a look!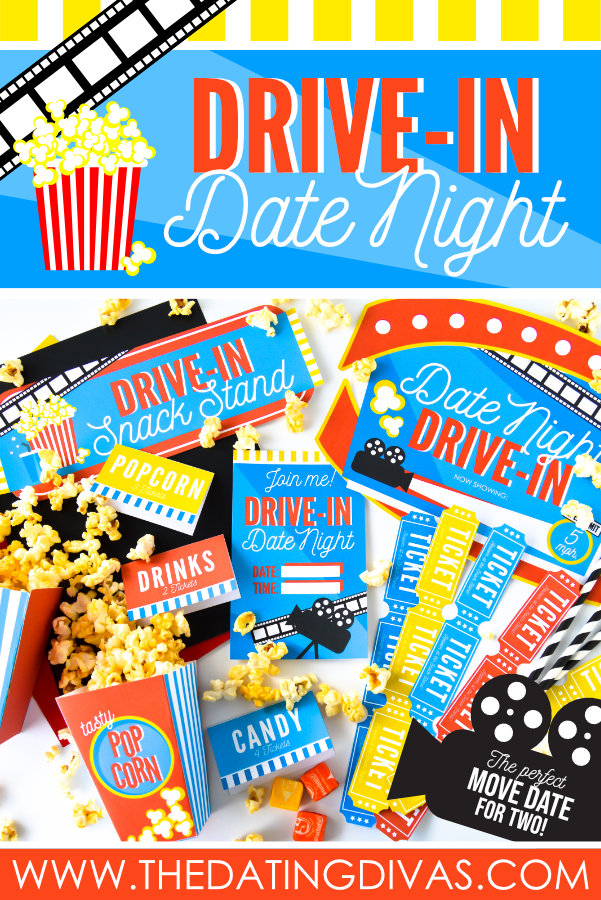 Disclaimer: This post contains affiliate links. To learn more about 'em, click here.
Before we dive in (or should we say "drive-in?!"), we HAVE to give a huge designer shoutout to Diva Elizabeth! She created these movie-magic printables for us and we love them!
What's Included in Your Drive-In Movie Date
Your Drive-In Movie Date is going to be a night to remember! Take a look at the included items below, and keep reading through the post for a more detailed description of how to use each of them.
Invite
Drive-In Movie Sign
Snack Stand Sign
Concession Tickets
Concession Tags
Popcorn Boxes
How amazing are those?! Keep on reading to take an even closer look at each of the items and for tips and tricks on how to assemble them. Don't forget to grab some quality cardstock!
Drive-In Movie Date Invite
Get your sweetheart ready for date night with this DARLING movie-themed invite. Simply fill in the date and time and leave it somewhere for them to find. They'll be SO excited that you planned this event just for them!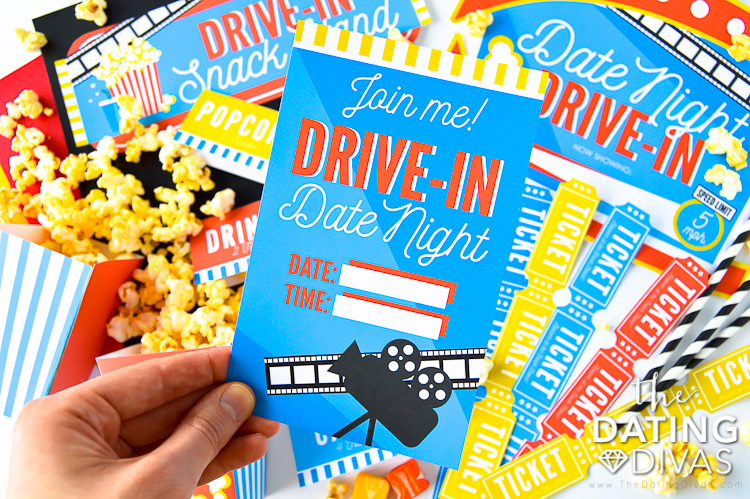 Drive-In Movie Sign
This date is all about turning the ordinary into the extraordinary and your printable Drive-In Movie Sign helps you do just that! Just print, cut, and fill in the night's featured flick. Be sure to pick one that both you and your sweetie will enjoy. Then display your sign right at the 'entrance' of your drive-in. It'll totally set the scene and adds a super fun touch to your evening.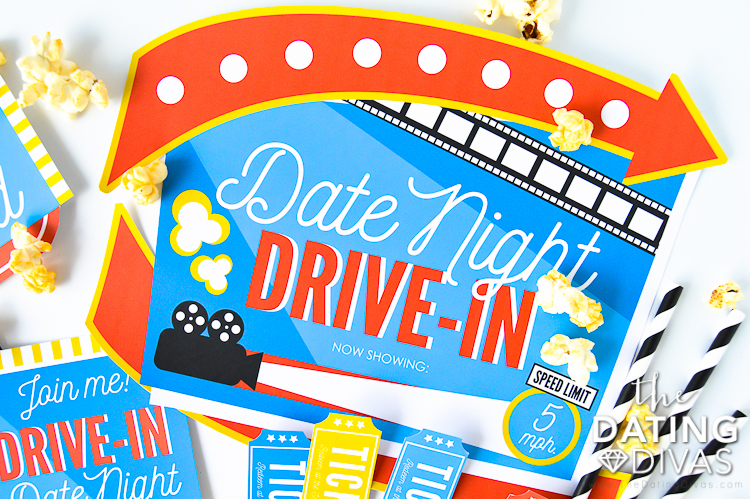 Something we love about this date is that you can choose to do it inside your home OR have a real drive-in experience right in your own backyard or garage. If the latter is the case, we suggest attaching your sign to a stick or skewer of some sort. Then place it on your lawn or near the entrance of your garage to complete the effect. How film-tastic is that?!
Snack Stand
One of the BEST parts about going to the movies (whether at the theater, the real Drive-In Movies, or your couch) is the snacks, right?! Well, hold onto your hats because those movie munchies take center stage in this fun idea. Create your very own Drive-In Snack Stand using your included snack stand sign, popcorn boxes, and treat tags. They're not only beyond adorable but will help alert your sweetie to ALL the goodness you prepared. You might even consider using a bookshelf, drinks cart, or patio table to place your spread. Easy peasy!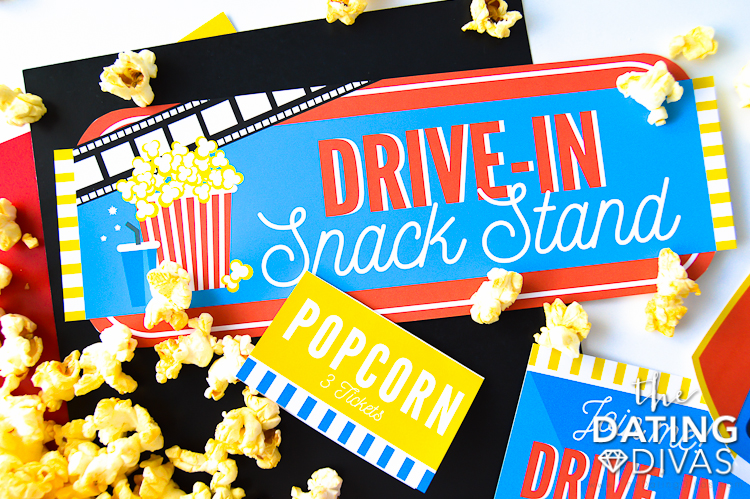 Don't forget to include your printable popcorn boxes! These sweet boxes are easily folded to create a unique container for your popcorn with a totally retro vibe. Your printable download includes one box but feel free to print as many as you need.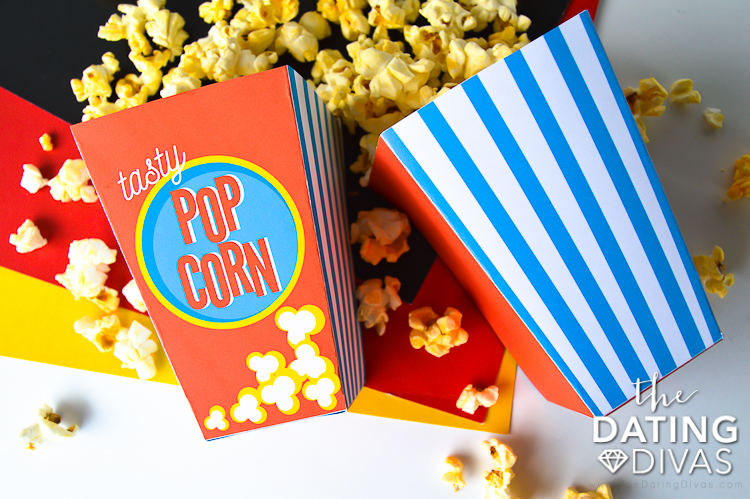 Last but not least, you'll want to use the printable treat tags both to highlight the various food items and to create a fun activity. We've included tags for Candy, Popcorn, and Drinks as well as a blank option in case you want to add your own foodie flare. You'll notice that the bottom of each treat tag includes a ticket amount. Yup, you guessed it! We've made regular movie night snacking even MORE fun by adding a price!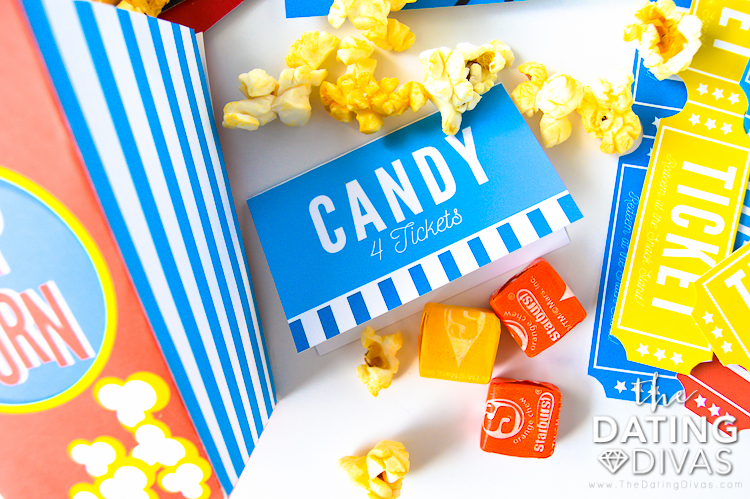 Concession Tickets
Add a fun little activity to your Drive-In movie night by redeeming these super snazzy Concession Tickets for your treats, because no flick is complete with out the food. Simply print, cut and divide the stack between you and your sweetheart. Feel free to print as many as you need. During your Drive-In Movie Date, the two of you can cash in your tickets for your favorite movie foods. Remember to check the bottom of your treat tags for the required ticket amounts!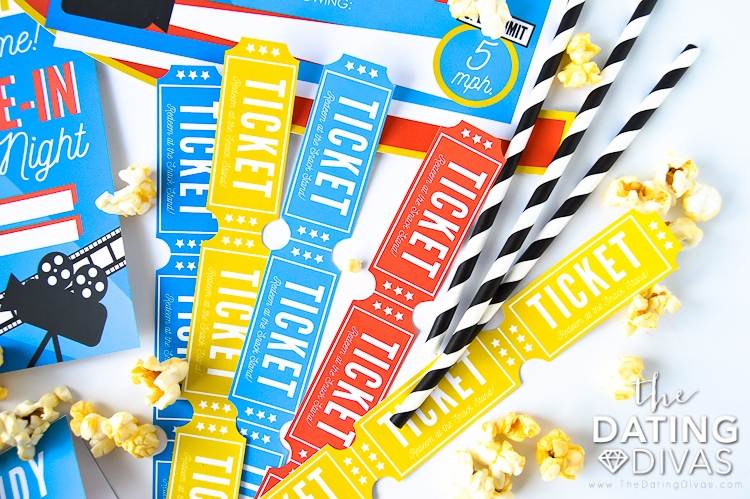 See how easy it is to recreate a classic drive-in experience at home? Take all of these ideas one step further by using a movie projector and having plenty of comfy blankets nearby. After all, no Drive-In is complete without a little cuddling [wink!].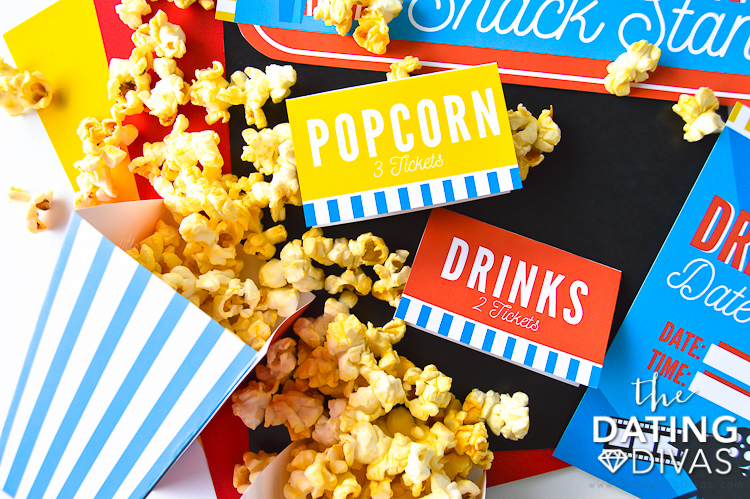 This super fun and easy date ideas are sure to become your new go-to on movie night. You can make it family-friendly by setting aside the "Date Night" worded items and utilizing the tickets and snack stand. It's a really friendly adjustment that will still make for a great night of family fun. You could even check out this great article because it would totally add your date! So what are you waiting for?! Lights, Camera, Action!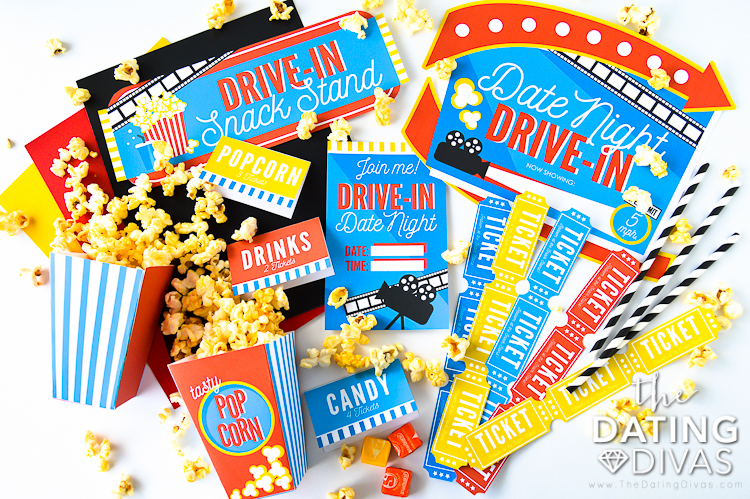 Drive-In Movie Date
Printables Designed by Elizabeth Edwards Exclusively for The Dating Divas