Christmas Sock Exchange
Merry Christmas and 'Fleece' Navidad! If you're a fan of the classic ugly christmas sweater party, this Christmas Sock Exchange idea is for YOU. For instance, it has all the fun of the aforementioned event, but with one small twist…instead of sweaters, it's all about the SOCKS! Yes indeed, sweaters are out, and socks are in. With printable invitations, a snazzy host guide, activity cards, and food tents, this printable kit contains everything you might need. In other words, you're totally set for a magical holiday evening. So gather your best pals and get ready for some laughs! Let's check it out.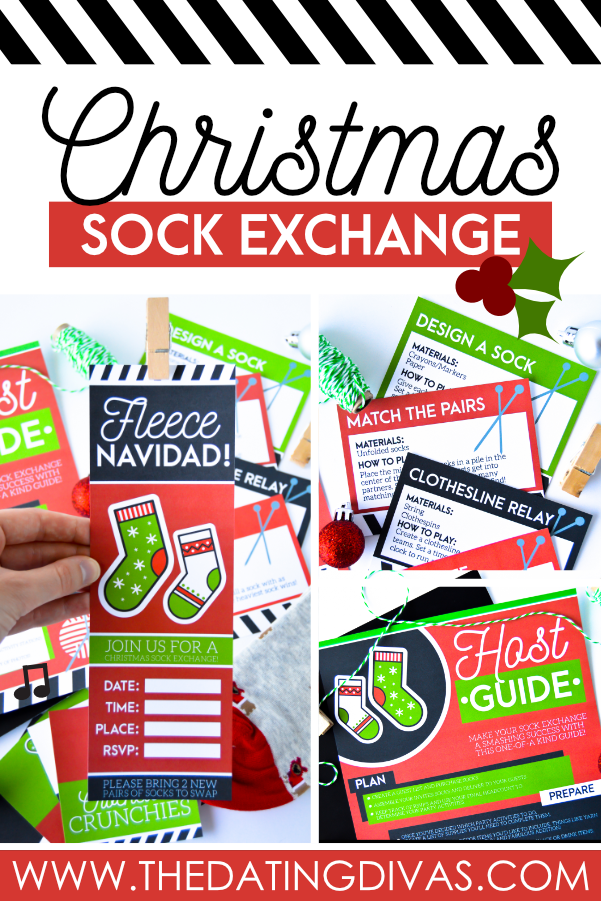 Disclaimer: This post contains affiliate links. To learn more about 'em, click here.
Before we sock it to ya, we have to give a designer shoutout to our own Diva Elizabeth creating these gorgeous printables!
What is a Christmas Sock Exchange?
Similar to the concept of an Ugly Christmas Sweater Party, the Christmas Sock Exchange is a themed holiday party for friends and family. For example, it features food, games, and a whole lotta fleece! In addition, guests are asked to bring a couple of new pairs of socks to swap and participate in competitive sock-themed games and other such goodness. Above all, it's the perfect excuse to put aside that busy holiday to-do list and just have some fun.
What's Included in Your Christmas Sock Exchange Kit
Your printable download includes everything you need to make your Sock Swap a total success. Above all, everything is super easy to prep and assemble. Take a look at your included Christmas Sock Exchange printables below, and read on for more details on how to use them.
Christmas Sock Exchange Invite
Christmas Sock Exchange Host Guide
Sock Challenge Cards
Food Decor
In other words, this is definitely 'knit' your average Christmas party…(wink!)
Christmas Sock Exchange Host Guide
Before you begin, take a peek at your one-of-a-kind host guide. It contains all the information you need to make your Christmas Sock Exchange a success. Better yet, we've made everything super easy and organized by breaking the guide it into three categories- Plan, Prepare, and Party. Each step walks you through everything you need to do for that particular section. You know this is going to be as stress-free as possible. Pretty great, huh?!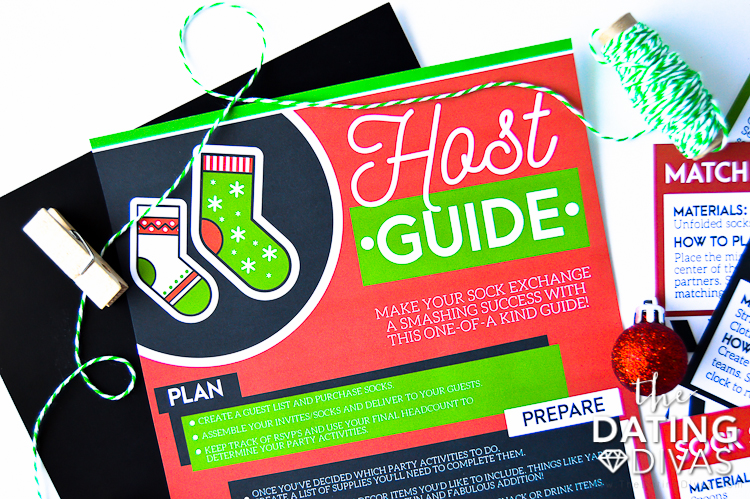 Christmas Sock Exchange Invite
Next up, the invitations! We've included two versions of this special invite – one for a group date or party, and one just for your sweetheart- should you choose to turn it into a two-person date night. Whichever version you choose, assembly is super duper easy, and we'll tell you how to do it! Just print, cut, and fill in the info. Additionally, you can stay true to the theme by attaching the invitation to a new pair of socks. It adds an extra dose of flair and gives your guests some special new attire to sport on party night!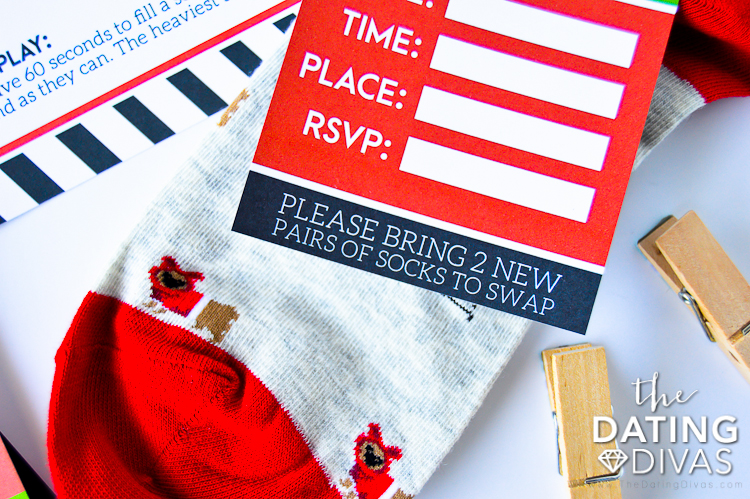 Challenge Cards
Once the guests arrive, it's time to get the party started! Your printable challenge cards contain several sock-themed games and activities that are over-the-top AMAZING. Plus, setup is simple, and supplies are minimal for each and every one. Just follow the cards as they'll tell you exactly what to do. In addition, the games are designed to be played by a group of people, but most will also work with two players (hello, date night!).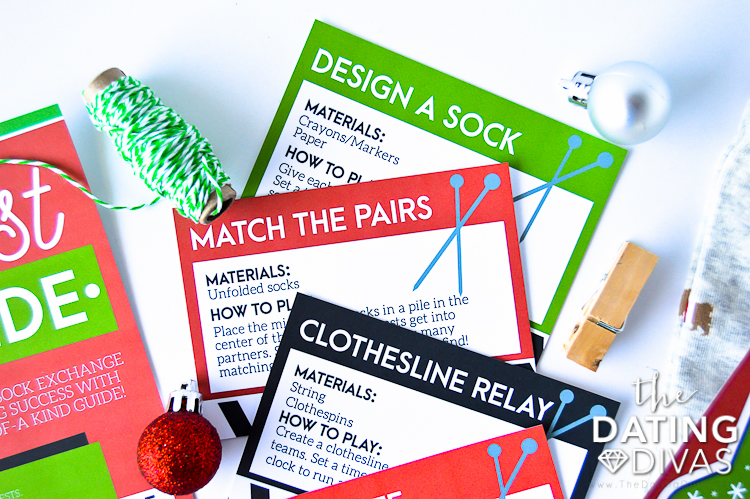 Additionally, we've included a couple of blank card options so you can come up with your own games if you wish. All you need to do is make note of any supplies you might need and the instructions for how to play. After that, go ahead and record the information on your card and you are good to go!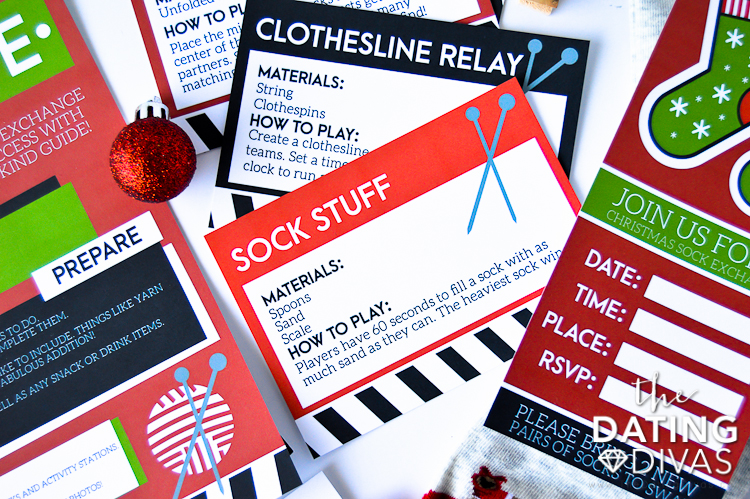 Don't forget to set aside some time for the Christmas Sock Exchange itself! The invitation encourages group date guests to bring two new pairs to exchange. Make sure everyone has their pairs on hand and have them swap, or come up with a fun white elephant variation to mix things up. The choice is yours!
Food Tents
Between the games and activities, treat your guests to some truly 'sock-some' refreshments. Your printable food tents will keep everything on theme and add the perfect touch of pizzaz. Simply print, fold. After that, you'll want to display them in front of your goodies. We've included such witticisms as 'Crotecheted Crunchies,' 'Knitted Nibbles,' and 'Sock Snacks.' We've even added a blank food tent so you can craft your very own food title!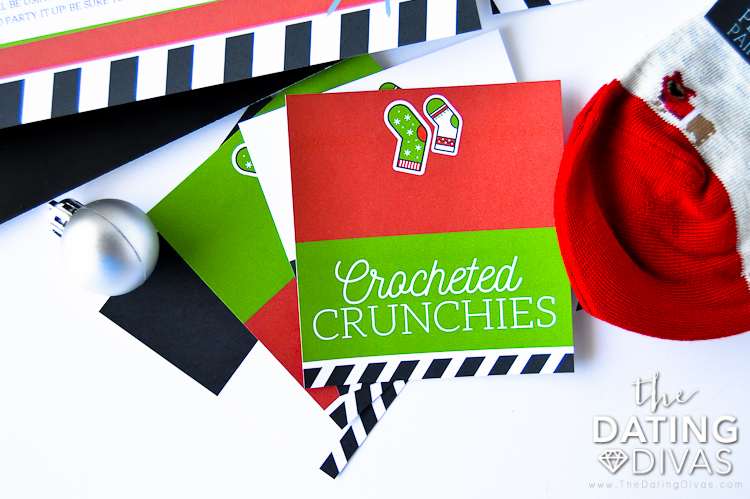 Christmas Sock Exchange
Printables Designed by Elizabeth Edwards Exclusively for The Dating Divas