Your NEW YEAR'S Freebies are here!
The following freebies are offered exclusively to our newsletter subscribers! Not a subscriber?
Get monthly freebies sent STRAIGHT to your inbox each month (PLUS you'll get our FREE 7 Days of Love Program JUST for signing up.) It's a total win-win. Sign up below!
Join Our Newsletter List
Homepage Newsletter Sign Up
HAPPY NATIONAL SPOUSE'S DAY!
Did you know National Spouse's Day is January 26, 2023?! Surprise your sweetie this year with an epic Favorite Things Gift Basket just for them!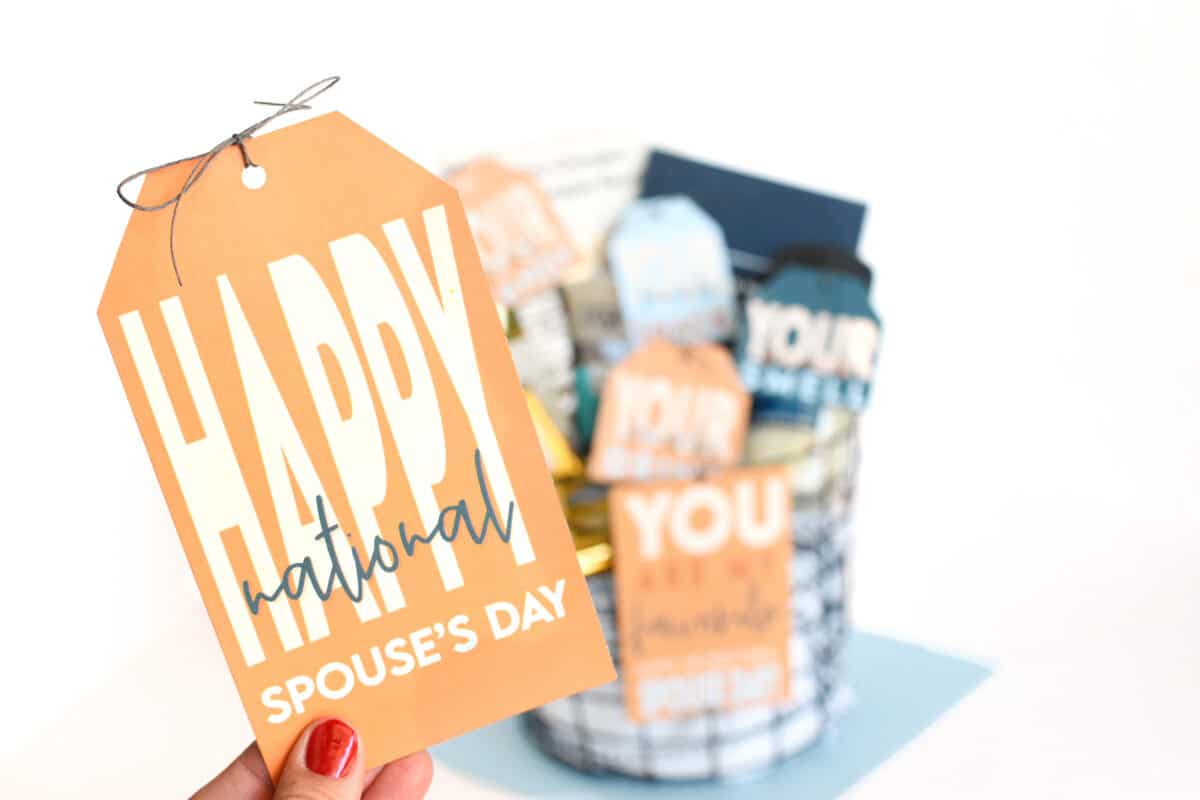 WHAT TO PUT IN the GIFT BASKET
Favorite candy
Favorite smell
Favorite drink
Favorite snack
Favorite store
Favorite candy
An item that is their favorite color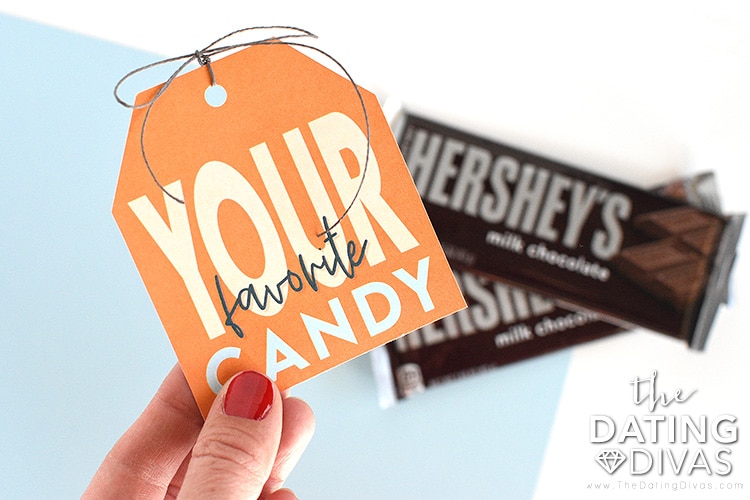 enjoy the day together
We hope you all love this adorable gift basket with all of your sweetie's favorite things to celebrate! Happy National Spouse's Day!!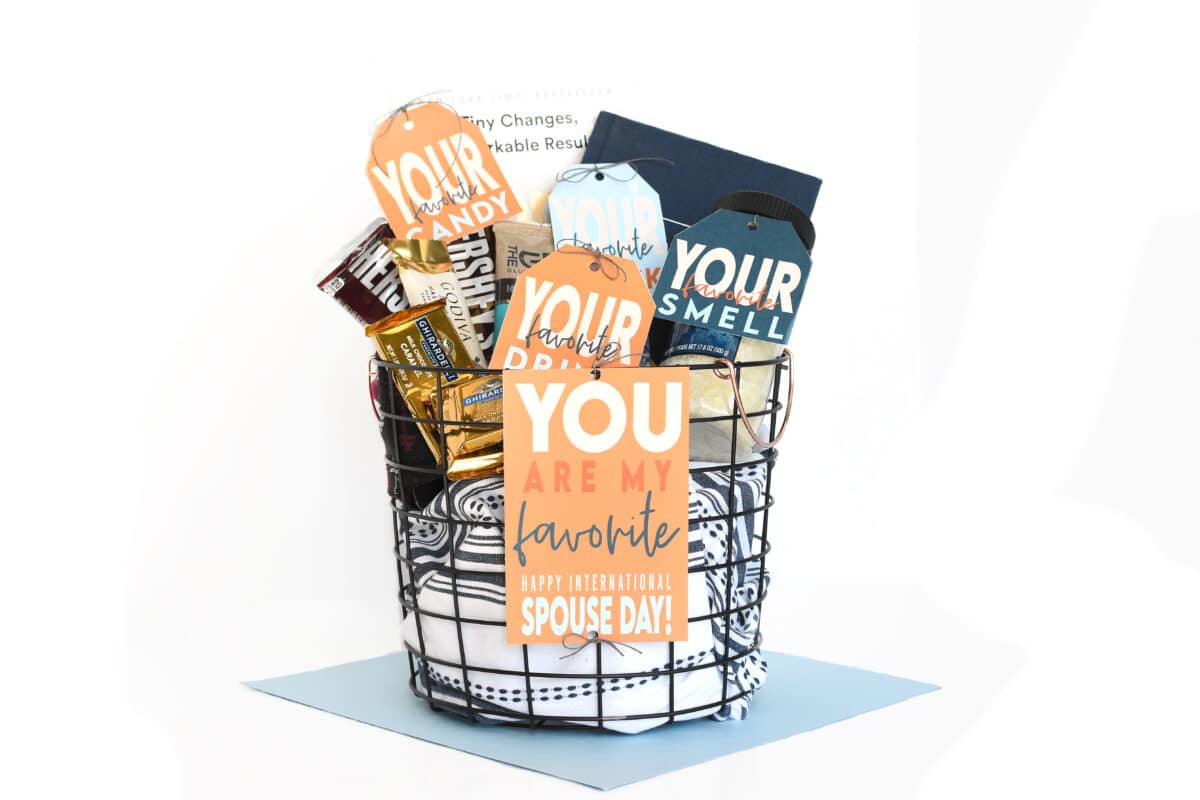 *  *  *  *  *  *  *  *
OPEN WHEN LETTERS 💌
Write each other an OPEN WHEN letter to open the next year. There are so many different types of "Open When letter" topics including romantic, inspirational, and those saved for important dates. But this special one is wrapped all into ONE letter! ❤️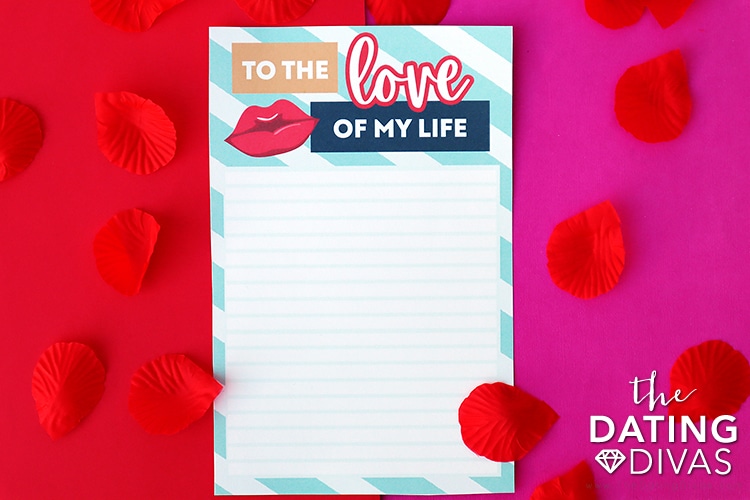 HOW TO GET STARTED
First, download and print these adorable and free printables! Then cut and fold along the lines and… voila! 💋 Your letter and envelope printables are ready.
P.s. Feel free to print as many letters as you need! ❤️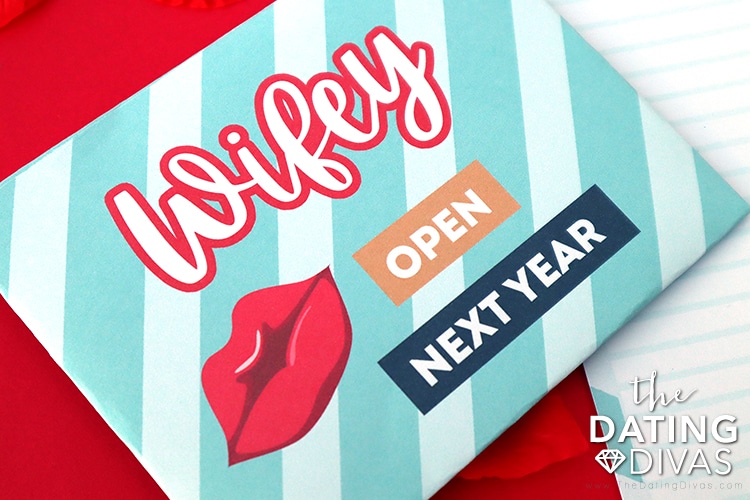 💌 LETTER IDEAS
If you are having a hard time on what to write about to your spouse, here are some great ideas!
Your favorite memory with your spouse this year.
Your favorite food you ate together.
A trial you overcame together.
A trial you are both currently going through and how you are going to overcome.
Something they have done this year that made you love them even more.
Where you are at in life with kids, location, work, etc. and where you want to be in the future.
Your favorite sexual memory this year. 💋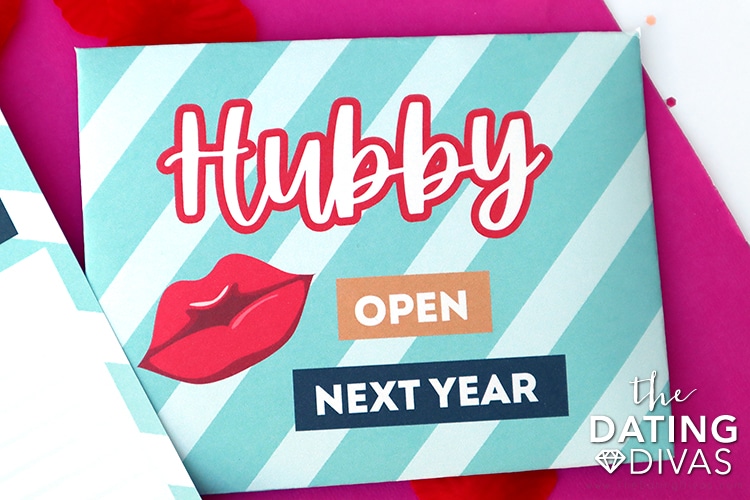 "TO THE LOVE OF MY LIFE"
So… what are you waiting for?! Get out your pen and pour out your heart this New Year. You and your sweetie will love reading your goals, favorite memories, and all the reasons why you love them the following year! Happy New Year! XOXO 💋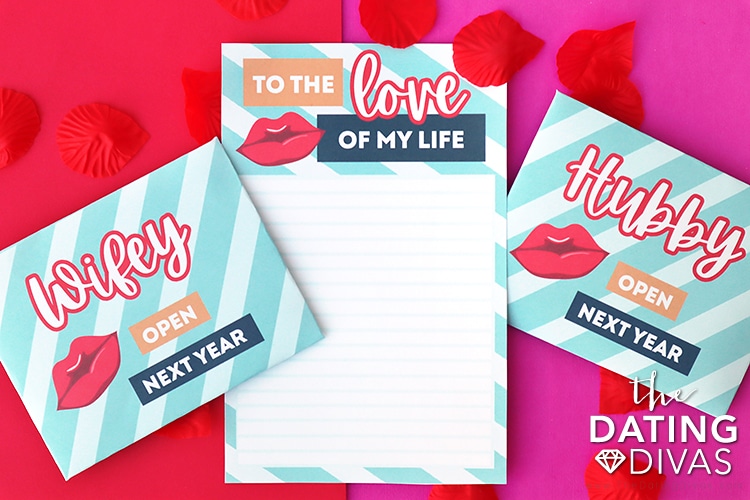 * * * * * * * *
New Year, New Us! ⭐
Now let's face it – after the many trials 2020 has brought, it is time for us to focus on a new, fresh start! Writing down your new year's goals can give you something to look forward to and keep working towards. Even if they aren't followed through completely, making a resolution shows that you have the belief and hope in your ability to change habits and become a better you. So what are you waiting for? Let's make 2021 the BEST year yet!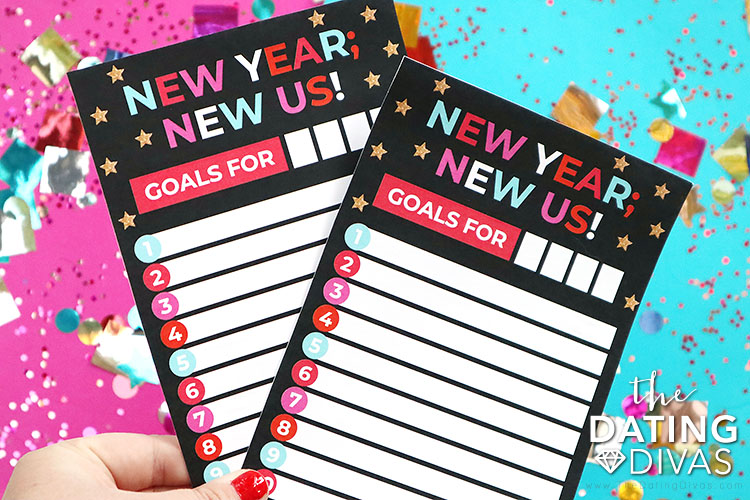 A huge thank you to the adorable Courtney of Paperelli, we have created these New Year's Goals printable for you and your sweetheart!
Goals for 2021 ⭐
Grab some yummy goodies and sit down with your spouse and get ready for a mini date night! Take 5-10 minutes to write down your goals together as a couple and individually. Feel free to hang them up in your room or on the fridge to remind you throughout the year! Here's to sticking to your New Year's resolutions and making 2021 your most successful year yet!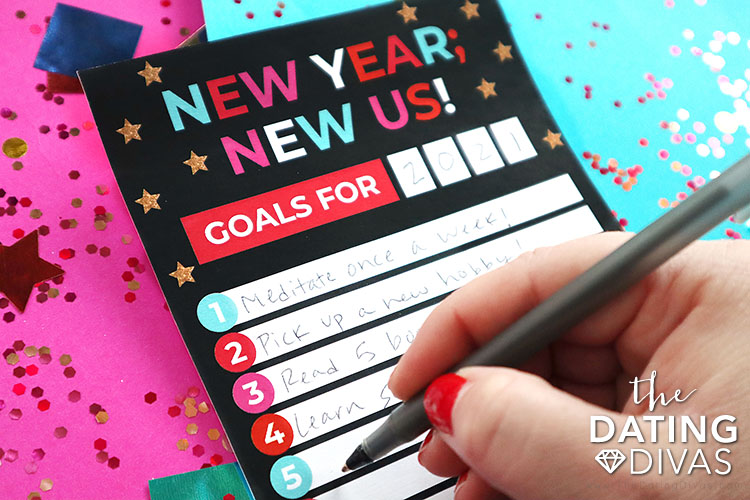 * * * * * * * *
Year of Love Notes
With the fresh start of a new year, it's time to envision the year you want to create. Hopefully part of your envisioning includes your spouse s you work to make this year the best year in your marriage yet! We've got a fun FREE download that will help you share your love with your spouse all year long.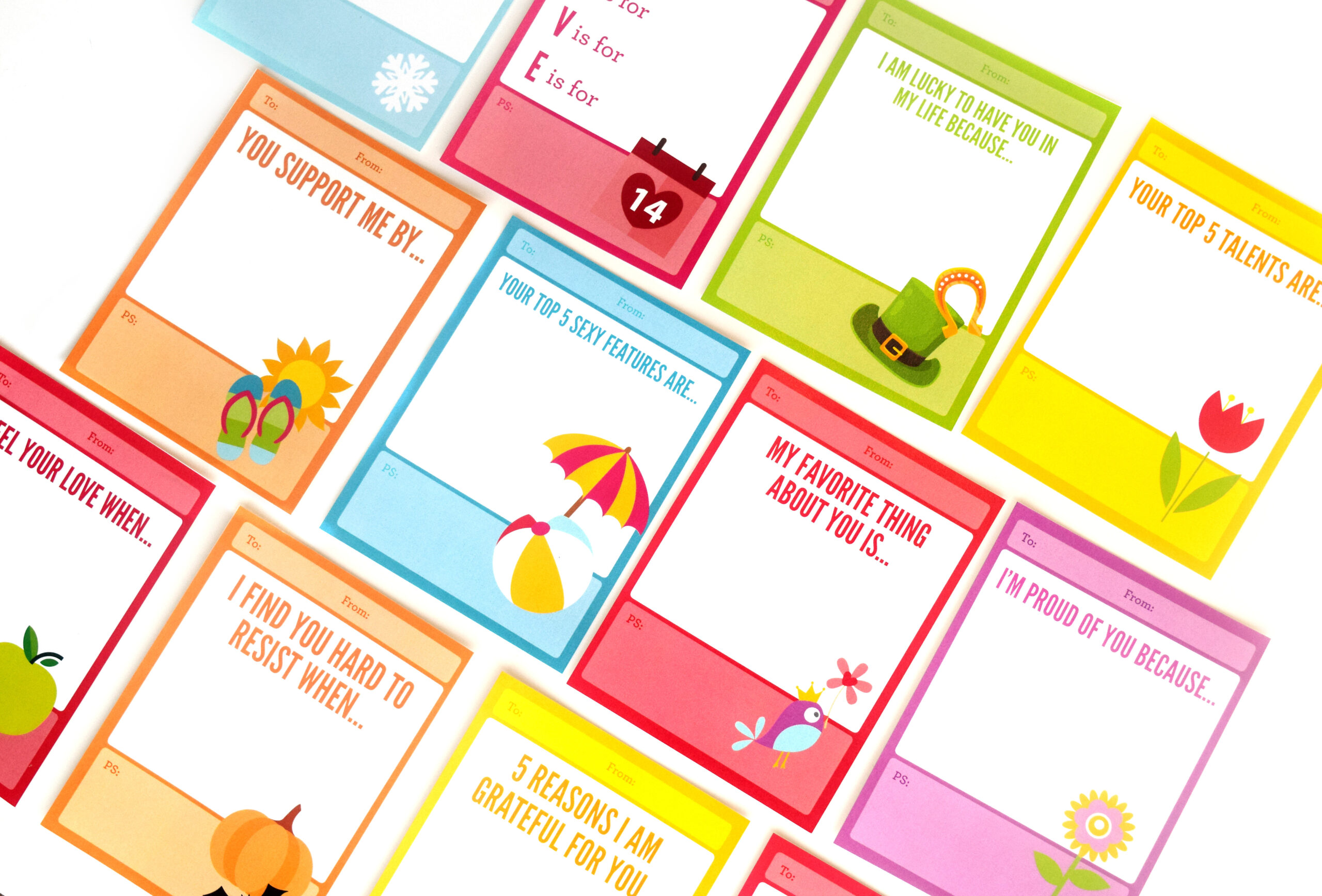 Putting your spouse at the top of your priority list does take effort but it's also fun and the best kind of work we know! With the help of Courtney of Paperelli, we have created a set of 12 love notes to give your spouse each month of this year.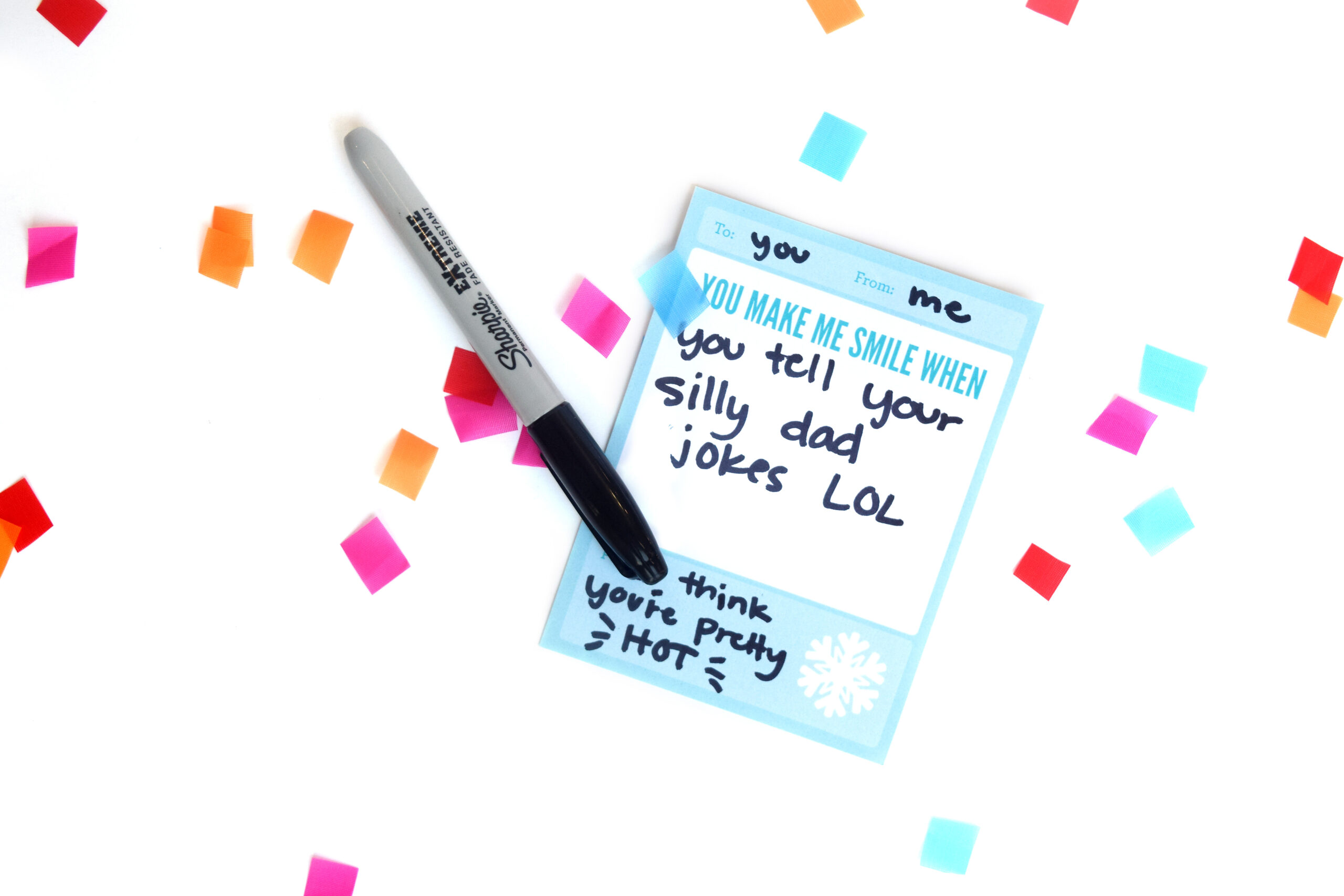 Print ALL out now so that you are prepped for a whole year of putting your spouse first. We have made it easier than ever to write a little love note by giving you a simple prompt to follow each month. If you want, you can write in each note now so that they are ready to go whenever you plan on giving them. Or, you can print and cut each one and save the note writing for each month. Either way, your spouse will love to know how special you think they are!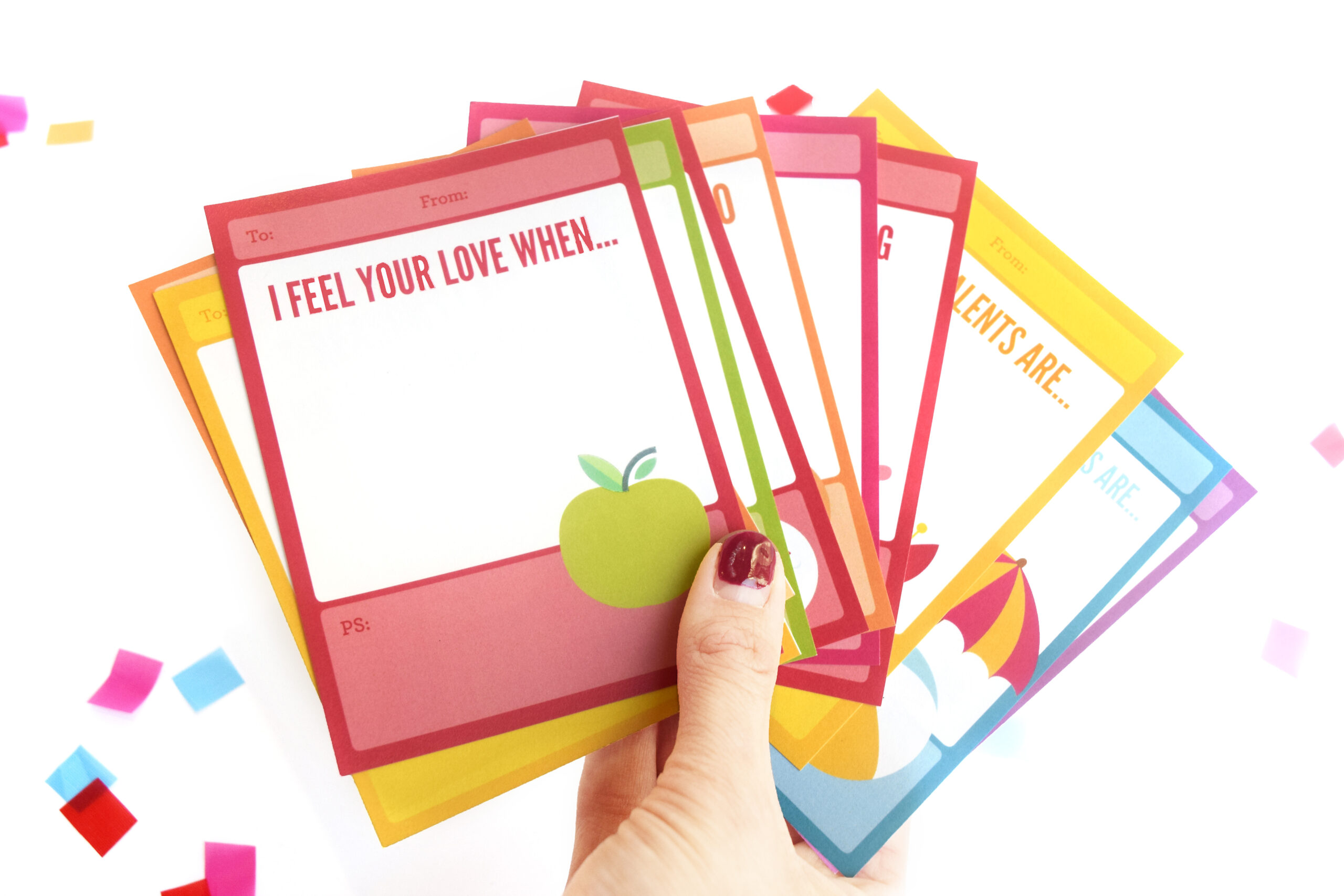 * * * * * * * *
Health Tracker
Another year has come and gone and this year we've got a fun treat to help you to continue your healthy habits in the new year. With the help of Carisa of Messes to Memories, we've created 4 healthy habits charts to help you keep track of your goals and progress.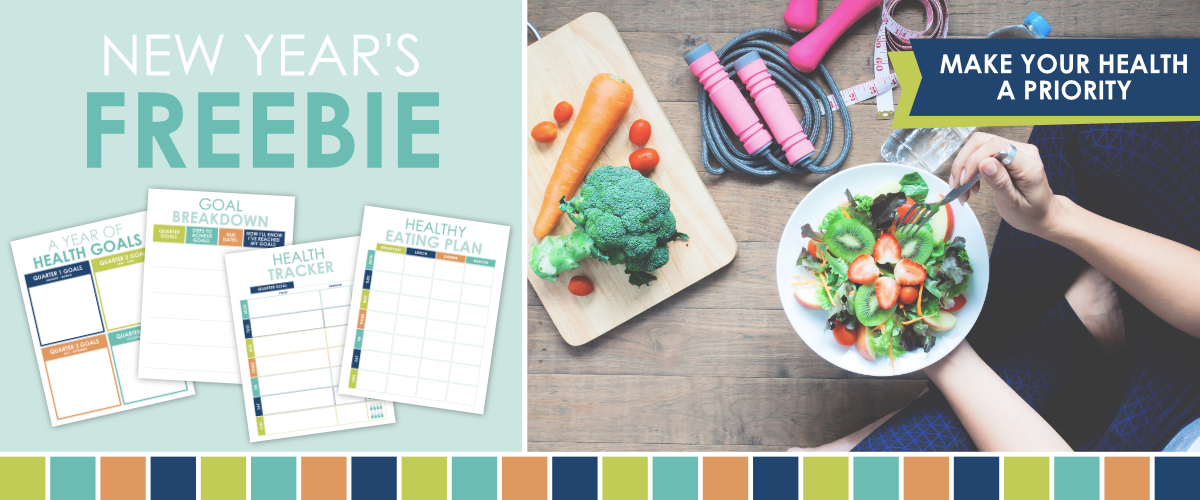 Begin by writing in your goals for the new year. We've provided a place to write in health goals for each quarter of the year. You can fill it all out at once OR fill in your health goals for Quarter 1 and then assess where you are and where you need to be in Quarter 2. There is power in writing down your goals! AND when you place this goal sheet in a place where you will see it daily, you won't lose sight of your goals. Next, fill in the Goals Breakdown Sheet. This is where the real magic happens because writing down the specifics of your goals with measures on how you will know you have achieved them makes the goal more tangible.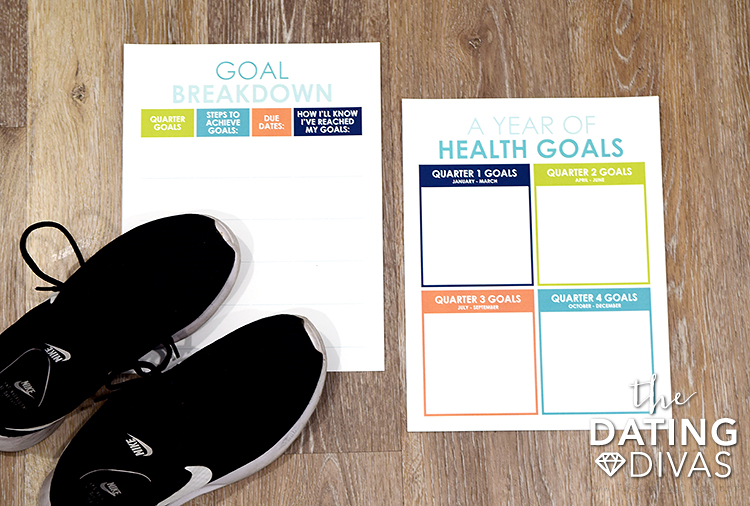 For your daily health endeavors, we have created a Daily Health Tracker as well as a Healthy Eating Plan. Fill in these babies to keep track of what happens on the daily and to help you in planning your day.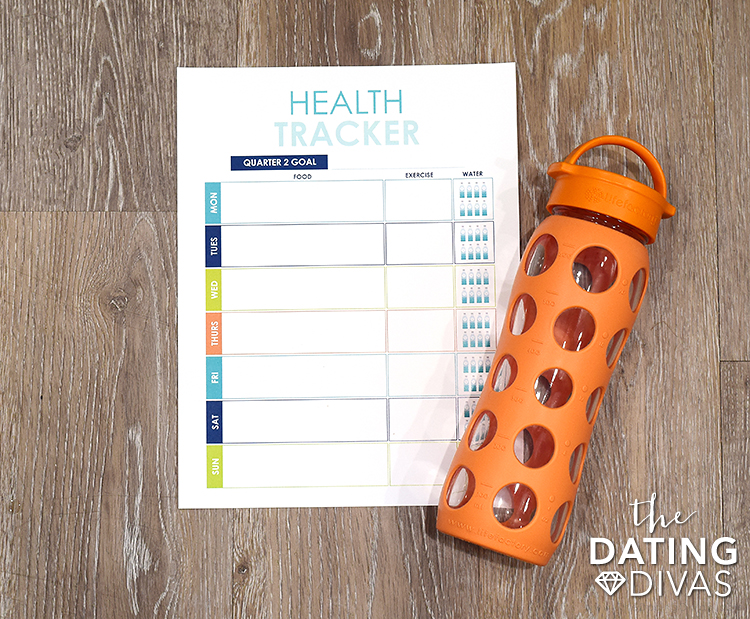 This year is going to be a fabulous year! You've got this!
* * * * * * * *
Seasonal Planners
I cannot believe that the new year is already upon us! It feels like this last year just flew right on by! I love reflecting on my past year and making improvements for the new one. This year I can't wait to travel abroad, begin new projects, and start a whole new adventure with my family. All of this fun means I am going to have to be extra organized this year.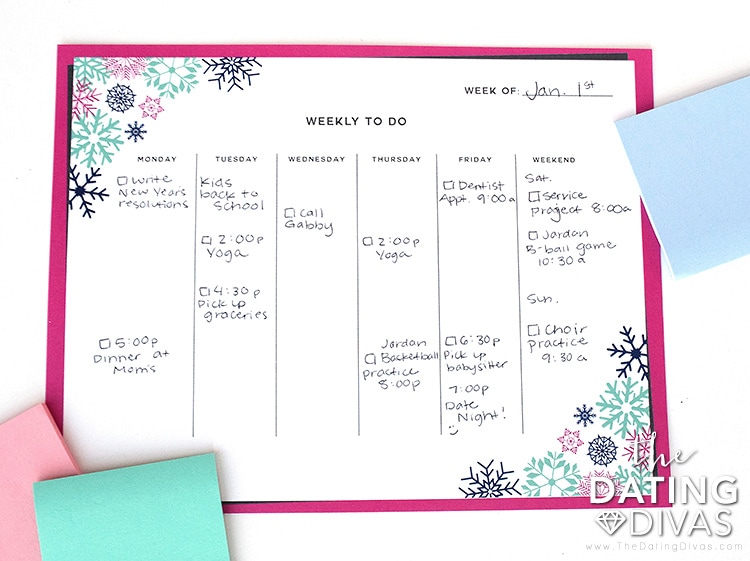 To get in the organizational spirit, I reached out to Brielle of Breezy&Co to design the most adorable desk planners. Perfect for filling in all of your new "to-do's" in the new year! And the best part? She designed 4 incredible designs, one for each season of the year!
We've got one for winter.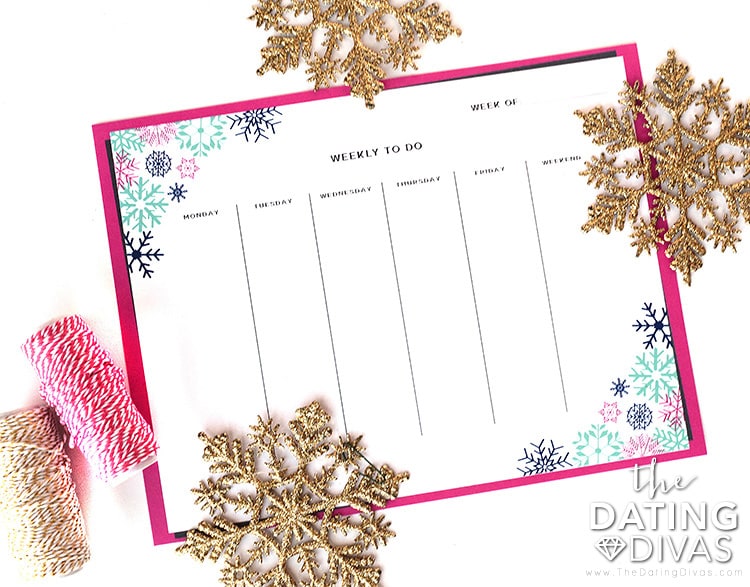 One for spring. Isn't this spring design darling?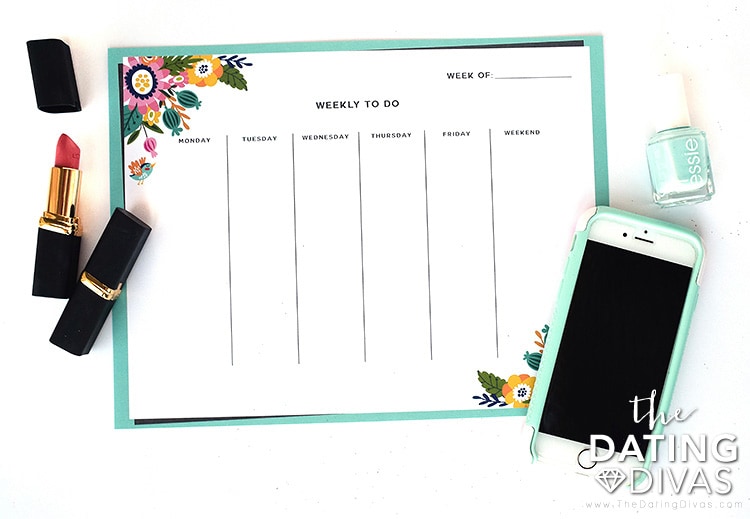 One for summer.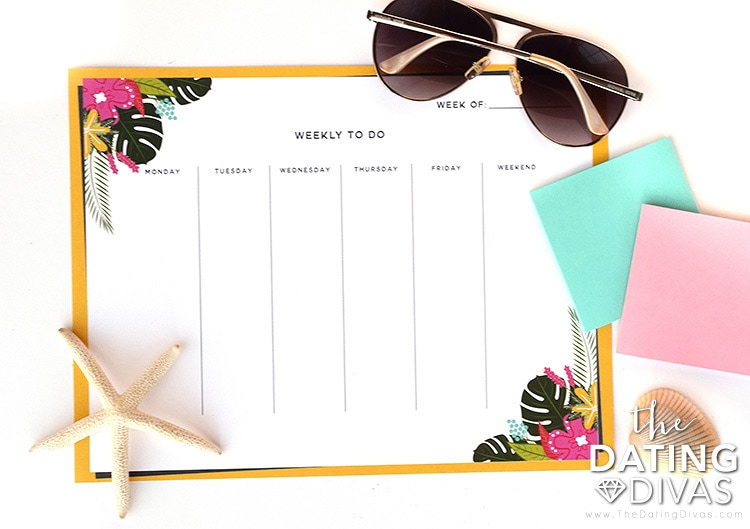 And, we couldn't forget fall.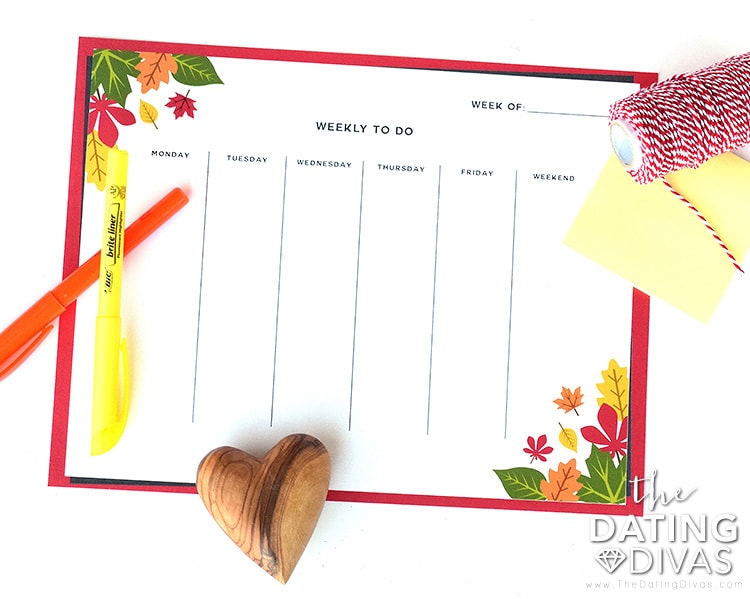 I survive off of to-do lists so these are going to be a real hit for me this year. Happy planning!
* * * * * * * *
Yearly Calendar
We are SO excited for what this new year is going to bring! And there are few things more satisfying than a cute, fresh new calendar ready and waiting for all our fun new plans to fill it up!
We teamed up with Amanda, of A-Manda Creation to make these bright and cheery calendars you can print off and get your year started of RIGHT!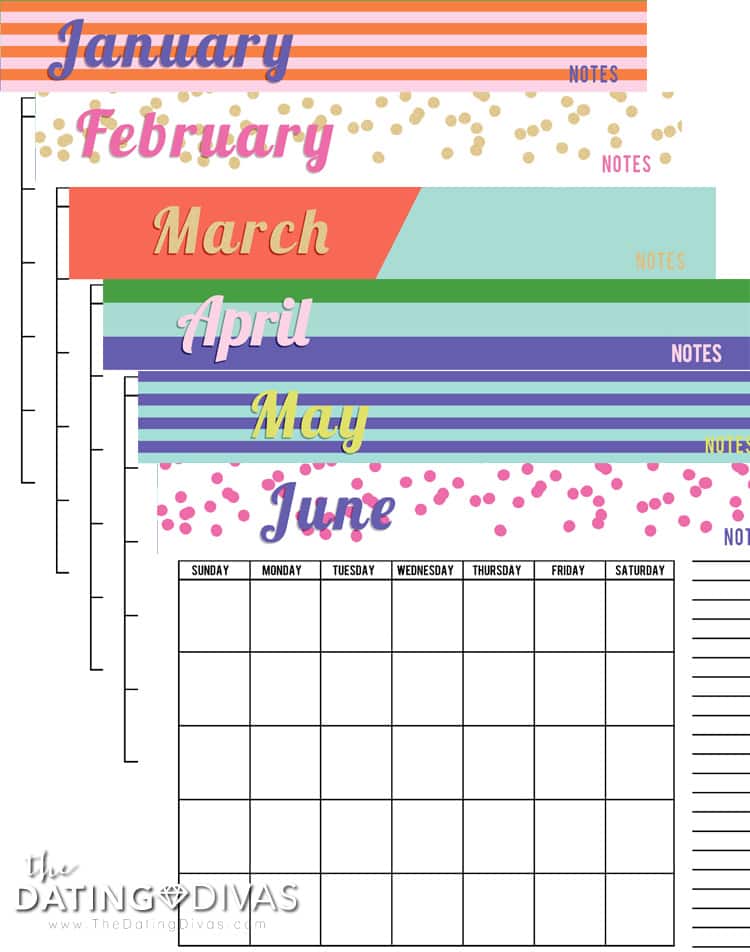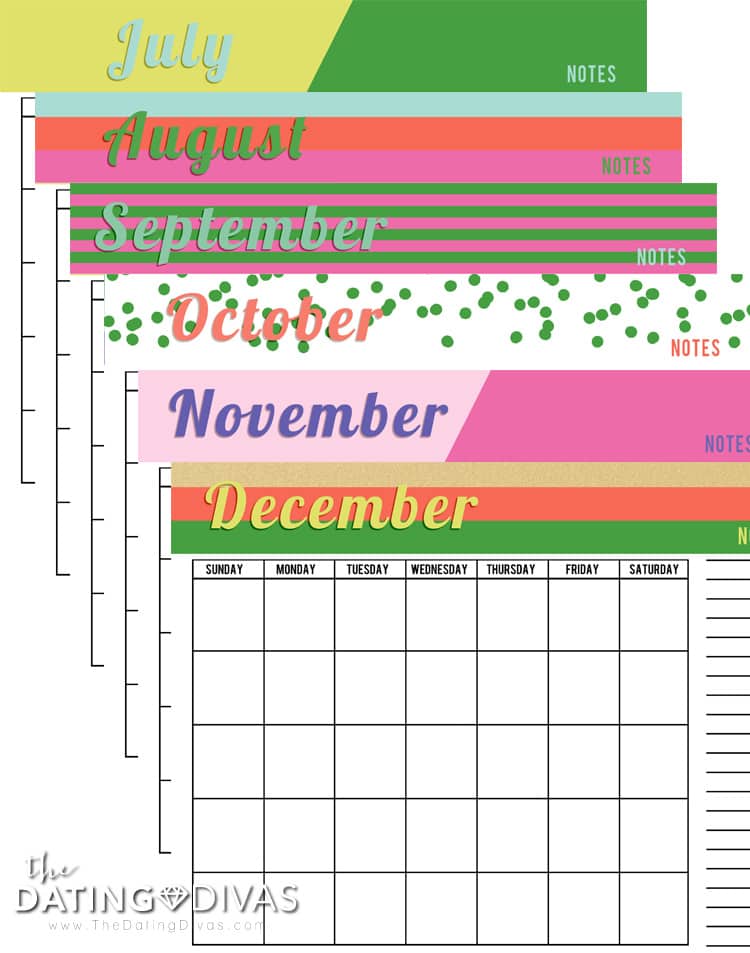 Don't you just love the mix of patterns and colors?!
Get planning YOUR new year today!
* * * * * * * *