DIY Resurrection Eggs Printable
Easter is a beautiful time of year when we reflect upon the ultimate love of our Savior. As we ponder on His final days, we wanted to find a way to teach our children as well. I'd heard of Resurrection Eggs before and decided this would be our year to try them out. If you're new to the idea, each egg represents a part of the final week of Christ's life and his miraculous resurrection. Children get a kick out of opening a new egg and seeing what is inside.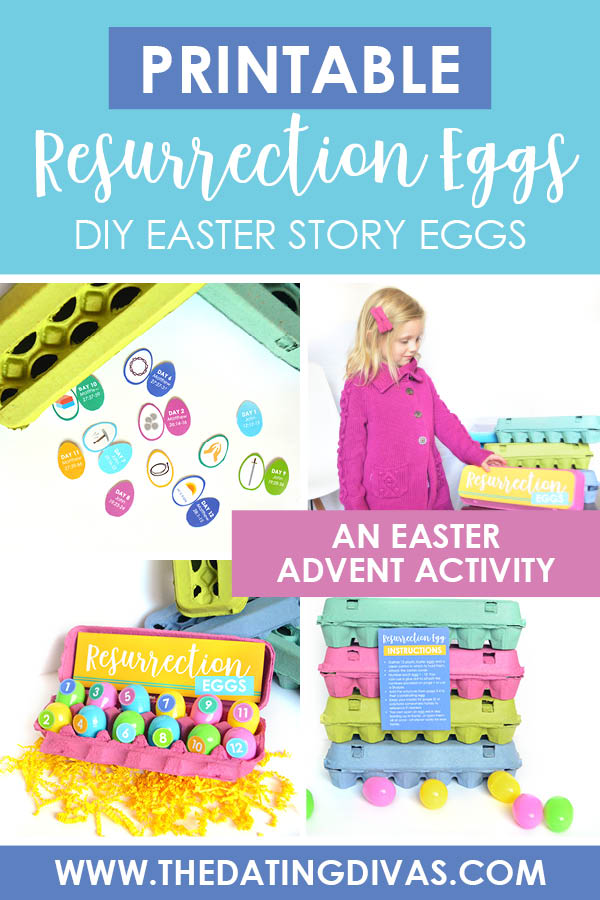 Disclaimer: This post contains affiliate links. To learn more about 'em, click here.
Courtney, of Paperelli, designed some beautiful prints to help make this learning opportunity into a family tradition. Make your Easter egg story focused and easy with the free resurrection eggs printable.
Easter Eggs Preparation
Your first step in prepping your new set of resurrection eggs is to read the Easter egg story yourself! Turn to the bible to renew your knowledge of the Easter story. Be prepared when it's time to read it to your family!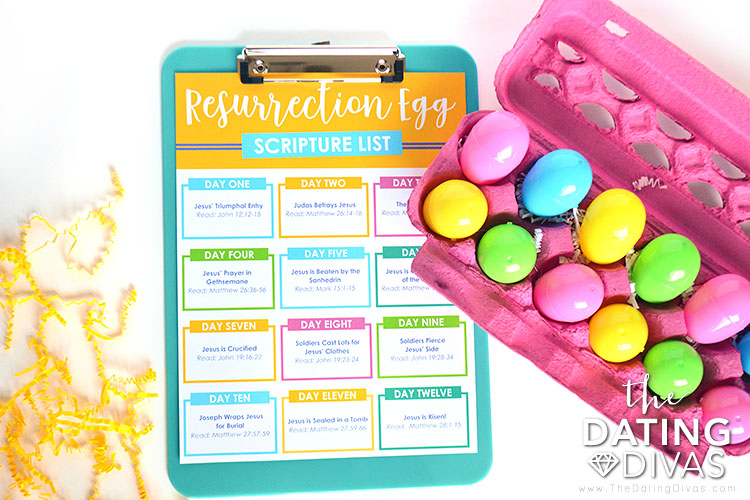 There is a printable scripture list that you can keep so you know which day goes with which resurrection eggs lesson. Read through the scriptures, then keep your list handy for your daily resurrection devotional. (Have the instructions on hand from the printables)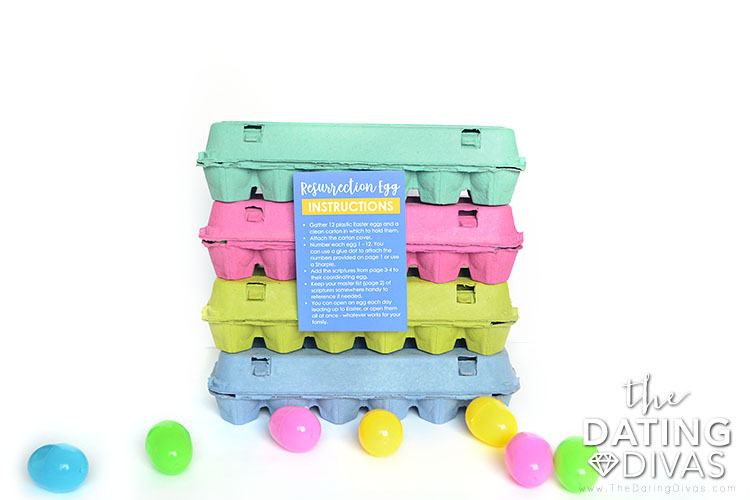 DIY Resurrection Eggs
There are a few steps to prep your eggs. We recommend a 1″ hole punch for the number labels. After you have each of the resurrection egg labels punched out, just glue-dot it to a plastic refillable Easter egg.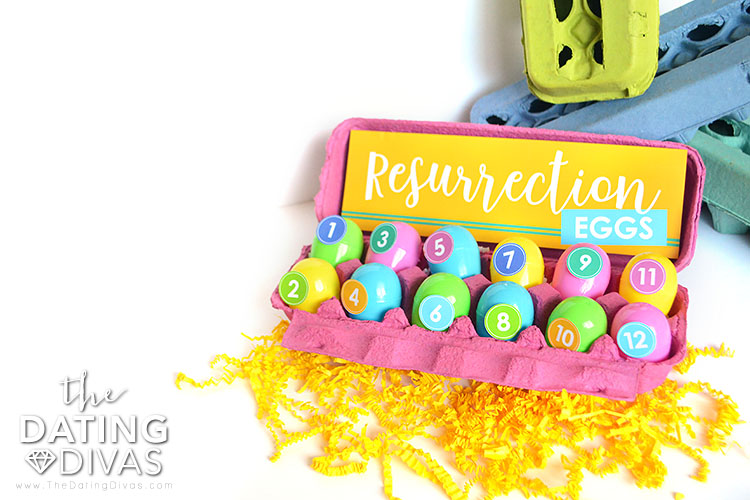 Cut out the Easter eggs, but if you leave the center connected, then you can just fold and glue. One side will have the scripture, and then the other side has a symbol to represent part of the Easter story.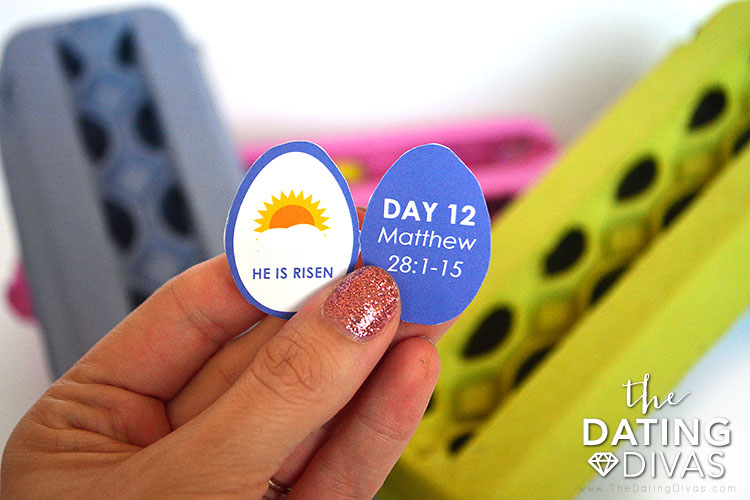 Using your scripture list as your guide, fill each Easter egg with its appropriate resurrection egg. We added a little Easter grass to fill ours out a bit.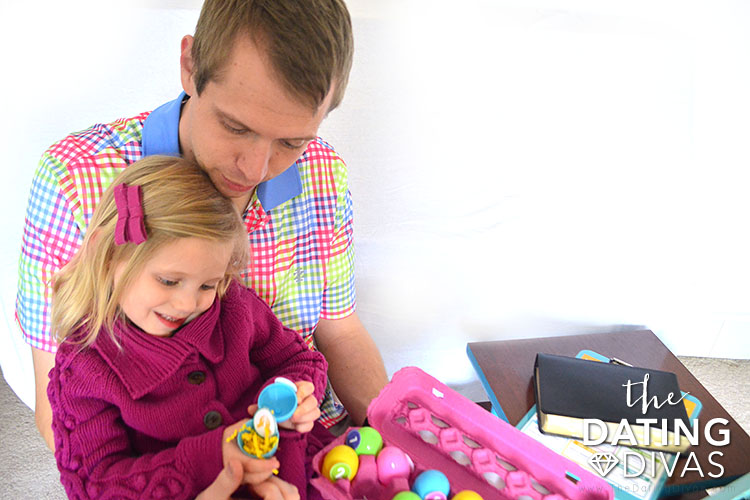 Placing the eggs into a carton is part of the fun! We found these adorable, colored cartons online. However, a normal carton would work just fine after all the eggs have been used. And don't forget to attach the too-cute-for-words label to the top of the carton. You can round the corners to match your box or leave them straight.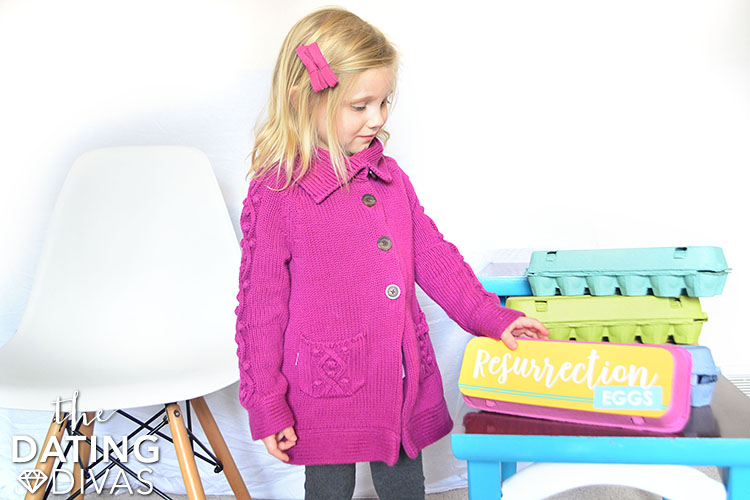 DIY Resurrection Eggs Symbols
Each day has a symbol and scripture associated with it. They act as a great tool for our visual kiddos. Some of the terminologies of the scriptures can be difficult, so this resurrection egg lesson with visual symbols helps tremendously.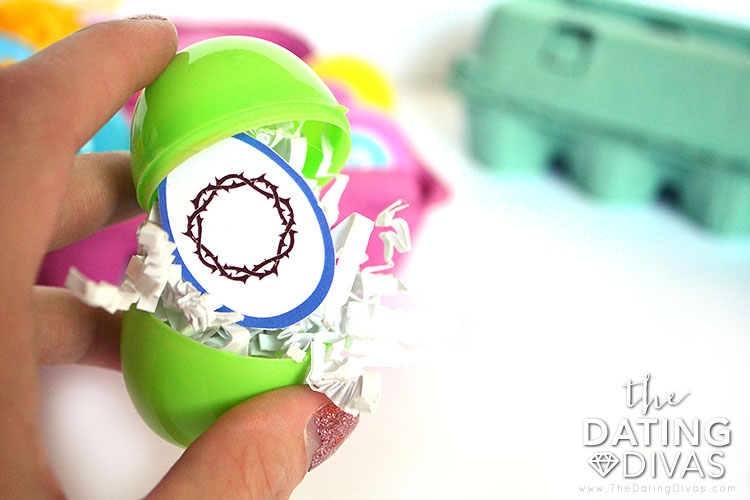 And honestly, the resurrection eggs printable is great for adults too. We are all guilty of getting too wrapped up in the business of our day-to-day life. So thankfully, this helps ground my mornings. Make a new tradition with these DIY resurrection eggs.
Planning Your Easter Advent
Our daughter's excitement is always a level 10 when we start our resurrection eggs lesson. We love sharing the Easter egg story and redirecting her excitement back to our Savior's sacrifice. For our family, opening one of the resurrection Easter eggs daily is perfect. We need to have short, concise lessons because we have 3 kiddos running the house. One scripture is the perfect fit for their short attention spans.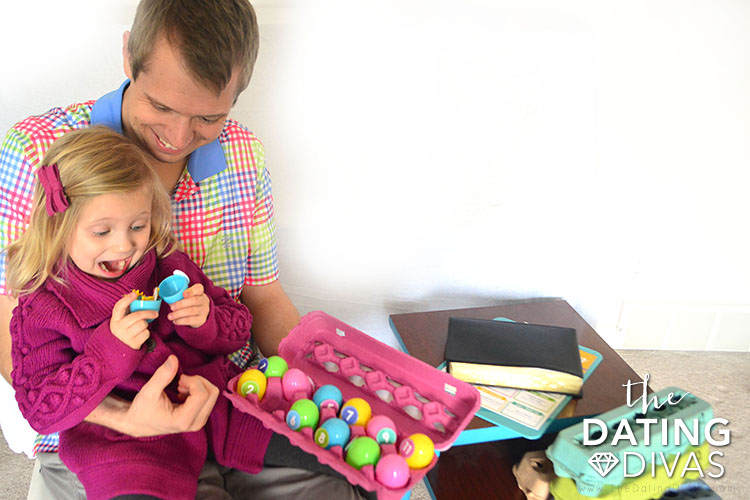 However, it could also be great to pull out on the holiday and use the Easter egg story as your resurrection egg lesson all on one day.  Open each egg and read through the scripture list while pondering on the chosen image. It is a great way to study the Easter story.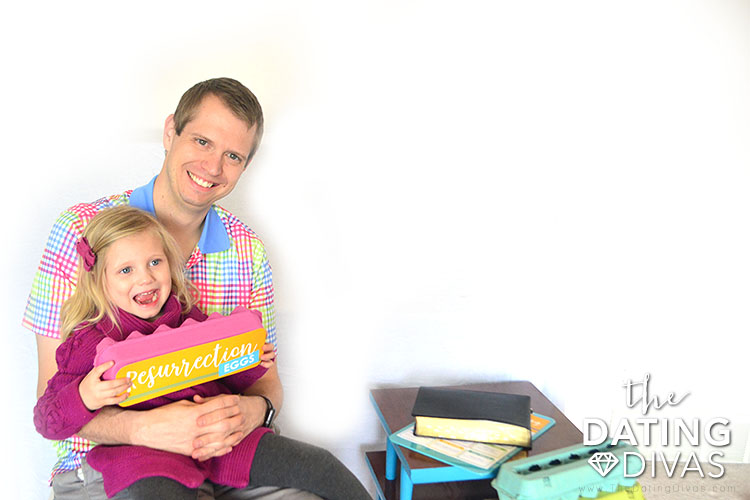 For more ideas on how to bring Christ into your home this Easter season, we are with you! There is a list of 100+ Ideas for a Christ-Centered Easter as well as Printable Easter Story Puppets.
DIY Resurrection Eggs
Printables Designed by COURTNEY @ PAPERELLI Exclusively for The Dating Divas