Good, Funny & Embarrassing Dares For Everyone
Laughing with my husband is pretty much my favorite thing ever.  There's just something about laughing together that really helps us reconnect.  Like marriage educator, Claudia Arp, says, "We've never met a couple on their way to divorce court who were having much fun together." Well, this date is DEFINITELY one to crank up the laugh-factor in your relationship and is SO MUCH FUN! These hilarious and embarrassing dares can even be used for a group date or for a crazy adventure with kids. Seriously, it doesn't get much sillier (or more fun!) than this. Ready to take a look at the date? Let's go!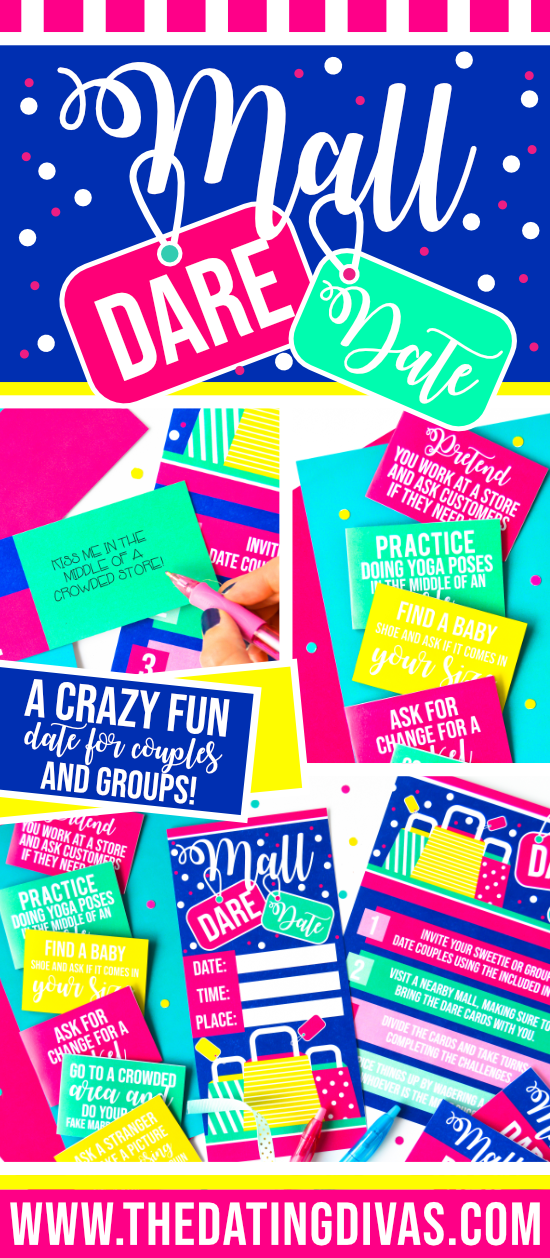 This post contains affiliate links. To learn more about 'em, click here.
But first, we HAVE to give a giant "Thank you!" to our very own Diva Elizabeth for whipping up these mall-inspired printables for us. They're made their way right to our shop-a-holic hearts and we just can't get enough of them!
Good and Funny Dares Date Ideas
It's easy to get into a rut of just Redbox-ing or Netflix-ing a movie for date night- every date night.  And while that can be a cheap and easy way to relax, it's not always a great way to reconnect.  At the end of the date I've usually just fallen asleep, and we haven't even TALKED to each other.  So here's a fun date night alternative packed with embarrassing dares that will have you cracking up in no time. And don't worry- it's still totally cheap and easy!  Promise.  Just stick a few of the easy dares printables in your purse and go.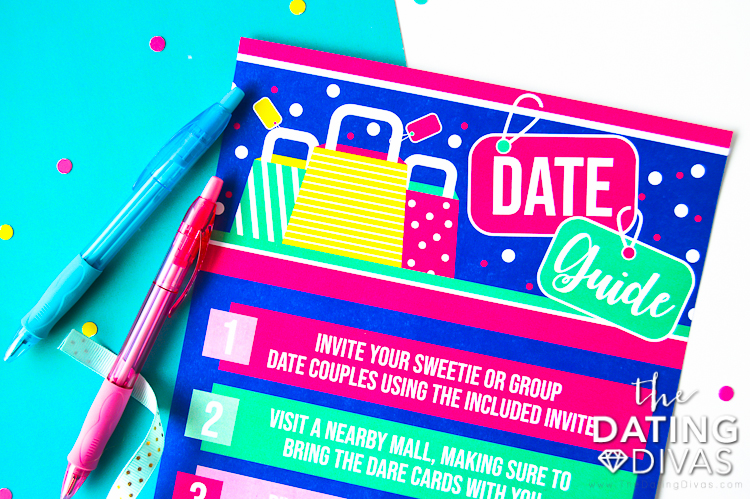 When I was in high school, my friends and I use to love to play Mall Dare.  Anyone else?  We'd write up funny and embarrassing dares on slips of paper and then head to the mall.  Then we took turns picking out a slip of paper and completing the (totally embarrassing) dare that was written on it.  So many inside jokes and memories were born playing Mall Dare.  In fact, my husband heard so many "Mall Dare stories" from me that he decided he wanted to try it out ourselves and this date night version of the game was born!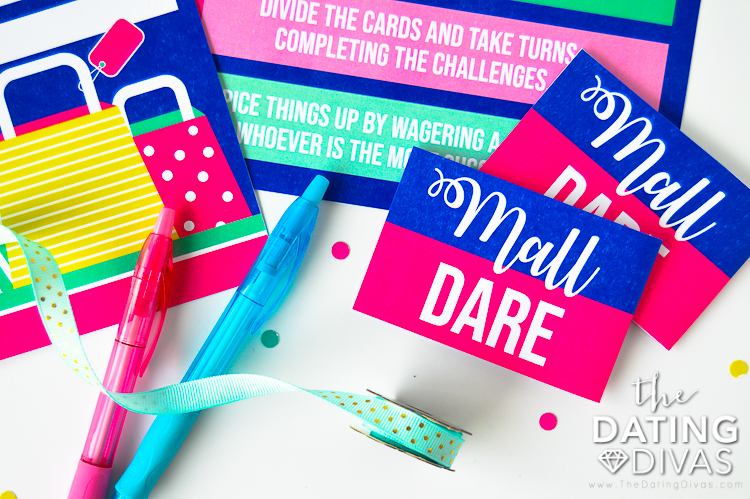 When I first heard that idea, I was a little apprehensive.  After all, Mall Dare is one thing when you're a silly teenager, but it's a whole different ball game when you're a grown woman and mother of 3.  Right?  Wrong!  I decided to be a good sport and play along (my husband can charm me into doing anything), and we seriously had SO much fun doing the crazy and easy dares!!  By the end of the night we were laughing ourselves silly.  Something about acting like a kid again with the embarrassing dares totally reminded me of when we first started dating. We just loved it and I think you will to! Keep reading to take a closer look at all the deets.
Embarrassing Dares at the Mall Date Guide
This date is not only packed with easy dares and loads of laughs, but it's also SOOO easy! We've even included a date night guide to make it that much easier. Take a peek at it before you start planning your own version and you will be more than ready to shop till you drop (or die of embarrassment).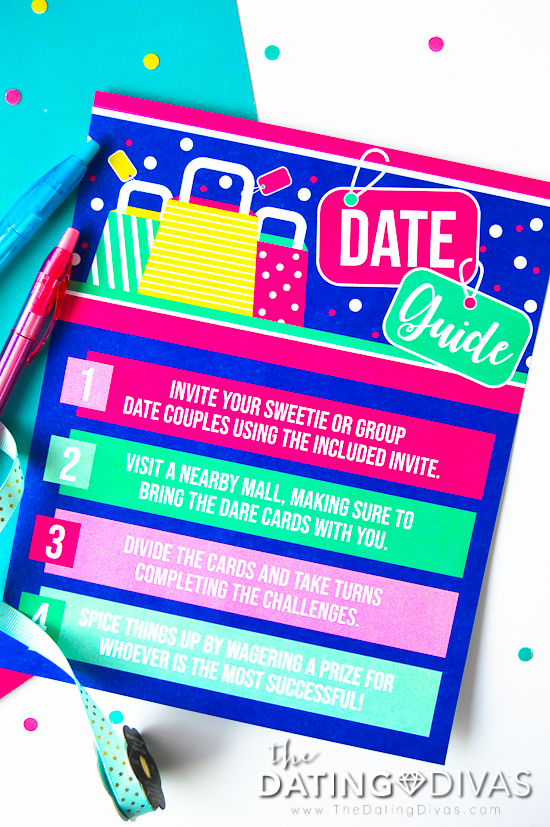 Invite your sweetie or group date couples using the included invite.

Visit a nearby mall, making sure to bring the dare cards with you.

Divide the cards and take turns completing the challenges.

Spice things up by wagering a prize for whoever is the most successful!
We've already written out a set of easy dares for you so the work is practically done. But if you're not feeling very adventurous or brave, don't worry!  We've included a set of blank cards so you can make the embarrassing dares as tame or as wild as you want (more on this below!). This would also be a perfect group date. So get ready to get out and get laughing again.
Embarrassing Dares Date Invite
Once you've given that baby a good read, it's time to get going! First up, the invite! Invite your sweetie to your date of embarrassing dares using the included invite. I'm so totally obsessed with the 'mall' theme, it's not even funny! Seriously, how cute is this?! Just fill in the info and leave it somewhere for them to find. OR take this date one step further and turn it into a HILARIOUS group date! The same invite can be used- just send it to all your couple friends instead. How awesome is that?!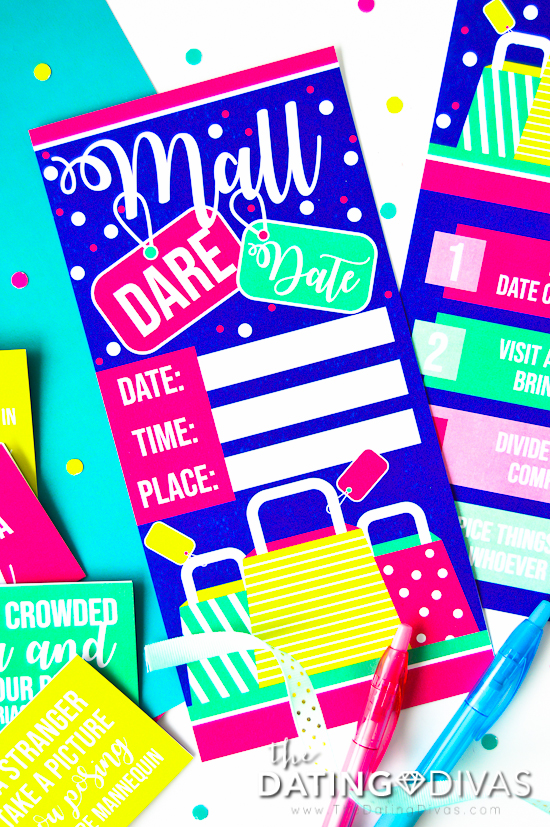 Embarrassing Dares Cards
Next up, the bulk of this snazzy date idea: the dares! We've included eight individual dare cards that you can use any way you want. Split them up, draw a random- it's up to you! Take a peek at the included embarrassing dares below.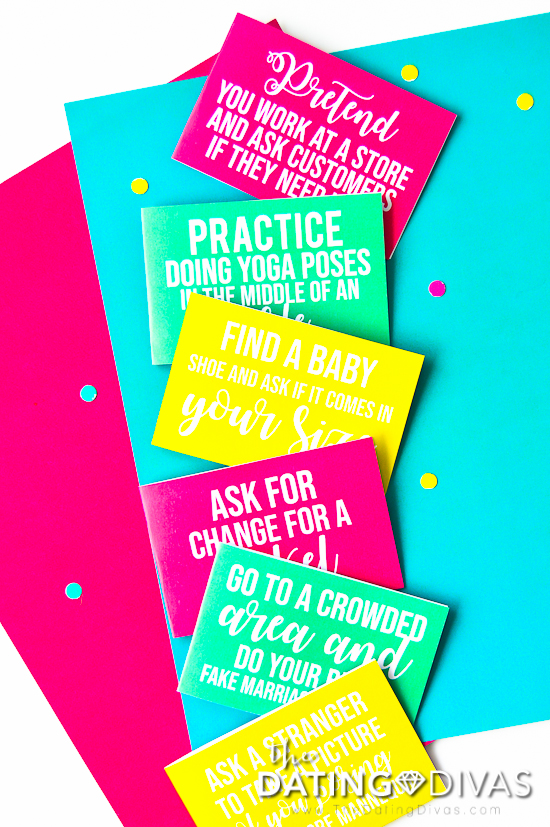 Ask for change for a nickel

Go to a crowded area and do your best fake marriage proposal

Ask a stranger to take a picture of you posing with a store mannequin

Point at the ceiling for 3 minutes and see how many people you can get to look

Pretend you work at a store and ask customers if they need help

Practice doing Yoga poses in the middle of an aisle

Find a baby shoe and ask if it comes in your size

Run into a store and ask what year it is. When someone answers yell, "It worked!"

Are those embarrassing dares a scream or what?!
Create Your Own Embarrassing Dares
But the fun doesn't stop there! We've also included a set of BLANK Mall Dare cards so you can create your very own death-defying dares. How great is that?!

Funny Dares for Kids
We know our readers LOVE family-friendly ideas just as much as dates, which is why this date has a hidden secret. You can use a large majority of the dates with kids for a super funny family night like no other! You can even have your littles come up with their own funny dares for kids using the included blank cards. Check out the list below for some totally child-approved and funny dares for kids that they're sure to love.
Sing your favorite song in the middle of the food court

Do a crab walk across a store

Stand on a bench and yell "I believe in fairies!"

Act like a gorilla for 5 minutes

Go up to a sales clerk and tell them a joke

Stand in the middle of the walkway and say "hi!" to everyone who passes by

Have your mom or dad help you try on the craziest outfit you see

Order something from the food court in a robot voice
Are those funny dares for kids a hoot or what?!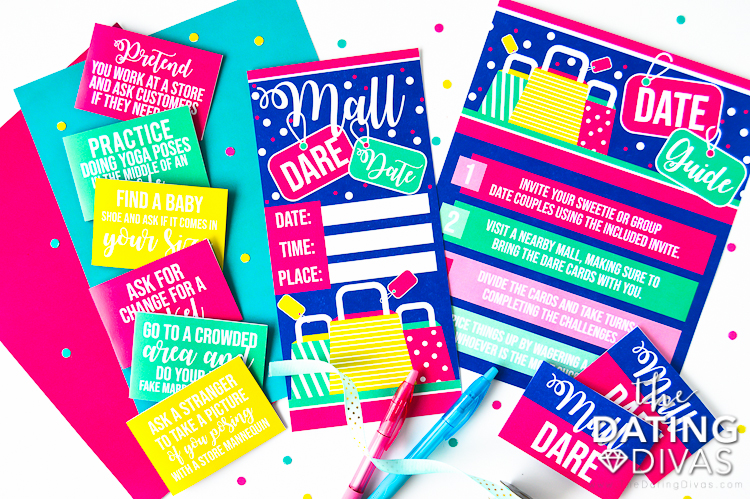 Wanna try this easy dares date idea out for yourself?  A quick, easy, free, hilarious date night! You know you want to.
Mall Dare Score Card
Printables Designed by Elizabeth Edwards Exclusively for The Dating Divas