Military Homecoming Gift Ideas
It's the time that you never thought would be here – looking for military homecoming ideas, there is no feeling that is more exciting than that! You're loved one is coming home! Homecomings are a time to celebrate, enjoy, relax, and just take in every little moment with every breath of anticipation, happiness and of course, relief!
We have put together so many ideas for making your military homecoming experience as fun and as exciting as possible! Take a seat and get ready to be inspired. You will have everything you need to create the perfect day of welcoming home your soldier! Certainly, you will find the perfect military welcome home signs. Also, we have so many great returning from deployment gifts and gifts for military men in general! So if you have been searching for military coming home ideas, we have all the inspiration you could need! Above all we know your time is valuable, so let's get to work finding you the perfect coming home from deployment gifts!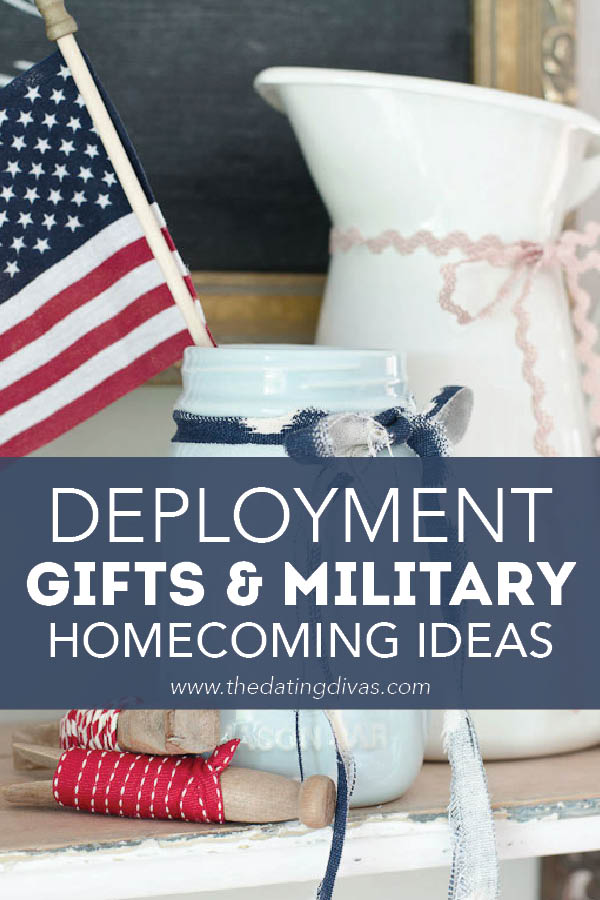 Disclaimer: This post contains affiliate links. To learn more about 'em, click here.
It's hard not to imagine over and over again the upcoming moment you will finally make eye contact and rush to embrace… the words of your heart screaming: "I love you! I missed you!". We have compiled the best ideas, divided into specific categories, for optimum welcome home planning!
Take all that lovin' energy of anticipation and use it to create some fun and personal ways of celebrating this tender reunion and creatively telling your spouse just how anxious you have been for their return! Pick out military gifts for him, and plan out the perfect military welcome home signs. Certainly, we have all the information you need for coming up with the best coming home from deployment gifts for a husband.
Deployment Gifts and Ideas for the Time of Arrival
You have counted down the days to this military coming home homecoming! You have dreamt of how it will go, make sure you're ready with these ideas for immediately after your honey arrives back into your arms! Whether you want the perfect coming home from deployment gifts, or to know how to get the perfect pictures to commemorate the day, we have all the ideas you need!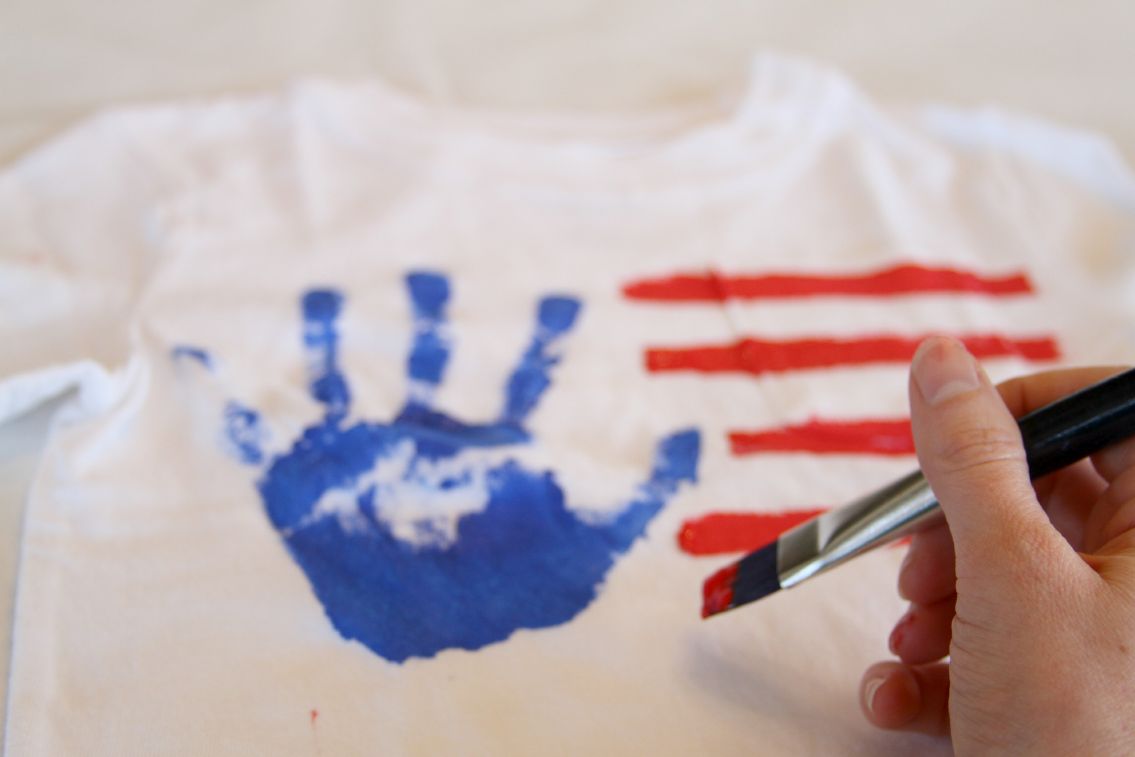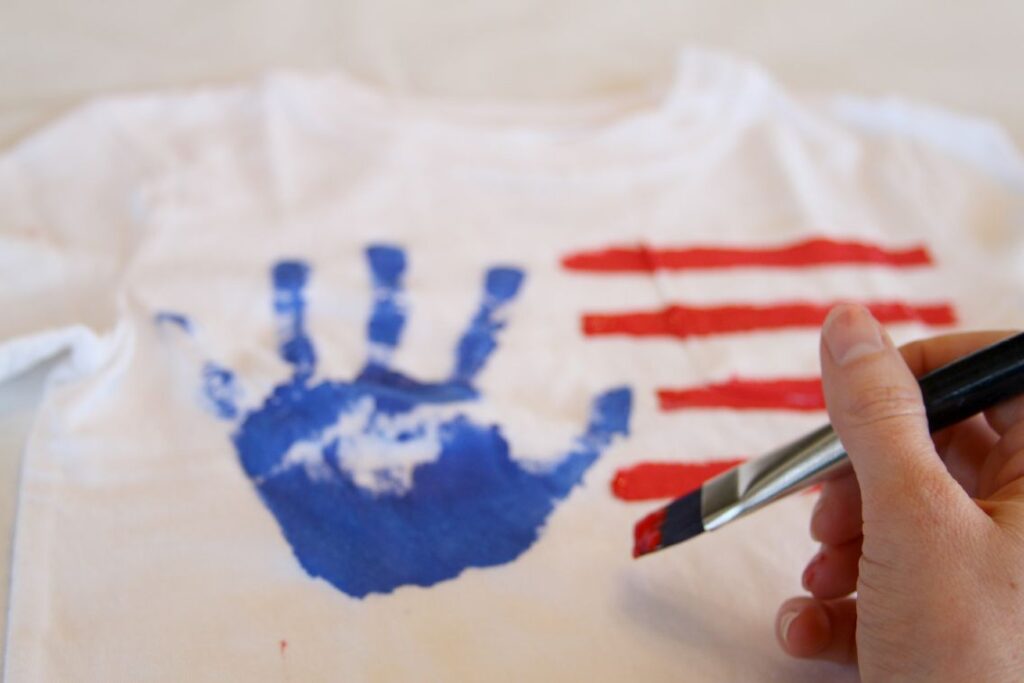 1 . Deployment Strong Shirt – Your love is deployment strong. Certainly, that is something to be proud of!
2 . Flag Shirts – Make matching shirts for your whole family to welcome back your military member!
3 . Baby Onesie – Did your spouse miss the birth of your baby? So make the moment they first meet just as special with this clever onesie!
4 . Here I am Shirt – A cute shirt to show your military spouse you kept your word.
5 . Flip Flops – Show your man you are excited from your head all the way down to your toes!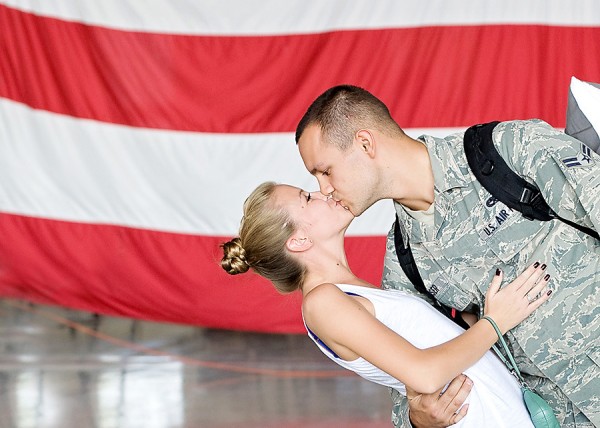 6 . Homecoming Basket – Make him a gift basket full of necessities (and treats!).
7 . My Hero is Home – Certainly, a sweet shirt to let your military family member know how proud you are of them is a great idea.
8 . Photoshoot Tips – Schedule a professional photographer to capture all of the emotions of your spouse's return.
9 . Nametape Bows  –  So can we just swoon for a moment over how adorable this bow is?! So perfect for your daughter or for yourself!
10 . USA Wand – Similarly, your kids will love to have a patriotic wand to wave around at the homecoming!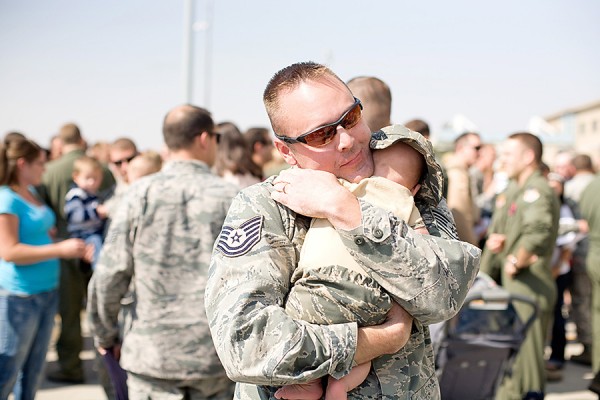 11 . Dog Tags – Also a great way to show your pride is by wearing these cute, personalized dog tags to pick up your soldier.
12 . Outfit Tips – With all of the anticipation and to-do lists, check your outfit off of the list with these great tips! So helpful!
13 . Red, White, and Blue Cupcakes – Why wait until you get home for the party to start? Bring  festive red, white, and blue cupcakes as homecoming deployment gifts!
Military Welcome Home Signs
You have waited, anticipated, and prepared for this moment of reuniting! A sign with the perfect phrase or saying is a fun way to welcome your spouse home! We have so many military welcome home signs to inspire you. Browse some of these ideas to make your own perfect sign for when your man in the military is coming home.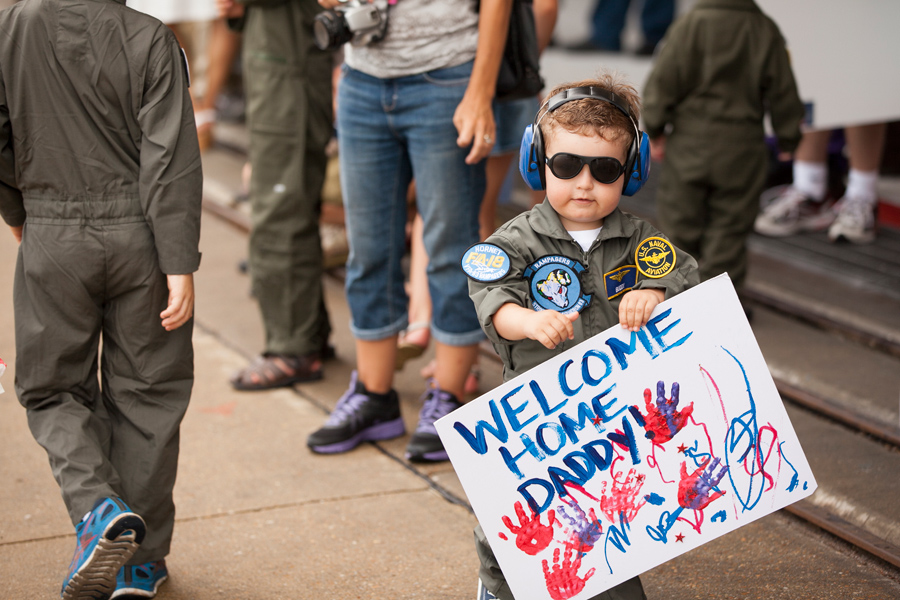 14 . 101+ Sign Ideas – Certainly, with 101+ military welcome home sign ideas to choose from, you are sure to get the inspiration you are looking for!
15 . Signs by Category – This list contains several categories to find the sign that is the perfect fit for you or your family!
16 . Hold Me Tight – This seems like the perfect sign for your little one to welcome their daddy home! One of the best gifts for military men is a warm welcome home.
17 . Daddy's Princess – Similarly, if Dad is your little girl's hero, this cute sign would be perfect!
18 . Same Stars – Finally under the same roof, now that is something to celebrate! After all, that is the greatest returning from deployment gifts of all.
19 . These Are the Hands – You waited and prayed for months for their safe return, now enjoy every moment of welcoming them home.
20 . Best Day Ever!  – Because this is a simple, sweet and incredibly joyful sign, it would definitely be a hit!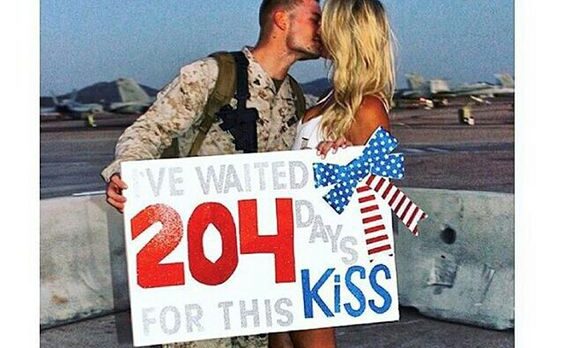 21 . Kiss Your Mini Me  – A cute idea for your little ones to hold up on the exciting day of welcoming your soldier home!
22 . I've Waited For This Kiss  – This sign sets you up for the perfect moment AND the perfect photo!
23 . The Longer the Wait – You have been anticipating this moment for so long, that kiss is going to be so, so sweet!
24 . You're My Biggest Craving  – Have you been pregnant while waiting on your man to return, this sign is the BEST! "You're my biggest craving!!!"
25 . Now You Gotta Kiss Me  – So sweet and simple. This sign is perfect for welcoming him home! Now that's one of the sweetest gifts for military men.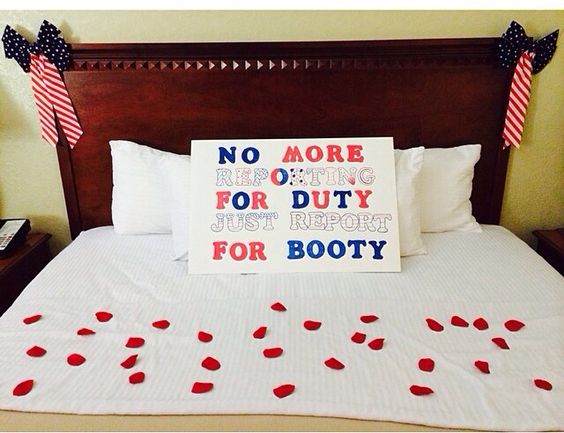 26 . Finally Home – Your heart is finally home, now that is something to celebrate!
27 . Welcome Home, Daddy! – This seems like a great way to get your little one involved in the sign-making process!
28 . Guess Who?  – Would your military spouse appreciate a little humor over a sappy sign? Seems like this will be perfect!
29 . To-Do List – So this is a to-do list that your military love will gladly accept! It's a little bit of a sneak peek into the kind of returning from deployment gifts they are into.
30 . Star Wars Theme – Certainly the perfect sign for your Star Wars fan!
31 . Toddler Sign – Not only is this sign cute, but it is also a great way for your toddler to get in on the creation process!
32 . Report for Booty – This sign is hysterical… and pretty fitting for the occasion! So tell me you know of better military gifts for him? Certainly, there is nothing better after so much time apart!
Ideas for Military Coming Home Decorations Outside
Keep the excitement high! Driving up to the house has to be the most exciting and comforting moment of the entire deployment. You will all finally be reunited under the same roof! Decorate the outside of your house for a grand welcome home!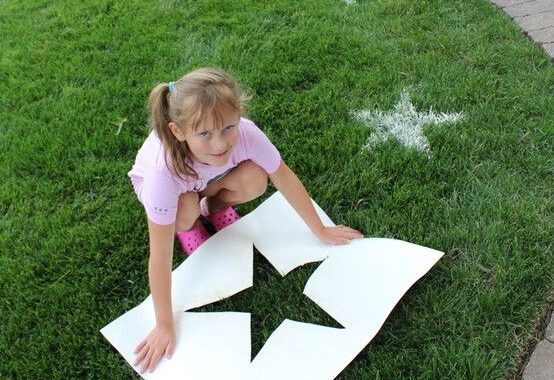 33 . Star Luminarias – This is the perfect nighttime welcome home. These bright DIY lanterns will welcome your military spouse home in a cool, unexpected way!
34 . Balloon Walkway – Use golf tees to create a grand walkway of helium balloons leading your love home!
35 . Flour Stars – Cover your lawn or sidewalk with flour stars. Most noteworthy, this is a great idea that your kids can even help out with!
36 . Confetti Balloons – Certainly, these star-confetti filled balloons would be an adorable addition to your celebrations!
37 . Custom Signs – Create a custom, professional sign to hang outside your house.
38 . Chalk Messages – Make colorful messages for your soldier to drive home to. This site also has a ton of other ideas for making homecoming special.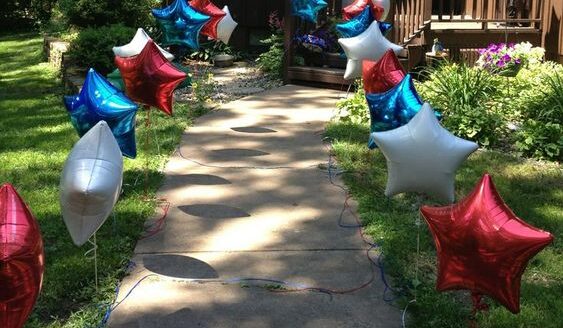 39 . House Banner – Personalize this banner and hang it on your porch or on your garage!
40 . Patriotic Ballons – These patriotic balloons are so perfect for the occasion!
41 . Star Balloon Welcome – I love the idea of balloons leading up to the door, these red, white, and blue stars are the perfect touch!
42 . USA Water Blob – Have some fun and get a little wild on this flag-shaped water blob! Most noteworthy, it is a perfect patriotic decoration and as a bonus, it's a ton of fun!
43 . Door Sign – It's a gift to have them home! So wrap your door in a large life-size homecoming poster!
44 . Yard Decorations – Get the whole neighborhood excited by decorating your entire yard!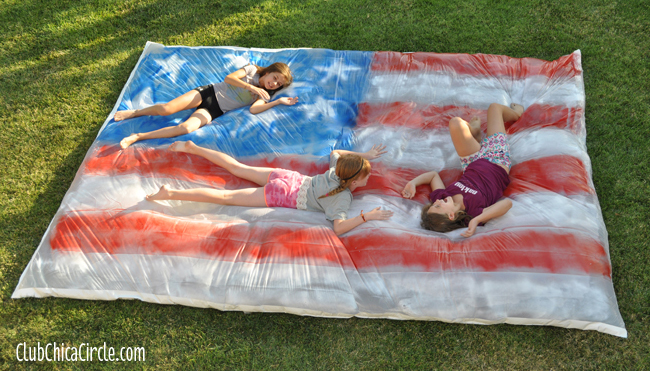 45 . Kite Garland – Certainly, this is one of the most fun and festive red, white and blue garlands there is!
46 . Welcome Banner – A cute welcome home banner is a great way to dress up your home for the arrival of your soldier.
47 . Home of the Brave – Certainly, it doesn't get much cuter or more fitting than this adorable chalkboard sign.
48 . DIY Wreath – Get out your crafting supplies and start preparing an adorable red, white, and blue wreath.
49 . Chalkboard Printables – These printables are not only free but they are also adorable. So hang them up to show your pride!
50 . Balloon Avalanche – Let the balloons rain down on your military spouse the moment they walk through the door!
Military Welcome Home from Deployment Gifts and Decor
Show your military spouse how proud you are of them and their service by displaying one (or several) of these ideas around your home! So many of these pieces of decor also double as great deployment gifts.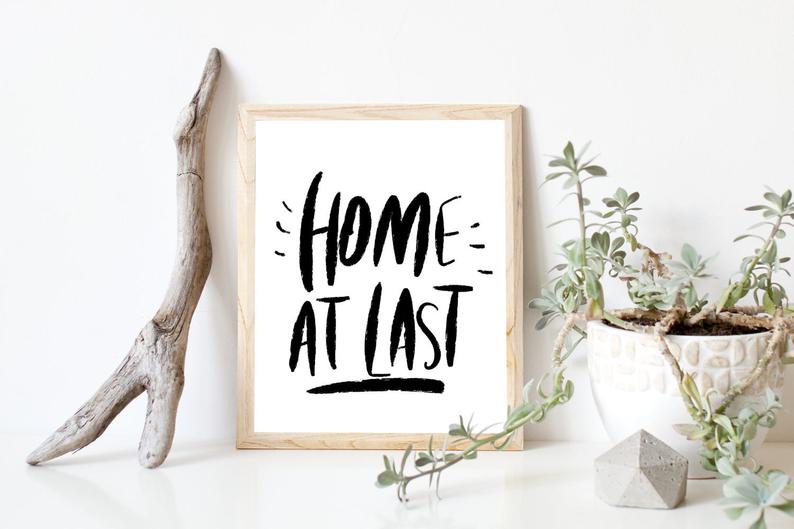 51 . Printable Pack – So here is a printable pack that has it all! This pack is so cute and has everything that you will need.
52 . Name Sign – The perfect new piece of decor to hang on your wall and show your spouse, and anyone who visits your home, how proud you are.
53 . At Ease Pillow – This pillow is adorable and a great way to remember the date you were reunited!
54 . Pallet Photo Sign – Do you have a great photo taken during the deployment? This is a unique way to display it for your military spouse when they arrive home.
55 . Personalized Wreath – This wreath is not only perfect for hanging on your door for the homecoming, but it's so cute you could keep it hanging all year round!
56 . Home at Last – This sign is so cute you can keep it up and keep the happy feelings alive for years to come!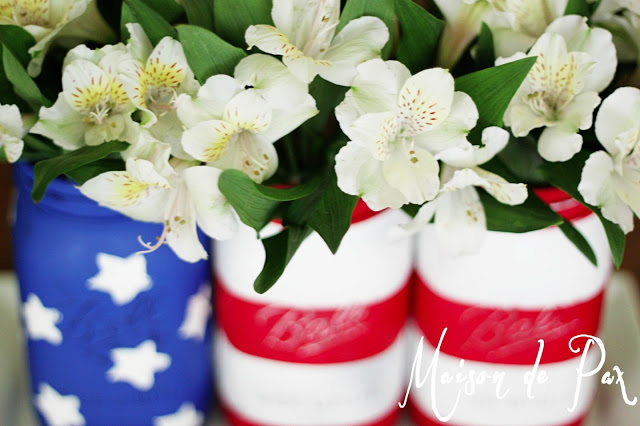 57 . Patriotic Banner – A simple and beautiful banner perfect for welcoming your military spouse back home.
58 . Mason Jar Flag – Fresh and lovely decor to create the most welcoming environment!
59 . Bedroom Inspiration – You have made sure the rest of the house looks great, now make sure your bedroom is properly ready to welcome your military spouse home!
60 . Welcome, Printable Pack – Military printables that are cute and free–the perfect combination!
Military Gifts for Him Coming Home
Your sweetheart is finally home! Show them just how much you have been thinking of them with one of these amazing welcome home from deployment gifts! It has been a long hard road for everyone, mark the occasion with special returning home from deployment gifts. So many great ideas, let us know what great ideas you have found or used in the past!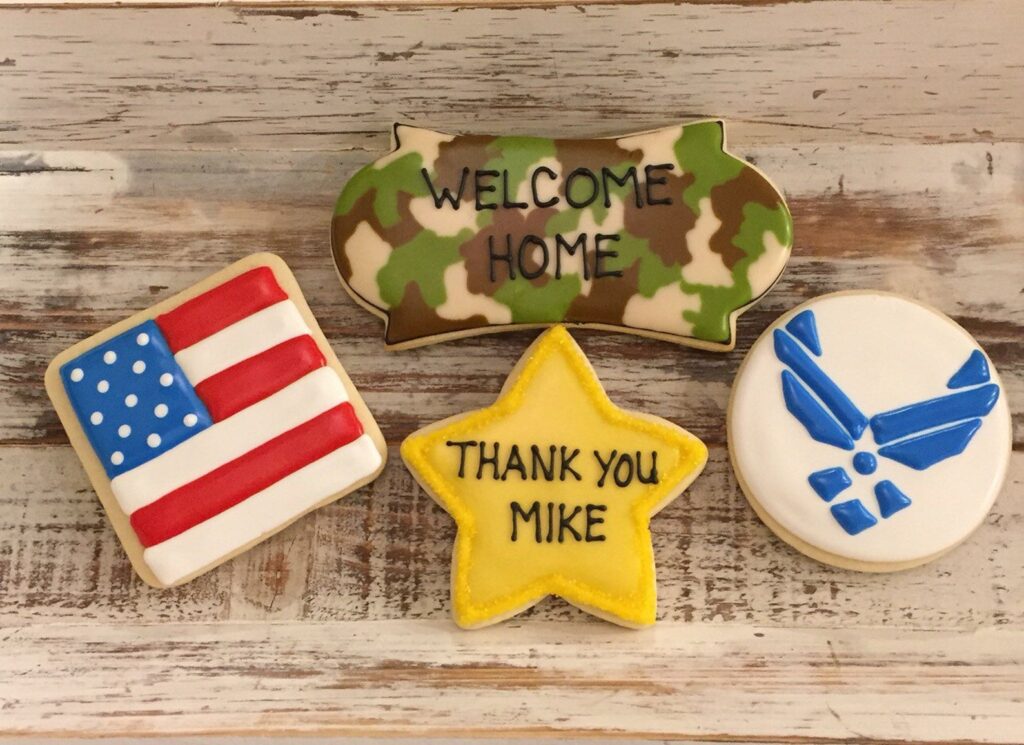 61 . Welcome Cookies – Welcome your military spouse home with the cutest cookies out there!
62 . Thoughts in a Jar – Write down thoughts or funny stories and collect them in a jar. When your military spouse arrives home, go through the jar together!
63 . Welcome Basket – Create a care package, but this time you don't have to mail it!
64 . Coin Display Case – This challenge coin display case will allow your soldier to show off their unique collection.
65 . Debrief Me Underwear – Let's just get right down to it. You missed him! These will be the perfect welcome home "gift".
66 . Uniform Pillow – Make a keepsake you will always treasure using the uniform he served for so many months in.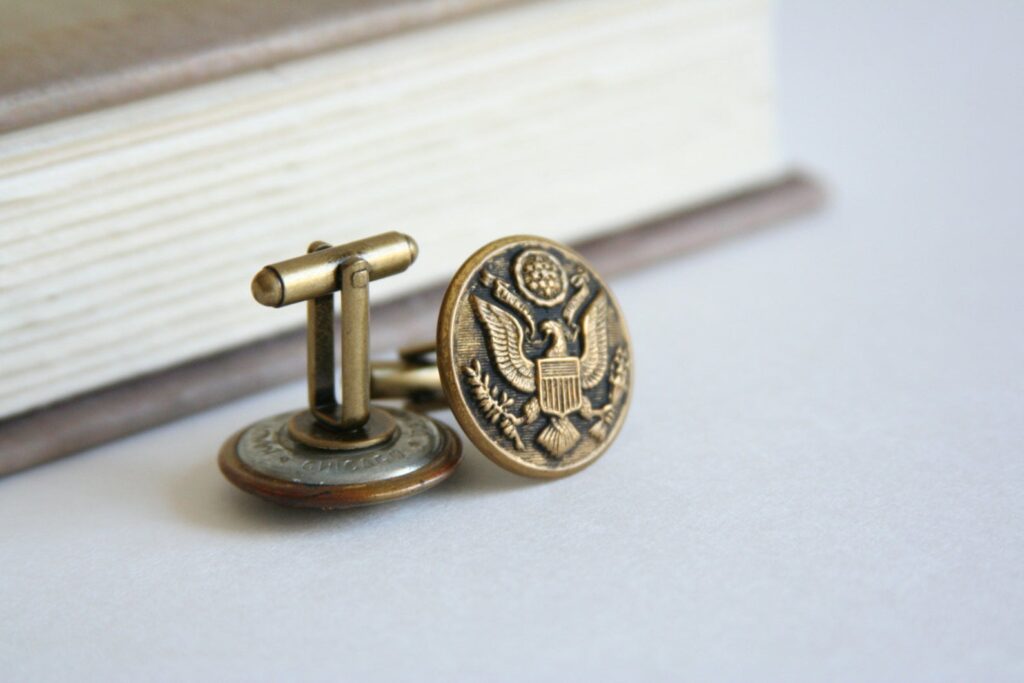 67 . Cuff Links – Give him a reminder and a thank you for the amazing service he gave.
68 . Keepsake Box – This personalized, engraved box is one of our many amazing deployment gifts for your military spouse.
69 . Ammo Can – A unique and clever welcome home gift that any soldier will appreciate.
70 . Deployment Necklace – This necklace is an incredible way to show her how proud you are of her and her service, or as a gift for yourself!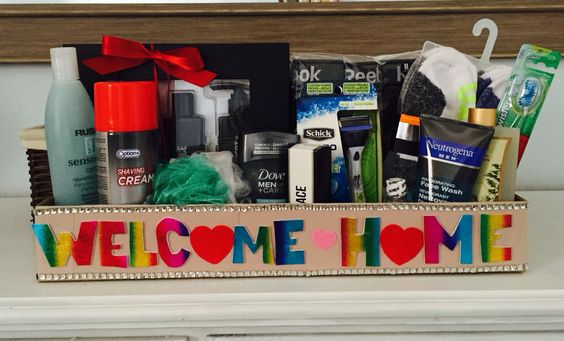 71 . Love Letters Book – Collect all of your love letters and keep them safe in this gorgeous little box. So many sweet memories in one place, now that's just the perfect type of deployment gifts for husband.
72 . Flag Quilt – A handmade American flag quilt makes for an amazing welcome home gift for your soldier.
73 . Candy Gram – A sweet treat paired with a sweet welcome home message–what more could you ask for?
74 . Plan a Vacation – Reconnect and relax by planning a post-deployment getaway! Out of all the presents, this is one of the best returning from deployment gifts for a husband.
75 . Romantic Fort – The gift you both really want is quality time and connection. Build a fort and have a romantic night reconnecting. So much time reconnecting, I can't imagine that there are any better deployment gifts.
76 . Soldier Card – Add this welcome home card to your celebrations. It's a great way to write down all of your feelings before things get crazy!
77 . Necessities Box – Fill a box with all of the must-have items that your military spouse will be needing! So give him one of the best gifts for military men, the gift of feeling right at home!
 

Military Coming Home from Deployment Advice

The excitement of the day of a military homecoming is unbeatable. However, even if you have planned the perfect returning from deployment gifts for your husband, that's just the beginning. After they arrive home, real-life sets in. Prepare yourself and your family using these resources!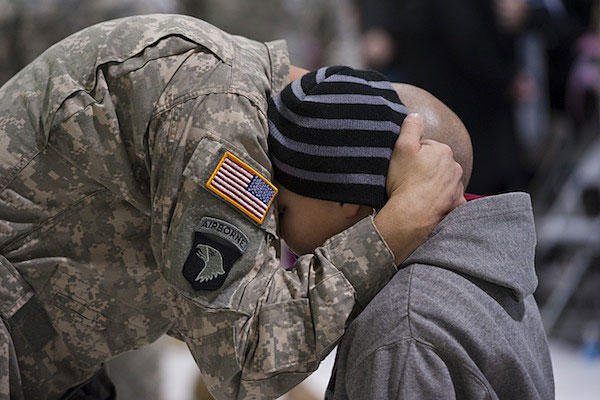 78 . Ways to Make it Special – This post contains tons of very clever ideas to make the homecoming as special as possible.
79 . Advice From Spouses – Tips and advice from military spouses who have been through this exciting/challenging time themselves.
80 . Life After Deployment – This highly rated book has been described as a "must-have" for all military families preparing for a homecoming. Now, this is a very functional returning from deployment gift.
81 . Welcome Home Kit – If you want a complete kit with everything from signs and love notes to activities and bedroom games, this post has everything you will need to properly welcome your spouse home!
82 . 5 Tips for Transition – Let's be honest, coming home from deployment is a transition for everyone. This post has some realistic tips for life after deployment.
83 . Learning to Reconnect – Advice from a mom and wife who has been there. Learning to reconnect can be difficult, these tips can help.
84 . Happier at Home – This book came highly recommended by many military families. Reading together with your spouse could be a great opportunity to re-engage and reconnect as a family unit.
85 . The Happiness Project – While not specifically written for military couples, many have benefitted and recommended this book for bettering their lives after deployment.
86 . Things No One Told Me – This post about the 5 Things No One Ever Told Me About Homecoming is full of real-life advice that will help you adjust and have proper expectations.
87 . 5 Lessons Learned – The reintegration tips in this post are short, sweet, and so helpful!
88 . Homecoming Pet Peeves – Learn from other army wives about their favorite tips and pet peeves of deployment homecoming ceremonies. One of the best returning from deployment gifts you can give is a big effort toward making them comfortable.
89 . Post-Deployment Adjustments – This very helpful post goes over what to expect upon your spouse's return home.
Hopefully, you feel even more excited and with the inspiration now flowing you have everything you need to plan the perfect welcome home from deployment gifts!
Are you looking forward to the day when you welcome your military sweetheart home but aren't there yet? We also have great resources for Saying Goodbye, While You're Apart, and Date Night while they're deployed. We have ideas for all phases of your military experience, go check them out!