New Year's Date

I LOVE the New Year! It is a beautiful fresh start with a crisp new calendar, and a whole year of adventures to look forward to. You never know just what the new year is going to bring. 🙂 Every year I love setting new goals and with a passion I set out to achieve them. The first week or so things are always smooth-sailing and my goals seem easy… then a little more time goes by and I either (A) forget I even set any goals or (B) give up. Maybe you're like me OR maybe you are ah-mazing and achieve all your New Year's Resolutions while whipping up gourmet meals, having all your laundry folded while it's still warm, and getting your car tuned-up on schedule. Either way, you are going to LOVE these FABULOUS printables that Tasha at Whimsicle Design Studio created. So perfect!! Thanks Tasha, you're awesome!!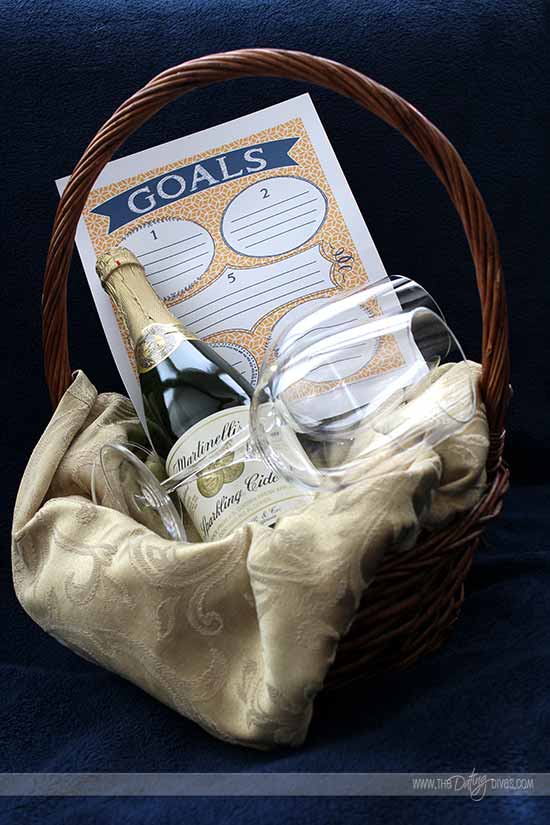 You can use this date idea as part of your New Year's Eve celebrations or do it on a special night the first week of the new year. Get any sweet little ones you have into their beds and snuggle up with your sweetie. You can pack a basket with your favorite sparkling drink and maybe a few leftover holiday snacks too.
You will want to have your New Year's Goals papers printed up ahead of time. There are 3 sheets. One is a goal sheet for her, one for him, and then you will have a sheet of "his and hers" mini cards as well.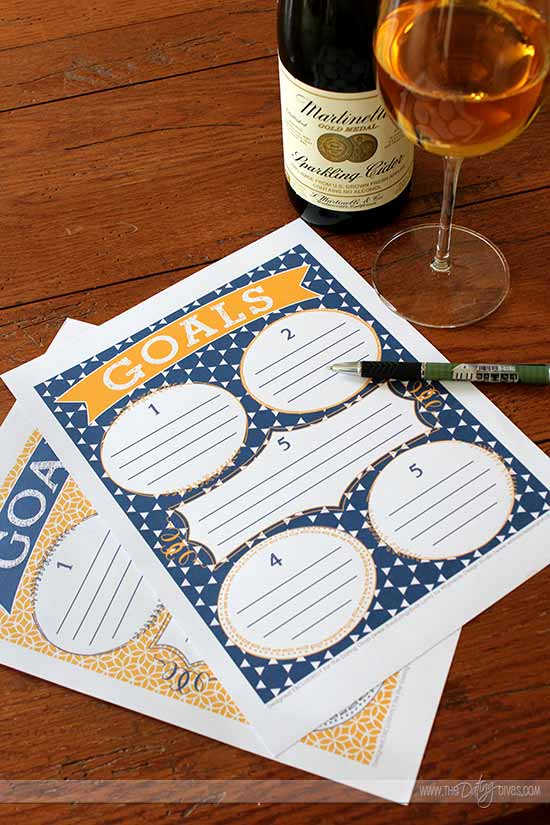 Now is the time to get real with yourself. What goals have been on your mind but you just haven't got around to doing them yet? Try choosing goals for different areas of your life.
Pick a goal to become more healthy. Get tips from Michelle's post A Healthier You and if your spouse decides they want to shape up show your support with Candice's Our Love Keeps Running idea.
As a couple, decide to get your finances in order. We featured Life 1010 which has a fantastic program to get your financial as well as other areas of your life in order.
Make it a goal to show your spouse how grateful you are to have them in your life every day- get some great ideas from Chrissy's post 101 Ways to Show Gratitude.
Or maybe you are ready to really give your marriage a boost- check out our Marriage Master's Program. Your marriage will be stronger than it has ever been.
Of course you HAVE to pump up your dating this year. Show your spouse they are your #1 now and always by planning out regular dates all year long. Use these Date Night Stickers to mark your calendar and get busy planning out some fun and exciting dates:) Need some great date ideas? You are at the right place!! Here are 65 Fabulous Winter Date Ideas to get you started!
You can decide all of your goals independently, or choose one or two that you would like to work on together as a couple.  Just make sure when you write them that you are specific- for example instead of 'date my husband more' put 'plan and go on 2 dates with my husband each month' or instead of 'save more money' put 'set aside $20 from each paycheck for our vacation fund.'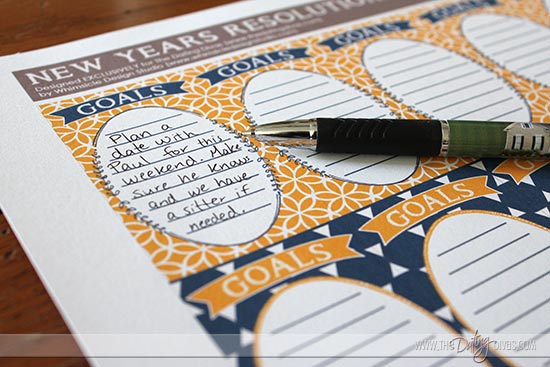 Once you both have your goals figured out and written down, there is one more step to help remind you throughout the year –  use the smaller goal cards to write out each goal. Cut them out and voila, you will find they are the perfect size to pop into your wallet, diaper bag, purse, or plaster up on your mirror, car dash-board, or even in the front of a notebook or laptop case. The possibilities are endless, really- just put them somewhere you will be periodically reminded about your fabulous goals.
A goal that isn't written down is just a wish!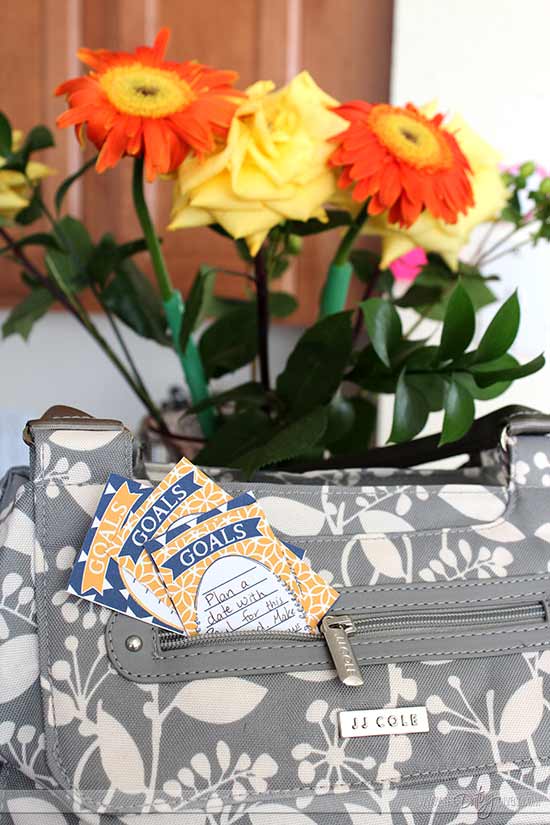 It could be really fun to reward yourselves when you have achieved certain goals. If you set the goal to exercise at least 3 times a week, maybe your reward for doing that for a month would be to take a drive to the mountains for a hike together. What a great reward that would be! Be creative and have fun with it and don't get down on yourself if you are struggling with some of your goals. Revise them if you need to, or arrange things so that they are more manageable.
I would LOVE to hear what goals are important to you this year! If you want to share leave a comment below:) Also if you are looking for some more ideas you will have to check out this round-up of New Year's Ideas.
(And if you REALLY want to strengthen your marriage and get the "SPARK" back in your marriage all year long- make sure to check out our 365 Ways to Rekindle the Spark!! It even includes monthly love calendars to keep you on track all year long!)

Ready for a whole new year of a stronger and more beautiful marriage? Get your free printables below then go check out our Spark Starters.
New Year's Resolutions Printable
Printables Designed by Tasha @ Whimsicle Design Studio Exclusively for The Dating Divas