St. Patrick's Day Romance Tips
Add some romance for your lucky leprechaun this St. Patty's Day and play the part of a sassy lassie with these 3 flirty tips!
It's the luck of the Irish to find a marriage like yours! So let's create a fun and exciting night for your hot leprechaun in the bedroom! Rainbows, a pot of gold, four leaf clovers, and plenty of green…(unless your sweetie likes to be pinched!) will make this a blarney stone fantasy come true!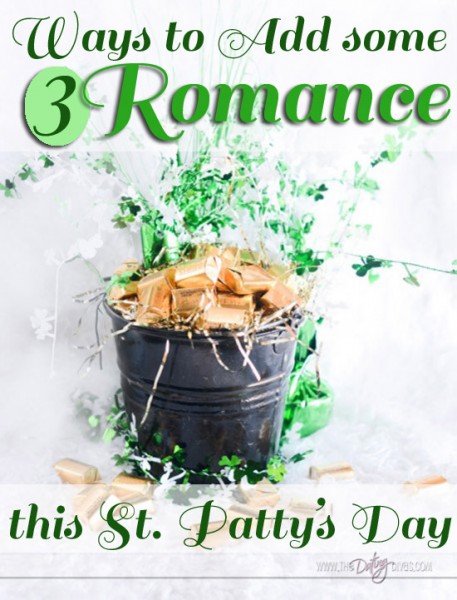 Disclaimer: This post contains affiliate links. To learn more about 'em,
click here
.

Rainbow of Fruit
Make a platter of fresh fruits to keep your leprechaun's energy up. Grab a platter and a variety of fruits then arrange them by color in a big rainbow (similar to this cute idea I found on Pinterest). Use marshmallows for a cloud at one end and chocolate gold pieces for the 'pot of gold' at the other end. Then mix green food coloring with cool whip and place a small bowl of that on your platter for dipping the fruit…or for finger painting on your spouse's body (check out Kiirsten's Go Picasso him for more ideas on that…). Then take your time feeding each other off of your fruit plate or find your own unique uses to make this a sensual intimate moment.
Pinching
Create your own lingerie! Grab a pair of these green striped boy short
panties and either write your own phrase on the back using black permanent marker or use t-shirt vinyl to make it look more professional. *Hint: The phrase "Follow Me To The Pot of Gold" would be super cute on the back!* Either way, this is a cheap and cute way to show your leprechaun a good time. If you have a little more cash to spend, then I would grab this fun St. Patrick's Costume
and be his sassy lil' lassie for the night! Oh, that will make him feel struck by luck for sure!
Four Leaf Clovers Game
Leapin' Leprechauns! We need a fun game to add to this night! Buy some four leaf clovers at the dollar store and write a variety of 'activities' on the back of them. Then tape them up to a wall in your bedroom or attach them to the headboard of your bed. Take turns picking a clover and doing the activity written on it. To make it even more interesting…split up the clovers between the two of you and each of you write down activities on your clovers. Then mix them up and hang them up. That way you'll each have a say in what activities will take place…
Since St. Patrick's Day only comes around once a year, be sure to make the best of it! Incorporate some of these sassy ideas into your evening or create a few of your own. Either way, be sure that your leprechaun knows how much you appreciate his gold hunting skills!