Picture this: It's date night. You haven't planned anything.
First, you open up your phone and click on an app. Then, you ask your spouse a series of questions and click on their answers each time.
The app will then serve up the PERFECT date night for you, based on your mood, time limit, or interest. You click on that unique date night, and the app provides absolutely everything you need in order to pull that date night off! We're talking questions cards, challenges, directions, prompts, videos, songs, steamy activities… whatever materials YOUR date needs, the app has it!
You then have an unforgettable evening (or morning, or afternoon… you are choosing!) connecting, flirting, and loving on your best friend!
Oh, and did I mention that you don't have to do ANY planning for this to all happen?!
But the BEST part is that next weekend, you'll repeat this same process again! Except for this time, you'll have different preferences and responses to the questions. This means you get to see where your answers will take you each time.
This scenario is now 100% ready to go for you and your spouse in our brand-spankin' new, totally revolutionary app that will bring back some sweet nostalgia from your favorite books in elementary school.
Introducing the pick Your Date Night Adventure App!
"What should we do for date night?" — There's an APP for that!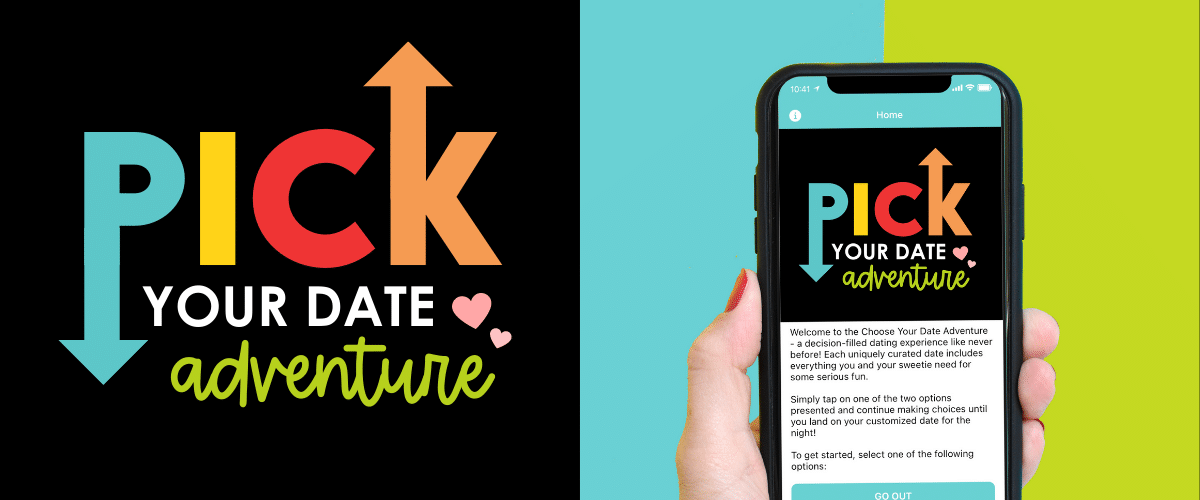 No new date night ideas?
In this singular app, your choices can lead you to one of 30 completely unique date nights! No more browsing the internet endlessly for an idea that catches your eye, and no more browsing through Netflix before you fall asleep on the couch next to each other.
We don't want you to have to worry about the creative ideas– we've got that part covered. All YOU have to do is open the app and pick your date night adventure, one question at a time!
Small date night budget?
We GET it! Date night can be so expensive. That's why we are choosing to offer this date night app at the super-low price of just $20. With only one simple purchase (that's honestly less than most date nights anyways!), you'll have months and months of date night materials ready to go! Plus, you'll totally own this app, which means that you and your spouse can repeat some of your favorites whenever you'd like!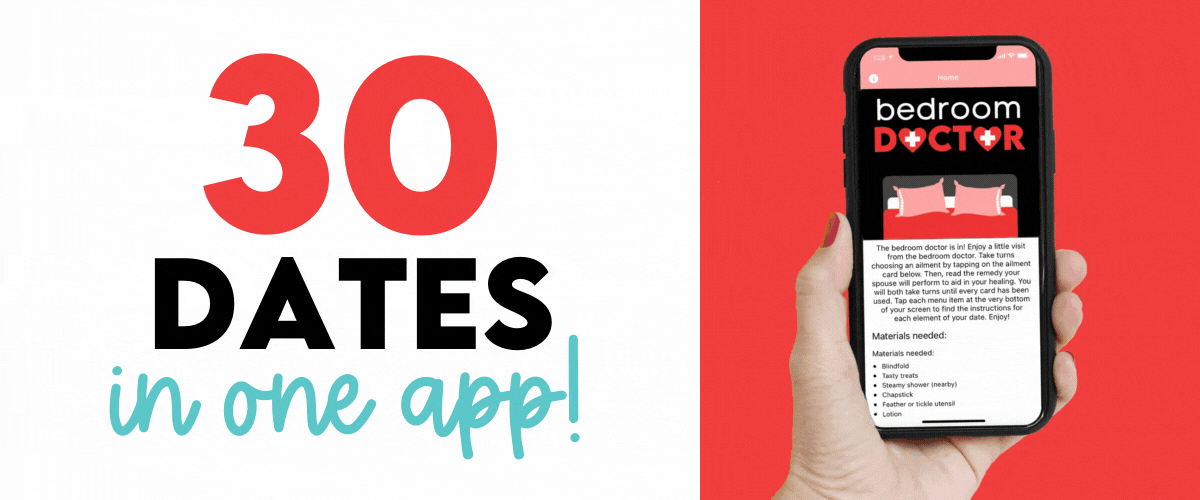 So how does this work?
We have some AMAZING Divas who have put hours and hours of work designing the backend of the app. Basically, there's a flow chart that your app is following as you respond to each question in each prompt.
Sometimes the questions are more practical, such as "How long do you have for this date?" or "Do you want to stay indoors or head outside?"; other times, the questions focus more on your mood, such as "Are you feeling competitive or creative?" or "Are you feeling playful or romantic?"
As you respond to each question, you are moving through a flow chart of date ideas, until you finally reach the perfectly curated date that should check all your boxes for the evening. There is a HUGE variety of the kinds of dates we've included.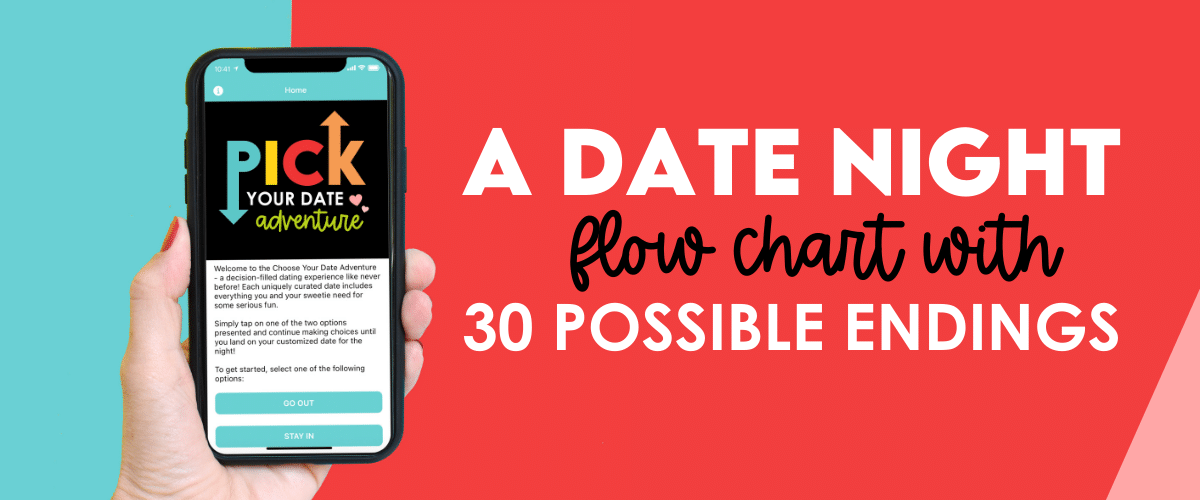 How do the actual dates work?
With 30 totally unique options of the actual dates, it's going to vary widely on which date you end up on. But the super cool part is that you will be given virtually everything you need to complete your date right there in the app!
When you click on the date at the end of your decision-making, you'll see different tabs on the bottom that will help you toggle through what you'll need for that date. This includes things such as directions, question cards, prompts, challenges, games, and even links to music or videos that you might need as you complete your date. We want to make this as easy as possible for you to actually pull off date night!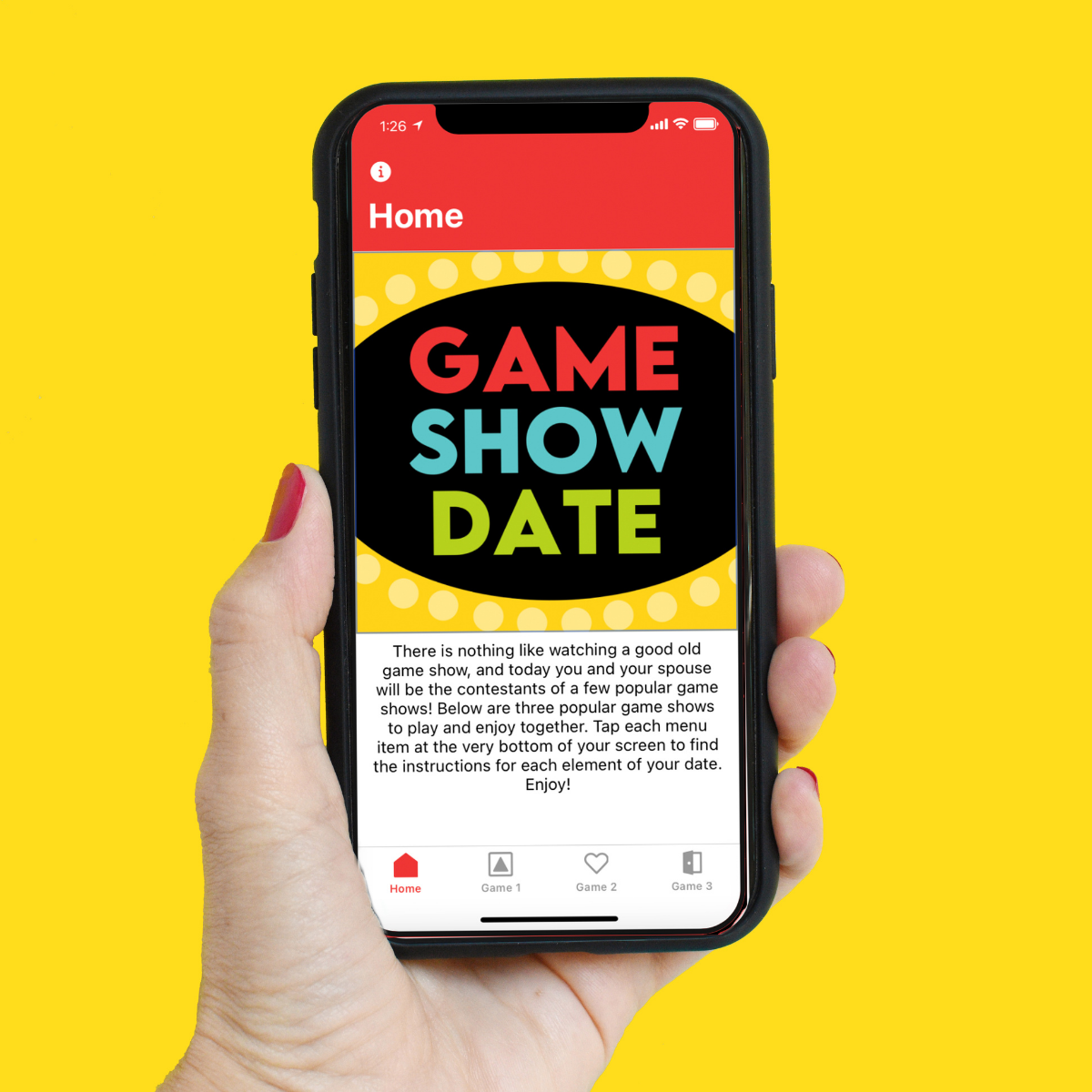 Wanna know which dates are included in this app?
We've created 30 fun, sexy, adventurous, hilarious, romantic, low-key, or introspective dates. Curious for more details? Here's the list of the names, so that you can get a good sneak peek!
Mini Road Trip Date
Fast Fashion Date
Nature Walk and Talk
Karaoke Date
Undercover Critic Date
Parking Lot Spot
Library Love Date
Neighborhood Click and Seek
Bigger or Better Date
Flirty Fast Food Date
Progressive Park Date
Romantic Rendezvous
Rainbow Shopping Surprise
Bowling Date
Sexy Shopping Trip
Art Project Date
Meme Challenge Date
The R&R Date
You Suit Me Date
Flirting Foreplay Date
Movie Date
House Party
It's Showtime
Chalk Art Date
Gameshow Date
Sexy PJ Party
Flashback Date
Sexy Simon Says
Magic 8 Ball Date
Bedroom Doctor
I told you; we've covered the whole spectrum here! No matter what mood you are in, no matter where you are, and no matter how much time you have, we've created the perfect date for your time together with your spouse.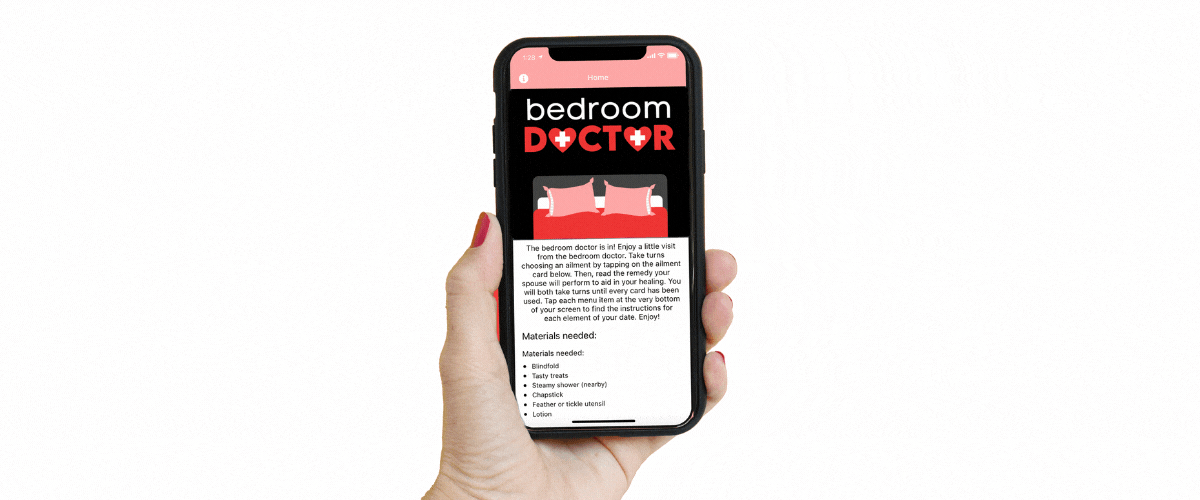 Your options may seem completely endless for date night, but you don't need to stress at all. All YOU have to do is open the app, make a few decisions, and see where your date night adventure takes you!
This is the easiest thing to ever happen to date night.
Click the button below to grab your very own Pick Your Date Night Adventure App today, and see where your choices will lead you!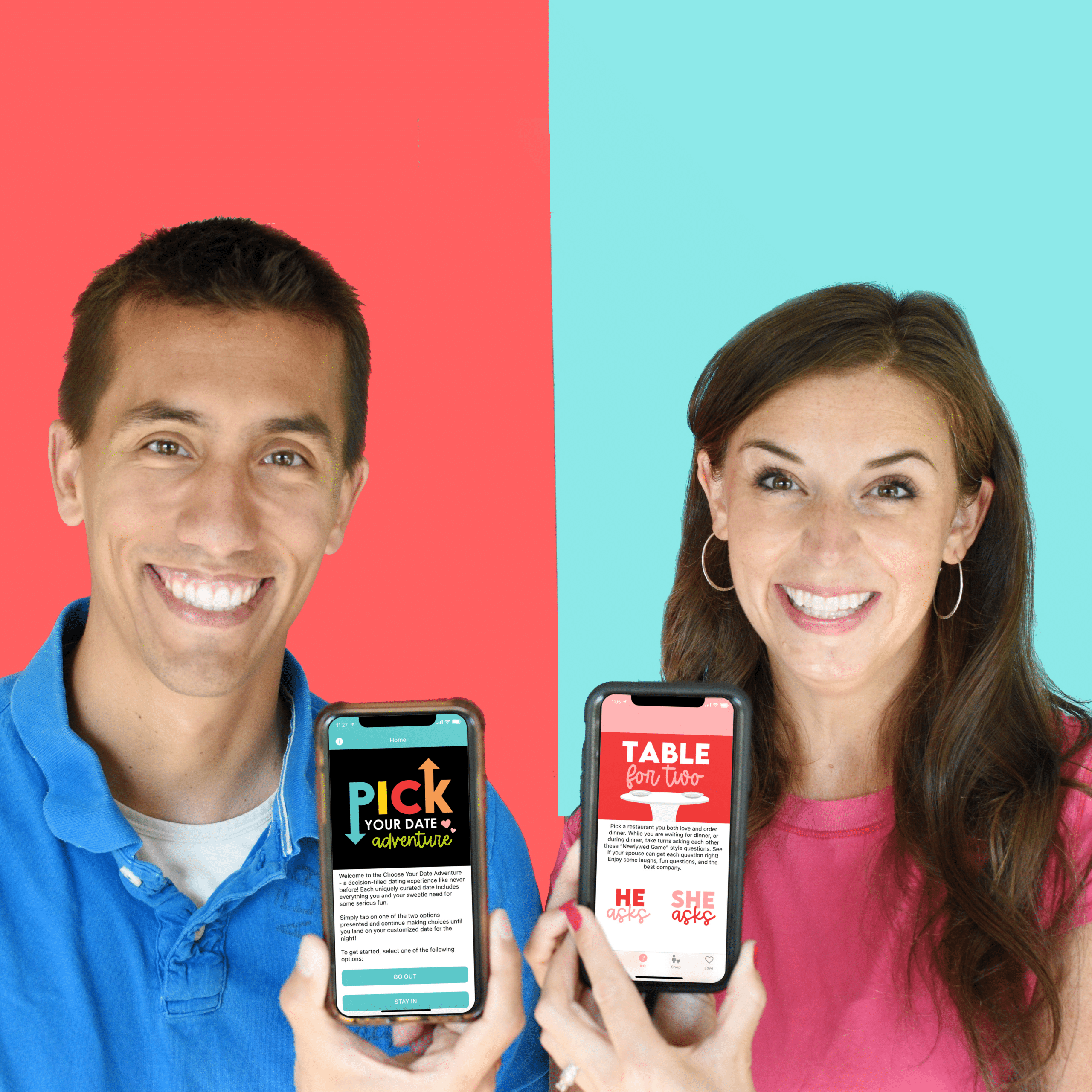 Grab 30 unique date nights in one app!
pick Your Date Night Adventure
Hop on the app when it's time for date night, make a few choices that will lead you to one of 30 unique date nights that is perfect for your mood/parameters for the evening, and BAM! You'll be given everything you need in virtual form to complete the date! (Think: question cards, directions, prompts, challenges, even links to music or videos that you might need.)
$20.00