A Progressive Dinner Date Night for Two!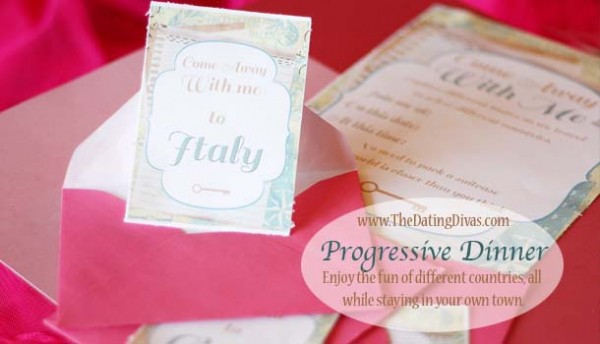 Disclaimer: This post contains affiliate links. To learn more about 'em, click here.
Do you ever want to get together with other couples but it's too expensive to go out? And maybe you don't want to plan a whole big date night all at your house?  Well here's a fun idea!!  Why not make your next "couples date night" a Progressive dinner?!?!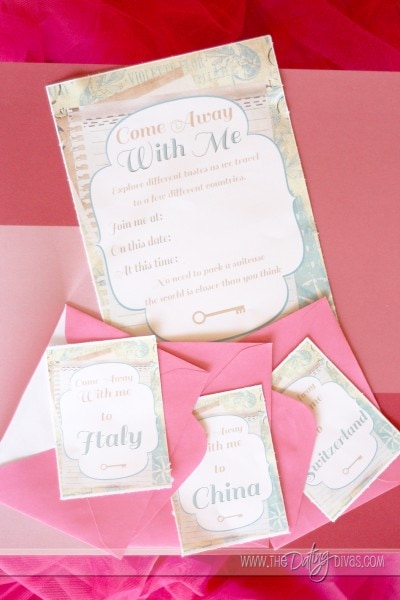 For our date night we invited three couples along.  Each couple was assigned either appetizers, dinner, or dessert and served that course at their home.  Once decided, those couples then chose a place in the world  as their theme – which created a fun WORLD TRAVELING date night.  I sent the women an invitation to give to their spouses. Then after each course they were given an envelope to the next destination we were going.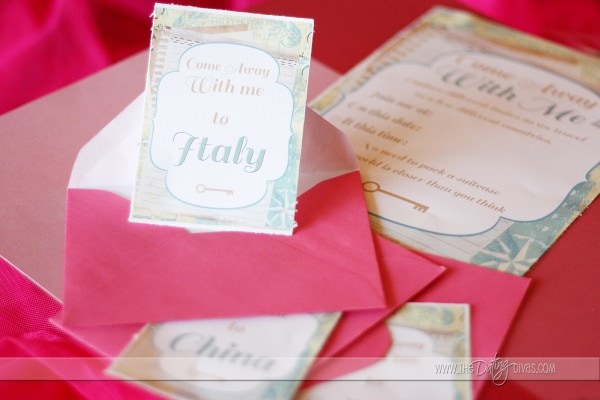 Our first stop was enjoying appetizers in Italy.  Bread, bruchetta, cheeses, sparkling cider (wine), and anything else you could think of to give it an Italian feel. You could decorate with a checkered table cloth and a single rose in a vase.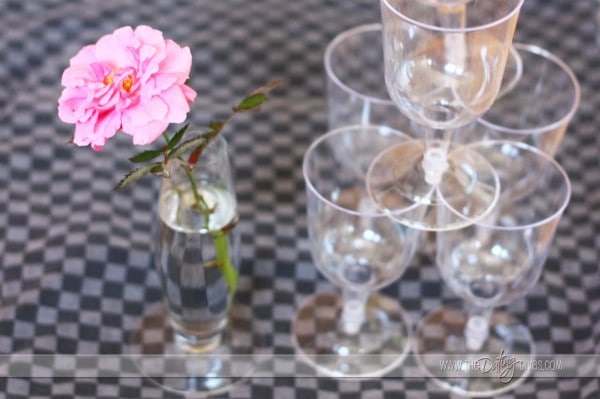 For dinner we jetted over to China where we were served fried rice, egg rolls, and orange chicken.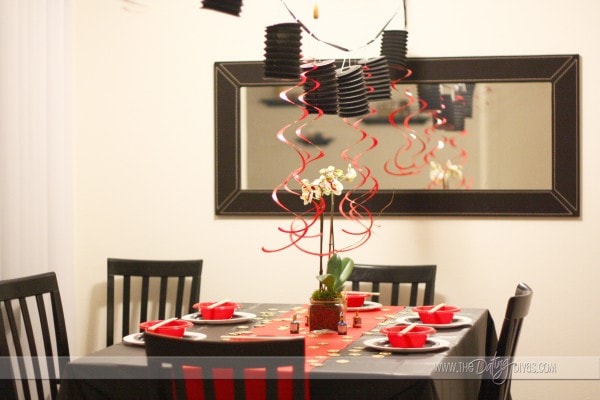 Our friends went all out with chopsticks for utensils, oriental music playing in the background, and even a wishing tree!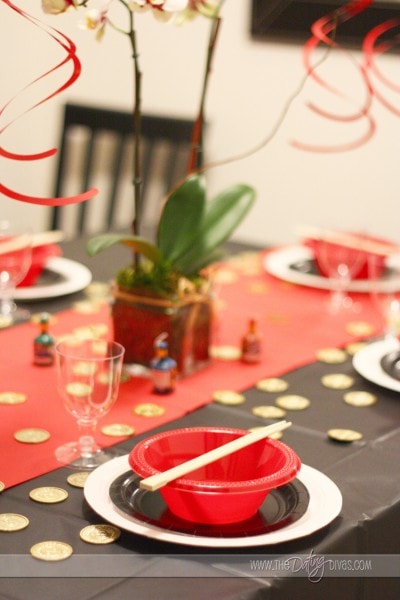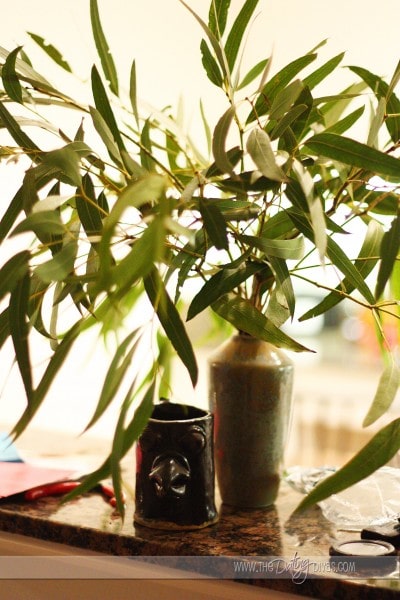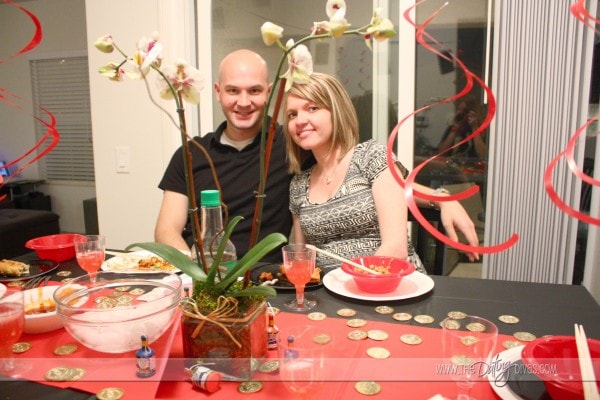 And last, but certainly NOT least, we enjoyed Switzerland together. This is where fondue originated from! I did a desert fondue with milk chocolate and bananas, vanilla wafers, strawberries, and raspberries… and don't you worry, we finished off every last lick of that chocolate fondue!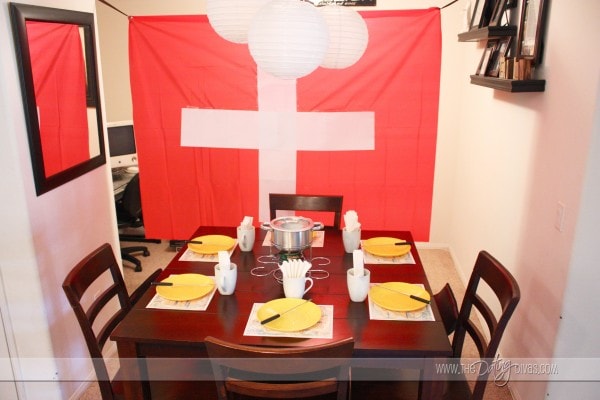 For most of the decorations, I just went to my local party supplier or Shindigz.com
.  I created a Swiss flag using white computer paper and a red tablecloth.  For place mats I printed out a map of Switzerland.  In fact I don't know if I ever even knew where Switzerland was before this date!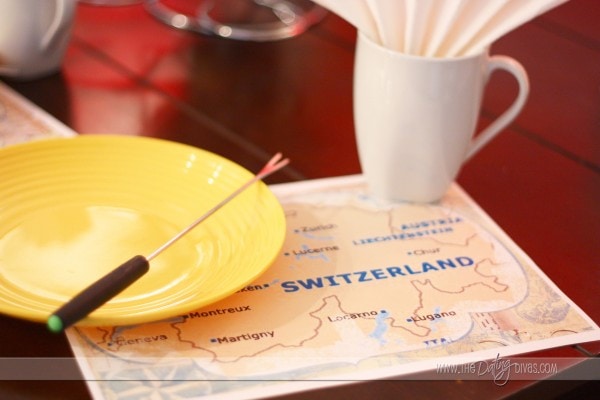 For background music we looked up yodeling on youtube. It sure added to the atmosphere.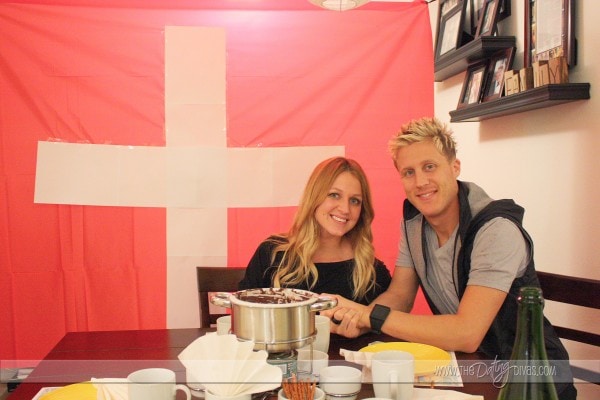 If these are places you have always wanted to visit, round up a few of your fun couple friends and use the free World Traveling Printables for your own adventurous Date Night!