For Your Santa Baby
For my
Treats for the Sweet
post this month, I promised to give you the details on my husband's "reward" for helping me cook up all the Christmas treats for our friends, neighbors, and family. So here are all the goodies (er,.. goods)…can't wait to share!
The first Christmas that we had a baby my parents gave Adam a Santa hat. After all, this will be his role for the next 20 years. lol. Actually, I do it – but who's keeping track? So I snagged Adam's Santa hat and adorned it on my own head since I will be doing the giving on this special night. Oh, and if you happen to have a sexy little Mrs. Claus outfit to go along with your hat – I'm pretty sure your husband would NOT mind at all (*WINK*). For his viewing pleasure, of course!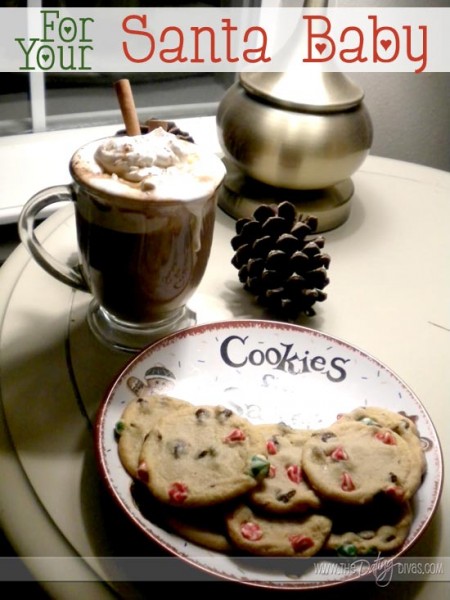 First of all, let's get ourselves in the
MOOD
for this post. (*WINK*) A little music please! Click on the
Taylor Swift video
so your ears may have bit of happiness while your eyes scroll down for more viewing pleasure.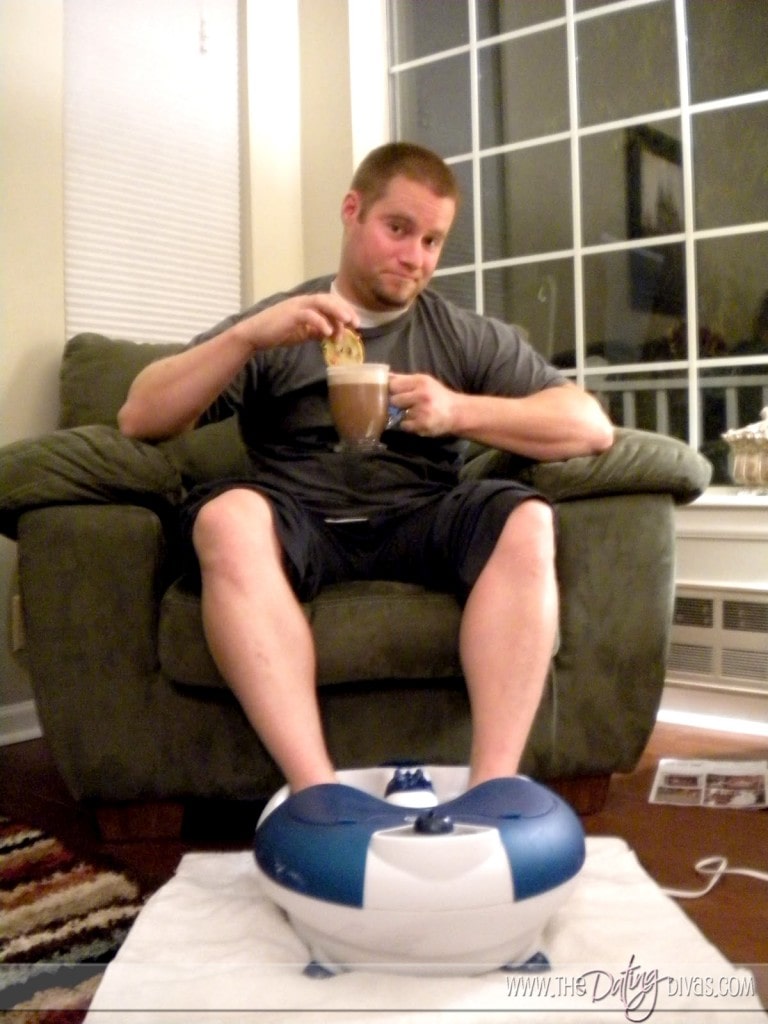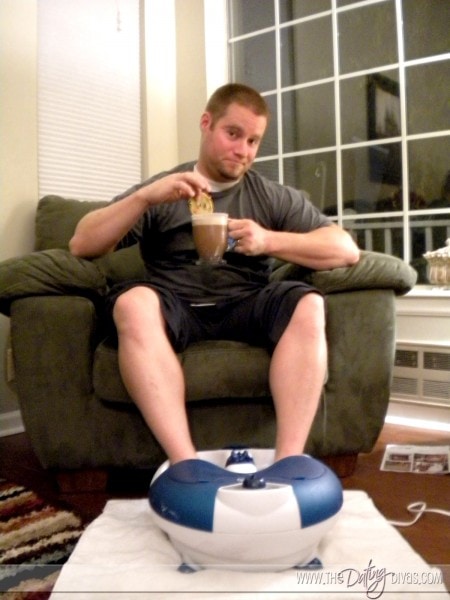 Pampering your husband is almost as enjoyable as pampering yourself. At least it is in my case because in our relationship Karma plays a big roll. Whatever I put out, I get back – sometimes 10 fold (on all the good things that is). So really, this plan works out for both of us in the end.
We have a foot spa that some darling aunt gave us for our wedding (Thank you, Tootsie!). We use it often because it heats, vibrates, and jets. Let's hear it..all together now, "Ooooh!" Yes, definitely Ooooh. I had our foot spa set up right after dinner once he got home from work. I had him relax with his feet in the foot spa for a while (about 15 minutes) and I put some cookies in the oven. (I used the Tollhouse Swirl Christmas refrigerator cookies that you'll see below). Scent is a powerful thing and I wanted my husband to not only be relaxing physically, but also to have a yummy cookie smell flowing through our house on a cold night.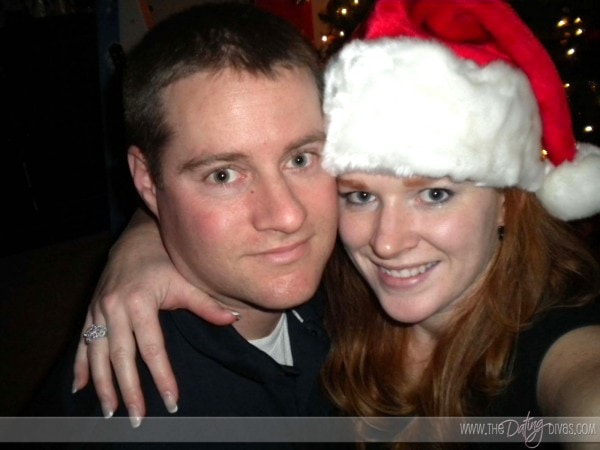 Who out there does not LOVE a foot massage? I love, love, love them! So does my man. So now that his feet and legs are all relaxed from his foot spa, I individually take each one out of the bath and give them a really good rub. (I even used Christmas scented lotion from Victoria's Secret so his feet smelled like gingerbread cookies. lol)
A nice little touch while you are giving him a foot massage? Have the "Santa Baby" song playing in the background while you sing along. Now would be a good time to start seducing Mr. Claus in your cute little Mrs. Claus outfit….I'm just sayin`….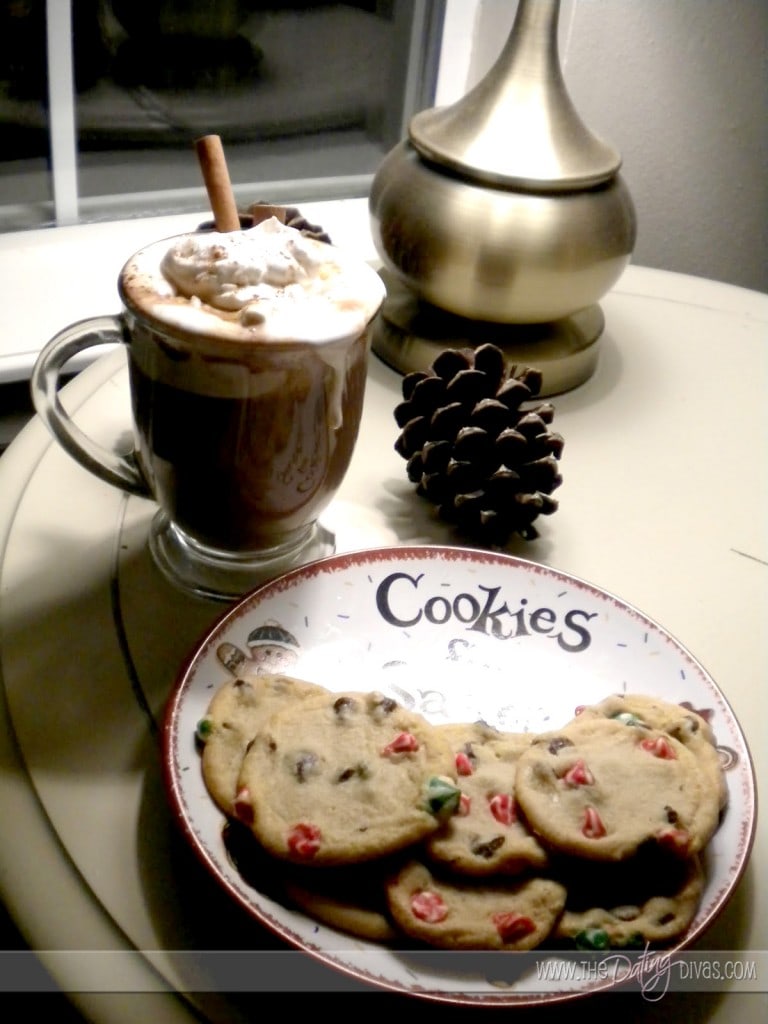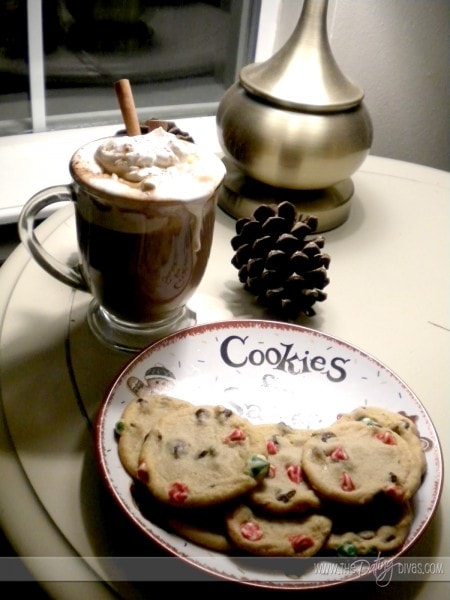 His dessert? I always love something sweet to end the night with. I made some fabulous homemade eggnog hot chocolate and served it aside a plate of those addictive Tollhouse cookies that I mentioned above. Oh, yummy.
Now that you have relaxed him, fed him, and given him something nice to look at, there's only one thing left to do…go to sleep. HAHAHA! Sorry, I'm not going to say it, but I'm pretty sure you all know what direction this is going in.
Eggnog Hot Chocolate Recipe
Printables Designed by Kari Exclusively for The Dating Divas